Living close to the Everglades, weird wildlife encounters don't really seem all that "weird" anymore. South Florida is some next-level wilderness.
Every now and then, though, you hear about an encounter with something that shouldn't be there. Sometimes it's an escaped or released exotic animal; hurricanes have destroyed countless wildlife enclosures and some people don't realize how big that cool pet is really going to get and choose to set it loose.
Sometimes it's a "skunk ape."
Florida's version of a 'bigfoot' sounds a little easier to believe when you factor in the huge number of primate enclosures that have been destroyed over the decades. We have established populations of things like monkeys, pythons, and boars now.
Why not gorillas or orangutans? They're both tall upright hair covered primates that might match the description.
Except skunk ape stories go back way before zoos and the exotic pet industry.
Reddit user cruzer58b asked:
"Those of you that TRULY believe you have seen a cryptid (Bigfoot, jersey devil, etc.) what's your story?"
South Florida isn't the only place the wild gets weird. OBVIOUSLY.
Look at what these Reddit users have experienced.
The Thing Hunting Orcas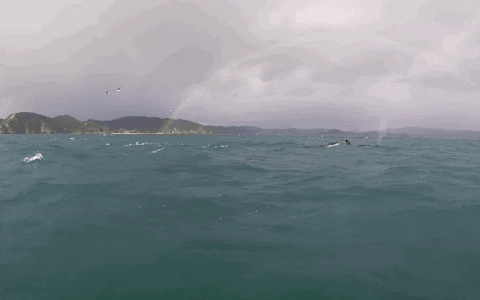 Marine Life Beauty GIF by Oceana
Giphy
"I was on a ferry for a school softball trip, off Kodiak island AK, 2014. I was 18."
"A whole bunch of us had snuck up to the deck around 11pm to watch the waves and generally be teenagers on a boat without supervision. It was 11pm in May in Alaska so the sun was thinking about setting but it was still bright outside."
"So we're just doing our thing and we notice a pod of orcas swimming with the ferry's wake, which is very cool but not, like, unusual."
"If you're familiar with the dimensions of an orca fin you know they're about 4-6 ft in height and look like big black spikes coming out of the water. Being Alaskan teenagers, we were very familiar. This is important."
"Orcas travel and hunt in pods of anywhere between 15-40 whales. Apex predators. The beautiful demon murderers of the sea."
"Total a**holes. Top of the food chain."
"So we saw this pod of orcas swimming with the boat, counted around 10- 15, with some babies scattered in there. Very fun to watch for the good 30 minutes to all go by. We tried to get pictures, but it was just dark enough that our shitty 2014 phone cameras weren't much good."
"Another 30 or 40 minutes go by and we've all pretty much sobered up and it's about to finally get dark and we're cold and sleepy and about ready to go in."
"We haven't seen an orca for like half an hour, and then one of the girls spots another one and points it out. So we all turn and look at the whale's dorsal fin - but one dorsal fin is immediately followed by another, and another, and another, and then two more, and then two more after that, in two separate rows, and they're taller, by a LOT, and jagged, like some have whole chunks torn out of them, and they're all 8-10 feet high."
"And all these fins are attached to ONE creature."
"We can just barely see its back slicing through the water, covered in these rows of spikes, and it just. Keeps. Coming. This thing is like 20 or 30 feet from the ferry, running parallel to it, and we are all transfixed."
"This wasn't a small group - there's like 9 or 10 of us and no one is saying a word because we've all turned to look at a whale and we are all now watching something that is like, horrifically, terrifyingly obviously NOT a whale."
"Someone tries to take a picture but it's too dark at this point and the only reason we can see this thing is the light cast from ferry portholes, which is a take as old as time when it comes to things that you REALLY f*cking wish you had a picture of."
"But we all stand there completely scared stiff and in awe and we watch this thing just KEEP surfacing for a good 6 or 7 minutes which means that whatever it was was LONG. Like..... 60 or 70 feet long."
"Or longer."
"And covered in enormous spikes. Spikes that looked like they'd won thousands of battles with god knows what."
"It took what felt like an eternity for any of us to say anything after the last of it disappeared back into the strait."
"I mean if you and like ten of your friends had just all seen something that all science had DEFINITELY pointed to not existing, and you had all seen the same exact thing, AND it was very OBVIOUSLY trailing, nay, HUNTING, not one but 15 something APEX F*CKIN PREDATORS, what do you even say to break that silence?"
"That's the thing that eats me about the whole thing, is it was hunting. It was following them. It was literally hunting about 60 tons of toothy, angry, intelligent apex predator."
"Every once in a while one of us will hit another one of us up and check in, like 'Do remember this? Was I hallucinating? Did we all see the same, insane, worldview-melting, terrifying thing that night?' And the reason I KNOW we did is because none of us talked about it."
"Not during the trip, not after, not to any of our friends because how the f*ck do you even tell someone about something like that?"
"Now we have almost 10 years between us and that night I assume some of them have probably told people, I know I tell people, because I've seen a LOT like that in Alaska and I'm That B*tch."
"And also because there's a very rich history among native Alaskans of a Something that lives and hunts in the waters around Kodiak and it's important to tell its story because someday it's gonna eat a little too much plastic and no one will ever watch it hunt a pod of orcas terrified from a boat ever again."
- slobone
The Cutest Cryptid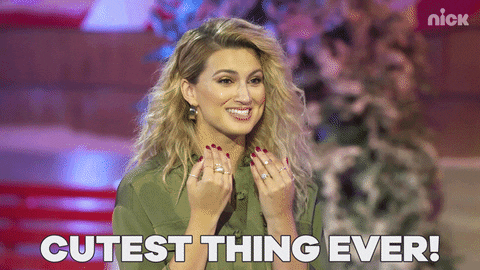 Arts And Crafts Love GIF by Nickelodeon
Giphy
"One night I was driving home at around 2 AM and this tiny, tiny white creature (probably as tall as a Pringles can, though maybe a bit smaller) walked across the road in front of my car."
"I hadn't thought about this in a while but here's what I can remember: The bottoms of its "legs" ended in what looked like flowy bits or ribbons, and it was almost translucent. I could almost see the road THROUGH the creature."
"It walked at a kind of jaunty pace, just like a person might walk. The best way to describe it is like that super steppy walk that the dwarves sometimes do in Snow White, or Mickey Mouse does sometimes."
"I slowed my car down but was afraid to stop it completely, and the thing disappeared as my car went 'through' it."
"Honestly it was so f*cking cute that I wasn't even scared, but I was shaken up by having seen something like this."
"I couldn't believe what I saw, so I called my then-boyfriend and frantically described the creature. He told me that it sounded like the Fresno Nightcrawler, and when I got home and looked it up, THAT IS EXACTLY WHAT IT LOOKED LIKE."
"I had never heard about them before. I do not live in California, not even close. I still have no clue what it was."
- Langoustina
The Swimmer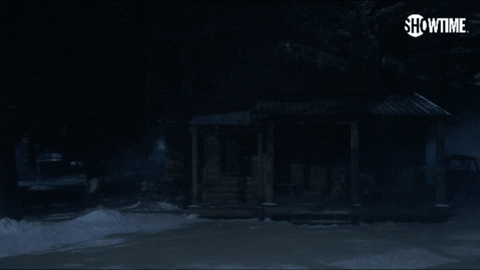 Michael C Hall Night GIF by Dexter
Giphy
"I used to go running and take a break at a train bridge in Iowa city when I went to school there."
"I did a lot of night runs. Sometimes, only after dark, I'd hear something swimming around at that train bridge. Maybe human or deer sized."
"One time, It was late and I heard it again. But this time, I could see something dark on the water. Looked like a profile of a very large head."
"I said 'hello, someone there?' "
"It stopped dead still and looked at me. It was dark but I could tell it was looking right at me. This went on for 30 seconds to a minute. It then went under, and I never saw or heard it again."

"I told myself it was a person swimming. But why not say hi back? Also, where did it go under to?""It was a slow river, I would have heard it surfacing or getting out of the water unless it went over a hundred feet."
"That's the closest thing to a cryptid I've seen and known about."

"Some people are saying beavers and otters. I've seen river otters (but not in the US), it was far too big to be a normal sized one. I've never seen the 6 ft ones, and I don't think they live anywhere near Iowa."
"It was much too big to be a beaver too, I see those all the time, and they're usually denoted by telltale signs such as dams and chewed trees. Also, I've never seen beavers active at night only during the day."
"I think it was probably just a person, maybe a homeless person who wanted to not be bothered by me."
"As I said, that's the closest I've come to seeing a cryptid, I know the original post asked for people that are 100% sure, but it was late at night and it felt appropriate to tell that story."

- orangutanglibrarian
Orangutan/Lemur Hybrid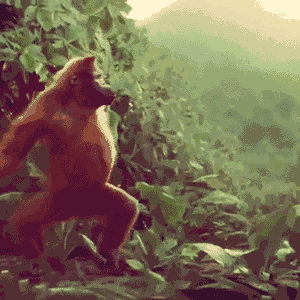 orangutan GIF
Giphy
"When I was 14 or so in 2003 I saw what looked like an orangutan/lemur hybrid watching me from the trees."
"When it realized I was looking at it, it took off into the trees and disappeared. This was in Western NC, nothing like that should have been around here."
"For a few years I looked for articles about someone's escaped exotic pet but never found anything. Eventually just wrote it off."
"Years later I heard a Lore episode about the Pukwudgie and I immediately got chills because the description matched what I saw. I'm still not sure what happened."
"Few months ago I was dumb enough to wander into the same patch of woods. I got nailed by a rock and when I looked up I saw a small outline ducking around like it was watching my reaction. Again, when it recognized I was looking at it, it took off."
"I don't know what happened but I also don't really plan on going back."
- kookooforpococuffs
Hopefully A Bear

red dead redemption bear GIF
Giphy
"About 16 years ago I lived in the rural areas of Kansas, town was about 6 miles from my house."
"At night while I was waiting for sleep I stared out of my window and look out into the darkness. Normally I would see owls, possums, racoons, coyote, etc all just minding their business doing animal stuff."
"And I could always hear them. Loud and clear."
"One night as I am trying to get to bed I watch and listen for the wildlife and on this night there was none to be heard or seen. Being a kid I thought nothing of it."
"Until I saw a HUGE black figure moving on four legs."
"I could swear I had seen a brown bear this thing was THAT massive. Except we lived in midwest Kansas. We have no bears."
"Cows and horses are too tall and not wide enough for what I saw. Plus our neighbors all had cattle so I was familiar with what they look like at night."
"People suggested it could have been one of the massive dogs like a malamute or leonberger or something. Maybe it could have been, but they are still too small for what I saw."
"Never saw it again"
- Staticshivyasuo
"There are bears in Colorado, Arkansas, Missouri, And a bit in Oklahoma. Kansas is in the historic range of black bears as well."
"I don't think it's a stretch that one may have wandered in from a surrounding state."
- sarraceniaflava
"This would relieve years of stress and the itch of the unknown if I could get confirmation that it was, it is how I always make it out in my head. A really big bear."
- Staticshivyasuo
The Big Blue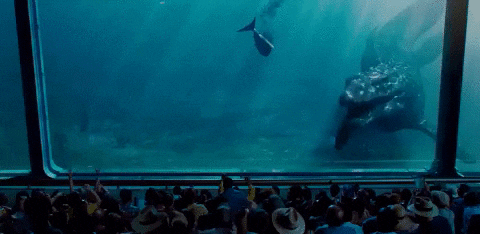 trailer GIF by Jurassic World
Giphy
"Been deep sea fishing a few times. You NEVER see schools of fish so far out, but once we saw this massive shadow moving FAST. It couldn't have been a whale, they don't move like that. The skipper stared at this mass of blue with me for about 20 seconds before it was gone and swore it was a megalodon. i'm not convinced but I have never seen a school of fish that far out in the ocean ever."
- uncareingbear
"It could be a large species of squid such as Colossal or Giant Squid. They are found world wide. It's odd they would come to the surface, but it's not to weird."
"Other options are Sunfish, Oarfish, or Large Shark."
- kazeespada
"I'm a firm believer there has to be some kind of megalodon or something out there, we just don't know enough about the ocean"
- cruzer58b
When It Looked At Chandler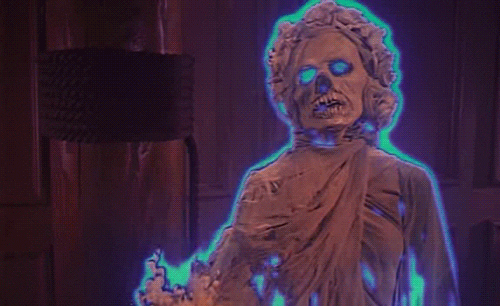 scary jack the giant killer GIF
Giphy
"My friend was at a camp with me and we were in the same cabin, we all stayed up late we got tired and went to sleep."
"My friend, lets call him Chandler, and I stole some instant coffee packets from the kitchen and we had them in water at night. Chandler didn't have a good caffeine tolerance like me so he stayed up a bit after all of us went to sleep."
"I asked him what he was going to do and he said he brought a novel and he was going to read it until he fell asleep."
"It was about 1am and we are all peacefully sleeping and then we hear the biggest scream. Chandler was crying and shaking in his sleeping bag and everyone in our cabin came over to see what was wrong and to help him out."
"He screaming really loud and if that didn't wake up other cabins and the teachers then his loud crying after did. Soon all the teachers were inside out cabin and I had to stay on my bunk bed to not be squashed."
"Chandler told us that he saw a ghost wandering around our cabin. He said he also heard the wind breeze while the ghost was moving. Another guy in my cabin backed him up saying he also heard that."
"Chandler was sent home and everyone continued the camp, however, it felt really weird. I talked to him a lot when we all got home and he told me more details."
"He told me he looked at the ghost for about 3 seconds because he was too shocked to say anything. The ghost was not white look in movies, it was transparent and BARELY visible."
"He told me it looked like a little boy. The little boy was not in our school uniform, but in really old fashioned clothes. Chandler told me he wasn't too scared of the boy in those 3 seconds but shocked because it was a ghost."
"Then what really screwed him was after those 3 seconds when his brain clicked and he screamed."
"The ghost boy turned and looked at him "with shallow, lifeless eyes" and then rushed out of the cabin. This was the wind sound Chandler and my cabin mate heard."
"Then I remember distinctly what Chandler said because if I was him, I would doubt everything I know. He said 'That ghost looked at me, with no expression, and even though it was only for a split second, it felt like an eternity. I knew it wasn't just my mind playing tricks when I saw his eyes. There was no soul in them, like it had been sucked away.' "
"I find it really weird because Chandler is the most honest guy I know and he seemed really traumatized."
"I was considering if it was the effect of the coffee, but he had it the night before as well and didn't see and hallucinations. Plus he was a regular drinker and he loved the taste even though it made him stay up."
"This story shakes me to this day."
- DirtyDuckTales
"Not A Deer"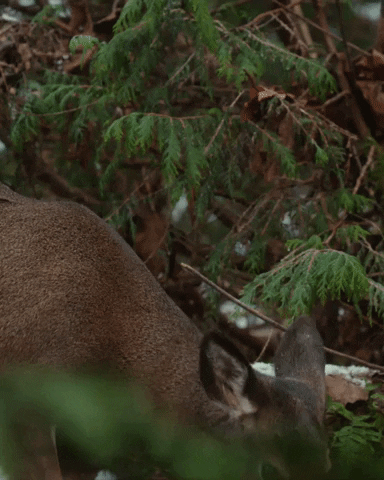 Busch Beer GIF by Busch
Giphy
"Alright it's finally my time to shine!"
"The area I live in has a very active deer population. They're constantly getting hit by cars at night in my area and people constantly have to be on the lookout for these dudes."
"So one night I'm driving home from my friends house around 1am. I'm going pretty slow because the place near my house has a pretty big deer family who loves the area (around 6-7 of them)."
"So I'm driving up a hill going around 30mph and I had to slam on my breaks cause a 'deer' runs in front of my car."
"I don't know if it was because it was super late at night and I was tired or what. But I sh*t you not, this was not a deer."
"It kind of was, but it had one too many legs and too many eyes. I only saw it for a second cause it ran past my car. But it was the weirdest thing I'd ever seen."
"It was pretty quick when it went by my car, but the 'tail' for sure was a leg, I can say that for certain."
"I even looked it up later and there is a commonly seen cryptid called the "Not a Deer" so that's just my fun little cryptid story."
- bobcatnat123
Jellyfish In The Air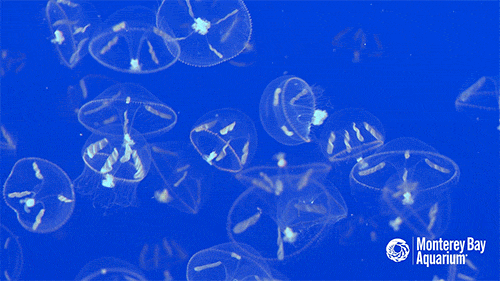 jellyfish GIF by Monterey Bay Aquarium
Giphy
"Walking through the woods in the southeast US for fun I walked through a field where there were tiny fluorescent jellyfish-like things floating through the air. Maybe half an inch to 2 inches in size."
"I initially thought it was some kind of plant spores or something moving in the wind but when I looked at them closer they were actually moving independently."
"That was about 2006. I spent months going through those woods and that field over and over again with a camera trying to find them but I've never seen them since."
- gettogero
Not A Raccoon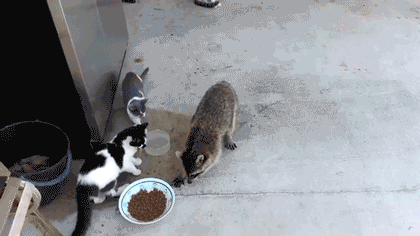 raccoon stealing GIF
Giphy
"I live in central PA. I have been hunting fox and such animals for 6 years now."
"We were out hunting one night and we use a Foxpro e-caller and red lights. We turned on the call - a rabbit in distress call, to be exact."
"I watched a path by myself and heard crashing and saw eyes."
"I was ready to shoot but then the eyes moved and stood up. They stood up almost 7 or 8 feet into the trees."
"I thought it was a raccoon until I looked through my scope and saw movement below the eyes. Now I don't know what that was."
"Till this day I refuse to sit alone in the woods at night."
- lilwhale1449
The Rake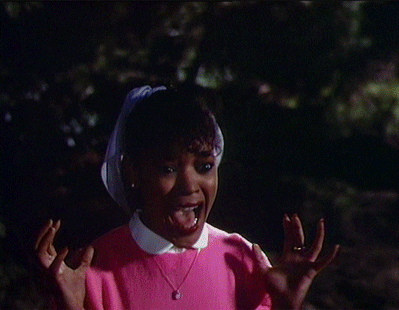 Scared Horror GIF
Giphy
"A little late but, when I was about 11-12 my mom was pregnant and asked me to clean out the cat litter."
"To set the stage, we live out literally in the middle of no where with big fields and pastures wrapped all around. My grandparents lived directly across from me and had a big dumpster bin where we'd all dump our trash into."
"I'm walking across the rock road with a grocery bag of cat shit in my hand and I notice that my grandparents motion light was already on. I thought it was odd but didn't think much else."
"I kept walking and see something like a white blob on top of the dumpster. I'm not wearing my glasses so it's a little fuzzy and I'm thinking it's a cat."
"So I'm slowly walking up to it, pst-psting at it not trying to scare it away."
"As I'm walking slowly, something starts banging on the dumpster. In my head I'm like WTF but creep closer for about 5 more seconds until there is the biggest bang and drop."
"For reference the dumpster is directly in front of a big wooden fence and about 20 ft back from that is a barbed wire fence."
"This thing takes off and has to hop around the fence and I see it's entire white spine, just so bony, and once it gets close to the barbed wire fence it turns left, and I see it's entire side, the way it's running, like a human dog hybrid."
"But no hair. Just skin and bone."

"I f*cking panic and run home and I'm crying to my mom and she's yelling at my sister telling her to stop scaring me."
"Maybe a year later found a photo of the rake. Everyone I tell this story to acts like I'm out of my mind but the image of the rake's back is FOREVER burned into my mind."

- jace5734
"Came home with my mom after she got off work. It was like 12 AM, and we lived in a small town in the middle of basically no where. There was a small section of forest behind our house, have never seen anything too creepy back there before."
"As my mom drives into the drive way, her headlights hit something in the tree line - pale face, sunken in eyes, hunched over in no way a human could."
"His back legs bent backwards and he had no visible genitals. But he was tall. Hunched over, he was about the size of a regular man."
"He was looking directly at us and my mom whispered if I saw it too. I started sobbing, rightfully so when faced with something that looks like the Rake."
"My mom backed up and parked in front of the house. We sat there for a minute before sprinting inside where I had nightmares."

"The next morning we told my neighbor about it."
"Apparently at about 2 AM she heard something scratching violently at her back door and Windows. The dogs didn't bark so she thought it was her son playing tricks on her… until he walked into her room."
"Still the creepiest thing I've ever seen and why I can't look at photos or videos of the Rake. Because I've seen it. I 100% believe he's real."

- AlexanderAJ3
Narrowly Avoided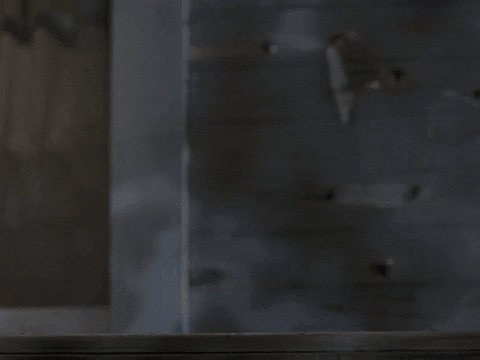 Covering Ears GIF by Back to the Future Trilogy
Giphy
"I believe I heard the Jersey Devil and narrowly avoided being devoured by it."
"It was 2013, October. I was down the shore and living in Point Pleasant, but went to Atlantic City for a day. I stopped at a motel in Waretown at the edge of the Pine Barrens and sea in Ocean County."
"That part of Ocean County is less built up than LBI, Point Pleasant, or Seaside Heights. The motel was dirty and run down."
"I slept on towels in the bathroom because it looked like there were bedbugs, it was that bad."
"At around 2 AM, I hear on the side door to my room exiting to the motel pool, a loud aggressive banging. Someone, or something is trying to break the door down."
"My first thought is its drunk kids at the pool...but the pool was closed and covered because its October."
"Then I realize it's too big to be a kid...and that it's making a noise that's halfway between children's laughter and snarling megafauna."
"The door sounds like its gonna snap and I bolt to the hall. It stops."

"I was told it was the Jersey Devil which the locals swear is real and it has a habit of banging on sheds in Waretown, like the shed for the pool equipment."

- generalsystemsuserna
Where Are You, Werecat?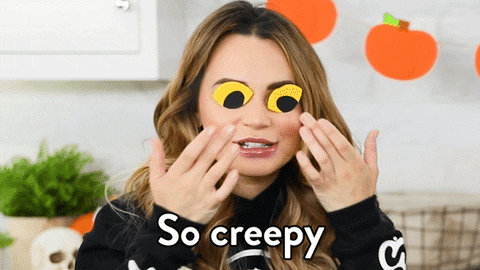 Youtube Lol GIF by Rosanna Pansino
Giphy
"When I was super young, like maybe 10 or 11, I was in little league baseball that my dad coached. One of the fields we played on was behind a school that was in the middle of a suburb, with a small forest on one side."
"I remember playing on the park that was at the school because the game was over, and I looked over to the trees to see a lady, maybe 5-6ft tall, wearing a think black zip up hoodie."
"Looked maybe 20 years old."
"She was running into the forest holding her hands on her face, and I distinctly remember clear as day that she had cat eyes, like creepily oversized yellow eyes that resembled a cat."
"I was very young so honestly I've just chalked it up to me having an overactive imagination, but the memory of her is so clear, even with the eyes."
- Kirbi126
My long-term readers will know I'm super sketched out by orcas and have essentially written off Argentina because their orcas hunt on land.
Alaska clearly needs to get scratched off my list, too.
Anything big enough to hunt orcas is certainly big enough to hunt Ericas and I'm not trying to be on anyone's menu.
Kthankxbye, giant spiky sea thing.
Want to "know" more?
Sign up for the Knowable newsletter here.

Never miss another big, odd, funny or heartbreaking moment again.
Keep reading...
Show less
Why is it that some of the most unsettling things happen when we're alone at home?

Could it be that our minds are playing tricks on us and we're imagining things that aren't there?
Probably, at least that's the hope.
Because someone with a burlap sack over their head with two eye holes cut out and attempting a home invasion would be an undesirable situation.

Curious to hear from strangers who have experienced disturbances, Redditor VagariTurtle asked:
"What is the creepiest thing that has ever happened while you were home alone?"
Someone was trying to break into these Redditors' homes.
It Wasn't The Stepdad
"My brother and I were home from school because we were sick. We had a craftroom in the mostly unfinished basement and we were down there playing with miniatures. Around noon we heard, VERY CLEARLY, the front door unlock, open, close, and someone walk in shoes across the foyer tile to the kitchen and turn on the sink."
"They then turned off the sink and went up the stairs to the second floor. I figured it was my step dad and called my mum to let her know he came home for lunch."
"She had just got off the phone with my step dad and he was in his office at work. She called him back and he came ripping home while we hid in the basement. Although we never heard the person come back down the stairs we didn't find anyone in the house."
– JamesonZane

Early Morning Disruption
"Someone started trying to force the door of my small garage apartment open, while I was laying in bed inches from the door, at around 2am."
– RainWindowCoffee

Evidence Of Forced Entry
"Years ago, a stranger smelled weed outside my apartment and knocked on my door. They wanted to join and smoke. I apologized and said no."
"Later that night, I left to go out. When I came home my air conditioner was knocked in and there were signs of someone trying to force entry."
– tassadank

Voices Carry
"I wasn't technically alone as someone else was in the house, but because of his medication, he couldn't do anything to help if there was an emergency."
"I was downstairs with my husband snoring beside me. I heard from the top of our basement stairs 'Hello?... Hello?... Is everybody okay?.' I went up to figure out who it was and thought maybe we'd accidentally left a door open somehow."
"Searched everywhere, nothing even slightly amiss. Made a phone call and also got my neighbor over. Both doors were shut and locked. Did a thorough check behind every door, the tub, under furniture, etc. Nothing. No one."
"This has happened several times and my only explanation is that it's our neighbor. For some reason, when we're in the basement, everything our neighbor does sounds like it's in our townhouse. Though I still have no idea why he's walking around his own house calling out 'Hello' and asking if everyone is okay."
– CuriousRelish

These Redditors had it ruff and later had a laugh.

False Alarm

"I was awoken in the middle of the night to something pulling on my comforter at the foot of my bed. I look down the foot of my bed and see this three or four foot shadow figure trying to climb on my bed. I panicked thinking I was about to get murdered. I flipped on the light to find my 15lbs dog trying to drag my 4 foot teddy bear onto my bed. It was terrifying in the moment, now I just find it hilarious."
– Accomplished-Gap5856
The Hairy Entity
"I was in my late 20s possibly early 30s when i woke up to see this black mass staring at me on my bed in the dark. I was terrified. I threw the blankets over my head and I was shaking. I peaked out after what seemed like an eternity and was licked. It was my black ungroomed schnauzer."
– CinematicHeart

Barking Order
"It was like 2am and I had to take my dog out to go to the bathroom. As I'm standing out in the yard, I notice there's this really big dude walking down the sidewalk towards my house."
"The big dude looks over toward me and screams 'Hey! Come over here, right now.' He sounded really pissed and I definitely did not go over to him. I locked myself in the house and watched him from inside."
"He was pacing back and forth on the sidewalk just staring at my house and looked really mad. As I'm watching him, two cars pull up to the curb and a bunch of people get out and join him to stair angrily at my house."
"I'm very confused at this point because I don't have any enemies and I wasn't sure what all these people wanted with me."
"The guy who originally scream at me starts walking toward my house and screams 'I said come over here! Right now!'"
"At that moment, my motion activated light on my porch went on and I could see a giant goofy looking dog sitting on my porch. The dog sprinted away when the light went on and the big dude went chasing him up the street. The people got back in the cars and chased after the dog too."
"As it turns out it the big goofy dog was their family pet and it had escaped from their house. It saw me in the yard with my dog and was running towards me to play (I never even saw it until the light came on). The big dude was just yelling at his dog, not me. The people in the cars were his family members trying to help catch the dog."
"I actually saw them walking down the street a few days later and introduced myself. Both the dog and man were very friendly. It was a happy ending for an initially creepy situation."
– MrBigTimeJim
Funny Games
"Slightly similar, I looked out my window and it was and episode of black mirror with 15 people standing in front of my home and people in their cars all looking down at their phone emotionless… Pokémon gym is in front of my house apparently."
– LA_LOOKS
It Was A Scream
"As I'm laying on the couch watching TV late at night, I hear a tapping on glass. I brush it off, only to have it happen again about a minute or so later. I turn to look out our sliding glass back door, which had always given me the creeps with its no blinds or lighting in the back yard, to see of all things someone standing outside wearing a scream costume."
"My mind started racing as to who it might be, perhaps one of my sister's friends? I wasn't about to go outside and find out! They slinked away into darkness before I found my nerve. Turns out my 70 yo grandma decided to scare the sh*t out of me lol."
– AmbivalentEnthusiast

People recalled their hair-raising events.
Strange Bedfellows
"So I lived in an apartment by myself. And every once in a while I'd be about to fall asleep and I'd feel a weight next to me as if someone else got into the bed (it was a queen size bed). So at the time I was dating a woman who would sleep over from time to time but I never mentioned this to her. So one night while she was over I had to leave due to a family emergency. I told her it's okay if she sleeps at mine alone if she would like and that I would be back the next day. I get home that morning and she tells me 'the weirdest thing happened last night, as I was falling asleep I thought you had come home and gotten into bed with me bc I definitely felt someone get into bed on the other side, but when I opened my eyes you weren't here.' Freaked me the f'k out."
– ManyRanger4

The Murderer
"My neighbor shot 2 people in his house. Then proceeded to hide the gun behind my house. I was home and watched him out the window. I didn't know what he was doing at the time. It wasn't until later I found out what had happened. The victims both died."
– offtuna

Eight-Legged Freaks
"Once was watching arachnophobia as a 13 year old on Halloween. Went to go to bed, got a little nervous because of the movie, decided to just shake out my bedspread. Found a solid 3 inch wolf spider sitting like an Andes mint on my pillow. Slept in the bathtub that night. Idk why that felt safe but it did."
– kharmatika

Wailing
"I was about 10 or 11 years old. We had woods behind our house. My parents were out one night, and I heard a shriek from the woods. My blood ran cold and I called my parents immediately. While on the phone, the terrifying scream happened again from the woods, and my mom could actually hear it from the phone."
"Later we figured out it was a fox."
"What does the fox say? Apparently foxes scream like someone getting murdered."
– morethanlemons
The Unstoppable Chair
"I was 11 or 12 yrs old. Internet was not a thing on my country yet, but the first PCs with Windows 98 came in and we have one at home. I was playing with wordart (yeah, good times tho) at like 12pm, then suddenly a chair from the kitchen table start to shakking, like with violence. Of course nobody was there. I ran out to the frontyard and wait for my mom to come home, she was there by 1pm."
"20 years later I still don't know how the f'k the chair was moving like that, because a lot of thing that happens to us when we were kids have a reasonable explanation. This on the other hand could be my mind playing with me but never happen again and i was a normal kid with normal parents and friends, no traumas or psychologic problems."
– outerspace69

If you're alone and not expecting anyone and you suddenly hear the front door rattling, would you check to see who it is through the viewfinder or pretend you're not home?
I pretended I wasn't alone once under the circumstances.
When I heard someone trying to open the door to my apartment several years back, I faked a conversation with someone who wasn't there to ward off the possible intruder.
I never found out if it was a tenant mistakenly arriving at the wrong apartment or a complete stranger who managed to bypass the secured vestibule door to the building. But I wasn't going to find out if my apartment was going to be broken into by somone who assumed no one would be home.
Time to invest in a Ring doorbell cam, I suppose.

Want to "know" more?
Sign up for the Knowable newsletter here.

Never miss another big, odd, funny or heartbreaking moment again.
Keep reading...
Show less
Security guards and first responders keep watch over people or property.
Sometimes their shifts begin when the most workers head home for the night.
Working alone in dead silence and in dark places or responding to emergencies can play mind tricks, but these professionals are trained to remain focused.
What they aren't trained for is how to respond to strange phenomena that can only be described as a paranormal disturbance.
Curious to hear from people who work in protective professions, Redditor L3n777 asked:

"Police, security guards, paramedics etc - Have you ever been called out only to realise it was a seemingly paranormal incident? What happened?"
Something spectral or something from another galaxy?
You decide.

The Darting Light
"Marine stationed in Japan back in 2010-12."
"I was military police. One night around 2-3 am we hear over the radio 'uhhhh. Any units seeing the light over the water south?' It was a marine air station based on the southern tip of Japan. We had no flights coming in or going out that night. Everyone knew there shouldn't be a light flying over the waters."
"So about 3 patrol cars met up at the air field where there was a way better view. Sure as sh*t there's a light sitting out over the water blinking slowly off and on. Some guys tried to say it was a star, so we had traffic control cameras from dispatch zoom in on it."
"Turns out it was slowly moving out of the cameras. So while by ehe we couldn't tell it was moving, the cameras picked it up. We sat there kind of amazed for an hour before it went away."
"As we were getting back into the squad car I took a last look at the night sky and saw a small light dart behind some clouds in a movement that didn't make sense. I didn't tel the other guys, just thought there's no way they would believe me."
"Months later I was running on the sea wall and stopped to lay down and catch my breath. Again saw a light, watched it drive into some clouds and then disappear. That was around the time of the tsunami and Fukushima. Super weird."
– Majestic-Science-220

Extra-terror-estrial
"Not a responder, but lived next door to one who is very famous in our hometown for his alien abduction, but there are other stories, too. This all went down in the 80s, rural England, and my memory of the exact details are fuzzy (been a while since anyone has bothered discussing it, small hometown and everyone knows and is over it)."
"The alien abduction story is that he was on the way back from a call out, saw some odd lights on the road ahead and had to stop, a one track road. He went to investigate the lights as any good police officer does, and next thing he knows it's a half hour later and he's back in his car seat, car facing the other way, some odd substance on him, no lights to be seen."
"The police dispatch also confirm that his radio frequency just disappeared for that half hour. The substance was tested and didn't match any known profile (I really have no idea what that really means or what tests were)."
"At around the same time, this officer and some others were called out by a farmer whose cows had disappeared. Yes, very stereotypical cows in a tractor beam story. But the farmer reported them missing, multiple police show up, gate is locked and no cows."
"They all decide to drive around looking for the cows. The paranormal magnet officer reports that thing where you keep trying to drive somewhere but always end up back where you were when it shouldn't be possible on his route, but they all convene back at the field at the end of shift."
"The cows are back, though none of the officers found them and nobody called in to find them. And remember, paranormal officer has seemingly been driving past the field on a loop all night. The farmer was also unaware when they called to ask him. Totally sounds like the farmer pulled a prank, except it was raining that night and there was loads of wet mud building at the edge of the field where the gate is, and not footprints or hoof prints, and the cows were dry, too."
"The last story I have the vaguest recollection of, I think it happened some years earlier and the paranormal officer was called to the discovery site. It is mostly about a different guy, a farmhand who was an immigrant who disappeared without a trace and then appeared several days later and miles away, dead, with burns and another unidentifiable substance all over his body, dumped at the top of a pile of coal."
"Again, no sign of anyone climbing up the very precarious pile of coal. And no sightings of this farmhand getting from the farm to a different town - one road, and he didn't seem to be on it at any point. He was in the same clothes but appeared to have undressed then been redressed by someone else."
"Autopsy couldn't find a cause of death, it wasn't the burns, and he was like, barely dead (no rigor mortis) when discovered. Edit: Should probably add that the official answer to the farmhand death was spontaneous ball lightning, itself a weird theory, and it doesn't explain most of the situation."
"I am not saying aliens but everyone at home is mildly convinced of the aliens."
– bingley777

It all starts with a sound.
After Hours Visitor
"Universal Orlando has a ride that you can hear a little girl laughing and someone running up and down the corridors after the ride closes."
"I've had doors that only lock with a key somehow lock when no one was around. The mechanics only work with ALL the lights on and music blasting."
– Revolutionary-Yak-47

These Low Effort Jobs Have Surprisingly High Salaries | George Takei's Oh Myyy
Have you ever worked one of those jobs that paid you to kinda sit there? If you have, you know the joy that comes with watching the entirety of Breaking Bad ...
Undetected Visitor
"Unarmed security for a residential building here, this is extremely tame compared to some of the other stories here but this is a pretty salient subject (and I have evidence)."
"My site has a rooftop pool and it's really one of the only major things the management gets anal about when it's supposed to be closed. On a chilly night not too long ago I was posted up in the rooftop stairwell staying warm when I hear a crescendo-ing fit of laughter that goes to the point where the laugher is gasping and choking."
"Kind of weird, but not a big deal considering that people throw parties and whatnot all the time and I could tell it wasn't close enough to be someone horsing around in the pool. Then I just start hearing a bunch of shrieking, and the source of the noise is moving around."
"At this point I step out, and I realize it's coming from the rooftop itself (locked up and only accessible by non-security by scaling a concrete wall). The noise stops and I try to start zeroing from where exactly on this dark, slippery, cold-ass roof the noises were coming from."
"Then I see some footprints on the roof that were not there before. Barefoot prints with no heel print (tiptoeing). Footprints that are dirtier than the surface of the roof itself. Noped my way right back inside because it was an hour before clock-out"
"I'd much rather have something paranormal than a methhead on the roof running around with no shoes."
– Insominus

Electrical Disturbance
"Before my actual job in LE, worked security in a college back in 2016. I remember at some point a movement detection alarm tripped in the theatre. I check up on the cameras and only the lobby had a camera. The lights were flickering but it seemed 'intelligent' meaning one light was flickering then suddenly another one was. I decided to go check it out. All doors were locked magnetically. Lights stopped flickering the second I walked into the room."
– StunningZucchinis

Cry For Help
"Temporariy security guard at a supermarket in Holland. Suddenly i get a call that there is a kid locked in one of our Walk in coolers that you need a magnetic key for to unlock. Customers and staff have heard this kid yell for help."
"I get my magnetic master key and open the door. there is nothing in the cooler no kid no produce nada. We explain it away as some joke but staff insist they heard it. Jokingly tell them they heard a ghost or some sh*t. And after that i continue my shift slightly unnerved."
– sarper97

These Redditors had no clue who or what was moving things around.
Ghost Driver
"Yyyooooooo lol you might not believe me but at universal studios Hollywood the lower lot we use golf carts or Ford explorers to patrol. There is a golf cart that drives it self at night."
"We have the number of the cart on camara and I sh*t you not it's been 'no operational' for over 6 years. (Some one wrecked it on lot) thing drives around jaw lake and residential area at night. Scary sh*t is I patrol up there alot for my swing shift never seen it but camaras catch it zooming past use when we are driving lol"
– Fearsnodeath

Maybe The Building's Old
"I know the feeling, especially with the doors. the building I work in has these sliding doors. The outer doors locks at 8pm but the inner doors stay unlocked. Sometimes around 1 am or 2 am the inner door will open like someone just walked past it... Once the locked outer door slid open like someone walked up to it... "
"That night I cut power to the doors for the rest of the shift. Same with the phone, except we can see who is calling in, whether it is an outside line or if it is coming from in the building. At least once a week there will be a call from one of the offices in the middle of the night, the first night it happened I assumed it was housekeeping, next morning I spoke to head of housekeeping and was told all housekeeping leaves at 8pm, same with kitchen staff, and maintenance."
"Management is out the door by 5pm, only staff in the building after 8pm is myself and a handful of nurses, and it can't be any of them as they are on another floor, I have the only key to the offices the call comes from, and I would see if anyone entered or exited the offices. Same with the alarms, had the fire alarm go off last week and it prompted all the fire doors to close, as soon as those doors closed it stopped."
"I checked, nothing in the building to trigger it, opened the fire doors back up, sat down at the desk, 5 minutes later alarm is shutting the doors again for no reason."
"So only thing I can figure at this point is this building I work in is an old building and it probably has some bad wiring somewhere that keeps setting things off."
– CylonsInAPolicebox

Ghost Writer
"A guy I worked with told me about a computer programming job he had at a small bank that I think was in Salem, Oregon. He was engrossed working on some code and didn't notice people leaving for the day, but at some point he realized he was alone."
"But he could hear slow, irregular typing, like somebody who didn't know how to type was using one finger. He was in a groove and kept working, but eventually he had to stop and figure out what it was."
"After walking around and finding nobody there he realized the sound was coming from behind a door he had never seen opened. As he opened the door the typing sound stopped, and what he found was a small closet with some boxes of forms and stuff stacked up, and on top of the boxes was an old manual typewriter, like from the 1920s. No paper in it."
"At that point he just closed the door and called it a night. This guy was a rather unimaginative person and also a hardcore biblical Christian. He never even reported this or asked his coworkers about it. I would have stuck a sheet of paper in the typewriter (and then noped out for the night)."
– refried_pancakes

Building With A Gruesome Past

"Once worked in a call center very late at night. Around 8pm you'd hear all the doors in the main corridor slamming shut, but the doors didn't open or close at all."
"Later we tried to frighten one of the workers by telling them the place was haunted, and found out about a month later that the entire building was on top of a medieval plague pit, where they just build over it and left the corpses buried."
– WimbleWimble

Haunted Condo
"I work security at night in a luxury condo, I actually started a little over a month ago and I already had a fair share of incidents."
"Alarms triggered for no apparent reason, finding unusual doors unlocked, random orbs on the cameras, doors slamming while nobody's around, elevator phone started ringing by itself."
– Important_Walrus8917
I always imagine security guards wander dark corridors at night illuminated only by their flashlights to investigate strange sounds.
If that is a reality, to them I tip my hat.
Because regardless of earning a decent wage, I would never want to subject myself to witnessing horror movie tropes like fresh footprints when no one else is in the building, or a strange point of light darting around that is not traced back to my flashlight, or slamming doors not due to mechanical failure.
To all responders in the field, thank you for your service.

Want to "know" more?
Sign up for the Knowable newsletter here.

Never miss another big, odd, funny or heartbreaking moment again.
Keep reading...
Show less
Pragmatic people believe there is an explanation for the unexplained, given the fact they have a practical and realistic approach to everything.

But contrary to what they may believe, plenty of hair-raising situations in life defy logic, and they will never be able to find a rational explanation for them.
This leads to one conclusion: that there are supernatural forces around us. It is ignorant to deny the existence of greater forces at work invisible to the naked eye. At least that's what I believe.
And just because you don't see it, doesn't mean it doesn't exist.

Curious to hear from strangers who have had brushes with otherworldly forces, Redditor HalfOfABraincell asked:

"What is a supernatural event that happened in your life that just can not be explained?"
However, prepare to be baffled.
Keep reading...
Show less
We all feel a certain pressure to be above superstitious beliefs. There's a powerlessness within superstition that we'd rather avoid.
But what if we simply can't?
There are just some situations that people can't help but feel convince that something supernatural or otherworldly at play.
It may be due to an old bed time story or urban legend that they never could shake, or perhaps there is something about the dark that brings out the beliefs.
Whatever it is, plenty of Redditors had experiences to share.
Francucasteddaju asked, "People who aren't superstitious, what is something that still creeps you out/ you won't mess with?"

Want to "know" more? Never miss another big, odd, funny, or heartbreaking moment again. Sign up for the Knowable newsletter here.
Keep reading...
Show less