In this day and age, with the state of the world what it is... it's a miracle people aren't sobbing at every gas pump, cash register and red light.
Tears are healthy.
Unless they're being used for manipulation or a tantrum.
We release emotion with our tears.
And one of the most emotional places to be is at work.
That can be a sobfest.
So what is the best way to help in that situation?
Let's compare notes and tissue brands.
Redditor tiredofland wanted to hear about the times they had to deal with emotions at work.
They asked:
"How do you handle people crying at work?"
I have cried many a time over the years. Especially when waiting tables. A hug always helped.
Condolences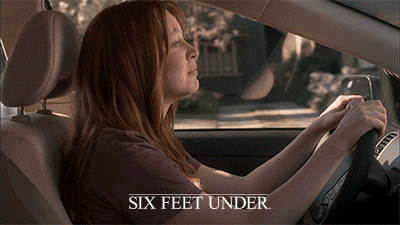 six feet under GIF by HBO
Giphy
"As a funeral director, I tend to just touch them on their arm and hand them tissues. And stay quiet."
Oct92018
Cry on Me
"I usually provide a tissue. I often get hugged. My last job, we had a meeting and one of the people in the meeting, well, she seemed off. Everyone filed out and I kind of lingered, asked, 'Hey, is there something wrong you want to talk about?' Boom, waterworks, she had to put her cat down this morning, etc. I am the guy in the office people cry on, I guess."
Nadaesque
to a science...
"I'm a teacher, so it's a near daily occurrence for me. I have a jar full of candy - usually chocolate- on my desk (the kids call it sad candy), a chair, and a big round plush bird toy just the right size for hugging. His name is Sherbert, cause he's colored like rainbow sherbet. They can talk it out with me or just cry in silence if they'd rather, but I just sit with them until they're ready to re-join the world. It's sad, but I have this crap down to a science."
ThePhiff
The Stress of It All
"I work for a 911 center, you better believe there is crying. Especially when an employee is new and they give CPR to an infant and its not a positive turnout, someone kills themself while you are talking to them on the phone. Pretty soon your heart and soul die and you can deal with it, but something especially awful happens and it hits you. I have been doing it for 28 years and have seen plenty people come and go, who couldn't handle the stress?"
One-Butterscotch-786
Fur Babies
"In the veterinary industry, unfortunately, if you notice a co-worker is or has been crying, usually you pretend not to have noticed, maybe ask them nonchalantly if they can do something for you that isn't client-facing for a while like fill prescriptions, and don't bring it up later unless you're friends outside of work."
"Everybody cries at work at some point, and it's not even usually about a sick/dying animal. If a client is crying though, you have to be sensitive, empathetic, comforting, gentle, offer them privacy and condolences without smothering them."
"Clients cry for the reasons you expect, and of course it's hard to see them through it, because dealing with a sick or dying pet is hard. Staff will often shed a tear in these appointments too, but most often when a co-worker is crying it's because another person went out of their way to hurt them. Be kind to your veterinary staff folks, we feel pain too."
sainttawny
People do seem to cry a lot. Makes sense, I do.
I'm Here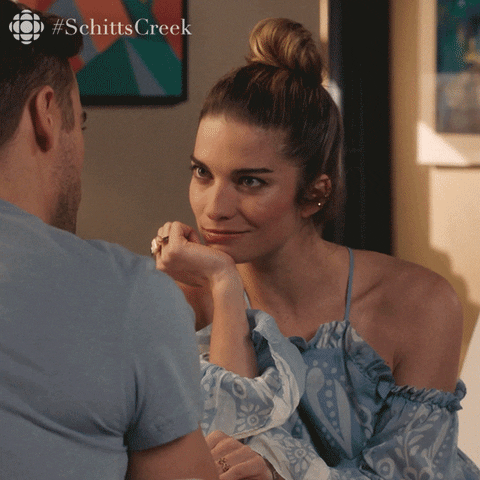 Tell Schitts Creek GIF by CBC
Giphy
"'Is there anything I can do?' Then just listen. Often the listening is enough."
Pavlock
Kindness
"I work in healthcare, so this happens quite frequently. Usually it's patients. Most often, people just want their feelings validated and that someone understands them. That's all. Being empathetic goes a long way."
moscowmulesplz
"Yes! Empathy truly goes a long way!"
ElBarbon026
Alone
"Saw a chick crying at work, sitting outside. Half wanted to ask her if she was ok but when someone is crying hard sometimes they just want to be left alone in their feelings and it must be embarrassing enough to cry at work, so I left her alone and kept walking."
KiwiCatPNW
He is Awful
"Many years ago I (male) was having an extended discussion with a female coworker about something technical and I noticed that she would periodically start crying during our talk. I was so dense that I thought (perhaps out of intended politeness) that I should just ignore this and go on."
"For some reason I have often thought about this and reflected on the fact that it would have been much more humane to at least ask her if she was OK, if she would prefer to talk later, if she would like to talk instead about what was upsetting."
"Later I heard from someone else that she had travelled to the area from another state with her boyfriend. He had a job at another company nearby that was expanding rapidly and she had received the news that he was already cheating on her with multiple coworkers."
fund0us
I'm Blind
"I follow the golden rule so I ignore them, pretend not to see them, and later talk to them normally like nothing happened, because that is what I want in their position."
xyanon36
"Same! I tend to get more upset if someone checks on me, because now I'm embarrassed and feel exposed on top of what's causing me to cry in the first place. Since I never want to be the cause of that, I won't ever approach someone in that state."
Annonymous_97
There is no perfect way to comfort somebody. You just do it. Or apparently... look away.
Want to "know" more?
Sign up for the Knowable newsletter here.
Never miss another big, odd, funny or heartbreaking moment again.
Keep reading...
Show less
*The following article contains discussion of suicide/self-harm.
Let's face it unless you get paid to do what you love, most jobs are stressful.
And as much as we'd like to walk away from jobs that take up too much of our time and take a toll on our bodies, we toil away because it pays the bills.
Most people are very lucky to have a job, even if they complain about the long hours. But is there a breaking point when a person decides it's time to walk away?

Curious to hear from strangers online, Redditor r4y4d0 asked:

"Would you quit a job for mental health? Why or why not?"
For these Redditors the decision to quit is better than the alternative.
No-Brainer
"Buddy, people quit life over mental health. Of course I'd quit a job for it."
– Catburglar1987
"I've quit jobs because of mental health twice. The second time was after a very close call on the quitting life front (close enough to involve psych emergency services)."
"2 years later I still don't feel safe returning to office work (certain personal factors and the fact that it happened in 2 out of the 2 full time jobs I've ever had make me worried I'm at too high a risk of it happening again for my comfort). Luckily I have a good remote work option now due to contacts and goodwill made at job #2. I know at one stage I'm going to have to up the therapy and bite the bullet but now ain't it."
– Aenthralled

Beware The Burnout
"You can quit to get ahead of the burnout. I've burnt out before and it sucks. I recently found myself going down the same path so I dropped a uni course and asked my boss to move me to less emotionally stressful work. It worked! So I would say it is not 'the same picture' because quitting for mental health might save you from a lot of misery."
– Cytokine_storm
Workplace anxiety raised blood pressure to dangerous levels.
But Before Quitting...
"I DID quit a job for my mental health. They replaced me with three people. My blood pressure dropped 10 points in a week."
"Find another job before you quit if you can, though."
– deagh

Diet And Excercise Can Only Do So Much

"Yep. My partner was flagged with alarmingly high blood pressure by the doc recently. We went scorched earth and cut out almost all sodium, ate 90% vegetables, worked out every day."
"Blood pressure didnt start dropping until after they got laid off and lost their stressful job 🥴"
"Take care of yourselves, guys."
– sardine7129

"It's 100% My Job"
"My doc recently tripled my BP med dose, added another BP med, and talked to me about a low sodium diet."
"I lost a kidney 22 yrs ago. The Nephrologist was VERY clear that I needed to watch my salt intake and keep it low. Which I have been since then. I've been in the hospital before because it was so low, lol."
"Just started BP meds this year. It's 100% my job. Healthcare workers are quitting left and right. We've lost 16 people in my department because they got tired of administration BS. Work is a garbage fire right now. I'm jumping this ship as soon as I find another job."
– Tiny_Teach_5466

People continued strongly advising others to put their mental and physical well-being first.
"My wife quit her job over mental health...and the job paid about CDN$160k."
"It saved our marriage, her relationship with our kids, her friendships, and herself."
"So ya...people do it."
– Marlowebabe

Damaging Consequences
"I didn't do this and faced the consequences. Worked till the lights went out, even though I had serious anxiety and depression because of my job."
"When the lights finally went out, I've spent 2.5 years at home with a severe burn out and a depression."
"I urge everyone to put their mental and physical health above their work. It isn't worth it. Don't be like me."
– Daanvann

"Don't Be Miserable"
"F'k yes I've done it so many times in my life! The whole point of living is to find happiness and purposes that make you happy. Don't be miserable and end up like the managers of the places you've worked in. That sh*t follows you home even if you try to bury it. Everyone is affected by it especially family members they notice your tone change."
– meatusdeletus91

Triggering Trauma
"I quit the best paying job I've ever had for mental health reasons. I was getting paid about $600 every payday (not much, but it was decent for a part time job), but that money didn't prevent me from having full on breakdowns in the bathroom after my bosses/managers screamed at me in front of the customers. It was so intense that it reminded me of my abusive childhood."
– Toasty825

"Best Decision Ever Made"
"I did it once. Best decision I ever made. Once I realised I was dreading going to work each day, i realised it was time to go. I had been looking around and got a different job, same role in a different company (bonus: for more money!) and put in my notice that day. My life transformed overnight. I literally thought there was something wrong with me and I just wasn't adjusting to 'life at work' after uni and was depressed. Turns out, no, the company I worked for was just f'king depressing. Turns out it's possible for companies to be nice to work for and are filled with nice people who nice to each other. Crazy!
"Since then, I would ALWAYS tell somebody to ditch a job for their mental health. Just get online and see what's out there. Only ever leave a job for a job though, I think. Financial instability won't help your mental state."
– Ilovecheesenwine

Redditors were pretty much unanimous in strongly suggesting people leave their stressful jobs before it's too late.
While the decision to quit is not easy one to make, it's worth looking into other jobs in the meantime that won't cause as much emotional distress.

If you or someone you know is struggling, you can contact the National Suicide Prevention Lifeline at 1-800-273-TALK (8255).
To find help outside the United States, the International Association for Suicide Prevention has resources available at https://www.iasp.info/resources/Crisis_Centres/
Keep reading...
Show less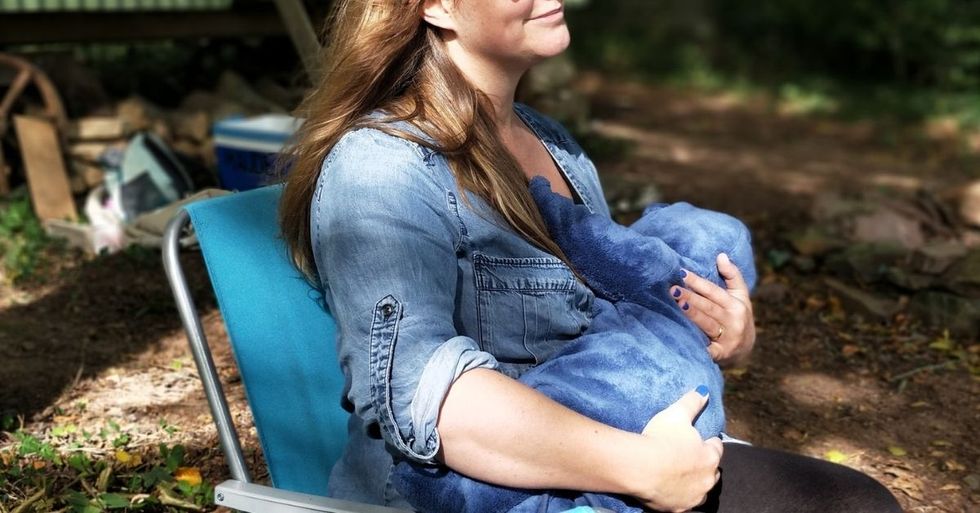 The older we get, the more friends we tend to lose. The friend circle does grow smaller, and that is not always a bad thing. Sometimes you just have to let someone who is maybe more toxic than positive go. Or maybe have someone else let them go for you… Case in point… Redditor Specific_Paint8017 […]
More
Throw a little caution to the wind!
Take a risk and see what happens.
I hate all that advice because it's easy to give when it's not you facing the consequences.
Consequences should always be part of the decision-making process.
You can't escape them.
Redditor HabitualRot wanted to hear about the times people just gave in and hoped for the best. They asked:

"What was your "f**k it I'll deal with the consequences later" moment?"
I will admit I have done this a few times. And I still regret most of those instances.
Do it Now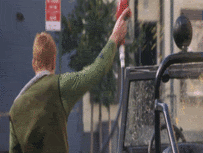 gas gasoline GIF
Giphy
"Every time I tell myself, 'I'll just get gas before I drive to work tomorrow' and then find myself running 15 minutes late. You'd think I would learn at some point."
strippersandpepsi
And your score?
"Credit cards. Oh man I wanna fight 18 year old me.."
LoweeLL
"Thankfully I was always scared of credit, so I managed to never open a card and create debt I couldn't pay back. However now i finally did open one, and it's taking forever for my credit to build up. Wish I would have opened one sooner! I really don't understand how people open up a credit card and spend it on things without paying it back. It was just always kind of obvious in my mind even as a child that whatever I spent on it I still had to pay back."
NewToReddit4331
Bad Save
"Was about to hit a tree while snowboarding. Either break my board on it to lessen the blow or break my body on it. Chose to protect my board. Regretted ever since. A lot of damage was done. My thigh slammed into the tree and took the full brunt of it. I didn't break any bones but couldn't walk for two weeks. However, that was the best part."
"I went to the hospital for a check and they said it was all good but what they didn't notice was that my right side of my back had shifted. So when I tried to run or play sports, the ligaments and meniscus is both knees got destroyed and now I can't run anymore."
JapanEngineer
We All Know
"I had developed feelings for a coworker (small company, about 20 people), we kinda flirted at work and some people were starting to suspect something but we managed to keep it professional. One night we had a few drinks, could not decide to part ways, one thing led to another... the morning after when we woke up together, neither of us could muster the strength to go to work."
"She called in sick, and a few minutes later I sent an email to use a day off, as things were quite slow at work anyway. But we knew all too well that the both of us not showing up, with coworkers aware of our plans to get drinks together the night before, well, we weren't going to fool anyone. And the following weeks/months were pretty awkward indeed (we never made it official, for the time it lasted)."
MellifluousPenguin
All Night to All Day Long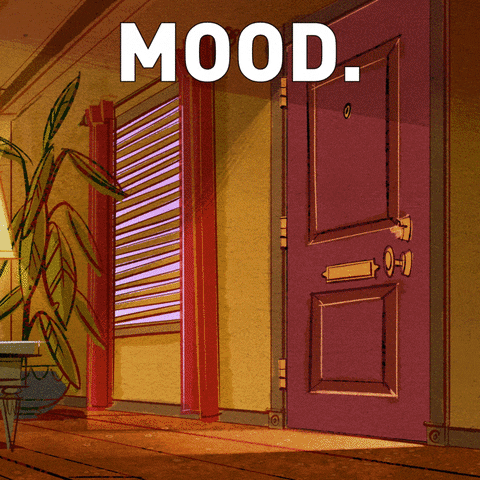 Tired Donald Duck GIF by Mickey Mouse
Giphy
"I stayed up with my friends playing video games online until the sun started rising. I'm in my mid-thirties and that level of sleep deprivation the next day was worse than a hangover."
hankypank3
Seriously. Always embrace sleep. Always. You'll thank me later.
Sometimes it works...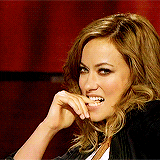 Olivia Wilde Reaction GIF
Giphy
"Offering my long time best friend a neck massage, turned into some foreplay, then a conversation about not ruining our friendship with sex, followed by a "F**k it" and a night in bed. 3 children later, still going strong."
FailCaek91
"throw it man!"
"I was a teenager in a friend's car, we were smoking weed. Then he was getting pulled over. Driver said 'throw it man!' I was like 'he'll see that anyway, and this car smells a lot like weed anyway, also it's good, lemme just finish this real quick.' So the cop arrived at the car and I was this kid sitting there smoking. The look on his face was kind of hilarious. I wasn't raised to be wasteful for goodness sake."
throwawaysmetoo
Unloaded
"I used to unload freight from delivery trucks for a living. Most the crap was half haphazardly thrown in without regard to anything. It gets a bit frustrating. One time I had got to the back of the truck and there was one pallet left. The pallet itself was crushed with these concrete barriers that were stacked on it. They never should have loaded it that way and they knew it."
"It would be impossible to unload by hand, but I couldn't get the fork lift all the way under the crushed pallet. I decided ultimately to just say f**k it. I leveled the forks at pallet level, backed up about 30 feet, and then rammed it full speed. The forks went clean through the pallet... and the back of the truck. I got those concrete barriers off though."
__________lIllIl
Lets Try
"Me and my now wife's third date. Our cars got locked in this garage at a garden we were visiting. I ended up staying at her parent's house as they were the closest people to the location we were at. We slept in the same room, after like 15 minutes of excruciating tension she said "'soooo..... you just wanna do it?'"
"I replied, 'I don't have any condoms.'"
"She said, 'I'm on the pill.'"
"Worked out cause we are now married 7 years later and no kids."
throwaway_nfinity
This is Me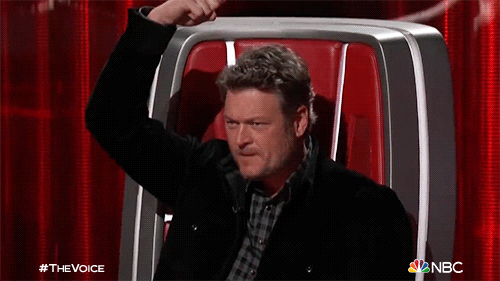 Blake Shelton Nbc GIF by The Voice
Giphy
"For a serial procrastinator like me... this is my whole life. Sometimes, I have to postpone those dealings with consequences too. It's an art as well as science."
thesvsb
Middle Finger
"I used to work at an animation studio until a few months ago. It was an 8-5 with unpaid OT, far from home and shitty pay. It was a terrible experience, only reason I stuck around so long is because I was in a tricky situation and wanted my credits on their project."
"In January this year I got freaking tired of working long hours in an office job because I'd been employed since October and I hadn't been paid since then because 'the salaries had been delayed due to budgeting issues.' Ahhh this was a really bad time for me."
"Family was over, and for once I had no money to treat them to something nice, all because I chose to work at that filthy studio. I said screw it, took a week long vacation without informing anyone and after coming back handed in my resignation in the form of a middle finger for all the miserable past experiences."
zed_hunt0218
World in my hand...
"Quit my job when I was 24 and went traveling around the world for a year. Parents wanted me to buy a house with my savings but I spent it all on seeing the world instead."
cypherdroid
"40 here. House. Married. Kids. The works. I spent my 20's building up savings buying my house etc... You made the right call."
Jerimiah_da_Bullfrog
Confused AF...
"I changed my secondary school choice last minute from a school 15 miles away to the one a 2 minute walk from my parents house. I figured I would deal with the consequences. Time came around to see if I was accepted into the school... I was accepted into the original one, 15 miles away... Confused AF."
"My mother grins and says she changed it back to the original one before sending it off. I wasn't even mad, I regretted my decision about a week after I changed it. The original school was a much better school and I'm now still the only person in my family to do all of the education stuff."
randomer206
Toilet Trips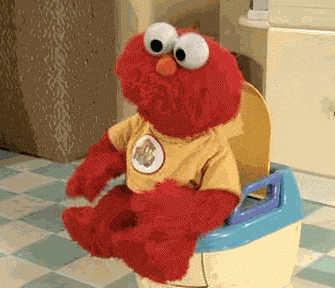 toilet GIF
Giphy
"Found a new coffee shop in town which was so good I immediately went back for a second and a third large (so 6 shots in like 10 minutes). Regretted it both throughout the day and during the multiple toilet visits!"
Kingy7777
I Gotta Go...
"Quit a new job that had me an anxious wreck every morning, to the point I couldn't even have breakfast. So glad I did it, but I'm never that impulsive. (I'm ok now, happily employed in a position somewhere else)."
AZymph
"I was in the exact same situation. Used to vomit every morning before work. Barely slept and lost a load of weight. One day I walked out and never went back. I didn't have a job to fall back on, best decision I made. Unfortunately, I still struggle with the trauma from that job more than 5 years on."
A-Bit-Of-Everything
He wanted coke...
"Last Friday I went to a carnival and won a goldfish. I was going to fill up a bowl for him when I got home, but the water pipes were down for repairs, so I just used Coca Cola instead. The next day the water was back so I put my goldfish in a new bowl and he was not happy."
"He wanted coke. He glared at me. He rammed the glass. He hasn't let me sleep in days. He desires the coke. He DEMANDS the coke. As I sit here typing this on my lunch break my hands are shaking because I know he'll be waiting for me when I get home. I don't know what to do."
YeetExchanger
Boring
"Pretty much all of adolescents. Currently dealing with it. High cholesterol, constant tenitis, bad joints, nutritional deficiencies... It wasn't until November that I finally accepted that 'Just because you technically can doesn't mean you should.' 37 years old and finally an adult. It's boring."
FlavorBlastedTears
Ever After
"1998 - on my first date with a woman I'd met in an online chat room. We did the boring, cliched dinner and a movie thing. Things got hot and heavy in the theater. After the movie we drove back to her apartment and she invited me in. I had plans the next morning, but said what the hell. I didn't leave until 5:00 the next morning, and ended up blowing off my plans. She and I have been together ever since."
GrumpyCatStevens
More Night Please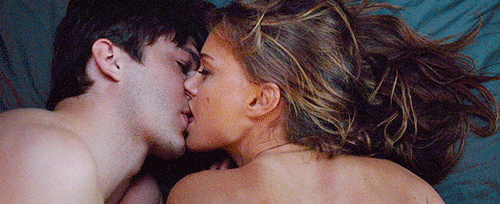 in bed love GIF
Giphy
"Hanging out with my girlfriend in the middle of the night knowing that I have to go to work the next morning."
CharlesEchowave
Bye Grandma...
"Right now I am sitting in an airport on my way to see my dying grandmother. I have to drop my huge project that is just going into execution. In week 1 I put in 70 hours and expected similar for the current week. I emailed my boss but am going to be on a plane before he arrives at work. I'm prepared for any backlash, I'm not prepared to not hug my grandma again."
Smyley12345
Well, I'm glad it worked out for a few, but not most. Right here is a lesson.
Consequences first!!
Want to "know" more?
Sign up for the Knowable newsletter here.

Never miss another big, odd, funny or heartbreaking moment again.
Keep reading...
Show less
With so many stresses spiking our anxiety levels in our current climate, it's a challenge trying to pick our battles.

Ultimately, letting things slide and not sweating the small stuff are good places to start so we can get a good night's sleep.
But there are just some things that we can't stop fixating on, and it's mentally taxing.

Curious to hear examples of this, Redditor -Z-3-R-0- asked:

"What bullsh*t are you just tired of?"
The way we interact gets dissected here.
Respect
"Grown adults who don't want or flat out refuse to act like decent humans. Being a**holes to each other over petty things and then being proud of it for moral superiority and/or internet points."
– bubblegumbreeze
Social Media
"I am tired of people constantly being on their phones, especially when you're trying to talk to them. Tiktok will wait. If you could just do me a solid and return my conversation, I would appreciate it. Your Instagram isn't going to suddenly have something new on it just because you keep refreshing it."
– somethingnotbasic

People don't have patience for others who don't take responsibility.
Tired Excuse
"I'm tired of how f'king obsessed everyone is with categorizing everything and viewing the world through this simplified lens where everything fits an archetype and it's always both okay and accurate to generalize. It's so pathetic and I'm sick of people making excuses for their delusions by saying sh*t like 'this is just how humans are.'"
– gigaLion
It's A Bad Sign

"people blaming their bad traits on their zodiac signs because they don't want accountability."
"'sorry it's because i'm a capricorn!' no, emily, you're just a b*tch."
– thatonedik3
Redditors discussed the different perceptions and personality types.
Entitled
"Entitled customers who think just because 'they've shopped here for YEARS' that means they're entitled to discounts/free stuff and repeatedly treat us like crap."
"I always say we have to bring back (what I refer to as) the 'no bullsh*t policy' because that's the only way you're going to get these entitled people to STOP. You can't give them what they want."
– Dragon_Queen1997

​Underestimating
"People mistaking my kindness for weakness. I'm a friendly and intelligent blonde, but I will go Jersey on your a** in less than 60 seconds. I feel like prey 😔"
– wolfielover22
Age Is Just A Number
"People that are older than you thinking they are right just because they are older."
– _MrNobody___
Our day to day dealings involve a variety of headaches.
Healthcare
"Paying health insurance and then still paying for medical care because insurance is a scam."
– wagneran

So Unclean
"Pollution. Trash everywhere in cities."
– EdgeMiserable4381

Affordable Living

"This housing market."
– koa-the-pomsky
"My credit is f'ked because I couldn't pay all my bills on time at this cabin I lived at in a trailer park. No doors for the one bedroom, no bathroom door, a gaping hole in the floor that squirrels would come up through, and rent was $425 a month."
– WhAtDoEsThIsMeMeMaTe
Forced Slumber
"My body refusing to sleep unless I drug myself."
– CaptainNapal545

There is an art to having a conversation, but it shouldn't be that difficult not to be rude.
I can't stand it when people don't have enough social graces to recognize they've been leading the conversation the whole time, not letting an opportunity for anyone else to weigh in on a discussion.
There's nothing worse than having a conversation move on to another topic when you've been waiting to share your thoughts, ten talking points ago.
Thanks a lot for giving me conversational blue balls.

Want to "know" more?
Sign up for the Knowable newsletter here.

Never miss another big, odd, funny or heartbreaking moment again.
Keep reading...
Show less