Sometimes, the most useful advice you will ever receive might come from the most unlikely of places.

Be it a random stranger you meet on the bus or in an anonymous online chat room.
Sometimes advice that might seem generic and vague on the surface might help shed light on other areas in your life you didn't even realize you needed help with.
With this in mind, Redditor gaps610 gave the Reddit community an opportunity to help out others by asking:
"What is some completely non-serious random advice you wanna give to your fellow Redditors?"
Unless you want your romance to be literally "fleeting".
"Don't fall in love in the airport."- mdrnsavg
It goes both ways
"Definitely don't sweat the petty things and absolutely don't pet the sweaty things." - User Deleted
Can save you money on buying new dolls

"Barbie clothes will fit on bananas."- highmaintenancebunny·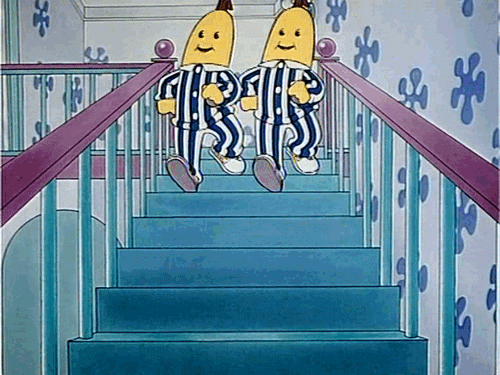 bananas in pajamas GIF
Giphy
Quit while you're ahead

"Don't."
"Whatever you're thinking, just don't."- Hold_My_Anxiety
Same goes for your shoes.

"Don't wear your socks in the shower, they'll get wet."
There are no "losers" in life

"The answers are all made up and the points don't matter."- Sad_Thought_4642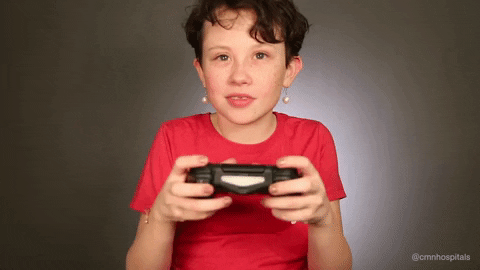 video games kids GIF by Children's Miracle Network Hospitals
Giphy
It's just polite!
"Hold the door."- WaCandor
In case of the need to carbo load!
"Save time with food prep by boiling all the water you need to make pasta for the week each Sunday and freezing it."- TennisADHD
It stops being as easy as it looks
"As you get older and have to get down on your knees (gardening, etc.), Bring a 5 gallon empty bucket to help you get back up."
"If you are too proud you can pretend that you are using it to carry tools."
"Being a young punk in my youth making fun of older people has caught up with me."- charlie2135
Stand Up Help GIF by FC Schalke 04
Giphy
Know when to stop...

"Delete that really long text."- The-Zesty-Man
It's easy enough to dismiss these dubious words of wisdom as nothing more than a little frivolity.
But, best to keep all of them in the back of your mind.
After all, who knows, you never know what doing something as simple as holding the door might lead to.
Keep reading...
Show less
Life is really tough right now.
It's never been easy, but the world is such a disaster, it's really hard to have faith in humanity.
We need to help one another.
And often times the greatest help comes from a complete stranger.
We all leave an imprint on one another, good or bad.
Some leave a more permanent one than others.
Redditor nyxflare wanted to talk about the people from our lives that left a lasting impression. They asked:
"Who is one stranger you still remember?"
So who here still depends on the kindness of strangers?
1986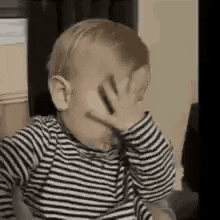 Baby Facepalm GIF by MOODMAN
Giphy
"I was leaving the hospital in 1986 with my husband and newborn. A lady in the elevator admired the baby and then looked at us and said, 'be good to each other.' We weren't."
potato_bod_mom
Pay it Forward
"When I was 18 I was at McDonalds trying to get breakfast for all the guys from work, I came up like 5 bucks short and this old guy paid the difference and said 'you'll have to help somebody out someday too.' So now whenever I get the chance to do something like that for someone that's what I say. I hope the cycle makes it back to that guy."
hockeybag7
Thank You!!
"One day I woke up and had a headache. And that headache lasted every day for 2 years. I saw every doctor I could and tried every diet I could. No answers. My quality of life was non-existent and I was on the cusp of losing my job. I was at a restaurant with my mom, I was on one of my specialty diets that was supposed to help with headaches (spoilers, it wasn't)."
"I asked the waitress what was in the salad dressing. She asked 'I know it's none of my business, but can I ask why"' A short conversation later, she mentioned a doctor that worked specifically for people dealing with mold toxicity, otherwise known as MYCOTOXICOSIS."
"That waitress saved my life that day and I don't even remember her name. This was in Superior, Colorado at the now closed CB&Potts. If you happen to read this, you have no idea how grateful my family and I are to have run into you that day. Thank you."
thisendup76
Thanks Sweet Lady
"I had a person like this when I was a kid and I left my wallet next to a vending machine at the mall and when I came back it was gone. I lost a whole 7 dollars and I was devastated. This sweet little old lady saw me having a melt down and I was freaking out about how my parents were going to kill me and this lady legit gave me a 20."
"To an 8 year old who gets 2$ allowance per week a 20 was like getting handed 300$ as an adult. I hope it came back around for her too. Since this was in 1997 and she was probably 70 I don't think she would still be alive today."
mikee8989
Eat Up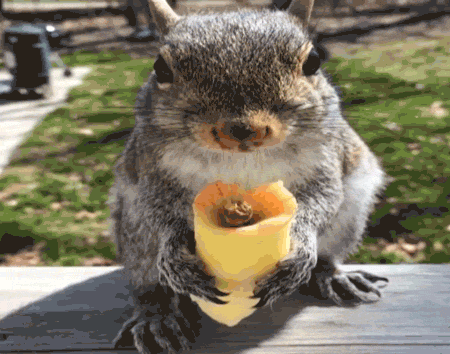 Hungry Food GIF by America's Funniest Home Videos
Giphy
"The Sikh man I met on a flight from god-knows-where to London who invited me to their temple to eat for free."
EbonicalHillbilly
I'm amazed. There are good people in the world. Still jaded.
Thank you stranger...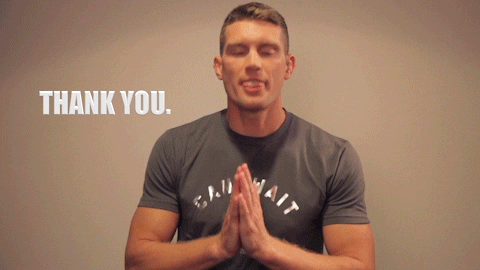 Ufc 205 Thank You GIF by UFC
Giphy
"My anxiety was at it's peak and I was walking home from school. Then someone came up to me and just started talking to be like I was a normal person."
"Social skills were @ss, but he didn't seem to care. Gave me the confidence I needed to start doing the same and helping others who were lonely. Thank you, stranger. It was because of him that I was able to help others get out of their Social awkwardness."
p1tch-dark__
Freezing
"It was around February 2016 and the city got hit with a massive snow storm, I remember waiting at the bus stop with a mother and her child in a stroller. The bus was 45 minutes delayed, it was very cold with the wind chill, when the bus arrived we both got on."
"I chose a seat of the opposite side of the bus and this mother and her now crying child was sitting near the front, I could see that the mother was trying to warm her sons hands but was having no luck while her child kept crying. I moved from my seat and sat next to her and took her child's hands in my hands. His hands were freezing while mine were toasty from my gloves."
"After about 5 minutes, the child calmed down and the bus was quiet again. I stayed with that mother and child for almost 2 hours on the bus until we finally got to our stop. I never learned of the child's name or the mothers. I just simple sat there with them warming her child's freezing hands up."
Niishin
Stay for Me
"I don't remember him, just what he did for me. I was 19, got t-boned in an intersection by someone running a red and was knocked unconscious. He was a witness, and I think someone said he was the first person to call 9-1-1. He took my phone while I was out (before the days of locking phones), called my house, no one home, called my dad's cell, which was answered."
"He told my dad what had happened and which hospital the paramedics said they were taking me to, and somehow managed to avoid making my dad panic about me. I mostly came to before I got loaded into the ambulance, at which point he gave me back my phone and said my parents would meet me at the hospital."
"I gather he then stayed to talk to the cops to speak up for me because I didn't remember what had happened and the other driver kept saying it was my fault. I never got to thank him for going so far out of his way to help a complete stranger."
DefunctPenguin
I think about her often...
"I believe I was 19 at the time. I worked at Walmart at time and was working in the back that day when a lady that worked in the meat department was walking past me crying, I hugged her and asked what was wrong. She was covered in bruises and she told me her boyfriend beat her. She opened up and told me she was leaving him so I asked if she needed a place to stay that way she's safe and she told me no."
"Turns out he was waiting outside for her during her lunch, I once again asked if she was okay and if she needed help and she said no. After that night I never saw her again. I have no idea if she is alive and safe. I hope she's okay, I think about her often."
Vampire_Bun
Crash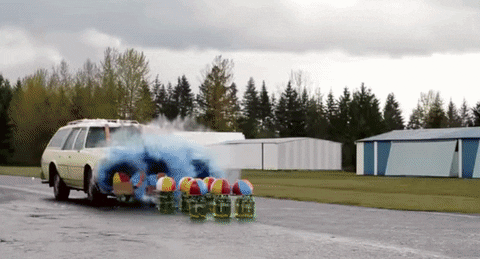 Crashing Relapse Records GIF by Red Fang
Giphy
"This guy that helped me out after I rolled my truck, he was late for work because he stayed with me until the tow truck got there. Really restored my faith in humanity."
hockeybag7
Look me up...
"About 11 yrs ago my boyfriend unexpectedly passed away in his sleep. I had moved to his state so after his passing I was making plans to move back. I was sitting at the cemetery, in tears, basically saying one last goodbye. A really nice lady stopped and came over and asked if I was OK."
"She sat for a few minutes and talked with me. She gave me her name, which I didn't remember, and said to look her up in FB if I wanted to talk. She was on her way to church and stopped to check on a stranger, which I always thought was a nice thing."
depressed_jess
Beautiful
"I was at the 99 cent store when I was twelve with my aunt, picking up some balloons. An older lady asks her if she can touch my shoulder and my aunt said yes (she thought if she said no I would get evil eye) and then she turned to me touched me, then said 'you have a beautiful soul.'"
"'I don't see many these days. Hopefully it will stay that way' then she walked out leaving me baffled and confused.Sometimes i still think about her and what she said. Think about if I'm still the same person and the growth I've had as a person was for better or worse."
notafoetoallenpoe
"Elly"
"One time when I was younger me and my family went to Washington D.C. We went to the holocaust museum, and near the end of it, there was this lady handing out books. They were called 'Elka's Growing Up in a Changing World.' She explains that she is the author of the book and she was handing copies out to children."
"It turns out she is a survivor of the holocaust and this book is just a few of her memories from WW2. This woman is named Elka 'Elly' Gross and I got to meet her before I knew it would probably be a one-in-a-lifetime experience."
Surnamesalot
Wordless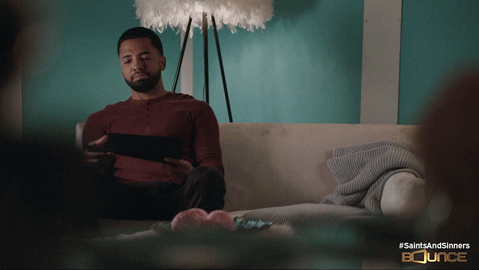 Come Sit Down GIF by Bounce
Giphy
"In Hungary, I live in Budapest, it's a big city with 2 million people, but there is very few African people. I was 11 or 12 years old when I first met a black gentleman with his daughter. I couldn't speak English and I give them my seat on the tram. They were so kind and grateful. It was special to communicate without words."
osami2002
Cry...
"Walking home from school one day, a guy was audibly crying on the step in front of his house path. As I'm walking by I look at him a bit and he says something along the lines of 'It's ok boy, I'm just upset. My mum died. I'm so upset.' and I don't really know what to say so I just sorta keep walking and as I'm walking away I hear him yell what sounded like 'WAAAAHHHH' you know like how a baby cries? But not in a baby voice at all. Idk who that guy was but I hope he's doing well."
KindaAlrightPerhaps
The Collection
"I bought a stuffed animal from this fair, and this kind, elderly woman saw it and started talking about how cute it was. I told her how I had this wall covered with shelves of stuffed animals, and she told me she had a lot as well. In the end, she told me to never be ashamed of my stuffed animal collection no matter how old I got and if somebody makes fun of me I have the right to say that I met an 80+ year old woman who still has a bunch of stuffed animals at home."
thetinytiger2021
Next Time
"I was going into work and saw a homeless dude crawling out of a drenched sleeping bag. I had $5 on me, so I gave it to him so he could get a hot coffee from the donut place across the street. He thanked me and said he bets I'd have won if I bought a lottery ticket instead, but I don't buy them I replied. He says to me, 'you'll win the next time you buy one.' It's been over a decade and I still have the hobo luck he gave me that day. I've still never bought a lottery ticket."
RoadsideLuchador
Hey Bud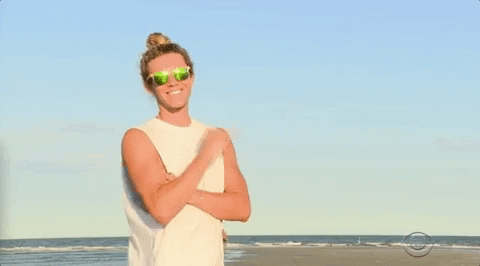 Surfer Dude Tyler GIF by Big Brother
Giphy
"This random guy, beach surfer type, pulled up on me and my boyfriend on 4/20, knew we didn't have bud, and gave us a fat 4g nug for the holiday AND smoked us up. Wish I could return the favor."
allshewrote0131
Some people just leave a lasting impression. So better. Be kind.
Keep reading...
Show less
Why are people crazy with words?

It's like no one has been taught to think before they speak.
There are fine lines between some thoughts and then there is just straight-up nonsense.
Like... do you not realize you're in public?
And what you're saying is a crime?
Redditor Mysterychic88 wanted hear about the what some people have said to others that left shivers down their spine. They asked:
"What's the eeriest thing a complete stranger has ever said to you?"
People are just creepy in general. So this should be weird.
Call Dateline NBC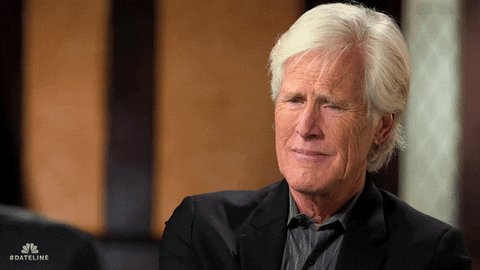 Keith Morrison Chin Touch GIF by Dateline NBC
Giphy
"'Enjoy the rest of your night at the dance. When you go out to the parking lot, I'm going to kill you.'"
"Didn't see him again for the rest of the night and had an escort to my car, but dude was creepy as f**k."
ThePhiff
Old Navy Issues
"I was 7 years old and in Old Navy with my mum and sister. They went to try on clothes and I didn't know that and had a panic attack trying to find them. Some older woman said she'd take me in and raise me and not to worry. For some reason I thought it was better than being alone forever at least. I was with her for a bit until I saw my Mum walk out of the dressing room. To this day I think about what if I left with her…"
Still_loading_1
I gave him one...
"I was on my way to my friend's house when a man(probably homeless) walked over to me and said 'Give me some money, I am hungry.' I said I don't have any money to which he replied 'you have two $5, give me one.' I don't know how he did it but I had exactly two $5 bills in my pocket, I gave him one."
SuvenPan
Dead Eyes
"As a child, I lost track of my mom while walking around after spotting a friend. It was a tiny town; the kind where you know everybody at least by sight, so I didn't freak out, just went looking for her. I asked an arcade owner if he had seen her, and he said: 'Yeah, she went inside to the back. Why don't you go in to look for her?'"
"My stranger danger alarm went off like crazy inside my head. I just said 'no!' and ran away. I swear this dude had dead AF eyes. Turns out she was just about a half a block ahead and was walking back to me. I never told her about the creepy man, and I regret it to this day thinking he might have actually lured a poor kid in."
Ihlita
Ya hungry?'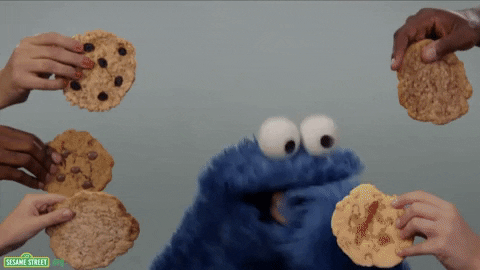 Cookie Monster Eating GIF by Sesame Street
Giphy
"I'm walking through a parking lot between cars when right by my ear I hear an adult man ask in a syrupy-sweet voice 'Hey, cookie, ya hungry?'"
"I turn in shock/disgust to see he's sitting in a car with a little girl, sees me and says incredulously 'I was talking to my daughter.' My sister who witnessed this laughed til she cried."
Amish_Cyberbully
It's like humans can't hear themselves. Have we no censor?
'do you want any chips'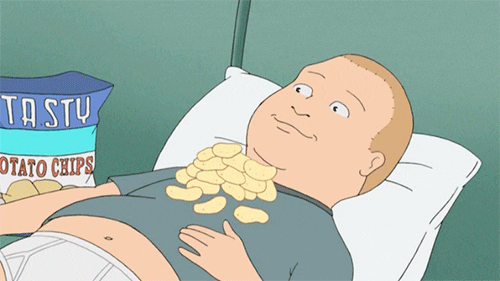 chips GIF
Giphy
"I feel bad, there's some legit scary stuff here, by comparison mine seems significantly less 'eerie.'"
"Walking home from work and a bloke screams Up in a car, slams the brakes and gets out. I assume I'm already being done over and accept my fate (it was a long day at work, I didn't have fight back in me). Anyway, the bloke jumps to his boot (trunk?) swings it open and just screams 'do you want any chips' I said no thanks mate, and off he angrily sighs jumps back in his car and buggars off."
davetrials
my family needs me!
"Not a stranger, but my brother stood up in the middle of a catatonic seizure and said these 3 things: 'Where am I? I have to get back to work in a few hours. My family… my family needs me!' - while looking around the room confused, and as he said that his eyes rolled back and suffered a second attack."
"He was 12 when this happened, and no, he didn't have a job or a family of his own. I was there in the ER room when it happened while he was being attended by nurses. When he finally recovered consciousness a few hours later, he didn't remember a single thing that happened that night and had no idea of the things he said."
AndyVilla14
Tuck and Roll
"I was in an Uber and the driver asked if had any kids and I said no. He was shocked and I asked why? And I kid you not he said 'I'm shocked no guy has ever tried. You're a beautiful girl, I know I would have.' In that moment I was considering tucking and rolling out of the car but we were about to hit the highway and I didn't want to be late for my flight 🙃."
Brilliant-Divine
Hey, you're a great person!
"One day in high school, I was walking to Burger King and thinking about how much I didn't like myself. When I got to Burger King, this homeless man inside yelled out to me across the restaurant 'Hey, you're a great person! You're a great person.'"
"I casually said thanks and left, like I wasn't both stunned and creeped out. Reading through the comments, I see a lot of similar experiences with homeless people knowing what you're thinking or details of your past. Amazing and creepy."
7Birdies
there was nobody there...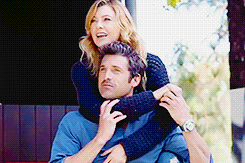 anatomy preach GIF
Giphy
"I'm a doctor. When I was working in psychiatry, a schizophrenic patient in the Emergency Department who I was clerking in asked me who the man in the turban behind me was (there was nobody there). I asked him to describe man and he described my grandfather who had been dead for several years perfectly."
amarghir1234
People really need to read the room before speaking. Good night.
Want to "know" more?
Sign up for the Knowable newsletter here.
Never miss another big, odd, funny or heartbreaking moment again.
Keep reading...
Show less
Be it on a blind date, at a party where you don't know anyone, or sitting next to someone on an airplane, starting a conversation with a total stranger is difficult.
As much as we'd all like to be friendly, far too often we find ourselves at a loss for words.
It doesn't help that we generally have no idea of what these people's various interests are, making it anyone's guess how they'll respond.
But some have this problem solved, finding a go-to topic which is always guaranteed to get a response, no matter who you're talking to.
Redditor Blugged_Bunny was curious to hear what people thought was the best way to begin a conversation with strangers, leading them to ask:
"What is your go-to 'small talk' topic with strangers?"
Did you check the forecast?

"We sure are having a lot of weather"- r_Ju_Tacular.
​
"As a British person, the conversation usually starts like this:"
"'You alright?'"
"Yeah you?"'
"'Yeah not too bad, weathers a bit sh*t innit?'"
"'Yeah"'.
"The end."- chelstippins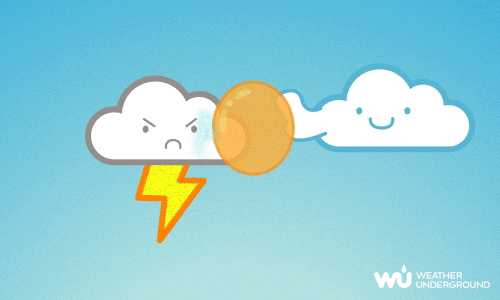 Cloud Storm GIF by Weather Underground
Giphy
Why beat around the bush?

"Straight to politics and religion."- Turd_Ferguson009.
Just let it happen.
"Make an observation."
"Literally anything."It helps if it's something about them like an article of clothing that catches your eye, something they're doing, anything that you can relate to or are interested in but it doesn't have to be."
"It can be something in the environment that is drawing both of your attention."
"People bullsh*t about the weather all the time."
"Make a comment about it, gauge their willingness to talk about it to you and build off of what you get from the response."
"If all you get is 'haha yeah', leave it."
"No shame in silence."
"Some people just don't want to talk."
I"f you're talking about the weather, 'Man it's a great day out today!'"
"'Yeah absolutely! I drove here with my windows down all the way here!'"
"Boom, you've got something to latch onto."
"They probably enjoy getting outside for some fresh air. "
"They probably enjoy driving."
"Ask about their car."
"Ask if they go on drives a lot."
"Ask if they do outdoor stuff."
"What kind of outdoor stuff?"
"Once you've got something to work with, the key is to ask."
"Let them do the talking."
"People love talking about themselves."
"You learn some light hearted things about the stranger, they feel more comfortable, and you can add bits and bobs of your own experiences in response so they get to know you too."
"It works in literally any situation."
"From an elevator ride to a first date."
"It's so easy to personalize small talk and it makes it so much less uncomfortable."- 1arrocknroll.
"But enough about me, what do you think about me?"
"Usually people love to talk about themselves, so a few questions about them and some follow up questions to their answers usually does it."- I_can_see_the_music.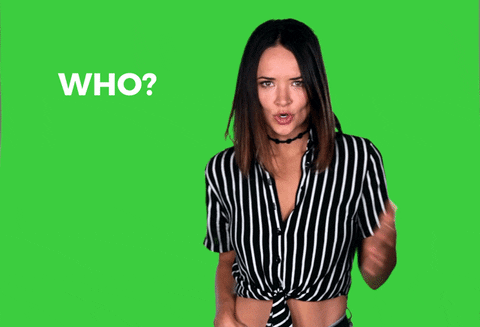 For Me GIF by Liz Huett
Giphy
"Food, glorious food..."
"Food."
"People typically love food."
"I mention I'm new/newer to an area."
"And ask them what they like, where they eat out."
"Usually works and people have their choices validated and I always know where to find good local snacks."- TheProfWife.
Outer space.

"You hear about Pluto?... that's messed up right."- Papitorres.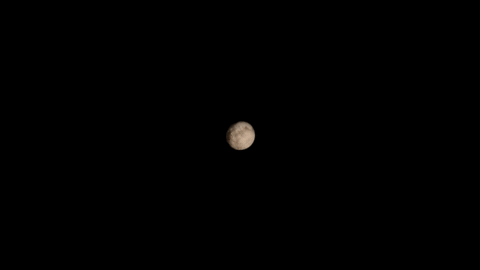 Pluto Flyby GIF
Giphy
Can you believe it?
"Did you see that ludicrous display last night?"- housemuncher.
Nothing!
"As a Norwegian - we leave strangers alone."
"No need to bother them."- neihuffda.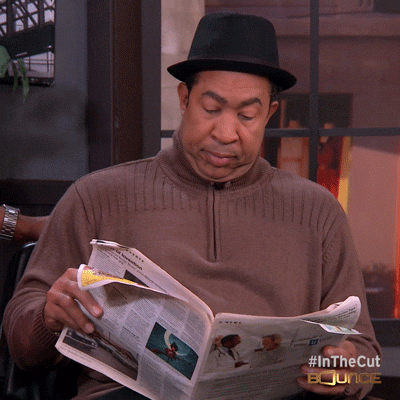 No Idea Reaction GIF by Bounce
Giphy
The sky's the limit.

"So, do you like stuff?"- Bwon669.
All of these seem like surefire ways to get a conversation started.
But use cautiously, as who knows how long it will take these conversations to end.
Want to "know" more?
Sign up for the Knowable newsletter here.
Never miss another big, odd, funny, or heartbreaking moment again.
Keep reading...
Show less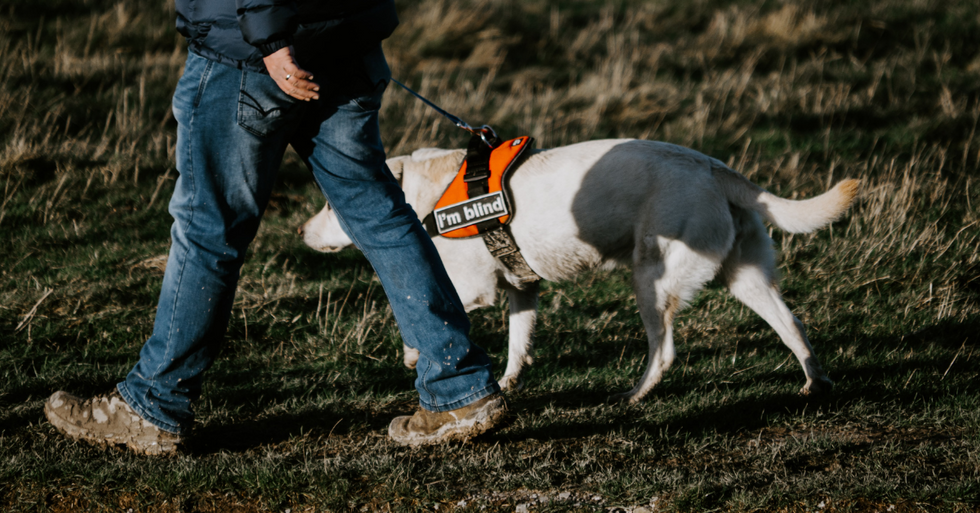 Dog's are often referred to as "man's best friend" for a multitude of reasons. Many even consider dogs as full fledged members of the family, owing to the love and comfort they provide. But dogs play an even more important role in the lives of those living with disabilities, as they help them get through […]
More