There's nothing like living your childhood dreams as an adult.
That's what Nicole Clemens, 37, did when she executed a perfect roundoff back layout—a gymnastics move she wasn't quite able to conquer in her competitive days.
Clemens, mother-of-two from Missouri, works as an English teacher full-time. But she also moonlights as a part-time gymnastics coach—mostly to offset the costs of her daughter's investment in the sport.
Despite referring to herself as a "mediocre competitive gymnast" as a child, Clemens was able to perfectly land a move that she couldn't master back then. And she's darn proud of it.
In the spirit of being freaking proud of myself and also knowing I'm about to be fat shamed on the Internet, I pres… https://t.co/L1NY00T5H4

— Nicole Clemens (@Nicole Clemens)1581996845.0
Clemens spoke to Buzzfeed News about her accomplishment, after her video went viral on Twitter.
"I put my daughter in a recreational gymnastics class to just keep her busy. She took off in the sport and is now a level 9 out of 10," she said. "But that means my life has been consumed by gymnastics in new ways."
"I'm always in and out of the gym as a mom. Gymnastics is also such an expensive sport so I started coaching a bit at the gym to offset costs. I now coach a small competitive team."
In addition to coaching, she began getting more involved herself. Clemens joined a class with a fellow mom friend, who was also both a former gymnast and a parent of one.
"I've stuck with it for over a year now because it's just fun. There's no pressure, no anxiety, just reliving the glory days I never really had and learning to fly. That's the best part. The simultaneous in-control and out-of-control moment where I get to show gravity who is the boss."
And boy, did she.
The video sparked a huge response on Twitter, with many amazed at what this mom could do.
@Nicolemens ARE YOU KIDDING ME

— Spanny Lee Tampson (@Spanny Lee Tampson)1582023872.0
@Nicolemens @CandiceAiston Total props to you!!! Going after our dreams and working hard for them is what counts, n… https://t.co/AeZGN7gThK

— Paige Carita (@Paige Carita)1582059498.0
@waltshaub @Nicolemens This is amazing. I have been watching kids doing gymnastics and I'm super impressed. I wish… https://t.co/mMucreYCAH

— Nicole DiDio Johnson (@Nicole DiDio Johnson)1582076563.0
@Nicolemens Well done!🙌🙌 https://t.co/J8JIkktpuA

— Renzo (@Renzo)1582062151.0
@Nicolemens Amazing!! And here I am, 31 and struggling just to walk around without falling down. https://t.co/yoyD79JdmE

— Ida Skibenes ❄️ (@Ida Skibenes ❄️)1582071823.0
@Nicolemens @CandiceAiston That's awesome. I never got past cartwheels myself... if you don't count unintended flip… https://t.co/tUmctOl8NZ

— Douglas Tschetter (@Douglas Tschetter)1582060132.0
@Nicolemens Anybody who shames you needs to post a video of said bully performing the same move with the same form.… https://t.co/l6f7zUOX08

— EllBee (@EllBee)1582068311.0
@Nicolemens @Jamie91893384 That's excellent. Don't listen to the creeps that try to fat shame you. You've just done… https://t.co/gJGULLEFlb

— Joe Kapler 🌊🌊🆘 (@Joe Kapler 🌊🌊🆘)1582176970.0
@Nicolemens I am in awe of powerful you, Nicole.

— Connie Schultz (@Connie Schultz)1582062576.0
@Nicolemens @CandiceAiston That's rad!! Well done!

— Patricia Arquette (@Patricia Arquette)1582059807.0
You go, Nicole!
Keep reading...
Show less
Republican state representative Bruce Griffey of Tennessee is taking transphobia to a whole new level.
This past week, Griffey submitted a bill to the Tennessee General Assembly.
It proposes that teachers who allow transgender children of any age to play sports should be fired and the schools they work for should be given harsh sanctions.
Republican lawmaker Bruce Griffey in Tennessee has introduced TN HB 1572, a bill that would prevent trans athletes… https://t.co/GyWoJnsqMc

— The Chris Mosier (@The Chris Mosier)1578115033.0
The bill's self-stated purpose is supposedly to ensure "that student athletes participate in school-sanctioned sports based on the student's biological sex as indicated by the athlete's original birth certificate issued at birth."
Bruce Griffey of Tennessee, who has yet to get a law passed, made several debunked claims in defense of his latest… https://t.co/ARGX1L4pBM

— LGBTQ Nation (@LGBTQ Nation)1578188101.0
Since children aren't usually required to proffer their birth certificate whenever they want to play a sport, it's unclear how such a law would be enforced.
However, if a transgendered child is caught playing sports, the bill would leave the teacher who allowed it "ineligible to hold public office or a position as a school administrator for five years."

Teachers who let transgendered children play could also face $10,000 in fines and legal action if the law is passed.
I'm going to go out on a limb, and say that this gentleman is not of this world. Todays people think about equality… https://t.co/IRuPQyI1Tf

— Anthony Pullum (@Anthony Pullum)1578055667.0
Griffey claims the bill is "not intended to demean, degrade or diminish anyone."
It seems to be having the opposite effect, with LGBTQ+ activists everywhere describing the bill as "cruel" and "draconian."

@ABC Republican Rep. Bruce Griffey is transphobic idiot and his bill has number 1572 according to the year it throws LGBT equality to.

— Cameron M.Hatter (@Cameron M.Hatter)1578416541.0
Chris Sanders of the Tennessee Equality Project commented to The Hill:

"The bill is an attack on transgender student athletes and the extreme penalties for school administrators and school districts are unprecedented. The provisions about birth certificates will prove unworkable for school districts. This is poorly written, cruel public policy."
@NC5 Don't we have bigger issues to address first? Traffic? Crime? Affordable housing? School security? Taxes? Overcrowding?

— PredsLove2016 (@PredsLove2016)1578030639.0
Schools who violate the bill would become "ineligible to continue receiving state and local public funds" until they've forced transgender children to compete alongside their birth certificate stated sex.

Sanders also told WRAL news network that:
"[This bill] shows there's something more at work here than your run-of-the-mill, 'We want fair competition.' This is a level of animus at transgender students that is unprecedented."
Keep reading...
Show less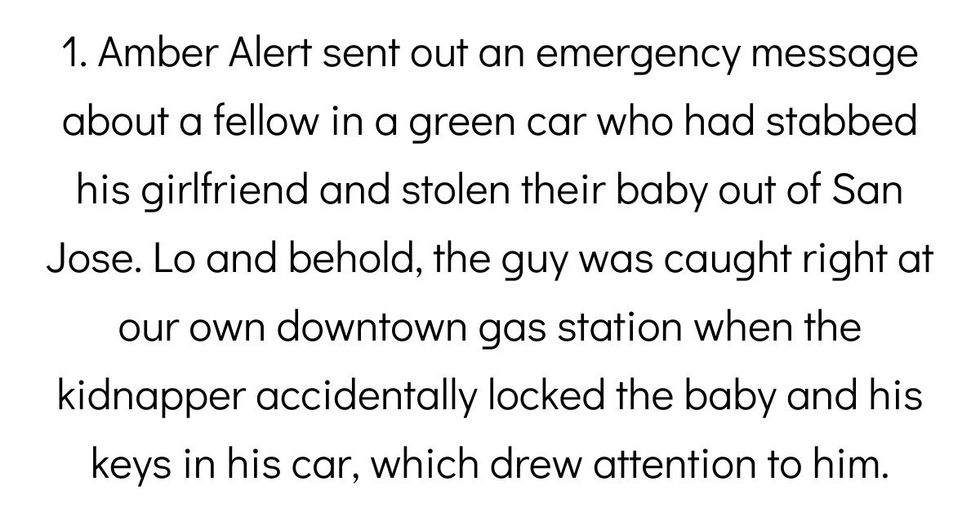 Small towns are often awash with gossip, so any embarrassing or scandalous behavior is usually known by everyone in town in a surprisingly short amount of time.
Some towns definitely have a bit more scandal than others, though, as these Reddit responses show.
Reddit user u/Ayayaya3 asked:
"People living in small towns, what's the recent scandal?"
10.
A few days ago, Amber Alert sent out an emergency message about a fellow in a green car who had stabbed his girlfriend and stolen their baby out of San Jose, which is 3 hours north of us. Lo and behold, the guy was caught right at our own downtown gas station when the kidnapper accidently locked the baby and his keys in his car, which drew attention to him. A good samaritan from an entirely different town, (a tourist), put the puzzle together, and put the guy in a headlock until the authorities arrived.
9.
A local police department likes to post "Wanted" pictures on its Facebook page.
The other day, I saw one of their sh*tty Wanted postings of some woman who is allegedly evading police for drug charges and intent to distribute.
The suspect herself commented on the post and said, "I'm not evading, I'm not on the run, I've been out of town, and when I come back I'm turning myself in."
8.
A couple months ago someone left their fire pit in their driveway for a few days. They received a mailed letter from an anonymous neighbor shaming them for making the neighborhood look bad. The recipient then posted the letter on the town's Facebook page. People ran with it and created the first annual front yard fire night.
7.
The town went with the lowest bidder for a big roadwork contract, and it turns out they were totally unqualified for the job and were messing stuff up. So the town fired them and hired the second-lowest bidder. Same thing. They're on their third contractor now IIRC, and the project which was supposed to be done this summer will hopefully be finished sometime next year.
6.
Our city council just voted to give themselves a 103% raise.
For reference, the pay is low-mid 20k currently, the raise puts the pay at 52k. The support is that more people will be able to get into office with the higher pay, and wages were stagnant from many years ago. So instead of the gradual pay increase over those years with cost of living, it's been adjusted to the current market today resulting in a significant jump. The overall trend from opposers is that they were blindsided and didn't get to vote on it like the last mayor said should happen.

5.
We don't know who but someone has been going around egging random cars and throwing full water bottles at people's windshields..
4.
Our newly elected mayor (who is a school teacher as well) caused a head-on car crash injuring 2 small children in the other car. She was found to be drunk and it was 330pm on a weekday. The kicker: she wasn't charged with a crime (as of yet) but she did resign after "considerable thought."
3.
I left my small town years ago but I was home over thanksgiving and got an earful.
The local grocery store was renovated/expanded after 30 years and now "everything's moved and you can't find nothing".
I was home for four days and literally every new social interaction with people in town involved the go**amn grocery store and how awful it is now.
Spoiler: it actually looks quite nice and they hang signs over the aisles telling you where things are. You know, like a grocery store.

2.
During my sisters volleyball game one of the super aggressive sports dads slapped someone else's kid- cause apparently she "set the ball into a bad positioning" and that caused his daughter to miss the spike
His kid is not good at the game
I played volleyball for a long time and my mom sent me footage of the set, she set that ball beautifully for the small league she's in
They won the game- just be happy
The entire community is turned against him right now and the family of the girl is considering pressing charges, which i feel they should cause this guy has gotten close to crossing the line before and he needs to be reprimanded for his actions

Edit; a lot of you have commented about how he didn't get beat at the game, no one had the chance because immediately realized he f**ked up and ran out to his car
He drove away leaving his kid to be embarrassed and alone in a court full of people pissed at her dad ( one of the nice moms gave her a ride back to her house where she spent the night )
And on a happier note I've just learned from my mom that charges are being pressed, and investigations into the living conditions in his house are being conducted, i'll update when the results come in.
1.
My grandparents small town has had a recent outbreak of teenagers riding horses through the middle of downtown, while wearing nothing but facemasks. It has happened a total of three times now, always different kids, always different horses.
Keep reading...
Show less
Former professional basketball player Dwyane Wade just opened up about parenting his queer child.

And his powerful message was a slam dunk for the LGBTQ community.
In Wednesday's moving interview on Showtime's All the Smoke podcast, Wade said that his 12-year-old child, Zion Malachi Airamis—who is openly a part of the LGBTQ community and prefers the pronoun she—has "way more strength and courage" than he has.
In November, social media users expressed their objection to Thanksgiving photos that his wife, actress Gabrielle Union, posted on Instagram, which revealed Zion's long finger nails and her sporting a cropped top.
The photo sparked a lot of hate-filled messages, with narrow-minded people being more fixated on Zion's nails and outfit over reasons to be grateful during the holidays.

When asked to comment on the backlash over having a queer child, the former Miami Heat player touched on unconditional love, being transparent and the importance of visibility and allowing kids to be "seen."

"Me and my wife, we talk about making sure our kids understand the power in their voice."

"We want them to be whoever they feel that they can be in this world. That's our goal. Understand you can be whoever and you can be whatever."
You can watch the full All the Smoke interview, here.
Dwyane Wade | Ep 9 | Big 3, Zaire, Retirement | ALL THE SMOKE Full Podcast www.youtube.com
In his conversations, Wade prepared Zion about the reality of growing up and facing negativity, not only as a queer person, but also as someone who is Black.

The 37 year-old is also a father to Kaavia James, 13 months; Xavier Zechariah, 6; Zaire Blessing Dwyane, 17 and is a guardian to nephew Dahveon Morris, 18.

The proud father explained why he chose to respond to the backlash instead of staying silent.
"When I respond to things socially, I'm not responding because you're hurting my feelings. I'm not responding because I care about what you're saying, because as we say in the in the hood it's 'ignant.'"
"Why I'm responding is because I understand my platform. I understand that I'm speaking for a lot of people don't have the same voice that I have.
"As a father, I'm even speaking for my 12-year-old because I haven't allowed them to sit in front of a microphone yet. But I'm speaking for so many others in the LGBTQ+ community. For me it's just my version of supporting."
He admitted he had to educate himself on the LGBTQ community after noticing Zion was on a different "vibe" than his older brother, Zaire.
Wade also used the pronoun she in reference to Zion.

"I had to look myself in the mirror when my son at the time was 3 years old and me and my wife started having conversations about us noticing that he wasn't on the boy vibe that Zaire [Dwyane's older son] was on."
"And I had to look myself in the mirror and say, 'What if your son come home and tells you he's gay? What are you going to do? How are you going to be? How are you going to act? It ain't about him. He knows who he is. It's about you. Who are you?'"
"I've watched my son from day one become into who she now eventually has come into."
Many people were moved by Wade's powerful and inspired speech and praised both him and Union on Twitter for their unconditional love.
Wade did not stay silent when his child was under attack on social media for the Thanksgiving photos.

He fired back on Twitter:

"I've seen some post-thanksgiving hate on social about my family photo. Stupidity is apart of this world we live in—so I get it."
"But here's the thing—I've been chosen to lead my family not y'all. So we will continue to be us and support each other with pride, love & a smile!"
At one point in the interview, Wade commented on the increase in visibility of queer people and queer issues.
"This is the new normal, everybody needs to get used to it."
"If anybody is different, we're looked at as different; the ones who don't understand it. The ones that don't get it and are stuck in a box, you're different. Not the people that are out there living their lives."
He closed out on the subject with:
"For me it's all about, nothing changes with my love. Nothing changes with my responsibilities. Only thing I have to do now is get smarter and educate myself more, and that's my job."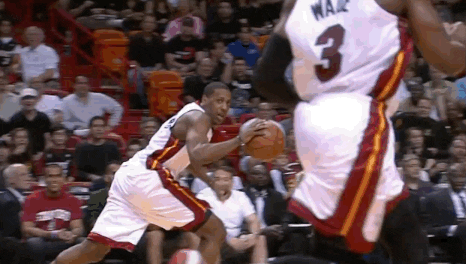 Giphy
Wade is also known for his philanthropy.

In 2013, he founded The Wade's World Foundation—which supports community-based organizations that provide education, health and social skills to children in at-risk situations.
He is also an avid supporter of St. Jude Children's Research Hospital.

Wade may be immortalized as a 13-time NBA All-Star in his professional career, but at home, his kids will always see him as their ultimate MVP.

The book Unconditional: A Guide to Loving and Supporting Your LGBTQ Child is available here.
Keep reading...
Show less
Every country is different and not everyone who lives in those countries necessarily thinks the same. It might be the norm to love football, but some people find the super aggressive fans embarrassing or aggravating.
*Content Warning: this article contains discussion of violence*

Keep reading...
Show less