In society, the word sociopath is sometimes tossed out as an insult. Other times, it's used to describe a person in a non-malicious way but is used incorrectly.
What is a sociopath, really? Sociopaths are people who suffer from a personality disorder that leads to a lack of empathy and a conscience. These people are generally self-aware, and can mimic human emotions, but don't have any of their own.
A sociopath convention would be groups of people in which there are many sociopaths or groups of people that are entirely comprised of sociopaths.
Statistically, 1 in 25 people is a sociopath, meaning any large group could count as a sociopath convention. However, there are groups that are generally considered full of sociopaths.
Those groups were identified when Redditor GoGetEmTiger131 asked:
"What place might as well be a "sociopath convention?"
Beauty Queens
"A child pageant — the parents"
– festivusfinance
"Came here to say this exact thing, I'm so surprised this doesn't have more up votes."
– 100percenthatbitch
"I mean statistically some of those kids must be sociopaths too, right?"
– CmdrShepard831
You're The Top
"sociopaths surround themselves with less powerful people, in my experience. you might find them at the top of nearly any organization, though."
– andariel_axe
"Supposedly they make up the majority of CEOs"
– MaracaBalls
Unbelievable!
"I stayed at an airport hotel and the conference room was booked for "How to create a submissive Christian wife" or something like that. There was a low tooth-to-head ratio and a distinct lack of chins."
– voice_of_craisin
"I've read a lot of weird stuff, but this made my jaw drop a little."
– Skrp
We Voted Them In
"Any place where politicians gather."
– alwaysright9000
"US Senate"
– tinyorangealligator
"How is this so far down the list?"
"There probably isn't a larger gathering of sociopathic narcissists than a joint session of the US Congress."
– Beasagdeux
"I was gonna say the DNC and RNC."
– Bigdaddyjug77
Manson-esque
"I knew this would be at the top but honestly I think there would be more sociopaths at social media influencer convention. That or "life coaches.""
"I knew two diagnosed sociopaths at my high school. Both became life coaches. I get heavy Manson vibes from their content."
– bombayblue
That Manipulation
"When a group of MLM huns get together in any location on the planet."
– DoubleDeckerz
"Now let's talk about ways to manipulate family and friends to increase sales and even recruit your own worker bees!"
– Cacafuego
Reddit, Of Course!
"(looks around)"
– PoorPDOP86
"Damn roasted an entire platform"
– 1-von
The Whole State
"Miami"
– _kevx_91
"That place is so unbelievably vapid and just odd as hell. It makes Vegas seem reasonable"
– appleparkfive
"I was just gonna say Florida."
– moinatx
"Florida. All of it."
– sandrajumper
Become An Alpha
"We had a local "Alpha Con" here recently. I swear the promo poster was the biggest group of tools I've ever seen.
Edit : turns out it wasn't local. I am even more disgusted. Clearly I didn't do a lot of research into it."
– JayDub506
"Literally any gathering of men where the word "Alpha" is used unironically at any point."
– cryptcreatures
Very Scary
"Primary school / early years teaching or nursing. Some of the nicest people, but every sociopathic / narcissistic woman I've has the misfortune to meet has been one of the two. Careers where someone can have a large amount of power over vulnerable people, where they will generally be believed without question. Lower barrier to entry than other careers with similar amounts of power e.g. CEO."
– worldslastusername
Yeah, I Can See It
"Sports conventions. Anyone who enjoys watching sports is a sadist and anyone who enjoys playing sports is a masochist."
"-Your local lazy person."
– CocaColaStan
Unsurprising
"bitcoin/cypto conventions, which essentially are just techbro tupperware or avon parties to chill their little scams"
– No-Bewt
This Should Have Been Obvious
"mcdonalds play area , always smelling like feet"
– youmynega1
Doesn't This Go Without Saying?
"A place that might as well be a "sociopath convention" is any place where sociopaths congregate. This might include places like prisons, mental institutions, or seedy nightclubs."
– MrShitterz
Social Media, Of Course
"Facebook"
"Idk Reddit?"
– KxNGsReddit
"Let me enter in one.. Enters this thread"
– Winter2712

Weaponry
"Gun conventions either they really into hunting and guns or they are just insane"
– MelodicTaro9712
"Gun show."
– SimonArgent
Welcome To Hollywood
"I've read a long way down the list and still haven't seen "Hollywood" mentioned..... or maybe I should say "the entertainment industry"".
"They're especially unique because they will actually support causes to create a public image of themselves which isn't genuine."
– PD216ohio
No More Shopping On A Sunday
"Grocery stores on a Sunday afternoon"
– bearsrbig
Their Reputation Precedes Them
"Any kind of car salesman convention. I spent a very short time as a car salesman...let me tell you, most of them deserve the reputation they have. I've never been around so many people that were almost exactly the same."
– Sasselhoff
Learning Who You Are
"School."
"That's, it just school."
– Mythic_7
Well, statistically, that tracks.
Keep reading...
Show less
We may have a specific image of what a psychopath or sociopath is ingrained in our minds—you can thank films like American Psycho and scores of other horror flicks for that—but the truth is they're significantly more complicated than that.
It's bad enough running into a psychopath or sociopath—I've had a negative experience with a psychopath and I lived to tell the tale—but imagine being involved with one intimately. Maybe they were a partner or even a best friend and you didn't notice their issues right away.
People shared their stories with us after Redditor DexterADB asked the online community:
"Friends of psychopaths/sociopaths, how did you realise your friend wasn't normal?"
Psychopath or Sociopath?
Psychopaths and sociopaths share a number of characteristics:
lack of remorse or empathy for others
lack of guilt or ability to take responsibility for their actions
disregard for laws or social conventions
inclination to violence
deceitful and manipulative nature
But how to tell them apart?
Sociopaths are normally less emotionally stable and highly impulsive. They will lack patience, giving in much more easily to impulsiveness and lacking detailed planning.
Psychopaths will plan down to the smallest detail, taking only calculated risks. Psychopaths don't get carried away in the moment.

"He could not comprehend the difference..."
"He could not comprehend the difference between harmless pranks and cruelty, which manifested in high school. Got so far that he broke into a friend's home, stole her TV, then got angry that her family called the police over a 'prank.'"
"Trying to talk to him about the difference between pranks and crime was met by a blank stare, almost confusion, followed by vicious mocking. I didn't see him much after that, then completely cut ties with him after he started casually talking about raping women."
StoolToad9
To which this person replied:
"We had a dude like that in high school. He is now a photographer in LA, and I'm 100% sure it's only so he can have access to women's bodies."
[deleted]
"She let me read a written complaint from someone..."
"She let me read a written complaint from someone who claimed to have been bullied by her. It was very detailed, too detailed to be made up, but she denied all of it and played innocent. She showed it to me to gain my support against the accusations. A few months later she started bullying me with the exact same methods described in the complaint."
kjersith
To which this person replied:
"People lie to others because they can't stand the truth of their own actions, in effect lying to themselves."
framspn
"He was very open..."
"He was very open with it. That guy was genuinely helpful. What he seemed to fear the most was to regress into a helpless person who couldn't fit into society, like the psychopaths that go in and out of jail."
"So, he made it a habit or a challenge to help at least one person with something every day with no strings attached, friends or strangers, as practice, to hold himself accountable. It was.. well, it was a bit weird, and he was kinda weird too, but he was open about it in advance so that he'd have a harder time screwing us over if ever he had a relapse in willpower."
Haustvind
To which this person replied:
"It's always viewed as virtuous to be a nice/helpful person but people seem to forget that it's a hell of a lot easier for some people than others. Sometimes just not doing something bad is the most good you can manage that day and no one sees that."
letsgetawayduuude
"He was a liar."
"There were lots of red flags. He was definitely closeted bi (which is fine, but his behavior wasn't)."
"The main red flag is that he had a slew of ruined relationships in his wake. He was a college theater professor and had a pattern of behavior in which he would identify young men in the department who were emotionally vulnerable, often who'd had recent girl trouble and/or had no current male role model/father figure."
"Many of them had issues with their dads or their dads were deceased. He would then start spending time with them and love bombing them until they thought they were his best friend. He fed on adoration. I don't even think he exploited all these guys for sex, though he probably did some. He just got off on people adoring him."
"When they started showing interest in other people, he'd go hard on the discard. There was a pattern of subtly putting these guys down and then building them up so they were conditioned to please him. If he got bored, he threw them aside."
"He once told me he viewed all his interactions with people through a caricature he created of them. For example, a black friend of ours was 'the loud black woman.' Another friend who'd lost his dad recently and suffering severe depression was 'Eeyore.'"
"He was incapable of self reflection. If he knew he'd upset you he'd apologize, but it was always empty. He could not reflect on his actions and actually accept accountability for wrongdoing. He was a budding alcoholic and would attend lectures and rehearsals drunk, then laugh about it later like it was some kind of inside joke."
"He was a liar. The man was pushing 40 trying to convince these college aged men he was in his late 20s so they'd hang out with him. He didn't care about your boundaries. At his house he'd regularly expose himself 'as a joke' and acted confused when I didn't find it funny."
"As one of these guys he love bombed and emotionally manipulated, I eventually wised up and realized that my relationship with him was not healthy, and that it was not acceptable for him to have the emotional relationships he was having with his 19-20 year old students. I cut ties and he went from love bombing to resentment so fast."
"Later on, my wife and I were visiting some friends who were also friends with him. They'd known him longer than we ever did, and let him stay in their guest room for months when he lost his living arrangements during Covid. They eventually kicked him out and cut ties too. Then they told us they had recently run into a former high school classmate of his who said "I'm so glad you got away from him. There is something wrong with him. He's dangerous."
Mrminecrafthimself
To which this person replied:
"That guy reeks of narcissistic personality disorder. Their actions can be similar but the difference is that the root of narcissism is insecurities while sociopaths have none. Their egos are really that big while narcissts inflate theirs so no one finds out the truth that it's empty."
HyperSpaceSurfer
"His mom basically committed the rest of her life..."
"We were friends with him and his sister. We later realized when we could only see anger in him and pretty much nothing else. That was the first flag."
"One of the friends started dating the sister and he came to us one day and told us that our friend had taken him aside and told him that if his sister was hurt he would have no problem hurting him in turn. Our friend was terrified because he truly believed him. That was our second red flag."
The final one was when his family got T-boned at an intersection and his dad and sister were killed and his mom was in the hospital for observation and he was in there as well with some broken bones. He didn't seem to care at all when some buddies went to see him."
"The hospital was a teaching one with psychiatrists and all and one came to see if he wanted help while he was there and he basically asked why would I need help. Mom agreed to a formal evaluation and he was confirmed psychopathic."
"His mom basically committed the rest of her life to make sure he could function in society. Taught him what societal right and wrong was and laws governing behavior and stuff."
Sanguinitron
To which this person replied:
"Damn. Good for that mom though! Hope she accomplished her goal."
WestCardiologist180
"I was a pretty vulnerable teen..."
"I had a friend who always seemed a little off/low empathy, but I ignored a lot of the signs. She was a destructive party girl with a weirdly hostile relationship with her mom (as in she was regularly hostile to her) and i noticed she could be a bit of a bully and thought of people as below her."
"I was a pretty vulnerable teen who always struggled making friends so I tried to brush that stuff off because she was cool with me."
"There was a point where she got super drunk, slept with my boyfriend, and they called me together to mock me about it. It was humiliating. Like peak embarrassment. What's even more wild is the week after, she approached me as if nothing was wrong and it was all just a bit of fun."
"I knew she was a bad person when she called me, but I knew she had something deeply wrong with her when she had no self awareness about the fact that an action like that would make me not want to be her friend. She seemed genuinely surprised that I was pushing her away."
"I have had some updates about her from mutual friends and it sounds like this is a pattern she continues to repeat in her adult life as well."
"She really treats everyone in her life like a disposable amusement and she's not smart enough to 'mask' and manipulate them – everything she does is extremely blunt and she doesn't seem to ever really care or register that it is hurtful."
"Losing friends also doesn't seem to bother her. She is never like "how dare you be mad at me"? She just doesn't get why people are so sensitive."
imhereforthemeta
To which this person replied:
"Had a destructive party girl friend too. She also slept with two men I started dating. Twice because I was dumb enough to forgive her the first time. The second time it happened, she jokingly said she was seeing me as 'competition' and wanted to show me who was the boss."
"I cut ties with her. To her merit, she did acknowledge she had problems, sobered up, went to therapy and apologized. Honestly happy for her, but I'll never let her into my life ever again because she broke my trust forever."
yourelatefortea
"My nephew is two..."
"He yelled at me because my nephew didn't want to watch a movie with his kids."
"My nephew is two and he's scared of the dark. The kids were using a projector instead of a regular TV so the room had to be dark. Every time the door would close, my nephew would freak out, so I decided to keep him with me."
"My friend started flipping out, screaming at me, and threatening to spank one of his kids (who did nothing wrong). He started yelling at his wife also. He has five kids, mostly girls. The oldest girl tried giving him snacks to make him feel comfortable and offered to sit next to him, but my nephew was too afraid."
"It felt like she was trying to help him because the safety of her siblings depended on it."
"I didn't know what to do other than leave with my nephew so the girls wouldn't get in trouble. I tried calling social services but there's no proof that the girls are being harmed or neglected so they're still with him."
"I am afraid for the girls and his wife. Think he's suffering a mental collapse because his mom died from cancer. His mother abused him. He's become very harsh with the women in his life, including me."
"My husband doesn't want me back over there without him. I've been trying to convince their mother to take the kids and leave, but she won't listen. I'm only able to reach her through Facebook. She uses her daughters school tablet to reach me."
"She can only contact me when he leaves the house. He takes all the phones when he leaves. She's not allowed to leave the house, have friends, or have company while she's away."
"He doesn't let his wife buy clothes or do her hair. She's always calling me to cry and complain about how he's treating her but she won't do anything. I defend them all when I'm there, but I try not to because he treats them worst after I leave."
"I feel helpless. I don't know what to do. If I was wealthy, I'd buy her a house and move them far away where he can no longer scare them. I feel so helpless."
Expensivewunderluv
To which this person replied:
"Start a notebook so you can provide evidence if she ever pursues legal action. Character witness and detailed notes about interactions and events can make a case for a long term restraining order. Without them you likely just end up with an angry abuser in your house looking for revenge."
Watch_ae
Some of these stories were more unsettling than others. And they might leave you wondering if you've ever run into a psychopath before. Who knows? Even if there doesn't happen to be one in your daily life, you never know who you might be sitting next to at work... or on public transit.
Have some stories of your own? Feel free to tell us more in the comments below!


Want to "know" more?

Sign up for the Knowable newsletter here.
Never miss another big, odd, funny, or heartbreaking moment again.
Keep reading...
Show less
Merriam-Webster defines a psychopath as "a person having an egocentric and antisocial personality marked by a lack of remorse for one's actions, an absence of empathy for others, and often criminal tendencies."
Often, though, such a person is an unbelievable performer.
They inhabit a world full of people that can and do feel remorse, empathy, and carry the capacity to relate to others. For someone diagnosed as a psychopath, that means striving to feel when that is an unnatural phenomenon.
Or, for the psychopathic people who've lost all hope, that means pretending to feel.
The facade can last a while and remain convincing the whole time. But eventually, the cloak falls off and the cold lack of empathy can't help but rear its head.
For the people in that person's life who've been lulled by the performance, that moment of sudden clarity can feel overwhelming.
skywhy69 asked, "Fellow redditors, what was a moment where you thought a person you knew might be an actual psychopath ?"
Want to "know" more? Never miss another big, odd, funny, or heartbreaking moment again. Sign up for the Knowable newsletter here.
Keep reading...
Show less
The media taught us, through "stranger danger," through horror films in the 80s, through "true crime" documentaries, to be on the constant lookout for psychopaths and sociopaths.
While dangerous personality disorders, it's not impossible that a psychopath or sociopath may blend into the crowd without drawing much attention to themselves because working in society--to them--is a set of rules and tactics to fit in. Whereas neuro-typical folks act without much thought, psychopaths and sociopaths carefully calculate every action and consequence.
u/haloarh asked:
"What's the easiest way to spot a sociopath or psychopath?"
Here were some of those answers.
They're Among You
The real clever ones are your friends and community leaders already.
They aren't stupid, they're not incapable of reading emotion. They're not gonna get caught out by some stupid "gotcha" questions.
There is no overall easy way to spot them. Life isn't a video game.
A Multitude Of Persons In One
Initially they can make you feel proud, but eventually you feel anger, shame, or fear - as a result of their gaslighting - when you are near them. These are feelings that they project on to you, because they don't have a functioning emotional system to deal with them. They are not your feelings. They have simply been 'delegated' to you.
Extremely selfish but charming. Initially very charming, curious, and they overshare personal information to loosen you up and much later take advantage from knowing details about you. Combative behavior when under 'stress', but typically no display of fear. Treats others as 'lesser beings', for example by addressing them in some diminutive form. No display of shame or excessive display of shame (burning cheeks). Excessively selfish behavior. Easily 'bruised' and responds to perceived slights with revenge.
"Saviour" syndrome. They "help" you in some "grand" way and you suddenly owe them a favor of some sort, where you are at a disadvantage and repaying the favor is not in proportion to the initial help, but they put you in a bind of some sort, like "selling your soul".
Success
Many sociopaths are profoundly charming and successful human beings.
It's really not the people with "cold eyes or weird looks" who are sociopaths, sociopaths learn how to present themselves as an ideal version of a human being. On the contrary, it's not people who seem weird or dark or moody you need to be cautious around, it's the people who appear perfect like they have everything figured out.
Those are the cult leaders, or the extraordinarily successful people in our society who are secretly sociopaths, they often hold positions of great prestige, they know exactly what to say to put you at ease and make you feel comfortable, and they are the people who would gladly bury you in the desert if they knew they could get away with it and it would benefit them somehow to do so.
Boundaries Bye-Bye
They violate boundaries or become incredibly upset/angry/sad/whatever when you maintain your boundary.
Knowing your boundaries, setting them, and maintaining them are key skills I work with clients on in therapy. Especially clients who are uneasy about relationships due to a history of poor relationships.
This strategy isn't fool proof but it helps in pinpointing toxic people. First is to know your boundary, then you set it (tell the person the boundary), then you maintain (don't break it) and see how they handle it.
I will give you an example. Say spending time alone with your children each weekend is really important. So you start dating someone new and you tell them this. "Every weekend that I have my kids, I make sure that I spend X amount of time, just me and them. During this time, it means I won't be texting or having any visitors over, etc. Are you ok with this?"

Most people say "yes I am good with this"
Alone time with the kids comes and the new date keeps texting you, or drops by with a coffee, or offers to take you all out for supper. They try to weasel in. When you assert and maintain your boundary by 1) not texting back because you told them you wouldn't ahead of time or 2) declining the coffee and turning them away at the door, this is when their true colors can come out.
Most people will be a little hurt/embarrassed/whatever at the perceived rejection and that is ok. A healthy person will discuss the matter reasonably once the kids are gone.

A not so great person might get angry, might "punish you" by icing you out, be dramatic and make accusations, engage in attention seeking behavior, call you mean, etc. These are GIANT red flags. All of that is trying to manipulate you into thinking you were wrong for communicating clearly what was important to you and what it would look like.
See these flags and cut and run. If the person wanted to change, they likely would. I am very in support of ghosting at early stages of dating with this type of behavior because explaining your reasoning just gives the person more fuel to try to manipulate you into sticking with them.
Early Flags
As someone who has cared for numerous people with professionally-diagnosed psychopathy during my time working on a locked psychiatric ward, I would strongly advise you to look at how they handle power, choice, and influence.
I see that the Macdonald triad has been referenced, but this is a poor diagnostic tool, as few adults would candidly admit to bed-wetting, fire-starting, or animal torture. Rather, they would be able to effortlessly conceal these early red flags.
As I understand it, antisocial personality disorder and its variants occur when an individual acts radically in favor of their own interests, to the detriment of the good of the group (i.e., society). This could be a bank robber who doesn't care how many people he needs to mow down in his escape, or a banker who doesn't care how many lives and fortunes are ruined as a result of a shady transaction--nothing matters except the perceived interest of the individual.
Seeing how the individual uses power, choice, and influence--whether to increase, or at least acknowledge, the common good... or not--can be the best indicator of a person's tendency toward this disorder.
Usefulness Worn
They spend a lot of time and energy managing other people's perceptions of them rather than building meaningful relationships. They may burn through relationships, friendships or business acquaintances quickly when those people either question their behavior or no longer provide attention, money, status, sex or labor. People are not human beings to them, but a means to an end. Charm, use, discard, and repeat.
Look Through The Eyes
I work in forensics psychiatry, deal with many psychopaths and some sociopaths.
I work with a forensic psychiatrist who does most high profile psychopath assessments in Canada.
I asked him this question, how can I spot a psychopath? He says just look at them in the eyes, if you feel like you are looking through them then that might be your answer right there. I mean he doesn't use this technique on his assessments, but I thought it was kinda interesting compared to your usual triad of psychopath behaviours.
For example if you look at Derek Chauvin in that video, you might see what I'm talking about.
Schadenfreude
They find humor and joy in others misfortune or pain.
Sometimes it's simply not that easy to spot. Some are very good at hiding it and you only know once you have gotten to know them.
Empathy Gone
Psychopaths will mirror your body language to make you feel more comfortable and let your guard down. That is a dead giveaway. They also typically have a low resting heat rate. Also some studies claim that psychopaths blink significantly less than the average person, and don't yawn when you yawn in front of them. Supposedly this has to do with empathy which is why humans commonly yawn when they see or hear others do it, but psychopaths who lack empathy by nature /definition do not yawn when they see or hear this.
Sociopaths are antisocial by nature and tend to distance themselves from others. They typically come off as angry or strange which further isolated them from society.
A lot of pop culture mixes up these two terms or uses them interchangeably when they are actually pretty different behaviorally!
No Process
In a YouTube video, a psychiatrist said a tell-tale sign is asking the person, in relation to anything personal about themselves, "How does that make you feel?" or "Tell me how you feel about that."
Sociopaths/psychopaths will instantly bristle and become visibly uncomfortable. They don't process their emotions so a question that involves self-examination will send them running for the hills, according to this doctor.
She says she uses the line at parties. lol
Keep reading...
Show less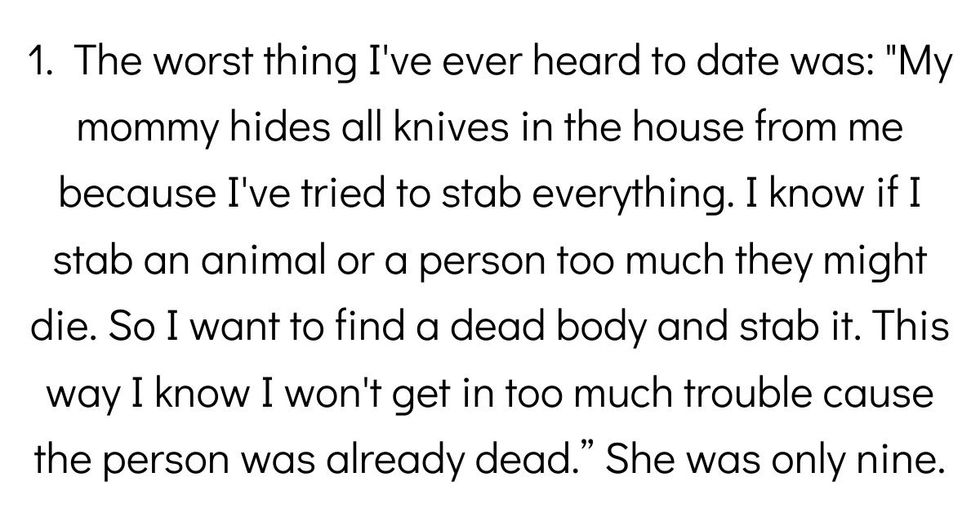 Normally, we would opt to start an article with a witty bit of humor. We try to keep it light around here. This isn't going to be that article, though.
Keep reading...
Show less