You've been having a great night.
The drinks have been poured, the music has been just right, and all the night's conversations have ended with you thinking, "I would genuinely enjoy talking to that person once again."
All in all, a good party.
Then, IT happens. You know what it is as soon as it occurs.
You grab your phone, you grab your bag, you grab your friend and you vamoose, because this night just ended.

Reddit user, mharris1405, wanted to know when is it time to bug out when they asked:
"What are some signs you need to leave the party?"
Right off the bat, see any of these lurking around a friendly gathering, time to consider calling that Uber several hours earlier than you intended.
"What'd You Say, Bro?!" - someone, in about 5 minutes
"When a group of 5-10 unknown men arrives, which weren't invited"
Katsudonisyummy
"thats alwaaaaays the one."
"you are moments away from a nasty fight"
readyfredrickson
Correct. If you get a bad vibe, just leave. You won't want to be around for whatever's next.
"If a group of guys come in and don't greet anybody, they just stand around looking around, someone is about to be jumped or shot. Leave."
CGY-SS
Yes, leave!! We can't stress this enough.
When Even Your Distraction Needs A Distraction
"You're starting to be on your phone WAY too much"
PillsburyToasters
"I've had times where I check my phone, then look at it again a few times only to realize even that is getting boring and I def need to leave"
koayfish
Yeah, if you're spending more time on your phone or standing in a corner somewhere, it's probably better that you go.
At The Sign At The First Chair Breaking

"When people start getting obnoxious. If you see drunk or high people breaking sh-t, or screaming, interrupting others' conversation, that's when you can see that the party is going to get worse."
ToastedMaple
Yeah, no person with common sense wants to be anywhere near that!
It doesn't take much to take a party to the next level.
Sometimes it's the right music, or the right combination of fun-loving people, or one memorable moment by the pool, to make a party legendary.
And then there's moments like these, which have the opposite effect.
Oh, It's THAT Kind Of Party
"everyone is doing crack except you."
Toxic_Politician
"I remember being stood at a table at a party searching for cigarettes to steal when the girl next to me just took a baggie out and started keying coke. In that moment I felt:"
"(a) Really cool for being invited to a party where people just casually did hard drugs (it was a post-gig party with a small band I liked)"
"But"
"(b) Really uncool because my response was to be Spongebob "right, imma head out""
bethcano
American Parties Say, "What's Up!"
"The Halloween party where the guy dressed as a cop starts showing off his real, loaded gun."
geegeeallin
"I once walked into a party and saw a bunch of guns just laying around and I grandpa Simpson'd myself right back out the door"
poopcornkernels
Scatter!
"I have a rule. No matter how good a time I am having, even if I have done nothing wrong, when cops show up, I leave then."
Latvian_Pete
"Wait are there people that stay at a party once the cops show up???"
Lexafaye
"My friends and I used to try to hide in the backyard at parties while the cops looked for people. It's kind of like high stakes adult hide in seek."
14thCluelessbird
"When you get asked questions that require any of the following answers:"
"yes/no officer"
"that's not mine officer"
"maybe icing sugar officer?"
KoalaDeluxe
You'll feel it in your gut, that pulling sensation that says you should no longer be here because bad things are about to happen.
It's not hard.
What you're fighting against is the notion that you want to leave the party at all, because you want to stay and have fun.
Trust that first feeling.
Leave.
Step Into My Web Of Chaos
"When the host is the cause of any form of drama."
Nova_Phoenix
"Michael and Jan seem to be playing their own separate game, and it's called "let's see how uncomfortable we can make our guests" and, they're both winning, so I am going to make a run for it."
Ca_Milla
"This is the realest answer."
"There are tons of bad joke responses."
"I would add: when people start advocating for changing a party's location, if that wasn't already the plan."
"So many times I've been at a party, it's getting late, things are winding down, and someone tries to inject life back into it with "Let's go do shots at the bar!" Nope. I'm going home."
"Someone's partner is going to be annoyed. Someone is going to try to drive drunk. Someone is going to get refused service and kicked out. Someone will be sick."
AFK_Tornado
You'll Start To See The Circles Forming
"There usually comes a point in the night, usually around 2-3am, where everyone's drunkenness wanes from energised to a bit sloppy. A lot of people start sitting down in increasingly insular circles, and drinks just stop going down so well."
"A lot of people will just hang around because it was fun earlier and they don't want the night to end, but you start to really compromise on tomorrow's happiness by drawing out the night."
Tosslebugmy
Yeah, Creaking House Joints Is The Best Sign To leave
"I went to a rager once where the county bought the house to tear it down to expand a road. So the teens threw this goodbye party and we were wrecking the place. Annihilating walls, breaking cabinets, the works."
"Well, the building suddenly shifts kind of aggressively and everyone stops. Someone was going to town on the foundation and made some steady progress. We left right then and there."
"Drive by the next day and it was leaning considerably to one side. Lucky nobody was hurt or killed."
StarchyIrishman
No one here is saying don't party.
Party all you want.
Maybe leave all the guns, cocaine, bad decisions, and property destruction at home.
Sound good?
Want to "know" more?
Sign up for the Knowable newsletter here.
Never miss another big, odd, funny, or heartbreaking moment again.
Keep reading...
Show less
What is it about someone that captivates you instantly?
Could it be the twinkle in their eye as they talk about their passions? Or perhaps its their overwhelming sense of humor that draws in everyone in the room?
Whatever it might be, everyone has that one trait, that one quality, that can make them instantly interesting to someone listening nearby.

Reddit user, _GreyX, wanted to know what snags your attention in someone when they asked:
"What's one thing which makes someone interesting to you instantly?"
It doesn't even have to make sense why that person is interesting to you.
If they're only funny to you, and no one else, doesn't matter.
You'll sit, listening to them, for as long as you can.
Make Me Laugh
"Sense of humour"
Full_Throttle33
"I have entire relationships that are built on mutual humor. Sincere humor is the best, when someone can be their full selves with you - serious moments are appreciated and occur but our love language with one another is our ability to laugh together."
pnwstep
You've Seen Things Others Haven't
"If they have traveled outside their home country or have lived/are living outside the home country."
sqdot
"As someone who spent the last 15 years outside my home country, this is normal for me, or that they've learned a second language.(I have too just not always the language of my host country)."
Mixedstereotype
Math And Numbers All The Way
"If they're interested in math I instantly love them. Haven't met anyone tho"
"Funny sarcasm a bit situational, but if someone is good at using sarcasm in a gunny way I want to be they're friend."
Mundane-Cook-5472
Totally Got Into A Fight With A Bear
"Facial scars, and not ones done intentionally. If you got a big ol scar on your face, you've seen some sh-t, and I am dying to hear about it."
The_Patriot
"I have a fairly prominent scar close to my eye that I got from walking into the corner of a table as a 2yo."
"Can't say I've seen sh-t, but I sure as sh-t didn't see that table."
qnrd
Conversations are tricky to navigate, especially when you think you'll do nothing but bring the group chat down.
That's why when someone perks their ears up to give you the floor, it's intriguing.
Let's Talk TOGETHER
"They draw people into the conversation by finding topics of mutual interest."

Back2Bach
"A great tip for doing this is to abandon any embarrassment at knowing nothing about someone's passion. Instead of trying to change the subject or staying quiet, ask the basic questions that come to mind."
"You'll find there are two types of people - those who delight in explaining why they're so passionate to you in a way that makes their passion practically contagious and those who can't be bothered making an effort. The first group are the ones you want to talk to anyway, as they not only match the effort you made but make it effortless for both parties."
texanarob
Take Your Time. I'll Listen.
"People who can find the sentence through all the stuttering I do and are actually interested to chat for an undetermined amount of time"
thiccccpotato420
"Hang in there buddy! It's a shame how society treats people who stutter! I'm a speech therapist and the biggest problem for my patients isn't the stuttering, but the inability of other people to just take a little bit more time and let them finish their sentences on their own time"
pugglik
Or Maybe We Don't Need To Talk At All
"Ability to enjoy and appreciate comfortable silences without having the need to constantly talk."
howwouldiknow
"Seriously."
"Nothing's more annoying than someone who constantly talks just to fill the air."
Sweet_Taurus0728
You don't know why, you just know how it feels.
It's a gut thing, deep down inside, that lets you know this person is something special.
Let It Out
"Passion. Doesn't matter about what, they could be passionate about installing toilets and I'd listen to them. I find it infectious."
Confident-Fee-6593
"YES fully f-cking agree. My friends always apologize when they go on about something I'm not into/haven't even heard of, but I could listen to it for hours. Just hearing the excitement in their voice and seeing their eyes light up just soothes my soul."
hi_j1nx
"They're not afraid to like things. I'm so bored of people whose personality is based around not liking things or being too cool for things. Coming from someone who used to be extremely cynical — cynicism is boring."
nineelevenairways
Eyes That Make You Feel
"Their eyes. Some people have very kind eyes and I'm extremely attracted to that."
snarfymcsnarfface
"Omg this. So far I've only met one person with really kind eyes and there was a time when I was in bed just crying about it cause whenever he looks at me it's like all the mistakes I've made in my life doesn't matter"
WittyRich
Speak Your Truths
"Honesty. Even at their own expense. Extremely attractive trait in friends or significant others."
Detharal
"Double this. It comes down to being able to accept wrong and being unafraid to open themselves up to judgment, criticism, and consequences of action, which is a huuuige display of strength, and == hot. Dishonesty is insecurity at best, malice at worst."
acidnbass
Trust your gut.
You never know what kind of fascinating individuals you'll be lucky enough to interact with.
Want to "know" more?
Sign up for the Knowable newsletter here.
Never miss another big, odd, funny, or heartbreaking moment again.
Keep reading...
Show less
People sure are silly, aren't they?
Not to say most people are dumb, as everyone has knowledgeable blind spots, but it can be hard to accept that someone just said something so stupid to you. It's a situation we've all been in. You have to stop, realign your thoughts, take in what the person just said, and ask a follow-up, "What did you just say?"
Because no one could be that stupid, right?

Reddit user, Loudersmoke420, wanted to know when someone was just so wrong when they asked:
What's the dumbest thing someone has asked you in full seriousness?
Social cues and graces are learned on the fly, where you gain that experience by actually talking to people.
That doesn't mean it always goes smoothly, however, as evidenced by these interactions.

...You're Either One Or The Other
"I'm an identical twin. When I was in primary school a classmate asked if I ever forget which one I am." ~ Grace_Omega
Unlikely, But Within The Realm Of Possibility
"I had a brain fart once when I was a teen and asked someone if they had ever died." ~ Xtrminated-Maverick
"If it makes you feel any better I actually died from Sudden Cardiac Death and was brought back to life. So, it's not an entirely idiotic question. It happens." ~ NoBallsNoBabies
That's A Grand Total Of...

"I once told someone that I could count the number of women I'd been with on one finger. After a long moment of silence that I mistook for comprehension, he asked "so how many?"
"EDIT: To give a better idea what we're dealing with, this guy, at 20 yrs old, made serious inquiries into getting his healthy teeth pulled and replaced with dentures because he was tired of having to brush & floss." ~ PerfectionPending
Can You Say It More Slowly?
"How do you pronounce your last name?"
"*Are you sure?" ~ Mini-Heart-Attack
You're...You're Standing In It.
"When waitressing a patio shift people would stand, literally on the other side of the fence, debating whether to eat inside or outside."
"It was very common for them to ask "what's the weather like on the patio today?"
"As if they weren't currently standing..in the outside weather." ~ Soulretrieval101
Maybe the stupid question comes from their lack of understanding? After all, it would be silly to expect everyone in the world to know everything about everything all the time.
Even still, does make these questions a little odd.
You Know The Gas Isn't Found There, Right?
"How do they know there is gas under gas stations?" ~ tigerllort
One Isn't The Other, You Know That Right?
"I am blind. I was staying over at my cousins house once, and one of them asked me, do you know sign language? I said, I am Blind not deaf. They responded, I know that you could talk to deaf people that way. I said, yes, I can talk to them but I wouldn't know what they are saying." ~ Nisa4444
Do you fry frozen french fries in boiling water. My roommate ask me this one evening. He was 24 and didn't know that you use oil to fry things. This goon thought you boiled them in water, lol.
Perhaps people should have spent more time paying attention in geography class during their school days. Probably could have saved some of these people a lot of time an embarrassment. ​
You Speak English? Where Are You From?
"When I lived in America I was complimented on my English and asked if it was hard to learn a second language. I'm from Australia." ~ Zygomaticus
"I have a Yorkshire accent and when I was in America a group of people tried to guess what country I was from and they named literally every single English speaking country in the world except for England." ~ TehBigD97
Do...Do People Not Understand How Hawaii Works?
"Not me but I live in Hawaii and someone I know said a tourist once asked him if the water went all the way around the island."
"Another friend said a tourist asked if they could just swim under the island (snorkel, actually, not even SCUBA) to get to the other side."
"My husband's cousin once said she wanted to get her dad's RV and drive from California to Hawaii to see us."
"Yeah." ~ geckotatgirl
Yeah, This Is Dumb
"I'm British and when visiting New York I was asked if I came over by plane or car. She insisted there was a bridge between Britain and the US." ~ justwannapoopinpeace
Think before you speak.
That's the easiest way to avoid any of the previous mistakes. Just, think.

Want to "know" more?
Sign up for the Knowable newsletter here.
Never miss another big, odd, funny, or heartbreaking moment again.

Keep reading...
Show less
Some years ago, I had to advise a college friend to stop chasing the girl he was interested in at the time. She'd already turned him down. Explicitly. At least two or three times.
He wouldn't take no for an answer and didn't see anything wrong with his behavior.
Perhaps he'd seen too many movies where the guy eventually breaks through the girl's defenses and essentially coerces her into going out with him?
Sadly, this is behavior that is tolerated and yes, normalized in our society.
People were keen to share other observations after Redditor EnoughSandwich_7057 asked the online community,
"What's toxic behavior that's considered socially acceptable?"
"Trying to make people..."
"Trying to make people drink/smoke or drink/smoke more when they have firmly declined the offer."
This is a big one that can have disastrous consequences. I am thankful I got a bunch of terrible nights out drinking out of my system by my early twenties.
Being drunk to the point that you're incoherent is horrible.
"I hate the whole prank thing..."
"I hate the whole prank thing, especially when it's done for likes. Scaring or humiliating people for attention just means you are a bad person."
I don't watch any of those videos and I don't understand what people see in them.
"Overworking yourself..."
"Overworking yourself and then collectively judging others who don't do the same."
I had a coworker like that once, and she was a (minor) reason why I ended up leaving one job, but still a reason nonetheless.
"Taking your work with you..."
"Taking your work with you on vacation. I mean if you enjoy working then that's your thing, but I get sick of people like going through paperwork and having meetings while on vacation. Like dude, stop."
"Looking down on someone..."
"Looking down on someone because of their job."
When people say things like, "If fast food workers deserve $15 an hour..." that says a lot.
"Deliberately misunderstanding..."
"Deliberately misunderstanding what someone is saying so as to make it easier to argue with them."
"People tend to give drunk people..."
"People tend to give drunk people misbehaving a pass if they regularly do it, 'Oh don't mind Tom, he's just drunk.' That just reinforces that toxic behavior."
You can say that again. How many times have you run into bad behavior like this while out and about, perhaps in a bar? It's not fun.
"The fact that we reward..."
"The fact that we reward customers for being wrong. The number of times my old manager would be so exhausted from arguing over the cost of a carton of milk with a customer that she would just give it to them is appalling."
"It reinforces this mentality because even if the customer KNOWS they're wrong they don't care because they will still win."
Annnnd this is why I don't miss retail. I'm fine where I am.
"Verbally abusing..."
"Verbally abusing minimum wage employees who don't make the rules. If I could change the laws tomorrow I'd encourage businesses to ban pieces of garbage like these who can't operate in public."
"I'm here to do a job..."
"Toxic workplace behavior needs to be top of the list. I'm here to do a job and go home, not be harassed because you don't like some aspect of my personality. Managers who let this slide should be held personally liable."
When you stop and think about it, you realize we live in an imperfect society. It's astounding that some people just tolerate bad behavior and, in many cases, don't even see anything wrong with it.
Have some stories of your own? Feel free to tell us more in the comments below!
Want to "know" more?
Sign up for the Knowable newsletter here.
Never miss another big, odd, funny, or heartbreaking moment again.
Keep reading...
Show less
Flirting. Some people are naturally flirty and charismatic, they smoothly enter a conversation then with a shimmy and a wink already have a date. Others...including this writer...have to be intentional about flirting and even then that "sexy wink" turns out more like a facial spasm.
There is help however, following others' experiences and flirting expertise below may just give you the boost you need. Just make sure to use your newfound powers of prowess wisely padawan.
Redditor ABowlOfLentilSoup reached out for all of us who are on the flirtation struggle-bus and asked:
"People who are good at flirting, what are some social cues us oblivious people should watch out for?"
The Reddit hivemind came up with some helpful guides for the less flirty.
Mirroring...
"Mirroring body language. This is a tactic employed by people who work in sales and it's not always conscious. This is a psychological disarmament tactic we, as humans, deploy on each other."
"In the case of someone who likes you, while interacting, watch for repetitious patterns and mimic their body language. Eventually, if you cross your arms and the person whose attention you are seeking do the same, for example, you can rely on that being a good sign."
"That's not to say you need to reposition or fidget while interacting; remember, being comfortable and at ease is a way bigger turn-on and ultimately lends itself to a more approachable experience for all parties. After all, 'acting natural' is the penultimate jedi mind trick :)"
​"some actions are flirting for some but just being friendly for others..."
"People will give alot of cues subconsciously, also some actions are flirting for some but just being friendly for others too. Pay attention to their eye contact with you compared to others, if one has small amount of eye contact with others but alot with you, generally it means theyre comfortable with you."
"Physical contact is usually big for people who arent already touchy, people will generally be more touchy with those they like. When in a group and everyones laughing, people generally look at the one theyre most comfortable with first, or the one they like, could be either or both."
"Action imitation is big, if you think someone is into you, do an action like hands in pocket or something, if they copy, they probably like you, or are paying serious attention to you for some reason. If they laugh at your dumb joke, either they like you, or the joke made them uncomfortable, depends on the situation."
"Playing with hair is one that can mean something to, but some people also just do that alot anyway. Really id say some things can be a good tell more often than not but sometimes those actions can just be them being friendly, unless its blatantly obvious it can be something else, thats why the communication or the risk of asking someone is important."
Get flustered!
​"When a person is making relatively sensual physical contact, please, and I mean PLEASE get flustered, or at least mentally flustered. Do not ignore them because you've known them a while. Do not pass it off as jokes, look for some signals. You'll regret not doing so. I've never been oblivious, but G*d d*mn have I missed hints before."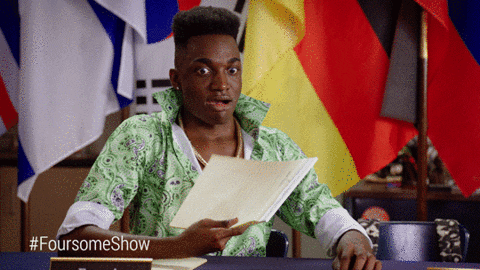 sweat wtf GIF by AwesomenessTV
Giphy
​"My advice is to be observant."
"It really depends on who you're talking to. My advice is to be observant. Some, would prefer banters. Usually , when coming up with something witty, they return back what you said but relating it in a playful or opposing manner (i hope you get what I mean) or playfully challenging your views."
"When it comes to touch, subtle touch on the arm or shoulders or patting the head and smile. Trying means to be with you is also a sign, but some are a lil more lowkey(like me), that'll probably prefer showing a playful side when it's just alone. So, it is also a sign if they change their aura from normal/serious to playful when it's just you alone. I hope these help."
A more logical way to look at it.
"Everyone is giving good advice, but flirting didn't click for me until i heard it described not as a set of behaviors to look out for, but as an escalation of suggestive behaviors couched in plausible deniability. Put practically, if someone is doing something to engage you that feels extra (lots of touching, looking at you in a way that feels a bit to long, or doing a lot of poking fun and complimenting you), then that might be flirting or it might not."
"That's the whole point. Plausible deniability. They can safely disengage at any time. If you want to know if someone's flirting, you need to test it."
"You do that by escalating things, but just a bit, so that now you have plausible deniability (touch them back in a comfortable way, maintain eye contact, or joke-compliment them back). If they escalate back and continue to do so as you escalate in turn, that is flirting."
"Eventually one of you will break cover and do something with clear intent (a kiss, an approach + ask for a number, or straight up telling them what you think of them and that you're interested). Otherwise, if you escalate and they don't change their behavior or they back off, then they were probably just being friendly and you should take the hint and do the same."
"Dunno if that's something obvious to people, but it was definitely not for me, and college parties would have been way less fun had i not known. Hopefully this can help someone else too."
Its not one size fits all...
"Generally there's no one thing that gives it away. Everyone says to look for eye contact, look at posture, look for mimicry, etc, and sure there's some truth to that but no one should be expected to keep track of all of those things and not everyone exhibits any particular one."
"In my experience, almost everyone can get a sense that someone is into them, but most people second guess themselves until they convince themselves it's nothing. I say trust that sense."
"It's based off all of these factors that we pick up consciously and subconsciously, and almost always it's not a coincidence. When you think someone likes you, you can test that theory in a few ways. A subtle but effective example is inviting them to something you know they can't or don't want to attend."
"If they express interest in rescheduling or finding some other way to spend time with you, they like you. Otherwise they'll just say no, sorry I can't make it."
"This works because you're showing interest in spending additional time with them (this event would be more enjoyable for me if you where there) and if they like you they will be sure to make it clear that they are saying no to the event, not to you. Of course, you could also just ask. In my experience anyone worth getting intimate with is mature enough to deal with that question."
They're into you...
"Take it from me, we were in a club she wanted to go to, she was checking the girls out and asked which one I liked. I told her the girl with the hair to one side. Now get this, dumb*ss me NOTICED she put her hair to one side, but thought nothing of it."
"I'm sure she sent out more hints and cues, but being a guy with poor self worth, I brushed it all off, there's no way she's in to me. I was so wrong, it took one of her guy friends telling me that she hasn't shut up about me all night to realise that, hang in, she does??"
"Long story short, if you think there's a chance, don't be a dumb*ss and wait for luck to punch you in the face like it did me, take the chance, even if you're convincing yourself she isn't in to you, she probably is!"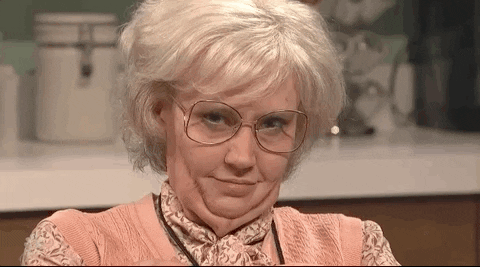 Kate Mckinnon Flirt GIF by Saturday Night Live
Giphy
​This Redditor broke it down into some helpful bullet points.
"A few examples of things that have helped give away someone's feelings for me:
-telling their friends about me
-remembering my schedule or other similar information
-telling me about they're previous interest with striking similarities
-bragging about themselves in ways that would make a potential partner happy ("I give great back massages" or "I cook a mean omelette")
-asking what my plans are at the end of a party/gathering instead of their friends
-looking for or grasping onto shared interests"
Some sound points...
"They make a lot of eye contact. They are interested in what you have to say and ask you lots of questions. They laugh at your jokes, even the lame ones."
"They initiate physical contact.They try to find space where you can talk more privately (this does not always mean sex but it often means they wish for more quality time with you)."
A good note to remember from this commenter:
"Do not take these as signs that a worker is interested in you. They literally get paid to seem interested in the concerns of every customer/client. Furthermore, any of these one signs alone is NOT confirmation someone likes you. Everyone flirts differently and some may not even use any of the above."
"These were simply some traits that came to mind based off my limited experience. I have never been an expert at reading signals (I was always shy), but I think the most important aspect of flirting is demonstrating that you take a keen interest in the other person and want as much one-on-one time to get to know them better as a person."
"Some people will rush the sexual aspect of dating, at which point their flirtations become more physical and obvious. But for most dating adults, signals are more subtle and revealed through conversation."
​Everyone is different...
"Everybody's social queues are different. Some maybe more extreme than others. So don't take stuff from this thread as the actual truth. Some people are just really friendly.​"
Although flirting may not come naturally to all of us, these are some solid tips to get you started. As always friends, remember consent is the sexiest way when you do decide to go for physical contact.
Want to "know" more? Never miss another big, odd, funny, or heartbreaking moment again. Sign up for the Knowable newsletter here.