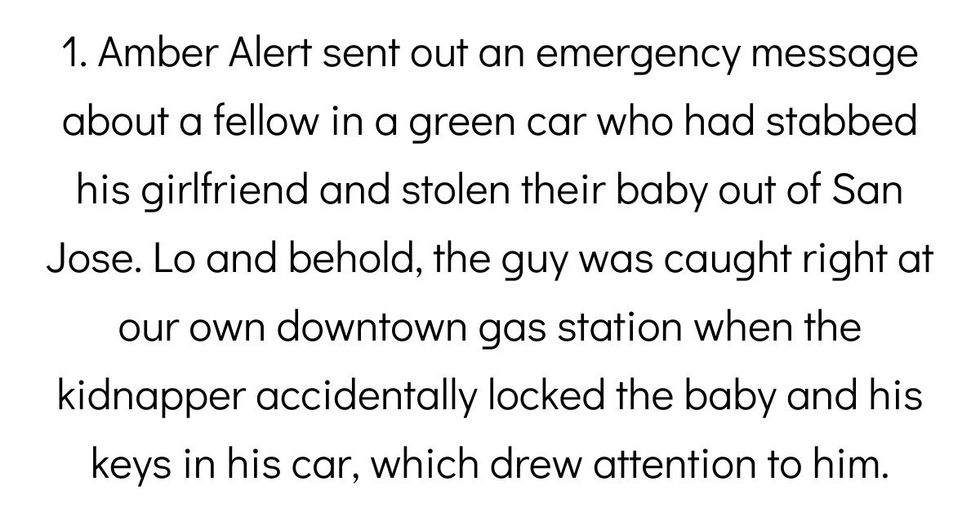 Small towns are often awash with gossip, so any embarrassing or scandalous behavior is usually known by everyone in town in a surprisingly short amount of time.
Some towns definitely have a bit more scandal than others, though, as these Reddit responses show.
Reddit user u/Ayayaya3 asked:
"People living in small towns, what's the recent scandal?"
10.
A few days ago, Amber Alert sent out an emergency message about a fellow in a green car who had stabbed his girlfriend and stolen their baby out of San Jose, which is 3 hours north of us. Lo and behold, the guy was caught right at our own downtown gas station when the kidnapper accidently locked the baby and his keys in his car, which drew attention to him. A good samaritan from an entirely different town, (a tourist), put the puzzle together, and put the guy in a headlock until the authorities arrived.
9.
A local police department likes to post "Wanted" pictures on its Facebook page.
The other day, I saw one of their sh*tty Wanted postings of some woman who is allegedly evading police for drug charges and intent to distribute.
The suspect herself commented on the post and said, "I'm not evading, I'm not on the run, I've been out of town, and when I come back I'm turning myself in."
8.
A couple months ago someone left their fire pit in their driveway for a few days. They received a mailed letter from an anonymous neighbor shaming them for making the neighborhood look bad. The recipient then posted the letter on the town's Facebook page. People ran with it and created the first annual front yard fire night.
7.
The town went with the lowest bidder for a big roadwork contract, and it turns out they were totally unqualified for the job and were messing stuff up. So the town fired them and hired the second-lowest bidder. Same thing. They're on their third contractor now IIRC, and the project which was supposed to be done this summer will hopefully be finished sometime next year.
6.
Our city council just voted to give themselves a 103% raise.
For reference, the pay is low-mid 20k currently, the raise puts the pay at 52k. The support is that more people will be able to get into office with the higher pay, and wages were stagnant from many years ago. So instead of the gradual pay increase over those years with cost of living, it's been adjusted to the current market today resulting in a significant jump. The overall trend from opposers is that they were blindsided and didn't get to vote on it like the last mayor said should happen.

5.
We don't know who but someone has been going around egging random cars and throwing full water bottles at people's windshields..
4.
Our newly elected mayor (who is a school teacher as well) caused a head-on car crash injuring 2 small children in the other car. She was found to be drunk and it was 330pm on a weekday. The kicker: she wasn't charged with a crime (as of yet) but she did resign after "considerable thought."
3.
I left my small town years ago but I was home over thanksgiving and got an earful.
The local grocery store was renovated/expanded after 30 years and now "everything's moved and you can't find nothing".
I was home for four days and literally every new social interaction with people in town involved the go**amn grocery store and how awful it is now.
Spoiler: it actually looks quite nice and they hang signs over the aisles telling you where things are. You know, like a grocery store.

2.
During my sisters volleyball game one of the super aggressive sports dads slapped someone else's kid- cause apparently she "set the ball into a bad positioning" and that caused his daughter to miss the spike
His kid is not good at the game
I played volleyball for a long time and my mom sent me footage of the set, she set that ball beautifully for the small league she's in
They won the game- just be happy
The entire community is turned against him right now and the family of the girl is considering pressing charges, which i feel they should cause this guy has gotten close to crossing the line before and he needs to be reprimanded for his actions

Edit; a lot of you have commented about how he didn't get beat at the game, no one had the chance because immediately realized he f**ked up and ran out to his car
He drove away leaving his kid to be embarrassed and alone in a court full of people pissed at her dad ( one of the nice moms gave her a ride back to her house where she spent the night )
And on a happier note I've just learned from my mom that charges are being pressed, and investigations into the living conditions in his house are being conducted, i'll update when the results come in.
1.
My grandparents small town has had a recent outbreak of teenagers riding horses through the middle of downtown, while wearing nothing but facemasks. It has happened a total of three times now, always different kids, always different horses.
Keep reading...
Show less