People have different levels of tolerance when it comes to profanity.
And some people can't stand the sound of rude or vulgar language so much that they can't bring themselves to say these naughty words themselves.
But when anyone reaches a high level of anger or frustration, they still might need a verbal outlet.
And instead find themselves coming up with an alternative word, which helps them release their anger, but won't offend any nearby ears.
Redditor No-Citron5628 was curious to hear people's favorite alternatives to curse words, leading them to ask:
"What is your best swear word alternative?"
Intergalactic profanity!
"Oh neptune."- StrappinYoungZiltoid
The last thing you want to find in your bed!

"Crumbs."- ThatsHisEagerFace44
Instead of rude, be educational!
"'Safety Hazard!'"
"I said this instead of… other words once when I tripped and accidentally taught this to my nephew."
"Now my sister sends me videos of my nephew saying it when things don't go his way."- YellowForest4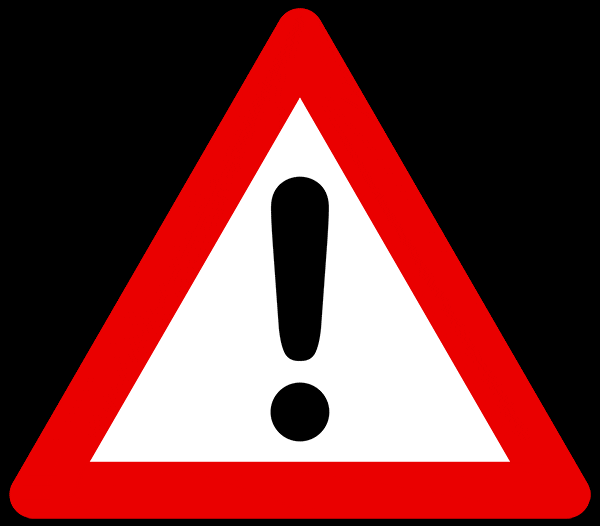 Warning GIF
Giphy
Think of the children!
"Not sure of an actual word, but my bf and I have been trying to limit cursing since my toddler is becoming very verbal."
"He's resorted to making very angry yelling caveman sounds when he wants to curse someone out rather than using the actual words."- Present-Lime-1244
With gravy?
"Biscuits!"- blargney
Onomatopoeia
"I like, 'slug in a ditch'."- spiked_macaroon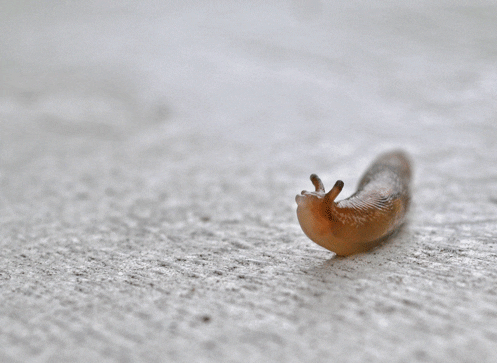 slug GIF
Giphy
We can always learn a thing or two from the kids...
"A child in my class tries to swear but unintentionally says foot instead of f*ck."
"It's probably my favorite alternative."
"Wow, didn't expect this to get so much attention."
"Thank you for the award! "
"For those asking, he is a very tiny child with a deep yorkshire accent who actually picked up the word from another child but hasn't noticed he doesn't have the pronunciation quite right yet."
"Context wise though he's bang on which makes it even funnier."- sophishx
Just one word won't do!

"DO YOU SEE WHAT YOU GET, LARRY?!"
"DO YOU SEE WHAT YOU GET WHEN YOU FIND A STRANGER IN THE ALPS?!"- KevinBillyStinkwater
Be mindful, it could backfire
"When my son was little he started saying bastard so I kept saying custard."
"Until the day he complained that we were having bananas and bastard again."- CheeryShortarse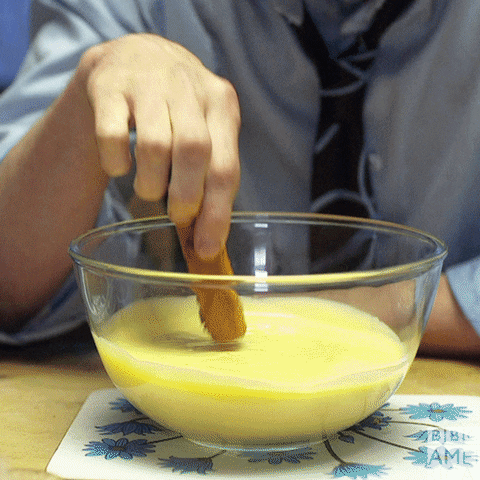 Doctor Who Snack GIF by BBC America
Giphy
Mother knows best.
"My mother always said, 'Curses!'"
"We, the kids, laugh about it all the time."- tenzip10-0
If you feel like you've sufficiently got your anger or frustration out of your system, your choice of words served their purpose.
Whether or not they would have to be bleeped out on network TV.
Keep reading...
Show less
An almost guaranteed phase of entering adulthood is unintentionally making it clear how much older you are than some present company.
This could be by the way you dress, talking about seeing a movie in its initial release when the person you're talking to wasn't born yet, or more than likely, by the way you talk.
When you say a slang term or phrase which was common place when you were a child, but today would likely be met by looks of confusion, or even disgust, should you use a term which is not only outdated but now considered offensive.
But then, shaking these old fashioned, or just plain old, terms and phrases might be a difficult task, so engrained are they in our vocabulary.
Redditor InfiniteDrafts was curious to hear what phrases people continue to use, despite knowing how quickly it will date them, leading them to ask:
What slang do you use regularly that is totally outdated?
Maybe rethink alternative words for "awesome"...

"I called a taco 'the Shizznit' a few days ago."
"I instantly felt 90 years old."- fattydad075
Not as "radical" as it once was...
"Rad."- AvatarofBro
"Righteous and radical."- king_7__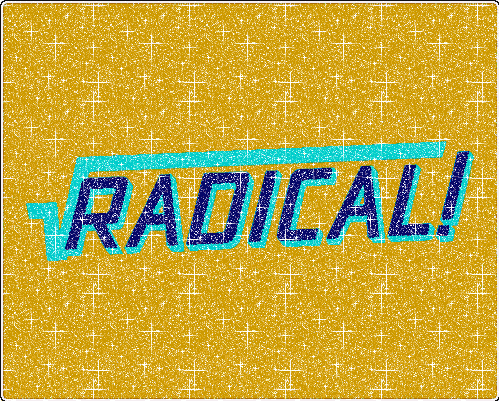 Colors Flashing GIF
Giphy
Language is eternal!
"None of MY slang is outdated, it's today's youth that are wrong!"- hotasphalt
How long have you got?
"I say things are the bees knees on the regular."
"Is 'on the regular' dated?"
"I also call the ocean 'the drink' for whatever reason."
"Picked that up at some point."- Paradigm6790
"This sub is making me extremely paranoid about my words now bc I say pretty much all of these words still."- jjjjjjj30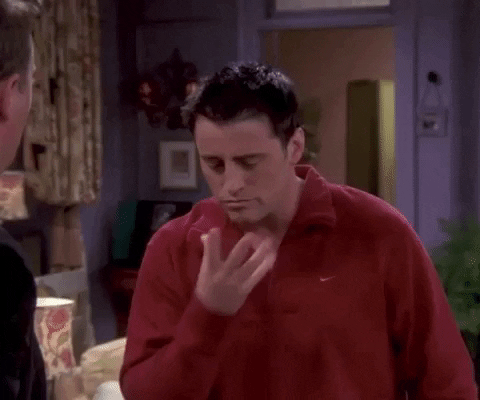 season 10 friends GIF
Giphy
Charming once, vulgar now...
"HAULIN' A**."- f*ck_korean_air
Nah, come closer.
"Far out."- PaulClifford
A bit off

"Right on."- bombaderogato
Does anyone still even eat popsicles?
"When I'm ready to leave I say 'Let's blow this Popsicle stand."
"To be honest I'm not even sure what a posicle stand is."- B-Sdetector69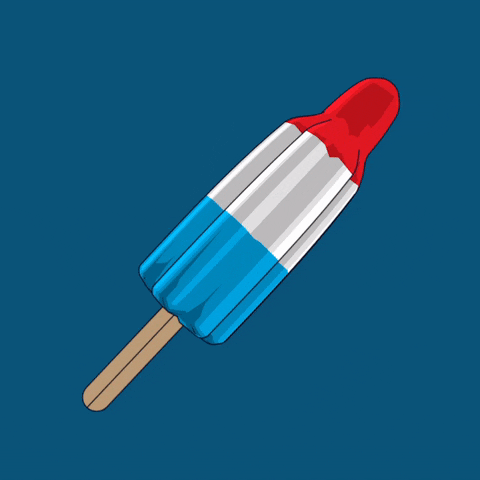 Popsicle Freezer Pop GIF
Giphy
It's hard not to feel self conscious around the younger generations who might laugh at your dated vocabulary.
But one should just remember, in 10 years or so, they'll likely find themselves in the exact same position.
And won't feel as "groovy" as they once did.
Keep reading...
Show less
Dear parents born in the 80s/90s :
Your child is probably (we never really know for sure) not a weed dealer.
Probably.
So if you hear them talking about "mids" - they're not talking about average grade or potency cannabis. They are, in fact, probably talking about your lame old self and/or something you own or tried to give them.
Reddit user Kengriffinspimp asked:

"What slang word did you hear that let you know you are no longer young?"

Now, the reason I can give you this lesson is that my 15-year-old looked me dead in the face and told me I needed to stop buying mids because it was bumming her out.
So I'm all:
"First of all, how did you get into my lockbox? Secondly, my cannabis is medical grade, prescription, and grown on a small batch boutique farm and probably blessed by the rains down in Africa or whatever, thank you very much. And third of all, when did you become a budtender???"
​... You know those moments where you're blankly staring and the other person is blankly staring and then you suddenly realize you two are absolutely not talking about the same thing?
Yeah.
Turns out my teenager was bummed that we had purchased some non-Eggo waffles and, while they were chocolate chip so not TOTALLY unacceptable, the quality was "meh" and she wanted her high-grade waffles back.
Waffles. Not Weed. Just waffles.
"Mid" is just what the young people now call anything of mediocre/average quality now.
Turns out I'm old, and also that my children are bougie and need name-brand waffles.
Oof
" 'Oof.' All the Roblox players thought they invented it."
- theoptionexplicit
"Oh. My. God. My partner and I can't work out why her 11 year old niece says oof all the time. But she is a Roblox player - we know that. Is that where it's from?!?"

- J321J
"This whole time I thought 'oof' as a Reddit thing."

- 8B3B383B
Is There A Fire?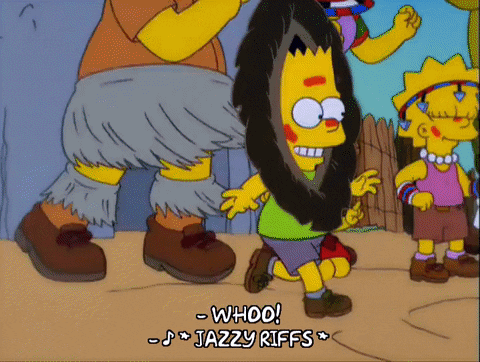 bart simpson dancing GIF
Giphy
"Lit has changed meaning from when I was young. Couldn't understand the context when I started hearing it again."
- pmpmd
"Is something on fire??"

- merelycheerful
"Lit af bro"

- SleepyBear3366911
"We used to use it a lot in Counter Strike to indicate the amount of damage someone took."
"An example would be , 'he's lit 90'."
- SmokeSatan_HailMeth
"Bonfire lit?"

-Navasxdxd
Negative Visor
"For me it was 'no cap'."
- Kengriffinspimp
"you bussin'."
"...actually I have no idea wtf that means either..."
- future_sport_pilot
"Was going to say this exact thing. What does it mean?"

- letsmoseyagain
"Even knowing what it means immediately based on the context, the phrase just irrationally irritates me."
"Idk what it is. I just have a small urge to smack whoever says it."

- User Deleted
"I went to ask a coworker if he had left some product in my designated loading area (forklift certified). "
"He told me 'that's cap'. I had to look over to a buddy and asked if that meant it was true or not true. I'm only 28 and this happened last year to me..."

- galax667
Pogs Are Back?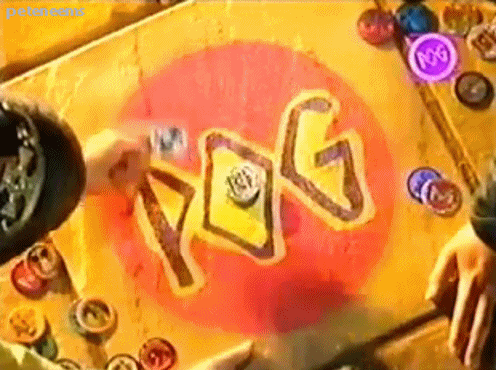 90s pogs GIF
Giphy
"When my son is impressed by something, he says it is 'poggers' which I guess means "pinnacle of gaming' according to him."
"This is true and gets used even if the impressive thing has nothing at all to do with video games."
- HawaiianShirtsOR
"It's not actually an acronym (people always think it's 'play of the game' as well)."
"There was this twitch streamer who was actually playing pogs - like that chip game thing from the 90s? He got excited and made a goofy face, which got turned into a meme/twitch emote. So like, a zoomer meme that is built off a millennial game? I dunno."
"But yeah you basically got the actual meaning down."
- awfulrunner43434
"Omg I thought poggers was a joke? They actually say it? Lol well here's my answer!"

- TreClaire
"It's like proclaiming "f*ck yes", being very impressed, whatever they saw is awesome."

- Kirkonvaki
Who Has A Mop?
" 'Drip.' "
"My kids explained it is akin to the 'bling ' or 'swag' of my youth."
- solipsisticfantasy
"Drip is swag"

- yesbutlikeno
"I first encountered 'Drip' watching WWE wrestling a year or two ago."
"One of the characters was calling himself the 'Drip King' and the announcers kept going on about it, and I was wondering if they were talking about his long, wet hair or if I was now too old. "
"It was the latter, of course. Not a surprise, though - I've been a regular Internet user for 25 years and have been made to feel old on pretty much a weekly basis for 15-20 of them."

- Chris_Buttcrouch
When Did Public Transport Get Cool?
"Listening to my 10 year old son talk: 'Mom, this food is BUSSIN GOD ON GOD'."
".. What?"
- Halloween_Barbie
"Did you learn what the hell bussin means?"
- Kaiser93
"Watched Joshua Weisman on YouTube for a bit, he uses this term now. First time I heard it was a year ago from an ex inmate cooking prison food on Facebook."
- coolcrushkilla
"I work in the industry."
"Bussin' is something you do to tables."
- jayemadd
"I'm broke. Bussin' is something you do when you don't have a car."
"Why is it popular? When did public transportation get cool?"
- [Reddit]
Yeet Stays
" 'Yeet' - meaning to throw something hard/far."
"I like the word, but I still feel weird whenever I use it. My 6 year old plays lacrosse and I instantly regretted when I yelled 'Yeet it'" at a game ... cringe moment for me, honestly."
- MiaMae
"My five year old has never known a world without "yeet." When talking to old people he uses the formal word throw.

- DarrenEdwards
"I'm team 'yeet' for sure!! In my mid 30s and as a coach I love it. I'm young enough to impress with my skills (experience) yet old enough to make them cringe when I say it. It's a dad's perfect storm."

- BigTurnin
"As a 30-year-old, yeet is the perfect word I didn't know I needed until I found it. There wasn't anything nearly as snappy to shout that meant "I'm throwing something" before. We had "think fast" back in my day, but yeet is so much better."

- kore_nametooshort
"I'm 43, but I'm all in on yeet. It's a great word. Past tense is yote."
- Crunchycarrots79
"Of all these, I kind of like yeet. It's almost onomatopoeia. When something gets thrown unexpectedly or absurdly far, describing it as "getting yeeted" cracks me up."

- DMala
Context Clues
"Fam. I understood what it meant by context, but that's when I realized I'm no longer part of the youngsters."
"Went directly to the mall and bought me a tweed jacket."
- ImInJeopardy
"Did you tell the shopkeeper that tweed apparel was sick?"
- Strain128
"I feel like this word will get integrated into the middle class lexicon in about a decade, my Dad is as white as they come but now says 'Where you at?'."
- LochBodminMothFoot
It's A Fight?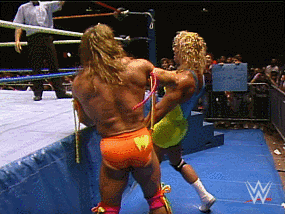 Ultimate Warrior Wrestling GIF by WWE
Giphy
" 'Slaps'. Took me so long to figure out if it meant good or bad so I had to look on urban dictionary"
- ClassyJacket
"Back in my day, and in my country/city, 'slaps' used to mean someone was about to get a beating"

- dnc_1981
"This is so far down. First time I really truly felt my age, also the urge to become the one who slaps."

- TarryBuckwell
Meh
"Mid"
"I still don't get what it means"
- Luna_17134
"Yah saw that somewhere recently in that Pam meme and inspired this post haha"

- Kengriffinspimp
"To say something is mid, is just like saying it's mediocre."

- yoiliketopramen
"It's an insult, it's saying its medium, middle, or medicore, but mainly used to describe things/people that people dislike. I think it got popular after everyone hated jellybean"

- AIex-Shaw
What's The Wager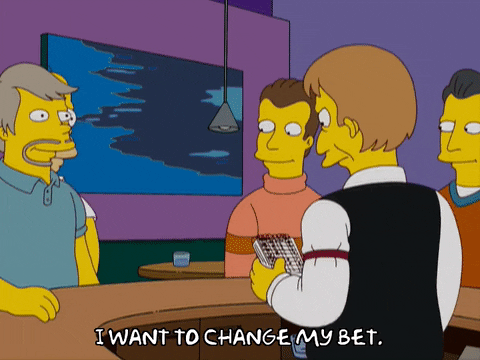 betting season 20 GIF
Giphy
"First time someone said bet, I waited for their wager.."
- DCJustSomeone
"For some reason bet really irks me"
- DirtMeat_Supreme
"But what DOES it mean?? I hear it and cannot figure it out!"
- [Reddit]
"It means wholeheartedly affirmative."
- Kirkonvaki
"I thought it was more like 'you bet!' also some people say 'you betcha' which is short for 'you bet your _____'."
"You want some fries? You bet your a** I want some fries."
"Want some fries? Bet."
- DesignerGrocery6540
Based, Not Basic.
" 'Based.' Whenever I fucking hear that I fucking yell to the person 'Based on WHAT!?.'
- wkrhireh
"What is based…."
- Kengriffinspimp
"F*ck if I know. I have yet for somebody to actually tell me what it's based on."
- wkrhireh
"I looked it up and google told me it meant something like 'being yourself without caring what others think'."
"I have to look up slang on google... I AM old."
- letsmoseyagain
Glizzies Bears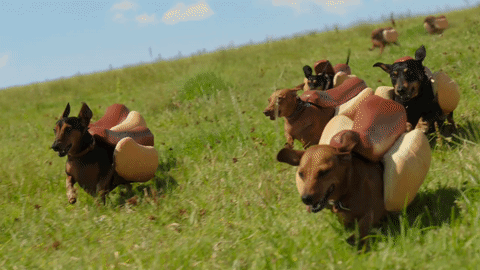 hot dogs GIF
Giphy
"Calling hot dogs glizzies"
- iuytrefdgh436yujhe2
"Wtf!?!?!? Lol"
- Kengriffinspimp
"Hmm a glizzy typically refers to a Glock."
"Some peoples kids.."
- darealJimTom
"Calling anything a glizzy"
"Whether it's a hot dog"
"Or a gun"
"Or your genitals"
"That term is just ugh"
- yoiliketopramen
"It sounds like a poor man's jaunt"
- Kengriffinspimp
Brrrt Or Brrrr
"I don't really get the "[something] go brrrrr" thing."
"I used to get memes but now I'm like "huh" with some of the latest ones."
- rainbow_bro_bot
"Blank go brrr comes from awesome abilities of the A10 warthog in combat. Watch a vid. Then you'll understand."
- Vast_Advantage_7913
"I used to live basically right next to an A10 fighter wing. Those things are so understated and absolutely insane. Hearing them train was impressive."
- [Reddit]
"Yeah, you are correct, except. It's supposed to be BRRRRRT the sound of the Warthog's God Mode cannon. I only know because I'm an aviation nerd & have seen about a thousand Warthog BRRRRRT memes"
- MysticalEmpiricist
"Just know most memes don't take themselves seriously"
- GEMO224
Wait, GigaChad?
"Chad. Like when did it change to be a good term? It's been around since the 80s, and the term has changed, but it was always derogatory."
- RagingAnemone
"It's not good though. It's used mostly ironically. Like self-deprecatingly or jokingly"
- DelightfullyUnusual7
"Not really. Chad is generally used for anyone respectable. For example, Zelensky is often referred to as a gigachad; I've heard it used no other way than positive, including unironic use."
- DelightfullyUnusual7
"Chad and gigachad are different though."
"A Chad is some one who tries to portray himself as an ubermasculine specimen of maleness, but is generally viewed by others as a self absorbed douche."
"A gigachad succeeds in the same attempt without even trying."
- Bud_the_Spud
"This wasn't the case in 2016 when I first joined Reddit. Chad was code for the biggest douchebag ever back then."
- Just-Call-Me-J
Pop Off
"Popping off."
"Apparently it doesn't mean talking sh*t anymore. It's like, when you are showing off, or something .... I'm not even that old yet."
- Orionishi
" 'Popping off at the mouth' is talking sh*t, but when shit is about to 'pop off', it means the event in question will soon start in earnest."
- joombaga
"The only meaning I know is from videogames. When someone is suddenly doing very well, you say the person is 'popping/popped off'."
"All these other words.. no idea."
- ColaDeTigre
Fixing to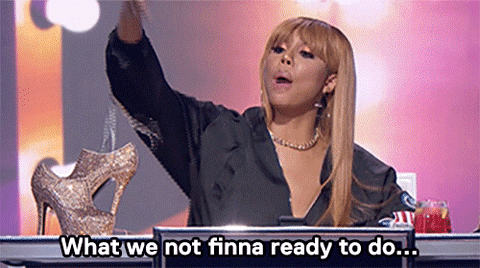 what we not finna ready to do tamar braxton GIF by VH1
Giphy
"For me it's finna"
" 'Gonna' is the same amount of letters and sounds more appropriate with basic sentence structure."
" 'I'm gonna go to the mall' 'I'm finna go to the mall'."
"The f*ck?"
- aboxofGoldfish
"AAVE for 'i'm fixing to' which is a variation of 'i'm going to'."
- nutshells1
"No clue where it comes from but after I heard it the first time it just fell into place. I don't even think about it"
- POKECHU020
"Fixing too (finna) is a very southern saying. I think...now I'm starting to doubt myself."
- onedemtwodem
Welp, now that I'm nearly 40, it's very probable that I will never again understand the majority of what gets talked about when this question comes up.
I need to go sit with that and feel my e-mortality now.
Keep reading...
Show less
Back in Ye Olde 90's we had totally tubular stuff like grunge music, boy bands, jelly shoes, and the commonly held delusion that it was the 1960's.
So ... pretty much exactly like now but with thinner eyebrows, crappy dial-up internet, and we still had Betty White.
The 90's may be gone and back again as far as fashion is concerned, but language hasn't exactly ridden that same wave.
Reddit user Enexprime asked:
"What are some 90s terms that are no longer used today?"
So let's talk about it. What don't you hear anymore? Have you found yourself comfort-watching Living Single and realizing Khadija sounds like an alien?

No? Just me?
Multiple Deaths Happening Here
"... NOT!!!!"
- chichi_benson
"I only ever hear Borats voice now when reading the word NOT"
- stephen_spielgirth
"Someone on here pointed out to me that the modern version of 'NOT!!!' is 'said no one ever.' "
"Which is fascinating since it shows how humor has evolved over the last 20-30 years."
- BW_Bird
"I mean… 'said no one ever' died out years ago too. It feels like memes had that phrase everywhere just yesterday."
- Anon419420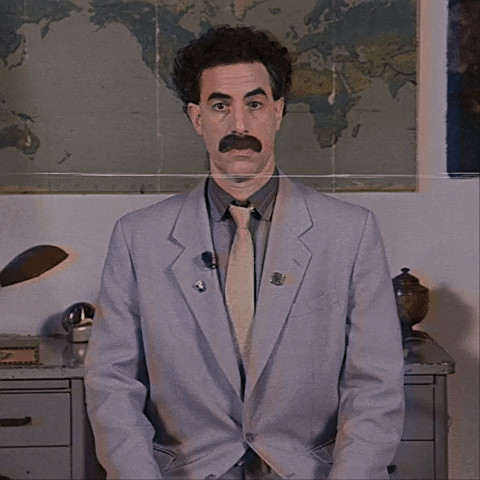 Giphy
How We Discuss The Highway
"Information superhighway."
- gingerbreadporter
"Surf the web"
- nevercontribute1
"Even the word "web" in reference to the internet has almost completely disappeared."
- thomthehipposlayer
"The bomb dot com."
- kramerica_intern
"When I was doing back end development for corporate websites back in the early 2000's, lots of enterprise developers were saying 'www' as 'dub dub dub.' lol"
- cardcomm
Okay Which Part Are We Talking To And Why?
"Talk to the hand."
- llcucf80
"Talk to the elbow because the hand ain't worth the extension."
- allanmonroe
"I always did 'Talk to the booty, cause the hand's off duty.' "
- Lwmons
"Talk to the hand cuz the face ain't listening!"
- Ri-chanRenne
"Talk to the hand talk to the butt talk to the man from Pizza Hut."
- SirRemington159
"Radical" Used To Be A Good Thing
"I still say things are 'rad,' but I haven't said 'radical' or heard the term 'radical' used in a 'that's cool' context since like '95 or '96."
- ghosts-go-boo
"I use 'rad' frequently but I've found Northern California is hella welcome to all kinds of slang, man."
- beard_lover
"I only use 'radical' to describe political radicalism, but every time I do I always think of the group I'm talking about busting some phat moves at the skate park."
- MarvinLazer
"Yeah I only hear 'radical' brought up in history or math classes right now."
- KoopaTrooper5011
Posing As A Hater? Cringe.
"Being a 'poser' was THE worst insult where I grew up, people were often criticized for being too big for their boots and dressing like rock stars."
"Nowadays, with social media etc, everyone is invested in their own brand management and if you think it's cringe, you're a 'hater.' "
- AGuerillaGorilla
"20 years from now when someone asks this same question on this sub, I'm sure 'cringe' is gonna be one of the answers."
- dbigya00
"I still feel like poser is a pretty solid insult. It's all about the delivery, you gotta dress it up a bit."
- thedoomdevice
We're Deeply Uninformed
"My wife got made fun of by our friends kid for using the term 'word on the street.' "
"It really blew his mind when we told him we needed the '4-1-1' on why it's not cool anymore."
- Treibemj
"People still say 'word on the street.' It Still shows up in new rap songs."
"That's as close as I'm getting to the streets, but those young men seem like they know what they're talking about."
- MrBurnz99
Guac Is Still Extra
"All that and a bag of chips!"
- Wishyouamerry
"I use that at Chipotle. Sometimes I get the "did you really just say that?" look."
- BitPoet
"My mom says a version of that to my cat because my cat gets so excited when I walk into a room."
"My mom's like, 'she's not all that and a bag of catnip!' "
- StarWars_Girl_
Timing Troubles
"Call me after 7 when it's free."
- False-Boysenberry673
"Alright yo man, you're wasting my minutes! I'll call you at night."
- temp7412369
"Oh man this one really takes me back."
"When I was a kid and I wanted to play telephone with my friends and my mom always reminded me to call after 7."
- batyoung1
To Doy? Or Not To Doy?
"No Doy"
- XxBoognishxX
"I always loved that yelling DOY meant the same thing as yelling NO DOY."
"It is truly one of the great mysteries of the universe."
- JohnSnowsPump
"I had to say it to remember it. Lol"
- ironh19
"I discovered there's a whole segment of the population that use 'Duh Doy' — which is an inferior usage of the term, in my opinion."
- kula_shakur
"I say doy but I spell it doi. wasn't alive in the 90s though"
- bebedumpling
Suffix Situations
"-meister"
- papachon
"I work with a guy who's last name is Burmeister, I always call him 'The Burr-meister' like a 90s surfer, it annoys him."
- careater
"Wait are we not saying that any more? Douchemeister."
- alexrt87
"Is there anything more 90s than the Stiffmeister?"
- Zal_17
"My best friend from high school in the early 2000s is still 'Bakermeister' in my phone lol"
- weissingaround1
Aight, fly honies and homies - yall heard Reddit. Now it's on you to tell us what's up.
Want to "know" more?

Sign up for the Knowable newsletter here.

Never miss another big, odd, funny or heartbreaking moment again.
Keep reading...
Show less
Generation Z, the generation that follows Millennials, are now somewhere between the ages of seven and 24. With the oldest of their generation being in their early 20s and late teens, they're bound to leave their mark on internet culture and social media.
Though we are still getting to know this generation, they have already shown themselves to be influential on the digital world. They're capitalizing off of their quirks with Instagram influencer brand deals and going viral for TikTok dance videos.
Since they've taken the reins, we see especially from the Black community, new waves of pop culture references that trend so fast it will make your head spin. Redditors told us some of the most typical things a Gen Z kid will say.
Redditor Maxibonlikesflags asked:
"What's the most gen Z thing to say?"
If you're trying to figure out what the kids are saying these days, take a look at this list.
Everyone older than 21 is a boomer now.
"'Ok boomer' to a millennial."
- nindesk
"I went back to college last year (I'm 31) and a kid in my class found out my age and was like 'I didn't know you were a boomer.' I was so upset lmfao."
- girl_in-purple
"I don't know who you are, but I am also upset for you."
- WabbieSabbie
"I'm gen z and I have been called a boomer by a younger gen z's."
- Child-Reich-66
"Me too, just turned 23 and regularly getting called a boomer by my little brother."
- NoSuspect3688
"I'm dying of laughter" reduced to an emoji.
"💀 this skull emoji when something is funny."
- simp4tedlasso
"Name a more accurate duo I'll wait..."
"Me: 😭✋"
- Phalanx_02
"Please😭🤚🏼 I forgot about that one 💀."
- simp4tedlasso
​It's the "I understood the assignment" for me.
"'It's the _____ for me.' 'Understood the assignment.'"
- Jatheone76
"I listen to a podcast and one of the hosts is obviously a Gen Z kid. She never stops saying shit like 'Can we talk about how literally obsessed I am with this?' Or 'Can we talk about how obsessed I am?' I don't care if I sound like a boomer, that drives me up the wall."
- ryanbuddy04
"I was watching a reaction video (don't judge me) of a young person and she was saying stuff like 'I'm screaming,' 'I'm dead,' at mildly amusing things and she was stone face while saying this."
"The disconnect between her words and actual actions was it's own amusement to me after a while."
- Lost_Afropick
"I'm a millennial and this just sounds like tumblr back in the day."
"'asfsgdgdhsgddjkkksjkkajks i'm SCREAMING.'"
- GloriousHypnotart
"Bussin" is AAVE for good food.
"Bussin."
- Lakeshow0924
"Sheeesh🥶 this sh*t bussin."
- Phalanx_02
"Bing chilling 🥶."
- OpenHead4
Gen Z doesn't remember 9/11
"What was it like before 9/11?"
- Verb_NounNumber
"Honestly I think whatever follows Gen Z will be a post-COVID generation. Children born before or during COVID who never knew about the world before COVID."
- AshFraxinusEps
"We'll tell kids about the days we used to be able to go to the supermarket without a mask. And when people could just go to other countries for fun."
- nerevisigoth
Are they being sarcastic or sincere?
"I love that for you."
- wedgiepick
"I don't know why this phrase kind of p*ss me off. I feel like it almost sounds passive aggressive?"
- expreince_explorer
"Yes and condescending. It sounds a like a busy mum saying something to fob her child off."
- londonscappo22
Adding sparkles for ✨emphasis✨
"I feel ✨uncomfy✨"
- dead-crimson
"I want to ✨die✨"
- ElLoboLudo
"Related but unrelated to uncomfy: words like 'sewer slide,' 'unalive,' 'la dolla beans,' 'Ed Sheeran.' They're all words that people created because lots of sites (especially TikTok) censor content with certain words. Kinda punk, kinda dystopian."
- SirensToGo
"'Shreks worker or 'spicy accountant' for sex worker or 'seggsual' for sexual."
- mentallyillustrated
"It's quite fascinating to see language change because of censorship in the digital world. Sounds really dystopian and cyberpunk to me. It's also nice to see how creative humans can be to evade censorship as a collective."
- Khratus
"Some poor marketing intern's definitely taking vigorous notes on this thread right now."
- Headkickerchamp
"I'm like 99% sure this post was probably made by some 'boomer' marketing guy."
- Wastewatertastegood
Hopefully this list brought you a little closer to understanding the youngster's internet lingo.
But don't get too attached, the next trendy thing to say will have already come and gone before we know it.
Want to "know" more?
Sign up for the Knowable newsletter here.
Never miss another big, odd, funny, or heartbreaking moment again.
Keep reading...
Show less