Sometimes, I write these articles sitting at the table with my kids while they work on school stuff. The 'communal office' feel of the dining table has its ups and downs, but today was definitely an up.
My teenager, peeking over my shoulder as I filled in the title, quipped:
"My nonbinary a$$ would LOVE to know what it's like to sit in a chair normally - but all I got is goblin mode."
Reddit user Lemonkainen asked:

"What is a simple pleasure that the opposite sex rarely/never gets to experience?"
My kid may be doomed to spend eternity sitting in chairs like they think the floor is lava, but they're not the only one missing out on things the rest of us take for granted.
Here's what Reddit came up with.
Free Wees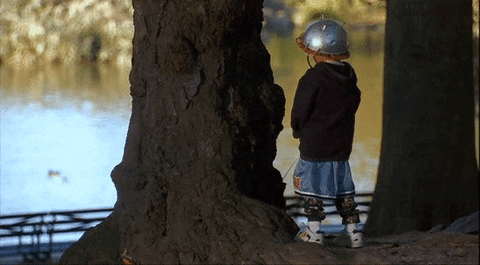 big daddy thumbs up GIF
Giphy
"Peeing standing up in a bush."
- hairyscrotes
"Or over a cliff..."
- -notjosh-
"Or basically any height. Peeing off a balcony on the 24th floor is extremely satisfying. Obviously make sure you're not raining onto someone."
- biggie_dd
"The GoGirl™ fixed that."
- MaryGodfree
"Also, the SheWee. Either way, don't miss."
- TomoyoHoshijiro
Summer Fashions
"Wearing a light sundress on a hot day."
- TheLadyRica
"100% this. I feel for men who have to go to work in a suit in the middle of summer."
- FingerPoppinPapSmear
"I'm a guy and have a light sarong/lungi/dhoti I got in India a few years ago and I wear that around the house and yard when it's warm out and it's great. Basically about as thin as a sundress."
"I work in SE Asia where it gets really hot and humid, so it really makes a big difference in my comfort level."
- 7LeagueBoots
Unleashing The Beasts
"That feeling when you take off your bra after a very long day."
- Euro_Girl
"In high school we had opposite day where you could wear pjs, gender swap, or clothing backwards."
"I was a hefty guy so opted for a sun dress and bra...Underwire."
"Girrrrrrrrllllll...Taking that thing off after school was bliss!"
"Here's an upvote!!"
- FunnyShirtGuy
Give Women Pockets!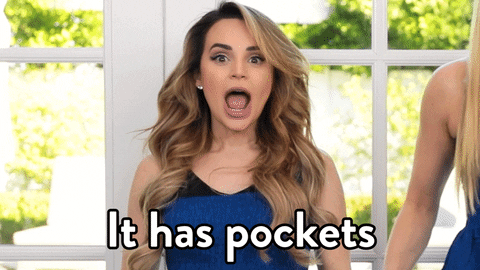 Happy Fashion GIF by Rosanna Pansino
Giphy
"Getting to put their phone in their pocket."
- BAD_TIME_MAN
"I actually learned how to sew pockets because of this."
"Now I have some jeans with colorful old pillowcase pockets and I can put my phone in them."
- settiek
"My girlfriend is exceptionally mad that I can even put a Kindle in half of my pockets. The difference is insane!"
- gregedit
Drunk Bathroom Besties
"The amount of camaraderie from drunk girls in a bathroom."
- sharkyshark303
"Amusingly, my wife met some drunk girls in a bathroom, helped them a little, and I got a promotion out of it!"
"I had won a sales contest for the company I worked for. All expenses paid cruise, they rented the whole boat."
"Norwegian cruise lines. 4000 sales people globally, 100s of us won."
"She was in the bathroom, and two women were just drunk on the pre-party for the cruise ship. She helped them out, they liked her."
"It turned out that their husbands both worked for the SW region manager of the USA, and as such things go, they introduced me to their husbands, who introduced me to the regional manager, who hired my sorry butt and had the company pay for my green card."
"So the drunk camaraderie in the bathroom was the key element to the whole thing. Thank you drunk women in bathrooms! It changed my life."

- likes2gofast
"Drunk girls in a bar are amazing. I had a group stop me to hug me so they could smell like me."
- Dudeidk247
"I can hear this comment."
- Dengar96
" 'Ohhh my gawd! You smell so good!' "
- AnarchyCampInDrublic
So Stiff
"Morning wood so stiff you feel like you could use it to rip open the hatch on a submarine."
- macrotron
"Fall asleep in a bed. Wake up in a tent."
- sabrefayne
Late Night Games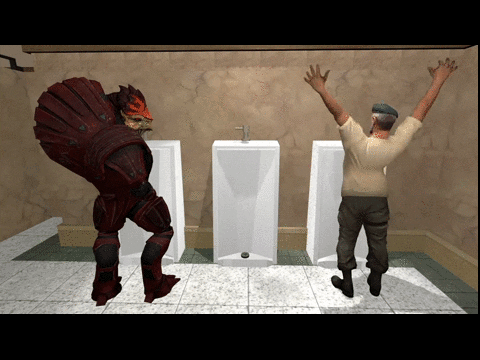 excited the sims GIF
Giphy
"When you're in a bar and they put the leftover ice cubes in the urinal, and you make a game of how many of them you can melt before you run out of pee."
- Beginning-Bed9364
"But hit one at the wrong angle and you can get some serious splashback. Little divots that form in the ice...those bastards..."
- CheshireCheeseCakey
Small And Safe
"Feeling small in someone else's arms."
"My husband is bigger than me and I've now become dependent on his body for sleep. Curling into his warm enveloping embrace is a pleasure I want everyone to know at least once."
"Hugs and cuddles. The safety and comfort are immeasurable."
- katz332
Let It Down
"Not completely unique to women, but taking out a tight pony tail or bun after it being up all day."
"I've had short hair my entire life. When covid hit and I couldn't get a haircut, I decided I was just going to grow it out because why not."
"Ended up growing it out for about a year and a half, to the point where I was tying it up to keep it out of my face."
"Letting that down at the end of the day was pretty incredible."
- BimmerJustin
"When my daughter was little, at the end of the day she'd rip hers out and come to me and say 'shake it'… she'd want me to shake my hands through her hair and let me tell you the ultimate relaxation and bliss on her little baby face was something I cherished and still remember years later!!!"
- lulu-bell
Smothered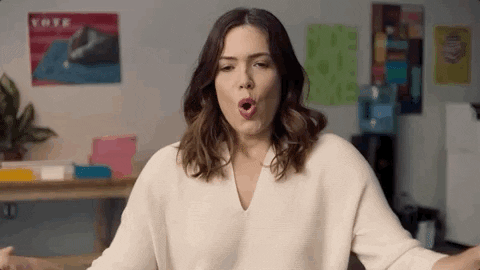 breathe mandy moore GIF by NRDC
Giphy
"When you don't have to smother you vagina with pads after a full week of being uncomfortable."
- island-breeze
"Just had a baby. 5 weeks of wearing a pad everyday. The first day without having to wear anything was life changing."
- ProfessionalCoyote54
"She can breathe again!! What a relief."
- Tworedangels2
You've gotten to experience a little bit of joy with Reddit, but now it's your turn to get in on the fun.
What's a simple pleasure you just don't see other genders getting to experience?
Want to "know" more?

Sign up for the Knowable newsletter here.

Never miss another big, odd, funny or heartbreaking moment again.
Keep reading...
Show less
Life is full of the simplest pleasures; we just have to be open enough to all of them. Pleasure is not singularly linked to the sexual aspects of our brains. Everything from a good grade to a winning lottery ticket can give us full on body spasms. For me, the sound of Adele can transcend me to a place of peace and send shivers of ecstasy down my spine. When you stop to enjoy the moments, you realize finding sensation, is far easier than we think.
Redditor
u/neeluxmth26
wanted everyone to share about what certain things in life give us all the feels and tingles by asking...
What is the best non-sexual pleasure or sensation a human can experience?
Want to "know" more? Never miss another big, odd, funny, or heartbreaking moment again. Sign up for the Knowable newsletter here.

Keep reading...
Show less
Life is chaotic and difficult.
Most things are out of our control, plenty of those things are tragic and stressful, and everybody else is facing the same uphill battle, so receiving regular support isn't always a sure thing.
But there are moments where all that chaos seems to subside. These stolen slices of comfort are unfortunately all too brief. You may strike on one every couple days at most.
And so many of these simple pleasures involve physical sensation. The stress of life can leave us in the realm of thought full time if we're not careful.
These brief encounters with pleasure, however, remind that we are human beings and we live in a concrete world that we can touch.
Voltaire1778 asked, "What are some of the best non sexual feelings?"
Want to "know" more? Never miss another big, odd, funny, or heartbreaking moment again. Sign up for the Knowable newsletter here.
Keep reading...
Show less
These are tough times.
Money is tight for many. The future is uncertain for all. Political dynamics are in flux and it seems that everywhere we look we see an example of a growing social chaos.
We cannot simply tune out, of course. These troublesome plain truths are real, impact fellow human beings, and must be acknowledged regularly.
But sometimes, for sanity's sake, we need a win. And those are found in places large and small.
Some Redditors recently gathered to name the smallest, simplest pleasures that provide abundant relief. Their comments illustrate a mindset: be mindful of the things that feel good in a normal day, if only for a brief moment.
vasunn asked, "What are your little joys in life?"

Want to "know" more? Never miss another big, odd, funny, or heartbreaking moment again. Sign up for the Knowable newsletter here.
Keep reading...
Show less
The contemporary moment is out of whack. Never has everything felt so utterly chaotic across the board, and people are hankering for some quiet calm.
Chaos breeds more chaos. There is a common, knee-jerk response when things feel too speedy, like every thread flies in countless directions that overlap and intersect without any pattern. We get worked up. We join the rush, adding one more tangent to all the others.
But even amidst those frantic conditions, there are stolen moments when slowness prevails.
These small pleasures are quick and fly past if one isn't looking. Lucky for us, there are more than a few Redditors with their eyes and ears open.
They described their favorite simple pleasures in a recent thread on the site. Perhaps their examples will help us be a bit more mindful about our own delights throughout the day, and we'll have a glimpse of calm in all of this.
Ididntfollowthetrain asked, "What is your favourite simple pleasure in life?"
Do you have something to confess to George? Text "Secrets" or "
" to +1 (310) 299-9390 to talk to him about it.
Keep reading...
Show less