Owing to the courageous and persistent efforts of women for the last several decades, some gender equality--and gender justice--has been sought and gained in the contemporary era.
Multiple waves of feminism have charged empowerment forward like a tidal wave. Trailblazing women have blasted through glass ceilings in several pockets of society. The "Me Too" movement raised awareness and achieved justice for women who survived the harassments of men who refused to listen to the word "No."
And the well-needed advocacy for feminism to be more inclusive of people of color has added nuance and numbers to the ongoing fight.
Yet, men continue their upsetting maneuvers. They touch without asking. They say things to a women they otherwise wouldn't. They act entirely unprofessional and shame any push back.
Some Redditors gathered to share the subtle forms of sexual harassment and/or sexism they encounter regularly.
dudeARama2 asked, "Women, what are the subtle kinds of low grade sexual harassment you face on a constant basis ?"
Want to "know" more? Never miss another big, odd, funny, or heartbreaking moment again. Sign up for the Knowable newsletter here.
Keep reading...
Show less
We've heard countless stories of sexual harassment and sexual violence in the wake of the #MeToo movement, which have unnerved us.
People are applauding the way a woman shut down a Jiffy Lube employee who sent her an inappropriate text message. We quite like how she handled it.
Twitter user @LovableandKind posted an inappropriate text message exchange her sister had with an employee at Jiffy Lube.
"My sister got creeped on and sexually harassed by a jiffy lube guy via text from his personal phone and..." she wrote as she presented us with evidence of her sister's brilliant takedown.
My sister got creeped on and sexually harassed by a jiffy lube guy via text from his personal phone and.... https://t.co/ugKajMCvCK

— Unproblematic and nice account (@Unproblematic and nice account)1547595329.0
It's quite well done.

"You're gorgeous," the guy writes, never expecting the response that followed: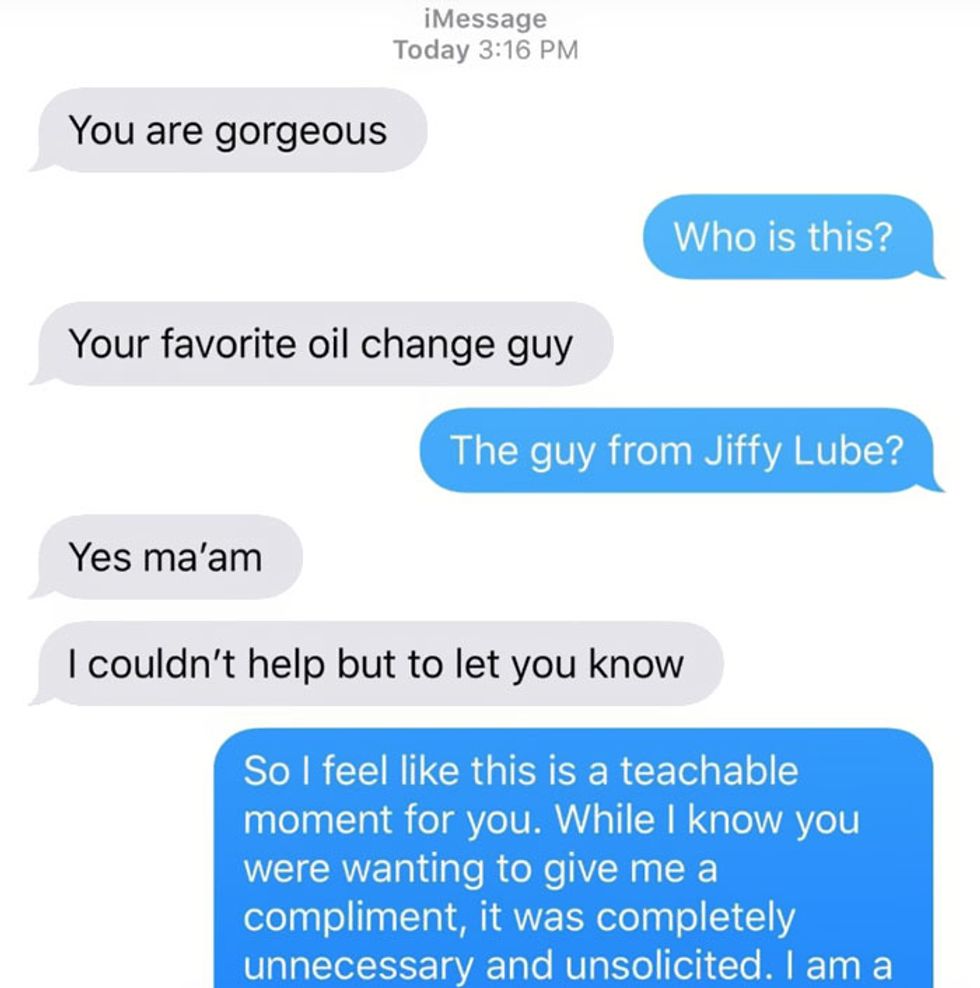 @LovableandKind
Behold: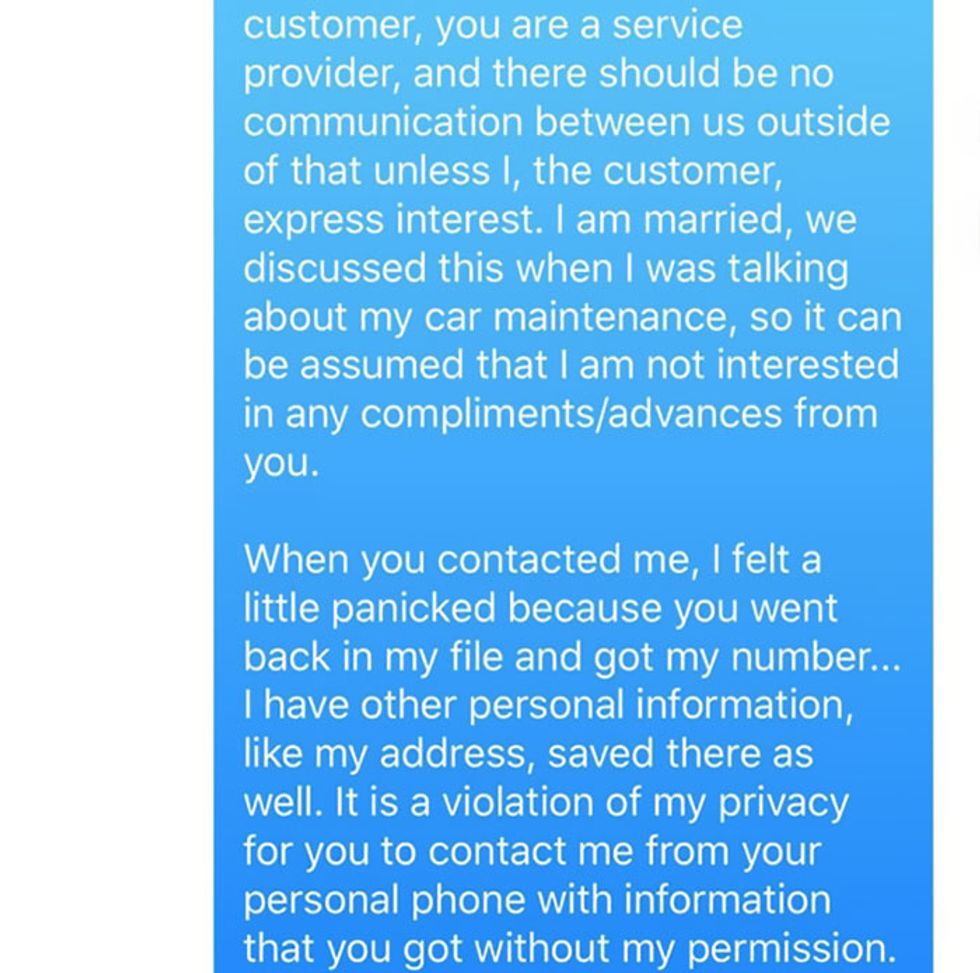 It gets even better...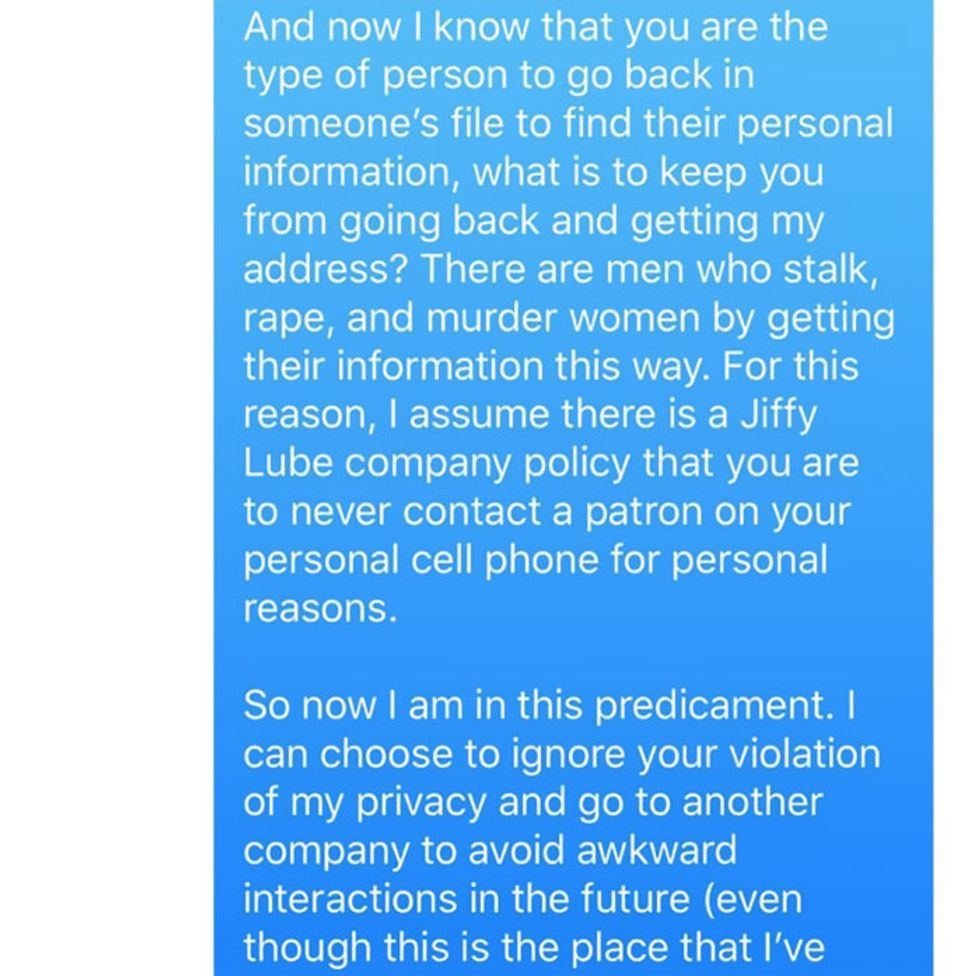 @LovableandKind
...and better once you see the dig at end.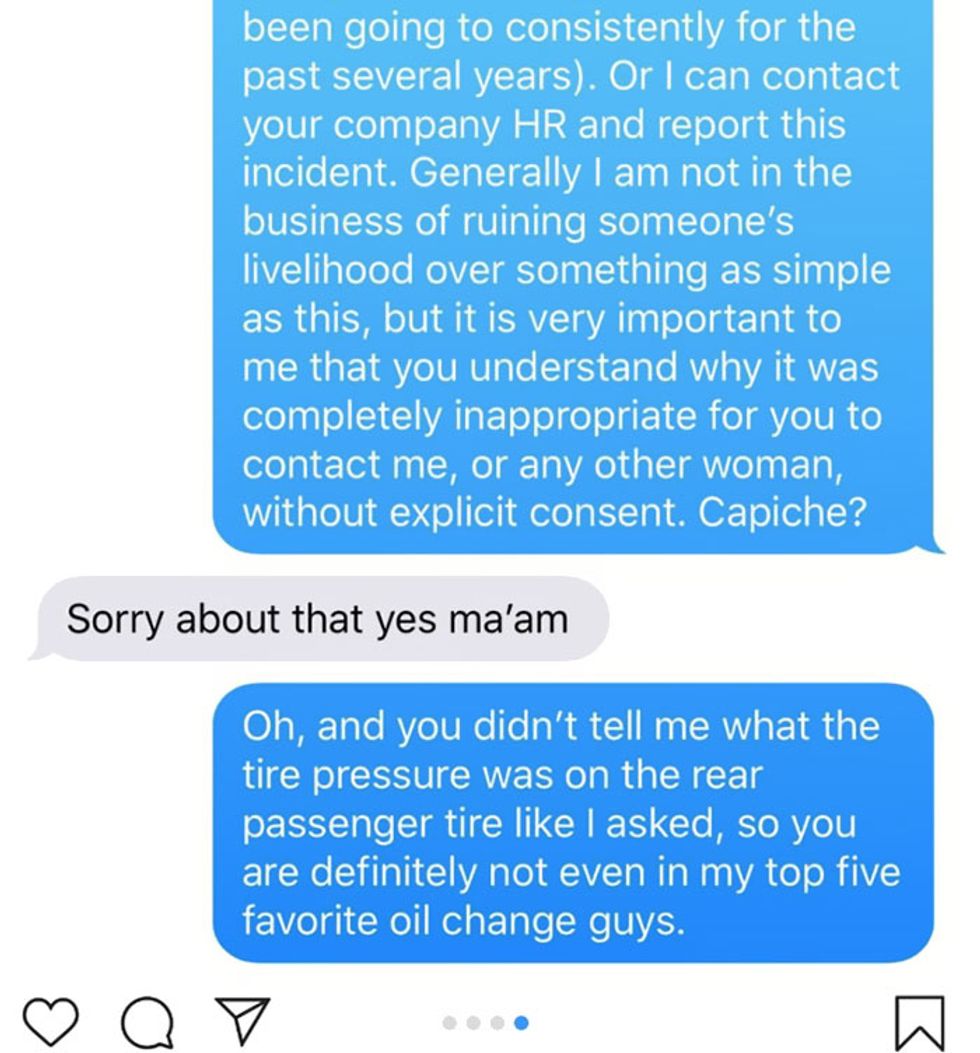 @LovableandKind
You have to admit: That's great thinking.
People certainly agreed––and some even shared stories of their own:
@LovableAndKind Sounds like the Jiffy Lube guy needs to start using Gillette

— William Lawrence (@William Lawrence)1547678515.0
@LovableAndKind Your sister is amazing and I hope she finds a twenty in the pocket of her favorite jacket that she hasn't worn in a while.

— Dab Bod (@Dab Bod)1547649426.0
@LovableAndKind I have also got creeped on by a jiffy lube guy who told me he was "glad he had my number now" despi… https://t.co/lD4ErFwvEz

— SHALEESI (@SHALEESI)1547628413.0
@LovableAndKind @AlsBoy My sister reported a break in to the police and 2 officers came over to our house to take a… https://t.co/6PHmgj3LIC

— Stephen Perkins (@Stephen Perkins)1547646825.0
@LovableAndKind I once had a Wells Fargo manager take my private cell number from my file And use it to ask me on a… https://t.co/uY7FR0NXTX

— MLK(ayli) jr (@MLK(ayli) jr)1547672930.0
@LovableAndKind My favorite part is at the end, when she lets him know he's not even good at his job.

— MJ Beasi (@MJ Beasi)1547679248.0
As expected, some trolls took the opportunity to claim the text message exchange was fake. @LovableandKind was prepared with a response:
It's not even viral and ppl are beginning to say this is faked. Yes, men are this disgusting and violating and yes,… https://t.co/hJGB17QLsK

— Unproblematic and nice account (@Unproblematic and nice account)1547608752.0
Jiffy Lube has also issued a statement.
We're taking this issue very seriously. No customer should ever be concerned about privacy or feel uncomfortable at… https://t.co/BFMhKIwJJX

— Jiffy Lube (@Jiffy Lube)1547751837.0
Leave women alone.
Don't contact people with personal information you got from your job.
It won't end well.
Keep reading...
Show less