Ah, yes, we are in the age of the unsolicited non sequitur outburst.
You know the kind, where you mention the weather and someone launches into a rant about Jewish Space Lasers causing wildfires.
It's time to bring them back to reality and say, "Representative Greene, this is Congress."
Redditor darodori asked:
"What's your 'Sir, this is a Wendy's' moment?"
If your wife was treated here...
"Not me, my daughter. She answered the phone, appropriately, 'Radiology'."
"Guy on the phone was looking for some test results, but she couldn't find his name, or his wife's name anywhere. Long confusing call."
"Finally she asks for the name of the animal."
"'What animal? I'm asking about my wife's test!'"
"'Sir, this is a veterinary hospital'."
- Sparky-Malarky
What was the answer?
"My wife was doing an interview and the interviewer asked her 'How she would handle a situation if there was an elephant in the room'."
"Not being familiar with the phrase she proceeded to describe in detail all the things she would consider to help get the elephant out of the room."
"The interviewers allowed her to finish and she didn't realize it until she told me about it later."
- Overrated_22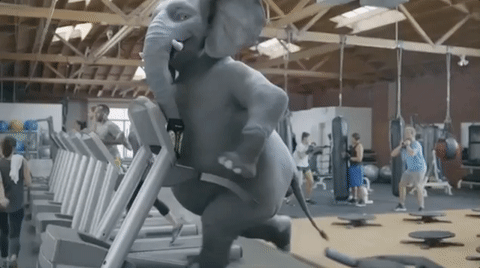 Giphy
Coupon Clippers
"I actually work at a Wendys, and someone tried to use an Arby's coupon."
- QwertytheCoolOne
"I worked at A&W and someone gave me a McDonald's coupon for a Big Mac."
"Sir. I literally can't make this for you."
- Opening_Wafer_3952
"Similar story, I work in an auto shop. A customer came in with a coupon for Jiffy Lube trying to get us to use it."
"After a few minutes of arguing I actually looked at the coupon. It was only $1 less than our regular price."
- PM_ME_UR_SELF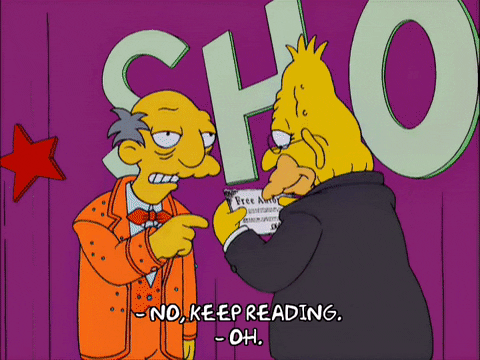 Giphy
More Coupons
"One time this older dude rushes up to order and slams a coupon on the counter saying 'I want this!'."
"I pick it up It has menu items for KFC. I ask him 'What exactly would you like to order?'"
"He instantly gets disgruntled with me for not reading his god damn mind and shakes his finger at the coupon and said 'Well Whatever is on the coupon, obviously!?' in a condescending tone."
"I just look at him for a minute an say word for word 'Sir, this is McDonald's. I don't know what you want me to do with this KFC coupon'. He looks at me dumbfounded."
"Then looks behind me at the menu and around the store, yells 'Awh, Shit!' (Like this isn't his first time walking into the wrong establishment), grabs the coupon and storms off."
- Apprehensive--Toe
9-1-1, what's your problem?
"Former police/emergency dispatcher."
"People would call for all sorts of things, like settling an argument over the rules of Monopoly or other board games, answers to crossword puzzles, complaints about the weather, etc..."
"My favorite over the years:"
"'The power's out, can you have the fire department come over and hook up a generator? I need to watch the ballgame'."
- Faelwolf
That won't fit in the book drop.
"I worked in the tech department of my university's library. Some guy called and asked who he needed to contact to donate his body to the medical school when he died."
"I was like 20, and I had no idea how to respond especially since the medical school is another campus."
"I explained to him that he needed to contact the medical school, and he told me he already had."

"I was like… okay… I can't really help you. This is the tech service department of the library."
"I was on the phone with him for like 35 minutes."
- spiderlegged
Did she see cars?
"A woman came in our shop demanding to help her fix her car because it was our job to do so."
"I worked in a pawn shop. I told her that the car repair store was at the corner of the street and she got the address mixed up."
"She looked ashamed and I never saw her again."
- Ok-Age3061
Driving Them Crazy
"I used to work at a drive through coffee stand. Two guys came through, clearly high af, asking for cheeseburgers."
"We explained that this is a coffee stand, we have breakfast sandwiches, but if they want cheeseburgers they'll have to go down the street to Jack in the Box."
"It took them a solid 5 minutes of us re-explaining this to them before they understood."
"Another time it was super early in the morning, working at the same coffee stand. A woman rolls up and it legit looks like she's sleeping."
"She orders her coffee and hands me a punch card for a different local coffee stand. I said oh wrong card (happens all the time).
"She looks at the card, looks at me, looks around, and says 'what, where am I?'"
"And I've just realized neither of these people probably should have been driving, yikes 😬"
- pnwrdh
First ExxonMobil Trust
"Had a guy scream at me over the phone because I told him I can't transfer money from his savings to checking."
"Why?"
"I work at a gas station."
- Jaycket
At least it wasn't your core warranty.
"I work at a nuclear power plant."
"A few years ago, the control room emergency phone number got out to telemarketers."
"We get a call on the emergency line. One of the reactor operators picks it up 'xxx power station emergency line'."
"He hears a click [of a person being connected]. Then some dude is asking if we want to upgrade our home security system."
"The reactor operator is like 'Do you have like, microwave or infrared detectors? Oh no, we do. Do you have an option for hand geometry scanners?'."
"This goes on for a few minutes and he's finally like 'Dude you called the control room for a nuclear reactor. You don't have anything that could upgrade what we already have for security. Never call this number again.' and hangs up."

"I was dying laughing."
- Hiddencamper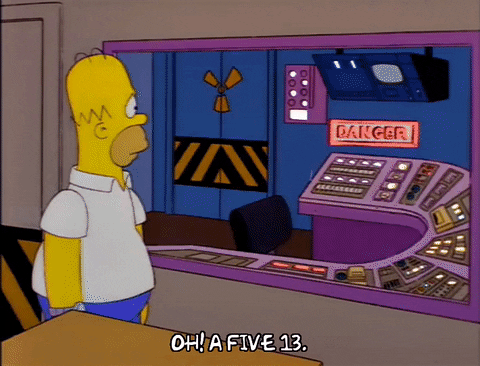 Giphy
The Origin?
"This is really weird that this became a meme, because I swear this is true. In about 95 I was driving from New England to Florida for a college spring break trip."
"Somewhere in South Carolina we stopped at a Wendy's. Near the hallway to the bathrooms they had a big map of South Carolina and I said to a person 'Can you tell me where we are?"
"I was pretty clearly indicating the map."
"The lady said 'Honey, you in the Wendy's!'"
- SabinaDrumm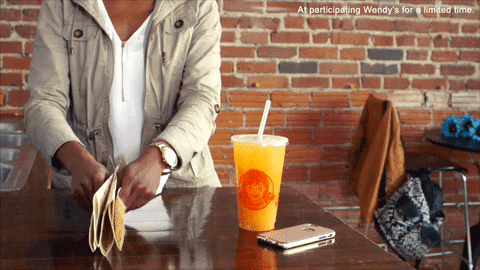 Giphy
We've probably all been on one side of this situation as either the confused person or the victim of their confusion.
What's your story?
Want to "know" more?

Sign up for the Knowable newsletter here.
Never miss another big, odd, funny or heartbreaking moment again.
Keep reading...
Show less
Our criminal justice system has its share of real problems. No one is denying that.

On a lighter note, have you ever felt like someone did something once who should be legally and morally penalized for their heinous actions? For example: Ever seen someone leave the restroom without washing their hands?
Things like that deserve a harsher sentence, shouldn't they?
Reddit user, -Jesus-Of-Nazareth-, wanted to know what we should be treating more seriously when they asked:
"You have the power to turn one minor offense into a federal crime. What is it?"
It's not because what's happening is merely an inconvenience to your day, but an inconvenience to multiple days, over multiple occurrences.
Just drive!

Just Tell Me What's Wrong
"Software not describing the error that has just occured."
"I can't f-cking diagnose "Oops! Something went wrong!".. F-CK!!!" ~ HaydenB
Heinous Non-Readers
"People who comment without reading the article!' ~ banditk77
They're Just Trying To Get Their Job Done

"Yelling at people who work in the service industry" ~ princessweebie
Go With The Flow
"Pulling into high speed traffic when a car is approaching. If I have to slam on my breaks and go to a near stop to accommodate you, you are wrong."
"For reference, non interstate highway has sections up to 55 mph in my state and people just pull out without looking. I then have to choose between dropping from 55 to under 30 in less than 10 seconds, or wipe them from existence." ~ hats4bats22
Our nation's political and ethical divide is a murky, gross water to navigate. If we want to make changes, as a whole, then together, as a whole, we need to make those changes.
But seriously, these things need to stop.
It's A Societal Problem At Large
"Knowingly making false or misleading statements about your opponent during an election." ~ absherlock
"Go further: discussing, referencing, or even suggesting anything at all about your opponent. If the opponent can't be discussed elections would have to stop being about "vote for me so bad thing doesn't happen" or "pick me cause the other guy is a fascist/socialist" and instead the candidates would have to focus on themselves and convince voters why they are worth voting for, not why to vote against the other guy." ~ Kookofa2k
Don't Make The Internet Hate You
"Any animal cruelty at all. Hunting is ok but not dumping a litter of kittens in random places because you don't want to look after them."
"Edit: I think it's a lot harder to go vegan than a lot of people think. Some people it's not that hard but for people who are anaemic and have other issues it's better for yourself to continue eating meat. Part of me saying animal cruelty should be a federal crime includes how farm animals are treated. I believe that all animals should be able to live their lives out on land. Last part is that when I say hunting is ok I mean killing to eat not killing for sport. I know a lot of people who hunt their food so the animals they eat had a nice life living in the wild not in those cages." ~ blazeforever1234
Obscure Opinions People Are Fully Committing To | George Takei's Oh Myyy
We all have a set of beliefs about even the smallest of topics. Like sandwiches should have structural integrity. That's something we can all agree on, right...
Ruining The Country
"Making or spreading fake news. The PH is currently a joke because no one seems to be afraid in propagating such misleading information. The son of the 20-year dictator is running for President and negates his father's crime by having an army that makes so much unscrupulous lies, effectively revising history on the minds of the uneducated masses." ~ sad_hades
And then there's these, awful, terrible actions that need to be punished.
Just be polite to people around you. How hard is that?
Keep Your Feet On The Floor
"We have electric trains in my city, seats are cushioned and about half of them face each other. People put their dirty boots up on these seats for other people to sit on. F-ck them, 12-18 years in prison." ~ thekh0le
We ALL Want Our PS5s
"Idk if it's a minor crime, but I have to say scalping a certain items to sell then for a higher price. It seems like absolutely nothing gets done about it." ~ DemonicSpiritVandom
WHAT DID YOU SAY?!
"Playing music so loud in your car it can be heard several houses over and vibrates all the plastic in the car with each bassbeat."
"Don't get me wrong, I like some of the same music and playing it loud, but.. how the hell can that sound good? The bass has gotta be all f-cked up." ~ DontWorryImADr
This Is Just Inconsiderate For The Others
"Leaving the cap off of the toothpaste" ~ lostinthesauce0101
A Wonderful Change, But A Change Nonetheless
"Bringing a baby to the movie theater." ~ Banan4Express
"The sad thing is so many people have a sh-t take on this. "Well, so if I have a baby I cant enjoy myself?" No, you absolutely can, just don't ruin everyone else's time out with your screaming hellion." ~ SchwiftySouls
"Right? When you have a baby, you can't do jack by yourself until they're like a year old, and then you have to vet and hire a good babysitter first."
"And then, every little thing you want to do without your child has to be scheduled in advance, as if the kid is your overbearing boss and they're watching your vacation hours like a hawk."
"Having kids can be wonderful and rewarding, but it's a mixed bag. Yes, you can enjoy yourself, but you're also going to have to make sacrifices. You can't just have a baby and then go everywhere and do everything like you don't have a baby." ~ AlliedSalad
You're Here For A Reason
"Teachers that dont care about teaching" ~ YouTube-r
"exactly! like, why are you here? we all know it's not for the money" ~ thepuffinmafia
Old Dudes, Don't Be Creepy
"Sexual harassment anywhere. I'm so sick of customers at my work harassing me but I can't do sh-t." ~ MissC3PO
"It blows my mind how many old men just think they can be creepy. So many of coworkers get hit on daily and it's just the norm for them. So f-cked up" ~ bryceisaskategod
Be polite, don't be a jerk, and make sure your eyes are on the road when you're driving. It can be that simple, but some people choose to make things harder on themselves.

Want to "know" more?

Sign up for the Knowable newsletter here.

Never miss another big, odd, funny, or heartbreaking moment again.

Keep reading...
Show less
Goods and services are always going to have a cost. Such is life.
It's fine if you're paying a noticeably higher cost for a quality good or service, typically as a way to treat yourself.
When you start paying "treat yourself" prices for "everyday items," that's when your wallet starts to feel the sting of your account being drained.
Something overpriced where you live? Let's talk about it.
Reddit user, u/Spaceisthecoolest, wanted to know what cheaper options they should look for when they asked:
What is incredibly overpriced in your country?
We're certainly paying a lot for the tiny super computers in our pockets, aren't we?
Paying To Pay To Use A Phone
"Cellphone service fees." ~ marie-llama
"It's insane. I just got here and wanted to setup a phone plan. Visited 3 store until I understood this where the regular prices. I'm not even paying a 10th in Europe of what I'm paying here." ~ FarmingFriend
Need To Account For That Markup
"Pretty much anything tech-related will be sold for about the same amount in USD as GBP."
"The exchange rate is 73p to the USD."
"We are paying a 37% markup on everything." ~ UnloadTheBacon
Canada, Eh?
"Mobile data. Canada pays some of the highest prices in the world for mobile data." ~ habsrule29
"In Finland I pay about 20€ for unlimited phone calls, text messages and data (they are truly unlimited)." ~ genus
"20 dollars in canada gets you about 100 minutes calling, free texts and 200mb of internet lol, its unreal" ~ DoubleAd7712
It isn't just America, before you go assuming we're the most over costed country in the world.
Turns out others might have to be paying a lot more than we are for goods and services.
If You Can Even Get One...
"I'm from south Africa and an Xbox Series X is about R11000" ~ MetropoliceKZN
Conversion, Anyone?

"An RTX 3090."
"Jokes aside, gas at the moment. It used to be €1.60 per litre. Now it's up to €2.05 per litre. When we go to Germany for some gasoline it's around €1.60 where it used to be between €1.30 - €1.45" ~ derypguy47472
"F*ck! That's $9.01 a gallon!! At to think I was bummed gas here is ~$3.75/gal (~€0.86/L?)" ~ sirdabs
Gotta Get That Vitamin C
"oranges in sweden. I used to live in the mediterrenean and kick them off the sidewalk."
"But Im ok since salmon is way cheaper here." ~ Unlucky_Mistake1412
Paying A Lot For The Bare Minimum

"Housing. It's a travesty." ~ GothTheLife88
"Tell me you live in NZ without telling me you live in NZ..." ~ lancewithwings
"As an Aussie, NZ is my affordable alternative."
"Good luck finding a beach front peice of land for 200k here with a less than 1 hour commute to the city."
"Plus, in NZ, you can buy old houses and have then transported on a truck."
"I was doing math the other day"
"Beach front land - $195k"
"Restored 1920s house - $90-110k"
"Transport, foundation setting and connection - $75k-$100k"
"Approx $400k for a really great set up. In Australia you pay more than that for a sh-t apartment that catches fire, in a leaning building, with no resale value." ~ JustHell0
Obscure Opinions People Are Fully Committing To | George Takei's Oh Myyy
We all have a set of beliefs about even the smallest of topics. Like sandwiches should have structural integrity. That's something we can all agree on, right...
Contrasts Between The Two
"Most things in Australia except food…a trip to the US is an eye opener re cars,clothes,electronics etc…" ~ MegGrunt
"I would expect food here to be substantially more costly than the US. Take out is real expensive unless you're buying something very unhealthy like Maccas, which frankly doesn't seem cheap either" ~ angrathias
"American supermarkets are weirdly expensive. Their restaurants are crazy, crazy cheap" ~ lamiscaea
People Need Their Chocolate
"Freddo bars are so bloody expensive these days it's a national disgrace lol" ~ Angrypenguinwaddle96
USA! USA!
USA? Are we really "the best" when we can't take care of the people who need it the most?
Ohhh, Bootstraps. That's All We Need.

"Housing, childcare, and medical services/insurance." ~ PNW_Soccer-Mom
"Geeze bud. Don't buy a house have kids or get sick if you can't afford it. Do you have bootstraps you could try? /s" ~ FilledwithTegridy
Step one: acquire bootstraps

Step two: pull

Step 3: ???

Step 4: Profit" ~ cheyras
Bread. It's Always The Bread.
"Bread. I'm in the States, and have been for just over a year (yep, that new to Reddit), as you can guess by my username. $4 a loaf for anything that isn't completely sh*t. It's bad."
"Grocery shopping in general is definitely expensive here. I've lived in the UK (more than half my life having been born there), Croatia for 12 years, Germany and Austria for a few years each, and have travelled a lot. The U.S. is really expensive for groceries in comparison to a living wage."
"Oh yeah, and the healthcare, but that's just a f-cking joke right?" ~ An-Englishman-in-NY
Just Pay Your Workers? Maybe?
"Tipping. Not just restaurant waitstaff but everyone…at hair salons, hotels, taxis, coffee, tour guide or anything travel related, bar. It's no problem to tip the individuals trying to make a living, but it's ridiculous that we as patrons are expected to pay for these companies labor costs based on how the US functions" ~ ericjo383
"It's getting really out of control in the beauty service industry especially. Lots of people rent a small room or just a chair in a salon to say, do lash extensions or hair coloring. Or they own their own salon outright. These aren't people making under minimum wage and working for someone else. They own their own business and set their own prices. And yet they still demand a 20% tip minimum."
"Just charge me the price you expect to make and don't do this BS tip song and dance that just makes it awkward for everyone."
"Have the time they also act like they're doing you a huge favor by even allowing you to be graced by their presence. Thankfully with YouTube I've learned to just do everything myself." ~ hellohello9898
Beef! Beef! Maybe Medicine. Beef!
"In the US, health care and beef. A good ribeye is $15 to $18 per pound. I know beef is more in other countries. But we have a ton of cows and grazing land here. There's no reason for it. And for health care, back in the 90s, I paid $10,000 for an MRI. I'm sure it's more now."
"When I lived in Uruguay, some of the best grass-fed beef in the world was $5/lb for a porterhouse. On the other hand, anything car related in Uruguay is ridiculous. Cars cost double to triple what they do in the US. Repair parts are double or triple. And gas is $8 per gallon. This in a country where the average salary is $500 per month. How would you like to pay $90,000 for a base model Camaro?" ~ user deleted
Because, Capitalism.
"Insulin." ~ Buddhafisticuff
"Sorry.... How..... How is that the most expensive... It's literally free?.... Oh.... American I presume?" ~ JustARandomBoyo
"Our country charges $1000 for a life saving medicine that other countries charge $30 for because Capitalism." ~ Buddhafisticuff
Leaving Hawaii To Hang With Their Pricey Milk
"In the 50th state."

"Milk and gas."
"7 bucks a gallon "
"try and guess which one I'm talking about." ~ Affectionate-Kick-25
"Hawaii or Alaska?"
"I can get mine for $2.72/gallon"
"We do have to have lactaid, so I actually pay $5.72/gallon" ~ imjustbrowsing96
Be smart, try to see when someone is trying to pull one over on you, and always be willing to walk away to find a better deal when you can. That's not always going to be possible, but it's important to try.
Want to "know" more?

Sign up for the Knowable newsletter here.

Never miss another big, odd, funny, or heartbreaking moment again.

Keep reading...
Show less