God bless our essential workers. They are the spine of our society. Without some professions life as we know it would not exist.
Teachers, fire fighters, janitors, nurses... they save our lives everyday in big ways and small. So why are they underpaid, overworked and never appreciated properly? Hell, half the time society doesn't even give them the time of day for a hello.
We live in a world where models are milllionaires. And actors are hereos. It's time to pay so long overdue praise the more essential.
Redditor u/robinscott3 wanted to hear who we should be giving big shout outs to for their essential work, by asking:
What is one job that doesn't get the respect it deserves?
I don't know the mailman's name. I really should. It's been the same guy for a year. I should make him cookies. Who else are we overlooking?
Essentials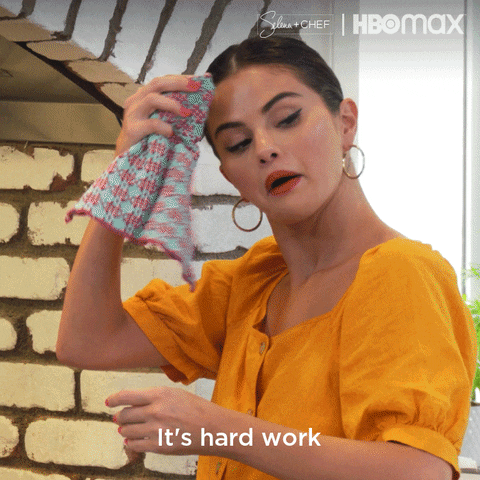 Selena Gomez Cooking GIF by HBO Max
Giphy
"Janitors. Teachers. Garbage workers. Restaurant cooks and servers."
Be Kind
"Being in beauty school where we had clients 3/5 days every week (the other 2 being class time) and when I worked as a carhop at Sonic. Soon after I have grown a much more sense of respect towards all customer service workers and the importance of tipping (live in the US)."
Delivery
"Mail/Package delivery carriers. All we do is sit in the comfort of our homes complaining about how the online system says our package is running late. Meanwhile these men and women are out every day including rainstorms and snow to try to get your mail and packages to you as quick as possible. Some of those older cars don't even have AC on top of the of the fact they do not get paid enough for the work they do."
"Now I work as an account manager (customer service) at Discover Credit Card and it amazes me how crappy ppl can be towards someone who's job it is to service you and in my current job help you. To be honest when I get really sweet customers who rave the company, the agents and especially yourself it makes it all worth while knowing some ppl will appreciate u and make sure you know it."
Head above Water
"Sewer Workers. Imagine going through literal crap to deal with people's crap."
"I am the head water and wastewater operator for the city I live in. It really isn't as bad as you might think, most of the time. If you take your precautions, it really isn't a problem. As for why, I wouldn't say it is a great paying job for what it really entails."
"For instance, all the certification and government restrictions, that you have to deal with. You are basically a chemist who gets to work in the field. And it is by far one of the hardest tests I have had to take, and I have a college degree. I just fell into this position, and I really like what I do. I am essentially responsible for delivering clean drinking water to the home and removing the waste from it. The town folks health is in my hands, and I feel better knowing it is me running it instead of the lazier people I have seen in that role."
- ihcubguy
Feed Me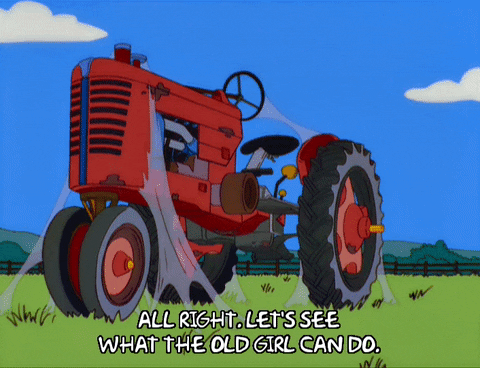 homer simpson tractor GIF
Giphy
"Any food-related job, from farmers to delivery drivers. You'd think that something involving a basic survival necessity would be lauded to Heaven and back, but nooooooooo."
Road crew staff. Without them we'd be stranded. That job is dangerous too. Working amongst drivers? That's death defying.
Clean Up Crew
"Maintenance/janitorial services."
"Janitors in my high school were honored guests at the assemblies, and they were routinely and publicly thanked. It made them visible to the students, and I think helped make a culture where they weren't taken for granted. It was one of the nicest things I can remember about high school."
I Care
"Caregiver. My mother works as a caregiver in a nursing home. She spends her days showering the elderly, changing their diapers, feeding them, and cleaning bodily fluids. Not only is it a physical job (you often have to lift people, carry heavy things) but it's also psychologically hard. She sees many people suffering, dying, often alone and abandoned by their families."
In Flames
"Wildland firefighters. Specifically ones working for the federal government. Restricted to only having 4-6 days off a month. Paid horribly, 15$ an hr to expose yourself to extremely Smokey conditions with very poor hygiene conditions. High risk environment while working long hours multiplied by doing it for months causing cumulative fatigue. Fed worse than prisoners for the most part. It is a thankless job, no wonder there are retention issues."
Friends with Ben
"We as a society have a terrible habit of viewing these types of workers as dumb or incapable of getting "better" jobs, but in my experience this couldn't be further from the truth. I remember there was one member of the cleaning staff at my old workplace who was seriously one of the smartest guys I've ever met."
"He was really young too (probably not much older than 20), but if you spent five minutes talking to him it was apparent that this guy was next level brilliant. He could've done anything he wanted, but instead chose to work as a janitor while solving advanced math equations and hanging out with Ben Affleck."
Thank you...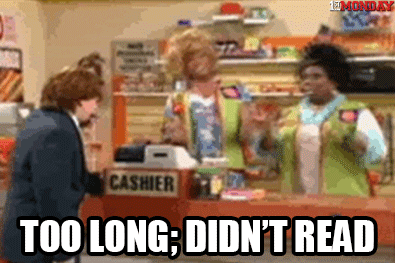 GIF by FirstAndMonday
Giphy
"Grocery store cashiers - especially during this pandemic."
"Know what I hate? That cashiers can't sit because it might "appear" that they are "lazy." FFS! No one needs to be on their feet 8 hours if they could sit! It takes a toll on the spine, knees and feet! Please write/call your stores manager and ask for seating."
I need to do better. We all do. So let's start today. Tip your waiters. Say hi to the janitors. HELP AND PAY YOUR TEACHERS!!
Thank you for your services to humanity!
Want to "know" more? Never miss another big, odd, funny, or heartbreaking moment again. Sign up for the Knowable newsletter here.
Keep reading...
Show less
Valentine's Day is perhaps one of the busiest times for restaurants, with couples forgoing take-out to share their romantic evening together in public.
Many establishments are festooned with red balloons and heart-shaped decor and illuminated by plenty of candles to set the perfect mood.
With so much love in the air, what could go wrong?
Apparently, Cupid's aim is not always on target at restaurants on the popular holiday.

Redditor Sindagen asked:

"Waiters what Valentines day disasters have you witnessed?"
Servers and patrons alike shared their stories of witnessing love going down in flames.
"Hell Of A Show"
"Used to be a professional musician and the four piece band I was in got booked for a Valentines event in a local bar."
"Guitarist invited his girlfriend down so they could be together on the night."
"What he hadn't counted on was his wife getting the night off work and coming to the show too as a Valentines surprise."
"Everything was ok for the first set of the night. The problems began when both Gf and Wife met in the band room backstage. Most of the band escaped the obvious row that was coming and waited by the bar for the 2nd set."
"We all then watched as the wife stormed onstage and began trashing the Fender Telecaster , Stratocaster and all his pedals, leads, amp etc. No one had the courage to stop her . She was rightly pissed."
"Shortly after she left the stage, the gf had her turn, destroying whatever was left of his gear. Between both cheated women, they caused around £2k worth of damage to his set up."
"Needless to say we played the 2nd set as a three piece."
"But it was a hell of a show lol."
Ring With Dessert
"At the beginning of the evening, this man gave me a ring to bring with dessert."
"The couple began arguing before they even ordered and ended up screaming at each other in the restaurant. My manager made me ask the guy - as discreetly as I could - if he still wanted the ring with the dessert. It was that bad. I really didn't want to, but I asked. He then started to scream at me that OF COURSE he still wanted the ring. He was right after all, it wasn't my business at all. So I brought out the ring."
"She said 'Are you f*cking serious?' and left."
"Then the man screamed at me again when I wouldn't let him chase after her / leave without paying. In the end he just threw the money on the table - huge tip, but I think he just gave what he had - and left."
"He had made such a scene we had to give free desserts to the tables next to them to make up for it."
"After the service I told my manager I was never questioning a client's request again."
The Proposal
"Not a waiter, but there was a couple seated a few places away from us. They sat far enough away so that we couldn't hear the conversation, but it was obvious that they were arguing."
"Waiter did his spiel on the set tasting menu, handed out a wine list. Guy orders wine for both of them and she interrupts with 'I'm good I'll just have a water.'"
"They continued over a very uncomfortable meal, during which he kept asking stuff. She'd respond with increasingly annoyed no's."
"Waiter returns, notices that appetizers hadn't even been touched yet. Tops off her water and his wine, then asks if everything was tasting alright. He finishes with a 'I'll give you guys some more time to enjoy.'"
"She (now loud enough to be clearly understood) 'I can't keep doing this with you.'"
"Angrily forks into her appetizer and finishes. just in time for the entree to arrive. Arguing continues, and guy is looking increasingly nervous. Suddenly, he gets down on one knee."
"She 'oh God no.'"
"He takes her hand to put the ring on it I guess. She snatches her hand away like he's lava."
"He (still not reading the signals) 'will you do . . . '"
"She, bursts into tears."
"Entire restaurant audibly 'awww.'"
"She 'I can't believe you would even ASK after what you did. I told you I needed space. I don't even know if I CAN trust you anymore.'"
"After that, things were kind of a blur. I think she threw a couple of $20s on the table, then ran out. He stayed on the ground, still holding up the ring like he wasn't done proposing yet."
"Waiter returned with one of those sweet@ss lava cakes topped with a little 'she said yes' thing."
Asked To Leave
"Saw a couple have a full on argument at a restaurant. I wasn't their server but the table was directly in the center of the restaurant and they were certainly loud enough for everyone to hear. My manager kindly asked them to leave and the guys response was to yell 'I've been wanting to do that sh*t for 2 years now' and stormed out."
Stalker, Party Of One & The Divorce Papers
"Man comes in in a full suit, a bouquet of flowers, a large box of chocolate, and some expensive jewelry."
"He sits at a table and happily tells me he's waiting for his beloved, an hour passes by and the guy went from sweet and smiling to sweating and muttering angrily."
"He then gets up and walks over to a girl sitting with her family and starts yelling at her. He yelled how she betrayed him and how she'd treat her right and she had to be with witm him all the while the girl's male relatives were sheileding her from him."
"Police arrived and it turns out the guy had a restraining against him from the girl and he had been stalking and harassing her."
"What made it even creepier was that he was in his 40s while the girl was barely 20 years old."
"Another is when a man walked up to a woman and her date and just slammed a large and heavy envelope in front of her and walked away."
"The woman went from amorous octopus with her date to treating him as if he was the most disgusting man in the planet to running after the man. Woman was his wife and he had caught her with her side piece and he had served her the divorce papers along with the evidence of her infelidity. What made it worse was that the date had no money and we had to contact the woman to pay us."
The Greedy B
"Working restaurants for 14 years. I had a guy asked me to help him bring the ring and champagne after the dinner and I did that. Being a woman and wanting to witness the romance, I hid around the corner so I could kind of peek at them."
"They were lovey-dovey all through dinner everything seemed good and I fully expected yes. The woman did not react well at all. She told him no and that she was planning on breaking up with him. She added the only reason she was on this date with him is because he said he bought her something special for Valentine's Day. She thought he was going to buy her the car she asked him for, and she was going to dump him next week. Then she said since you didn't get the car, she's dumping him now and she left!"
"The guy was absolutely devastated! I felt so bad for him. I will remember her for the rest of my life because how could I not! What a greedy b****"
Topped With Dessert
"We had a classic of a couple coming in all dressed up and out for their romantic dinner, but as the meal went on they gradually got more and more tense and their muttered argument slowly became very loud. Walking back over to refill drinks or take plates seemed to make it even worse, but I couldn't just leave their (very small) table covered in stuff. By dessert they were basically waging war on each other, and the evening ended with the guy getting a bowl of chocolate cake and ice cream emptied over his head."
"I still have no idea what they were arguing about, but the poor guy just sort of shoved a loads of notes on the table and ran out of there after his partner."
Fired On A Date
"I was a waiter at The Pasta House and another server was pregnant and trying to cover as many shifts as possible before she had the baby so she asked if she could work Valentine's Day for me and I said sure. Dinner reservations fell through for my date and I so we decided to see if I could get a table at the restaurant where I worked. I walk in the door and they are very busy and my manager said, 'Thank god you got my message. So and so went into labor and we need you to take tables...' I told them I was on a date and they said it was my responsibility, so I got fired on the date and we just went to a bar and grill."
– icunicu

Trips To The Bathroom
"Woman was 8 months pregnant. Guy brings her in for Valentine's and has the mariachi band sing their love song."
"He pulls out the expected ring and she says yes. Things looked perfect... Only spicy Mexican food is perhaps not the best choice when 8 months pregnant."
"She hurriedly shuffled to the restroom 5 times. The 5th... She didnt make it."
"Its a very small community so I met them years later at a wedding party. I walked up and introduced myself. I mentioned I had met them before years ago. 'In fact I was there years ago when y'all got engaged. The emotions were just... Flowing that night?' The husband laughed the wife covered her face in shame and I was invited to their DnD group."
Table For One
"With my girlfriend in a restaurant, we saw a young man alone at a table. A bunch of flowers and box of chocolates sorta-hidden behind his chair."
"He had so obviously been stood up by his Valentine's Day date..."
"Poor bastard."
Having It Your Way
"I had a friend he used to work the drive through at Burger King and he told me overheard this conversation on Valentine's day while taking a car's order."
"Girl: Get me a #3..."
"Guy: It's Valentine's Day baby, you can super size it!"
The Sexist
"Had a brief stint as a waiter in high school."
"This one couple look very sweet and loving, no apparent problems. The girl got down on her knee and asked him to marry her."
"He started laughing hysterically and explained to her that proposing is a man's job, not a woman's."
"She was furious. She started screaming about how sexist that was, then got her stuff and stormed out. He looked completely bewildered."
Screaming
"I was working in a very quiet bar a couple of years ago, there was one couple sat in a corner booth having a screaming argument. Very very awkward."
Keep reading...
Show less
As an artist and struggling New York actor/writer I of course have waited on many a table. I've served the rich the poor, old and young, the fashionable, the plain, the kind and the evil. (There is far more evil eating out... just FYI) And it always made me wonder about strangers and their stories. In particular the stories behind the people who left me with a sense of sorrow. I've seen people stood up, celebrate the passings of loved ones from 9/11 and even a proposal gone awry. (Never ask for someone's hand in marriage with the ring on an Olive Garden breadstick!) Seeing people at their most vulnerable is definitely something you remember.
Redditor
u/nGear
wanted to know about the times they felt a tug at the heart for a few customers by asking them to divulge....
Waiters, what's the saddest "I'm waiting for someone" you have experienced?
Want to "know" more? Never miss another big, odd, funny, or heartbreaking moment again. Sign up for the Knowable newsletter here.

Keep reading...
Show less
The good thing about the 21st Century? Options.
There are options everywhere. For food, there are options to the point that if you don't want to go somewhere, you're under no obligation.
But also in this capitalist 21st century, our business is valuable. And if we share the reasons why we don't eat at certain places, we may persuade a ton of people away from that place too.
Keep reading...
Show less
Keep an eye out for who you're serving because you might just get the tip of a lifetime. Former NFL player Chad Johnson, also known as Ochocinco, has been sharing pictures of the tips he's leaving at restaurants when he goes out to eat.
And let's just call them "generous."
While some athletes are known for poor tipping skills, Johnson has been very liberal in the extra cash he gives his servers. While that by itself is a neat fact, it's the meaning he ascribes to the numbers that is getting people's attention.
The first of these tips sees him leaving $209 as a tip, to match the receiving yards he had in one game.
Proverbs 11:25 💫 https://t.co/zP2bcvwFqa

— Chad Johnson (@Chad Johnson)1550775234.0
The next time, the server seemed to let Johnson borrow his phone to watch some soccer. Three goals earned that server a $300 tip.
Proverbs 11:25 💫 https://t.co/84HqtSGUrV

— Chad Johnson (@Chad Johnson)1551303827.0
While the amounts are great, the meaning can be less than positive. Ochocinco brought up his total yardage with the Patriots for the first of his Austin, TX, restaurants.
276 yards for an entire season isn't great, but translated into a tip on a $91 bill, is exceptional.
Proverbs 11:25 💫 https://t.co/3OV4m4CowT

— Chad Johnson (@Chad Johnson)1551983956.0
Lastly, Johnson left a $540 tip for a lucky server at Gus's World Famous Chicken in Austin, TX. The number references his yards in 2008 with the Bengals.
The "pissed off Mike Brown" comment refers to Johnson openly talking about wanting to be traded during the off season, upsetting the Bengals owner.
Proverbs 11:25 💫 https://t.co/tkORTxHKqc

— Chad Johnson (@Chad Johnson)1552091349.0
All of these receipts ended with the phrase "I love you" and are accompanied by a tweet, "Proverbs 11:25" which says,
"The generous soul will be made rich, And he who waters will also be watered himself."
People are really digging the generosity.
@ForTheWin @USATODAY What a genuinely great guy...

— Tuesday Hampton (@Tuesday Hampton)1552329328.0
Look at you @ochocinco Good for you man! Best part is the stories on the receipt associated with tip! Thank you f… https://t.co/QsnHoNXGsc

— jburt9100 (@jburt9100)1552391378.0
@ochocinco You're always being so sweet 🤗 blessings ocho

— miss bee (@miss bee)1551307459.0
Others are just trying to figure out how they can get in on this.
@ochocinco You had 11,059 career receiving yards too, venmo me?

— Adam Tramp (@Adam Tramp)1550930777.0
@ochocinco Where you eating at next so I can be sure to put my application in

— JKing ♛™ (@JKing ♛™)1552093318.0
@ochocinco hello i work in coral springs pls come bless me i need help😭

— maC (@maC)1552062410.0
@ochocinco Oneday I will be one of the chosen ones 🙏🏼😅 until then... prayer and hustling.

— BVD (@BVD)1551306442.0
A little earlier this year, Johnson made waves after using an Applebee's tablet to leave a $207 tip for his server. He posted a video of him tapping the arrow on the device to increase his tip.
He says at one point,
"My finger cramps, that's when I'll stop."
Have y'all seen this gadget at Apple Bees, i got carried away but it's a cool contraption 🤷🏿‍♂️ https://t.co/eU6GtZu9sP

— Chad Johnson (@Chad Johnson)1517627988.0
While the server gives him an out, Johnson assures her he is serious about this. And as we've seen from his other tips, he's very serious about giving back.

Keep reading...
Show less