Hollywood really has made a mess of entertainment and storytelling.
And it doesn't have to be that way.
There are so many people with new, fresh ideas, yet they choose to keep redoing the same old. concepts.
The people want more and better and it is possible
Nobody needs 167 sequels done poorly!

Redditor MainCrab1383 wanted the entertainment industry to listen up!!
"What do you wish Hollywood would stop doing?"
I wish they would give more chances unknowns. Every known starts an unknown, you know.
It was already great!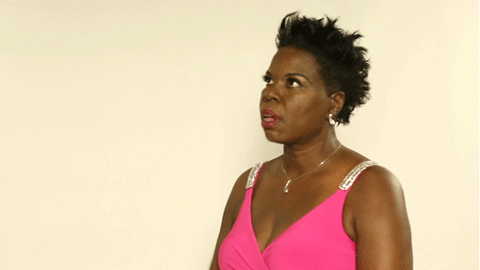 Behind The Scenes GIF by BET Awards
Giphy
"Remakes of good movies, I don't understand why they remake good movies, when there are tons of flops that have potential, that they could remake."
Ratchel1916
Not Real
"Characters getting punched multiple times in the face in 1 scene and having no signs of the trauma in the next scene."
kyle158
"Or shot, but they remove the bullet in a dirty motel and sew it up with freaking twine and knitting needles so now it doesn't hurt anymore and they can go fight more bad guys unencumbered."
Parking_Aerie4454
"This reminded me of characters getting absolutely wasted then either being relatively sober in the next scene, or have no hangover the day after."
pt256
Lights Up!
"Stop making films and TV shows that we cannot see because they are too dark and cannot hear what TF people are saying. That would be a good start."
No-Abrocoma-381
"I honestly think some vfx engineers stuffed up and others thought it was a trend and continued to underexpose. Series 8 of game of Thrones was about 8 slightly diffident blank pixels running about the screen."
Procedure-Minimum
Fill her up!
"EMPTY CUPS. I hate seeing people holding cups and pretending to take drinks from obviously empty cups. Their hands never move right, or if it's an open cup, you can literally see that it's empty."
undecyded
"They move their hand way too fast! It's like they don't even know they're supposed to be pretending it has liquid inside."
Alcohorse
Not a 10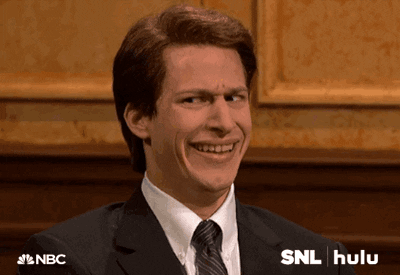 Interested Saturday Night Live GIF by HULU
Giphy
"Casting attractive people in 'ugly' roles."'
R_man98
"Like when the obviously gorgeous person gets a makeover."
storagerock
Casting is subjective... so they say.
Save Them!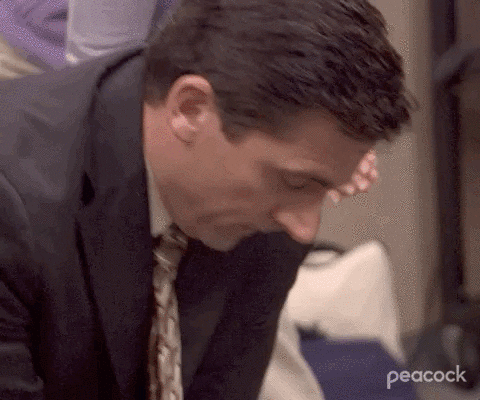 Season 5 Nbc GIF by The Office
Giphy
"Showing incorrect CPR."
myersla
"Just do what the AED tells you to do. No thinking required."
Ok_Opportunity2693
that scene....
"Forcing a love story that makes no sense in a movie that has nothing to do with romance."
Jesuslovesmemost
"Long kisses in the middle of a 'we're running out of time' scene. We gotta save the world, but let me take my time to say goodbye/goodluck first."
aldhibain
"Long kisses after a death defying scene. Sure, kissing is what they do next."
Busy-Appearance-6077
Makes no Sense
"Having a main character whose job/income level does not match their home or lifestyle at all."
Stellathewizard
"I was about to say that Charlie's shi**y apartment in 'It's Always Sunny in Philadelphia' is the one exception to that rule I can think of. But oddly enough his roommate, Frank, is a millionaire."
FlowRiderBob
"Supposedly when they started making Big Bang Theory they tried putting them in a realistic apartment, and it made it really depressing."
Hrothen
WTF?!
"Adapting stuff into live-action movies when they should really be animated. Examples include upcoming Mega Man, Pac-Man and Minecraft movies which are ALL set to be live-action."
TheChainLink2
"I had no idea that any of these movies were in the works. Pac-Man will be half CGI, NO doubt. Going the Sonic route. Unless they literally just have it as an inspiration, and it's just a guy in yellow running away from ghosts in a labyrinth."
"Minecraft? Well, everyone will watch it, so I'm sure they don't care if it's good. But it's clearly going to focus on Steve building a nether portal and trying to kill a f**king dragon. Mega-Man? Yeah, I can see that working live action. Oh wait, it's a Netflix Original? Yeah, no. That's going to be absolute trash."
Maxtrix07
ID please?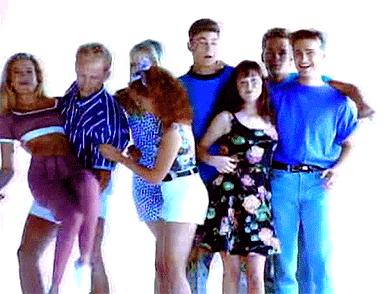 Beverly Hills 90210 90S GIF
Giphy
"Casting 35 year olds as high schoolers."
StaircaseRailing
"Can we add casting 16-18 year olds to play 11 year olds?! Priah Ferguson was 16 when she played 11 year old Erica Sinclair in Stranger Things season 4. WTH!?"
thatswhatthekidssay
A Nice Mix
"I wish Hollywood would stop treating the medium of animation as something inherently inferior to live action. I also wish 2D animation was used more for movies."
LunarWingCap
"I completely agree! There's a unique magic in hand drawn animation. I'd even appreciate a mix of 2D/3D or animation and live action."
ArtbySV4151452
"They also should stop calling animation a genre, it's not a genre, it's a medium, as you said." ~ SvenNeve
Save the Kids
"Treating child stars like crap."
my_gender_is_a_glock
"I was watching a YouTube video about Dan Schneider. Apparently Nickelodeon chose Florida to film their shows because of the lack of child labor laws. They also purposefully chose kids whose parents were more likely to be absent or neglectful so they could control the kids more. Like wtf."
SavannahInChicago
No Execs
"All great answers but what I've seen lately is just a lot of whacky decision making. There's multiple video game adaption movies and TV shows come out lately that miss the mark completely. Resident Evil/Halo Etc."
"I know adaptations always have their quirks and things that would outrage a fan base but geez. The Halo TV show really felt like they just wanted to write their own story with already existing characters. It all comes down to executive decision."
"I just wish the creators have more control over their projects. Instead of having execs with no creative abilities suggesting 'Maybe you should make the super-soldier get out of his augmented power armor and instead just fight naked, also make him want to bang the enemy like Romeo & Juliette.'"
NippleBlender
Bad Moves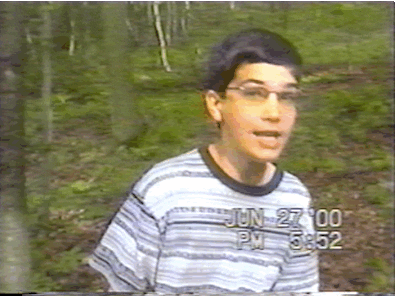 Giphy
"Shaky cam action fight scenes. No this is not artistic. Your choreography just sucks and you have to hide it."
edwadokun
Speak Up
"Lately, so many movies are dark-scened. Watching old movies I can actually SEE what is going on. A lot of new movies I can barely discern what the hell is going on. It could be day time in the scene and it feels like night time. Also, I can't freaking hear crap anymore in movies. They're loud mumbling."
Willy_Billy_WHO
Yummy
"Stop having people take like 1 bite of what they ordered then leave. It's a small thing, but I've never seen it happen in real life."
Smitty876
"Or worse, order something when they just intend to talk to someone there for a couple minutes and then leave when the food arrives. Who pays for it?"
FuturePut5
"I now want to see a movie set in one of these restaurants where every protagonist goes to eat. Just a constant parade of people taking one bite, throwing money on the table, or walking out without paying at all."
theresamouseinmyhous
One at a time...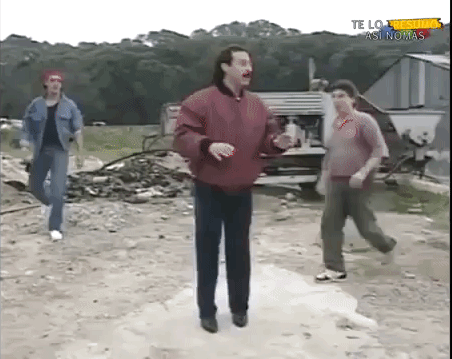 Self Defense Fighting GIF
Giphy
"Making movies where the 1 good guy defeats 20 bad guys because the 20 bad guys attack the 1 good guy one by one."
yamsnavas2
The Bad Giveaways
"Spoiling the film in the trailers."
Painting-Powerful
"Or showing all the best/funniest scenes in the trailer and then leaving you wondering wtf am I watching when watching the movie itself."
Kataphractoi
"Or they misrepresent the movie entirely by spinning it as a comedy when it's really a drama with a couple funny bits and only those funny bits make the trailer."
Secretagentmanstumpy
Lord Hollywood has a lot of work to do!
What would you add to this list? Let us know in the comments.
Keep reading...
Show less
Who doesn't love adding to a story?
We've all watched a film, a tv show, read a book or played a game that once it was over, our hearts sank.
We wanted more!
What happens next?
You never want great stories to end.
And sometimes, the continuation surpasses the original.
It's rare, but it happens.
And I will die on this hill.
Redditor FireSwarm21 wanted to know what sequels and beyond were a step above the originals.
"What sequels are better than the original?"
I love sequels to my favorite stories. The characters never leave.
Rescue Me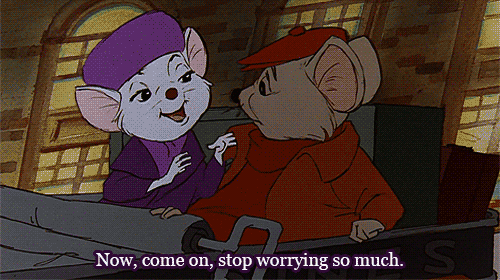 the rescuers worry GIF
Giphy
"The Rescuers Down Under."
Kinuama
"Wow! I haven't seen this movie in likely over 20 years!! Used to be one of my favorites... does anyone know if it's on Disney+?"
FrogAnalSex69
Let's Game
"Uncharted 2: Among thieves."
FlyHigh3000
"I think is extremely common in games since the first one usually doesn't just have to set up characters and story but also the style, engine, etc... With the second the studio can invest way more into the actual game."
Version_1
"The even numbered Uncharted games are my favorites even though 1 and 3 are good too."
Loganp812
Silence
"Silent Hill 2. The game, to be clear, not the second film."
madefromconcentrate
"Even though I wouldn't call the first Silent Hill a good movie, I do really think Cristopher Gans cared about Silent Hill and tried his best."
"You can see he made some changes to the characters and story to male it a more 'palatable' movie for Hollywood. Maybe those changes shouldn't have been made but you can see the reason why it was. If nothing else that movie looked like Silent Hill."
Artikay
The Next Generation
"Wrath of Khan."
xkulp8
"The movie that saved Star Trek. And over Gene Roddenberry's objections, I might add. Also, it still kind of blows my mind that only 5 years passed between The Wrath of Khan and The Next Generation. They feel like completely different eras."
diamond
"Wrath of Khan has a late 70s feel in a 1982 movie. What most people think of as the 80s hadn't quite hit its stride culturally yet. Meanwhile, if you look at the early episodes of TNG they feel a little dated, although not as much."
Green_Prompt_6386
Star Stories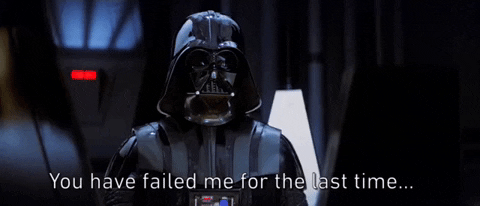 the empire strikes back GIF by Star Wars
Giphy
"The Empire Strikes Back."
ImportanceBig4448
"Rewatching the trilogy with my girlfriend and the fight scenes are way waaaay better! The pacing, too!"
Lochifess
Ah the drama of the Star Wars series. A neverending saga.
Back to Gotham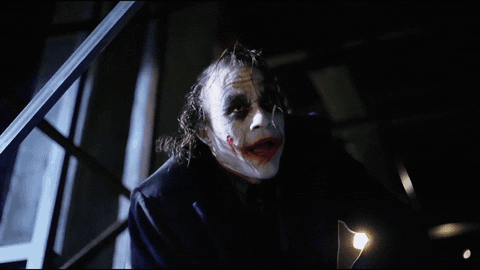 the dark knight joker GIF by hero0fwar
Giphy
"The Dark Knight is leaps and bounds better than Batman Begins."
Boring-Pudding
The Through Line
"Terminator 2."
idkwhattoput_111
"I agree but what is interesting about T2 is that the world-building and plot of the original Terminator plays a major hand in making T2 amazing. Having the antagonist from the first become the protagonist in the second sets up for an amazing plot and throughline."
ShadoFlameX
Warriors
"𝙏𝙝𝙚 𝙍𝙤𝙖𝙙 𝙒𝙖𝙧𝙧𝙞𝙤𝙧 is better than 𝙈𝙖𝙙 𝙈𝙖𝙭."
sqeptiqmqsqeptiq
"I watched mad Max recently for the first time and was so confused. I was like, 'where's all the post-apocalypse stuff?' I thought I was watching the wrong film and had to double-check. To be honest I didn't enjoy it that much but I did love all the sequels."
randomisedjew
Dreamworks Works
"Shrek 2 = better."
BigDanal123
"Shrek 1 was very good but Shrek 2 was an improvement in many ways. Shrek 3 was definitely the weakest of the series but not a terrible movie by any means. Shrek 4 was at least as good as 1 and 2."
"Actually Dreamworks does sequels pretty well as the major companies go. Kung Fu Panda 2 was just as good as if not better than the first. The third was not actually that good but they can't all be winners. The tv shows are pretty good. How to Train your Dragon 2 tore out my heart and stomped on it but it was still a good movie. The Madagascar movies are all of similar quality to each other."
dragon_morgan
Talking to the Spirits...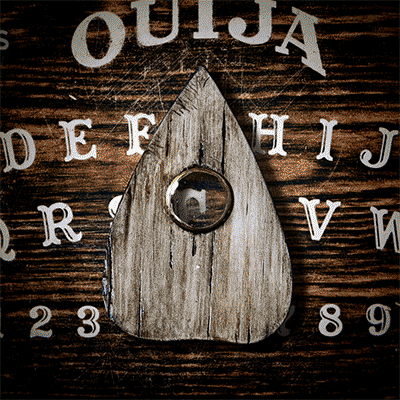 Ouija Board Movie GIF by Ouija: Origin of Evil
Giphy
"Ouija: Origin of Evil was surprisingly better than Ouija the original. Now Ouija was pretty bad so it didn't take much but usually these off brand horror movies go from bad to worse if they attempt a sequel."
bobbytwosticksBTS
Sometimes more of the story is always better.
Keep reading...
Show less
Sequels can be pretty divisive. While there have been some admittedly great sequels over the years (I'm looking at you, Sam Raimi, with your Evil Dead series), many do crash and burn.
Oftentimes, sequels have failed to maintain the same level of quality that made the originals such a success. When this happens, it leaves us feeling like sequels are little more than a cash grab. Let's have some original stories, okay?
But if there have to be sequels–any sequels–then people do have some ideas in mind.
They were more than happy to share them, thanks to Redditor LowVolume-8358, who asked the online community:
"Which movie deserved a sequel but never got one?"
Dredd (2012)
"Dredd. Action movie of the decade. A template for how to do balls to the wall action with strong character development and the exact right amount of plot to drive the show. Tightly packed into an hour and a half so that at no point does the film let up."
johnnythefox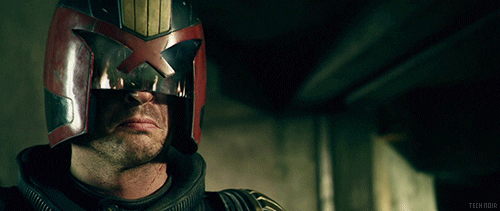 Giphy
This film was highly praised but sadly flopped.
It is unlikely a sequel will ever happen.
It was also released around the same time as The Raid, which has a similar plot.
District 9 (2009)
"District 9. It was so set up for it to have a sequel it seemed!"
Scrantoncity_09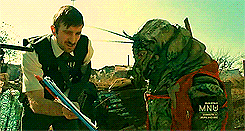 Giphy
Apparently there has been some work done on this in recent years, but who knows when it will happen?
The Nice Guys (2016)
"The Nice Guys. This movie is the ultimate example that Hollywood comedies can exist outside of generic jokes. The movie is a gem for anyone who enjoys a good unconventional laugh."
LonelyLokly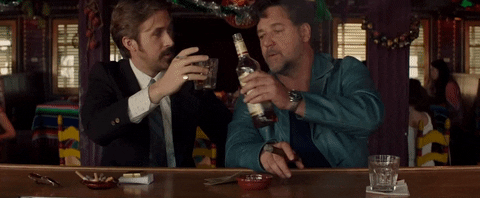 Giphy
This was the sleeper hit of 2016.
Interesting to see its fan base is as strong and as passionate as ever.
Sky High (2005)
"Sky High! It was so good and this was before the superhero genre was saturated."
brentsu86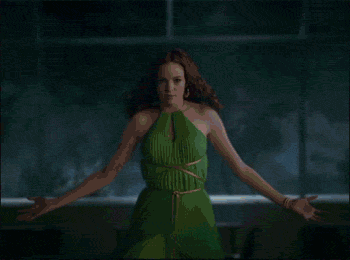 Giphy
I remember that the marketing campaign for this one wasn't particularly great.
It's no wonder a sequel never materialized.
Edge of Tomorrow (2014)
"It's based on a novel that doesn't have a written sequel, so getting a sequel of a similar quality is questionable. There's been one in development since 2016, though it seems stuck there with little hope."
FluidSynergy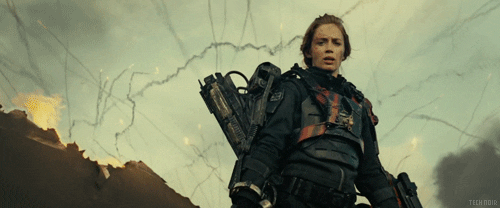 Giphy
There has been work done on this one, too, believe it or not.
Perhaps, given the Groundhog Day nature of the plot, the sequel should also be titled Edge of Tomorrow, which would be a clever bit of marketing.
Sherlock Holmes: A Game of Shadows (2011)
"Sherlock Holmes: A Game of Shadows. This movie is so good and the ending was open enough for a possible sequel."
Akron-R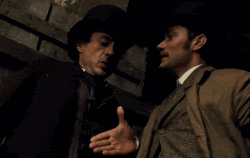 Giphy
Yeah, for some reason, I thought those Sherlock Holmes would continue for a little while longer.
Perhaps Robert Downey Jr.'s work with Marvel complicated those plans.
Wall-E (2008)
"Wall-E. Don't get me wrong, it had a fabulous ending, I just want more of those adorable robots. It would have to be good though because that movie was my childhood and shouldn't be disgraced with a bad sequel."
Caffeinated-Bison25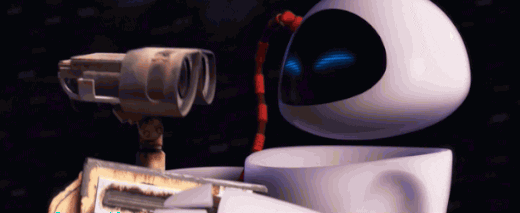 Giphy
Yeah, do you really want Wall-E to suffer the same fate as Cars, with its two sequels that no one asked for?
Escape from L.A. (1996)
"Escape from LA. Would've loved to see the aftermath of Snake ridding the world of electricity."
Blue-Krogan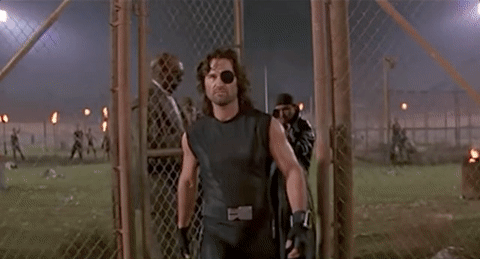 Giphy
The real question here is... did Escape from New York really need a sequel?
I doubt Kurt Russell would be down for another round at this point.
The A-Team (2010)
"The A-Team. Supposedly a sequel was in the works, but it was cancelled."
TheSchlaf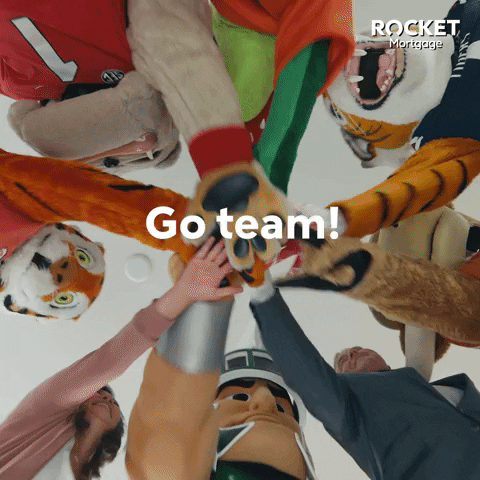 College Football Homeloans GIF by Rocket Mortgage
Giphy
liam neeson i love when a plan comes together GIF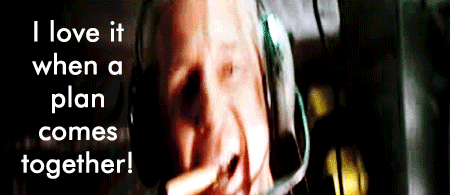 Giphy
Now here's a film that I forgot existed.
Perhaps that's why there hasn't been a sequel.
Cloverfield (2008)
"Cloverfield. An actual movie to see what happened after the bombing."
Fatal-Symbiote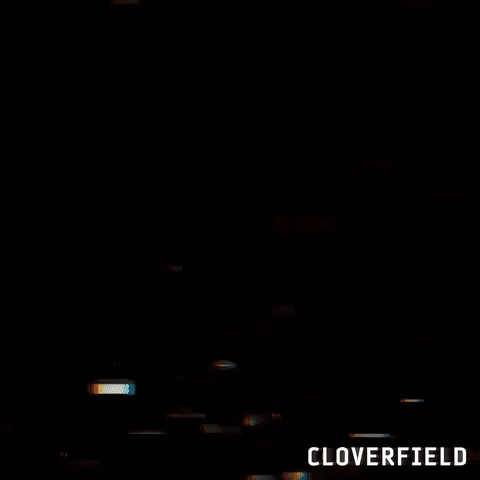 Giphy
This is actually happening!
No word on when it'd come out, but it's apparently not going to use the found footage style of the original film, which has since gone out of fashion.
Sequels are complicated beasts. In the event any of these are made, it'd be ideal if they had the same level of quality as the originals.
We can dream, right?
Have any suggestions of your own? Feel free to sound off in the comments below!
Want to "know" more?

Sign up for the Knowable newsletter here.
Never miss another big, odd, funny, or heartbreaking moment again.
Keep reading...
Show less
Movies. Movies. MOVIES! Let's talk movies. Hollywood is notorious for milking good stories to death. If a film makes more than $5 every executive's next genius idea is to produce as many sequels as possible until the general public loses all interest.
And then they wonder what happened. They never seem to realize that if you're going to continue the story you have to have enough story to tell and you can't just throw money at all of it.
So most sequels tend to be crap and then blemish the legacy of the original. However, once and awhile, the stars align and a fantastic sequel is made.
And what is even more rare is a sequel superior to the original. It has happened. Let's discuss some.
Redditor u/Tall-Elderberry-3167 wanted to share about some of film's greatest continued stories, by asking:
What movie sequel is actually better than the original?
I'm not big on sequels but, the new "Halloween" sequel from 2018 was brilliant. I've lost count on how many times I've watched it. And I'm counting down to "Halloween Kills" this October.
Better Dark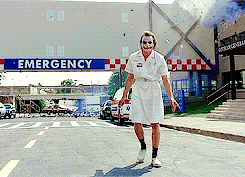 the joker film GIF
Giphy
"The Dark Knight."
"In every single way. The action is far better, story was much more interesting, better performances, script and direction."
Prosper
"Star Trek II, but I do love the first film, and I'm excited for the 4k release."
"I don't hate the first one, and II does recycle a lot of footage and props, but the story they tell and the fact that it felt like the first time the crew were in real danger that someone may not make it out alive (.......) made it pretty special feeling."
MAX!
"The Road Warrior."
"Had me confused for a second before I realized you're talking about Mad Max cause it was released in the US under that name. But yes. You're 100% right."
"I was a big fan of the Eragon novels, but was disappointed with the movie, especially with how the Urgals were portrayed. I'm a sucker for car chases and the opening sequence of Mad Max is one my favorites. However, The Road Warrior was a better movie."
DEUX!
"Hot Shots! Part Deux."
"The love scene from Hot Shots! where he puts an olive on her bellybutton and pops it into her mouth is the hottest scene in cinema history, so no."
"Kiss me like I've never been kissed before1"
Oh Mortica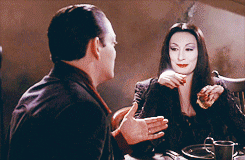 the addams family m fangirl challenge GIF
Giphy
"Addams Family Values."
"I came here to say this. The first one wasn't bad, actually, but the sequel has all that social commentary Paul Rudnick added to the script, like the Thanksgiving dinner scene."
"The Dark Knight" for sure was superior to all the Batman films. And I completely forgot about "Hot Shots." That was a hilarious romp. I'm gonna check it out again.
He Came Back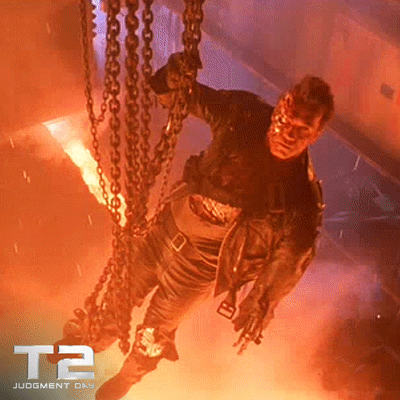 terminator 2 film GIF by Lionsgate Home Entertainment
Giphy
"Terminator 2."
"I'm still amazed how good the special effects were, comparable to today's CGI without the tech. The liquid terminator walking through the prison bars is a timeless scene."
More Wolverine...
"X-Men 2."
- J4CK64
"I really felt robbed when the first one ended. Even though it was a full length movie, when the credits started it felt like a tv episode ended, not a movie. Looking back I suppose it was always about the franchise and sequels and not about trying to tell the whole story with just one movie."
- avashad
Braver. Bolder.
"Empire Strikes Back."
- CMelody
"In retrospect, ESB may be the genuinely bravest sequel ever made. It would have been so so easy to just make "Star Wars II," repeating the vibe and feel of the original, and it still would have made swimming pools of money. Instead, they made a deeper, darker, and more complicated movie that openly deconstructs many of the tropes embraced by its predecessor."
"And they knew they were going to piss off some people by subverting expectations, but they still went for it. I honestly think that's why Star Wars is still going strong as a brand today. If it had stayed solely in the realm of rehashing Flash Gordon and samurai flicks, it would have gotten stale. ESB gave these silly movies about feuding space wizards actual depth."
Perfect
"Shrek 2. Obviously because of the Holding Out For a Hero scene."
"It's basically a perfect sequel. Takes everything great about the first film, steps it up, and improves the pacing, the heart and the depth. All the while it feels like the natural progression to the first film, expanding on themes from the first film. Really couldn't ask for much more from a sequel tbh."
Webbed Stories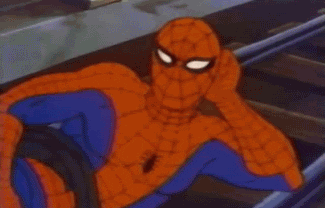 Spider-Man Reaction GIF
Giphy
"Spider man 2."
"This! This is the best Spiderman movie to date and no one can convince me otherwise. I am so stoked to see Spiderman: No Way Home because they are bringing back Dr. Octopus."
T2 forever. See sequels can be great with the right plan. But, for the love of God... when will Fast & the Furious end?!!
Want to "know" more? Never miss another big, odd, funny, or heartbreaking moment again. Sign up for the Knowable newsletter here.

Keep reading...
Show less
I know a lot of people complain about the new Star Wars movies. And the prequels. And everything that isn't Empire Strikes Back. But one thing is for sure, that franchise will never go away.
Other franchises aren't so lucky. While one may have a good starter movie, as time goes on, they can decrease in quality. Here are a few of the worst ones.
U/Legal-Cartographer-1 asked: What's the movie so bad that it killed off the whole franchise?

When franchises end on a really strong movie, that's a beautiful thing. Back to the Future 3, Army of Darkness--a good finale leaves a series on a powerful note. Safe to say, that's incredibly rare.
Botched.
Percy Jackson: Sea of Monsters. There were 3 more books in the PJ story plus all of Rick Riordan's other books/spin-offs. There was so much potential and it was just botched.
The first movie already killed it to some degree. Too many things were left out to the point where they would have to completely redo the story of the third book if they wanted to turn it into a movie.
​It was worth it for the memes.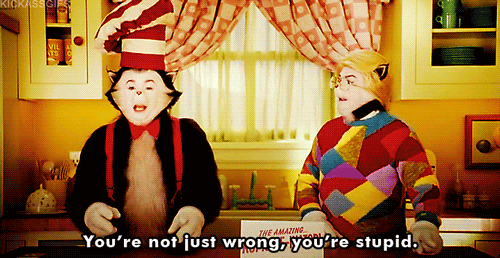 jennifer lawrence cat GIF
Giphy
When the Cat in the Hat movie with Mike Meyers was released, Dr. Seuss's (Theodore Geisel's) wife Audrey was so disappointed and disgusted with how it turned out, she never approved of any more live action adaptations.
Subsequent films have now instead only used computer animation adaptations instead of live action studio versions.
Cat in the Hat was a compromise Myers made with the studio after he refused to fill his contract to make the Sprockets movies because he didn't like the script. Think about that for a second, the Sprockets script was so bad that Cat in the Hat was the better option.
'Pirates' was an exception.
Disney's The Lone Ranger and John Carter were both supposed to be the first of a series, like Pirates of the Caribbean.
I feel like Pirates of the Caribbean was supposed to be a one off movie that ended up so successful they decided to turn it into a franchise.
​At least Ryan Reynolds liked it.
'Green Lantern'. They had big plans for sequels and a wide story arc but because the movie bombed at the Box Office all of that was scrapped.
Ryan Reynolds finally saw it recently and he thought it wasn't actually that bad.
What some may call a massive flop, others may call the perfect tragic finale. In a way, bad movies are their own art form.
Ok, this would've been awesome.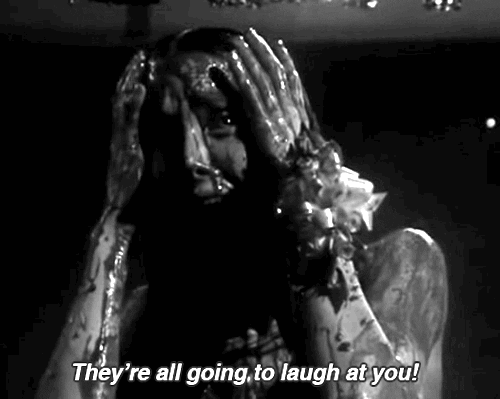 stephen king carrie GIF by hoppip
Giphy
I heard there were plans for a Stephen King cinematic universe of some sort, but given how badly the Dark Tower did that's probably never going to happen now.
Harry Potter messed everything up.
Allegiant: the movie after Divergent and Insurgent. The end of the Divergent series was never made into a movie because Allegiant turned out so badly.
Didn't they also overcomplicate the conclusion? I think because Harry Potter split the last book into 2 movies, everyone around that time tried to do the same for a cash grab (looking at you, Hunger Games). So they split the last book into 2 movies, then changed the last movie into a tv miniseries, but forgot to check with the cast first. Since it wasn't in their contract and they didn't want to do it, they bailed.

I thought I remembered reading that somewhere. I'm not a YA book reader, but an avid movie watcher who struggles with incomplete stories. I always have to finish a story once I start, no matter how bad it is. I've only ever stopped watching 3 movies in my whole life. 2 were Tom Cruise movies.
​This one disappointed a lot of people.
The Last Airbender. I'm guessing by the ending they had elaborate plans to turn this into a franchise of all the seasons. Wow. So horribly bad. Also, prior to the movie I had never even watched an episode of Avatar: The Last Airbender.
I had an even greater appreciation of how bad they f*cked up after watching them all during the pandemic. Ouch.
​Speaking of disappointments, here are a few more. RIP these franchises.
Genuinely tragic.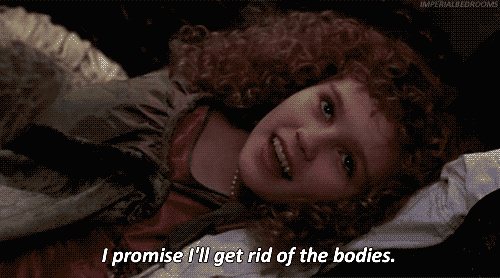 talking brad pitt GIF
Giphy
Queen of the Damned.
Interview with the Vampire was amazing. 8 years later they skipped the 2nd book in the series and went to the 3rd. I don't know why. The 2nd book, The Vampire Lestat, was the best in the series. Maybe they couldn't get Tom Cruise to continue, and just decided that would be the end of it. Then some jack@ss came up with the idea to do a sh!t job of Queen of the Damned and ... ugh.
​They didn't even break even.
Valerian and the City of a Thousand Planets
The most expensive indie film and most expensive European film of all time ($200+ million budget) and it barely broke even at the box office, probably netting a 9-figure loss when factoring in marketing and publicity costs.
Neither Cara Delevingne nor Dane DeHaan have worked much since, though this was hardly the first franchise killer either of them have been involved with (Suicide Squad for Delevingne, The Amazing Spider Man 2 for DeHaan),
Thank goodness for that.​
The Mummy with Tom Cruz. It was meant to kick off an entire "Dark Universe" of horror movie remakes but it was horrible.
The Mummy was their second "first movie in a cinematic universe". Dracula Untold was their previous attempt, which also bombed.
It's true, for every Army of Darkness, there are ten terrible sequels. Sometimes, franchises are best just left alone after the first film.
Let it be known, just because they spent a lot of money on it, doesn't mean it's gonna be good.
Keep reading...
Show less