As a kid, the zoo seemed like a fantastical place where the animals poked their heads out to see us behind the glass panes or the metal bars, and happily retreated to their expansive lair whenever they felt like it.
Unfortunately, the logistical realities of zookeeping aren't quite so posh.
There often seems to not be enough space for the animals; feeding, mating, and cleaning is a constant, overwhelming battle for zookeepers; keeping ticketed customers happy around somewhat unpredictable animals far from their home habitats can be a nightmare.
If you ever wanted to know just what goes in to maintaining a the average zoo, a recent Reddit thread is for you. Who knew how many experienced zookeepers use Reddit so much?
gomi-panda asked, "Zookeepers of Reddit, what's the low-down, dirty, inside scoop on zoos?"
Many people talked about their zoos' emergency preparedness. The plans in place for when disaster strikes might surprise you.
So Basically Unarmed
"Partner was a zookeeper in Dallas. Safety protocols for when a large, dangerous animal escapes its enclosure dictate that you lock yourself in whatever room you can get to quickest and grab the nearest weapon..."
"...which, for most zookeepers, was a broom or rake for cleaning up animal poop."
-- musical_hog
Get In Line
"I had to draft the zoo's contingency plan for all sorts of emergencies. Flood, tornado, extreme heat, war or attacks, you name it. The plan included a prioritized list of which animals in the collection we would have to sacrifice to feed to the other animals in extreme situations."
"I literally created a zoo food chain. Humans were left off the list entirely."
One Chance
"I used to volunteer weekly at a large zoo and at one point management started doing monthly dangerous animal escape drills. Someone would run around in a lion onesie and we'd have to react as if one of the large animals had escaped."
"It was hilarious but one of the funniest things I was taught was that if an incident did occur you have to tell the nearby guests to get inside only once. If after that they refuse to follow you indoors (the protocol was to hole up in the large activity centre buildings) , you're to leave them there, go inside yourself and lock the doors."
"It makes sense because people can be very stupid and you don't want to risk everyone's lives because of one Karen, but it amused me no end that the protocol was to just let them get mauled."
Other zoo workers described the rather bizarre behavior of some animals they've taken care of on the job. Animals, as we know, are often smarter than we think.
So it's best to keep zoo-goers a little in the dark about what's going on.
Keep Your Fruits to Yourselves
"Some people like to bring fruit and stuff to throw into the animals cages, even though they're not suppose to. If you're around and someone throws a pineapple into the gorilla or chimpanzee dens, gtfo. They will throw that thing full blast at someone."
"I saw a man get hit full force right in the side of the head and he was lights out. Pineapple exploded on impact. Paramedics came and everything."
-- Sedintwinz
Former Flat Earthers Explain What Finally Made Them Come Around | George Takei's Oh Myyy
Science is science. Fact is fact. Truth is truth and simple is simple. These are things we must now attest to in 2021. Can we please all get onboard with wha...
Mourning Period
"We closed the baboon exhibit because a baboon had a still birth and the troupe was 'grieving.' "
"In reality they were throwing parts of the infant corpse around and there was nothing we could do about it."
Loving on the Buckets
"I worked with large tortoises. We had these 5-gallon buckets for cleaning the poop out of enclosures and other buckets for feeding them fresh grass we cut. The first day on the job I took both buckets into the pen and started by dumping out the grass."
"Then I went around to collect poop. I heard this awful loud grunting and something breaking. One of the 300 lb males tried to bang the bucket in front of visitors and flattened it. He would even follow me around just in case I might leave more innocent buckets unattended."
-- DrteethDDS
Draw Straws?
"Aquariums have captive breeding programs for some of the dolphins and whales, but they are too difficult to transport for mating. So they have to use artificial insemination. Which requires semen samples from whales."
"Which means that it's someones job to get the dolphins and whales in order to collect the sperm. It's part of the animal's training, and the whales will roll over and present their genitals on command."
Finally, some focused on the smell. We know, intellectually, that their must be some truly vile stenches kicking around in the zoo profession.
But apparently, know amount of mental imagination could possibly prepare one for the reality of it.
Train Car for One
"The poor penguin keepers can never quite get rid of the miasma of dead fish that envelopes them. As for me, the stinkiest job I ever had to do was cleaning out the duck ponds."
"Managed to empty a whole train carriage that evening, even though I had changed and my work clothes were double-bagged."
-- ShadyElmm
A Solitary Life
"If you work with the animals there's a good chance you'll not be able to have any kind of social life, between the long hours/weekends and the stench."
"I've been kicked out of stores after work because I apparently stunk way worse than I thought I did - even after scrubbing off!"
"And I'm around animals every day, but I still can't stand when otter / sea lion keepers are around me in 'all-hands' meetings. The rotten fish + ferrety otter smell combo is a gagger. Meanwhile, I work with apes, and they say that I smell like I haven't showered in a decade (again...even after I shower)."
-- bindobub
Spit*
"Our camels will spit if you piss them off, and it's not just saliva like most people think."
"You really really really really don't want to upset our camels if you have any plans the rest of the week, please and thank you!"
-- leepingphal
So next time you find yourself in a zoo, give a nod to the zookeepers you see. You never know that insane things they've seen or touched that morning.
Want to "know" more? Never miss another big, odd, funny, or heartbreaking moment again. Sign up for the Knowable newsletter here.
Keep reading...
Show less
Want to "know" more? Never miss another big, odd, funny, or heartbreaking moment again. Sign up for the Knowable newsletter here.

Keep reading...
Show less
There are just too many things we witness throughout life. And there are just some things no human should have to witness. I've lost track on the amount of things I wish I could unsee. Don't you walk away thinking... "Why God? Was that really necessary?" That one moment will almost certainly be one one the moments that you never escape. It's seared into the memory. There when our eyes are open and closed. Awake, asleep, it lingers.
Redditor
u/Rainbow-Pickel-Squid
wanted to hear some stories to get us SHOOK by asking...
[NSFW] What's the most f*cked up thing you've seen?
Want to "know" more? Never miss another big, odd, funny, or heartbreaking moment again. Sign up for the Knowable newsletter here.

Keep reading...
Show less
There is a reason why we hide our most vulnerable selves from friends and family. We don't want them to worry.

Because who wants to be around a Debbie Downer?
But suppressing your darkest secrets is not good for your well-being, and there never seems to be an appropriate social situation to have a deep conversation that could bring rain clouds.

Fortunately, Reddit offered the perfect place for people to anonymously lighten their burdens.

Strangers divulged a dark part of themselves when Redditor creativusername69420 asked:

"What is your saddest secret?"
Lonliness
Some people prefer to be alone. Others don't.

One-Sided Convo
"I talk to myself when I'm alone all the time. Mainly when driving. People say it means you're crazy, but it's just how I like to process my thoughts."'
Happy Birthday To Me
"I sang Happy Birthday to myself on my 16th birthday."
"My mum works interstate, so she wasn't home much. My stepdad was in jail. I had severe trust issues. No one that I called friend."
"So on my 16th, I was just hit with one of my more depressive and lonely episodes as I laid in bed home alone. I got up and went to the bathroom, and I stared at myself in the mirror, not recognising the face that stared back. And sobbingly sang happy birthday to myself."
"No one in my real life knows, and most likely, no one ever will."
All By Myself
"I don't consider it sad anymore but I've been single my entire life. Before anyone asks I'm 37 and no I'm not a virgin. I've just never been in a relationship."
Presence Of Death
Death is inevitable. That doesn't mean it's easy to talk about.

Eulogy Pressure
"I'm scared that when my dad dies, I'll have to give the eulogy. I have nothing good to say about him."
Words From A Cancer Patient
"I have been diagnosed with cancer and nobody in my family knows. My Dad is an elderly hypochondriac (not clinically) that makes a huge deal out of every little thing. Having him know and having to listen to him continually ask about it, give me advice and explain why I should feel like sh*t about having cancer would be worse for me mentally than actually having cancer. I was diagnosed 18 months ago and I am just under observation at the moment. Fortunately it is not progressing, so I got that going for me. Advice: when someone is sick acknowledge it, let them know you are thinking about them and don't make it the center of regular conversation. A couple of my friends know and I update them after my screenings. Other than that we rarely even mention it. Which is perfect."
First off, thank you for all the kind words and well wishes. I really was not expecting it. I am not sure if this is the best way to answer some common questions or comments I received, but here it goes. I was diagnosed with Lymphoma and it was caught very early. I had swollen lymph nodes in my neck that never went away, so I went to the doc. A few scans, bloodwork and a biopsy later I was diagnosed. My type of lymphoma frequently progresses very slowly. It could be years before I have any significant cancer-induced medical issues. Since the treatments have risks themselves, it is normal to watch it closely rather than jump right in to treatment. Surprised me as well, so I got a second opinion. They agreed. I thought any cancer diagnosis means you will be rushed off immediately. Nope. My doctor is awesome, so I am in good hands. 2. I think people like my Dad mean well, they just can't help themselves. He took care of my mother 24/7 for years until she passed away. He is a caregiver at heart, but DAMN can he smother you with concern. 3. My wife and I have a good sense of humor about it."
"When it is my turn to empty the dishwasher I hold my neck and tell her I can't because it makes my cancer hurt..... she is not buying it. Thanks again for the kind words and awards. It really brightened my day."
Beloved Nan
"I went to see my nan in hospital before I went to Canada. I knew in my heart it was probably the last time I'd see her. (It was.) Because my father was with me - and because of how he was - I didn't let myself say everything I should have."
"She knew I loved her. I know that. But I wish I'd said goodbye better than I did. Love you, nan."
Grieving A Best Friend
"I still reach for my phone to call and text my best friend who died in November of 2019. Then I get angry. I also compare all of my friends to her, find them lacking, and avoid them, even though it's not their fault. I'm bitter as hell. F'k cancer."
Personal Battles
The following Redditors need to know they are loved for who they are.
Struggle With Self-Hatred
"I struggle with self hatred pretty badly. I'm a grown adult and it's a common struggle with wanting to self harm. I want to get help, but at the same time I don't because I feel like I deserve to feel pain."
"It's obviously not something you disclose to friends and family. Nobody even knows. I hide all my cuts and scars in plain sight because I do parkour and combat sports. Cuts and bruises are expected."
The Side We Show
"I feel like my outward personality is just a character I play."
"I know I'm not the only person who feels like this but I think its hard to be open and honest to someone and let them get to know me because I don't want them to hate me."
– Bacoose

While the comments above are depressing, they are real struggles and feelings people choose to deal with on their own.
It is ultimately up to them to open up and discuss their vulnerabilities, and we should never pressure our friends to open up at the first sign of internal struggles.
A general good rule of thumb should always be to treat people with kindness.

Keep reading...
Show less
Beware of every single flash bulb pointed in your direction. And think not twice, but five times before you post anything of yourself on the internet, especially if it's in a certain "delicate or salacious" nature. This isn't the twentieth century anymore, when you could just burn a poorly thought out polaroid. And of course there seems to be an uptick in everyone just freely exposing themselves to the world... for free. The internet means it all lives forever. Be ready.
Redditor
u/BrixtonsFinest2
wanted to hear from everyone out there who has been witness to seeing their online and private lives collide by asking...
People who post NSFW content: Has anyone from your real life ever found out? What happened?
I get antsy when people post shots of me in unflattering lighting. I can't image how my anxiety would skyrocket if I discovered that a lover had posted us. I'd change my identity. So that is why I find people, who are not sex workers and pornstars, who just litter the web with their bodies, doing all sorts of mess so freely so interesting. Like... good for you, but... are you sure?
***The following is definitely for the above 17 crowd.***
Whateves...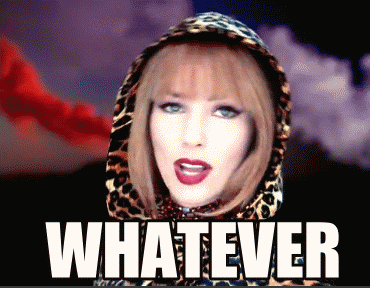 shania twain whatever GIF
Giphy
I once accidentally sent to a friend with the same name as an ex. After explaining the mistake he asked if he could have more. I ended up sending a few more. It weirdly never became sexual between us. He was just like thank you and we moved on lol.
Mark of the Beast
A customer got pissed off at me and posted my video to a bunch of porn sites once. A friend who knew what I did found the video and let me know so that I could get it taken down. Interestingly, I've never had sex with this friend before, but I've taken my clothes off around him enough that he was able to recognize a birthmark that I have even though I wasn't showing my face. Another funny part of this is that before telling me that he'd found my video, he spent a minute explaining why he had searched stuff that led him to finding the video (the video was kinda kinky and taboo).
OMG!
One of the lawyers at my previous job sent me something by mistake. It was only a 'lewd', what she was wearing was lace and you can kind of see through it but nothing too revealing.
I sent her a text back saying "Uh, don't be embarrassed, but I don't think you meant to send this to me." She replied back "OH MY GOD I'M SO SORRY!!!" Told her not to worry about it. Then she texted "do you at least think my boyfriend will like it?" with a bunch of cry-laughing emoji's. I replied "He'd be pretty dumb if he didn't!" Then I deleted the convo. We never mentioned it again afterwards.
FB Issues
I used to have an alternate Facebook account and was in private groups with "T&A" posts. (Tits and A**)
I used to post a lot of pictures on there (super insecure and lonely part of my life where validation from internet strangers was everything) and some guy found my real account and found my dads account. He sent them all to him. But unbeknownst to him, I was the one who set up my dad's Facebook account so I just logged into it and deleted the messages before he saw them.
The Ponies 
Well, since I don't plan to run for office I guess I can finally tell this story.
More than 20 years ago I appeared on a North American cable TV show that was discussing "interesting" sexual behaviours: this episode was about BDSM Pony Play. [ note: if you don't know what Pony Play is then have fun finding out from someone other than me, and no I don't do any BDSM stuff any more I am a much different person now ] :)
I was wearing my Gear, my voice was muffled a bit, totally covered except for my eyes. There was nothing explicit shown on the show, but still it's odd/entertaining to explain Pony Play to regular people. Show finally airs, months and months later, on a Saturday late-night slot.
ONE GUY at work saw that show when it aired.
Guy comes up to me on Monday morning. "So have you ever seen [name of show]"
"No I don't stay up that late."
"It sure looked like you were on that show the other night"
"Couldn't tell you, I don't watch it."
"Pretty sure I saw you on your knees dressed up like a horse."
"The only time you'll see me on my knees is in the Server room trying to fix the Oracle server, bud."
Other than that there was no fall-out, personally or professionally. All in all I'd give it a rating of 6/10 would probably not do again.
I don't know who has more moxie, the people posting or the people who confront the posters. Like, if I found my Christian neighbors engaging in less than Godlike activities while searching for bananas on the web I would be too flabbergasted and embarrassed -for them- to bring it up. Even if I was carrying a grudge against them I'd rather stay quiet. I have enough drama, I don't need to understand theirs.
Let's Swap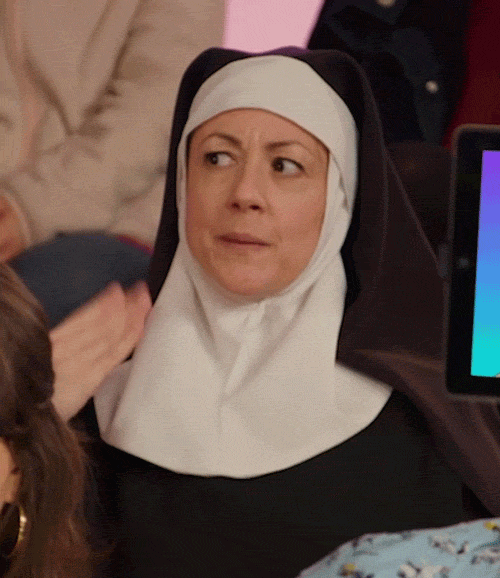 So Excited Reaction GIF by Originals
Giphy
Several years ago, I described a fairly NSFW situation that took place – appropriately enough – at my job.
Someone who used to work at the same place (and who had been present for the event in question) read my account, recognized the details, and reached out to me, intent on confirming that we knew each other.
We wound up swapping a few messages, then wishing one another well.
It was pretty dull, actually... but we both had a good laugh about the situation.
That Pic
Accidentally sent a penis pic to a good female friend of mine that had the same name of the chick I was dating. She asked what the hell I was doing I told her it was a mistake and asked her to delete it. She said she did.
Fast forward a couple months after her and I broke up and I get a pic of my friend in lingerie. I politely ask her what she is doing and she said sent it by mistake. The next day, same thing. After the third day she tells me she didn't send it to me by mistake. We started dating shortly after that. Found out that she saved that pic I sent instead of deleting it.
The Prude Meltdown
I post on a social platform that is for adults and their various kinks. Funniest thing was when my husband and I were dating and started getting serious, he showed me his profile to explain and let me know a bit more about what he was into. I laughed and showed him my profile. Apparently we had both created profiles about a week or two before we met on a different site in a chatroom. Then there was the time at one of my old jobs where my co-workers found out that my husband and I were on there and one person had a prude meltdown freaking out about how terrible and unnatural it was to do various things.
And how dare we have the audacity to even show those things, and try lecturing us about how our marriage was going to fail since we were obviously just using each other for sex and the only way to save our marriage was to have a monogamous traditional relationship where occasional bjs were as kinky as it got. Besides her though, a majority of our co-workers were also on that site but we just ran in different circles.
We were on a break...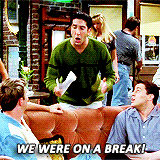 break up GIF
Giphy
I briefly posted on r/gonewild, when my now husband and I were broken up for 7 months. A friend of my husband's saw it, but didn't bring it up until a couple of years later. We all had a good laugh about it. I'm not really shy about people seeing me naked.
Let this all be a life lesson. There is nothing wrong with consenting adults engaging is shocking online adventures. And if that is how you roll, then roll on. Just be really, really, reeeeeeeaaaally sure. The internet sleuths today and of the future will always "out" you.
Want to "know" more? Never miss another big, odd, funny, or heartbreaking moment again. Sign up for the Knowable newsletter here.
Keep reading...
Show less