Do you have a memory from your school years that you can't forget about?
Unfortunately, it's easier to remember bad memories. Especially when something awkward, sad, or unfair happened during our most impressionable years. A lot of adults still remember times when a teacher was unnecessarily mean to them. As children, it's hard to understand what adults are mad about sometimes. But looking back as adults, it is sometimes clear that they were mad at you for no good reason at all.
Redditor u/Cinemacrackers asked, "What's the stupidest reason you got in trouble in school?" and it wasn't hard for people to recall teachers who were jerks to them.
10. Some teachers just react without reasoning
"In seventh grade English class, a classmate looked pretty sad so I asked her how she was doing. No malicious intent, just wondering what was making her so upset but she started sobbing. I apologized and moved on. Later that day, I get pulled from a different class by a math teacher that I've never met before who yelled at me in the hallway making snide remarks about my parents and their parenting capacity. She made me sit in front of the principal's office to 'wait for the principal to talk to me' for four hours, long after the school day has ended. When the principal finally did show up, he had no idea why I was sitting there. Middle school me was too shy to make a fuss about it but in hindsight I should've made a complaint against her. To this day, the girl that I supposedly 'bullied' has no idea why the math teacher flipped out at me."
9. Remember when "sucks" was a bad word?
"For saying my school picture sucked. I had no idea 'sucked' was considered a bad word until I was put in detention for it."
8. Breathing is kind of important for learning
"For using my asthma medication in class. I was told to keep my inhaler in the office, and to use it in there only. I was told it was 'distracting.'
Know what else is distracting? The sounds of someone gasping for air and having to be removed from class."
7. Are paper planes that bad?
"Someone made a paper airplane out of scrap paper that had been binned. My name was written on the sheet they used. I got sent out the room and handed a punishment exercise"
6. Obvious nepotism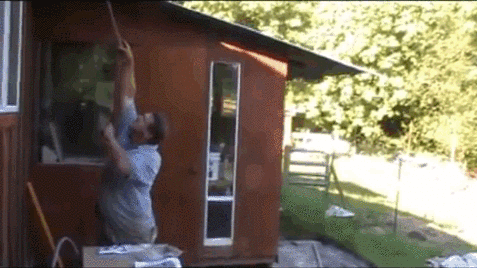 Giphy
"Someone once poked a wasp nest in the school forest, and the whole swarm came out upon the school. The entire school sat detention for an hour. Understandable if you don't know who did it, but that's not the problem. We were sitting detention because the principal's son got stung. As it eventually turned out, it was actually his fault the swarm came down on us.
I have cursed his name since the day I found out."
5. At least the teacher tried to apologize
"In 11th grade I had gotten pink eye in both eyes. I'd never had it before, just thought I was having a reaction to my eye liner or whatever. I was in second period, cooking 101. My teacher kept looking at me funny the entire class. Eventually she asked to talk to me in the hallway. She told me that I needed to go to the nurses office because I was stoned and she could tell by how fascinated I was with the cooking we were doing.
I was so confused and kept trying to tell her I was having some sort of allergic reaction but she wasn't having it and yelled at me, told me to grab my things and go NOW. Pretty much berated me while the whole class could hear and had me so frustrated/embarrassed I was in tears. Walked into the classroom, everyone was staring at me in silence, grabbed my stuff and went to the nurse. One look at me and she confirmed the pink eye. Got to go home and stay home for a few days. I remember my teacher tried to apologize for the incident... class was super awkward after that."
4. This little vampire was shut down
"Chasing someone with a paperclip and saying I am a vampire (was elementary)"
3. This teacher couldn't deal with educational literature
"I checked out a book on African tribes from the library in the fourth grade. I told the teacher about how the book had topless women in it thinking I was helping, she confiscated the book and had me suspended from school."
2. Why are teachers so suspicious of students!?
"I got in trouble for 'cheating' on one of my math exams. The teacher found a piece of paper in my pencil case. I got sent to the principal's office. When the principal asked me about what I wanted to say in my defense, I simply told him to take a look at the note. It turned out to be a shopping list. I was alowed to re-take the exam the following week."
1. This student wouldn't kowtow to their teacher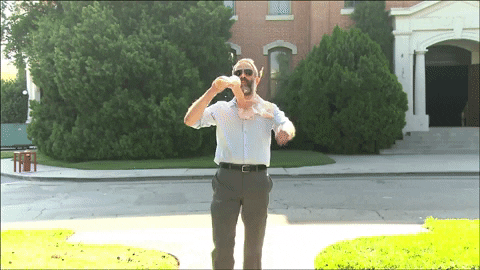 Giphy
"I tripped on a loose tile and bumped into a teacher causing her to spill her coffee on herself. I apologized and showed her the tile.
She went on for months about how I did it on purpose. Even got the principal and my folks involved. For the rest of the year she told me I couldn't come back to her class unless I apologized for doing it on purpose.
Never went back to her class. Though I initially apologized for the incident, I never once apologized for doing it 'on purpose'."
Do you have something to confess to George? Text "Secrets" or "
" to +1 (310) 299-9390 to talk to him about it.

Keep reading...
Show less
Teachers are the first non-familial authority figures that we're introduced to.
Going to school five days a week, six hours a day, means you spend more time at school with teachers than you do with your family. During our twelve or so years of school, we really get to know the people who are teaching us and even may grow to admire some of them. But not every teacher is perfect (or frankly good at their job) and we do meet the worst of teachers sometimes.
Reddiot u/Goblin5456 asked people, "What's the dumbest thing a teacher ever said to you?" and people shared times when their teachers' proved to not be so great.
Do you have something to confess to George? Text "Secrets" or "
" to +1 (310) 299-9390 to talk to him about it.
Keep reading...
Show less
We were warned. Did we listen? Very few of us. They always tell you in life.... pay attention. Learn, because even the most tedious lessons will pay off one day. You just never know when. Who has the patience for "you never know when?" We need to learn patience first, clearly. Some of us stick out the tedium and we do discover that the long haul can be met with abundance. I'm still waiting on using Trigonometry though... that's just the devil's work.
Redditor
u/sommai2555
wanted everyone to fess up so that the later generations know why it's important to play attention by asking....
What is something that you hated learning, but ultimately glad that you did?
Keep reading...
Show less