It would be difficult to get through a single week without encountering a scam of some kind. Be it a phone call, some kind of advertisement, or an internet wild goose chase, they're everywhere.
Luckily, many of them have been publicized and discussed enough that we know how to avoid getting got.
But one time or another, every scam was new and, as a result, probably more successful.
It was with that imagination that Redditor RandallFlagg217 asked:
"What's the greatest scam of all time?"
Some people talked about the scams that take advantage of uniquely important life events or ceremonial rituals.
Dying is Expensive
"Funerals. Charging $10,000+ just to put someone in the ground is crazy." -- DeathSpiral321
"I've told my wife 1,000 times just like put me in a cardboard box that you get from Giant or Target and just get a sharpie and write RIP and have my dog mark his territory on it so no demon dogs will bother it." -- SYLOK_THEAROUSED
The Ring Racket
"Okay - I've been told stories about this and it gets over looked all the time. Engagement Rings. The thing is - it's incredibly easy to get ripped off for a ring that isn't nearly worth the price. It's also easy to get scammed into a 'payment plan' if you know what I mean."
"If you're considering buying a diamond, you need to go to an ACTUAL jeweler, and someone that specializes in it. Please don't go to the mall for it, you could get scammed."
Paying for the Name
"Anything that costs more because 'wedding' is in the description. We asked for an engagement cake (but to use it for a wedding) and it was 1/3 the cost." -- Iwannascream2
Others took "of all time" more literally. They looked back into history to find the greatest schemes ever.
The Godfather of the Con
"That dude who sold the Eiffel Tower twice" -- The_Weirdest_Cu**
"Victor Lustig!"
"I'm pretty sure he sold 'money-duplicating boxes' to rich a**holes too, and then they couldn't go to the authorities when it ended up being a grift because they'd have to admit to a) attempting counterfeit and b) being a total dumba**" -- SlainSigney
Before Scams Were Cool
"The trojan horse" -- CDR_Arima
"Well you see, it wasn't a peace offering at all." -- TymStark
And It All Came Tumbling Down
"Bernie Madoff." -- CuplaThreeThings
"From a financial perspective, easily. I'm an accountant so I'm pretty well studied on Bernie Madoff and that whole thing. Incredible. He beat the market by a good margin basically every year. Your investment was a guaranteed zinger with Madoff. Investment managers at some of the larger retirement firms were going nuts, wondering who his inside source was or where he was getting his information. Some people even thought he was the financial Nostradamus."
"Nobody except a few dissenters who suspected it from the start (and were quickly silenced, naturally, because nobody likes jealousy) even for once thought it could be fraud. And the worst kind of fraud, too. A ponzi scheme? No way."
"Yeah, maybe people on Reddit are like'"oh, boo hoo, a $10 millionaire lost $2 million,' but the truth was, a lot of normal people lost nearly everything they had to him. People who were writing retrieving early, or in retirement taking payments, or people switching their 401k with $500,000 in it to him and watching the fortune they worked for most of their life just go away overnight and remained that way for awhile, even if Madoff eventually gave a bunch of it back." -- betterthanamaster
And a few people remarked about the scams that invade our daily lives over and over and over. You're sure to find these relatable.
Go On, Press It
"The biggest DOWNLOAD link on a website. Getcha every time." -- ReadReadReedRed
"literally uninstalled a barcode scanner app for that exact reason. you scan the barcode, it shows a URL and then below it says 'OPEN' Clicking the URL is what you need and will take you to the barcode address. clicking open will open a fu**ing advertisement." -- rocket___goblin
Monopolies
"inkjet printer cartridges" -- javacoffeecup
"A while back I went to office depot to get ink. I ran out of black and the cyan color. They had a printer on sale that was cheaper than the ink I had to buy. It's crazy" -- JayaParrs
Oh, Well What Are The Chances
"Actually I've been trying to reach you about your car warranty." -- Anonymousgirl_90
"Huh I just listened to a few voicemails about my nonexistent car" -- RandumDoggo
A Fun Scam
"Lotteries" -- CalliCosmos
"Naw, they're just voluntary taxes!" -- zeek0us
"Meh that fleeting 'what if' feeling is worth $3 every once in a while." -- DrCubSker
As time wears on and scammers are forced to devise new methods of conning people out of their cash, there's no knowing just what insane ideas will one day be added to this list of the greatest ever.
Want to "know" more? Never miss another big, odd, funny, or heartbreaking moment again. Sign up for the Knowable newsletter here.
Keep reading...
Show less
Beware the scams. That should be a mantra for everyone. There are so many scams out in the world we have to be ready for.
So many people have figured out ways to fleece the innocent of their money, it's sickening. And a large reason behind the success of the malevolent is gaslighting.
We the people have been swindled by simplicity and delicate conning. Lesson #1: "If it looks too good to be true... IT IS!"
Redditor u/MR_COOL_ICE_ wanted to discuss the ways in which we've witnessed humanity being bamboozled by asking:
What do you consider to be the biggest scam that is completely normalized by society?
A big problem has been the fact that a lot of the dubious doings are in fact, legal. That is why we have to pay attention to the fine print. I wish I had paid closer attention when ordering those CD packages all those moons ago.
Cancelled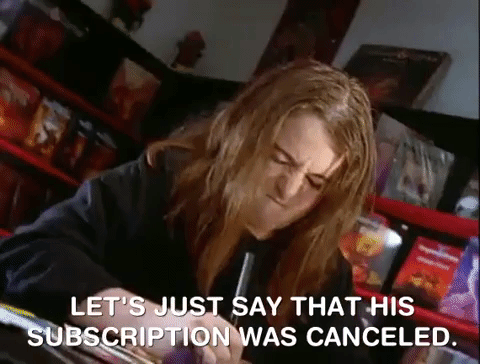 Giphy
"The easy-to-join, difficult-to-cancel subscription model."
"California is actually passing legislation to ban this in the state."
Just add Water...
"Detox drinks."
"You need to detox your body from unnatural chemicals". Every single thing in nature is a chemical Susan. If your liver relied on your juices to metabolize compounds you'd be long dead by now."

In Death
"Funerals. Paying for things like caskets for your loved once when you're at possibly the most emotionally vulnerable that you could be."
"The funeral industry is ridiculous. Parlours deliberately try to sell you more expensive coffins because that's somehow more dignified. They are the worst kind of swindler."
Music Scam
"Ticketmaster. I hate Ticketmaster."
"Bought by Live Nation... Ticketmaster has been owned by Live Nation for just over 12ish years now. Live Nation is the driving force behind all the bullcrap in the last decade. But they get to use TM as a scapegoat to drive best away from them."
Thieves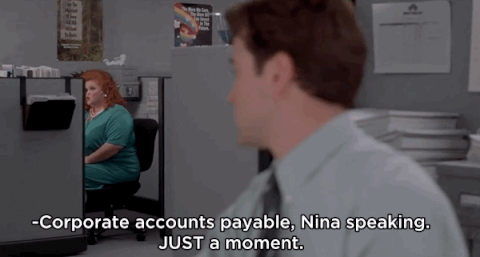 office space nina GIF
Giphy
"Companies not disclosing salaries on job listings and encouraging staff not to discuss pay. It only benefits the employer, but everyone goes long with it."
- R1ven36
Who knew death could be a con job? Tragic isn't it? Why does it cost that much money to bid farewell to a loved one? And now that I think about it, what the vet charges for animal cremation is also a swindle.
Hot Wheels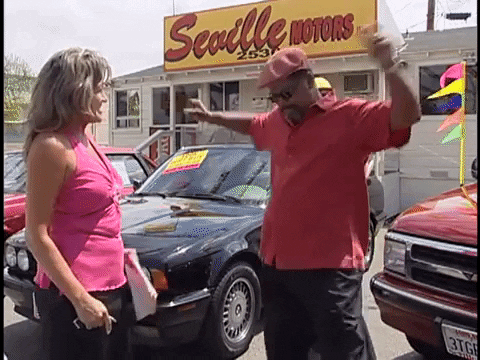 Car Sales Dance GIF by Quickpage
Giphy
"The way we buy cars in general (with some exceptions)."
"Good lord, yes. Forget this nonsense of negotiating; what is this, a bazaar on the silk road? Just freaking give me a take it or leave it price, and either I'll buy it or I won't."
Inked
"Printer ink. Every single company that sells printers sells them at a loss. They then make up their profits my making their ink cost an arm and a leg. They even put special chips on each cartridge that will tell the printer not to work if it has been refilled."
Lives on the Line
"Insulin prices in USA."
"I did a research project for my science class, and learnt that the man who discovered insulin didn't patent it, because he wanted everyone who needed it to have it."
Death Industry
"The funeral industry. You have to spend thousands of dollars to get rid of a body because otherwise you're "disrespecting" it. My parents have told me "whatever is the cheapest way to dispose of the body, do that, and then invite the friends to a party to remember us."
"That's exactly how I feel. Would be happy to donate any organs if they're viable, and/or become a medical cadaver, but then just dispose of the corpse as medical waste. If you find this disgusting or disrespectful, that's because preserving a corpse with toxic embalming fluid and then putting it in a concrete vault under the ground has been, as in the question, "normalized by society."
Environmental Lies...
"The majority of plastic "recycling" in the US. Not only did corporations pass off the burden of dealing with it to the consumer while they just produce more and more every year, the majority of plastic beyond pop bottles isn't even actually recyclable and will end up being shipped to small South Asian countries where it will be burned. Its a huge scam. Metal and glass recycling still kind of works in some areas but where fresh water is scarce everything is net negative environmentally speaking, even paper."
"Please do your best to conserve, reduce, and do what makes sense environmentally for your specific region. Sometimes the best thing you can do is to conserve fresh water. The environmental costs of the impending/upcoming fresh water shortage in parts of the world will far outweigh any impacts from lack of recycling."

Gotcha...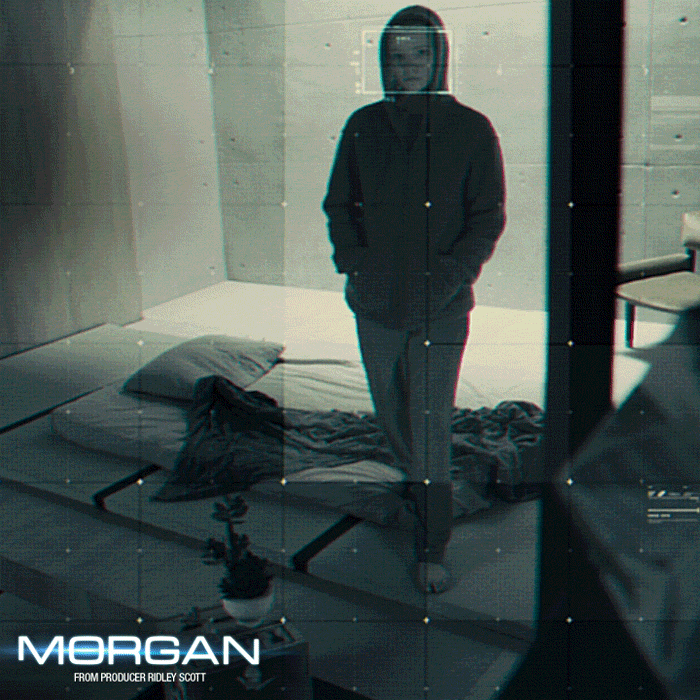 face scanning GIF by 20th Century Fox Home Entertainment
Giphy
"All this tracking happening with everything on the internet. Social networks, ads, our banks, our phones with all those sensors. Everything is tracking us and collects information about us and they use it in some spooky ways."
"Either way I'd be happier if I at least could have more control over it or even maybe could make money from the data about me myself. When you really see how deep this goes it kinda feels like something from 1984. Oh and also the ever growing attempts of companies to go against ownership and to keep control over everything even after we buy it."
When money is involved, pay closer attention. There are ways to swindle the swindlers. Haggling is an art, take a lesson. That's the best advice I got.
Want to "know" more? Never miss another big, odd, funny, or heartbreaking moment again. Sign up for the Knowable newsletter here.

Keep reading...
Show less
Beware the scams. They are everywhere, especially on the internet these days. We've all done it, we've been a bit naive and made a purchase or participated in an investment that went nowhere. And in hindsight was really too good to be true. Normally, we know it's too good to be true. In our gut we feel it. Go with your gut is the lesson of life.
Redditor
u/thatdrunkchef
wanted to hear from everyone out there about the times our judgement was definitely off by asking...
What was the biggest scam you ever fell for?
Three months ago I ordered a fabulous, over-the-top, dramatic robe to just lay about the house in. It was seventy percent off, so of course, I bought two. And where is it? Who knows? They keep telling me the order has been shipped. Then they have the audacity to thank me for my purchase. I want my stuff, or my money! I knew it seemed shady.
Student Debt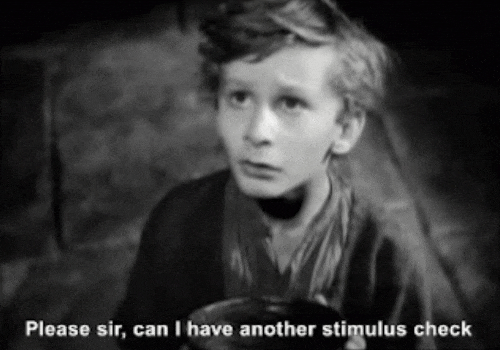 Charles Dickens Money GIF by INTO ACTION
Giphy
There was a company advertising that they would help people wipe out predatory student loans. Long story short I blew $800 on a company that got shut down by the Gov't for fraudulent practices and was denied a refund.
What's Up Doc?
Spent $250 on Talkspace (got $200 back because I demanded a redund). They (their therapists) waste a week of your time to reply once and reply with a canned response of, "oh that sounds stressful, how is your sleep schedule?" I cannot stress enough how much of a waste of time and money that crap was.
being 20 in London...
These people called me with one of HMRC numbers telling me I didn't pay some taxes, saying they sent lots of letters to my old address to which I never responded.
I didn't know they could make me see the number they wanted. After a quick check on the government website I saw that the number was the same and I believed them. I was 20 yo and living in London on my own. I gave them 1000£ and never felt so stupid in my life.
The Download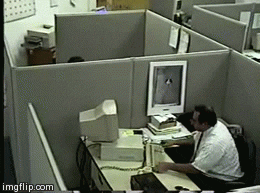 angry man GIF
Giphy
I downloaded all the cool new mouse cursors and my parent's computer was never the same again.
Edit: To those asking/lending a helping hand, this was before even the word "iPod" existed.
Losing Pennies
Not too bad I lost 35 bucks. I fell for those stores on Instagram.
I was just getting on it so I didn't know most were scam stores. Because I followed some small retailers that I already bought from.
I thought it was the same thing. Website was or looked legit but I never got my boots.
Smart too because I got it from them because they were 15 bucks cheaper. Not some crazy amount that made you question it.
Luckily I paid with PayPal. It could've been worse if they had my credit card information.
Yeah see, we all have to be a bit smarter when shelling out our coins. Think longer and harder. And don't get me started on the scam that is student loans in general...
The Who's Who Debacle
When I was in high school (early '70s), my English teacher announced that a publisher was having a poetry contest, and the best entries would appear in a poetry journal. Several of us in class submitted our work and anxiously awaited the results.
Surprise! ALL our entries were accepted -- the good ones and the really bad ones. At first we were ecstatic. Then we found out that each of us had to pay to get a copy of the journal. What a scam. Even our English teacher got snookered.
The Who's Who publications worked the same way.
In Yen
I wouldn't say I fell for it but while walking around Tokyo I was stopped by this monk who explained that he was traveling the country on foot and asked for a monetary donation. When it was clear I'd help him out, he pulls out a money book and shows me what people generally give him and to write my name down next to them along with the money amount. It was full of big numbers clearly going into the hundreds and thousands of dollars. It's implied that I should match those donations otherwise I'm clearly not a good person.
Realized it was an immediate scam, and a very obvious one.
He then waits for me to pay up and I gave him the equivalent of $5. 500 yen. He kinda looked at me like I just insulted him and I walked away. I checked google later that night and apparently he was a well known scammer in the area. Made a topic about it at the time and seems I'm not the only person
https://www.japan-guide.com/forum/quereadisplay.html?0+118849.
Backstabber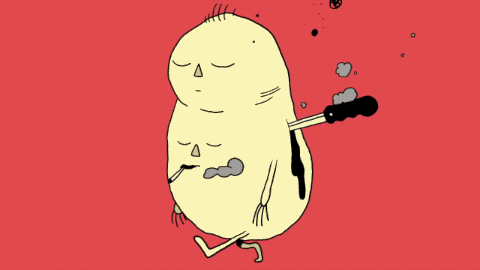 Mom And Pop Music Smoking GIF by DMA'S
Giphy
My former best friend and his dad cheated me out of my money to invest in their company. When I asked for a contract, his dad said, "Between true friends, words aren't necessary."
When they started making money, I asked for my money back, and they said they didn't owe me a thing.
After Dad
Right after my dad died I got a call from a number I didn't know. They left a voice mail saying they needed my social security number so they could pay out a life insurance policy to me. I was 21 and super inexperienced with stuff like this. So I did what any real adult would do.
I asked my mom for advice.
She told me it was legit and to give them my SS number. I had a weird feeling about it but if my mom said it was ok then it must be ok. I did it. I called back and gave the guy that answered my SS number.
I never got a check but my mom suddenly did from a policy my dad "forgot" to take her off of even though they had been divorced years before. She did give my 10k but I'm 100% positive it was worth way more and she had something to do with it all. We don't talk anymore for various reasons including this one.
Thanks for Listening...
Money Win GIF by InternetBeta
Giphy
I went to buy a Rolling Stones ticket from a scalper years ago (i know, i know) and he talked me into a VIP Backstage Pass. He said that's all I need! Free food, booze, all the perks. He insisted the sticker was all I needed to get in, no paper ticket necessary.
So a few hours later I go to the show, obviously can't get in - it was a VIP pass from the night before. There was no date on it, just a different shape.
I try every single gate hoping someone won't notice/not care and finally try the media entrance. The nice lady ushered me right in, I took an elevator up to the main concourse and I was free as a bird. I didn't have a seat obviously but I snuck down to the floor and ended up having a great show.
Still feel burned by the stupid idiot to this day tho. I've seen him at other shows (nice neck tattoo of a fish, you freakin' jerk) and I always mess with him.
Thanks for listening.
What have we learned? Trust nothing and no one. Ok, that's dramatic, but definitely trust a little bit less. And if someone can help me get my robes I'd be eternally grateful.
Want to "know" more? Never miss another big, odd, funny, or heartbreaking moment again. Sign up for the Knowable newsletter here.

Keep reading...
Show less
As much as I'd love to sit here and paint a picture of a world populated by 100% honest people who would never take advantage of others, I simply can't do that.
The unfortunate truth is that you need to have you head on a swivel out there.
Muggings, scams, crooked cops, and exploitation of the vulnerable are happening all over the place all the time. And if you prefer to stay out of the cross-hairs, you'll need to know how to protect yourself.
Lucky for us, some Redditors offered their best tips to help prevent yourself from becoming the victim.
[deleted] asked, "What are the best 'street smart' tips you can give?"
Mugging was a popular area of commentary in the thread. There are so many minute behaviors you can incorporate into your night walk home that could really save your butt someday.
Keep Those Eyes Moving 
"Situational awareness. Look up the OODA loop and learn it. Notice who stands out, who looks out of place."
"If you get a bad feeling about a situation or person DO NOT ignore it. Know your exits. Even if you have a weapon yourself, getting out without having to fight is best."
-- TheBklynGuy
A List of Tips 
"Windows are mirrors, use them to see who's behind you. Act like you know where you're going. Swing wide around corners. Don't show off anything you're not willing to lose."
"The nicer you look, the bigger of a mark you become - look like you've got nothing and people will assume you've got nothing. Stay focused on the sound of your footsteps and you'll hear nearby footsteps too."
"I lived in an area where people get mugged regularly."
Eliminating one of Your Senses
"DO NOT WEAR HEADPHONES!!!"
"You make yourself an easy target by making it so even the most clod footed mugger can sneak up on you."
-- LinuxPariah
Be Prepared 
"Don't fumble through your pockets."
"If you think your being followed go into a store calmly and chat with the workers."
"Carry a loose dollar bill or two if your someone that likes to give money to people. Less likely to target the dude that handed a single dollar than the guy who pulled a dollar out of a wallet full of 20's"
-- Spawn95
Others offered tips regarding more communal environments than the lonely, defenseless walk home. These tips had a lot to do with nights out, bar behavior, and a general skepticism of other people's motivations.
The Bait and Switch
"Be weary of women who approach you at a bar and immediately try and get you to go to another bar."
"Those people are called 'pullers' and they are paid to do it."
All About Context 
"Surround yourself with people who make you feel safe. There's a difference between feeling comfortable and feeling safe. You could be comfortable with strangers— maybe you just met them and they're nice."
"You might not be safe around those people, i.e. would those people help you if someone had a gun to your head, or run for their own safety? Find the people who you know would take a punch to keep you safe."
You Know 
"Trust your gut. Your subconscious can notice details your conscious mind doesn't."
"Don't be afraid of making a scene to keep yourself safe."
-- Choko_Emiko
Finally, some imparted wisdom that might be helpful if you find yourself brushing against law and order. The overarching theme? Don't shoot yourself in the foot.
Pipe Down 
"If you get arrested, shut the fu** up. Ask for a lawyer and then shut the fu** up. And when a lawyer shows up, shut the fu** up." -- inkseep1
"Listen to this guy here, he knows what he's doin." -- IAMAZNGI
Keep It Cool 
"Cops will take the side of anyone that speaks calmly every time no matter the circumstances." -- NicNac_PattyMac
"Yes, officer. You see.. I am quite aware there is blood all over me and a knife in my hand. It may look like I murdered this young gentleman and my wife sleeping in our bed, but on the contrary, I very much just arrived to find them butchered by some stranger...it is quite the pickle we are in, but I assure you that I had nothing to do with this" -- seuche23
Don't Stack 
"Never break two laws at the same time."
"If you got illegal stuff on you in the car, don't speed. And so on."
Hopefully you'll note these tips--if you haven't already--and someday prevent a true calamity from ever striking.
Want to "know" more? Never miss another big, odd, funny, or heartbreaking moment again. Sign up for the Knowable newsletter here.
I truly think that to become a parent, you need to take some sort of class or pass a test first. So many parents make the dumbest mistakes, and unfortunately, the kids of those parents sometimes pass that stupidity down to their own kids. The circle of life. However, there are kids out there that are there to stop the parents in their tracks
Here are some crazy, stupid stories from the sons and daughters of Reddit. Enjoy it, or at least try not to cringe.
U/Bac0nLegs asked: What's the dumbest thing you had to convince your parent NOT to do?

​First off are the things that are just plane unsafe. These parents are lucky they didn't get hurt.
Nooooooo.
My dad texted me a few months ago and said that he found mushrooms in his back yard, and that they were magic mushrooms because when he bruised them, the flesh turned blue. That obviously meant that they were safe. He used to do a ton of drugs when he was young.
I quickly told him not to do that, Googled an article about mushrooms, and sent it to him straight away.
I had to convince my 68-year-old father to not consume strange blue mushrooms in his backyard because then he would f*cking die.
You'll shoot your eye out!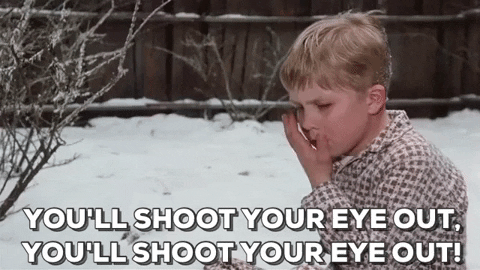 A Christmas Story GIF by filmeditor
Giphy
I love my dad, but he is not safe with bb guns. He looked down the barrel of one once when it was cocked and loaded.
Just last week I had to lecture my 60 yr old father after he took his new little handheld pellet gun and shot at the stop sign, ended up hitting the neighbors house. Thank goodness it didn't hit a window but still, you cannot go to the road, point a black hand gun at someone's home, fire and expect no one to be upset! I don't care if it's just a pellet gun! He's so lucky they didn't see and call the cops. I hate to say it but it's white privilege at its best.
People Break Down The Best Loophole They've Ever Exploited
Please go to the hospital!
Not to stay home and not go to the hospital after falling on the ice and getting knocked out for a couple hours.
"But I don't have insurance!" she complained, as her main reason. Mom, you should have insurance. At your age? Yeah, you need insurance.
I really can't convince her to go to the hospital in general if she has a medical issue that needs to be checked out. It's a 10-minute drive from her house and yet I can't convince her to go into her car and drive herself there. It's kind of sad, since many other people have to make the same decision: go see the doc and pay tons of money, or live with the affliction because you can't afford it?
​It's amazing how often older people get scammed. Luckily, they have their kids to save them.
Stay away from MLMs and pyramid schemes!!!
I have TWICE had to talk my dad into not giving money to a pyramid scheme. He's not a dumb man, he just gets really desperate and hopeful. There's nothing sadder than having to poke holes in an old man's dream.
I was able to stop my mom from investing in the preacher's investment vehicles once but as soon as I moved away he scammed her out of 12k. He sold her on a stupid "inspired" selection of funds that went tits up within 8 months. Church preachers are super predatory people and I still don't understand how my mom could believe that a man who had no financial literacy or college education and was "reformed" meth addict was trustworthy.
We need Kitboga...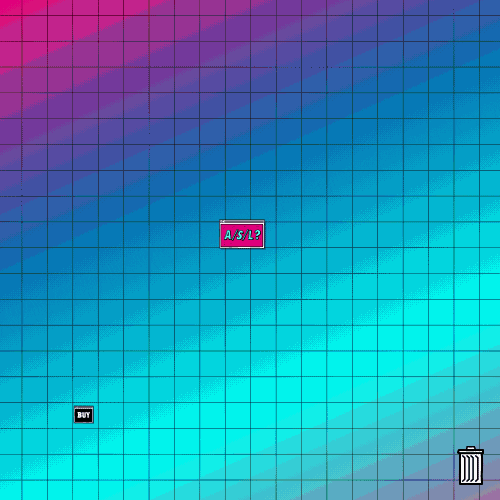 internet asl GIF by Wet Cement
Giphy
I walked in as my dad was on the phone with someone after his computer got that stupid pop up that he had a virus and needed to call someone to fix it over the phone. I'm honestly terrified of how susceptible my parents seem to be to scammers.
My mom's friend did this. It said she had a virus and to call the number. She called and they told her for a mere $400 she could get year long virus protection on her computer. She paid with her credit card. My mom thinks she had doubts right after paying and that's why she called her. She bragged about the new awesome virus protection she'd gotten. My mom told her it was a scam and that she needed to call her credit card company. She didn't believe her. She called more friends, one who was a computer expert, and they all told her it was a scam. She admitted her mistake and called her credit card company. She's normally very smart but not with computers. Unfortunately, she died of Covid this year. No one is sure how she got it.
That is absolutely insane.
My bio dad almost handed over his patent rights to a woman who is conning him $300+ a month for spiritual advice. She's seriously wanted him to sign a contract where she would receive royalties from him for guidance counseling. To break the contract she could choose the gross profit of any 3 months and he would be required to pay 25x that amount. It took the entire family threatening to disavow him if he continued to speak with that woman for him to finally break ties.
Thank goodness his kid is there to protect him.
I had to cry and beg my father not to let his thieving "girlfriend" move in with him. At the time I didn't know she'd literally stolen from him (although he DID know.) I thought she was just a constant source of stress, who he kept giving money to for various outlandish "emergencies."
Later, he admitted that she'd stolen valuable items from his house. Eventually, he wised up and filed charges. He's in a much better place now.
​And of course, sometimes we have to prevent our parents from making the dumbest life decisions.
It's high school romance all over again.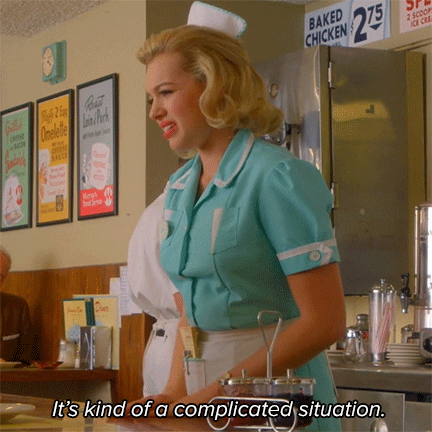 Confused Cbs GIF by Paramount+
Giphy
Updating their relationship Facebook status to "It's complicated" anytime they would fight over something as little as what to order for dinner.
And then when people ask about it they're like "I don't want to talk about it, please respect my privacy".
Bad idea.
Elderly mother with Crohn's disease, also very religious, had to convince her not to resume fasting for Lent after she had intestinal issues from something that she did eat... she's 85, it's not an obligation to fast at her age and in her condition. Oi yoi yoi.
Beyond forgiveness.
Had to convince my dad that cheating on my mom for the second time was a bad idea. Came downstairs to hear him talking on the phone in the living room and saying things along the lines of "well it'd just be nice to have someone to spend time with".
He heard me come downstairs and decided to take the phone call outside. The dumb*ss thought that he'd be out a earshot just by closing the screen door to our patio. That sh*t ignited a flame within me so I just sat there at our kitchen table for him to come back inside. Once he did so, I simply asked him, "What in the f*ck was that?"
To which he had the audacity to act as if I was the a**hole for calling him out. He then spent the next ten minutes trying to justify his actions. Needless to say that I've lost a lot of respect for my father, especially when he tries to portray himself as a man of God. There's no forgiveness for something like that. I made the mistake of forgiving him the first time he cheated on my mother, but luckily I caught him before he tried to do it again.
It's insane how susceptible the older generations can be to things like this. Sometimes it's the kids that have to teach the parents, rather than the other way around.
This is definitely a universal experience. Luckily, they have us to make sure they don't get scammed or hurt.
Keep reading...
Show less