Do all mothers go to the say mom school or something? Because they seem to share the same advice or go on the same platitudes, don't they?
Here's an idea.
Maybe they're just older, have more experience, and are trying to keep us from being dumbasses in public. At least, that's what I think.
I'm definitely grateful for my mother's advice—it's saved me more than once—and it seems many out there are too. And they all seem to have heard the same things from their mothers, too.
Any of these sound familiar? They probably do, and we heard all about them after Redditor lame_excuses asked the online community,
"What are some things all moms say?"
"I'll go first..."
"I'll go first: 'So if your friend jumped off a cliff would you jump off too?"
lame_excuses
Okay, my mother did not say this, but all my friends' mothers did.
"We have fun."
"My mom always made me put on a coat when we went outside, even if I wasn't cold, simply because she was cold."
"Now that I'm an adult, she no longer tells me this but instead I complain about being cold and ask, indignantly, why no one told me to put in a coat."
"We have fun."
Louis_Louise
I want a documentary crew to follow you both around. It'd be hilarious.
"I credit George Carlin for all of these."
"When you lose something."
Have you tried looking for it?
Have you looked everywhere?
Well, it didn't just get up and walk away.
"I credit George Carlin for all of these."
Mahaloth
George Carlin knew what he was talking about. RIP.
"You know Glynis? She's your aunt's mother-in-law's close friend. Anyway, she died last week."
VanderlyleNovember
"I have eyes..."
"I have eyes in the back of my head."
"My mom used to say that to my sister and I so we wouldn't be sneaky behind her back. One day she was washing the dishes and I came up behind her with my two fingers and poked her right where I assumed her back eyes would be. She shouted, 'Ouch!' I believed her for years!!"
vkyklynn
I was convinced of this too! Damn, my mother was good.
"I had some friends over..."
"I had some friends over when I was a teenager, and I bet them I could get my mom to say the word 'food.'"
"Hey, mom, what's for dinner?"
"Worked every time."
jcpmojo
You both clearly planned this!
"When at the billing counter..."
"When at the billing counter every mom has the maternal instinct to say - 'Just stay in the line, I need to go grab a few more things.'"
AlertMongoose2021
This is my mother.
Oh God.
How many times have I dealt with this?!
"It's because..."
"It's because you didn't drink enough water."
beautifullydamaged_
"If you have siblings..."
"If you have other siblings and they're trying to yell at you they will call you by all your other siblings' names before they get to yours. Usually starting with the oldest and working their way backwards."
Trex_N_Truex
Good thing my family was small!
"My Mum used to use it all the time..."
"'Soon.'" An indeterminate time frame from 5 minutes to several hours. My Mum used to use it all the time to deflect stupid questions like 'When is dinner?'"
"Answer: she always, always served it around 6 pm."
zerbey
It's true! My mother would do this – and still does this. And we definitely don't eat as early as that!
Confirmed: All mothers meet for the annual mother convention to say all–and I do mean ALL–of these things to their kids.
Anything missing, though? Feel free to tell us more in the comments below!
Want to "know" more?
Sign up for the Knowable newsletter here.
Never miss another big, odd, funny, or heartbreaking moment again.
Keep reading...
Show less
There are few things more annoying in conversation than people who say the words, "That's just my opinion!"
Let me be perfectly clear: opinions need to be based on fact and actual experience. Reading conspiracy theories online and spending time on a dark corner of YouTube doesn't make you an "expert." Not now... not ever.
When I hear someone say the words, "That's just my opinion!" I mentally brace myself because I just know what I'm about to hear is going to be ridiculous.
People told us all about the phrases that bother the hell out of them after Redditor SpankBankManager asked the online community,
"What phrases do you wish people would stop using?"
"I'm a teacher."
"I'm a teacher. The next admin that calls us 'rockstars' or 'superheroes' is getting punched in the face."
Polloco
That must be very grating, especially during the pandemic!
"At any sort of conference..."
"At any sort of conference/gathering/presentation: 'How're you all doing today?!? C'mon, I know you can answer louder than that! HOW ARE YOU ALL DOING TODAY?!'"
"Instant resentment every time."

avokato_
I concur.
I attended a conference once where the main speaker did this several times in the span of thirty minutes as he announced different initiatives.
Such a headache.
"I really hate..."
"I really hate it when people say "no offense". It usually means they are going to say something offensive but use it so they can't get criticized for it. Also When People Use A Capital Letter For Literally Every Word."
Berrend69
They might say they meant no offense but that's never actually the case. Oh, they definitely meant it.
"The sudden popularity..."
"The sudden popularity (and therefore overuse) of the term gaslighting. What used to be a somewhat obscure reference is now everywhere, especially here on Reddit."
twizzlerbreath
I can see how this can get annoying. Words do have meanings and those meanings can be diluted over time.
"The more appropriate thing to say..."
"Someone saying to a teenager, 'These are the best years of your life!' I am in my mid-40s now and most people my age remember high school as horrible and awkward."
"The more appropriate thing to say is, "Hang in there kid! I promise life gets better. Just get through adolescence the best you can."
mkmhyk
I definitely don't miss high school and resented anyone who told me I would.
"Now when I hear it..."
"Only good vibes here."
"I have an uncle who always says this. It used to crush me because he was the only other adult I could talk to when things were bad at home. We couldn't come to him with bad news ever."
"Now when I hear it it's just toxic BS."
Nspired1
It IS toxic BS. When you hear stuff like that, you know you can't share anything openly or honestly.
"When my manager says..."
"When my manager says, 'I can't control what the night shift does.' Every day I walk into a mess from them and every day nothing gets done about it."
BostonStrongCQB241
Why can't people just take responsibility for their own work? When they don't, it definitely affects other people.
"By this metric..."
"Everyone is entitled to their own opinion."
"By my best understanding, an opinion needs to be founded on both experience and knowledge; a blind person cannot have the opinion that the sky is red."
"By this metric, some people's thoughts don't even qualify as opinions to me."
SMOGGIE
What's that saying?
You're entitled to your own opinion. Not your own facts.
"It's almost always used..."
"Everything happens for a reason."
"It's almost always used at a time where it offers no comfort. Someone unexpectedly dies, a child gets cancer, etc. There is no bigger profound "reason" for their suffering that is going to negate the pain/grief."
yabunsandthighs
Few sayings are as callous as this one. And people just say it without thinking!
"The word 'hack' in general - it meant getting a system to do something it wasn't designed to do. It might have been good or evil, it might have been clever or dirty, but whatever it was it was still a hack."
"Then the media got hold of it..."
"Guessing someone's password is not a hack."
The misuse of the word "hack" has long entered common parlance. And don't get me started on "life hack."
Well, going through all of these was annoying as hell. I'm having flashbacks to every single time someone said any of these to my face.
Have some phrases you hate? Feel free to tell us more in the comments below!
Want to "know" more?
Sign up for the Knowable newsletter here.
Never miss another big, odd, funny, or heartbreaking moment again.
Keep reading...
Show less
Please try not to be too salty when you reach the end of this article and realize how many times these "common sayings" have been chopped up and taken out of context so they can be used to manipulate you.
Keep reading...
Show less
Most languages come with a lot of weird idioms and sayings. Where they began, no one really knows. Yet they're passed down from generation to generation, and many times the people who say it don't actually know what it means.
These can get super confusing. I would say to not think too hard about it, but this is Reddit after all. Bubbrub13 asked:
What's a popular saying you don't really understand?
​These next few sayings really don't make sense when it comes to what they actually mean.
The explanation makes a lot more sense.
"When someone has a "laundry list" of things to do. With the implication that there is a lot to do.
Who has ever made a list of their laundry?"
"The idiom comes from the advent of laundry services. Basically, before people had washing machines in their houses, you'd ship your clothes off to the laundry service to have them washed and folded.
You'd include a list so that you knew what they gave them. Nowadays you still see laundry lists in fancy hotels!"
Sometimes the full saying gets shortened over the years.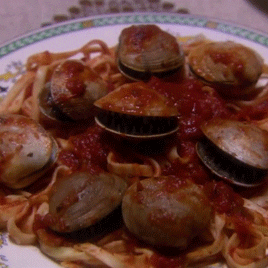 clam GIFGiphy
"Happy as a clam.
Why are clams happy?"
"The full phrase is 'happy as a clam at high tide'. Because at low tide a person with a shovel can cause the clam to become soup."
​You really need the whole phrase for it to make sense.
"The proof is in the pudding."
"It's a shortened version of the phrase.
The proof of the pudding is in the eating.
Or in other words to know how good some things are, you have to try them.
(source- NPR)"
Hardcore, indeed.
"'The whole nine yards'. I know what it means, but don't grasp where the meaning originated. I have been told that it refers to making of a nice dress or a wedding dress, which would use the entire nine yards in a bolt of fabric. But that's just apocryphal. And does the term have any relation to the phrase 'dressing to the nines?'"
"It's from World War 2. Specifically refers to the length of ammo chains on aircraft were 27 feet long. So if you fired all bullets at a target, you gave them the full 9 yards.
source- pretty sure I heard Dan Carlin mention it in Hardcore History"
So far, it seems like a lot of these come from way back when, during times where they made a lot more sense. But these next few are the real head scratchers.
I don't get this one either.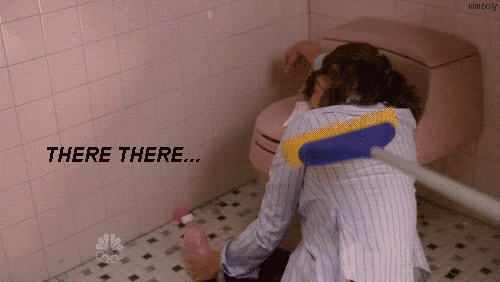 Comforting 30 Rock GIF
Giphy
"'There, there.'
I understand it's said when consoling someone in pain, distraught or just plain sad. Letting them know you are there. What I don't understand is the use of the word 'there', twice.
I'd understand consoling with 'I'm here, I'm here'.
I'd understand consoling with 'it's going to be ok, it's going to be ok'.
But...there...said twice? What does it mean?"
This one means the opposite of what you think it does.
"'Got my work cut out for me.'
I've been told that this means that your task/job will be difficult. It sounds like it should mean that your work will be easier to do. I don't get it."
"Yeah, the original meaning was from tailoring clothes, where the material would literally be cut out and prepared ahead of time, and then you have 'your work cut out for you'.
So it means you have work ready to go and clearly you'll be busy and not just sitting around waiting for stuff to happen, but it doesn't necessarily imply that the work is especially hard.
But for most people having work in the backlog is arduous enough that it carries some implied difficulty, which then gets attached as a connotation to the saying."
No worries.​
"'I slept like a baby.'
It understand it is supposed to mean that you slept well, but almost very baby I have ever been around wakes up crying every couple hours."
"It means you slept without worries as babies don't have to worry about anything. For us that translates to a better sleep because of less stress."
I have been saying so many of these without even knowing where they came from.
Well that's awkward.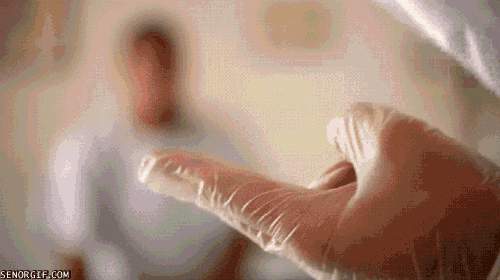 Glove Penetration GIF
Giphy
"A friend is a phlebotomist (they're the ones who draw your blood when you get LA work done). She had a staff member who was not a native English speaker.
My friend was walking from her office to the waiting room when she overheard the staff member with a patient. My friend's eyes widened and she asked the staff member to come to her office after the client left. Here's their conversation.
F--Friend S--Staff Member
F: So I heard you chatting with your patient before the draw. What were you chatting about?
S: Well, I told him to have a seat. Then after he confirmed his name and blood work I told him I had to grab a new latex glove because one was torn, so I told him I'd be right with him.
F: Yes, but what did you say exactly?
S: Oh! No glove no love!
F: (trying desperately to contain a grin) And do you know what 'No glove no love means'?
S: Yess...
F: Well, what do YOU think it means?
My friend spent the next few minutes explaining that the phrase means 'no condom, no sex', to the absolute terror of her staff member.
S: But..but...I say that to EVERYBODY. OH MY GOD.
aaaaannnnd scene."
Very different from its actual meaning.
"'Pull yourself up by the bootstraps' is used to mean you should put the work in and get things done despite hardships, but originally it was used to describe an impossible task.
"That one bugs me the most, it literally means you cannot accomplish this alone, you need help from others and it has gotten co-opted to mean you just have to try harder.
Now granted the people saying this don't usually want those they are saying it to, to actually succeed."
On accident or on purpose?
"'On accident' as in 'I did that thing on accident'
For my entire 50 years, it's always been 'by accident' but now all of a sudden I am hearing people say 'on accident' and it makes no sense grammatically at all."
"Most likely formed based on analogy with the opposite adverbial 'on purpose'."
Well I definitely learned a thing or two today. It's interesting how we go about saying all of these phrases, without actually knowing what they mean.
Now if you'll excuse me, I'm going to go and try to sleep like a baby.​
Keep reading...
Show less
In grade school, a handful of us were discussing where some of our relatives lived outside of California.
When a classmate mentioned having relatives in New Mexico, an eavesdropper genuinely asked:
Keep reading...
Show less