Veteran parents everywhere share with new parents and caregivers the universal truth:
"If your children are being quiet, worry, because they're probably getting into something they shouldn't."
And last week, one mom from Oregon would surely like to add:
"Especially if you live in a 1920's-style home with vents in the floor."
Wednesday, January 15, 2020 was a typical day in the Reedy household, when mom, Saydie Reedy, decided to go into the kitchen to wash some dishes while her two sons played.
All was fine at first, until she noticed her sons had been too mysteriously quiet for several minutes.
But when her three-year-old son, Jackson, came into the kitchen, trying to explain something to her, she knew it was time to investigate.
Reedy said:
"My oldest came running to me calmly saying, 'Baby in.' He has apraxia, which is a speech disorder and doesn't communicate well."
While searching the house for her ten-month-old baby boy, Kolson, Reedy noticed that the doors to one of the floor vents was open, which her son, Jackson, also gestured to. She couldn't see Kolson in there, but after not being able to find him anywhere else in the house, she became worried he must have somehow fallen down in there.
Reedy said:
"I couldn't hear him in there, but he was nowhere else to be found so I quickly called 911 panicking."
Just minutes later, a team of Coburg police officers and fire fighters arrived and teamed up to rescue the ten-month-old from the vent. It was a combined effort that involved getting into the crawl space under the house and manipulating the vent from the hallway.
Reedy said:
"An officer stripped to pants and T-shirt and went under the house. He shoved my son back up the vent, where another officer was waiting to grab him."
Other than having a few small scratches and being extremely dirty and a little grumpy, ten-month-old Kolson was completely fine and unharmed, despite slipping through the vent and falling eight feet beneath the house.
Reedy recalled:
"[Kolson] didn't break character once. When the officer lifted him up out of the crawlspace and handed him up, the first thing he did was glare at the officer."
You can view more information about this story here:
The next day, Reedy shared in the "I Love Coburg, Oregon!" Facebook group an account of her scary experience.
The mom profusely thanked the police department and the fire department for their quick and seamless response and for rescuing her son.

Reedy also decided to take Kolson to the police department for a quick visit, as a thank you for rescuing him. Reedy took a picture of the police officer who pulled him out of the vent—identified as Kevin Wilson—holding an inquisitive Kolson.
The police department later shared Reedy's post and captioned it:
"CPD got a little visitor. We're thankful our officers and our partners at Coburg Fire District were at the right place at the right time."
Reedy admitted she was worried when she first called in with the strange situation, but she has since received many positive responses.
Some shared their own strange predicaments they experienced with their children.

Saydie Jade Reedy / Facebook

Saydie Jade Reedy / Facebook

Saydie Jade Reedy / Facebook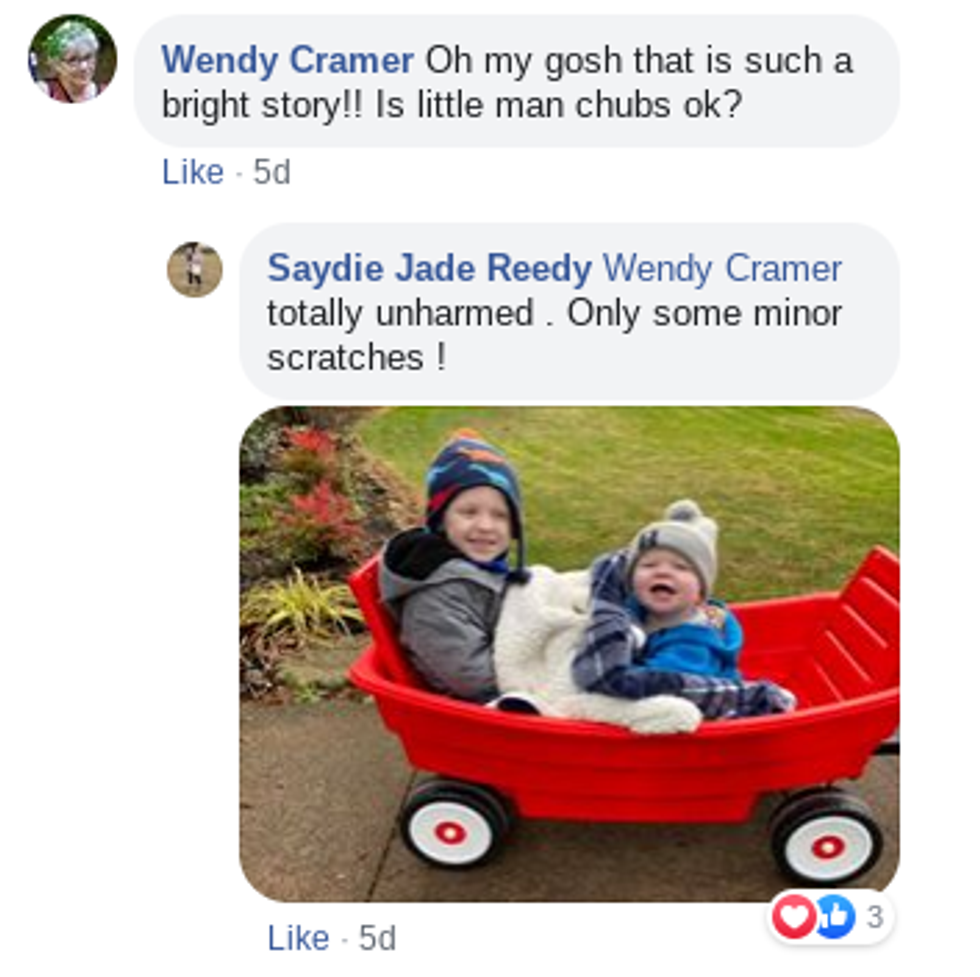 Saydie Jade Reedy / Facebook
In parenting, there's always a first time for everything, and in this case, this situation was also a first for the Coburg police department and fire department.

But after thinking fast, on Reedy's and the team's part, little Kolson may have been a little too curious for his own good, but he ventured out perfectly fine.
Keep reading...
Show less