Religion is not that hard, people.
Attend whatever service you feel is right, take the lessons to learn how to better yourself, and then use those lessons to better yourself. That's it.
It's when religious people start policing the world that problems tend to arise. Satan isn't everywhere, regardless of what some of these people might think.

Reddit user, Dreammare56, wanted to know when someone's values crossed the line when they asked:
"Whats the stupidest thing you ever seen a religious person call "satanic"?"
You wouldn't expect your food to be accused of being a satanist, but, this is the world we live in.
Lost In Translation
"Godzilla" because god's name shouldn't be used like that. Told his kids there was a spelling error and it's actually called "Goodzilla"- Odoacker
Everyone Knows Satan Isn't A Scorpio
"I knew this Christian lady that refused to eat deviled eggs."
"Edit: my wife said her cousins weren't allowed to eat candy on Halloween when they were kids because their mom didn't want to celebrate the "devils birthday"."- whateva_iGuess
It's The Fire, Isn't It?
"Without a shred of sarcasm I once heard an evangelical describe hot Cheetos as a product of the devil"- PM_meurbewbs_nbutts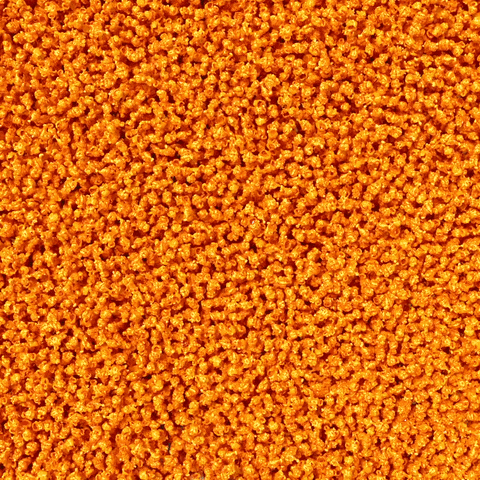 Chester Cheetah GIF by Cheetos
Giphy
The devil can come out at you anywhere, they might think. Technology is no exception.

Imaginative Gaming Takes All Kinds Of Form
"The same teacher who taught abstinence only sex-ED class took away my deck of Magic cards because they were satanic."
"How am i supposed to keep my virginity without my Magic cards!?"- pixelfixation
Listen To Your Heart, And You'll Find Satan, Apparently
"My wife's mother pulled her out of the carebears movie when she was a kid because the bears were casting satanic spells out of their stomachs. My wife still holds a grudge."- BlumpKeto
Wait For It...
"Back in the 90's my family had a home pc."
"We didn't have much so this computer was a big deal to my brothers and I."
"For school work and some good ole fashioned DOS games."
"My dad managed to figure out how to get a screen saver with sound onto the computer, was quite proud of himself too."
"He failed to mention this screensaver to my mother who is VERY religious."
"So one day I am sitting in high school and get called to the principals office mid 2nd period."
"Now I am a darn near straight A student, who didn't get in trouble ever."
"So this isn't something that has ever happened to me."
"I get to the office, and I was told my mother called and was very very distraught and I needed to head home to be with her."
"I hear the secretary telling another office staff that she was losing her mind, and a few variations to that effect."
"I rush home to find the pastor from church, performing an exorcism on our computer."
"My mother praying fervently through gasping sobs."
"The pastor and my mother prayed for sometime, before my dad came home."
"My dad gets home mad he was called home then he just starts laughing hysterically."
"Calls my mom a few variations of dumb, goes and wiggles the mouse to bring the computer up and plays the darth vader screen saver he added to the computer. "
"'Give in to your anger'."
"'With each passing moment you make yourself more my servant'."
"'I find your lack of faith disturbing'."
"'You underestimate the power of the Dark Side."
"'If you will not fight, then you will meet your destiny." "
"You know all the come to the darkside quotes."
"With a picture of Darth Vaders face."
"Of course my mother couldn't get the computer to do it again because she kept messing with it, and it never went back to sleep mode."
"So of course her first thought was we had an evil satanic computer possessed by the devil himself."
"The pastor just quietly snuck out with me during my dads laughing and my moms sobs."- Tahitisummer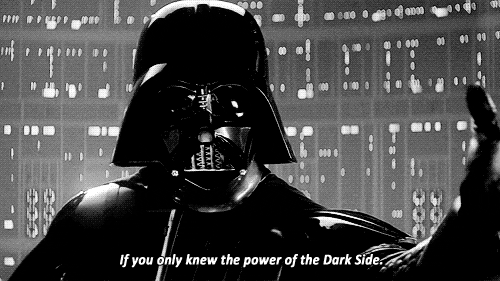 Star Wars GIF
Giphy
You would think you would know if your body was possessed by the lord of darkness, wouldn't you? Especially if it was in your mouth.
What?
Roots In History
"Being left handed...a church I visited wouldn't let me play music bc of it"- boogboi89
Just Keep Smiling...
"A toothache."
"The devil is trying to enter my body' Was the quote."
"Initially I thought they were making a weird joke."
"They were serious."- RoniCorningstone
Hence, The Plot Of "Footloose"
"Back in the 70s it was a lot of stupid: bar codes."
"The little symbol on Proctor & Gamble products."
"Yoga and/or meditation."
"Lots of different music by different artists."
"My small town Christian private school had a particular teacher who was absolutely dying mad about his students' fondness for Michael Jackson, AC/DC, and other bands of the time."
"The funniest one of all was dancing."
"The joke around my (conservative Christian) college in the 80s was that sex was outlawed because it could lead to dancing."
"For some bizarre reason the administration thought dancing was totally evil."- SociallyAwkardTurtle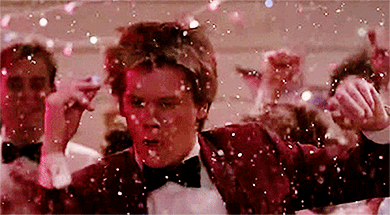 kevin bacon dancing GIF
Giphy
How long have you got?
"I have so many."
"I was raised in a religious cult."
"So I've heard the most normal everyday things called satanic, but my favorite is probably Barbie."- helicopterhamster
A link straight to hell

"In my country old people think that internet is a spawn of [the devil]."- RHYEME.
They do more than just rot your brain.
"Heard someone say video games are satanic because they all have violence."- MoonKnightPlzHurtMe·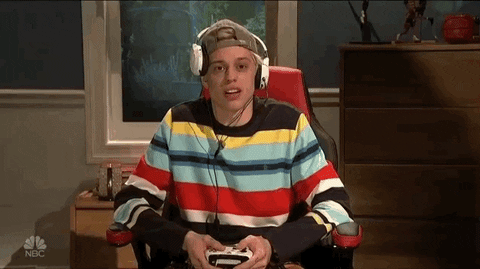 Pete Davidson Snl GIF by Saturday Night Live
Giphy
"If she doesn't scare you, no evil thing will..."
"The live action Cruella De Ville movie."
"Same woman admitted to liking the Disney version and her kids having already watched it."
"Like, honey, her last name didn't change."- ElizaWil02
Are you sure those books are science fiction?
"Cthulhu."
"He's a great old one, not a demon."
If children love it, the devil made it!

"Okay so I'm a Christian and go to a Christian school, K-8, I'm year 8, that defiantly follows stricter Christian guidelines than I do, but, is not crazy religious."
"A couple times a year a speaker, usually a pastor but as in this stories case, not always, would speak for a few minutes in the morning each day during the school week."
"The things they talked about would usually be uplifting and spiritual things often singing praise songs, too."
"But this time, my 3rd grade class would be doing no singing, no."
"For this week of prayer the grandmother of one of my classmates spoke, or should I say lectured."
"And the things she talked about were things only parents should be discussing with their children, not some crazy conservative lady."
"I'll list some of the things she talked about, and these are just the things I remember, there were more that I have forgotten."
"Frozen has satanic messages/is teachings of the devil."
"Star Wars has satanic messages/is teachings of the devil."
Harry potter has satanic messages/is teachings of the devil."
"Detailed descriptions of naked cultists sacrificing kittens to the devil, we were in 3rd grade and there were younger grades in the room."
"And More!"
"During the frozen lecture, one girl said that her parents were okay with it and said it was okay to watch and was abruptly scolded by the crazy grandma and told to basically not listen to her parents."
"I know, what the f*ck."
"The scary part is that her lectures actually worked."
"I, for a while, genuinely believed some of the things she said and listened to them for a while before eventually forgetting about it and moving onto the next interest my 3rd grade mind decided to like."
"It wasn't until I was older and remembering about it that I realized how manipulative she was."
"She would be a great cult recruiter."
"According to my mother, after some of the parents heard the things their children were being taught they complained to the school and I can only presumed the crazy lady was invited not to speak at the school again since I've never seen her since."
"Her grandchildren eventually left the school."
"I wonder if the lectures were partly why."
"That grandma would certainly be disappointed in the un-Christian like boy I am now."
"Shame on me for not following here wise teachings and taking them to heart."- Disastrous_Pattern_3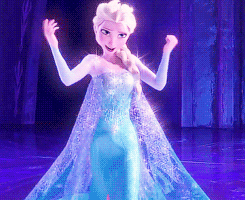 frozen disney GIF
Giphy
All I had to do was look in a mirror
"Me."- Gurke747
The Devil's Cover
"A red bed cover."- ollie_innit197
As if he doesn't put up with enough.
"The fact that my brothers gay."- Key_Conversation2230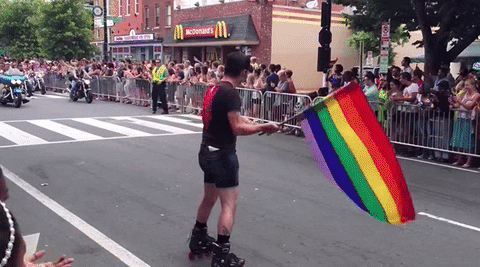 Lgbt Love Wins GIF by Capital Pride | Have Pride 365!
Giphy
The devil is in the details, and his greatest trick was convincing us he never existed.
Odds are he's never been in "The Care Bears Movie." Just for the record.

Keep reading...
Show less
"I know there's a place in Hell for me."
"It's called a throne."
~ random novelty magnet
But what if Hell really exists and you were suddenly put in charge?
Would you do a corporate restructure or maintain the status quo?
Redditor Eli-Aurelius asked:
"You are the new ruler of Hell, what are your orders?"
Take Attendance
"Well first things first—let's get a count of who's here and see what we're working with."
- Alternative-Shake-16
Psych!
"Install a bunch of fake thermostats marked air conditioning."
"That are not connected to anything."
- wilburstiltskin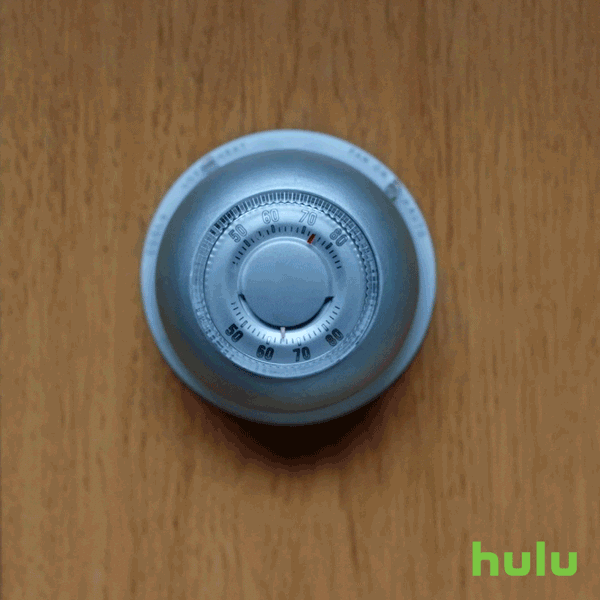 Giphy
Reading Is Fundamental
"Punishments are no longer eternal, but can still last centuries to millennia."
"You get four days deducted for every book you read and write a report on."
"Every book ever written is available..."
"...but printed in 10.5 comic sans and aligned page right."
"Hey, it's still Hell."
- AdvocateSaint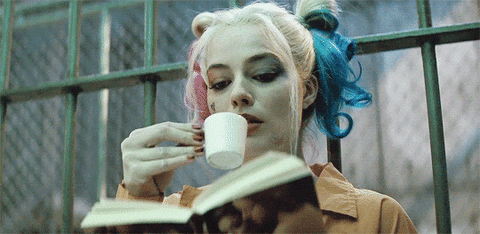 Giphy
Party All The Time
"Burning for eternity seems a bit much."
"Let's just get rid of that and have a good time."
- Timmy_McPitchforks
"When you read Dantes inferno, the first circle seems like the place to be.
"It's all the intellectuals and artists that either lived before Christianity or just typical non-believers that did nothing else wrong in life."
- emsthrowawaytriph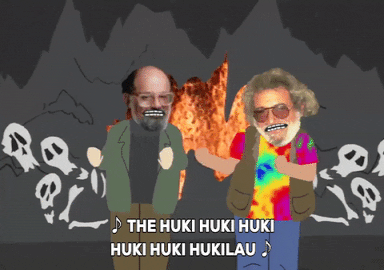 Giphy
Nuke It
"No more torture, no more burning, etc..."
"The catch is, you can only eat perfectly cooked microwaveable meals for the rest of eternity, with the exception of the center."
"That, my children, is still frozen."
- CilliamBlinton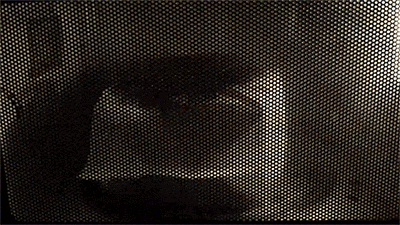 Giphy
Earworms
"Rebecca Black's 'Friday' is to be played 24/7 effective immediately."
- LargeSnorlax
"Worst of all, it's turned off on Fridays."
- Neuromangoman
"Friday's are for 'Baby Shark'."
- kuriboharmy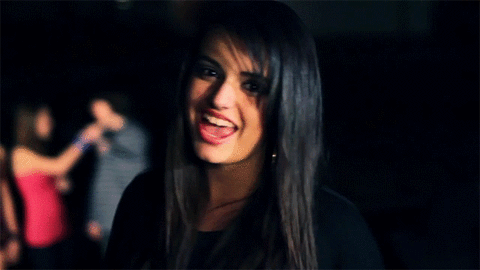 Giphy
A Master Plan
"Firstly, let's liven things up. I mean, red is cool and rage-inducing, but c'mon... No other colours? Bit bland."
"Mix in some copper or potassium into the flames, get some cool colours like emerald green and lilac. That way we got a bit more variety!"
"Next, music. Everyone has different preferences, so we'll sort it per region of hell. One area will have some spicy jazz and/or swing, one will have comedic classical, we've got to have one area that is entirely musical-numbers."
"I mean, don't get me wrong, I know hell is a place for punishment and things (I'll get to that in a moment), but I want to reward some people who have come down here for wrongful yet understandable reasons."
"Also, ruling alone is gonna be difficult as hell, not to mention boring with boring paperwork. Let's get some staff down in this business."
"Hire some top-tier sinners to keep security around the place, get some tax-frauds to finalize any paperwork, and I'll pick a close person to be my second in command."
"Obviously any rulings will go through me, and anyone who tries to deceive me will find themselves begging as I throw them into the deepest pit of hell, but at least some of the boring work is out of my way."
"Now, reputation. I want to seem approachable, but also strong. None of this 'Raaagh I'm evil and scary' bullsh*t. You first come down here? I'm gonna welcome ya, ask ya how you are, what's been happening."
"Find out you were a piece of sh*t? No worries, got just the place for you slime! Find out you were vengeful but reasonable? Understandable mah dude, here let me take you over yonder."
"I'm a business man, here, ruling hell, you gotta make friends and enemies. You try and abuse my friendship? That's when I publicly humiliate and scar you, reveal you to your darkest fears and allow my mates who help run the place laugh in your misery—you know what, not just me mates."
"Let's put it live for everyone to see, record the whole thing. Finally with a classic volt of shock and banishment, I'll feed whatever's left of you to the hell hounds."
"Bones still there? Nice, you can become part of my foot-stool. Keeps the threat alive, but also shows that I can be generous if my generosity is respected."
"Okay, so obviously we need sections. I can't make everyone boil alive nowadays—some people are into that."
"So we talked about those that I could appreciate and keep around in hell for fun, but what about the Karens? The Hitlers? The Putins (more recently)? Well I've got some nice philosophy about reaping what you sow, so let's play an Uno reverse card on them."
"You want to bully staff and give psychological (and sometimes physical) torment to them? Let's see how you feel. Oh? You want to see the manager? I am the manager, and this is perfectly fine in my books."
"Now, some of this might not always work, which is why I'll always keep my fear-pit open, and hey! My foot-stool could always use a little more bones!"
"But what about décor? Well of course we got to have décor!"
"Add some lights to the entrance, put up signs for each place, give the land a bit more spice! Pits and spikes are so 2000, we're in 2022 now! Don't get me wrong, we'll keep some of the pits and spikes, but what about some cultural stuff?"
"Get some axes, some flamethrowers for style, fireworks that go off in your face. Archery made a comeback, I heard, so how about we put flying arrows around the place? In the areas for less-respected people, we'll make it unpredictable as well!"
"Traps are awesome, but so is paranoia! When will it activate? When will you be stabbed up? Don't know, but it can happen any moment!"
"There we go, a revitalised Hell. Now to sit in my throne of muscles and kick my feet back on some smoothened bones. Anyone fancy a tour?"
- KEBABFISH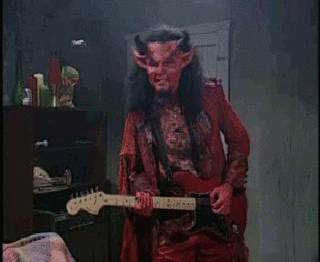 Giphy
So let your imagination run wild.
What would you do as the new leader in Hell?
Want to "know" more?
Sign up for the Knowable newsletter here.
Never miss another big, odd, funny or heartbreaking moment again.
Keep reading...
Show less
Ending up in Hell would be one thing, but discovering that the Devil is a huge fan of yours would be a whole extra layer of horror.
But that's what a recent Redditor asked people to imagine: what petty, sinful thing would earn you a #1 fan in Satan.
Here's hoping your answer to that question leans more toward petty than immoral.
Redditor Ok-Reaction-5644 asked:
"Satan shakes your hand and says 'I'm glad I finally got to meet you,' what did you do?"
Many people divulged their part in the very incredible annoyances of modern life, particularly life on the internet.
The Horror
"I created mobile ads with transparent close button....." -- voliver016
"Oh god. And let me guess, the company's logo looks like an X. like it's called X Games or something. So you accidentally tap on that when looking for the close button." -- fernshanks
Hooked Us All
"invented micro transactions in video games" -- Day61298
"Satan: So, I'm thinking about retiring and you seem just the person for the job...." -- Logan3point14
"Move over Hitler. Move over slavers. Move over Ajit Pai. We have a new champion of hell." -- Andrakisjl
That Was One Guy??
"i invented popup ads and the thing that makes you disable ad blocker before you can visit a website" -- thetapiryourodeinon
"I feel like Satan would punch you in the face, not shake your hand. All like 'This MFer is out of control' " -- Shinbiku
Others talked about the cartoonishly terrible things they did. In hindsight, they wondered how they ever could have done what they did.
But at the time, it just made sense.
Case Closed
"oh definitely that time i kicked a child," -- Domesticgay_
​Saboteur
"Christmas time. Shopping mall car parks are chaos. I'll be walking through the car park with bags off Shopping and see people in cars looking for people about to leave..."
"...I stop, look at a car, put my bags down pull my keys out, someone in their car sees me and indicates to my direction to claim the park. I pick my bags up and keep walking."
And some took the question as a perfect opportunity to get snarky about he prospect of ending up in Hell.
The Chain Mail Was REAL
"Did not forward that email I received in 2008 saying that If I did not, I would go to hell." -- peidinho31
" 'IF YOU DO NOT SEND THIS TO 20 PEOPLE IN 5 MINUTES LITTLE TIMMY WILL CRAWL OUT OF THE SINK AND EAT YOUR EYEBALLS' " -- Ak_Jumper_942
Some Old-Fashioned Humor
"Persuaded my dead mother-in-law to move out of hell." -- Antigravfraggle
"I've spent years looking for my mother-in-law's killer. But nobody will do it." -- elee0228
"Thanks satan, now she's haunting and possessing people on earth again." -- Gurbwat
Lead With Compliments
" 'Me too! I can't believe you're even MORE attractive than your profile pic!' " -- PM_ME_YOUR_CUTE_PU**
"Please, call me twenty twenty" -- punkhobo
The Better Choice
"Ehh... there's a Stairway to Heaven and a Highway to Hell and I sure as hell don't feel like climbing any stairs." -- dusty-kat
"fires up his motorcycle" -- thearmouredcake
"Why clib stairs when you can go down lil nas x's strip pol" -- LilacForgetMeNot
If Hell is real, we hope none of you end up there. But we sure hope you have a hell of a story if you do!
Want to "know" more? Never miss another big, odd, funny, or heartbreaking moment again. Sign up for the Knowable newsletter here.
Keep reading...
Show less