Many folktales and fairy stories began owing to unusual things sailors might have spotted out at sea.
Mermaids, sea serpents, lost colonies, the list goes on and on.
Sadly (or thankfully) there is no photographic evidence of monstrous sea life, such as giant squids or dinosaur-like sharks.
But that doesn't mean that sailors and people stationed out at sea haven't seen some unusual things.
Things they still have trouble explaining to this day, and will never forget for the rest of their lives.
Redditor suedemonkey was curious to hear about the strangest sightings sailors ever had while out on the open sea, leading them to ask:
"Sailors of reddit,what's the most unusual thing you've experienced while at sea?"
Don't Even Want To Know How It Got There...
'Out of a submarine periscope, we saw a fully inflated, pink, unicorn floaty toy."
"We were very far from any civilization."- mbreinich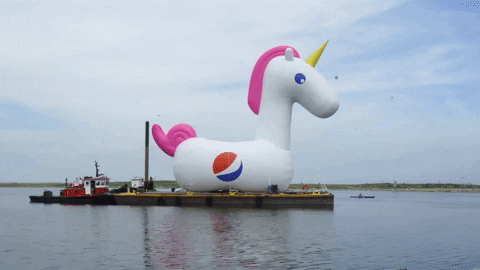 blow up summergram GIF by Summerfest
Giphy
The Ordinary And The Extraordinary
"We were sailing (330ft. ship) from the North Sea to west Africa."
"I was off shift and sleeping."
"I woke up and for some reason decided to go up to the bridge, which is something I usually never did when I could be sleeping or eating."
"It was night, so all the lights were off on the bridge save for a few red ones, and I noticed how bright it was outside."
"I went over to starboard and the f*cking white cliffs of Dover were completely illuminated by a full moon."
"Just beaming moonlight."
"It was one of the most amazing things I've ever seen."
"Of course the mate on duty was English and was nonchalantly like 'yeah, that's Dover'."
"This one isn't me, but a Welsh guy I met in the Caribbean."
"He had done a few transatlantic trips in a small sailboat so had tons of ocean experience."
"A big storm caught him, with huge rolling waves."
"He decided to heave to to ride it out (basically using your sail and the rudder to put the brakes on and give yourself a smoother ride)."
"He was in the cockpit and was riding up one of the bigger waves."
"The next part is wild."
"He swears to god on his grandmother's grave that a giant whale just below the surface cruised up the wave beside him and just stared straight at him."
"He describes looking into this animal's huge eyeball, just looking back at him, for what was probably a couple seconds but he said felt like minutes, from a few feet away."
"He's never lied or really even exaggerated otherwise, so I believe him."
"Can you imagine seeing that?"
"Sometimes I really miss being at sea."- Zebulon_V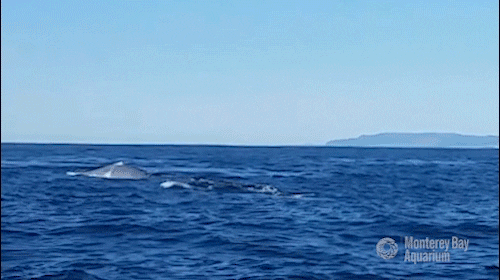 blue whale sea GIF by Monterey Bay Aquarium
Giphy
Les Poissons!
"Flying fish timed a wave right and jumped out the water and through an open hatch directly into the galley."
"Freeboard was like 7 metres."
"The chefs sh*t themselves haha."- BassEvers
Not A Sight Anyone Wants To See
"I was on a run between California and Hawaii, and I was out on deck doing rounds on deck equipment, checking oil levels etc."
"I saw one of those free fall lifeboats just hanging out in the distance and was like wtf."
"I called the bridge, they said a ship accidentally dropped their lifeboat a few years ago and now it turns up from time to time."
"Was glad to know no one was on it, but it gave me a brief scare."- thecactuswrench
Heartbreaking
"Lots of crazy little things, but I was on a ship that lost a man overboard in the Atlantic."
"Reports were that a life saver was thrown immediately after he fell in, the lookout said he saw a swell overtake him as he was going toward the life saver."
"And that was it."
"We searched for hours, never seeing a single sign."
"Search lights in the water."
"Dark shaped swimming past them.'
"Makes you realize how small we are in nature."
"Still think about it to this day."- ConstantTheory255
A Literal Whale Of A Tale
"Was sailing off the coast of the big island Hawaii in February."
"We were mostly interested in fishing since the wind had died down."
"There were no other boats around that were visible and it was a very calm and peaceful day."
"Now often you'll see Humpback whales breaching in Feb and you can also hear them singing if you are underwater."
"That is cool enough, but this encounter was awesome."
"I was baiting a hook, and suddenly on the starboard side of the boat a pod of about 20 melon head whales comes up right beside the boat and they just start staring us down."
"I lean over and this one dude moves a little closer and just keeps moving his head so he can eye me up and down."

"They all just kept staring at us with an expression of 'WTF are these? Hoo interesting, don't look like they can swim at all'."
"They eyed us at close quarters for about 5 min and then just took off."
"The weirdest part of the encounter was the close eye contact I had with the first whale was definitely two individuals sizing each other up."
"Best part of the whole day."- CalEPygous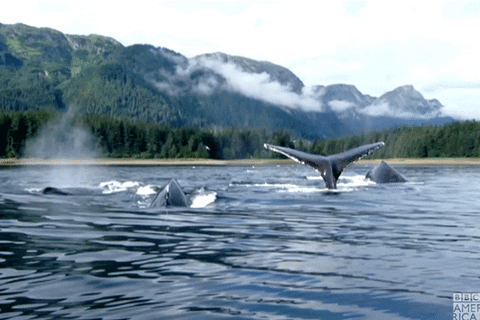 Ocean Wildlife GIF by BBC America
Giphy
A Unique And Magical Experience

"Was gently sailing down the northeast cost of New Zealand heading into Auckland at about 2-3 am."
"I was on watch and the other crew member was asleep below."
"It was a pitch black night, no moon, and the sea was very still so as soon as you look overboard all you saw was black!"
"Eventually you saw stars but it was impossible to distinguish sea from sky."
"As I was keeping a watch I saw what I thought was a shooting star just MUCH bigger!"
"It came again and again agin until there were about 30 of these shining glittering trails shooting around the boat."
"It was very disconcerting and it took me a few minutes to click what was happening."
"We had sailed into a patch of luminescence while dolphins were swimming around the boat planing on both it and our wake."
'I had not noticed them due to it being so dark!"
"For something so simple it was a very moving almost spiritual experience and it will remain one of my all time most fondest memories!"- Smh_nz
Never Leave Port If You're Not Prepared To Do So

"French Navy navigator here."
"A few years back, went underway from Toulon on a high sea patrol ship for a routine patrol."
"The sea was very rough out of the roadstead, coming from the west, which was completely contradictory with what our weather briefs were indicating."
"Captain decided to go ahead nonetheless."
"We took a heading towards the east to enter Hyères Bay, when we entered in the pass, sh*t went down."
"I was outside, starboard wing of the bridge to take bearings when the ship took a 35 degrees list on starboard."
"If I had held my arm out, it would have been underwater."
"I held on the compass for dear life, because going overboard in that weather would have probably meant death."
"Needless to say, I sh*t myself.
"When the ship leveled, my boss went out to check if I was still there, and ordered me to go below to check how bad the damage was to some of our gear."
"I went, and when I was at the main deck, the ship took a 43 degrees list to starboard."
'I was then blessed with the horrific sight of a washing machine that was strapped in a room by the hull on portside punch a hole through the bulkhead and go straight to starboard WITHOUT touching the deck."
"Also, a lot of the firefighting equipment (axes, hoses, pumps...) was just flying all over the place, with guys from the security department desperately trying to catch it and fasten it."
"At that point, we had entered the bay and had better weather."
"We had lost electricity in the bridge and CIC, so the captain decided to wait in the bay for the weather to calm down."
'When it did the next day, we pulled back into port for repairs."
"This little escapade resulted in a few bruises, the electrical network of the bridge and CIC being badly damaged (the guys that were supposed to strap down sh*t didn't do it correctly and got punished) and for me, a reminder of my mortality."
"On a more positive note, I once saw a stork land on our 100mm turret after a sandstorm off Libya, and stay there for several hours."
"Also, we had a couple of sperm whales with a calf swimming alongside, for almost a day off Ivory Coast."
"When you see that kind of stuff, it doesn't matter if you are 3 months in or 20 years in."
"You feel like a kid again."- Hans_Von_Seemann
All Aglow
"My area occasionally gets phytoplankton blooms."
"If you're boating at night and sail into a bloom, the wake of your boat will suddenly start glowing blue."
"It's pretty darn bright, easily seen with the naked eye, and appears out of nowhere."
"One minute you're sailing in complete darkness, the next you're in glowing water."- MyNameIsRay·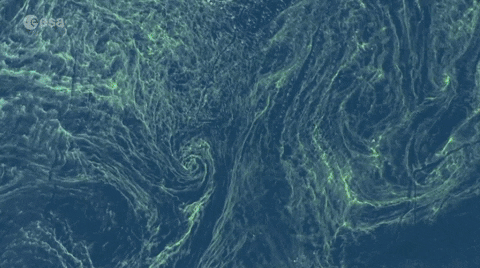 climate change animation GIF
Giphy
Life out on the open sea is unpredictable, and sometimes scary.
But those brave enough to venture into it, always return with a story to tell.
I love the ocean. I love the sea.
But it freaks me out. I hate going to the beach at night because you never know what is lurking in the dark waters.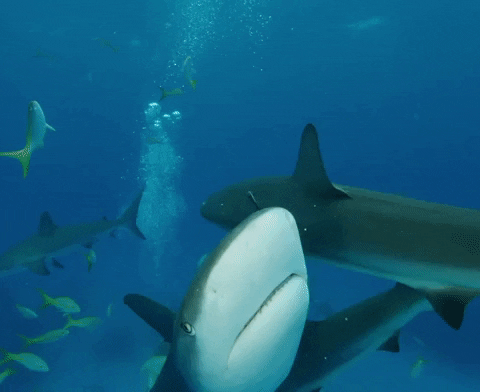 Giphy
That's why I could never be a sailor or in the navy. I'd be too nervous about what lies beneath.
Sailing was made fun by Johnny Depp, but you'd have to be as drunk as Jack Sparrow to navigate the life at sea.
We have no idea really about the waters that surround us.
Redditordeaddamselwanted to hear from all the sailors out there, tell us some stories.
It was asked:
"Sailors, what's the creepiest thing you've ever seen or experienced at sea?"
I once was on a fabulous cruise.
I loved the days at sea, but I had a few moments where I feel like I saw and heard some things on the open waters that were questionable.
Especially at night.
Slither
"Hundreds of sea snakes feasting on the bloated corpse of some kind of animal." ~ goat-of-mendes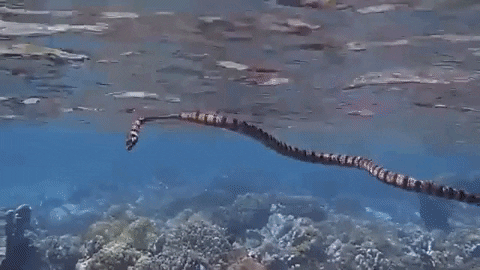 Giphy
Alaska
"On a boat in Alaska recording humpback whale sounds, we picked up an odd, rhythmic noise on the hydrophone. We were on a 100 ft schooner around Admiralty Island, near Juneau."
"Nothing seen on the surface, just this odd repetitious mechanical sound. The skipper contacted the local authorities who seized the tape and spent several hours interviewing him. Not that scary, but surely weird." ~ dvmdv8
Shine
"We had a noise "shine" down on us my second time out. We were smoking and our bridge also saw/heard/ confirmed it."
"It was a pretty bright starry night, but this one area was a little brighter and had this dull washed out shaft appearance to it, a lot like seeing the Milky Way overhead in the sky."
"We passed right by it and there was a cyclical sound like 'WEEwahwahwahWEEwahwahwah' somewhere between a humming and a sort of siren. It wasn't loud, almost more of a frequency, about 3 or 4 miles wide maybe, coming down not quite vertically."
"We could see it every time we checked for over an hour behind us, then we checked and it was totally gone."
"I wasn't horrified or anything, but the creepy part was how quiet everyone was. We all just kind of looked at each other and cracked a few nervous jokes."
"Not as juicy as seeing The Flying Dutchman or something like that, but I still think about it every time I see the night sky."
"Scariest thing? No doubt the 40-50-60ft crests and being at a 45 degree angle for like 10 seconds at a time." ~ AlienSasquatchhunter
floating at the top of a big nothing...
"Not a sailor, but I've spent more time out at sea than most because of my fondness for most boat related stuff. Even though I enjoy being out there, it always has kinda of an eerie feel. I live in the south of Norway, and the North Sea is really dark, even on the most beautiful days you can max see a meter down."
"Well this one time I was out by myself, in a pretty small, about 14 feet boat. It was one of these "not sunny" but still adequate weather days. Well, long story short I lost control over the engine and my boat spun around, landing me just underneath it."
"As I saw mentioned in another post, I have never felt as vulnerable as just then, floating at the top of a big nothing. You know there is nothing for possibly hundreds of feet underneath you."
"Probably the worst part of it is when you have to duck under the boat to get up and away. You just stare down into the abyss. You can choose not to look, but then it's almost just worse. There are no big sharks or that sort here, but still."
"You feel like there is just something, down there in the dark. I managed to keep calm and after about half an hour someone must have spotted me, cause I was soon picked up by the local SAR boat. I still don't like to look down into water, but I will continue enjoying the sea, as long as I am above the surface." ~ VelocityTM1
Flashed
"Not creepy, but saw the Green Flash one morning when I was in the Navy." ~ DEdwardPossum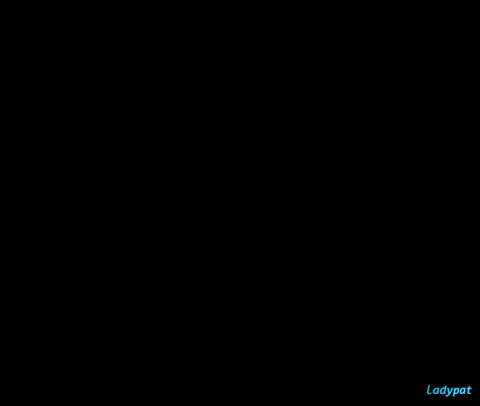 Giphy
Free Willy is not out there just waiting for us.
That was one whale in one movie.
There are a lot more dangerous creatures swimming about.
Noises Off
"Sailing at night and hearing the dolphins surround the boat. You can hear their wakes and blowhole sounds all around you, but you can't see them. It's creepy." ~ upeepsareamazballz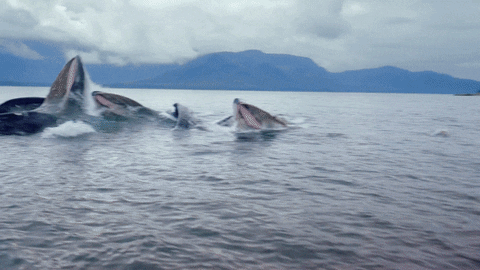 Giphy
The Shape
"Was sailing on a tall ship in the open sea. Good breeze so making 12+ knots and heeled over so hard that, over the rail, you were almost looking straight into the water."
"Out of nowhere a dark gray shape, maybe 20ft long, pulls right up along side us. Just paces us, for 1-2min, right over that starboard rail and keeping up like it's nothing."
"Then it rolls over and we see a bright white belly before it disappears under the waves. To this day I have no idea what it was." ~ Nephroidofdoom
Hallucinations
"I woke up to take a piss. Head was occupied, went to the stern. The entire sea behind the boat was glowing glowing blue."
"My piss stream made these beautiful colors of aquamarine and violet. Thought I was hallucinating or dreaming and went back to bed."
"I stayed awake petrified I had died and was in some sort of alternate reality or something. Told no one for years."
"Found a video online, apparently it's a type of bioluminescent algae. It f'ked with me for far longer than it should." ~ the-goku-special
The Ship Speaks
"Leading Seamen here, nothing scarier then doing a round (walking around exterior decks checking rooms for fires and such) when the ship is under way at night so it's pitch black and only a red flashlight for light and the ships engines are very loud, I always get the sense there's something following you in the dark/if you fell in no one would know for at least 20 minutes or much more." ~ DistributionUpper634
History
"My great uncle never talked about his time in the Navy, but I can absolutely answer this for him. He was at Pearl Harbor during the attack. He also participated in the shelling of Iwo Jima." ~ Abadatha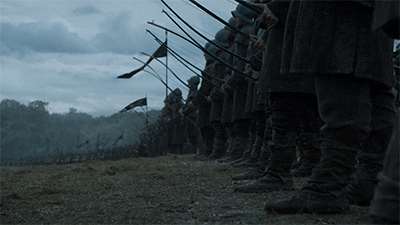 war hbo GIF by Game of Thrones
Giphy
I'm good on dry. land.
But mad props and thanks to the people who make their living on the sea.
We need sailors and fishermen.
Want to "know" more?
Sign up for the Knowable newsletter here.
Never miss another big, odd, funny or heartbreaking moment again.

The vastness of the ocean remains an elusive wonder that continues to inspire exploration.
What we see on the surface is, as they say, the tip of the iceberg.
The one time I was certified and immediately went scuba diving in Cozumel, I was blown away by everything I saw while underwater.
All the National Geographic specials and documentaries about the depths of the ocean and its secrets could not have prepared me for what I witnessed firsthand.
Most of Earth is made up of water. Literally a vast majority of the planet is covered in a wet majesty. The oceans spread far and wide and there is still so much we don't know about what stories the water keeps, things we'll never know. Living and traveling on the tides can be an incredible experience, but it can also be like something out of movie thriller. There are many who live to tell quite a tale and many who have not. The water has it's ghosts as well.
Redditor u/Jarsquat wanted all the sailors out there to tell us a tale or two from their time exploring open waters by asking...
Sailors, what's the creepiest, scariest, or most unnerving thing you've seen/witnessed while at sea?