Among Aesop's fables is a tale called The Town Mouse and the Country Mouse. In the story, both mice find their lives suit them, but not each other.
Indeed there is a difference between urban life and rural life even in the modern world.
Those folks that grew up country would have some wisdom to share with any city kin and vice versa.
Redditor citytiger asked:
"Redditors that grew up/live in the country what's something every city kid should know?"
Slow Down
"We aren't in any hurry and you can't make us." ~ bigedthebad
No Bull!
"Leave gates how you find them—they are open or closed for a reason." ~ lighted_is_lit
"This is very specific. I won't forget it." ~ jackof47trades
"It really is so important though!" ~ Dancersep38
"Like really important!" ~ unzinc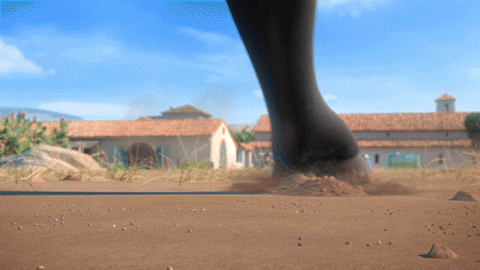 Giphy
Yes, Everyone Knows Each Other
"One time I played a gig in Wisconsin and the dude at the bar says, 'Hey you're not from around here huh?'"
"I said 'How could you tell, my accent?'"
"He said, 'No I just never seen you before'."
"Mind=Blown" ~ DrJawn
"My in-laws' family hails from a tiny Idaho town.
First time I was there with my then-girlfriend, a random old-timer 'downtown' introduced himself and said 'You must be Peggy's granddaughter's boyfriend'."
"He was right, so I asked him how he knew."
"'Well, she said you'd be coming, and you don't look related to anyone here, so... you must be him'." ~ Hititwitharock
Where Your Food Comes From
"Grew up in a very small town in Oklahoma. One 4th of July, was at my inlaws in rural Kansas. My wife's cousin came up from Orlando, FL with his wife and their 10 yr old son."
"We all went for a walk in the early afternoon up to the barn. The driveway was lined on both sides by corn fields."
"The 10 yr old boy asks, 'What's that?' pointing to the corn. His mom sort of looked stumped and I said, 'That's corn'."
"The kid looked at me like I was an idiot and said, 'That's not corn! Corn is yellow!' Then it hit me that he had no idea where corn came from and neither did his mom."
"I said 'Look it's corn!' As I went and grabbed an ear and pulled the husk open to reveal the yellow ear of corn inside. That kid looked at me like it was magic. He was blown away."
"I had no idea that there's a huge number of people that think food just comes from the store and don't know much beyond that." ~ rylokie
"We had a group of kids come out to our farm on a field trip…the looks on their faces when potatoes magically appeared from the ground was priceless!"

"So important for kids to learn where their food comes from." ~ Timely_Cat_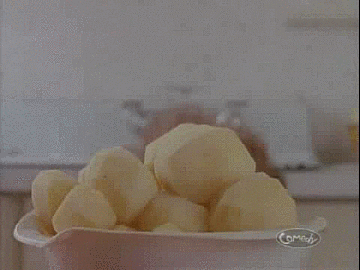 Giphy
And Everyone Knows Your Business
"Being in the country has more privacy but far less anonymity." ~ Schu0808
"That's the deal breaker for me. I've lived in medium towns all my life. Never cities and never small towns."
"I always had anonymity, which I treasure."
"I don't want anyone knowing about my business in the detail I'm told small town people know about each other.
"When I go out Friday nights, the only people who know what I do are the people I do it with and tell later."
"That's it. And that's how I want to keep it." ~ throwaway387190
No Sirens Doesn't Mean Silence
"How much noise there is from bugs after dark." ~ Crabser116
"I lived in the country for a few years and I enjoyed the sounds of thousands of insects at night."
"It made me feel like I was somewhere with a relatively healthy ecosystem, which I was." ~ dartfrog11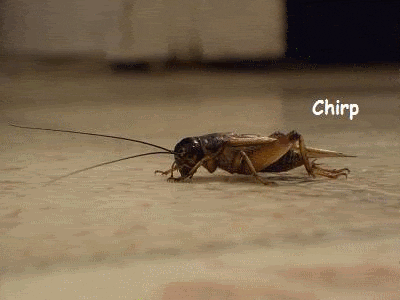 Giphy
"Where I'm at we have loud a** frogs instead of bugs and one minute there'll be a cacophony of frogs and then all of a sudden they just stop."
"Every single frog goes silent."
"It stays that way for a while then they all start back up at once."
"It's downright unnerving. I always wondered if those frogs knew something I didn't."
"I live in an area where you are less than a mile from true, unbroken wilderness, you casually see bears, mountain lions and bobcats and the neighbors call each other to warn of predator sightings."
"You hear things screaming, hooting and howling at night and you have no idea what or where they are." ~ Tru3insanity
"It can actually get insanely loud in the spring and summer."
"The winter gets eerily quiet at night. You can hear a wind chime from a neighbor a hundred yards away." ~ downbleed
Red Solo Cups
"Just because a party is in the middle of the woods or a field doesn't mean the police won't break it up." ~ SamuelDoctor
"Unless the cop is throwing the party." ~ Visible-Ant1949
"I don't know what rural area you're talking about, but in my area of Arkansas you'd have to set off a small nuke to get an unprompted appearance from the cops." ~ Whiskeywiskerbiscuit
Hello Darkness My Old Friend
"It gets dark. Very dark." ~ bretty666
"This isn't just darkness."
"This is advanced country darkness." ~ zombie_penguin42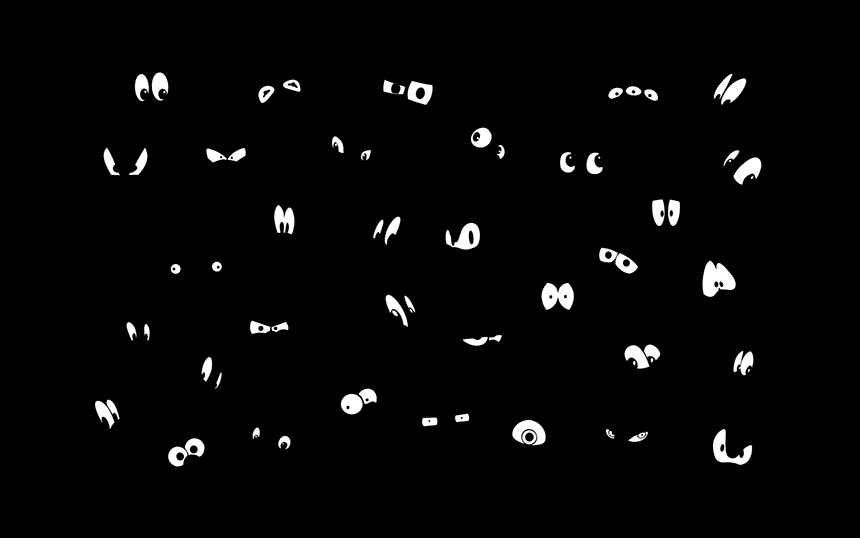 Giphy
"Oh, country darkness, this really bothered a city friend who grew up in big apartment towers. His first couple of nights in my remote rural/farming area really bothered him."
"He thought 'the nearest people are a mile away, so who is going to know if the criminals break in?'."
"In reality there's no criminals, and no people in that darkness. Just crickets, possums and coyotes."
"In my humble opinion way more peaceful and reassuring than a huge apartment building with 5, 000 strangers under one roof." ~ Thunder_bird
"This!! Omg so much this! You will never know darkness like country darkness."
"There's something so eery about stepping outside and seeing nothing but pitch black woods." ~ big_ickslap
Common Knowledge
"Don't walk behind a horse, don't touch random metal fences unless you want to get a shock, and everyone you meet either cares too much or couldn't give a sh*t about you."
"Oh also, no matter how kind a middle-aged woman seems, remember that she's 100% gossiping about you to the other aunts and asking people to pray for you." ~ 1_3A7_W0rM5
"Also do not f'k with cows/bulls."
"They're cute but will absolutely stomp you dead." ~ leahlikesturtles
All For One And One For All
"If you start a fight with someone in a small town bar you actually just started a fight with the entire bar." ~ degeneratesumbitch
"Don't pick fights or run your mouth to people in small towns that you live in if you just moved there. Chances of you seeing that person again are 100%.
"Getting on people's bad sides in small communities cuts you out of a lot a lot of opportunities in the future."
"Keep your head down, mind your own business and be friendly to everyone." ~ Brancher
"And some of those country boys can throw down in a scrap like you wouldn't believe." ~ FlaccidWeenus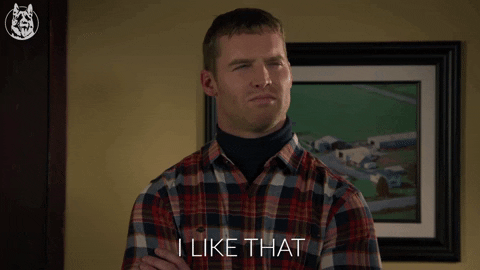 Giphy
Wildlife Is Wild
"Coyotes are not like dogs—stop feeding them." ~ MikeHuntessHarry69
"Don't feed any of the animals, except maybe birds."
"Squirrels have sharp teeth people, they will f'k your hands up."
"All those sounds at night are normal."
"Be alarmed if there are no sounds, that's when sh*t is about to get wild." ~ 30dirtybirdies
"No doubt. If you go out and it's already quiet, be very wary."
"If you're out and it suddenly gets quiet, get back inside ASAP." ~ libra00
"Wait, why? What is it that I should be afraid of?" ~ Cleeecooo
"Usually it means there's a predator around, like a mountain lion."
"In the former case it's probably not near you but that can change rapidly. In the latter case it's probably nearby and may be stalking you." ~ libra00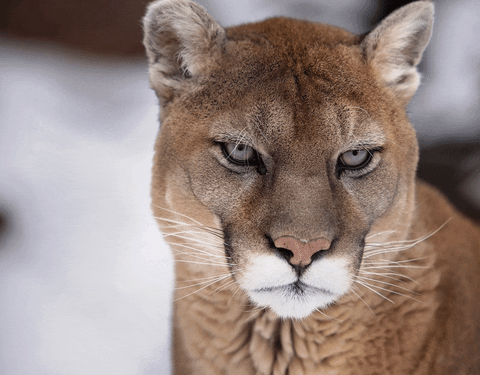 i
Giphy
Small town life really is different.
There are benefits, there are deficits.
It's not for everyone.
Want to "know" more?

Sign up for the Knowable newsletter here.
Never miss another big, odd, funny or heartbreaking moment again.
I could never live in a mostly rural area.
The woods scare me. I'm just not that outdoorsy person.
Wild animals freak me out and I believe owls are minions of the devil.
I also need to be around other homes, we all do incase we need to be able to run for help to someone.
Don't you think we see too many stories about the creepy goings on in the dead and dark of night, along trails and in the countrysides?
It's all a perfect set up for horror films and Dateline NBC episodes. I need some city life nearby.
Redditor _-Ascendancy-_wanted to hear about all the spooks and kooks people encounter outside the city limits, by asking:
"People who live rurally, what's the scariest experience you've had that you can't explain?"
Living below a blanket of stars and a mile from the nearest person sounds serene. Until a ghost or a serial killer shows. Just keep that in mind.
Out Camping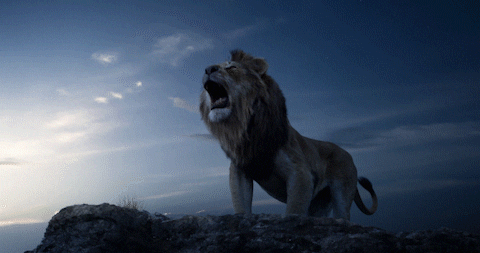 The Lion King GIF by Walt Disney Studios
Giphy
"Camping as a kid behind buddies house. Heard most God awful terrifying screech. Like 2 pieces of metal being rubbed together. Hands absolutely trembled unzipping tent and we hauled butt to the house. Honestly I was still scared in there too, thought something was going to come through window and get me. Probably a cougar/mountain lion I suppose but they aren't common here at all." ~ tbr6742
KNOCK KNOCK KNOCK!!!
"8 years old, in VERY (I mean very— 45 miles away from the nearest anything on top of a mountain) rural Appalachia, I was sitting on my couch with my dad at around 9pm in winter, with freshly fallen snow, watching of all things SIGHTINGS, an old 90s show about alien counters which scared the absolute crap out of me anyway, and we heard a KNOCK KNOCK KNOCK on the window."
"Keep in mind it's pitch black outside, so whatever could see us but we couldn't see them. Dad told me to sit right there with the telephone beside me, and he ran outside with a mag light to go see what it was. He locked the door behind him and he had explicit instructions that if he didn't come back in 5 minutes to call the police."
"I was terrified. He went around the house and came back in, downplayed it saying it must have been an animal, but directly after all of this, he took the (long corded) phone in the other room and called his best friend to come up and investigate. He thought I was zoned out on tv, but I was listening. He said "I'm telling you, there was a knock like someone was knocking on the window to be let in, but there was NO FOOTPRINTS." It's still scary and I'm in my late 30s now." ~ INCORRIGIBLE_*UNT
Hello Caller
"I was camping alone in the middle of the plains in North Dakota. A storm blew in and I was stuck in my tent under some trees and got a super strange feeling. I had two phones on me at the time, one had internet and was for navigating and the other was just for cell reception (2013). All of a sudden, one of the phones starting ringing and I looked at the caller ID, the call was coming from my other phone which was closed and in my hand." ~ BetterCallTim
Knives Out
"15 years ago I had a seasonal job with the US Forest Service in western Colorado for the summer. I was living in an old ranger station by myself. One night I had a dream that someone was walking around the cabin while I was in bed. When I woke up that morning the front door was wide open. For the rest of the summer I slept with a large knife close by." ~ pinus_taeda
Bullets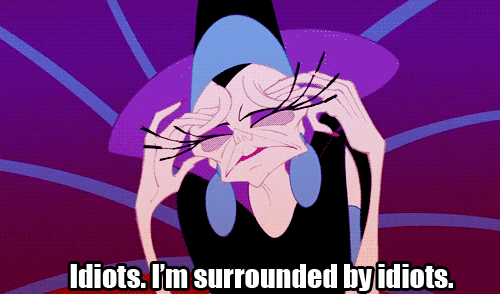 The Emperors New Groove Disney GIF
Giphy
"Semi-Rural Australia, I wouldn't say "can't explain", but I do get mighty annoyed at the amount of bullet holes I keep finding in shed iron, solar panels, p2p radio dishes and so on."
"The holes are often 'tumbled' or 'keyhole' as well, so I don't think it's dimwits shooting directly, more like shooting at a 45° angle from miles away or something. It would ruin my serenity to get beaned by a random bullet." ~ ozspook
This is why I don't camp. I have no interest in learning what that noise was. Just run, let the noise be. And shooting randomly into the woods is not the best idea.
Bucked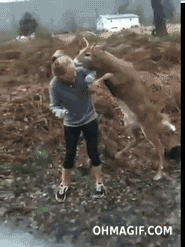 girl woman GIF
Giphy
"My mom lives in the woods with my young nephew. Totally dark at night, tiny house. She woke up in the middle of the night to a banging on the house. Eventually she worked up the courage to look out her bedroom window. She saw a buck, banging its head against the siding. Just backing up and rearing toward the house over and over." ~ Eaj1122
Obscure Opinions People Are Fully Committing To | George Takei's Oh Myyy
We all have a set of beliefs about even the smallest of topics. Like sandwiches should have structural integrity. That's something we can all agree on, right...
you know the sound...
"My mother lives alone pretty much in the woods. Completely dark at night, no street lights or lights from neighbors, only a small road leading up to the house. One time in the middle of the night she woke up to clear footsteps on the gravel (you know the sound), and three knocks on the front door."
"She called out hello and looked outside and nothing there, only silence. It might not be a spectacular story but I would freak out if it was me waking up to that in the middle of the night with no other people around." ~ ingfrior
All about the bass...
"Unfortunately it's hard to explain. I was hiking down a trail with my dog in remote Northern Wisconsin, when I just got a weird feeling. At the exact same time, the heckles on my dog went straight up and he began acting really anxious. About the same time, I came into a clearing in the woods, and got hit with what I can only describe as a sound wave. It was like someone was blasting a subwoofer right next to me but there was nothing around."
"The nearest road was maybe a mile away. Something told me to get the heck out of there. So I quickly turned around and hiked as quickly as possible the rest of the way back. I didn't hear that bass sound after I left the clearing, but I still felt like something was following me." ~ HammockDistrictOn5th
Into the Woods
"This isn't a super scary experience or anything, but at the time (I was like 10 or so) it was pretty unnerving. So I was staying with my grandparents who lived pretty much in the middle of nowhere, and a dude knocked on their door. He asked for directions to town, but they lived on a dead end road where the only way to get up there is to come from town so he obviously knew where it was."
"They then pointed in the direction he needed to go, and then he said thanks. But instead of getting back into his car, he just ran off into the woods as fast as he could. They called the cops but they never found him so we have no clue what happened. He left his car in their driveway and never came back for it." ~ Last-Bar-5633
Duck, duck, goose...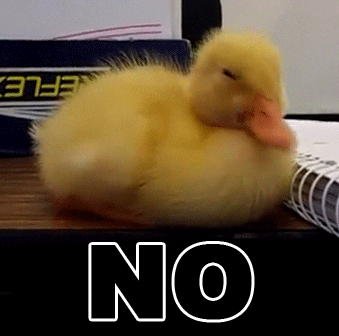 ducks no GIF
Giphy
"In Pennsylvania, USA. Woke up at 5:30 one morning to the sounds of WWIII starting. Shotgun pellets landing on the metal roof and falling into the gutters."
"It was apparently the first day of duck season and some hicks had set up in the stream 50 yards from our cabin. We went out and gave them an earful, they told us to screw off, we called the game commission, they got cited, it wasn't a great day for anyone." ~ NerdyRedneck45
"somebody help me"
"I live alone in the woods fifteen minutes from my town. My neighbors are near but not right next door. One summer morning I woke around 4:30am to a strange 'pounding' sound. It was still kind of dusky dawn lighting and I was in a daze from just waking up. Then I started to hear a man's voice yelling "somebody help me."
"I began to look out my windows to see if I could see anyone but couldn't from upstairs. My home has no window coverings on any windows. I went downstairs and caught a glimpse of him, naked with a thin T-shirt on, running around my house trying to jiggle windows and doors. He was very erratic, kept screaming for someone to help him, and kept running from door to window all around trying to find a way in. In any normal situation, I would gladly help someone in need."
"But this situation felt too unpredictable and dangerous for me to allow this person into my home. I was able to contact my neighbors who got my msg and quickly made their way over to help me, this is faster than any police that can get here. The guy ran away straight into the trees before they arrived. He was picked up by RCMP shortly after. No idea what happened there." ~ whoiswilds
Mushrooms...
"I walked about a mile from home to go mushroom hunting in a usual area. Walked through a field of goldenrod as high as my shoulders and was about to enter the woods when I felt something strange. I felt like I needed to go or I wouldn't get out of there alive."
"I didn't hear or see anything, but I had got goosebumps and I felt anxious when everything was fine before I reached that spot. I stood there debating and decided to go hunt somewhere else. I've gone back many times and haven't experienced that again."
"I live in an area that have bears, wolves, coyotes and bobcats, I've never had any problems with them on walks or hikes in the woods, but maybe that day would've been different or maybe there was a bad person in there. I've learned to trust this feeling I get, it's saved me many times and when I ignored it I got hurt. Whatever was in there, I did the right thing in not going in." ~ Slight-Ad-1744
The Boonies...
"When I was a teenager I went to visit my Aunt and Cousins who lived in the boonies in a town name Eager, AZ (close to the border of New Mexico and half a mile away from the town where Fire In the Sky took place). I was really into Alien abductions lore, I suffered from sleep paralysis where I'd wake up but couldn't open my eyes or move my body."
"Anyway, late at night after everyone went to bed, I put on a movie.. I can't remember the name of it.. but it was like the Blair Witch version of an Alien Abduction movie. I was really into it, and totally geeked out. All the lights in the house were off, just the TV screen."
"I heard something behind me and slowly turned around in my reclining chair only to see a G**-DAMN ALIEN staring at me. I FREAKED OUT and jumped straight into the air screaming. Guys... it was a half-inflated balloon left over from my cousin's birthday party." ~ TransRational
The Ancient Lands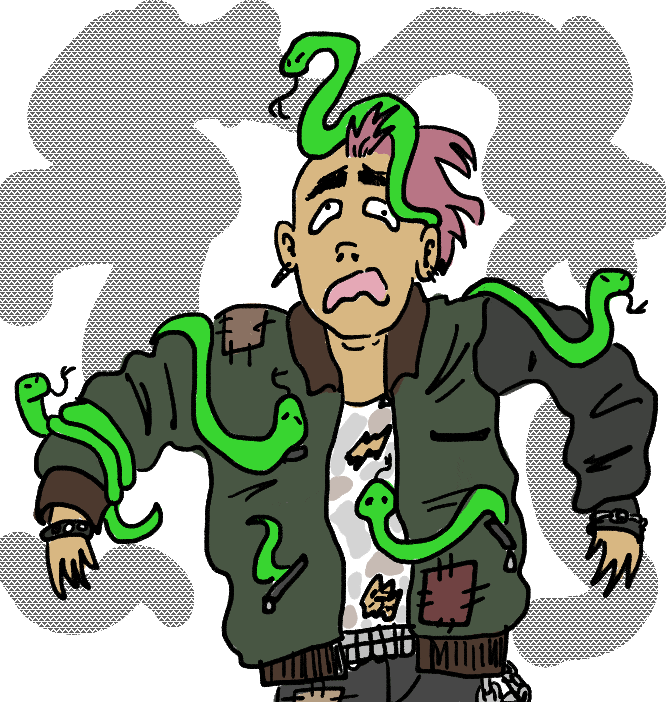 freaking out snakes on a plane GIF by KAT BALL
Giphy
"I'm semi-rural - village with houses and shops, but surrounded by fields. There are loads of Neolithic and Bronze Age monuments, like 1000 in a 5 mile radius. Anyway, there is this one prehistoric grave which is open, the contents having been moved to the museum."
"I jumped in one time to get a photo taken and my dog, a placid old black lab suddenly started barking with full alert mode, hackles, danger, right at me, in the burial cist. Still shudder to remember the moment. Maybe it was a snake, I don't know." ~ RandomiseUsr0
"what siren?"
"My wife and I were staying at a cabin in a rural town in the mountains. Around 8pm, an air raid siren (fire maybe), rang out for quite a while. We joked that it might be a zombie apocalypse, and after a while we actually got a little nervous that we didn't know what it was for."
"So I put on my coat and pots and walked down the road to a small grocery store nearby. Went in, asked if they knew what the siren was for. They said "what siren?" And when I went back outside the siren was gone." ~ a_pope_on_a_rope
Very Odd Feeling
"I lived in Japan and went on a trip in the mountains with a friend of mine. On a night ramble with him in an unfamiliar area, we both happened upon a torii that was immediately met with an impassable rock face. This seemed strange to me as torii were symbolically passageways."
"He and I both instinctively looked up to the sky while standing before the torii and somewhere that felt close to earth a great multi-colored light appeared hovering above us, letting off light almost like a gas in the full spectrum of colors, before disappearing. He and I both felt something incredibly significant had happened, but had no idea what. Very odd feeling." ~ dayto_aus
On and on...
"I live in the country, and it is weird how BOTH my dogs will key in on something and run to a place in the yard, focused, driven, hackles up, snarling... and there is absolutely nothing there. nothing!! And they aren't looking down or digging, they look up. A few weeks later it happens again, different area of the property. On and on... been here for years now and even the new dogs do it. Something is here with us." ~ hyteck9
Howls...
"I live way way out in the country and nothing really gets to me. However, I was out walking after dark and my flashlight died. I took about five steps and heard coyotes howling right near me and it absolutely freaked me out. I mean hair standing up on neck and frozen with fear. I made it home safely, but I'll never forget that awful sound. If you've never heard coyotes howling at night, you are missing a spine tingling feeling." ~ Robby777777
Yeah see, I'm definitely content with a Walmart and Target close by.
Want to "know" more?
Sign up for the Knowable newsletter here.

Never miss another big, odd, funny or heartbreaking moment again.
Nighttime is a little scarier no matter where you are, but there is something especially eerie about the silent pitch darkness of unpopulated rural areas.
The unknown sights and sounds that lurk in the deep dark are enough to make one's skin crawl. A sudden shriek or a piercing light can make the blood run cold.
Perhaps curious about what life is like in those rural spots, Redditor catarpillarfu**er asked:
"Rural folk, what is the most creepy thing you've seen or experienced?"
Moving to a larger metropolitan area may result in culture shock to those from rural parts of the country.
As someone who has only lived in major cities, I still found the move from Los Angeles to New York being quite the wake up call.
I had gotten accustomed to being stuck in gridlock traffic for most of my commutes in sunny LA. But when I got to Gotham, I loved the convenience of the MTA subway system.
However, the questionable odor while in transit is something I don't care to get used to.
I also realized the denizens of the Empire State were not rude as West Coasters maintained. Well, at least not everyone.
I had come to learn, we – speaking as a New Yorker now after living here for 20 years – are no-nonsense when in certain social interactions. We are very direct and not time wasters.

Which brings us to the subject of what city folks know over those who come small towns.
Redditor bruhcharlie asked:

"People who live in cities, what are some 'city things' country people don't understand?"
Something's Afoul
"That downtown smell that smells like piss? It's piss..."
"Big cities make their own gravy when it rains."
Going The Distance
"Walking somewhere close will always be faster than going there by a car."
Where Nobody Knows Your Name
"The anonymity can be freeing."
"I walk down the street in my small town assuming everyone has contact with my parents and that it will get back to them. The mom network was a truly devastating thing when in high school."
Pets
"Having a dog will make you socialize a lot. When you're walking it, people with other dogs will stop to let your dogs sniff each other and you'll chitchat. Little children will want to pet your dog, and old people will tell you that your dog reminds them of their old dogs. Also, the probability that people stop you to ask for directions will significantly increase, I guess because they assume you live in the neighbourhood."
"Being polite and talking to everyone who talks to you will get you finessed."
"Eye contact is an invitation to talk. Smiling is an invitation to talk. People in the city aren't rude for avoiding these, they're just tired of every conversation they have with a stranger ending in them getting asked for something."
Eyes Down
"I didn't really appreciate this sentiment when I first moved from the suburbs to the city. Any time someone would stop me for a question, I would always engage in dialogue. 99.9% of the time it was someone asking for money with some sob story about why they needed it. The first few months, I gave away all my spare change, every time (I moved to the city in October when the weather was starting to turn cooler)."
"By the time spring rolled around, I was starting to learn how to stop looking like an easy mark. I stopped making eye contact with everyone and ignored folks who were a reasonable distance away when they called out to me - pretending I couldn't hear them."
"But I'll never forget the first time I really got to that point of straight up no engagement. I was walking home from work and a woman standing right next to me said she wanted to ask me a question. I promptly shut her down with a 'Nope!' and kept walking. It was that moment that I realized, for good or bad... the city had changed me."
Conveniences
"I just moved from a small town on the west coast to a medium sized city on the east coast. It's crazy that you can just go out and DO things. You don't have to drive for two hours to go to the mall, you just go. I can have food delivered to my house in minutes and Amazon does next day delivery! It's awesome!! Also, cable internet is pretty sweet after having satellite for so long. One question though: what's with all of the hibachi restaurants?"
No Time For Chit Chat
"It's not that we aren't friendly, there are just so many people we can't say hello and chat with everyone or we never get to our destinations."
"I love going to small towns and just dialing my brain back 20mph and enjoying the people. Small talk, hitting yard sales, visiting small restaurants where the staff engage you."
The Compromise
"The suburbs/country gives you a lot of physical space and physical freedom. But no internal space or internal freedom. Everyone is up your business. HOAs, small town gossip etc"
"Big cities, you have no personal space. Everything is crowded. So the compromise is you get so much more internal space. There could be 100 people in a cafe but not a soul looks at you. Because the only space you have in the city is internal space."
"Country people think it's rude that city folk ignore people. It's not. It's a favor. It's nice."
– nderhjs

The Healthy Route
"It is faster for me to ride my bike to work than it is to drive, and I feel healthier both physically and mentally."
Grocery Shopping
"in the city it best to only shop for what you can carry anyway. typically the logisitics of loading a car with grocieries that require multiple trips to drag from where you park to your place makes it inefficient. best to shop often on way home and only buy what you can carry."
"Edit. I never did this but spoke with people who had canned and dry goods delivered and the shop only for pershiables."
Traffic
"Driving 10 miles can sometimes take 60 minutes, depending on how bad the traffic is. That's why if you suggest to go to a restaurant two towns over, someone might say it's too far of a drive."
– Upnorth4

Apartment Living
"Living in a downtown apartment isn't some kind of oppressive hell. Not everyone wants to maintain a huge house or deal with lawn-mowing bylaw requirements. Many people don't give a sh*t about gardening and just need space for their bed, desk, and computer, especially if they are single and live alone. A downtown apartment in cities like NYC or Toronto is also likely to be within walking distance to all sorts of restaurants, shops, and other services. Many people love being able to do this for exercise."
"On the same note, taking public transport is not some kind of freedom-lacking hell. It's only hell if you believe it is. Many people love the freedom of being able to read books or catch up on TV shows or play games during their commutes, instead of staring at traffic for an hour each way. Many people don't give a shit about cars and prefer not paying for maintenance, insurance, etc."
– nsci2ece

Instant Gratification
"Deciding you need a new potato peeler, some daffodil bulbs, a pizza and a can of housepaint at 3:48am, and being able to get them."
– klc81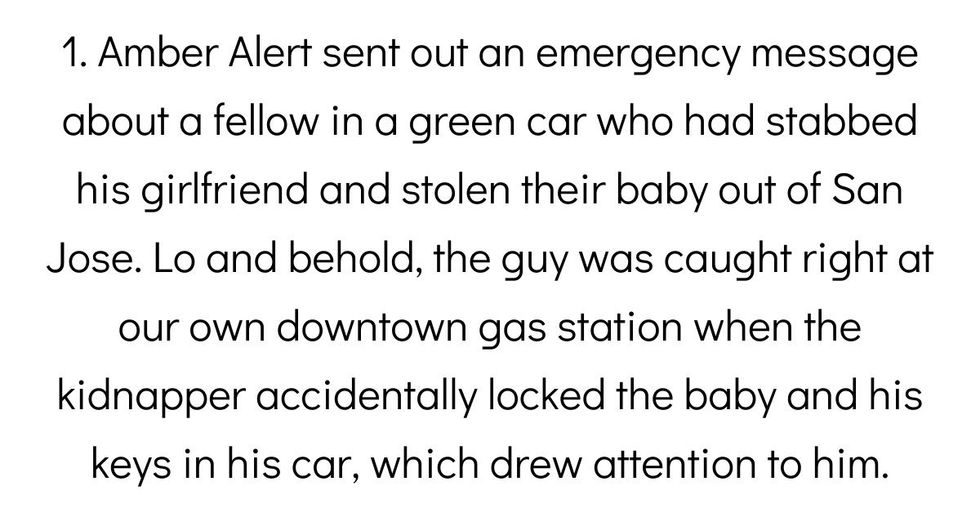 Small towns are often awash with gossip, so any embarrassing or scandalous behavior is usually known by everyone in town in a surprisingly short amount of time.
Some towns definitely have a bit more scandal than others, though, as these Reddit responses show.
Reddit user u/Ayayaya3 asked:
"People living in small towns, what's the recent scandal?"
10.
A few days ago, Amber Alert sent out an emergency message about a fellow in a green car who had stabbed his girlfriend and stolen their baby out of San Jose, which is 3 hours north of us. Lo and behold, the guy was caught right at our own downtown gas station when the kidnapper accidently locked the baby and his keys in his car, which drew attention to him. A good samaritan from an entirely different town, (a tourist), put the puzzle together, and put the guy in a headlock until the authorities arrived.
9.
A local police department likes to post "Wanted" pictures on its Facebook page.
The other day, I saw one of their sh*tty Wanted postings of some woman who is allegedly evading police for drug charges and intent to distribute.
The suspect herself commented on the post and said, "I'm not evading, I'm not on the run, I've been out of town, and when I come back I'm turning myself in."
8.
A couple months ago someone left their fire pit in their driveway for a few days. They received a mailed letter from an anonymous neighbor shaming them for making the neighborhood look bad. The recipient then posted the letter on the town's Facebook page. People ran with it and created the first annual front yard fire night.
7.
The town went with the lowest bidder for a big roadwork contract, and it turns out they were totally unqualified for the job and were messing stuff up. So the town fired them and hired the second-lowest bidder. Same thing. They're on their third contractor now IIRC, and the project which was supposed to be done this summer will hopefully be finished sometime next year.
6.
Our city council just voted to give themselves a 103% raise.
For reference, the pay is low-mid 20k currently, the raise puts the pay at 52k. The support is that more people will be able to get into office with the higher pay, and wages were stagnant from many years ago. So instead of the gradual pay increase over those years with cost of living, it's been adjusted to the current market today resulting in a significant jump. The overall trend from opposers is that they were blindsided and didn't get to vote on it like the last mayor said should happen.

5.
We don't know who but someone has been going around egging random cars and throwing full water bottles at people's windshields..
4.
Our newly elected mayor (who is a school teacher as well) caused a head-on car crash injuring 2 small children in the other car. She was found to be drunk and it was 330pm on a weekday. The kicker: she wasn't charged with a crime (as of yet) but she did resign after "considerable thought."
3.
I left my small town years ago but I was home over thanksgiving and got an earful.
The local grocery store was renovated/expanded after 30 years and now "everything's moved and you can't find nothing".
I was home for four days and literally every new social interaction with people in town involved the go**amn grocery store and how awful it is now.
Spoiler: it actually looks quite nice and they hang signs over the aisles telling you where things are. You know, like a grocery store.

2.
During my sisters volleyball game one of the super aggressive sports dads slapped someone else's kid- cause apparently she "set the ball into a bad positioning" and that caused his daughter to miss the spike
His kid is not good at the game
I played volleyball for a long time and my mom sent me footage of the set, she set that ball beautifully for the small league she's in
They won the game- just be happy
The entire community is turned against him right now and the family of the girl is considering pressing charges, which i feel they should cause this guy has gotten close to crossing the line before and he needs to be reprimanded for his actions

Edit; a lot of you have commented about how he didn't get beat at the game, no one had the chance because immediately realized he f**ked up and ran out to his car
He drove away leaving his kid to be embarrassed and alone in a court full of people pissed at her dad ( one of the nice moms gave her a ride back to her house where she spent the night )
And on a happier note I've just learned from my mom that charges are being pressed, and investigations into the living conditions in his house are being conducted, i'll update when the results come in.
1.
My grandparents small town has had a recent outbreak of teenagers riding horses through the middle of downtown, while wearing nothing but facemasks. It has happened a total of three times now, always different kids, always different horses.