I've lived with women most of my life.
I went from my mom's house to jumping around with roommates.
But women tend to be particular.
About many things.
And there is always a ton of bathroom issues because guys can be gross without even realizing it.
A Redditor wanted to hear about what people have learned once they cohabitated with the ladies and asked:
"What did you not know or realize until after living with a woman?"
I've lived with many women. It's been... an experience.
I'll Do It!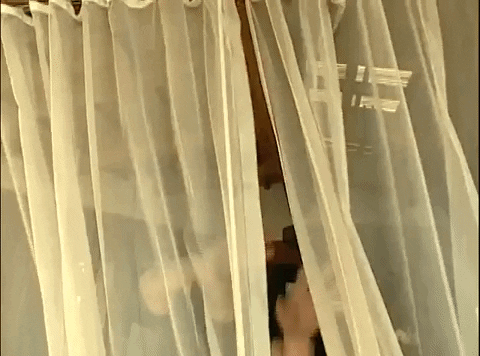 Waking Up Sun GIF by MTV Cribs
Giphy
"According to my wife I cannot open the living room curtains properly and she always need to redo it."
chillipotpeeps
Hygiene
"I either need to do a 1hr upper body workout to blow dry my hair, or let it sit wet for several hours while it dries after I get it wet. Plus, just getting it wet, shampooing, conditioning, and making sure I've gotten all the product out of my hair takes a good 15-20 minutes. I absolutely do not wash my hair every time I wash my body and shave or vice-versa. It just takes wayyyy too long."
RNGHatesYou
The Look
"The color of their shoes will match their earrings and their purse, and if you look carefully, will pick up the highlights of the design of their top. And that's not an accident."
"I never realized this was a manner of dressing until I saw it being assembled first hand, and then the next day at work it was like I paid attention to what my female colleagues were wearing and I'm like HOLY CRAP THEY ALL DO THIS."
LordSn00ty
It's bizarre...
"Women are both simultaneously messier and cleaner than men. It's bizarre how messy rooms can get with them and how quickly they can turn it around and make it clean!"
"Also random hairs everywhere, and make up stains that appear. They also have a really weird obsession with glass containers or jars."
ciregno
Heavy Lifting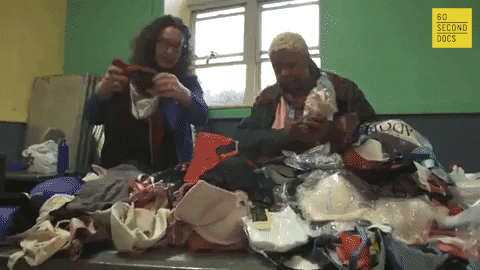 Stretch Size Up GIF by 60 Second Docs
Giphy
"That she owns only one truly GOOD BRA. There is only one and part of your duty as a man is to protect The Good Bra."
If you are doing laundry, you must take the greatest of precautions to make sure it is properly cleaned, dried, and stored. God forbid The Good Bra ever turn up missing or in the wrong drawer."
"Ladies, why is there only one GOOD BRA?"
StillHereUBastards
I can't even discuss undergarments...
Build Up
"Started noticing a residue building up in the sink. It's some kind of skin oil, but the wife insists I'm making it up."
Repressedmemoryfoam
Gotta Go
"I live with three female roommates and one night we got onto the discussion of bathroom habits. Two of the three believed that men always stood up to pee. Like if you were going number two and had to go number one you would stand up first and then sit down to finish the job. It was really funny to help to clarify men also sit to pee sometimes too."
zapp1121
Loose Strands
"When long, loose head hairs wash off in the shower, it's common practice to stick them to the wall rather than let them collect in the drain."
"If she forgets to remove them afterwards, it can be very confusing for the next person in the shower. Why are there a bunch of individual strands of hair deliberately stuck to the wall?"
Professor_Brooks
"Oh God this is me. I try to remember to pull the hair off. It's hard to get loose hairs off your head when it's wet so sticking them to the shower is kinda the only option."
REDDIT
Skin Issues
"I have never stayed on one thread as long as I've stayed on this one. Thank you OP and everyone who's posted. The ones about not knowing that pads stick to underwear rather than skin cracked me up, but also gave me new perspective. I mean, it makes perfect sense. How would someone who's never had to use one know if someone doesn't tell them?"
trumpeting_in_corrid
Stuff is moving...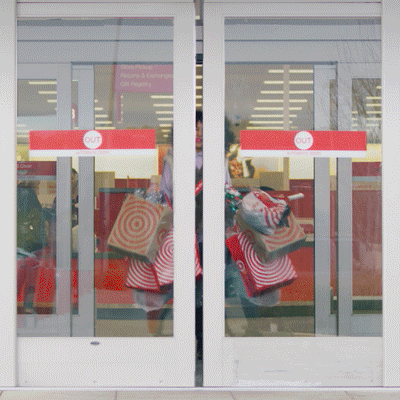 Black Friday Christmas GIF by Target
Giphy
"If they leave stuff at the bottom of the stairs, that means you're supposed to bring it up. If it's at the top of the stairs, you should bring it down. Also, the correct place for objects in the kitchen is where they currently reside. Stuff is gonna move around constantly, just roll with it."
REDDIT
I just chose to live alone. Men or women be damned.
Do you have anything to add? Let us know in the comments below.
Roommates are a part of life, and chances are you've had a roommate at least once.
Sometimes, your roommate is a family member — perhaps you shared your childhood bedroom with a sibling. Sometimes, it's a friend. It's likely you shared a dorm room with a friend in college. And other times, it's a complete stranger who you only shared a living space with in order to save on rent.
Whatever the case, having a roommate is sure to make for some interesting experiences. Some of these experiences are good, and some are bad, but one thing is for sure: they're all unforgettable!
Curious about some of these interesting experiences, Redditor chee-koo asked:

"Redditors, what are your most interesting roommate stories?"
Video Game ASMR
"My South Korean roommate in college played StarCraft (2? not sure) welllll into the night. We're talking like I'd be getting up to go to class and he'd be logging off."
"It cured my insomnia. Listening to a game in a language I didn't understand was very soothing, apparently, and I went from taking 3-4 hours a night to fall asleep (if I would at all) to falling asleep within 30 seconds of laying my head down."
– truthinlies
"Are you saying that to cure my years long insomnia all this time what I needed was not melatonin, plants or all the weird sh*t I've tried, but a South Korean online gamer in the next room?"
– blackd0nuts
"It's weird how sometimes you find something that just WORKS."
– Wolfie_Ecstasy
I'm Jealous!
"I'm pretty sure I used to live with a hobbit."
"-Man about 5'1", curly brown hair, constantly cheerful demeanor"
"-Never wore shoes, inside or out"
"-Literally slept on the floor in what can only be explained as a nest of blankets"
"-Started a garden and encouraged me to eat his tomatoes all the time"
"-Would bring home samosas and other goodies, always giving me half just because"
"-He and his wife had a dream of living off the grid in a tiny home on a truck"
"I hope he's doing well"
– Opposite_Lettuce
"Tall for a hobbit, otherwise checks out!"
– GielM
Poor Little Rich Girl
"My freshman year roommate was an international student from Dubai. She had maids and help all of her life and didn't know how to do a goddamn thing! Once she ate an apple and tossed the core behind her onto our carpet! I told her I'm not her maid to clean up after her!"
– Turbulent-Mind7128
Killing In His Sleep?
"I used to cook dinner and always made enough to offer to our room mate. He paid his bills and rent always but sometimes he didn't have enough for food so I would cook and say "hey man, wanna have dinner with us?". He would usually say he didn't like whatever I was making. Fastforward to morning...all the leftovers were gone."
"His explanation? He must have been sleepwalking and ate it in his sleep. This happened 15 to 20 times over a year period. Minimum. He would make these big song and dances about how what I was making was gross, so I would put up enough leftovers for two (my boyfriend and I) then go to bed. What was to be lunches for work gone and often dirty utensils in the sink."
"Fast forward another 5 years and he called me at 3 am after not talking to me or my partner for 3 years, and told me my now husband (aforementioned BF)was doing Crack in front of our 4 year old. I called my husband, who was asleep. Neither of us had talked to him in years...what was this?"
"Fast forward another 5 years. He's on death row for killing his roommate. His defense? He did it sleepwalking."
– dissapointingsex
These Things Belong In The Trash
"My roommate once create a whole new lifeform by leaving beans in the fridge until they molded so bad they became pure white. Then she got mad when I threw it away because she was going to use it later."
– Shadow948
"Use it for what? Giving people botulism?"
– Bob_12_Pack
"I had a roommate do that with lasagna in a casserole dish. I eventually tossed it after lifting the lid and looking inside. I didn't want to touch it and I knew she'd never clean it, so I threw the whole thing in the dumpster, dish and all. When she got home and saw it was gone, she told me I might as well throw her lifeless body in the dumpster too, if that's how little I thought of her. I was like, "I'll buy you a new casserole dish, damn.""
"Neither of us did what we'd said we'd do."
– Calexcia
...Huh?
"Senior year of college I lived with 8 other students in a house, girls upstairs and boys downstairs. One time the boys were really rowdy so I went downstairs to check it out and this girl from my literature class was beating in their fridge with a fire extinguisher. I think I've lost the ability to be surprised after that year."
– Mirrorflute88
"I don't understand the meaning of "was beating in their fridge". Was she beatboxing? Was she getting beaten up? Was she attacking the fridge?"
"It would be really cool if somebody could help me with that :)"
– umhassy
Laundry Troubles
"My wife had a roommate who's clothes smelled bad all the time. But they would do laundry together, so they knew that she washed her clothes, but they smelled like they weren't."
"Until one day when they were shopping together, and the roommate said that she had to buy laundry detergent, and then picked up some Downey Soft fabric softener. My wife asked her if she was also going to get detergent, and the roommate replied, "I just did.""
"My wife tried to convince her that fabric softener is not soap, and wouldn't clean your clothes, and the roommate was adamant. "This is what I've always used, and it works great." My wife tried to be nice about how it didn't work, and that her clothes didn't smell good after a day (when the Downey scent would wear off), but nothing she said made a difference."
"I hope that when the roommate got married 12 years ago, her husband was able to convince her to use actual detergent for her clothes.""
– WalmartGreder
Middle Of The Night Thoughts
"My freshman year roommate would think way too much when he was trying to fall asleep and wake me up all the time."
"Like, "Hey man, a lot of people find the person they marry in college. What if I never find that person!!""
"Me: "huh? It's 2am, dude, I have class at 8.""
""Oh sorry to wake you up, go back to sleep""
"Five minutes later, he wakes me up again "Unless you're on fire, then that makes sense.""
– ThinkIGotHacked
Whoops!
"My flatmate was using the speaker in the living room for playing music, he said he was gonna go shower so he left.
2 minutes later we heard moaning and slapping. He forgot to disconnect from the speaker."
– Terrible-Cost-7741
Thw Worst Mom
"(This is gonna be long, because there's a fuckload to tell.)"
"Ah, my last roomie, J. How to explain her... J was an an*l-retentive b*tch for whom things could not be clean enough. She wasn't a germophobe; she was just a controlling c*nt. For example, she had a glass table near the kitchen where she ate all her normal meals. She had a little boy who was 4ish and a girl who was 7ish. They were not allowed to eat meals with their mother because they might get fingerprints on the glass. Instead, they had to eat on a small wooden kiddie table away from her. One day, her son accidentally knocked over his juice, and she full-on screamed at him while he sobbed and tried to mop it up."
"Other sh*t she pulled:"
"- I accidentally left, no joke, one fucking pinpoint of spaghetti sauce in the microwave one night. She banged on my door at midnight on a work day. And when I answered, she grabbed my arm and marched me downstairs and yelled while I cleaned it."
"- I accidentally forgot one day that I was supposed to take the outdoor trash can to the street. On my way back home from work, I found out my brother was dying, so I was sobbing by the time I got home. When I got there, she had placed the trash can so that I could not get into the garage without moving it to the street. And when I got inside, she was waiting for me. She physically blocked the stairs up to my room and just screamed and screamed while I cried and tried to explain that my goddamn brother was dying."
"- Her (very sweet, no idea how she got such great kids) daughter was in Girl Scouts, and J was the troop's cookie mom. She was SCARY about it. One day, she left an envelope of cash from it on the kitchen counter, and there was NO way I was touching that. Tried to tell her it was out there, but got nowhere. Quite a few people came in and out of the house, including a few contractors, and next time she looked, the cash was gone. Of course (/s), it had to have been my fault, so she threatened me with throwing everything I owned on the lawn and changing the locks. So that I had somewhere to sleep, I just paid her the $80, even though that meant a couple weeks of ramen. Guess where it was? Her kiddo took it to his room and was playing with it. And no, I got zero apology."
"- Did I mention she was a nightmare stage mom? Because she was. She forced her shy daughter into doing a made for tv movie, and then ran around watching her toddler son wrecking the whole set while cooing about how "adorable" he was on "HIS movie set.""
"- She'd found photos in a property her family owned where some asshole early paparazzo had hidden there and taken shots of a very famous and well-regarded, inspirational person's private funeral. For some reason, the pics were left in that property. Her immediate decision? If she can't get at least a few hundred k from auctioning them off, ransom them to the family."
"Biggest lesson? When your roommate's family comes over for dinner, and several of them pull you aside to voice concern for you and ask if she's treating you badly, that's when you spend every waking moment from then on finding a new goddamn place to live, even if it's a street corner."
– ChaoticForkingGood
Faking It
"My first roommate as an adult faked ovarian cancer. Just.... How could someone even DO that?"
"When I was looking for a new place, she waited until I took a shower and got into the computer in my room. (That one's partially on me, because I didn't log out of it before I went off.) She found out I was emailing the person who would be my next roommate, noted the email address, and then sent a bullsh*t-laden email to that person trying to get them to kick me out before I ever moved in."
"She was in-f*cking-sane. By the time I left, I'd have been willing to bet everything I owned that she was on meth. Couldn't prove it, but she 100% acted and looked like it."
"Oh, and did I mention that she turned on a goddamn dime one Saturday and told me that my dog, who she'd previously loved, had to be gone by Monday or else she'd kick ME out? All because my poor baby girl had been abused before I had her, and when that woman yelled at the top of her lungs one day, my little girl peed. So, yeah. I had to call rescue organizations and shelters and give my sweet girl up."
"Also - last one, I swear - she invited a homeless couple to live with us for a bit in return for doing some painting. Please note: I have no problem with this. What I DID have a problem with was that she never asked or even told me about it (and I'd have said yes if she had). She just did it. She also told them that they were welcome to keep anything in the third bathroom that they wanted... Which was my goddamn bathroom. Finding out your makeup is all gone and that someone's pubes are on your soap? SO much fun."
– ChaoticForkingGood
Morally Compromised
"In college, my roommate was majoring in criminal justice, and it threw me for a loop when I found out she was in a gang. (Weird combo.)"
"One day, she asked if a friend of hers could stay with us for a little while. Her friend had just been evicted from her first apartment for not being able to pay. She was 8 months pregnant, and it was winter, so I was alright with it."
"Now, this roommate and her friend would sit there and giggle and gossip from when they got in bed until about 2 AM, juuuuust loudly enough that it kept me up."
"One night, I overheard 80% of a whispered convo between them where they talked about how easy it had been to steal some furniture for the pregnant girl's new place. They started talking about how shitty the books in the bookshelves had been and how they were glad there had been room in the dumpster out back for them. They thought I was asleep."
"Our dorm had a "dorm mom" who was a very sweet 80yo lady whose job was to live with us in the good-sized apartment in the dorm for that use and to make sure we were abiding by the (stupid and outdated) rules. She was a total sweetheart. She actually furnished our common room with her own stuff, out of the kindness of her heart. Bookshelves, books, a sofa, and a TV."
"So when I got up the next morning and headed out, and I saw everyone milling around the now-empty common room, my heart sank. Everyone loved our dorm mom. I checked the dumpster out back, and yep... all of her books were in there. My roommate and her friend had stolen everything in that room in the middle of the night."
"I went straight to the dean. She got at least booted out of the dorms. Don't know if she got kicked out of the college altogether or not, but I still caught hell from the rest of her gang. Fun times."
"Sorry, roomie, not sorry. She made that lovely dorm mom cry."
– ChaoticForkingGood
I Didn't Do It
"My morbidly obese roommate fell in the shower and went through the wall. Sounded like a bomb going off and scared the shit out of me."
"That would be whatever, except a minute later the useless bastard came limping out bleeding and tried to pretend the shower/wall had always been like that. Even when we pointed out he had done the damage, he refused to really acknowledge it."
"Our other roommate was crazy, and refused to get the landlord involved. So, she instead cleaned up the mess and left the hole, saying she'd fix it later herself. When we left (about a year later), she just gorilla glued some cardboard up over the hole and then glued the tiles back on over it."
"I'll admit it actually didn't look terrible. You probably wouldn't notice unless you really looked."
– Broski225
If Only She Could Sleep
"One time I woke to two voices in my college doom room."
"I saw that my roommate had a guy with her in bed. From what I remember, there was kissing but I don't know what else. I had no idea when he got there."
"I didn't know what to do so I just pretended to sleep until they were gone. They finally left close to noon. As they were heading out, the guy goes, "wow, your roommate sure is tired." My roommate: "yeah, she sleeps a lot.""
"Couldn't help but feel a little peeved by that."
– purplealchemist
Duck!
"My roommate threw a meat cleaver at me because I told her I didn't want to talk to her because we were fighting."
– livetimefe
I'd Run
"I moved in with a couple. She was VERY obviously pregnant but denied it. They had 7 pet rats, which I was chill with. Their bed was on the floor so the rats could sleep with them, cool. Whatever you're into, not for me to judge. The rat poop that was EVERYWHERE in the house was an issue. In the tub, in the wash machine, outside their room in their shoes. My final straw was when I baked 15 DOZEN butter tarts for Xmas gifts cuz I was a broke 20-year-old and they ATE THEM ALL in one evening and that night she went into labour and had the baby she definitely wasn't pregnant with and demanded I give up the home office I paid extra for each month to do my work from for her new not baby But keep paying for it."
– notanaltaccount88
Yes, roommates are a part of life, but some of these experiences make me glad that part of my life is in the past!
Ever since moving to New York to acquire fame and fortune, I've had to make sacrifices. For the first year I was able to live alone but I was stationed a little far from where all the action happens. Quickly I learned that in order to be in the thick of the action, I was gonna have to move in with people and share my space to save some coin. Now some thirty roommates later.... I should've just stayed with the commute. The book I could write. I wouldn't know where to begin. The roommate who had a two year old that he forgot to mention? The roomie who liked to dance nude in the kitchen while intoxicated? The guy who would have pornographic sound level intercourse? Oh the stories. Imma live alone forever.
Redditor
u/epic-yolo-swag
wanted everyone to unload about the worst choices we've all made by deciding to share a home by asking.....
Redditors, what is your roommate horror story?
Want to "know" more? Never miss another big, odd, funny, or heartbreaking moment again. Sign up for the Knowable newsletter here.

Hi there. I'm writing this on a throwaway because to be honest I never thought I'd need to post here but what can you do.
So I moved into this flat about 8 months ago. I met "Lana" online on a roommate website, and we clicked well. She's a bit younger but seemed mature. We quickly agreed to be roommates (both of us were under time constraints to find a place to live) but have got on really well so far (up until this).
Our flat is a two bedroom, and to be frank, my room is clearly the better one. It's bigger and has built in wardrobes. When looking for the flat, I found the place first on my own and put down a deposit to take it off the market while I found another roommate. The flat was perfect, cheap rent and my aunt manages the property, so I was keen to snap it up before anyone else did. The area it's in is popular so I wasn't really worried about not finding someone to room with.
Because of the above and that I was there first, I took the bigger room naturally. When showing potential roommates (including Lana) round, I was sure to show the smaller room and say "this would be your room".
We moved in 8 months ago, and it's been happy families. Never heard Lana complain about her room. Because I have about 6x the wardrobe space that she does, I told her she's welcome to store her off season clothes in there, or whatever she wants to store, as long as she's not popping in every morning to get dressed. She was happy with this.
Just over a month ago, I went travelling. Now I'm not the biggest fan of having people in my room, but I told Lana if she had someone stay (her sister, friends from home) they could sleep in my bed. She said thanks, and as she's been such a great roommate and rarely has guests except her boyfriend, I didn't worry at all.
I came back yesterday. I was exhausted from the flight and traveling, and just wanted to shower and sleep. As I walked in Lana was in the living room with her boyfriend. We said hello and hugged, had a very quick catch up, blah blah. Then I dragged my suitcase to my room, opened the door and found it full of stuff that was not mine. I kind of yelled "what the hell?" and briefly thought I was so jet lagged I was confused, but opened the door to Lana's room and saw all my stuff.
I walked into the living room and asked Lana what was going on and she said "Oh sorry, I forgot to mention, we put my stuff in your room just because it's bigger and you weren't here and you said I could use it." I was honestly so tired I could have passed out then, so I probably wasn't in the best state, and told her to move it all back immediately. She said they were in the middle of making dinner and I looked tired so I should have a sleep. Her boyfriend then said "And anyway, you pay the same rent so isn't it fair that you both get the big room at some point." I was getting really frustrated and could feel tears welling up (hysterical from lack of sleep) so I just said "We'll deal with this tomorrow, and it's getting moved back" and then I went to sleep in not my room.
I've woken up now and I'm so pissed off. Lana's at work so I can't talk to her but what should I do when she's home? I feel like this is going to turn into an argument, I don't think it'll be as simple as "okay let's swap now you're home."
I went traveling for a month and told my roommate she could use my room for guests if needed. While I was gone she swapped all our stuff and moved into my much bigger and better bedroom. Never had a problem with her before but she doesn't seem like she's planning on swapping back. What do I do when I speak to her after work?
I'll be talking to her when she gets in because this is out of character for her, to the point of it being bizarre. She's never been anything but a model roommate, so I'm gonna give her a chance before we're donezo. If she wants to be reasonable and have a chat about rent portions I'm happy to do that. She's never had a problem with the rent before, and honestly I've never had uneven rent amounts in any place I've ever lived (whether I had a bigger room or smaller room) but a lot of people here are saying it's the norm so I'm open to talking about it if she's not ridiculous.
I texted Lana to tell her I moved my stuff back. She didn't reply to me, fine whatever, but she didn't kick off so I figured we were okay. I told my Aunt what had happened, who was as baffled as all of you, and I told her it was probably all sorted, just keeping her in the loop. I also told my boyfriend, who works about 5 mins down the road. He offered to come round, incase Lana's boyfriend came round, but I told him not to because then we're ganging up on Lana. He insisted on going for a "coffee" with his mate a couple roads away incase we needed backup. Which is a bit ridiculous but very cute of him.
So I did get myself a glass of wine while waiting for Lana, not because I was nervous I just like wine, and she came home. I was sat in the living room and gave her a very cold "hi" when she walked in. She sort of froze, bag in hand, and her eyes darted between me and my/not her/our bedroom door. She blurted "did you do it!?" and I said "what, move the rooms back? Yeah of course." and her eyes went all wide and she dropped her bag and ran into the bathroom. I could hear her talking on the phone so I was like yipeeeee I guess Tom's coming round fuuuuuun!
Here is how the story goes... I'll be the first to admit, I have huge commitment issues- my parents threw me out for being gay and then shortly after I entered into an abusive relationship with a much older man. After that broke up because he found someone younger, I was in a relationship with a guy who was in the closet and basically was his dirty secret until he got engaged to a woman without telling me and then wanted me to stick around. I didn't. After that I became pretty anti relationship.
I'm pretty well known for being anti-relationship too, especially in my circle of friends.
About 18 months ago, I met Alan at a supermarket, we made eye contact, flirted a lot and I invited him back to my place for a drink when he invited me back to his place when he saw that I was just grabbing a frozen meal, whereas he was going to cook. So of course I accepted.
We started a FWB thing after that but then slowly started hanging out outside of the bedroom.
Then Alan's lease was up and I was wanting a housemate so I asked him if he was interested- he couldn't afford it but I told him he could pay what he was currently paying and he could cook and kept the house clean.
He agreed because he was essentially paying for a single bedroom apartment and living in a house and he loves cooking and cleaning anyway, his personality reminds me a lot of Monica from Friends only he works in a library.
Before I knew it, I was getting packed lunches every day and he's made a vegetable patch in the backyard.
About 2 months after he moved in, he brought up being mutually exclusive FWB after an STI scare. I agreed because I actually hadn't slept with anyone except Alan for ages and neither had he. So after we got tested again we stopped using condoms.
Then a few months after that- Alan wanted to join the gym so I added him to my membership as my partner. We turn up to events with each other. We hang out a lot. He sleeps in my room more often than his room because we have sex there the most.
Then last week we were at a party when someone asked what our relationship was. Alan laughed, looked at me straight in the eye and said that we were "mutually exclusive, housemates with benefits with income proportional expense sharing."
Now that just sounds ridiculous. I know I have a boyfriend, I've been sort of denying it all this time but that's what Alan is.
This situation is both really screwed up but I've also never been happier. He's so easy to talk to, to hang out with and when he's not at home I feel bored, like I don't know what I did with myself before I met him.
But somehow I both want him to be my boyfriend but a part of me is scared of getting in a relationship, even though I am in one.
I just feel like saying the words will change everything- it's a commitment and I really want it but there's that irrational part of me that is scared.
Also I'm scared that Alan doesn't think we're in a relationship even though we are right? Alan has never had a boyfriend as long as I've know him and he has his own set of issues too, he's parents basically tried to "pray away the gay" and he left of his own volition. He used to bring up very subtly about getting more serious but I would just evade and he stopped pushing. It's so weird, like I can talk to him about everything and anything, we have these amazing conversations but lately this whole boyfriend thing is like the elephant in the room.
How do I get over this fear of commitment and also what does it say that he'd put up with this crap from me?