So I have this concept I call "Emotional Velociraptors" - they're the people that stay in your life testing your fences for weak spots after you've set a boundary.
Rom-coms like to frame it as one person being madly in love and the other just not realizing they're in love yet. It's determination, it's devotion, it's "true love" and so romantic!
Nah, it's totally disregarding your boundaries and your autonomy and collectively can we just ... ya know ... NOT?
Hanging around waiting for someone to be emotionally compromised so you can swoop in and "save the day" with your love is predatory.
"Wearing them down" until they say yes to a date is predatory.
Sabotaging their friendships and other relationships in the hopes that they'll "fall back" to you is predatory.
Not romance. Raptors. Now cut it out!
Reddit user MysteryScallop asked:
"What do people need to stop romanticizing?"
And hey, would you look at the very first response, it's our good friend Rom-coms!
But they're not alone here. This list is full of messiness, take a look.
Rom-Coms Need To Be Stopped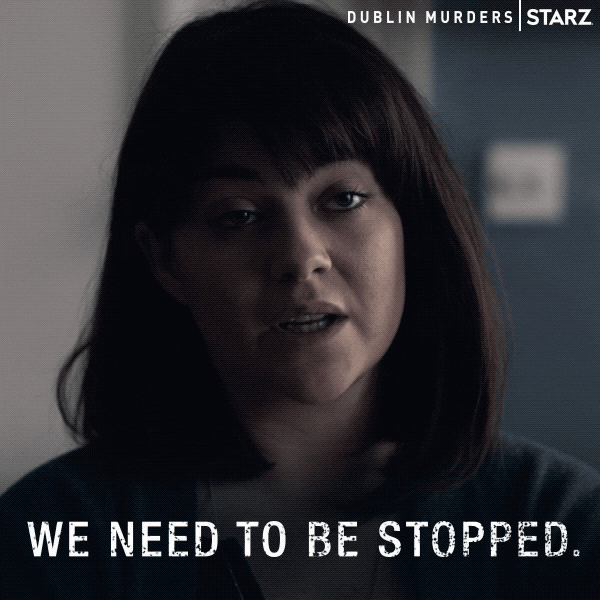 Bbc Starz GIF by Dublin Murders
Giphy
"People dropping all their own goals and interests for someone else. Yes, the plot of standard rom-com."
- Mattie725
"Which brings us to stalking. Also romanticised in rom-coms."
- CozyCauldron
"This!"
"It's scary how people in these threads I see are sometimes just like 'no this is so romantic' and 'oh look at their relationship progressing' while I'm like 'no wtf?! this is the behavior of a crazy person that I wouldn't want anything to do with in real life ever!' "
"Doesn't just go for stalking, goes for a lot of things really. Rom-coms/dramas etc are good at romanticizing these really weird and super unhealthy things."
- thanhpi
"Do you know the series 'You' on Netflix?"
"The protagonist believes he is the hero of a romance. Just watch the trailer, I love it. It's relevant."
- koi88
Manic Pixie Superpowers?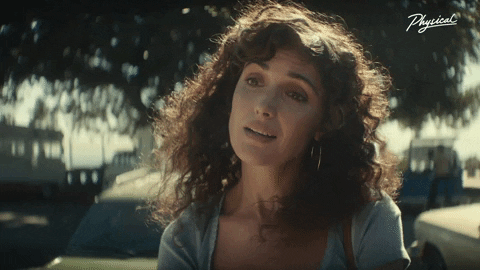 Sarcastic Rose Byrne GIF by Apple TV
Giphy
"Mental illness is a serious condition. Having one does not make you cool, unique, or insightful. It's a disaster."
- Pretend_Drink5816
"The people who call ADHD a 'superpower' are just flat out wrong. ADHD is super debilitating overall."
"While there are some things we can do 'better' than people who are neurotypical, overall ADHD is extremely hard to manage and often can destroy a person's home life, school and/or career."
"Things aren't structured for us. At all. It's really hard to function."
- deja_geek
"Some individuals go as far as fetishsizing people with mental illness and its disgusting. That Manic Pixie Dream Girl is suffering."
- [Reddit]
"Some people called my autism a 'superpower' because smart or rich people also have autism and are really successful (Elon musk, Bill gates etc).but their superpower isn't autism, it's being a rich white guy."
"People don't seem to realize what Savant Syndrome is or what privilege is and just believe everyone with a mental illness or disability is some secret untapped genius, which is not the case."
"I don't have a 'superpower' and am not incredibly smart, what is different is my breakdowns which aren't fun believe it or not."

- Yuri-Bad
Followers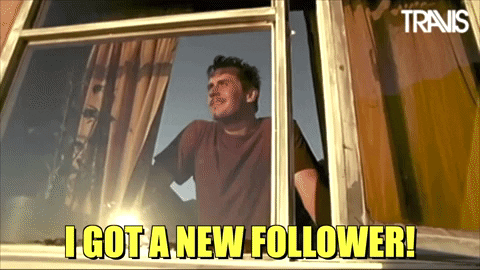 Social Media Reaction GIF by Travis
Giphy
"Having Followers."
- gor8884
"I had an acquaintance tell me that he really liked this guy he had gone on a few dates with, but the the guy had less than 1000 Instagram followers, and he saw that as a red flag."
"We were probably 19/20 at the time, in college. This guy was obsessed with social media appearances. He would only post photos of himself with people who he deemed attractive enough."
"Once my roommate, her other friend, him & I all went out. He knew my roommates friend on the same level as me, just acquaintances. No real connection."
"The friend is super pretty; she looks similar to Shay Mitchell."
"He asked to take a photo with her so he could post it on Instagram and didn't even ask my roommate who he is ACTUALLY friends with or I to get in it LOL."
"HE was definitely the red flag in that relationship."
- rahws
"Real" Fathers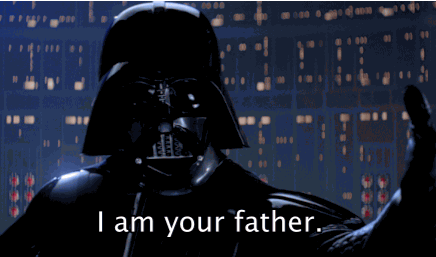 darth vader father GIF by Star Wars
Giphy
"My wife's ex-husband has documented schizophrenia, bi-polar and is a drug addict with a severe alcohol problem. He's also assaulted multiple people and posted pictures/bragged about nearly beating an old man to death at a gas station because he 'talked to his woman.' "
"People liked to romanticize him as just 'protective father.' "
"We lived in absolute fear anytime he got to see the kids. Would they come back with bruises, night-terrors, talking about strange people and places?"
"Or the week-long headaches with their clothes smelling of marijuana and having strange stains on them. What would go wrong this time? Or...would we even see them again?"
"Would he fly off the handle this time and beat or abandon them? Would he do what he's threatened and leave the state?"
"It's absolutely terrifying. The late night/early morning messages that didn't make sense, had him half-naked outside doing God only knows. The video chats of him being drunk or high."
​"It took years to get him cut off completely, all due to the f*cking lie that 'children need their "REAL" father.'
F*ck. That. Shit. Sideways."
"No, they don't. Especially not if he's a dangerous maniac and they have a Father (ME) and only wants to love and protect them."
"He wasn't 'protective, he was violent. It cost nearly $10k and took ~5 years but he's finally been cut off."
"It only happened when he tried to break in, armed with a gun, drunk at 3am. He was caught a block away waiting for us to come out."
"Why? To be a real father and 'check on his children... with a loaded gun. The letter he wrote that they confiscated off of him that night really told what he wanted to do."
"We've since moved, and it's taken over a year of no contact for us to finally not be looking over our shoulder every second. Mental illness is awful and the man truly needs to be locked up, away from the general population with long-term care."

- importvita
Caught Up In The Game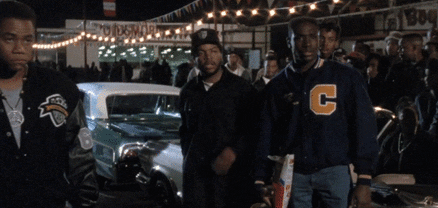 ice cube film GIF
Giphy
"The 'gangsta' lifestyle and all that it entails."
"I grew up in Oakland and have witnessed far too many of the people I grew with get caught up in the game. Roughly half of the guys from my former neighborhood are either serving life sentences or were killed."
"I grew up in the 80s, but it's even worse now."
- frog_without_a_cause
"We've been glorifying lawless rebels who make their fortune through strength, cunning, and weapons since the start of time."
"Gangsters are just the modern version of outlaws, bandits, pirates, treasure hunters, and explorers. They answer to no one, they don't take any crap, you don't want to cross them, and the ones we idolize (whether real or fiction) are the ones that do that and succeed."
"We overlook the many, many examples of it being awful and focus on the few that show it being way better than our sh*tty boring, repetitive lives where we lack so much freedom."
- BillyPotion
Seriously Serial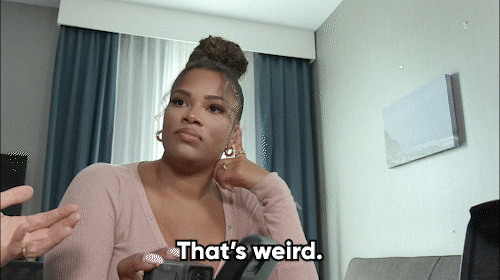 This Is Weird GIF by Catfish MTV
Giphy
"Serial killers."
- TheSmegmatician
"And putting details of what they did all over the media, giving them additional fame. A comic I can't recall the name of said 'I know more about Ted Bundy than I know about my family.' "
- tactfulvulture
"Ted Bundy legit got hundreds of love letters from women in jail. Really strange why women would find a person who specifically murders only women attractive."
"Humans are certainly bizzarre."
- Noob_master_slayer
"Last podcast on the left does a really good job of showing how these guys are actually just massive losers that turn to killing because it's the easiest way they can be good at something."
- nurplethepurple
"You can't possibly be a "fan" of any serial killers they talk about, because they make it very clear what pathetic and horrible people they all were."
"I absolutely loved their Charles Manson episodes. 99% of Manson-related media makes him out to be some criminal psychopath mastermind."
"LPOTL makes him out to be a horny little conman troll who had no f*cking clue what he was doing and made a bunch of choices out of sheer panic or stupidity. There's no glamour there."
- GaimanitePkat
It's Just A Job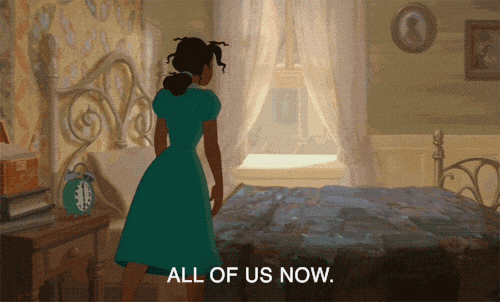 Tired Presidential Debate GIF by INTO ACTION
Giphy
"Overworking."
"My coworkers tend to make it a competition to see who can make the most sacrifices for their career. Who puts in the most overtime hours? Who does things off the clock for work more? Etc"
"It's bullsh*t. I have a life and a family I want to prioritize."
- Disastrous_Emu_3911
"Saying that you work a lot isn't the flex most people think it is. Unless you're rich or you work for yourself, you're basically admitting that you're sacrificing your life for someone else's gain."
- haloarh
"I can see when everyone on my team logs in and out."
"It's super common for people to start working at 4-5am and stay on until 10-11pm. I see work getting submitted at 2am. I see people logging on during weekends."
"One person even worked on Thanksgiving."
"It's like they don't know how to occupy themselves if they're not doing their job."
- Firate
Hot People Can Be Evil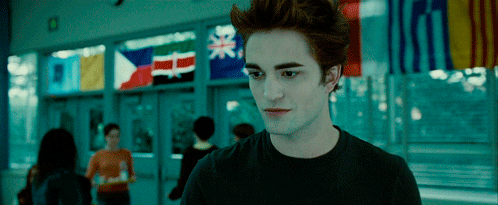 bella swan twilight GIF
Giphy
"Attractive people doing harmful things."
"People shouldn't get a pass to do toxic and rude things simply because they're attractive. Why do I see serial killers and toxic partners get romanticized simply because they're hot?"
"Why does that make their horrible actions somehow badass and charismatic??"
- Basic_Material
"Back when the Boston marathon bombing happened one of my friends on Facebook started posting a bunch of pictures of one of the bombers, talking about how she would have dreams about him and how obsessed she was with him."
"I straight up blocked her after the second or third time because I couldn't get over how messed up that was. Dude killed and maimed multiple people, his objective attractiveness became absolutely null at that point."
- WhoIs_DankeyKang
"Ugh Twilight absolutely romanticizes this!"
"It's NOT ROMANTIC that a guy breaks into your bedroom at night and watches you sleep. It's not suddenly less terrifying because he is hot."
- Trueloveis4u
Yandere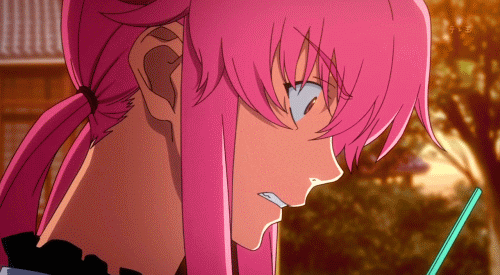 mirai nikki gasai yuno GIF
Giphy
"In the anime community, can we please stop with the premise of a 'Yandere,' where someone is so obsessed with someone that they'd go out of their way to hurt other people that person falls in love with."
"I once had a girlfriend in college tell me entirely seriously that she had killed someone before and would physically harm the person I went out with if I ever went out with someone else."
"It was terrifying. It led to me having a fight with another close friend before finally mustering the courage to break off the relationship."
"She's been out of my life for three years but she still causes me issues with relationships to this day (for a few other reasons as well)."

"Not once did I think it was hot to have her earnestly threaten someone else. F*ck that."
- AverageMormonGamer
It's Not Organization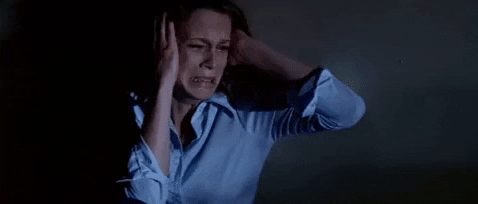 Sobbing Jamie Lee Curtis GIF by filmeditor
Giphy
"OCD."
"It's not quirky or funny when I'm late for work because I had to back upstairs to check that the gas stove is off for the fifteenth time because I can't stop envisioning the whole building blowing up."
"I literally stand frozen to the spot trying to fight the urge to go back when I KNOW I CHECKED but the intrusive thoughts are too upsetting to deal with."
"OCD isn't being cute and quirky organized."
"For me its believing that people will die if I don't check again. Again. No again."

"Even if it hurts me. Again."
"I watched a TV series called Whitechapel where the main detective has OCD. There's a scene of him flicking his office light switch off and on repeatedly whilst screaming his head off desperately wanting to stop."
"That is exactly what it feels like for me."
- UnspeakablePlants
"Howie Mandel talked about this on Conan's podcast the other week."
"As an example, he said he'd miss business meetings getting stuck in a loop of checking that the front door was locked for hours."
- ispysomethingorange8
What does it say about us as people that almost all of these were related to the ways we glamorize our own destruction?
I know I came hard for rom-coms at the beginning, but let's be honest this list is kind of disturbing. What's more, I'm sure you all have things you could add here.
So let's talk about them. What dangerously romanticized thing would you add to the list?
Want to "know" more?
Sign up for the Knowable newsletter here.

Never miss another big, odd, funny or heartbreaking moment again.
Keep reading...
Show less
Listen, if your twenties are the best time in your life then, barring something seriously tragic, you did life wrong. I have no idea why media tries to paint a person's twenties as the peak of their life.
Young people, please understand it is all lies. Your twenties are probably going to be a raging dumpster fire where you have no idea WTF you're actually supposed to be doing, but you're pretty sure you're doing it wrong.
One Reddit user asked:
What is something that people should stop romanticizing?
You know my answer. Check out what these people had to say.
Want to "know" more? Never miss another big, odd, funny, or heartbreaking moment again. Sign up for the Knowable newsletter here.
Keep reading...
Show less
Movies have no qualms of tackling subject matter that is a real part of people's lives.

But no matter how well they are written and receive critical acclaim, they are essentially created to entertain.
Some people who resonate with certain subject matters – like cancer or suicide – depicted on screen may take issue over the fact that there is an audience grabbing their popcorn and knowing eventually everything will be fine when the credits roll.
When Indianfattie asked on askReddit, What do people need to stop romanticizing? plenty of people weighed in with examples of a social malaise they believe are subject to exploitation.
Lack Of Sleep
"Not 'needing' 7-8 hours of sleep."
"So many people treat not sleeping as a badge of honor. In reality, the science is pretty clear in this, that getting < 7 hours impairs your cognitive functioning and productivity. A lot of sleep-deprived people dispute that, but those in a sleep-deprived state aren't reliable evaluators of their own performance!"
"If you actually can't function in the morning without coffee, you're probably not getting enough sleep. And yes, that's a lot of people."
Eating Disorders
"Eating disorders. It's not beautiful and tragic, it's just a lot of gross sh*t. Like hoarding bags of chewed up food under your bed. Having dentures/implants at 30 because your teeth rotted out. Walking around in public not realizing you have vomit in your hair, which by the way, is falling out by the fistful. I remember reading one horrifying story from an ER nurse who had a patient who was literally vomiting feces because her stool was so impacted due to constipation from her anorexia. Imagine vomiting your own sh*t."
"And that's not including risks like heart failure, life-threatening arrhythmias, brain atrophy, gastric rupture..."
"There's nothing pretty about eating disorders."
War
"For real. I saw an add the other day that I thought was for call of duty at first. Turns out its for the army."
– 24520ls
"Positive Inspiration Porn"
"Chronic illness or life altering disease. People glamorize being sick in books and movies as a lesson in strength, positive outlook, and acceptance. Great values to learn but it completely ignores the constant pain, isolation, and fear that sick people face daily. People pass around feel good stories about 'inspiring' people living their lives to the fullest while terminally or forever ill to make healthy and able bodied people feel grateful for what they have. I, nor anyone else in this community that I know, don't want to be your positive inspiration porn. This life is hard and we wouldn't choose it so stop using it for stories/media that you get to be emotional over then walk away from."
Idea Of Violence
"This makes me really ashamed, but I fell down the 'Columbiner' rabbit hole when I was a young, troubled kid. Basically, it's a fandom for the Columbine shooters. I was struggling with my mental health and the idea of killing the people who were putting me through so much sh*t gave me catharsis. I even wrote a letter to Kip Kinkel, a man who shot up his high school a year before the Columbine shooting. I really poured my heart out, and explained everything I was going through. I didn't expect him to write back, but he did. He told me that he usually didn't write back to minors, but that he thought it was important to tell me that everything was going to get better someday.
He explained how he got the treatment he needed for his mental health issues in prison and even got a good education and a job within the prison, and was living a pretty good life there, despite serving a life sentence. He said that he really cared about me and wanted me to succeed in life, and asked me to reach out and get help. I was floored. No one had ever cared that much about me before. Needless to say, I left that fandom and got help, and I stopped romanticising the idea of violence. When a literal school shooter tells you that sh*t isn't cool, you know that sh*t isn't cool."
Bad Romance
"Know that unlike in math, two negatives do not make a positive. In other words, two imperfect people do not magically make a perfect relationship."
Battle Scars
"Sports Injuries."
"Like, 99% of the time it will get better but 99% of the time you won't be able to come back to where you once was as an athlete. No matter how heroically you will try to recover or fight this injury. Most of the time it will never be the same again."
"I injured my knee a long time ago, and it has never been the same ever again and everybody told me to try harder. That's just not how it works."
Obsession With People
"Stalking. In movies, if person A likes person B, it becomes ok to stalk them like crazy, showing up uninvited to profess their love."
"In reality, that's totally creepy and illegal. The issue is that people without experience doing these things in real life see the movies and emulate what they see."
Pain Olympics
"Being stressed and exhausted from work."
– xyanon36
"Or it turns into what we call 'pain olympics'"
"'I'm exhausted, I worked 65 hours this week..' 'Omg that's nothing, I worked 75 and I'm doing just fine!'"
"The worst."
Depression
"There's nothing romantic about not showering for three days and forgetting what it's like to be able to feel things."
Toxic Dedication
"Loyalty to the company--it's not a good thing. My husband worked for one particular company for nearly 20 years and towards the end, they were really treating him like sh*t. He was actually scared to try and find another job because he was afraid his coworkers would hate him afterwards for leaving. It didn't help that for a period of about 2 years prior to his quitting, he'd done a sh*t ton of interviews for similar positions only to find out they were going another way, or had just entered a hiring freeze or some other bullsh*t response. My own thoughts on that were that he was TOO experienced and wanted too much money BECAUSE of that experience. With one rejection after another, it broke him down and he felt like he would never be able to find another job."
Joker And Harley
"The Joker and Harley's relationship."
"It's abusive, plain and simple. If you want a weird, quirky couple to base your relationship on, go with Gomez and Morticia. That is possibly the most healthy relationship ever portrayed in media. They clearly have a different sense of what is normal, but it is also clear that they adore each other, support each other, and communicate clearly with each other."
"You don't want Joker and Harley. You want Gomez and Morticia."
The Grind
"Rise and grind everyday lifestyle...needlessly. Ofc some people actually have to live that life to legitimately survive, but the consistent push in today's generations and romanticizing it to be this life where you're happy and rich is just so dangerous..."
High School
"I literally could not agree more,there is so much more bullshit In high school but the media decides to romanticize one TEENSY part of it. Take it from a high schooler, romance is such a tiny part of it that it's barely even recognized anymore."
Alcoholism
"I am thankful I never made it such a habit that it ever became a problem, but between the commercials urging you to buy beer and liquor, the movies and television that treat binges as always fun and always sex-filled, and the general cultural passivity with it (the fact I can drink with my parents no problem but will likely never, EVER smoke weed with them) is just painfully misleading."
"I think of the people who truly struggle with alcoholism and how much it must pain them to watch TV or even just be out anywhere it is served. Maybe someone with that sort of perspective here can correct or enlighten me, but it just seems like a very difficult world to recover from alcohol dependency."
"To clarify, I'm not anti-drinking. I used to drink on a weekly basis, whereas now it's on special occasions only. Idk, so many things about it just don't appeal to me anymore; the emotional and relational problems...the trauma drunk behavior can bring, the wake-up headaches that make your head feel split in half, the vast amount of car accidents and fatalities inebriation causes, the numbing of your emotions (for better or worse), the amount of weight it makes you gain, the number of people who feel they cannot have fun without it."
"To me it's legitimately tragic just how much society encourages us, whether culturally or economically, to drink. I would argue cigarettes in the same vain, however I think society has generally embraced the anti-cigarettes mantra much more in recent years, though it's still bad."
Keep reading...
Show less
Sure there are plenty of things in life that are cool and sexy. We can't help but b e drawn to certain things that we think are hip or will make us look better in the eyes of the world. Sometimes it's okay to indulge in what's trendy but we really need to take a step back and look at the things and the people we are putting on a pedestal. More often than not we're caught up in the fantasy and the real life effect is toxic.
Redditor u/uh_vika wanted everyone to get smart about a few things in life by asking.... What is something people need to stop romanticizing?
Keep reading...
Show less