Like many of you out there, I used to work retail jobs and I still remember how much my feet would hurt after long shifts. I used to head home (my feet hurting all through my long commute) and then just lie back in my bed once I'd arrived and wait for the feeling to pass.
Baths would help, as would sleep, but... ouch. The feeling of finally being able to lie down hurt, but eventually gave way to immense relief. Oh, and have I stressed that retail jobs in the United States really need to allow people to sit down while doing their jobs at the cash register? Seriously.
People told us about similar experiences after Redditor Grantsb asked the online community,
"What hurts at first, but feels good after a few seconds?"
"Rolling tennis balls..."
"Rolling tennis balls under your feet after a 10 hour shift."
Arcine
Get some better shoes, or quality insoles. Made a massive difference when I finally found some shoes I liked!
"After our wedding..."
"Rubbing hat hair. After our wedding, I took out dozens and dozens of hair pins and my hair hurt so bad. I then spent the next few minutes rubbing my scalp in extreme painful ecstasy."
PotatoEater
But if it's because of pins in your hair, is it really hat hair?
"Ending..."
"Ending a bad relationship."
othershoferus
Yes! The relief you eventually feel is worth the pain.
"I love very firm pressure..."
"A deep tissue massage. I love very firm pressure on the knots under my shoulder blades... if I'm not sore the next day it wasn't enough! That sore, loosened up feeling is the best."
lavitabella113
Such a relief! Which reminds me... I am well overdue for one myself.
"Had an abcessed tonsil..."
"Having an abscess drained. Had an abscessed tonsil and any touch caused throbbing pain. When the doctor put the scalpel to it I almost screamed (very bad with a knife in your throat), but the ecstasy I felt once he was cut open and drained is unmatched by anything other than sex and a few drugs."
Dinnerpancakes
I think you just introduced me to a fear I had no idea I had.
"Lying on the floor..."
"Lying on the floor after a long day of standing up. Complete agony at first."
DeluxeWafer
Random muscles flex and tense up, back starts cracking, arms feel like jello then boom complete decompression and it feels good!
"Pulling out..."
"Pulling out an ingrown toenail."
mangogaming
I've dealt with this before! It was such a relief... and an even greater relief once the nail grew back correctly.
"Dragging yourself..."
"Dragging yourself to take a shower."
Thurswit
I don't think people understand how much mental health can just block you from basic things like taking a shower and eating. It's like disturbing your state for anything is agonizing but the second you do so, you're like "I wish I had done this hours ago."
"There's countless times..."
"Getting out of bed. There's countless times I wanted to sleep in because I was tired, I pushed myself to get out and it's not as bad anymore."
xPureHappiness
Definitely slept in this morning. I feel attacked.
"Admitting..."
"Admitting you were wrong to an understanding person."
unjudgeablebookcover
Definitely an underrated answer. We've all been there if we've somehow hurt people we love.
It turns out life is full of plenty of examples that fit this criteria! And there are probably all sorts of other sensations we have yet to experience.
Have some examples of your own? Feel free to tell us more in the comments below!
Want to "know" more?

Sign up for the Knowable newsletter here.
Never miss another big, odd, funny, or heartbreaking moment again.
Ah, yes, we are in the age of the unsolicited non sequitur outburst.
You know the kind, where you mention the weather and someone launches into a rant about Jewish Space Lasers causing wildfires.
It's time to bring them back to reality and say, "Representative Greene, this is Congress."
Redditor darodori asked:
"What's your 'Sir, this is a Wendy's' moment?"
If your wife was treated here...
"Not me, my daughter. She answered the phone, appropriately, 'Radiology'."
"Guy on the phone was looking for some test results, but she couldn't find his name, or his wife's name anywhere. Long confusing call."
"Finally she asks for the name of the animal."
"'What animal? I'm asking about my wife's test!'"
"'Sir, this is a veterinary hospital'."
- Sparky-Malarky
What was the answer?
"My wife was doing an interview and the interviewer asked her 'How she would handle a situation if there was an elephant in the room'."
"Not being familiar with the phrase she proceeded to describe in detail all the things she would consider to help get the elephant out of the room."
"The interviewers allowed her to finish and she didn't realize it until she told me about it later."
- Overrated_22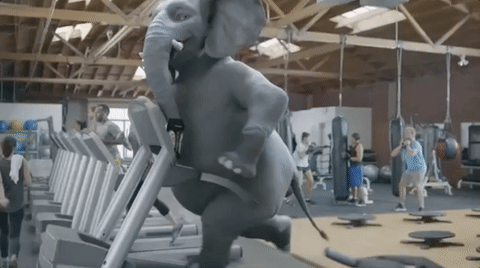 Giphy
Coupon Clippers
"I actually work at a Wendys, and someone tried to use an Arby's coupon."
- QwertytheCoolOne
"I worked at A&W and someone gave me a McDonald's coupon for a Big Mac."
"Sir. I literally can't make this for you."
- Opening_Wafer_3952
"Similar story, I work in an auto shop. A customer came in with a coupon for Jiffy Lube trying to get us to use it."
"After a few minutes of arguing I actually looked at the coupon. It was only $1 less than our regular price."
- PM_ME_UR_SELF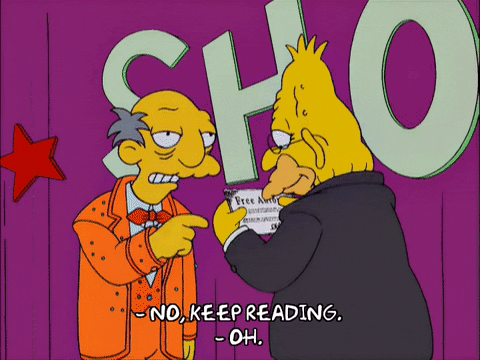 Giphy
More Coupons
"One time this older dude rushes up to order and slams a coupon on the counter saying 'I want this!'."
"I pick it up It has menu items for KFC. I ask him 'What exactly would you like to order?'"
"He instantly gets disgruntled with me for not reading his god damn mind and shakes his finger at the coupon and said 'Well Whatever is on the coupon, obviously!?' in a condescending tone."
"I just look at him for a minute an say word for word 'Sir, this is McDonald's. I don't know what you want me to do with this KFC coupon'. He looks at me dumbfounded."
"Then looks behind me at the menu and around the store, yells 'Awh, Shit!' (Like this isn't his first time walking into the wrong establishment), grabs the coupon and storms off."
- Apprehensive--Toe
9-1-1, what's your problem?
"Former police/emergency dispatcher."
"People would call for all sorts of things, like settling an argument over the rules of Monopoly or other board games, answers to crossword puzzles, complaints about the weather, etc..."
"My favorite over the years:"
"'The power's out, can you have the fire department come over and hook up a generator? I need to watch the ballgame'."
- Faelwolf
That won't fit in the book drop.
"I worked in the tech department of my university's library. Some guy called and asked who he needed to contact to donate his body to the medical school when he died."
"I was like 20, and I had no idea how to respond especially since the medical school is another campus."
"I explained to him that he needed to contact the medical school, and he told me he already had."

"I was like… okay… I can't really help you. This is the tech service department of the library."
"I was on the phone with him for like 35 minutes."
- spiderlegged
Did she see cars?
"A woman came in our shop demanding to help her fix her car because it was our job to do so."
"I worked in a pawn shop. I told her that the car repair store was at the corner of the street and she got the address mixed up."
"She looked ashamed and I never saw her again."
- Ok-Age3061
Driving Them Crazy
"I used to work at a drive through coffee stand. Two guys came through, clearly high af, asking for cheeseburgers."
"We explained that this is a coffee stand, we have breakfast sandwiches, but if they want cheeseburgers they'll have to go down the street to Jack in the Box."
"It took them a solid 5 minutes of us re-explaining this to them before they understood."
"Another time it was super early in the morning, working at the same coffee stand. A woman rolls up and it legit looks like she's sleeping."
"She orders her coffee and hands me a punch card for a different local coffee stand. I said oh wrong card (happens all the time).
"She looks at the card, looks at me, looks around, and says 'what, where am I?'"
"And I've just realized neither of these people probably should have been driving, yikes 😬"
- pnwrdh
First ExxonMobil Trust
"Had a guy scream at me over the phone because I told him I can't transfer money from his savings to checking."
"Why?"
"I work at a gas station."
- Jaycket
At least it wasn't your core warranty.
"I work at a nuclear power plant."
"A few years ago, the control room emergency phone number got out to telemarketers."
"We get a call on the emergency line. One of the reactor operators picks it up 'xxx power station emergency line'."
"He hears a click [of a person being connected]. Then some dude is asking if we want to upgrade our home security system."
"The reactor operator is like 'Do you have like, microwave or infrared detectors? Oh no, we do. Do you have an option for hand geometry scanners?'."
"This goes on for a few minutes and he's finally like 'Dude you called the control room for a nuclear reactor. You don't have anything that could upgrade what we already have for security. Never call this number again.' and hangs up."

"I was dying laughing."
- Hiddencamper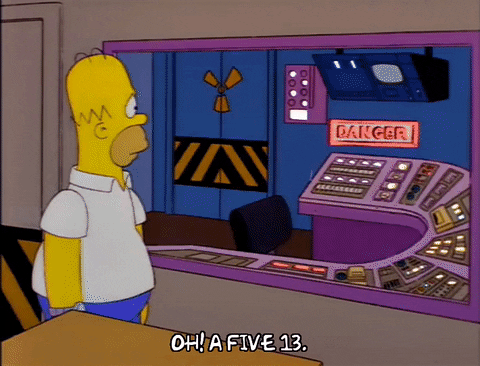 Giphy
The Origin?
"This is really weird that this became a meme, because I swear this is true. In about 95 I was driving from New England to Florida for a college spring break trip."
"Somewhere in South Carolina we stopped at a Wendy's. Near the hallway to the bathrooms they had a big map of South Carolina and I said to a person 'Can you tell me where we are?"
"I was pretty clearly indicating the map."
"The lady said 'Honey, you in the Wendy's!'"
- SabinaDrumm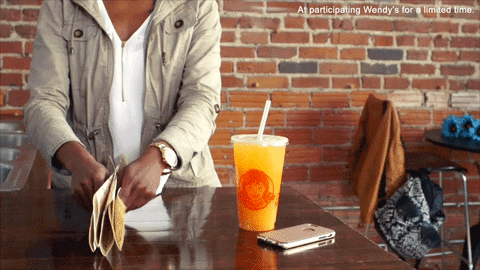 Giphy
We've probably all been on one side of this situation as either the confused person or the victim of their confusion.
What's your story?
Want to "know" more?

Sign up for the Knowable newsletter here.
Never miss another big, odd, funny or heartbreaking moment again.
We are all frustrated.
COVID-19 has been a part of all of our lives for the last two years now... it's okay to admit that you're exhausted and that you're completely over it. Those feelings are valid.
You've had enough? So have the rest of us.
But before COVID upended society as we knew it, there were plenty of things that frustrated us... regular things... like people who don't return shopping carts to the corral... and racism. You know the deal.
People shared their thoughts after Redditor BetterTomorrow11 asked the online community:
"What have you seriously fucking had enough of?"
"Applying for jobs and never hearing anything back. When everyone is just so desperate for workers."
LurkysGoCart
It's ridiculous. It is so RUDE to leave people hanging. It's also demoralizing, making the job hunt even more emotionally taxing.
"When I'm not at work..."
"People. Working in retail has ruined me. When I'm not at work, I just want to be alone."
Bubba2475
I'm with you – I do not miss retail one bit. Dark days indeed.
"These..."
"These high ass housing prices."
YellowStar012
The bubble is bound to pop at some point, right?
Right?
*sobs*
"Covid..."
"Covid and its variants. It's exhausting."
crimson-skies
Two years of this now.
Get the shot.
"Being a public health scientist..."
"Being a public health scientist with a PhD in immunology and STILL having people yell at me and tell me I'm wrong and have no idea what I'm talking about, including my own family. I'm having a great time."
sandiwitchunt
I do not envy you or your position.
What a demoralizing field to be in right now.
"I don't really want..."
"Employers that don't give raises that keep up with the cost of living. I don't really want to find another company to work at every 3 years, but it's the only way to get a decent raise."
DeathSpiral321
It sucks that this is so true. People make more money job hopping than they would if they were "loyal" to the company they work for.
"I'm surprised..."
"These a**holes who pull pranks on unsuspecting people for internet clout. I'm surprised more haven't had their teeth knocked out."
1980pzx
Remember when Punk'd was on the air? None of that aged well and it's wild that there are people out there who have not grown out of that mentality.
"People not being able..."
"People not being able to tell the difference between facts and opinions."
daya_darwaza_tod_do
Yeah... news literacy needs some bolstering. It's astonishing to see what happens in a society that lacks it.
"The world's undying need..."
"The world's undying need for instant gratification."
Darkpax
Could you give some examples and please do so immediately?
"People not cleaning up..."
"People not cleaning up after themselves in stores. Obviously, I don't expect them to do the staff's jobs, but they should at least pick something up when they knock it off a shelf."
MysteryGoWhite
I concur. It seems as if people are getting worse and worse year after year.
And the list goes on and on and on...
There is no shortage of things that grind our gears.
Have some observations of your own to share? Feel free to tell us more in the comments below!
Want to "know" more?

Sign up for the Knowable newsletter here.
Never miss another big, odd, funny, or heartbreaking moment again.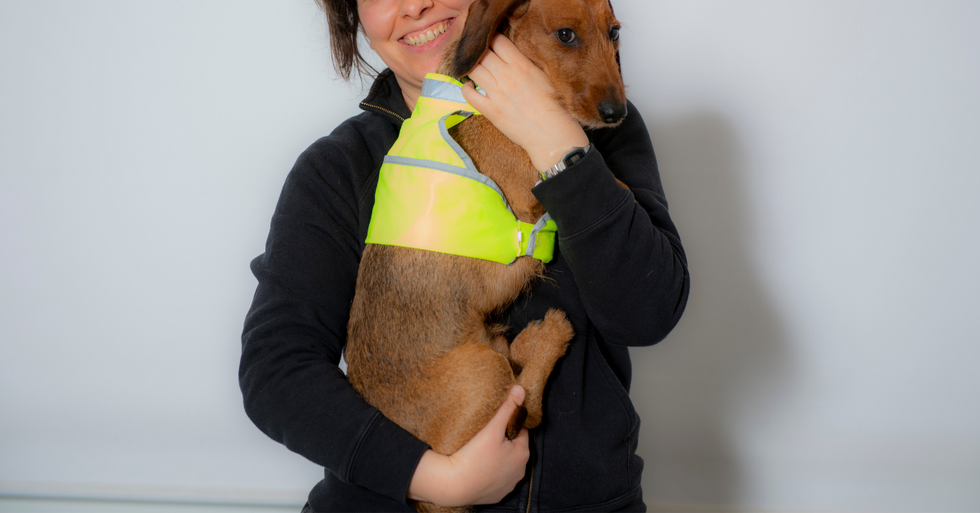 Service animals are working and because of that they have stricter boundaries. That doesn't mean that everyone around them needs to adjust their whole lifestyle to match them. But, it is important to respect them. Redditor Miserable_Ad7928 encountered this very issue with another customer. So they turned to the "Am I The A**hole" (AITA) subReddit […]
More
The amount of frivolous personal complaints seems to have hit new levels.
Whether it's complaints from co-workers or customers, nonsense is nonsense. The things I've heard people complain about in the workplace boggles my mind.
"Your smile isn't bright enough."
"I didn't feel appreciated."
"The color of your shirt is too loud."
"Your name is offensive."
RedditorInfiniteCalendar1wanted to hear about some of the drama that's been thrown people's way, so they asked:
"What is the most ridiculous thing someone has filed a complaint against you or someone you know about?"