Macaroni and cheese is a timeless institution. Whether it traces its origins to the pastas of Italy or the epicenter of Goulash in modern-day Hungary, it is now here.
It is here, it is everywhere, all ages adore it, and--most importantly--it's full of opportunity.
A recent Reddit thread asked for input from the creative minds of the internet's far reaches. Noodle artists came from far and wide to offer their artistic visions for the basic mac and cheese canvas.
The list came together to offer a wonderful menu of new options for the future of your mac and cheese making. Various meats, spices, preparation methods, and oddball ingredients were all covered.
The thread was an illustration of crowd-sourcing at its finest.
Redditor_2017 asked, "What do you add to enhance Mac and Cheese?"
Want to "know" more? Never miss another big, odd, funny, or heartbreaking moment again. Sign up for the Knowable newsletter here.
Keep reading...
Show less
Not all cooking is meditative and beautiful, no matter what Chef's Table may suggest. It's often rushed, made in the not-yet-dissipated cloud of workday stress and commuting traffic anger.
But many people do have at least one meal—often only that one—in their arsenal that provides an oasis to it all.
It's a dish they always come back to, as much to enjoy the process of putting it together as enjoying its taste at the end. Or it could be the trusty choice on account of its function: a reliable, delicious plate that manages to impress every time.
And even better than knowing those recipes are somewhere out there is having access to a whole slew of them.
Elizathefirst asked, "What do you love to cook?"
Do you have something to confess to George? Text "Secrets" or "
" to +1 (310) 299-9390 to talk to him about it.
Keep reading...
Show less
The unique crowd-sourcing capabilities of the internet has changed the game for most of the niches and corners of people's interests that exist.
Cooking techniques are a prime example.
The world of cooking techniques and secret recipes no longer looks like it once did. Just a few decades ago, obtaining a secret recipe was a monumental act.
You had to get in touch with your parents or a relative, look at a 60-year-old index card covered in your great-grandmother's illegible script, and make blind guesses at the measurements--which were noticeably absent.
Then, after two or three attempts, you finally work the dish out perfectly. After all that work, it's a fat chance that you'd ever pass an earned heirloom like that along to even your closest friend.
Now, you click around for about 10 minutes until you find a very well explained recipe on a website that's hidden just enough to ensure not everyone at the upcoming potluck read it. Boom, secret recipe.
One Reddit thread went so far as to quicken the process even more. It's a helpful forum full of techniques and casual recipes. It's as beneficial as it is existentially threatening to the "secret recipe" altogether.
speakthat asked, "What is your personal and unique quick recipe/food hack?"
Little Touches
"If you can afford actually good balsamic vinegar, just a little drizzle can be amazing."
"People have regularly been like, 'Wow, I don't usually like salad but this is awesome' or, 'Damn, you make the best vegetables.' ... It's literally just a bit of pretty decent balsamic (not the insanely expensive stuff, but not off the shelf of your average grocery store), olive oil, and salt."
"Also works to brush on stuff like roasting carrots for a glaze."
Tabula Rasa
"You can throw nearly anything on pancakes and most times it will taste good." -- Red_Distruction
"Pancakes and burgers is the fun, but ugly, cousin to chicken and waffles." -- johnnycakeAK
Thickening Agents
"When making mac and cheese, blend up some (cooked) carrots and cauliflower with some milk/water so you end up with an orange-y liquid, add cheese and then mix in some cooked macaroni. It makes it creamier, healthier and thicker and you barely taste any difference."
Split and Unite
"If you're making an omelette, separate the yolks and the whites before you cook them. Whisk them both up individually (do the whites until they become frothy), mix the two back together and then cook them as normal. It'll make it super wobbly and fluffy as opposed to a patchy dry mess."
Doctoring Up
"Crack an egg and stir (or not) into the boiling soup of any cheap-a** (or not) instant noodle and you've now got some tasty ghetto fabulous broth to enjoy. Use two eggs if you're feeling naughty."
-- SoulSonick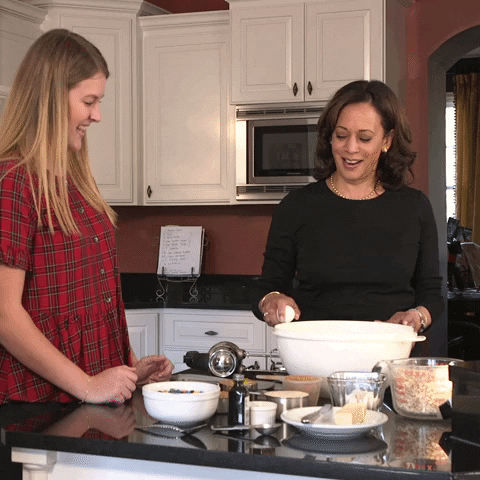 Giphy
For the Warm Weather Coming
"Sliced cucumber with no fat Italian dressing, salt, pepper, paprika. Its healthy, bright, and has a little kick. A nice, cheap summer time snack."
-- ButtersHound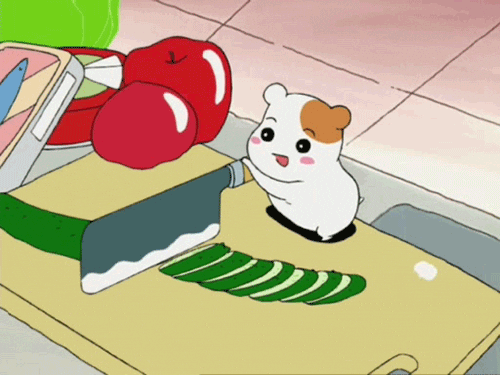 Giphy
Still Thicc
"I substitute unsweetened, plain Greek yogurt for sour cream all the time. On home-made tacos and burritos most often, but even with a bit of ranch seasoning for veggie dip."
"It has more of a bite than the sour cream, which I like, and I feel like I'm getting a better nutrition bang for my buck. I don't like sweetened yogurt, so this has been a nifty way to work it in to my diet still."
A Take on the Flatbread
"Naan bread, any type of sandwich meat, tiny tomatoes, spinach, gouda cheese. Throw in random spices of the day, usually garlic salt, paprika, Italian seasoning, and ground black pepper."
"Throw everything to half a side of the naan bread, fold over bread, throw naan on pan with lid to grill and melt the cheese. Serve with taziki sauce or mayo sriracha. 👌 sounds like a lot of work but it takes me less than 10 minutes to have a easy semi healthy dinner."
The Open-Faced 1970s
"A can of tuna mixed with a can of cream of mushroom soup. Scoop it onto halves of hamburger buns. Sprinkle it with cheddar cheese. Bake open faced in oven at 350 until cheese is melted. My mom learned this in Home-Ec in junior high in the 70's!"
A Premium Extra Layer
"When I bake banana bread, I always butter the loaf pan, then throw in a tbsp or two of sugar to coat all of the butter. Gives the bread a really nice sweet finish on the outside without the use of a glaze."
"I tried this with dark brown sugar once and ended up with a loaf soaked in molasses, which was disgusting so definitely stick with normal granulated sugar for this one lol."
Do you have something to confess to George? Text "Secrets" or "
" to +1 (310) 299-9390 to talk to him about it.
Keep reading...
Show less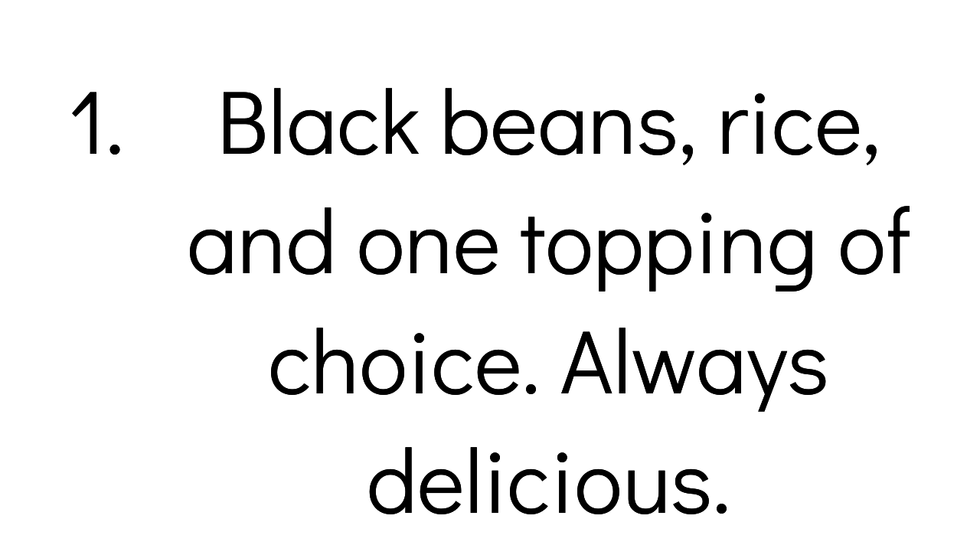 Cooking is hard. Not only that, but it takes a lot of time and energy to make a good meal. However, there are some cheat codes when it comes to making yourself some tasty food. In fact, there are plenty of meals that you can make using only three ingredients. Here are some examples, straight from Reddit.
u/moneybot13 asked: What is the best three ingredient meal?
Keep reading...
Show less
The humble potato is pretty much everyone's favorite comfort carb. It's the kind of thing that can be elevated fine dining, casual street food, or even a knock out drink!
Potatoes can be bread, pasta, a snack, a meal - or even an artistic medium and source of energy if you're not in the mood to actually eat the super spud.
Butter Butter Butter
It's kind of amazing how much butter you can get into finely mashed potatoes. Fine dining restaurants use about a 3:1 ratio (three pounds potatoes: one pound butter). Ridiculous.
- o_shrub
A famous chef actually used half and half. Apparently it tastes like heaven... Probably because you're considerably closer to going there if you eat it a lot.
If something tastes like heaven at a restaurant you can be quite sure it's because of excessive amounts of cream or butter in the dish.
Flavor Delivery Device
All potatoes are just flavor delivery devices. Potatoes are very bland, hence why nearly every method to prepare them uses tons of salt or other condiments.
Ever had unsalted french fries? Nasty.
Mashed potatoes without butter, salt and milk? Nasty.
Potatoes au-gratin? Tons of cheese, salt and cream.

Pommes dauphinoise? Again with the salt and cream.
Pommes Anna? Salt and butter.
Hasselback potatoes? Salt, butter and herbs.
Potatoes make a very good base to add other flavors to. It's all in how you prepare them. A baked potato is not fully prepared until you slather it with butter and other toppings. Just like mashed potatoes aren't fully prepared till you add the butter, milk and salt.
Source: classically trained chef.
Samwise Style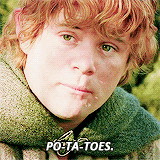 Giphy
I liked them boiled. Or mashed. Maybe stick 'em in a stew.
What's taters, precious??
Hash Browns
Hash brown.
- Mr_Zacek
This. With extra crispiness on the outside
- dlrust
Non-crispy hash browns are a total why bother.
With a runny egg and country gravy on it.
Carne Asada Fries
Carne asada fries.
Someone wanna explain what this is? I know I could google but that doesn't help the next guy, or further the discussion. Carne is meat, what kind of meat? What does asada mean?
- Vranak
Carne Asada is a type of steak often used in Mexican food. Marinated, grilled, and thinly sliced. It's absolutely delicious. Carne Asada fries is just fries, steak, cheese, and then whatever other toppings you want (guacamole, sour cream, pico de gallo, etc).

Scalloped Does Not Mean Scallops... Or Cheese
Scalloped with lots of sharp cheddar.
I avoided them my whole childhood because I hate scallops, big mistake.
Me too! I never really asked I just heard and declined immediately, with that kind of name I must not like them. I went like 15 years without the deliciousness in my life. Who wouldn't like potatoes with tons of cheese?
- claryn
My grandma made the BEST scalloped potatoes. Thin sliced so all potatoes were tender, lots of cheese plus some (I think) sour cream to make it all creamy. Tissue-thin onions that melted into the cheese sauce.
She's been gone 7 years. My aunt makes them every holiday, but she's a joke of a cook and takes short cuts so it's all crap. I know I could recreate it, so could my mom. But, it's just not the same. You KNOW it's not made by grandma.
I miss my grandma.
- Lo452

Here is my weird hill to die on. Scalloped potatoes do not have cheese! I love cheese so much, BUT scalloped potatoes should be a white sauce. If including cheese you are now making potatoes au gratin. I am the type of cook who will at least double the cheese in any recipe, but we grew up eating scalloped ham and potatoes on special occasions and there was no cheese.
Thank you! I was dumbfounded everyone was agreeing and no one was pointing this out.
Poutine
Poutine- french fries covered in cheese curds and gravy.
Pickled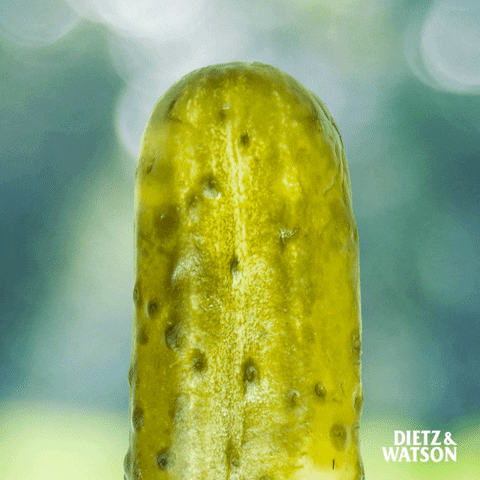 Giphy
Not my favorite way per se, but a way that I just tried recently. Pickled potatoes.
The Mexican restaurant on the corner serves pickled potatoes alongside their pickled jalapenos. I decided to give them a try. Sliced potatoes 1/4" thick and boiled them for about 10 minutes until they were edible but firm. I packed them in a jar with 50/50 vinegar/water and 2 tbsp of salt. Other herbs and spices to taste. I used oregano, thyme and crushed red pepper.
After a week in the fridge, they're a great beer snack. Also add carrots and jalapenos to the same batch for a variety of pickles in a single jar.
- NewRelm
Keep reading...
Show less