Oh the 90's. What a decade.
Who knew we were in the time of revolution?!
So much happened, yet so much stayed the same.
And not decades later, so much has changed.
Who doesn't love to look back upon a decade and discuss the things that were a common part of life and are now basically obsolete?
You never know in real time.
Redditor Apart-Scale wanted to reminisce about the glory days.
They asked:
"What was normal in the 1990s but rare or non existent now?"
For me... it's Madonna having a #1 song. It can still happen, but highly unlikely.
Music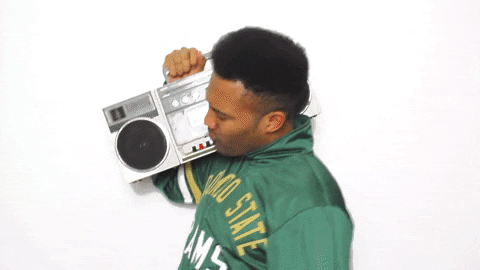 New Music Football GIF by Black Prez
Giphy
"A disc man plugged into a cassette tape with a wire to play music in your car."
freehi_5
Call Me
"Hotlines for the weather report, current time, and movie show times."
redacted_4_security
"The time and temperature phone number for my small hometown still exists to this day. Same Pre recorded voice and everything. It still advertises caller-id as an add on feature for land lines. Know who's calling you. It's easy and convenient with caller id. The time is x. Temperature y."
Bushelsoflaughs
Let's Chat
"Talking to your friends mom to see if they were home."
Espeon2022
"I've always thought that having to go through the parents to talk to your friends made things more controlled and respectful. Now kids can just blast each other with every thought that pops in their heads 24/7, that must make things more toxic."
RupFox
Fly Away
"When picking someone up from the airport, you could wait for them at their gate."
Facelesspirit
"When I have flights going through cities with people I know I will intentionally schedule a couple hour layover so I can go hand lunch with them and then just go through security again and board the next flight."
ItsEntsy
I'm Out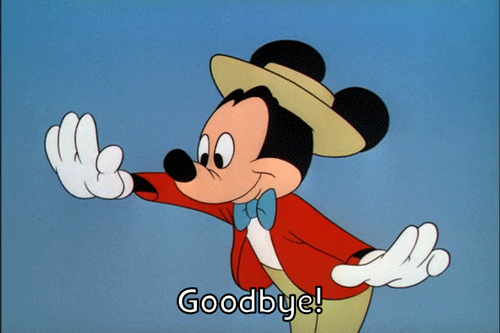 Bye Bye Goodbye GIF by Mickey Mouse
Giphy
"Being unreachable."
BTW_The_Names_Marcus
"I still do this to this day. I'll go on vacation for a week and just turn the phone off, or be far enough out in the boonies that there is no cell signal whatsoever."
libra00
I wish I could put my phone down. Who knew we'd never be without them?
Let's Fandango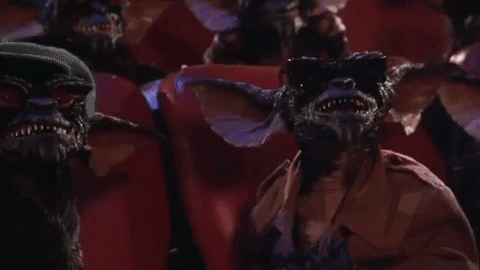 Movie Theater Popcorn GIF by filmeditor
Giphy
"Calling the movie theater or looking in the paper for movie times."
yepitsjen22
Music Library
"Keeping a binder full of CDs in your car."
PMMeUrHopesNDreams
"I once left the door on my car unlocked and came back to find my car stereo gone but not my full 100 disc binder. The stereo had completely died 2 weeks prior and I just hadn't gotten around to swapping it out yet. I just laughed."
v1ct0r326
"My car CDs were stolen in 1998. I'm still pissed."
Whatwhyohhh
Multitasking
"Pressing play and record at the same time."
MoistnSquishy
"I don't know why but this one made me feel the saddest. I guess it just snapped me back to a moment when I was bored and had no where I had to be, no where I planned to go. My life's todo list completely empty. Just me and the weird 90's dust that seemed to float around in front of sunny windows."
bannablecommentary
"Putting tape over the security tab/square so you could record over any tape you had in your collection."
candiebelle
Dial Up
"Telephone booths."
Zen_Anarch
"I had to check for the phone booth that I used the most as a teenager (not in NYC, in the beach town where I spent my summers) and it was still there in the most recent Street View! I'll have to see if it's there now when I go by tomorrow. This was where I checked in with my parents and friends circa 1990 to see what was going on. The arcade was just down the street."
superluke
And the White?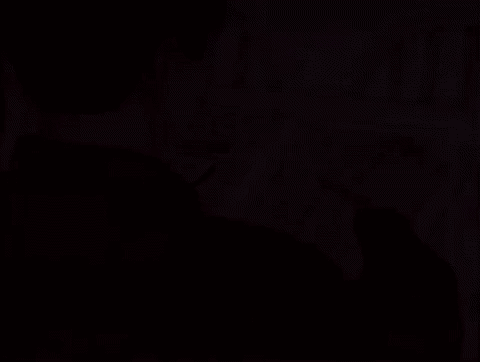 yellow pages GIF
Giphy
"Yellow Pages."
zekesaltspider
"I got a phone book in my mailbox the other day. First one in years. It was about the size of a Goosebumps book."
dragon_book_hoarder
Well those were the days. Weren't they?
Keep reading...
Show less
People easily complain about the things that bother them, but when they're asked to explain what they're talking about, they can't elaborate.
Sound familiar? That may be because they've become conditioned or socialized to believe in how certain things are in real life.
Curious to explore this strange phenomenon about delusions, Redditor CoverYourself-inOil asked:

"What do people complain about like it's everywhere constantly but is actually rather rare?"
What goes on in the neighborhood is likely nothing at all.
Wrestling Alligators
"Being from Florida, the amount of people that think I have to fight off gators daily. Lol"
– kaybee666

Danger Down Under
"The frequency of dangerous australian animals. Like yes they are there but not really at the same time."
– RainbowPoopicorn

Trick Or Treat
"People giving out edible pot for Halloween. Can guarantee that no stoner is gonna give those away for free."
– painfully--average
Violent Neighborhood
"According to my suburban Nextdoor feed, apparently there are gun shots going off all day every day 🙄🙄🙄🙄🙄🙄"
– slykido999
Caution While Traveling
"The danger of the Bermuda Triangle. I honestly thought it would be a regular threat in my adult life when they kept talking about it while I was young."
– InvisibleMe21
These are questionable behavior, and the jury is still out as to what's actually happening.
Witching Hour
"Satanist out sacrificing."
– finding_harmony
What Everyone Is Not Talking About
"People complaining about people complaining about something, but it's just one guy on Twitter. Or someone they entirely made up...."
– crap_whats_not_taken

Tormented In School
"I was bullied relentlessly in elementary school. But it took me longer to realize it than it should have, because no one ever demanded my lunch money."
– MFWicantusername

Not everything we learn comes in handy.
Cartoon Disasters
"I have not had a single anvil, piano, or sandbag dropped on my head."
"Pretty upset about it, tbh."
– garden_and_grump_

Cute Bait
"A van giving away puppies to snatch you."
– Complete-Fudge-2888

Snuffing Out The Flames
"10 years old me thinking we'd need to know how to 'stop drop and roll' a lot more in life."
– YeahILiftBro
Many of these mentioned were either from urban legends or seen depicted in the movies.
Some of them could even be examples of the Mandela effect, where false memories are shared by multiple people.
Regardless of where these thoughts and beliefs stem from, there's not much to say other than acknowledging how extraordinary the human mind is.

Want to "know" more?
Sign up for the Knowable newsletter here.

Never miss another big, odd, funny or heartbreaking moment again.
Keep reading...
Show less
A lot of what we think of as "common occurrences" most likely come through word of mouth.
Stories told from a friend of a friend who knew someone who has a guy who set them up with this extremely rare piece of jewelry that's totally authentic.
Until you find out it's not.

Reddit user, BroodyBatman, wanted to know what's rarer than we might have given it credit for when they asked:
"What's something very rare that people think is very common?"
Going with the "word of mouth" idea, anecdotal stories, as well as "it happened to them so it could happen to you" type stories can be detrimental to your life, especially if you spend all day thinking it might happen to you.
No, no one is going to sue you for parking in their space.

Every Jewel Trade Everywhere Show Are Liars!
"Turquoise! I'm beginning study to be a jewelsmith and apparently most of the turquoise on the planet has already been mined and used. What we use today is a stone called howlite that can visually imitate it. If it's real it's likely hand-mined from the few small mines remaining that have some left. Real turquoise is very expensive as a result."
Phantasmai
"Yep, same goes for real jade too. The real stuff is expensive and hard to find."
"Most cheap "jade" is aventurine, glass, resin, serpentine or some other kind of stone. A lot of jade is also injected with resin and dyed to get the clear, pale-green effect."
"I wanted to buy a jade bangle and did a ton of research and found that the real ones cost at least a few grand with the nice ones being tens of thousands, if not more."
"Also, pretty much all "jade" facial rollers are not real jade (most are either glass, resin or serpentine, which they like to call "Xiuyan Jade" because it is found in jade mines but isn't real jade)."
Urban_mist
You're Not Suing For What You Think You're Suing For
"Multimillion dollar personal inconvenience lawsuits."
"You're not suing McD for millions because your fries were cold."
JK_NC
"And, many times, these lawsuits that are "personal inconvenience" are actually intense lawsuits disguised as inconvenience by the company."
"One example of this is the woman who sued McDonald's for her coffee being too hot, which seems like an inconvenience, until you realize the coffee was so hot it burned her down to the bone."
imonlyjoiningforthis
Don't Do It For The Fame. Do It Because You Like It.
"Making it big on Youtube/Twitch"
Legenberry817
"Yeah that one guy you watch who "only" has 100-200 viewers on twitch is actually in the top 1% or something lmao it's crazy"
michael_am
Medical marvels are just that, marvels.
They're rare occurrences that shouldn't be taken as an absolute certainty when you go visit a doctor.
"Anecdotal" does not equal "regularly happens to everyone."
If You Need It, It's Going To Be Rough
"Receiving CPR and surviving with good quality of life."
HelloKidney
"One of my good friends had sudden cardiac arrest due to V-fib. Was completely healthy and normal and suddenly dropped dead. CPR saved her life and she is back to normal, albeit with a defibrillator now implanted in her chest. I think this is the best case scenario."
libertarianlove
Movies Have You Thinking The Wrong Thing

"Photosensitive epilepsy."
"Only 3% of all epileptics are triggered by flashing lights, but it's what most people think of when you mention seizures."
SPRINT_MON
"To add to that, not all seizures are the kind where you fall down and flop around."
"My brother has severe epilepsy, and most of his seizures are just like he's really spaced out."
NeedsMoreTuba
Not As Loud As You Might Think
"Tourette syndrome. Well Tourette is not that uncommon, but the swearing is the most extreme form and it's very uncommon"
chinchenping
"I've only met one person I know for sure was diagnosed with it. It was in middle school and also somewhat conveniently around the time Tourettes Guy was popular on YouTube, so that's the only reason I was aware Tourettes was a thing."
"However she just squeaked every few minutes, and after sitting behind her for a week or two I didn't even notice anymore. Thankfully she didn't get teased at all for it, and honestly my ADHD restless legs were probably a bigger distraction for anyone seated near us."
workplacetemp
Our parents mean well, right?
Some of us grew up doing what they told us, avoiding dangers because the television told them there was danger to be avoided.
However, as the internet and peering through the veil of falsehood has shown us, there's no danger there.
Only lies.
And candy.
Let's Get Together, Yeah, Yeah, Yeah

"It seem having two loving parents that treated you right is rare when you speak to people"
YellowStar012
"Definitely. When I was in University my step mom turned sour and began showing post-partum depression (what ever it's called) and bi-polar disorder. Ruined the entire family."
"When I complained about fighting at home all my friends looked at me and said it was super normal for them. Blew me away how many of my friends I've known for years had parents constantly fighting and bickering."
"Granted my father raised my brother and I for a while by himself."
JJHookg
Oh No! They Slipped A Fully Loaded Glock Into My Kid's Candy!
"Intentionally tainted Halloween candy. Remember growing up some kids couldn't trick or treat because their parents feared psychos who poisoned the candy or slipped razor blades into the tootsie rolls or whatever? Yeah, as far as I can determine it's a myth and never happens. If it did, think about how easy it would be to trace and capture said person."
Marxbrosburner
Stranger/More-Likely-Person-You-Know Danger!
"Child abductions by strangers."
"Growing up in the 80s we were taught that if you were by yourself you were liable to be snatched up by a stranger. The reality is most abductions are by people the child knows. Stranger abductions make the news and often end tragically, but they're relatively rare."
AndShesNotEvenPretty
That Stuff Was Supposed To Be Everywhere
"As a kid who grew up in the 80's - quicksand."
81PBNJ
"Grew up in the 90s and same! But then I was hired at my current job and quicksand was actually included in my hazard training. It turns out there is actually some quicksand at some of my jobsites. All those hours of cartoons have prepared me for this!"
butterpuppo
Obviously, keep your eyes up because there are real dangers out there.
However, don't fall for propaganda meant to make you fear something that has such a low likelihood of happening that getting struck by lightning feels more likely.
Want to "know" more?
Sign up for the Knowable newsletter here.
Never miss another big, odd, funny, or heartbreaking moment again.
Keep reading...
Show less
Unique moments of life we witness are just that, unique and rare to each individual.
I have been left aghast and shooketh by many moments I've witnessed while on this planet.
We all witness near misses with death on the daily. But we individually don't see it everyday, so it feels monumental in the moment.
Also, yes there are incredible moments of nature we don't face on the regular.
So that can be incredible to see even if it's a daily occurrence for the wildlife involved.
Redditor just__Steve wanted to hear about all of the things some of us have seen and many have not, so they asked:
"What extremely rare thing did you witness in person?"
Car crashes in real time.
Like, death defying crashes on the highway, the kind you see in the movies.
I saw two and watched people walk away.
A miracle.
On a Par
"I witnessed my buddy hit a hole in one on a par 4. Dude had never played golf minus frequent driving range visits and was having a horrific day before it." ~ KNGSlick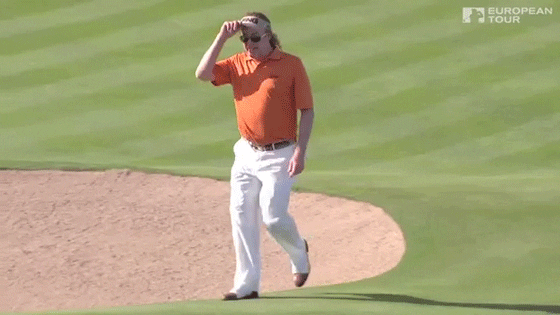 Giphy
March 1989
"I witnessed the effects of the coronal mass ejection in March 1989. I was driving home on the west end of Prince Edward Island Canada. There was plenty of snow on the ground still."
"I stopped at a stop sign on a slight rise of a hill and while stopped I noticed the snow was glittering in weird very vibrant colours. This slight rise was in an area with no trees in sight. I could see the horizon 360 degrees."
"From the north horizon I noticed a waterfall of color flowing across the night sky from north to south. It flowed quickly like a fast flowing river and it encompassed the entire sky from horizon to horizon."
"It was absolutely astonishing. It lasted hours and I watched it for quite a few of them. Even with today's CGI I have not seen anything that compares to that night." ~ Ibmeister
A Bad Spiral
"An airborne decapitation. At an air show as a kid (30ish years ago). They were doing a skydiving trick, where two divers spiraled downward, then two planes spiraled around them downward. One of the planes hit a skydiver, killing him. Last air show I ever went to." ~ everythingsasandwich
Holy Fork
"In South Africa thunder storms are quite common, but they were always the usual sheet or fork lightning, nothing special. The one time there were these strange looking storm clouds very high up above us (much higher than regular storm/thunder clouds) and the lightning was these slow moving bolts (think of a short laser beam of lightning) shooting between these clouds. It was the wackiest thing I ever saw." ~ MeltdownInteractive
Wheel Away
"I saw a wheel come loose off a van as it attempted a right hand turn. The wheel rolled through traffic into the open bay of a tire store across the street. One in a million odds. I was on a train and nobody else in the train car saw it happen." ~ dipper1985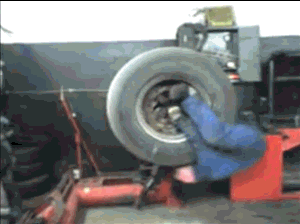 Giphy
You can't trust the wheels on any bus.
That round and round often spins off for disaster.
Never trust a shaky wheel.
Fallen
"Huge section of cliff falling into the Gallatin River. Easily the size of a football field came down all at once." ~ Hotspur2924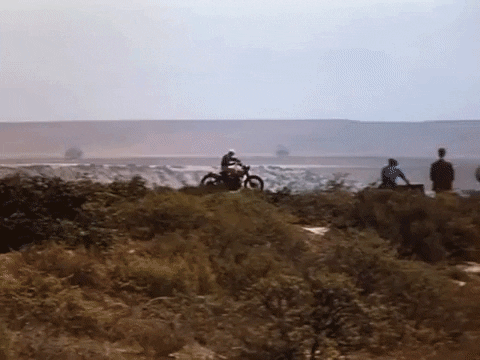 Giphy
Barracuda...
"1996 Maldives. I am sat in the bar, alone drinking a cocktail and enjoying the view over the flat calm lagoon. The bar juts out into the lagoon, so it is surrounded by water apart from a little bit joining it to the island. Suddenly a small fish jumps out of the water. Then it jumps again but higher, and then a 3rd time a little higher still."
"It takes the 4th jump at about 90 degrees to the other three... and then a f**k off big fish with teeth and everything jumps out of the water and catches it in the air. Then the lagoon went back to flat calm. A couple of suggestions that the f**k off big fish was a Barracuda - I have looked up Barracudas and I reckon the suggestions are right. That's cool. I'm glad I posted. Thank you." ~ plentyofeight
In S.C.
"Saw a manta ray leap out of the water and over a family playing in the water just off the coast of South Carolina. It didn't make a sound or as much as a splash. I was pretty young but remember it as clear as yesterday. One of the most beautiful things I have ever witnessed. Also quite amazing how big those things are." ~ StupidOldAndFat
Iced Out
"My grandfather took me to the hockey game where Buffalo Sabres goalie Clint Malarchuk had his carotid artery cut and his jugular vein partially sliced by an errant hockey skate. He was bleeding out on the ice in front of our eyes. The Sabres trainer, who had been a US Army combat medic in Viet Nam, knew to reach in the wound and pinch off the artery to save his life." ~ Tsujimoto3
Look Down
"I saw a bird poop directly into a woman's mouth once." ~ BausofHogs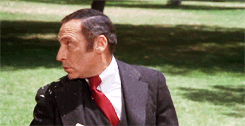 Giphy
I would pass out if a bird pooped in my mouth.
That is gross.
And also incredible aim.
Want to "know" more?
Sign up for the Knowable newsletter here.

Never miss another big, odd, funny or heartbreaking moment again.
Keep reading...
Show less
There are roughly 7 billion people on earth so being the top 1% of anything sounds like it might be an incredible honor.
Maybe you've received an award or a certification that only a few people have gotten. Or maybe you have a rare disease, which doesn't sound as fun.
We went to Ask Reddit to find the people who are in a top 1% of people.
Redditor I_Love_Small_Breasts asked:
"What are you in the 1% of?"
Here's some of the rare groups people are apart of or things they experience.
Could be totally great or totally inconvenient.
"If I shake my head in a certain way, I can give myself an orgasm. Never met anyone who can do that."
- KindlyOlPornographer
"Wow that sounds incredibly inconvenient."
- WiIdCherryPepsi
"'Shaking my head' has a whole new meaning now. Damn."
- RuthlessRex
Survived a flesh eating bacteria.
"Survived flesh eating bacteria in the bloodstream after sepsis. Most people die within 3 days."
- skyth2k1
"Had MRSA and sepsis because of an open wound on my left foot. Thing is a nurse was treating the wound with Santyl and it was fully bandaged at all times. The nurse changed the dressings 3 times a week but I still ended up in the hospital with antibiotics IV'd into each arm plus oral antibiotics. Spent 15 days in ICU having all my organs sonogramed for signs of the infection spreading. X-rays and MRI's to check for bone infections and when they released me I had to wear a wound vac pump for 2 months to seal the wound on my foot."
- marcuscrassus98
Pancreatic cancer survivor.
"I had pancreatic cancer last year. Out of 10,000 patients they normally find 100 who have another form of this cancer who kill a little slower, like in 2 years instead of months."
"I was one of the hundred. Out of those, normally 15 can have surgery. I was one of them."
"Out of those 15, some die and some come back to basically normal life."
"That's about a 0.07% chance in all."
"I am still one of them. I should be dead by now."
- WillingnessSouthern4
A superpower.
"I can stop my hiccups on command."
- mcrfreak78
"There's a superpower for sure."
- isat_u_steve
This is way less than 1%
"I am one of only 1300 board certified Sexual Assault Nurse Examiners for the adult and adolescent population. In the world."
- eziern
"I'm unsettled by how small that number is."
- redhair-ing
"To be fair, there are more SANE nurses, meaning nurses who take care of these patients and are qualified to do so. Being board certified just means I took an extra step after I reached a qualifying time to take a test to prove it. I'm actually up for renewal. At the time I first tested, I was one of something like 1100."
"Still, even knowing that, there aren't enough SANEs or FNEs overall."
- eziern
Being ambidextrous.
"I'm naturally ambidextrous. Apparently that's something only 1% of people naturally are. I can use both right and left hands ably for any task. For example, I often switch which hand I write with based on how I'm sitting."
"It's worth noting natural ambidexterity is not the same as learned or acquired ambidexterity. For example, left handed people often have to use things designed for right handed people but otherwise are left handed."
- Stormaen
"I'm of the .002% of people with osteopoikilosis. This freaked the sh*t out of me because when I was diagnosed the first thing the doctor said was 'wow I've never seen this in anything but textbooks before.'"
"Basically, I have bones growing inside my bones. It's not anything I should be worried about, at least for a while, so that's nice."
- IgDailystapler
How many people can say this?
"I've represented my country in the Paralympic games."
- L-E-S
"That's a really nice one! Which specialty?"
- AntiSnoringDevice
"Volleyball for Great Britain in the 1996 games in Atlanta."
- L-E-S
Backwards heart.
"Not me but my dad."
"He was born with a backwards heart and didn't find out till his heart attack a few years ago and it actually saved his life."
"His doctor later told him that after being a doctor for over 30 years he'd never seen someone with a backwards heart and that apparently 1% of people on the planet have it."
- SaphireJames
Seeing static.
"I am diagnosed with Visual snow syndrome. Basically seeing through static. It may not be rare as thought but I am one of very few people to be formally diagnosed."
- condensemilks
"Same! I figured it out when people didn't see the static and I heard it mentioned! Used to think I was seeing molecules when I was a little kid haha."
- MammothGlum
These Actors Were Perfectly Cast In Their Roles | George Takei's Oh Myyy
Sometimes an actor comes along that is able to reach the audience on a deeper level. The actor that immediately comes to mind is Robin Williams. Although it ...
HIV resistant gene mutation.
"I have a double gene mutation that makes me highly resistant or even immune to the HIV virus."
- Som12H8
"Can doctors use your blood to help those with HIV?"
- lydsquad
"I have the same mutation and I've donated samples towards research. I got an email last year about vaccine hopes but I'm not sure where it went."
- threewhitelights
Survived air travel crashes.
"I've been in 2 helicopter crashes and 1 plane crash. There is only a small group of people who have survived that many crashes. I'm also not a pilot."
- No1uNo_Nakana
"Have you considered alerting fellow passengers and crew when you book a flight?"
- thebeautifulseason
"That would go over great with tsa."
- aquoad
A very large eye.
"So apparently my left eye is 32mm. The average size is 21-27mm. My eye doctor said it was neat."
- sumtinfunny
"So you look like this? o_0"
- SmokyTower
"What about your right eye?"
- AnaNg_zz
"Don't worry. His other eye is all right."
- WordUnheard
Albinism.
"I'm albino."
- Xylogie
"Ooh, that's neat. I'm sure you never hear the end of it in public or social situations."
- Patsfan618
"Haha, oh boy do people talk about it! Mostly things about my hair and how much some people would pay for it lol."
- Xylogie
Just walking.
"According to my step counter, walking."
"Not even kidding, I manage a warehouse and walk 10-15 miles a day at work. Apparently this is more than 99.3% of users."
"Turns out the one thing I'm exceptional at is the one thing almost everyone can do. Yay."
- FastWalkingShortGuy
"25-30k steps a day, if my math is right?"
- blackbrandt
Two uteruses.
"Mine's pretty godawful. I have 2 uteruses."
"Lot of people asking why I put up with it till I was around 33. I didn't know. Because doctors don't listen to women complaining of menstrual issues, is why. The endless pain and bleeding? Suck it up, take 3 Advil not two (holla). Starting at age 12. Till I lucked into a rare empathetic gynecologist who, since I'd always known I was uninterested in parenting, offered me a minimally invasive (just removes the top of the uterus, the rest of me stayed there) hysterectomy to stop the pain and hemorrhaging. And in doing the surgery, he discovered what no other doctor had cared enough to find."
"I love that guy!"
- therookling
One of only 200 people in the world.
​"I'm one of only 200 deaf pilots in the world and one of only four (that are commonly known of) in the world with Commercial & Instrument training."
"I'm also one of the only deaf people who hold both a pilots license and a commercial drivers license."
- deafaviator
"Can you work at commercial airliners? How do you communicate on radio? This is so cool. My dad works on planes for FedEx and now the military so I've always respected pilots. Hard work."
- ThalesOfRivia
"No. Airlines won't touch me with a 10 foot pole. Way too much accommodation and liability involved."
"I don't personally use the radio. If it's necessary I'll take a copilot along with me to handle the radio."
- deafaviator
Better than average vision.
"Eyesight. I have 20/10 vision, turns out only about 1% of people have better than normal 20/20 vision."
- Skumbob
"Ted Williams (HoF baseball player and WW2 pilot) told a story about his 20/10 vision. He was landing with his team and as the plane was circling the runway. He turned to a fellow player and says "I know that man in the yellow hat" The other player could barely make it the person in question and said there was no way Ted could see a face from this far away."
"They get off the plane and Ted walks up to the man in the yellow hat and shakes his hand."
- Helix1322
Heterochromia Iridum.
"I have a brown eye and a blue one."
- NoMatter07
"That's heterochromia iridum. Only four people out of a million have that, meaning you'd share that trait with approx. 0.0004% of the world population."
- FleurCannon_
There are some incredible people out there in the world, and thankfully the internet is bringing them all together.
It's fascinating to see how diverse humans really are.
Want to "know" more? Never miss another big, odd, funny, or heartbreaking moment again. Sign up for the Knowable newsletter here.
Keep reading...
Show less