Reddit user hurricanehershel asked: 'Parents who tried their best to raise their kids to be good humans but they turned out to be jerks, what do you wish you did differently?'
It seems reasonable enough to assume that most parents would do their best to raise children who would grow up to be kind, contributing adults.
But not every kid will turn out to be the sweetest person, and hindsight can only help so much.
Redditor hurricanehershel asked:
"Parents who tried their best to raise their kids to be good humans but they turned out to be jerks, what do you wish you did differently?"
Dynamic Issues
"I'm speaking as a teacher... but I've seen wildly different siblings. I think parents need to get a handle on that dynamic. A lot of perfectionist older siblings and younger ones who can't achieve at that level and act out instead to find how they can earn attention."
- big_nothing_burger
Individual People
"People need to stop treating kids as carbon copies of their older siblings. And I say this as the eldest child who differs greatly in personality and interests from my younger sibling."
"It's not fair to anyone, least of all the kid who has to deal with being measured by someone else's standard."
"Everyone is their own person, including the twins I've known had different personalities and interests if one cared to observe."
- UnknownCitizen77
Coparenting Troubles
"Be very careful WHO you have kids with. If I could do it all over again, I would have chosen better. They ended up with one responsible parent who was completely overwhelmed trying to do the job of two people."
- heatherLovesbrandon
Get On Their Level
"I have a son who just turned five, and I can see all the hallmarks of ADHD (which I have, and most people in my family have)."
"He behaves so much like my younger sister did when she was young, and I found myself going through the cycle of bad behavior to punishment to worse behavior to worse punishment, just like my parents did with my sister."
"Recently I've been trying to connect with the person who I was when I was younger, when I wasn't 'in charge,' and my sister would calm down for me and listen to me."
"It's helping so much. I still need my kid to stop throwing s**t (makes my blood absolutely boil), but we are making progress."
"Kids are f**king exhausting and I hope I don't end up accidentally raising an a**hole."
- embrielle
Resentful Parents
"In my opinion, the one defining characteristic of bad parents is being resentful of their own children. Resentful that they took some of their freedom, resentful of their youth, resentful of their opportunities, resentful of their intelligence, resentful of their beauty, resentful of their possessions, resentful of their education, resentful of their accomplishments, resentful of their happiness, etc."
"I think this is FAR more common than most people realize. These parents may consciously 'provide' for their kids while they unconsciously sabotage them. The kids pick up on this and end up aspiring to their parents' unspoken expectations."
"Good parents want their kids to exceed their own achievements and, most importantly, to be happy. Good parents are empathetic to their children. They're happy when their kids are happy. They're sad when their kids are sad."
"Resentful parents don't really want their kids to be happy unless they credit the parents for their happiness. No achievement belongs to the kids, but every failure does."
- scsuhockey
Going No Contact
"I wish I knew that some grandparents shouldn't be allowed to have a relationship with a vulnerable, easily manipulated child. I wish I knew it was okay to cut people out of your life."
- comeupforairyouweirdo
Good Models and Boundaries
"I worked with youth for a while in a poorer rural part of America and in my anecdotal experience, there are two types of kids that can turn into bad humans."
"One, they've just had tough lives and no good role models. If you get to know them, you realize they are just normal kids that have never been given the tools, opportunity, or encouragement to act any differently. If no one figures out how to intervene, it becomes a pattern of life for them that spirals out of control."
"Two, kids that never suffer the consequences of their actions. They tend to have really 'nice' caregivers who have a knack for getting their kids out of trouble. When I say they don't suffer consequences, I mean literally. Their parents do their homework, their parents lie for them, their parents don't ever tell them 'no.' Their caregivers also don't supervise them but whenever anything happens, they are easily manipulated by their child and take whatever their child says as gospel truth without question."
"And although the parents don't supervise their children, they seem all too willing to give them everything their child asks for (within the confines of their economic class). The caregivers are somehow both emotionally neglectful but also always there to help their child out of a jam. In a way that feels like they want to be manipulated by their child."
"Kids in the first category will do something bad and you go, 'How could they be so stupid?'"
"When kids in the second category do something bad, your reaction is, 'It's only a matter of time before they kill someone.'"
"I knew a lot of young adults that got in trouble with the law, but it was only people from category two that got tried for murder and manslaughter."
- JamesVogner
Practice What You Preach
"Generally speaking, If you try to teach your kid something and ARE NOT the example, you might as well not have wasted your time."
- forex__1911
"'The best field anthropologist in the world is a kid watching the grownups.'"
- BobMacActual
Giving Up Control
"Ugh. We talked to our son about everything under the sun. We had an open forum. We talked extensively about money management, sexuality, dating, how to treat other people, drug use, alcoholism, and its consequences."
"He and I also watched a ton of documentaries together on all of the above topics. I have a thing for shows like 'Underground Inc,' 'Drugs Inc,' 'Broken,' and mini-series like 'Dopesick.'"
"Once he turned 18, he began to do literally everything we advised against. It's been a hard few years. After losing his girlfriend, losing his job, and spending some time in jail, I think he's starting to listen."
"He's been doing a very good job lately. We love him and we support him despite how hard it's been. I feel bad even typing this..."
"It's really tough to look back and legitimately say what could have been done differently. What I can say to upcoming parents is:"
"Don't give up on your kid."
"Do the best you can."
"You can't control everything."
- YamahaRyoko
The Confidence of a King
"I have one child, the youngest, who I'm starting to worry about. He's tall, athletic, attractive, and very charismatic. I feel like it's a constant battle between teaching him respect and humility and the worship he gets at school."
"At his age, he's not prepared to deal with all these peers who want his attention, tell him how great he is, and the girls lining up to talk to him."
"Yeah, don't we all wish we had this problem as teens? Anyway, it's a struggle. He's gotten cocky and thinks life will just keep on treating him like a king."
"And maybe it will, he's got the type of personality that makes people want him around. But he needs to treat others with the same respect he expects for himself. Confidence is good but it needs to be combined with kindness."
"Our other children are very level-headed and what we feel are good people. I hope we get to properly teach this to our youngest and that he takes it to heart and chooses to be a good person."
- KelvinGauss
Letting Them Fail
"We wanted our kids to be happy so I think we coddled and spoiled them. They aren't ready to function independently in the adult world."
"In retrospect, I think learning some hard lessons growing up helps prepare them and is less damaging than learning those lessons as adults."
"Edit: to clarify, they aren't jerks, just not ready to be adults."
- albygolfer
Keep Teaching Them
"The only thing you can really do is teach them. They will become who they will become eventually."
"Also, when I say 'teach them,' I don't just mean to preach things. Lead by example. Do you want to teach them to be kind and generous? Then do those things YOURSELVES. If they watch you serve others in need and get joy from that or love those around you, they may grow up wanting that joy themselves."
"You want them to be responsible with alcohol? SHOW them how to be responsible."
"Do you want them to learn from their mistakes? Then when you make a mistake, own up to it and apologize. Show them no one should be too prideful to admit they were wrong and do better the next time."
"If you preach kindness and such, but your actions show otherwise, it will come off as hypocritical. Kids know when you are sincere."
- -You-know-it-
Equal Treatment
"My mom once told me that she wishes she treated my brother the way she treated me. I was the oldest and her first so she pushed me and gave me high benchmarks, but she realized too late that because she was the youngest and her baby she forgave him too easily and let him do anything he wanted."
"That by the time she realized that he was an entitled jerk, it was too late (his mid-20s). 'It's my fault he's a narcissist. I gave him everything he wanted and made him believe he deserved it because he was my precious little boy.'"
- SeattleTrashPanda
Good Humans Raise Good Humans
"The idea of 'tried their best' is so subjective. Every circumstance is so different. You get the full spectrum of what 'trying' is defined as."
"Some parents say how hard they work and how good of a parent they were, but then you find out they were abusive thinking that it was good parenting. Or vice versa. Parents who say they failed and their kids are all good kids."
"The bottom line, with so many factors and external variables, it's hard to know what the true formula is. My only advice is to try and be a good human and your kids will most likely follow suit."
- Forward_While_4411
While all of these parents wished they had known or done something sooner, at least these are actions they can continue to improve on during their relationship with their children or adult children.
And hopefully parents reading these insights can avoid making the same mistakes.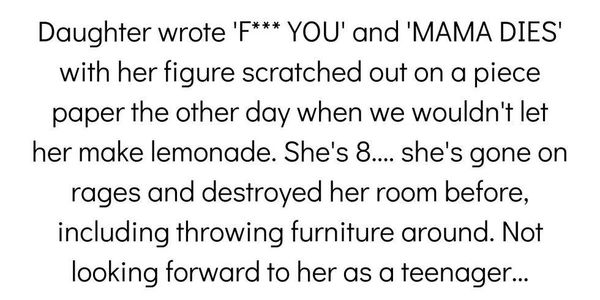 **Fair warning, some of these are a little disturbing and might bring up some stuff for folks who went through childhood or parenting trauma.

Parenting is hard, even when everything goes smoothly.
When children or their parents face extra challenges, it gets even more complicated.

It can take a while to realize that something went wrong somewhere along the line, but after that it can be painfully obvious.
Reddit user SideOfJay asked:
"Parents of Reddit, at what point did you realize you raised a monster?"
Daughter
"Daughter wrote 'F*CK YOU' and 'MAMA DIES' with her figure scratched out on a piece of paper the other day when we wouldn't let her make lemonade.
"She's 8.... she's gone on rages and destroyed her room before, including throwing furniture around."
"Not looking forward to her as a teenager..."
-valeyard89
Drug money
"When he sold my car for drugs 😐"
-Sofia1923
"Did you get the car back? Press charges? What ended up happening?!?"
-feralkitten
"This was last week, he's been in hiding since."

-Sofia1923
Unloving sociopath
"Not a parent but a sibling. My sister has become a vain, selfish, unloving sociopath."
"She treats my mum as a slave and my mum loves her too much to notice. My mum was talking to her, she got bored and said, quote 'you can leave now'."
"My mum replied with something like, you can't talk to me like that. You need to respect me to which my sister replies 'I have no respect for the b*tch that cleans my knickers. Leave'."
"I'm in shock, if I said that to my mum I'd be slapped but she turns a blind eye."
-Crimson_poppies
Turn it around
"I'm not done raising her so I still hold onto hope that we can turn things around."
"My middle child is 10. She becomes completely uncontrollable when things are not going her way. She tells me she hopes I die."
"She has told me that she is going to go to school and tell them I beat her so she can go to foster care."
"Her older sister struggles with depression and cuts herself."
"She often tells her she hopes she kills herself. She hopes she cuts too far one time. She will go outside and scream at the top of her lungs."
"She has hit me, spit in my face. Breaks things, destroys the house."
"My ex-husband was extremely abusive towards me. They saw him beat me."
"It was very, very bad. Once we were divorced he was court ordered visitation. It wasn't so bad at first, he mostly just dumped them off on his family members."
"But as they got older, his drug abuse and untreated mental issues got worse. He turned his abuse towards them."
"He never hurt them physically but the mental abuse was there. They haven't seen him in over two years. I told the judge I would go to jail before I'd allow them near him again."

"They both had a pretty rough childhood. I am a recovering alcoholic so my own issues played into it. I was never abusive but I was definitely not there for them like i should have been."
"I was more of a friend than a parent. I'm sober now. We are all in therapy. I really hope that by doing these things that we can make things right."
"I haven't given up, i still have hope. But it's really really hard sometimes."
-BagelsInMyBackpack
Redditors Recount The Wedding Objections They Witnessed | George Takei's Oh Myyy
Glasses
"My son steals my wife's eyeglasses while she is reading on her phone. (she can see up close fine but anything past about 3 feet is a complete blur)."
"He knows this... and knows he can get away with taking things off of counters and drawing on things if she can't see him."
"He's 3"
-Shadowhenge
Felix
"Hello, this is the story of my son Felix. I am from Sweden so i am sorry if my English is bad."
"Felix is 6 years old and Julia is 4 years old in this story"
"I can start with a incident that made me wonder how i raised my son."
"So me Felix and his younger sister Julia we're on a camping trip through the north of Sweden when my son, from nowhere just started to scream 'I will kill you Julia' and after he starts to pray to god."
"No one in my family is religious and that is what makes me feel uncomfortable. I ask him 'Felix what's going on?' and he answers 'Julia wouldn't let me play with her hair'."
The whole trip i would always check out what Felix was doing because i could just feel his anger of something but couldn't put my finger on what until 5 years later (2017) when the same thing happened again."

"Me and my wife had just picked up the kids (now 11 and 9 years old) from school and let them play upstairs while we're cooking food, and then from nowhere we heard the loudest scream saying 'I WILL KILL YOU JULIA' so i ran upstairs as fast as i could."
"When i came up to the room my kids we're playing in i saw my daughter laying on the floor bleeding from her hair, and beside her my son is sitting praying to god with blood in his hands!!??"
"We're so confused, my son had pulled so hard in his siblings hair that she had lost hair and started bleeding. That is the most creepy thing i've seen in my whole life so far."
"When i asked my son what he has done he answers to me with most chilling voice i ever will hear 'Julia wouldn't let me play with her hair dad'."
"About 2 weeks after the incident i asked Felix why he pulled her hair, he said 'the man in my head tells me what to do, i can't choose what to do'."
"My son is getting help and my daughter is fine."
-jakob9919
Thing B
"When Thing A was arguing with younger Thing B and said, 'Yeah, well.. I'll hit you and say mom did it'."
-HerFreeSince03
Youngest
"When my youngest moved out. I had always had difficulty with her but once she was gone I realised how much of a bully she is."
"Recently she got angry when my partner told her to not guilt trip me and flipped out called him the scum of the earth, telling me I am a bad mom for being with him when he is so awful to her, saying really horrible things about his children."
"The thing is that my sweetie is incredible and everyone loves him. Except her because he called her on her bullshit and stood up for me."
"I can't even tell you how many times I have cried because of things she has said or done."

"My oldest daughter is a sweetheart and they are polar opposites. I am concerned there are some mental health issues right now because she has increased her behaviours."
"Unfortunately she is off on her own so I can't do anything but ask her to talk to someone."
-whiskeynostalgic
Diabetic
"Not me, but my sister. She currently has her oldest daughter and my parents are raising her youngest who is a diabetic."
"My sister, who is blind, has often speculated that niece 1 does not like her younger sister very much and thinks she might try to hurt her."
"This was confirmed. While reaching into niece 1's computer bag to borrow her charger, my sister felt a bottle and pulled it out. It was niece 2's test strips."
"She had stole them while visiting."
"She literally has no reason to take them other than she doesn't want her sister to be able to check her blood sugar, which she literally die from if it gets too high or low."
-PixelstationStudios
Not all monsters are created equal, though.
OJ
"Not my kid but niece."
"Went to the fridge, took a glass of OJ, and dumped a massive amount of ketchup in it before proceeding to drink it."
"I couldn't sleep that night."
-zerosharp
Okay, we want to hear your stories.
Let us know in the comments below.