Racism is terrible, there's no room for debate on that. But sometimes terrible things can also be terribly weird.
Today we're going to talk about instances of racism that left the victim confused more than hurt. Because, apparently, some people need to be told that Asian women are allowed to be named Lisa.
Keep reading...
Show less
Nothing brings out the secret hate like a physically threatening force that justifies deeply internalized racism.
The Coronavirus is a serious problem. The threat has spanned multiple parts of the globe, taken the lives of 2,707, and infected 80,370.
But something must be pointed out: the overwhelming majority of people across earth do not have the virus. This is true even for people in or from China, where the virus first broke out.
Unfortunately, many people apparently think every single Chinese person has the virus.
Those people also think that every person of Chinese descent living in another country also has the virus.
They also think every Asian person is a Chinese person.
A slew of incorrect conclusions like that creates a plenty of day-to-day issues for people.
harmony-rose asked, "Asians, what type of racism have you endured since the Coronavirus came out?"

Keep reading...
Show less
Bong Joon-Ho made history this weekend with his film Parasite, the first foreign-language film to take home an Oscar for Best Picture at the Academy Awards.
Parasite also won in the Best Foreign Language Film and Best Original Screenplay categories, and Bong received the award for Best Director.
Not everyone was happy about the South Korean director giving the majority of his acceptance speech in his native language, however.
Right-wing pundit Jon Miller decided to chime in with his two cents on Twitter. He was evidently quite unhappy with Bong's choice to speak his own language and a Korean film winning Oscars .
Miller—who works for Fox News reject Glenn Beck's The Blaze—posted:
"A man named Bong Joon Ho wins #Oscar for best original screenplay over Once Upon a Time in Hollywood and 1917."
"Acceptance speech was: 'GREAT HONOR. THANK YOU.'"



"Then he proceeds to give the rest of his speech in Korean."



"These people are the destruction of America."
A man named Bong Joon Ho wins #Oscar for best original screenplay over Once Upon a Time in Hollywood and 1917. Ac… https://t.co/x3oJ5hENgQ

— Jon Miller (@Jon Miller)1581299047.0
Singer-songwriter John Legend wasn't having any of it, though.

Legend responded:
"Do they pay you for these dumb takes or is this something you do for fun"
@MillerStream Do they pay you for these dumb takes or is this something you do for fun

— John Legend (@John Legend)1581301978.0
Legend wasn't the only one to take umbrage at Miller's casual xenophobia, though.
Celebrities and everyday people alike joined in dunking on Miller.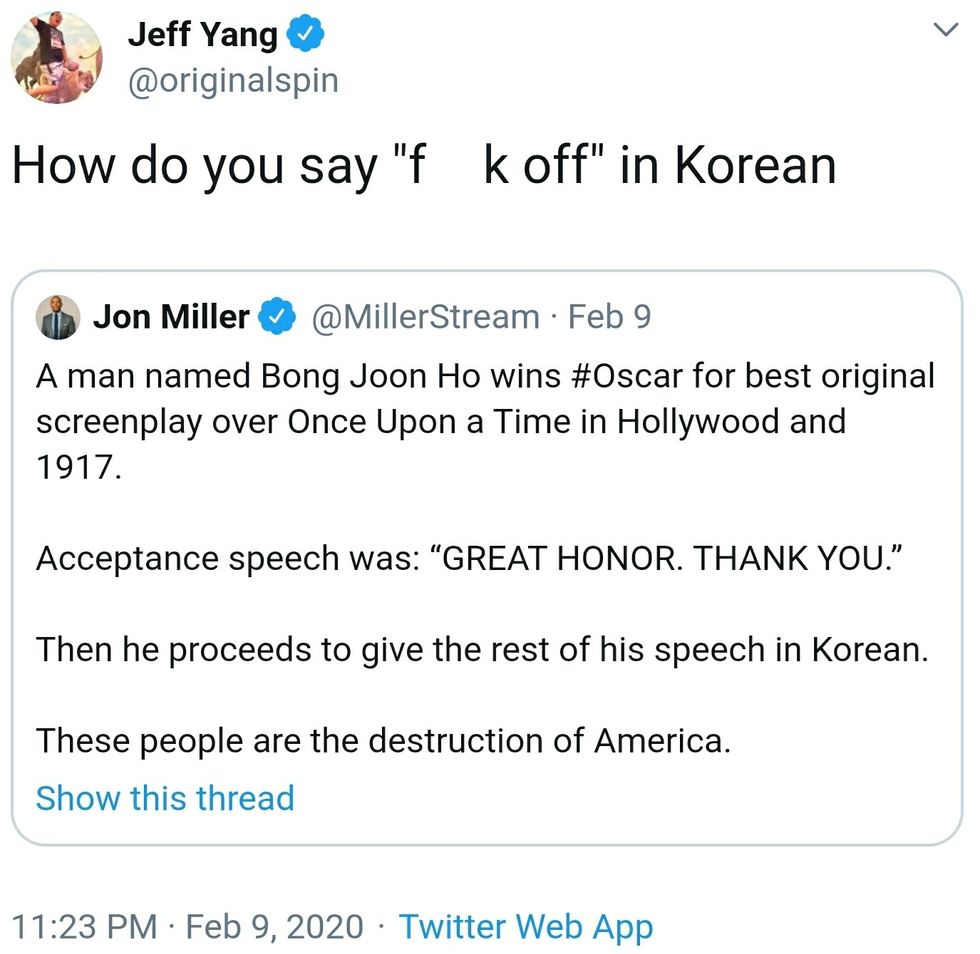 @MillerStream Imagine living such a charmed life that your biggest fear is Korean screenwriters speaking their nati… https://t.co/QcFV5lzHw5

— Andrew Solender (@Andrew Solender)1581300348.0
@realJacobAirey @MillerStream It's not an overreaction - overreactions are when you're right but you've over done y… https://t.co/cBHODyUTuy

— Tom Brennan Blue Checkmark (@Tom Brennan Blue Checkmark)1581299613.0
@MillerStream Xenophobia is a hell of a drug.

— Sleeping Giants (@Sleeping Giants)1581299817.0
@MillerStream god if you're this scared about ONE Korea, I have bad news for you

— Sam Sykes (@Sam Sykes)1581303548.0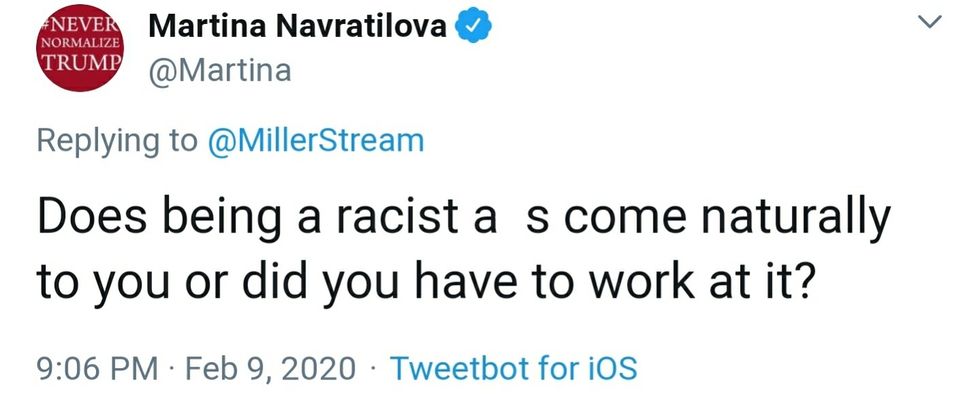 Miller quickly tried to backpedal and claim people were misinterpreting his tweet.
But his revised interpretation isn't really any better. Complaining because a Korean film and filmmaker won the awards is just as problematic when numerous British films have won with no such complaints.
1917—one of the films Miller claimed should have won—is categorized as a British film.
"These people" are obviously not Koreans but those in Hollywood awarding a foreign film that stokes flames of class… https://t.co/rnMVN6dKrI

— Jon Miller (@Jon Miller)1581301683.0
Miller didn't clarify if it was the Whiteness of the cast or the language they and the filmmakers spoke which made 1917 acceptable and Parasite not.
Referencing another historic Oscar moment—Māori filmmaker Taika Waititi's Indigenous land acknowledgement during his acceptance speech—writer and former child star Mara Wilson made an important point about languages.
@MillerStream You're right, technically he should have said "thank you" in the Tongva language

— Mara "Get Rid of the Nazis" Wilson (@Mara "Get Rid of the Nazis" Wilson)1581301873.0
Xenophobia and racism really aren't a good look. And backpedaling instead of just apologizing definitely didn't win the support of any of Miller's detractors.
Parasite won 4 academy awards based on its own merits and Bong giving his acceptance speech—a very emotional thing to do—in the language he's most comfortable with just makes sense.
Keep reading...
Show less
In an odd attempt to claim that White men are the true victims of all society's ills, instead of the people who hold the most power in much of the world, Terry Gilliam decided to claim that he is a "Black Lesbian In Transition."
The 79-year-old Monty Python and the Holy Grail director made his claim during an interview with The Independent while he was supposed to be promoting his new film, The Man Who Killed Don Quixote.
Instead of promoting his film, Gilliam went on a bizarre rant about how White men are the real victims.
To take his pity party one step further, he said some of Harvey Weinstein's victims were "adults who made choices."
"There are many victims in Harvey's life, and I feel sympathy for them, but then, Hollywood is full of very ambitious people who are adults and they make choices."
He also called #MeToo a "witch hunt."
"Yeah, I said #MeToo is a witch hunt. I really feel there were a lot of people, decent people, or mildly irritating people, who were getting hammered. That's wrong. I don't like mob mentality. These were ambitious adults."
Gilliam demonstrated a complete lack of understanding of power dynamics and systemic oppression with his" not all men"-esque complaint that "I didn't do it!"
"I understand that men have had more power longer, but I'm tired, as a White male, of being blamed for everything that is wrong with the world. I didn't do it!"
Alexandra Pollard, the interviewer for The Independent, attempted to explain the concept of privilege to Gilliam, but he interrupted to complain about being called out for claiming to be a Black lesbian.
Apparently Gilliam does not at all understand why that obviously false statement might be wildly offensive to most people.
"It's been so simplified is what I don't like. When I announce that I'm a Black lesbian in transition, people take offense at that. Why?"
He backpedalled and claimed that he could be "half Black" when the interviewer contested his claim, despite the fact that he had just referred to himself as a White man.
"OK, here it is. Go on Google. Type in the name Gilliam. Watch what comes up. The majority are Black people. So maybe I'm half Black. I just don't look it."
Gilliam went on to complain about how he doesn't like the terms Black and White.
"I don't like the term Black or White. I'm now referring to myself as a melanin-light male."
Twitter users were not particularly sympathetic to Gilliam's worldview or his rant.
@ava @The_Lady_Red @alexjpollard "I didn't do it but I was more than happy to benefit from the power structure that did"

— Hester Mofet (@Hester Mofet)1578159294.0
@alexjpollard @whatneildid I don't understand why so many white men feel personally attacked when it's pointed out… https://t.co/l0dvRK0ZM5

— Pippopotamus 🏳️‍🌈 (@Pippopotamus 🏳️‍🌈)1578146152.0
@alexjpollard In which he seems to suggest that clever women just wisecrack their way out of rape situations. Hones… https://t.co/Oj9Izthl4d

— Sali Hughes (@Sali Hughes)1578139961.0
@alexjpollard @LockettDown Wow. This line here says everything I need to know: "No. When you have power, you don't… https://t.co/2EngVTPkcu

— Jules Rivera (@Jules Rivera)1578155134.0
@thatkat @alexjpollard Good take. He is such a misogynist, he decided 'This writer lady (Alexandra) is here to inte… https://t.co/OOaw8Bclo7

— End All Pointless Wars Now 🎥 🎸 ☮️ (@End All Pointless Wars Now 🎥 🎸 ☮️)1578166700.0
@KateWilliamsme @alexjpollard Yeah I loved how he talked about The Youths pushing off responsibility and blaming ev… https://t.co/rtB0V4fFHN

— Mackenzie Kincaid (@Mackenzie Kincaid)1578191549.0
The interview ended with a bizarre and troubling comment from Gilliam, after his publicist returned to tell them that time was up.
"I don't know how you got stuck with me in this mood, I just love arguing. And if you've got a point, you should be able to argue your thing. But I'm not going to hit you."
For those struggling with the concept of power dynamics and systemic, institutional biases, the book White Fragility: Why It's So Hard for White People to Talk About Racism is available here.
Maybe someone can send Gilliam a copy.
Keep reading...
Show less
L-Photo by Eugene Gologursky/Getty Images for Stacy's Pita ChipsR-Photo by Dominique Charriau/Getty Images
Ah yes, microaggressions are still alive and well in 2019.
For those who don't know, a microaggression is:
"a statement, action, or incident regarded as an instance of indirect, subtle, or unintentional discrimination against members of a marginalized group such as a racial or ethnic minority."
A common microaggression many people of color face at some point?
The assertion that all people that share their race or ethnicity look alike.
You likely know author, actress, model, television host and executive producer Padma Lakshmi best as the host of Top Chef, a competitive cooking show between professional chefs.
Top Chef Season 8 - Richard please pack your knives.... www.youtube.com
Our hearts practically stop whenever she says:
"Please, pack your knives."
This is Priyanka Chopra—actress, singer, film producer, winner of the Miss World 2000 pageant, star of Quantico, Baywatch, Isn't It Romantic? and wife to Nick Jonas.
Everything Priyanka Chopra Does in a Day | Vanity Fair www.youtube.com
It appears The New Yorker cannot tell the difference between the two women.
When they were promoting Padma Lakshmi for their "Celebrity Cartoon Takeover," they tagged Priyanka Chopra in the post.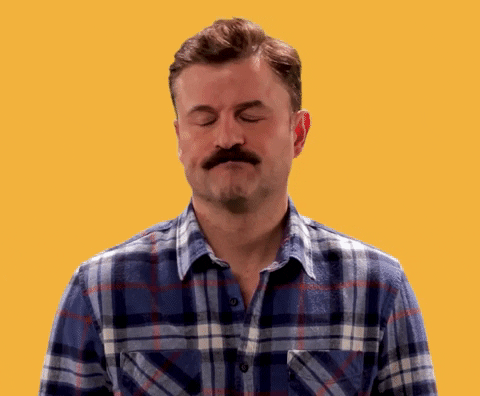 Giphy
The magazine eventually took down the post, but not before Padma screen-shotted the mistake.
And absolutely roasted them.
The roast she threw in was perfect.
"Thank you to the illustrious "@nydailynews" for the shoutout 😉 I know to some we all look alike, but 🤷🏾♀️... #desilife #justindianthings"
Mixing up The New Yorker with the New York Daily News?
Genius.
Chopra has not yet commented on the mix-up herself, but Lakshmi's fans are all cringing with her.
Lakshmi has retweeted some of the comments she found the funniest.
In general, Lakshmi produces some really amazing content on her page.
So for more excellent roasts, head over to her page and give her a follow.

You can see Lakshmi outside the Top Chef kitchen in her series Planet Food. Get Planet Food - India here.
Keep reading...
Show less