Tradespeople have some of the toughest jobs that often involve physical exertion.

Skilled workers like welders, electricians, and consruction workers often put their lives at risk at the work site but they possess a lot of pride in what they do are very dedicated, hard-working people.
But even they have a breaking point that leads them to walk out on a job.

Curious to hear from blue-collar workers, Redditor imakesawdust asked:

"Electricians, plumbers and tradespeople of Reddit: Have you ever noped out of a job? What was it?"
Hard No
Adverse working conditions and difficult people can determine if a job is worth sticking around for.
Flying Roaches
"I am an automotive tech, the only jobs I utterly refuse to work on are cars that are filled with trash and filth. I have literally had roaches fly out of the ac vents when the ac came on. Y'all would be disgusted at the way some people keep their cars."
Wild Accusation
"I used to work on a crew that built additions on houses. One lady got upset that we were cutting a hole thru her wall for the door. She called her husband who came home from work, he told our boss that she was accusing us of trying to break in and assault her. My boss had us pack up and leave and we never went back."
– Sigg4444

Too Much Wood
"Work in a lumber mill, a loader operator knocked 4 bundles of 2" thick by 6" wide by 16' long into the river, so over 1200 pieces and a boss told me to get it out of the river... during a thunderstorm."
"F'k all that noise sir."
"Edit: the wood wasn't 2 feet by 6 feet by 16 inches, that would be weird just fixed it lol not American my bad."
Unsanitary Wasteland
"Mechanic here.""
When I used to work on cars, I had to pull the front seats out of a horrendously dirty smelly car to remove the center console."
"Proceeded to removed the front seat, and found the whole area under the seat was stuffed full with Dirty used tampons and pads."
"I nearly threw up and I yeeted the f'k outta there. We had to call up and get biohazard guys in because she wouldn't come and clean out the car."
"'Karen' then proceeded to have a screaming match with my foreman about the bill....."
"I've seen alot of sh*t but hands down this was the worst."
When Life Matters More
These people prioritized their lives over their jobs. Because they should be alive to cash their paychecks.
Wobbly House
"Got hired to do a vapor barrier job in a crawl space. Old 1920's home. I suited up and got in about 15 ft and saw that the center load bearing beam had rotted out near the footer. Somebody took a cinder block and a 8 ton harbor freight bottle jack to shore it back up. Whole thing wobbled as folks moved around in the house. Got the f'k up out of there."
Project Of Peril
"I was called out for a termite inspection. Homeowners said they had been told for years they had a problem but it took one of their bedrooms floors collapsing to finally do something about it."
"I hauled a** out of the crawl space when I found the only thing that was keeping the floor from fully collapsing was a single electrical wire that at any moment it could snap and collapse the floor on me."
– dahopppa

Unexpected Shower
"I was working in a newly restarted 130 year old paper mill, they hadn't worked out the kinks in the pulp mill yet. The short version is my toolie and I got coated in black liquor that flowed from an uncapped pipe 70 feet in the air. It was outside, in December, so luckily it wasn't boiling lava hot when it hit us but we still had to make a trip to urgent care. And we lost our work truck because it was white and after the spill was black. We came back the next week, but refused to work on that end of the digester."
"Edit: I'm an electrician."
The Unexpected
These tradespeople found that unforeseen circumstances can be enough of a reason to peace out.
Saying 'No'
"Landscaper here. Honestly it's about 50% of the meetings I go to. Learning how to say no is essential in this business. You can go out of business doing not good jobs quicker than you can not working."
The Panicked Landscaper
"I hired a landscaper once, small-time guy doing it as a sideline. We talked about all kinds of plans, seeding grass, cleaning up overgrown parts of the yard, and taking out two giant, ancient bushes that were crowding the house."
"He shows up to take out the bushes, and a few hours later calls be, all freaked out that the bushes have roots that go down to hell and it was taking a lot longer than estimated to get them out. I made it clear to him that I had half expected that, and that I had no problem paying for however long the job actually took. He was absolutely in a panic, though. He got the bushes done, then noped the hell out on the rest of it and never got back to me."
"Somehow, I couldn't make him understand that I was way more pissed that he bailed on the rest of the work than the fact that he underestimated the job initially."
– DMala

The Clog
"A bit late to this but.... I'm a plumber, went to unblock an old ladies toilet, she'd tried to flush her dead cat, it was stuck, and very wet, and soggy...."
Result Of Depression
"I noped out of a job back when I was a sparky. We had ~100 men onsite at a uranium enrichment facility; pay was good, but the conditions weren't. It was way out in the middle of nowhere New Mexico, with nothing to do beyond go to work then go back to the camp and drink. I got depressed after spending 6 weeks onsite, as did a lot of others. The straw that broke the camels back for me was when we found one of the apprentices dead in his trailer. His girlfriend broke up with him because he was never home anymore, he turned to the bottle.
Based on the comments shared in the subReddit, many of these skilled or unskilled laborers have dealt with their share of hardships.
But the situations prompting many laborers to bail out on a job were mostly the ones where their lives were in jeopardy.
Because would you rather have an old home come crashing down on you and bury you alive, or come face to face with a mountain of used tampons while working on a car?
No toss-up here.

Keep reading...
Show less
How often do you rely on your intuition? Is your gut instinct spot on?
There are many scenarios we face in life where we make decisions based on knowledge or the experiences of others.
And while those are helpful indicators, there is something to be said about your internal siren sounding off at full blast, telling you to "abort" a situation.

Whether your gut warns you of an incompatible date, or a hazardous workplace environment, it's there for a reason that only you can know.
And ultimately it's up to you to ignore them or listen. Because in some cases, it could be a matter of life or death.

Redditor madocsherbrook asked strangers on the internet:

"What was your "I'm out" moment?"
The comments that followed highlight the experiences of people who averted potential disasters and had their guts to thank for it.
Furious Employer
"When my previous employer screamed at a co-worker for five minutes straight because she neglected to call some priority life insurance leads. We had third co-worker out on medical leave so this woman was taking care of two lead lists as well as acting as an unofficial assistant manager to the agency."
"When I say this woman was screaming, I mean it was the shrillest, highest pitch bat screech I had ever come out of a grown womans mouth. The windows literally shoot that's how many decibles she put out. It was one of those public freakout moments where I wished I had my phone recording the incident, but I was in so much shock that I didn't know what to do."
"I dusted off my resume and bounced about a month later. She accepted my three weeks notice, fired me on the spot, tried to steal my last commission check, and threatened me with corporate after I let her know I had my commission sheet already printed and would be pursuing a wage complaint with the state."
"BULLET. DODGED"
– Lyn1987

The Not-So-Open Relationship
"Very long story very short version. Ex wife and I were having severe marital troubles. She proposed an open relationship to try to fix it. (Pro tip dont do that). Anyway she started banging her friend the next day and it took me two months to finally find a girl willing to sleep with me. Girl and I had become good friends but the night I was going to go out with her to actually have sex my wife vetoed me as 'she wasnt ready for that step yet.'"
"I gritted my teeth but agreed. Life goes on for a couple more weeks and then one night I get a topless pic from the girl on my phone. I casually mention it to the wife."
"She EXPLODES, saying how inappropriate that is as that I need to cut off all contact with this girl someday. When I threw up her hypocrisy to her she told me she would CONSIDER stopping sleeping with her friend for awhile but she wasnt sure."
"I left the next day."

Inevitable Bar Brawl
"Was at a bar one time when a group of guys came in screaming and arguing with another group. Slammed my beer and got the f**k out of there before I could see what happened next."
Trucking Nightmare
"My first job was for a trucking company with a well-earned bad reputation for mistreating their drivers. I was one of those drivers."
"So, the way it works is that you go out for a number of days, and then you're supposed to be home for a few days after before going back out. This company had a 6 day out for every one day home situation, so basically one day of hometime earned a week."
"I would be out for 24 days and request 4 days hometime thereafter, as per the company policy, and always with roughly two weeks advanced notice. It would always get approved, but my dispatcher would find every excuse she could to keep me out for months at a time. I would call above her to get home, but that would inevitably lead to my paystubs being shorted significantly. I guess she had some connection to the pay department or something. I would always point it out to HR, but they would do nothing."
"I stopped working there after 6 months, having been home for a grand total of two weeks all the while, and having made well below minimum wage for my efforts. (Truckers are.exempt from a lot of laws pertaining to compensation, for the record.) But those six months were enough to find a better employer elsewhere. I placed out."
"So I have an 'Abandoned Equipment' charge on my DAC, because of that company. I had returned the truck, given the key to the company repairmen, and cleaned my things out of it. They had already assigned a new driver to take that very truck by the time I left. That was over half a decade ago, and I hope that poor bastard found something better."
– robexib

Extremely Passionate Sports Fans
"I was taking the train from Glasgow to Edinburgh one late evening. Apparently Celtics had played Rangers that same evening. This became evident when some fans of both teams, maybe 15 guys in total, were fighting and throwing glass bottles of alcohol at each other and the train both on the platform and inside the carriage. I had been sitting near the doors but I moved as far back in the carriage as I could, hiding and crouched way down so as to not be hit by the flying bits of glass. I was ready to get tf off that train but most of the fans got off the train at the very next station and the next train was unlikely to be any better, so I stayed. Since then I always check to make sure the derby isn't on before I visit or travel through Glasgow."
"This isn't to say that every fan of either of those teams are hooligans or that other teams don't have hooligans, I know that's not the case and there were fans of both teams who were completely innocent and were just wanting to travel home in peace like everybody else."
"Toxic Work Environment"
"A job I had a few years ago. Someone rammed my car in a parking lot. So I let my boss know, and went to the police station to file a report for the insurance. My boss didn't ask if I'm okay, he only phoned later on, to find out what is taking so long. I left that company soon after. It was a very toxic work environment."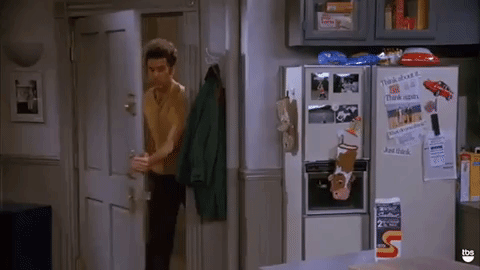 im out GIF
Giphy
No More Games
"I was volunteering on a website writing game guides. When the owner of the site, who I've known for a while, (we were in different countries though) hinted that if he knew one of us in person, he could have us beaten half to death in the middle of the street and no one would stop him. All over a friend of mine declining to provide game info any more. I ghosted him and the entire site instantly."
– Amidormi

Workplace Hazard
"I was working in a warehouse, and we had a load of heavy duty racking delivered from sime dodgy contact (honestly, knowing this place it was probably stolen). It came on a soft sided wagon, and I could tell by the way it was bulging that the load wasn't propey secured and had shifted during transit."
"I told him it wasn't safe to unload from the side, as the whole lot was likely to fall on someone, and that we had better handball it out the back door, which would be safer but take a little longer. He disagreed and called me a p*ssy, then we got into an argument and I handed in my notice."
"I found out from a friend later that night that the load collapsed on someone during unloading and broke his leg in two places."
A Manipulative Business Strategy
"When a friend from high school invited me to a 'work event,' and I'm sure you all can see where this is going."
"As soon as I entered the place I saw a lot of clueless people and two giant posters with planes, luxurious landscapes and smiling girls. Noped out before they could get any of my info for the MLM."
"Later me and another friend tried to convince her to leave the business, but she wouldn't listen. Lost a lot of money. She finally got out when they started insisting on making more people join by lying to them and saying she'd been making money, so that speaks good of her. She had just been desperate I guess."
Full Bladder
"Back in high school I left class to go to the bathroom. I was booking it because I really had to go, but then I notice there's a whole group of freshman boys crowding around the entrance to the girls bathroom trying to dare each other to go in. I turned right the hell around. I had to walk all the way to the other end of campus just to get to the other girls bathroom. F'king freshman."
Extreme Boredom
"I had this job that paid well but I absolutely hated it due to sheer boredom. I was sent across the country for training which included a meet and greet with the CEO of this Fortune 100 company on the second day. After the first day surrounded by a bunch of snivelling brown-nosers, I spent the night wide awake thinking about how much I hated the job. I drafted an email to my boss saying I was quitting immediately with zero notice, checked out of hotel, drove to the airport, and booked a return flight. I never went back. I didn't just burn that bridge, I friggin' blew it up."
The Violent Business Owner
"My boss asked me to empty the wastebaskets when I closed up the store (a small art supply shop in a very small town). It was very dark when the store closed, and the trash bins were across a parking lot that was not well-lit, and there had been some bad stuff going on in the neighborhood. I decided to come in early the next morning to empty them."
"Came in half an hour before the store opened, unlocked the front door, walked in and a flying wastebasket missed my face by inches. My boss was standing there in a rage, smelling like booze, yelling at me for failing to empty the bin."
"I said, 'I quit' and walked out. I loved that store and the customers, but hated the owner. Every job after that was better, so..."
– cat9tail

Church And Greed
"Pastor of the church asked me & my (then) husband if we would consider refinancing our home and 'donating' the equity to the church to help build a new facility with his 'dream basketball court' .. er for the youth."
"He ended up convincing several families to 'donate' their equity, and my ex was furious with me for refusing. I told my ex he could keep the church in the divorce, but I sold him the house & took my share in cash."
"All of those people lost their money, and the building was never built. I put the money down on a new home & I'm very happy."
– cat9tail

Keep reading...
Show less
You know it's not a great place to work when employees band together to walk out. Literally.
Unions were basically created for this reason, by having the working people band together to fight against being mistreated by corporations, they create power in numbers. Even without a formal union, there is still power in numbers--no company wants to be tasked with explaining themselves like that.
Keep reading...
Show less
Suffering through a bad job certainly isn't ideal, but may people don't have much of a choice.
Sometimes things just reach the boiling point and someone decides that they've definitely had more than enough, though.
Keep reading...
Show less