Life is full of the unexpected. And there are some mysteries we'll just never know the answer to. But that doesn't mean we shouldn't try to dissect, discuss and try to decipher some necessary answers.
There are so many murder mysteries I've given up on learning the truth about, but there is always hope.
History is littered with questions, so let's dig in.

Redditor u/Jackielegz8689 wanted to discuss the dynamics about some quizzical moments in life, by asking:
What are some unexplained events in history?
Most of my questions are about death. Who killed JonBenét? Will we know? How was Hitler able to summon an army? Where to begin?
Eddie's End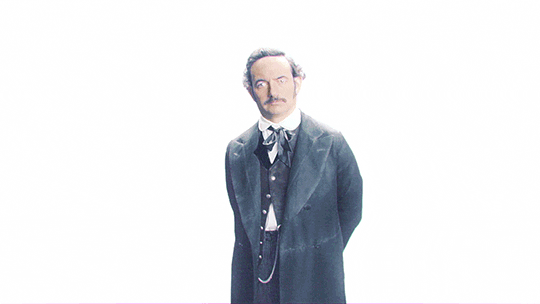 Altered Carbon Surprise GIF by NETFLIX
Giphy
"Edgar Allen Poe's last days. Where did he disappear to? Was he kidnapped? Did he go on a bender? Why was he found in a delirious state? Drugs? Disease? Trauma?"
"I saw a show where they gave doctors a patient's symptoms without revealing who the patient was. Based on Poe's symptoms and behavior, the doctor thought he likely died of rabies. I thought that was an interesting theory."
And Silver?
"The Late Bronze Age Collapse."
"Even though there's simply not enough evidence left to find a clear answer, there's some pretty solid theories around. The videos from Extra Credits about the Bronze Age Collapse are pretty good for example. Not least of all, because they point to several factors and avoid easy if enticing answers like the mysterious so-called sea people."
- Fessir
Last Day on Earth
"On September 10, 2001, Mohamed Atta and Abdul-Azzia Al-Omari drive from Boston to Portland, Maine. They spent the afternoon at the Wadsworth-Longfellow House, the former home of author Henry Wadsworth Longfellow. Al-Omari was apparently so taken with the young tour guide that he shook her hand for an uncomfortable amount of time and repeatedly thanked her."
"Why the two of the 9/11 hijackers took a tour of a 19th century New England author's home has never been explained. Maybe they were killing time. They certainly weren't hiding while in Portland as they are also spotted at a Walmart and a Pizza Hut."
"The FBI spent years reviewing possible leads in Portland to try to link any possible al Qaeda sympathizer who may have met with the two hijackers in Portland. They've never come up with anything. Their best explanation is that Atta believed security would be less stringent at a regional commuter airport. That, however, doesn't explain why two Islamist terrorists took time out of their last day on Earth to visit Henry Longfellow's home."
The Uncertain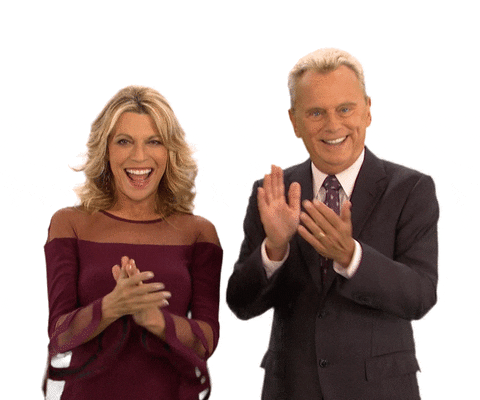 Buy a Vowel.Giphy
"The Great Vowel Shift. What happened is pretty well understood but not why it happened. There are some hypotheses but nothing is certain."
"I'm not English, but the same happened in German. what I knew so far is that the thesis is that the different local languages mixed as the people did and that is how the vowel shift happened."
Edgar Allen Poe was a genius. I've always wondered about his end. I'm glad I'm I'm alone. And will we ever reach a day when 9/11 isn't always a question?
A complete inventory...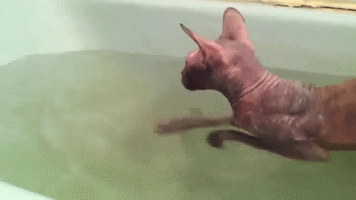 sphinx cat GIF
Giphy
"How, when and why Gobekli Tepe was built, how old the Sphinx is and how it looked originally, whether there is a library underneath, and how massive stone structures across the planet were built with such precision. And exactly WHAT literature, documents, objects the Vatican holds, with a complete inventory?"
Dance Again
"The dancing plague."
"Ergot doesn't really explain it. People danced for days non-stop in multiple locations. Even if ergot intoxication was present, any psychoactive effect would have worn off within 24 hours. Ergot poisoning also causes physical symptoms (nausea, weakness) which would make it impossible to dance for that long, and it's implausible that every intoxicated person would behave in the same way."
"Upon encountering a group afflicted by the dancing plague, symptomless passers by would feel compelled to join in, and the whole event seems to have started when a single individual started dancing and others joined in. Some kind of collective/mass psychosis or hysteria seems more likely. There are lots of recorded instances of similar episodes."
People Share Which Social Norms Absolutely Baffle Them | George Takei's Oh Myyy
Trade
"The Norse traveled to North America but they didn't stay, they didn't return back and they didn't tell anyone else, that, hey, there's a freakin' ton of good land over there. Maybe we should all join together and return to fight. Or at least start a trade route like we have with all the people on our side of the planet."
"Why? And if that event was so traumatizing how come we don't have Native American oral stories or at least legends of pale people arriving from the East in ships trying to mess everything and everyone up with weapons that no one has ever seen before."
Out to Swim
"The Australian Prime Minister that went for a swim and never returned."
"While we'll never know for sure what exactly happened, it also doesn't require too much guesswork. Harold Holt was a very competent swimmer and free-diver, and frequently went out ocean swimming and spear fishing. To the point one would argue to be too overconfident."
"The particular day he went out was rougher than normal, even his friends that were going decided to pull out and warned Holt against going as well. Holt was also a heavy smoker, very overweight, drank like a fish, and was also just old. Most likely explanation is that he was caught in a rip (very possible given the day's conditions), got carried out to sea and in his poor health got exhausted and drowned. Unfortunate, but very likely given all the circumstances."
Stories of LA
"The Battle of Los Angeles. One night 3 months after the USA entered WWII, there was an attack by the Japanese on Los Angeles. Except it wasn't the Japanese. After the war, Japan stated that they had flown no planes over Los Angeles in the entirety of the war. No one really knew what the anti-aircraft shells and machine bullets fired at, and there were many varying reports of what it was, from weather balloons to airplanes to a false alarm."
- Allorz
Google It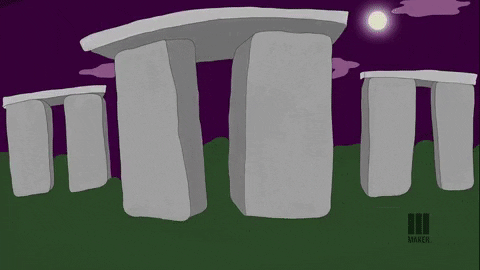 dance music rave GIF by Story Time with Fat Jew
Giphy
"Who built Stonehenge?"
"And more importantly, what's the meaning of Stonehenge? (it's killing me that no one knows)."
- Ockniel
So much fascination yet to be discovered. And who and why when it comes to Stonehenge? Now I'm more inquisitive than before.
Want to "know" more? Never miss another big, odd, funny, or heartbreaking moment again. Sign up for the Knowable newsletter here.

Keep reading...
Show less
Listen, before we even get into this I'm going to set some expectations. We're about to talk about testicles. Like a lot.
Just putting it out there.
Pre"dick"tably, people started out with everything you never knew you needed to know about ... well ... you read my intro. You know what you're getting into.
Let's just go on ahead and get the probing penis questions out of the way now.
New Kinds Of Kisses
Lips Kiss GIF
Giphy
"When you use the toilet, does your weenie just hang into the toilet? Do you rest it on the seat? Do you ever get poop splash on your ween?" - misternuggies
"It hangs. Sometimes a splash hits the balls. Poseidon's kiss they call it." - SkeletalElite
"When your tip touches the toilet bowl/rim it's called The Witch's Kiss " - CaptainFeather
All About The Scrunch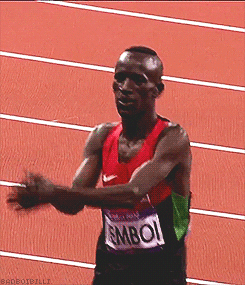 Track And Field Dancing GIF
Giphy
"What happens to your balls when you run?"
"Are they just banging around? Do they stick between your thighs? Do they end up tucked? I've been dying to know, thanks." - Gettin-liiifted
"The nutsack isn't always floppy. It scrunches up or loosens. They don't flop when scrunched."
"Also Underwear keeps it in place." - LemonWaluigi
"Yeah, this is the answer. Your sack can contract so much, it presses your balls pretty far into your groin area."
"Then they don't dangle. They're just there." - Weikor
An Inconvenient Truth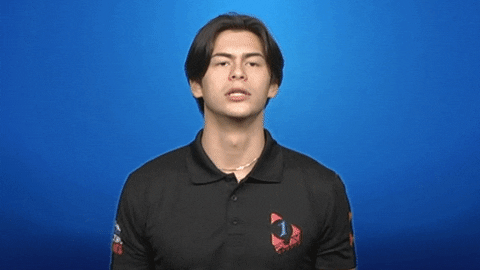 Are You For Real No Way GIF by 1 Play Sports
Giphy
"Is it true you really get random boners?" - Kanyesb7889
"Yes. Distressingly often as a teen, but even later on it happens." - SoAngry75
"Constantly... I was told at some point that they would stop... I'm thirty f*cking seven and still waiting for that time I can stand up without having to shift things to hide it...." - kezow
"51 here. Hasn't stopped yet. I'm guessing they won't be able to close the coffin lid when I die at this rate." - gonesnake
A Difference Of Opinion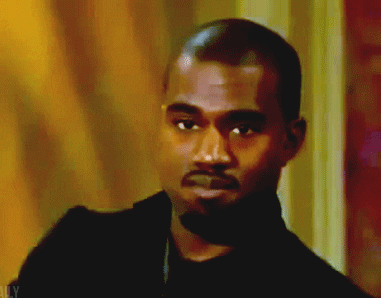 Kanye West No GIF
Giphy
"Do y'all secretly enjoy when we get you hard at inappropriate times?" - Kaitmyers79
"Oh God yes. When a girl intentionally gets me hard, knowing that I can't do anything about it (and may be embarrassed trying to hide it) that's such a turn on. Which of course makes me even harder."
"Here's the thing: girls get to feel sexy pretty much whenever they want. They have the opposite problem, with guys cat-calling or making inappropriate comments just because boobs and butts exist."
"But there's no equivalent of cleavage or a short skirt for guys. And even if there was, a lot of women just don't comment on mens' bodies, even to their partner."
"It's such that men can be in a relationship for years and never get to feel like their sexy bits are sexy. Hopefully we get compliments on other things, like how we dress or carry ourselves. And that's nice. But nobody ever compliments our dicks, other than maybe the first time you see it."
"So back to your question. If you're getting me hard on purpose, that means you're thinking about it and you like it. And that's a pretty nice compliment." - notme222
"No." - WakandaZad
Great, now that we've gotten all that out of our systems it's important to remember that men, like all humans, are so much more than their crotch-quirks.
Some may not always like to admit it, but there are hopes, fears, insecurities and genuine emotions happening over there. Of course there are!

Human - to - human, the questions turned into something more interesting. We got examinations of what patriarchy, socialization, and expectations look like in the real world.
In short - it got real.
Throwing Away Your Shot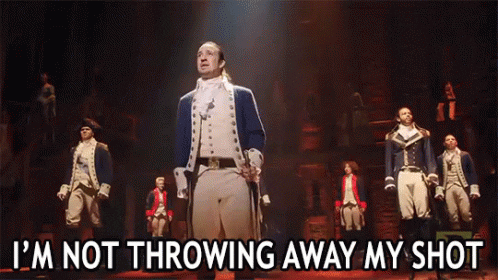 Giphy
"Is it true that guys generally hesitate or avoid going up to and talking women that are super attractive?"
"I mean like a 9 or a 10/10? Is attractiveness/appearance something that makes you stall when 'shooting your shot?' " - hoodfairyy
"Can't speak for all guys, but what I tell myself: 'Why the hell would someone like her be interested in someone like me?' " - LiquidGhost8892
"Absolutely. True story:"
"There was this really pretty girl in my friend group (all young 20-somethings) in San Diego. We'd hang out, go to parties, go to concerts, go to the beach, etc. I never even considered asking her out because she was waaaaay out of my league."
"One night she and I were the last of our group at the bar. She has no car so I offer her a ride home. She invites me in for a beer. Cool."
"We're watching late night tv and she leans her head on my shoulder. Eh, fine... we're buds, right?"
"Then her hand is on my thigh. Weird."
"I turn to look at her and she's looking in my eyes. I ask if she's okay and she says she'd be better if I kissed her. WTF?"
"She's like a 9 and I'm a 6 at best (maybe a Scranton 8). But, F*CK YEAH! We make out for a bit, but when I go to cop a feel she breaks it off and says, 'We've both had a lot to drink. Maybe you should sleep here tonight.' "
"I see I've blown it and say, 'Sure. Thanks.' "
"She heads to the bedroom and I kick off my shoes and stretch out on the couch. A couple of minutes go by and she comes back and says, 'Are you coming?' "

"WHAT THE ACTUAL F*CK IS HAPPENING? But I smoothly go 'Um....yeah.' "
"That was Dec 12, 1981. We married April 3, 1982. Still going strong."
"If it wasn't for her, never would have happened." - CharDeeMacDennisII
911 Operators Break Down The Strangest Call They've Ever Received | George Takei's Oh Myyy
For A Smile...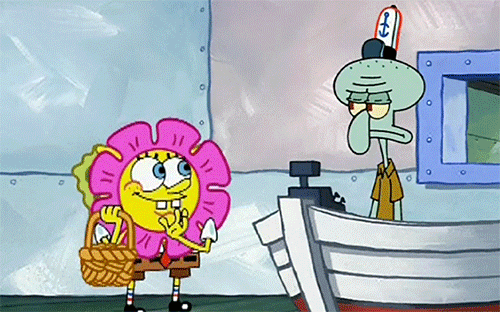 Flower Petals GIF by SpongeBob SquarePants
Giphy
"I'm with someone who buys me flowers to make me smile--what would be something I could do similarly for him that is nonsexual that would brighten his day?" - JustFineAnd
"Be the big spoon. Scalp massage. Back rub, not necessarily a massage, either."
"Next time y'all are watching TV in bed or on the couch. Let him lay his head on your chest or lap, and run your fingers through his hair, or just pet his back like a dog. Even better if he's shirtless and you can lightly scratch his back."
"May not seem like much, but it makes a big impact on us, even if we may not immediately show it. For me, it slows my mind. Helps me stop thinking for a while and process the here and now so much better." - Infectious_Cockroach
"Compliment him. He may not show it on the outside, but he's giggling and blushing on the inside." - wamj
Clingy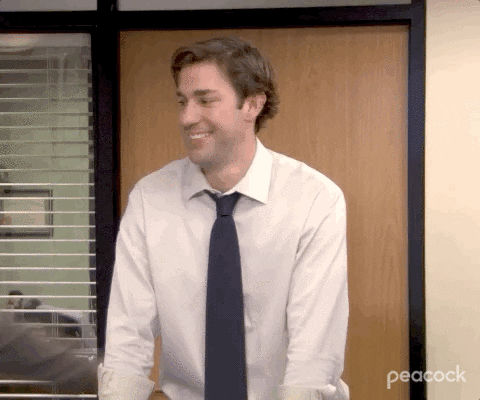 Season 5 Hug GIF by The Office
Giphy
"How often do men want to be hugged? Does it feels clingy, if a girl offers it every now and then ?" - SpillBeanss
"Cling to me and just never let go. I wouldn't mind. Hugs are great!" - SlamUnited
"I don't know how many guys I speak for but for me being hugged by a girl you're dating or are close with is like getting permission to relax and be happy." - Crionso
"2 situations when someone being clingy has been an issue: when I was going to work and was already late from my schedule and when trying to do a #2."
"Any other time than those, if you're the one I love you could glue or tape yourself to me and I'd be happy." - Betanyymi
What About Your Friends?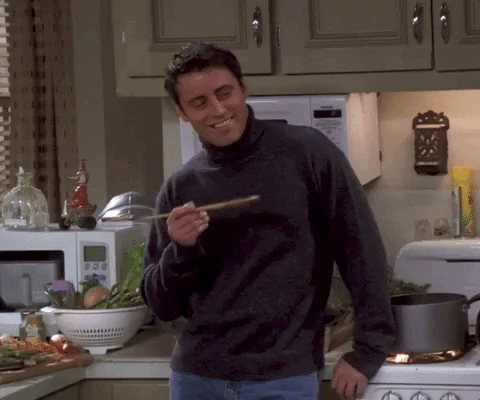 Season 5 Friends Tv Show GIF by Friends
Giphy
"Do you ever worry about what your friends think of the attractiveness of your girlfriend/wife? Like are you ever worried that people you know don't find her good-looking or judge you for being with her?"
"(This question is obviously coming straight from my insecurities lol.)" - MommaJ94
"I actually did have this fear with my last girlfriend. She was a bigger girl and I wasn't really concerned about what they thought, but just didn't want anyone being judgmental toward her."
"It's hard to explain, I wasn't ashamed of her or anything, just hate the thought of people judging her by her appearance." - saddestclaps
"I have never once asked my friends their opinions on my significant other's appearance, and I have never offered my opinion on theirs. And now that I think about it, I haven't really had an opinion on their looks by means to judge them." - secret-hero

Commitment Comments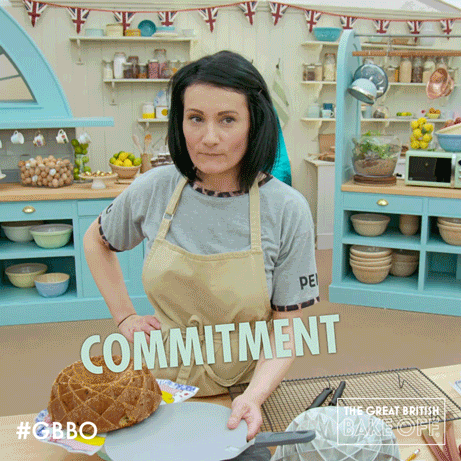 Running Away Bake Off GIF by The Great British Bake Off
Giphy
"What makes you want to commit (be exclusive, or get married) does it have anything to do with your partner or more of 'I have to be ready within myself first?' " - Secretly_Uninhibited
"For me it was needing to feel like I had personally matured enough to be committed."
"I didn't want to commit to someone who was clearly ready to commit to me if I wasn't ready and could somehow end up wasting their time." - Langhof
"I pushed my wife away for a while, not cut I didn't like her, just wasn't ready for a serious relationship. We've been married for 10, together for about 15." - LostOldAccountTimmay
Deadly Butterflies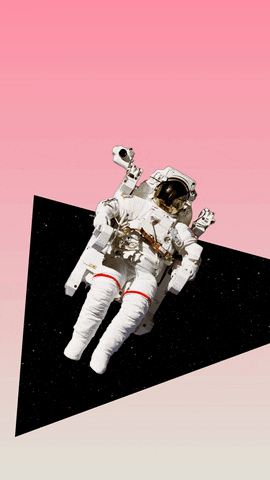 Giphy
"When you have a crush on someone, do you get the butterflies too? What is going through your mind when you're with her/away from her? Is there an emotional aspect? Or is it mostly physical for guys?" - majestic_toast
"Yes, it's mostly emotional! In fact with my first crush I didn't even care about the physical part, and keep in mind I was 13 when that happened" - ZaneyTheAwesome
"Hell yeah"
"I try to act normal, oh wait my "normal" is everyone else's weird. How the f*ck am I supposed to bring up a conversation to get to know her without coming off as creepy?"

"Oh God she's making deep eye contact, and she's smiling. Should I mimic her?"
"It's emotional if we've already established a relationship. We know each other and I fantasize about living my life with her. It's physical when I don't know her and am just looking at her for the first time. When it's physical and emotional, that's one deadly combo." - PMmethighhighs
In The Gym
"Dear men:"
"What do you really think of fat girls when you see them at the gym, or are you so focused on your own workout you don't pay attention to anyone else? 🤔"
"Sincerely, An insecure fat girl trying to get healthy again." - dogandbutterfly1978
"Same thing I think of seeing anyone else. Good on them. Remember it doesn't matter how fast you are, your lapping everyone on the couch." - Timmmber4
"I think it's awesome because you're actively trying to get in shape. There's a ton of people who are so insecure that they can't even bear the idea of going to the gym because they're worried about what other people think, man or woman." - KinglyZero91
There's a lot more in the thread, but there's only so much article time you can devote to erections, hugs, and that one guy whose now-wife is the real MVP.
Shout out to that lady. We applaud you, sis.
Keep reading...
Show less
When you go on a job interview, the last thing you probably never think about is asking a question.
Unless the interviewer provides an opportunity for you to make an inquiry about the company, many of us prepare for job interviews ready to answer their questions.
So we prepare accordingly by doing our research to impress the representative about our knowledge of the company to which we are applying.
But we should also be prepared and ready to ask the right questions to have a leg up on the competition.
Seeking examples of these from strangers online, Redditor fmgame asked:
"What is THE best question to ask on a job interview?"
A company's history or information about a past employee were suggested subjects appropriate for questioning.
Prior Knowledge
"When you were interviewing here, what would you have liked to know before you joined?"
"This worked for me. I asked my interviewer a question about how she had personally dealt with a company policy she had just explained. She bragged about her stellar adherence to the policy. I nodded my approval. I got the job."
A Previous Employee
"One that has always gone over well for me:"
"What were some qualities that the previous employee in this role brought to the job that you would like to see carried forward?"
"Another good thing to do is research the company you are interviewing with and you can ask things about what they may be involved in or you could drop that while reading about the company, you wondered this."
So, What Happened?
"Why is this position open?"
Hypothetical questions were suggested as helpful examples of inquiry.
Indicators Of How Companies Treat Employees
"A question that landed me a job once was: 'If I asked your direct reports about your management style, what do you think they'd tell me?' Stumped a hiring manager and he emailed me personally to tell me about it, no one ever asked him that question but got the job.
"In my current interviews I'm asking 'what did your company do for its employees during [the virus] to improve their day to day, work life balance, etc.' and I ask 'Is there anything your company adopted during [the virus] that they plan to keep post [the virus]?"
"These questions give a lot of insight into whether a company treated their employees well."
Past Performance & Adjustments
"If we were currently sitting in my 1 year review, what would I have done in this year for you to say I excelled in my role?"
"If I could snap my finger right now and change anything about your job or the company, what would it be and why?"
Wage Increases
"Perhaps not the best but very interesting. A candidate asked me if it is possible in our company to get a significant raise without climbing up the career ladder in our company. This guy never wanted to be a manager, he wanted to do what he applied for but wanted to know it will be well paid. We hired him. He's introvert, working alone in his 'basement' but he's great at what he does."
People Break Down Their Greatest Accomplishment On The Internet | George Takei's Oh Myyy
The following questions about a prospective company may not be answered from initial digging on their website.
Measure Of Success & Career Trajectories
"How is success measured in this role?"
"What are some possible career trajectories within the company that could stem from this position?"
Being A Solution
"Ask them what is the biggest problem you can solve for them in your first six months with the company. Similar to 'don't think of a purple hippo,' this forces them to imagine you succeeding in the position."
Greatest Hits
"What do you like best about working here?"
– SJExit4
Simply The Best
"Who is your best employee and why is he/she the best?"
"You will then face 2 situations mostly:"
"panicking CEO who can't answer you 'Bob who works 17 hours a day for a slice of bread' so the fear in their faces must be a big nono for you"
"entusiast CEO who actually follow their business and can tell you who is an added value for the company and why."
– ThePiz91

A Typical Day

"What does a day to day look like in this position?"
The Office Culture
"'Do you enjoy working here?' or 'What do you like about working here'. If the interviewer is not convincing, consider that a red flag and look elsewhere. Also look at the faces of the employees, if they look miserable, walk back out."
My experiences with job interviews are different than others seeking work in office environments.
Having had a years-long career as a dancer, my "interview" was the dance audition, where hopefuls dance in small groups of people at a time after learning a routine and then awaiting their fate after the panel evaluates their performances.
The question I may or may not have asked in such a scenario earlier in my career was: "Did I make the cut?"
I did not make the cut. And I learned never to ask that again.

Keep reading...
Show less
The opposite sex can be a bit of a mystery sometimes. Our brains work differently just like our bodies and this can lead to certain sensitive questions. Guys tend to be a little less open but today it's time for the ladies to ask away. Even wondered what they really think or feel about their body, yours? Today's the day to get the answers you didn't know you needed.
Redditor William84000 asked:
"Women of reddit, what question do you have of men that you'd really like an answer to?"
His question started an informative thread for women to ask men the questions they've been wondering and receive honest, real-life answers.
Some of these Q&A's were unexpected but now we know! This important thing here though is knowing it's ok to ask questions sometimes.
Want to "know" more? Never miss another big, odd, funny, or heartbreaking moment again. Sign up for the Knowable newsletter here.
Keep reading...
Show less
Oh America, please think before you speak. Sometimes I wonder why God gave us voices.
I understand curiosity about foreign lands, but more often than we realize we're being rude with our questions, even with a jovial mindset and good intention.
We can't just throw out whatever pops into my head. And honestly, some things are best to simply google.
Also, perhaps we should wonder what we'd rather not be asked about our land and culture and apply it.
Redditor u/esq__ wanted hear from people who have been surprised by American inquiries by asking:
Non-Americans of Reddit, what's the weirdest thing an American has said to you?
Want to "know" more? Never miss another big, odd, funny, or heartbreaking moment again. Sign up for the Knowable newsletter here.

Keep reading...
Show less