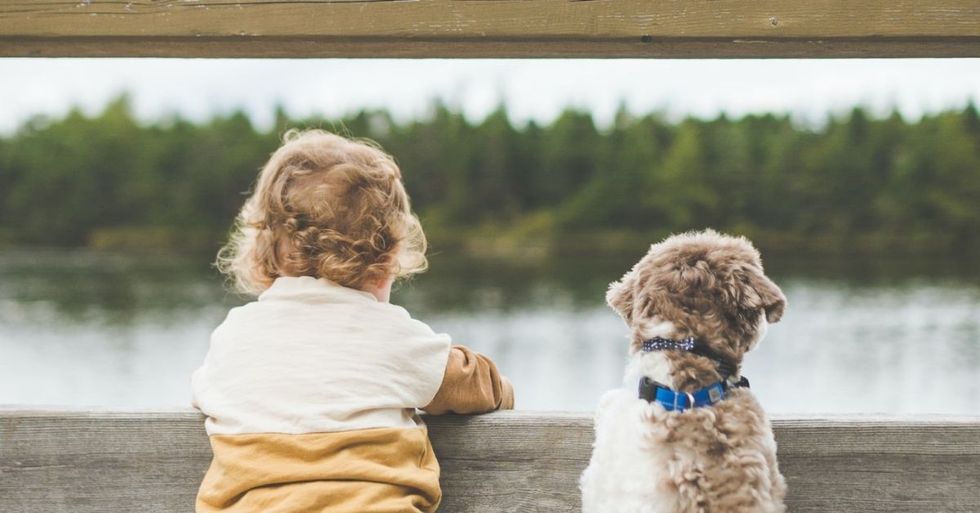 Gift giving can be an arduous task. You want it to be perfect. You want them to remember it, even if it's a silly gag gift. It's especially cumbersome when you're a new romantic paramour trying to make the best impression. And when that impression is on your love's kids? Things can get crazy. And […]
More
A family in Canton, North Carolina was ecstatic to welcome a litter of 8 brand new German Shepherd puppies into the world.
Five of the puppies arrived with black fur, two were born with white fur, and one came out GREEN.
What is happening in this world?
Naturally, they named him Hulk, and he is absolutely adorable.
A puppy rightfully named Hulk! One WNC family was shocked when this little guy came into the world with his bright… https://t.co/hE4FyCypSm

— WLOS (@WLOS) 1579183500.0
The pup was a shocking arrival for Shana Stamey, the Canton resident and owner of Hulk's mother, Gypsy.
Stamey oversaw the births of all 8 puppies, which took a mere 3 hours, as she told WLOS Local News Asheville. That's a pretty quick turnaround compared to the usual 6-18 hours it takes for a mother dog to bear an entire litter.
Of course, the record speed was hardly the most notable thing about these births.
Stamey describes how all was going as planned until it was puppy number 4's turn to come out.
"I started freaking out because he was green."
Fortunately, Stamey was also quick to report that Hulk, his mother and all the other puppies are completely healthy.
But a green puppy invites an obvious next task: what do you name it?
A few possibilities crossed Stamey's mind.
"We thought about Gremlin, yeah, Pistachio. We call him Mr. Green sometimes."
But the dog owner didn't have to ponder long before a clear choice presented itself.
"Hulk! It was lime green. He was super mad. So, yeah, he became Hulk."
So how does a puppy come out green?
Junaluska Animal Hospital veterinarian technician Suzanne Cianciulli told WLOS,
"The sack that they're in when they're in their mom, there can be meconium in there and that tends to stain them."
Meconium is the earliest stool produced by an infant mammal. Put simply, Hulk was swimming in poop before he was born.
With each passing day, Hulk's original green is fading to a yellow as his mother licks him, as she does all her young. Eventually, he'll be white like his mother and a few of his siblings.
@WLOS_13 They need to make an Instagram account for this pup. I'd follow it. Take us on the everyday life of Hulk.

— Cozy (@Cozy) 1579192844.0
@WLOS_13 The dog needs to friggin grow so big. I wamt this pupper to become a real life Clifford, regardless of the color not being red.

— The MAUZ (@The MAUZ) 1579191147.0
@WLOS_13 Momma drank too much @MountainDew 🤣😂 #Hulk

— Nick (Kesh) (@Nick (Kesh)) 1579191385.0
Some still can't wrap their heads around it.
@WLOS_13 https://t.co/kct7i1S3ff

— Shrimp Boat 🍤⛵ (@Shrimp Boat 🍤⛵) 1579191802.0
@WLOS_13 https://t.co/5b35y1bb2M

— Fox McMeme (@Fox McMeme) 1579197786.0
Of course, Hulk isn't the first truly bizarre colored mammal to roam the earth.
Take this purple polar bear from Argentina, for example, who's skin condition treatment went awry.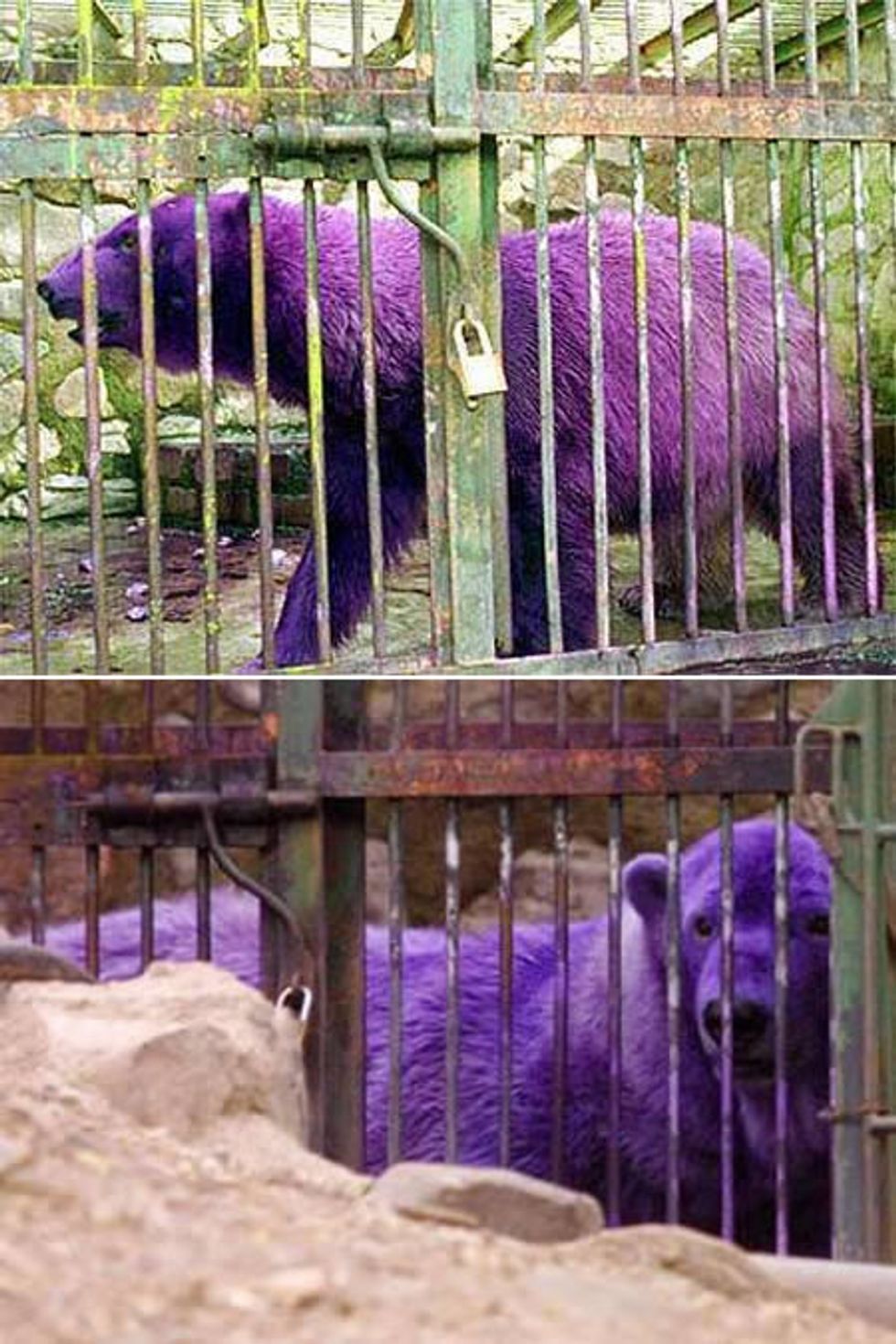 Mendoza City Zoo
Or maybe you prefer an orange alligator?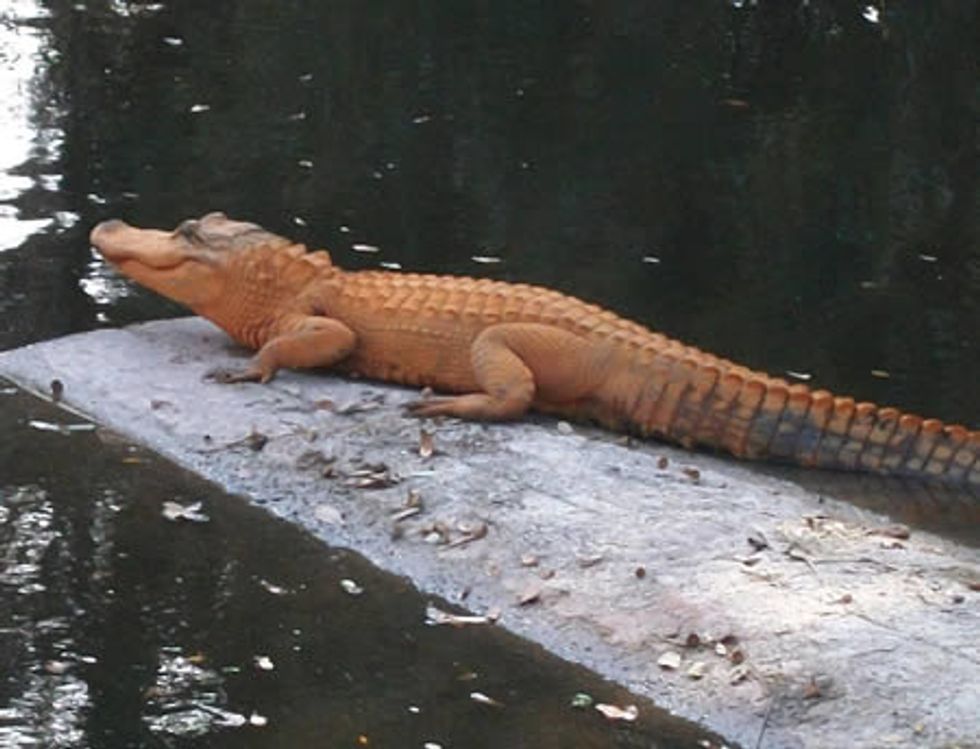 Sylvia Mythen
Alas, it looks like we shouldn't hold our breath for it, but we can expect some more colorful animals again in the future.

Keep reading...
Show less
In the Disney film, 101 Dalmatians, Perdita gives birth to a litter of 15 puppies. This seems excessive and a little unbelievable, even for a cartoon, right?
Except now, a real life Great Dane has given birth to a litter of 19 puppies!
Take that, Disney!
The dog named Cleo in Kingman, Arizona had to go into the Kingman Animal Hospital to deliver her litter. The staff performed a C Section to deliver all the animals.
A litter of Great Danes is often between eight and ten puppies, so doubling that number could have been disastrous for Cleo. Thankfully, the staff says all the puppies were delivered without any complications.
The hospital posted photos showing the adorable babies and Cleo in the treatment area, after the procedure had been completed.
The puppies were bottle fed every three hours while the team waited for the mother to recover from the procedure. The dog did not belong to the hospital, though the Facebook post did not specify who then owned the animal.
This isn't the first time a Great Dane has given birth to such a large litter. In 2014, the dog Snowy gave birth to a litter of equal size in Pennsylvania.
As for the largest litter ever, the Guinness Book of Records claims the largest litter of dogs is 24. They were born to a UK mastiff named Tia on November 29th, 2004.
Since the dogs belonged to a private individual, there is no comment at this time about selling them to interested persons, despite many comments asking precisely that.

Facebook.com

Facebook.com

Facebook.com
It's hard to blame people for asking though. These are some really cute dogs.

Facebook.com

Facebook.com

Facebook.com
As of Monday, the puppies and the mother were all in good health. They will be back in the hospital for a check up on their health at a later date. And if the owners find their hands full with the pups, I'm sure some very willing volunteers can help.
Keep reading...
Show less
Parenting is a minefield of issues. Everyday has a new surprise because you can't predict the mind of a child. Sometimes that is a blessing because it keeps life unpredictable but sometimes it's a curse. You gotta keep kids in check because they will let any old thing fall out of their mouths. They don't know ny better. You have to be friend and disciplinarian but trying to keep a straight face when you want to laugh is arduous.
Redditor u/iamlarrypotter wanted parents of Reddit to fess up somethings about parenting by asking... What's something hilarious your kid has done that, as a parent, you weren't allowed to laugh at or be proud of?

Parenting is a hard task. You have to so.... adult. In order to teach your kids how to be decent people. But kids can be funny.
Keep reading...
Show less