Morehouse College professor Nathan Alexander recently went above and beyond to help one of his students. Wayne Hayer was unable to find a babysitter for his baby daughter Assata, and had to bring her to class with him.
Instead of telling Hayer to take her home (which many professors would have done), or simply letting them sit quietly through the lecture, Dr. Alexander did one better; he offered to hold Assata for the duration of the lecture so her father could pay better attention and take good notes.
One of Dr. Alexander's other students snapped a photo of him teaching the class, wearing baby Assata in a front carrier. He then posted the photo and the story of Dr. Alexander's supportive actions.
The twitter user, @Original_Vaughn, commends Dr. Alexander's efforts to welcome and nurture his students:
"It was this encounter that truly showed me the power and impact HBCU's can have for the black community, for this professor to understand that life happens and sometimes there are just no ways around it."
You can see Vaughn's posts below:

Student came to class today with his child due to no babysitter or anybody to watch her while he was in class. My… https://t.co/2brg4WuqVc

— TheOriginal™ (@TheOriginal™)1551457423.0
Professor Alexander spoke to BuzzFeed News about the class, stating that he was initially a little worried about watching Assata during the lecture:
"I'm not a father, I don't have children of my own. I was worried that she would start crying. But it actually went perfectly. She was extremely well-behaved."
"When she started falling asleep, I told the class 'I guess I'm being boring right now,'"
Dr. Alexander noted that Hayer frequently had to leave his office hours to care for his daughter, so he told Hayer that he could bring her with him whenever he needed to.
"Anything I can do to support you, let me know. That's what I'm here for as an educator."
Many people congratulated Dr. Alexander on his passion for helping his students.
@professornaite @Original_Vaughn @Morehouse As a retire Engineering Prof - great job, nothing more fun than being a… https://t.co/sRcXaEkjkm

— Child👏of👏Immigrants (@Child👏of👏Immigrants)1551537267.0
@professornaite @Original_Vaughn @Morehouse Sir, thank you for standing in the gap for this student. This was truly inspiring. ♥️

— Kenya S. (@Kenya S.)1551560477.0
@professornaite @Original_Vaughn @Morehouse I ❤️ you and I don't even know you. You're teaching your students so mu… https://t.co/p0JqggHa7m

— Mallory Jones (@Mallory Jones)1551623923.0
@professornaite @Original_Vaughn @Morehouse we need more professors like this, this is so awesome!!! there are stil… https://t.co/bNSn2KdOyZ

— Ann 🦄✨ (@Ann 🦄✨)1551542562.0
@professornaite @Original_Vaughn @Morehouse Thank you Professor for being a wonderful example of support and compas… https://t.co/ab9GIaB858

— I Am NikkiFree (@I Am NikkiFree)1551527733.0
@professornaite @Original_Vaughn @Morehouse Much respect, sir. Your teaching has gone far broader than the lesson p… https://t.co/LOlz7ORU06

— Kate O'Neill (@Kate O'Neill)1551535670.0
Some professors shared similar stories.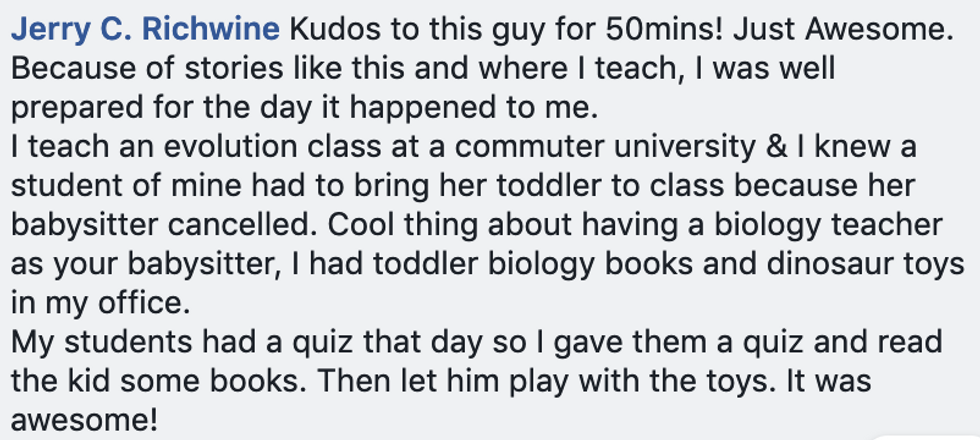 Jerry C. Richwine/Facebook

Nur Amer/Facebook
Several students talked about their professors as well.

Kaysi Watson/Facebook

Melissa Nichols Frey/Facebook

Carin Coursey/Facebook
Considering some college environments not only do not accommodate parents, but can be overtly hostile to them, it is great to see a professor who goes out of his way to help his students succeed.
Keep reading...
Show less
When you've saved up all year for a vacation, hearing from your husband that the trip will have to be cut short because he took $800 out of the fund without consulting you could easily become a major point of conflict. One college professor who did just that, however, managed to stay out of the doghouse by explaining the inspiring reason he had dipped into his family's vacation savings.
As the weather was becoming colder and colder, the teacher (known only as James), noticed that one of his students was wearing the same clothes to class everyday. Knowing fashion is often at the bottom of some college student's list of priorities, he paid it no mind for a while. But as temperatures dipped below freezing, and his student continued to wear only a hoodie and sneakers to class, James felt he should check on the young man.
It's people like this that make me proud to call myself a teacher. There are so many selfless people in this profes… https://t.co/sHPVS2rcDN

— Jaclyn DiPasquale (@Jaclyn DiPasquale)1548538120.0
James told his wife the story of what happened in a text exchange shared to Imgur: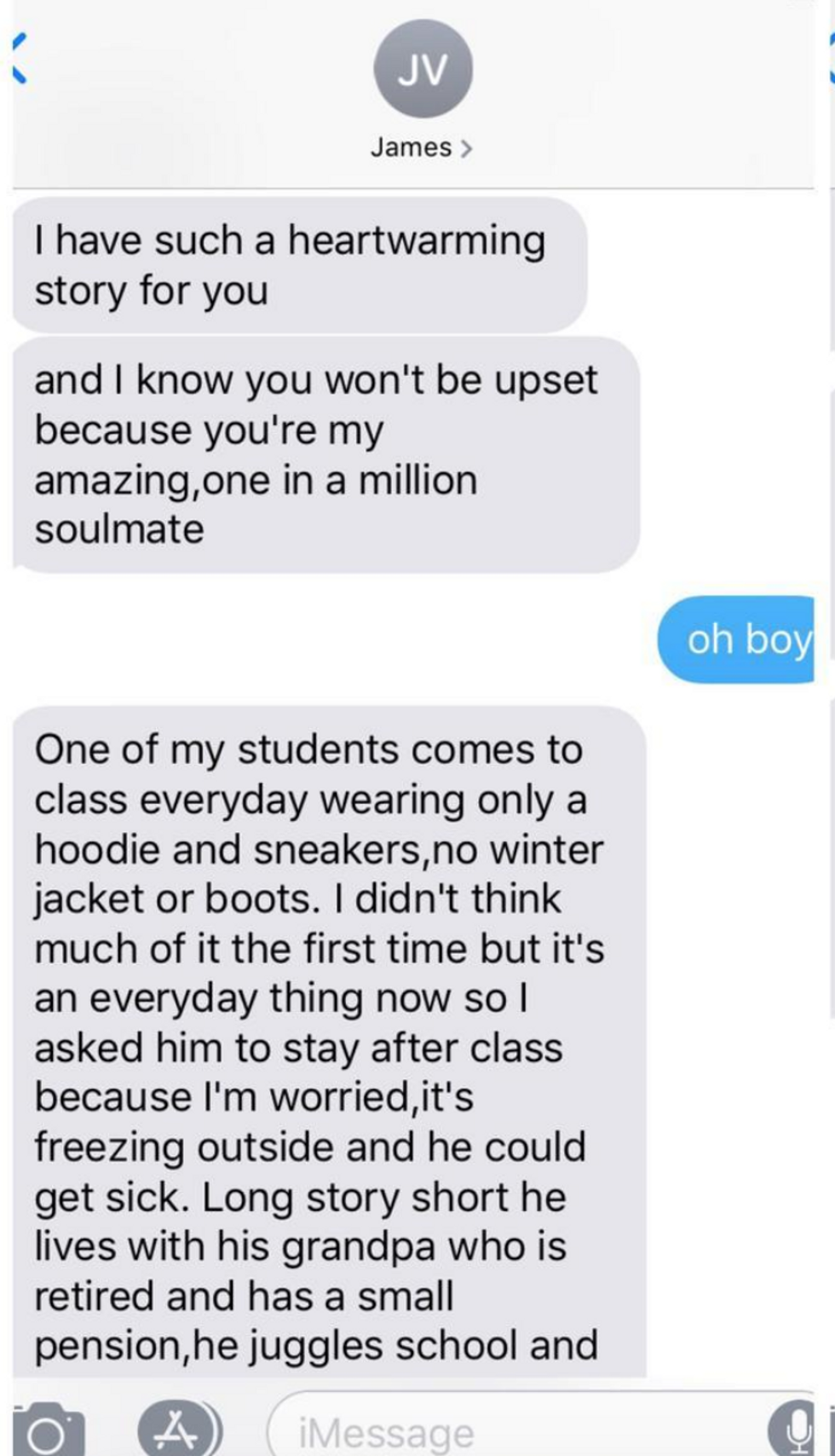 Imgur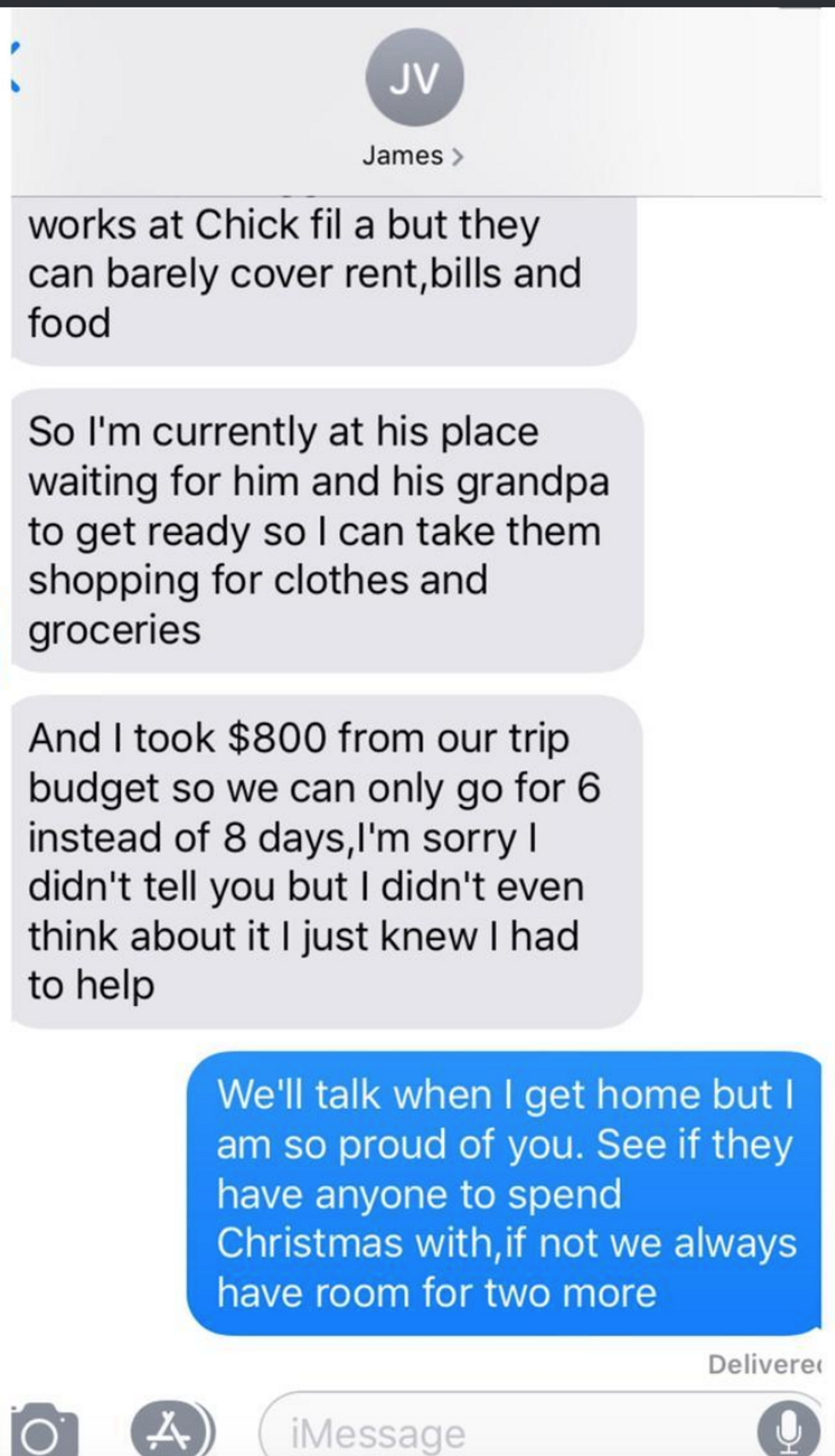 Imgur
It turns out the student was living with his grandpa, who was retired short on cash. The student worked extra shifts at Chic-fil-a to help cover bills, but there was nothing left over weather-appropriate clothing.

@Mix965Houston I loved this story for one of your morning "feels": https://t.co/i8131dN9Fc

— fabiola cruz zebadua (@fabiola cruz zebadua)1548423419.0
Without missing a beat, James offered to take the student and his grandpa out to buy some proper, warm clothes. He had to dip into the vacation fund, but he hoped his wife would understand the $800 was well spent.

Need some more of this today ❤️ https://t.co/dHYSS6R4oS

— Whatwut, Sis? (@Whatwut, Sis?)1548532043.0
The professor's wife texted back her complete support of James's decision, saying:

"We'll talk when I get home but I am so proud of you. See if they have anyone to spend Christmas with, if not we always have room for two more."
Social media users were touched by the professor's generosity.
https://t.co/wDsx4IeFIj This is how you show real love for others

— Drew Graham (@Drew Graham)1548539547.0
Upworthy: Because we're all part of the same story. https://t.co/PgFtZWZsKt

— UdnSpeak4me (@UdnSpeak4me)1548465325.0
@WhatTheFFacts That was very kind of them.. Him... Them

— HarajukuBerbie (@HarajukuBerbie)1543979088.0

Facebook: God

Facebook: God

Facebook: God

Facebook: God

Facebook: God

Facebook: God
Making large investments without consulting your partner is normally inadvisable...but in cases like this, I'm sure loving husbands and wives would make an exception.
Well done, James, and keep it up!
Keep reading...
Show less