In college, I worked as a hostess and server at my favorite restaurant. I thought it would be fun to be a waitress, and doing it at a place where I would see my friends (since they ate there all the time), seemed like an extra perk.
Would I recommend everyone work in the service industry to build character and learn respect? Yes. Would I recommend anyone work in the service industry if they want to continue liking life? Absolutely not!
Working as a server made me realize how entitled people can be. Some people asked to sit at tables that were clearly reserved and then tried to seat themselves when we told them 'no.'
Others decided to tip less when their bill was too high, and servers ended up losing money.
During football games, people even walked right past us to go into the bar area even when the area was full, and we tried to tell them we were at capacity. Half the time, I felt like screaming at customers, "Why are you coming in here? I don't want you to!" And I wasn't the only one.
One of my co-workers kept trying to win the lottery, so she could split her winnings with all the employees, and we could all quit. I had to recite pop culture lists in my head just to keep sane (like listing the first 151 Pokemon in order -- I actually shared this talent with my co-workers, which lead to the first and only fun night I had at the restaurant).
This isn't the only job people should steer clear of. Redditors are ready to share which professions they wouldn't recommend people go into.
It all started when Redditor HalosOpulence asked:

"Why would you not recommend your career?"
It's All Your Fault
"Call center tech support. Need I really say anything?"
"The whole job is trying to help people who treat me like I'm the person who broke their sh*t."
– Korrin
"I work in an incoming call center as a tier 2 person, and holy sh*t have you noticed that people are way more mean the last few months? We're literally there to help them, but due to the nature of our work, sometimes we have to tell them no and omg you'd think we were killing them."
– stellaluna92
"But have you tried turning it off and on again?"
– FrostyBallBag
Emotions Run High
"Pediatric cancer scientist. A lot of the kids that end up on our research protocol are going to die. Fewer of them are going to die than if they were not on our research protocol, but the prognosis for the "we've tried everything else" cases that get to us is not great."
– DrSuviel
Never Did Expect
"Librarian. The pay is sh*t, especially with the fact that you need a master's to have any meaningful advancement. Master's degree, to make $40-50k."
"Also, depending on where are, libraries are just where homeless people go during the day. And a lot of homeless people are perfectly nice and respectful! But enough of them are not."
"I normally work in a fairly nice suburban branch where the worst I get is old men coming on to me. I'm pretty lucky. Coworkers at the downtown branch have been grabbed, punched, screamed at, spit at. They find bodily fluids all over the place. They find people overdosed in the bathroom."
"I'm sure any customer service position is like this. People think librarians sit and read in a nice, quiet library all day. We do not. We are expected to act as untrained social workers as much as we're expected to recommend books."
– baby_yaga
Not As Rewarding As You Would Think
"If you want to live in Japan and don't care about not earning very much money, come "teach" English. Literally the only real requirements are 1) be alive and 2) at least kind of speak English. If you can read this comment you're probably overqualified."
"Reasons not to do it:"
"Pay is sh*t."
"No benefits."

"You will either spend your days sitting around doing f*ck all but waiting to or being worked to exhaustion."
"No advancement, this is it."
"Feels utterly pointless. The curriculum is garbage. Most students don't give a f*ck and won't learn much of anything. The few who do give a f*ck and have some degree of aptitude will be f*cked over by a combination of the sh*t curriculum, their classmates weighing them down like an anchor, and the Japanese English teachers may not even actually speak English themselves and/or teach weird and wrong sh*t as a result."
"You'll probably get shunted off to some random mountain town that's been hemorrhaging population steadily for decades with an average age of 48 and absolutely f*ck all to do there unless you like hanging out in smokey old people "snack bars" or smokey pachinko parlors."
– Ryoukugan
Ruined Reading
"Book Editor."
"Well, I used to love reading. I joined a book club while in college and even voted as one of the committee. Now I see books as work and never touch them outside my work hours. sigh"
– pangcukaipang
Good Advice
"This is a perfect example of what I tell every high-schooler during career week."
"Do a job you are good at, not a hobby you like. Save the things you enjoy for a hobby and use the thing you are good at to pay for the things you enjoy. Turing your hobby into a job will make you hate your hobby."
– Diabolo_Advocato
My Poor Nose
"Zookeeper."
"Have you smelled lion spray? Otter crap, oily and fishy and laced with territory-marking musk?"
"Yeah, you don't want to. You probably can't even imagine how badly you don't want to. Certainly not for close to minimum wage. You have to be a little crazy to get into this line of work."
"My nostrils have never forgiven me."
– okicho32
Elle Woods Was Wrong
"Lawyer"
"The field can be thankless and the stress is unrelenting. There can be days that make it worth it, but you can have all the work caught up to be blown up and have several days in a row ruined by something dumb. Law school was insanely clicky and people are hyper-competitive, a sense of community can be hard to find while superiors take no hesitation in reminding you that you work for them"
– Wide_right_
Ageism
"Advertising"
"Most people in advertising get aged out of the profession between the ages of 35 and 40."
– copyboy1
If Only I Could Be Permanently Invisible
"Working in IT means most of the time people barely know you exist, until something goes wrong then you become everyone's worst enemy. Then, the moment you fix it you get months of complaints that "it no longer works right because of whatever you did" even though you didn't actually change anything. You need to grow a really thick skin, especially if you work in technical support, which everyone in the IT industry does at some point."
– zerbey
Eureka!
"I'm a scientist. That means you don't make much money, and no-one listens to anything you say."
– EmotionalTruth3477
How Depressing
"After reading this thread, not being born is the best way to go apparently."
– unexpectedomelette
"No no no. Being born to a billionaire and becoming a trust fund baby still looks high up there."
– LuckyMacAndCheese
I Hate Humans
"I'm a retail store manager. Pay is good. Hours are sh*t and I suspect it may have something to do with me hating people."
"If you want to see the worst of people, work a face position with the public. They have absolutely no consideration for you, your life, your job, whatever."
– GaryBuseyWithRabies
Yeah. Retail gave me a, "Ew, People" outlook on life too!
Quiet quitting refers to when an employee works strictly within their allocated hours.
Never arriving before their agreed-upon start time, putting a hard stop to their day at their agreed-upon end time, and never doing any work whatsoever when they are not on the clock.
On one level, quiet quitting not only seems logical but right, as people shouldn't be expected to work more than they've agreed to, particularly if their pay won't change.
Others, however, don't believe in quiet quitting, and will volunteer to go the extra mile, be it in hopes that they might get promoted, or find themselves in a less vulnerable spot should layoffs be needed.
Leading one to question if quiet quitting is advisable or illogical?
Redditor TotoMac1 was curious to hear people's honest opinions regarding quiet quitting, leading them to ask:

"What are your thoughts on 'Quiet quitting' / 'Acting your Wage'?"
You've Got To Pay Up If You Want The Upgrade...
"The phrase 'you get what you pay for' applies to employers too."
"They shouldn't expect to get premium production at a discount."- useyourownnamebitch
Make The Extra Effort, But Only When On The Clock!
"I was in the Army when a Colonel told me to act my pay grade."
"Stop doing extra and do what my rank was assigned without the bows and ribbons."
"Take my lunch, quit working though it."
"I was worried about things that could wait until the next day."
"Work your wage, yo."- Potential_Sherbet294
It's Not Quitting If You're Doing Your Job...
"I've been doing this for years lol."
"Just common sense to me."
"I do what I get paid to do."
"I do my hours, no more no less."
"If I have to work overtime I'm claiming every single millisecond of it."
"It's a job."
"Not my life."
"Had a situation once where someone called in sick and no one could come in to replace them."
"Which is not the end of the world."
"Had to stay 30 minutes passed my scheduled time to ensure everything was done, so I put that on my timesheet."
"When I came in the next day I saw someone scratched out my 30 minutes extra and put in my normal finish time."
"Obviously that pissed me off so I went to the boss and asked 'what the f*ck was this'."
"They said they don't pay overtime and other sh*t.
"So I said 'well here's what's gonna happen'."
"'Either you pay me for the extra time or I'll go straight to the department of labour and file a complaint'."
"Don't think they expected a 20 year old, at the time, to stick up for themselves."- publicworker69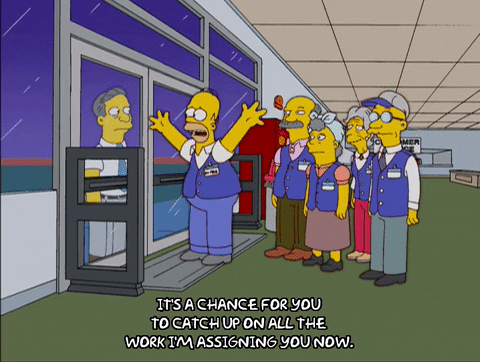 homer simpson work GIF
Giphy
Nothing More, Nothing Less
"If you pay me $10 you'll get a $10 employee."- CinnyButta
Don't Take The Bait
"Has anyone here ever worked somewhere, had a supervisor quit, then had to do the supervisor's job, but while being told they can't actually make you officially the supervisor yet, just so they don't have to give you a pay rise?"
"I've known several people who have had this happen to them, and they get strung along with the promise that eventually they will have the title and pay rise."
"No one should fall for it."
"Yes."
"I wholeheartedly support Silent Quitting and Acting Your Wage."- Stevotonin
A Name Change Is Necessary
"I resent the term 'quiet quitting', as a person who is protective of their time outside office hours."
"This doesn't make me a bad employee, it makes me a better one."
"I'm very good at my job, and am able to do it better than some in fewer hours, and I don't suffer from burn out because I make sure I get time to switch off."
"Measure my performance on the work I do, not the time I'm available."
"This term really is corporations responding to the mass realization that they can't bully and trick 1 person into doing 2 people's jobs any more."- AlterEdward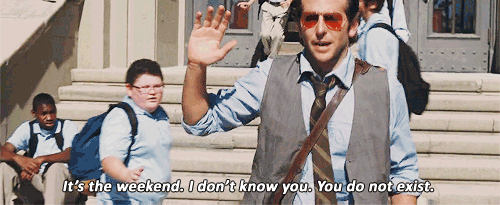 Bradley Cooper Teacher GIF by Legendary Entertainment
Giphy
Hard Work Should Be Recognized, Plain And Simple

"Pay peanuts, get monkeys."- SteliosCnutos
One Person Can Ruin It For Everyone!
"Just today I decided to do this."
"I get here 2 hours early to make sure everything is straight so that I can give my boss any updates needed from the night crew."
"I am supposed to have a 30 min unpaid lunch, I usually work through this."
"I will also stay later than anyone else just to cover for my bosses so they can go home at their normal time."
"I am hourly and get overtime so it worked out."
"I am supposed to only create the training material and make sure everyone is highly trained."
"This is an industrial environment so we take it seriously."
"It also causes me to have to come in on my days off sometimes to meet with trainees."
"I also deal with contractors which is something that no other person in my role has to do."
"This causes me to some days work from 5 am to 10 pm, I did this Monday and Tuesday this week already, as I am not allowed to work over 16 hours a day."
"I have never complained as the money was good."
"Today my department is told all overtime has to be approved daily."
"I asked if this included me and it does."
"Because certain individuals have been caught not working while they are on overtime, the entire department has been punished."
"I asked if I could go ahead and get my stuff approved as I get up and leave my house around 4:30am and I don't want to have to call him that early."
"I was told he sees no benefit of me coming in that early or staying that late."
"So I will only work my 8 hours, and I am cutting my phone off during my lunch break."
"I will not cover for them again nor will I work late to help get us back running."
"I have turned over the contractor paperwork and will no longer be handling it."
"Seeing as all that I do is not beneficial, it should not cause us any disruptions."- silentsnak3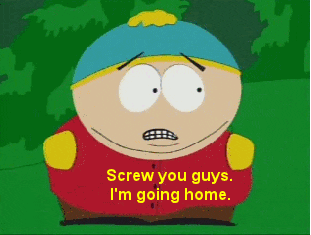 South Park Cartoons Comics GIF
Giphy
Coined by corporations
"Quiet quitting was coined by corporate to make it sound bad and put employees who do it in a bad light."
"Simply put, it means doing exactly what you agreed to and what you are paid for."
"This is not quitting by any dictionary I am familiar with. This is plain and simple doing your job."
"Corporate 'culture' has it you have to work more than you agreed to, more than your contracted hours, more than you are paid for, to impress the employer, to "show you care" and other BS like that. People are gradually waking up to the realization that this is all unacceptable."
"If we flip this on its head, why doesn't the company pay me more than we agreed? Or why doesn't it cut an hour or two off my day's shift? I'm sure any corporate linguist could find a variety of reasons to respond to that, and those are the exact reasons why the employee should not work past their hours and pay."
"So no. 'Quiet quitting' doesn't exist, purely because it has nothing to do with quitting."
legrenabeach

I just stopped.
​"As someone who used to bust my @ss and bend over backwards I stopped. Because I was laid off permanently while all the new guys got to keep their jobs because they were "cheaper" and all the promotions I've worked my @ss off for were all given to outside hires with no experience. So now I look at as "why bother trying?" There's literally no incentive to try. Raises aren't different for people who work harder anymore. It's all based on how long you're with the company."
Apex_Gypsy

Force Accommodations
"I also feel like some jobs keep people in position where they are needed instead of letting them get promoted. Another thing is that I've always worked in places with high turnover. I've noticed that if you seem to care about losing your job and keeping them happy, they will walk all over you. They think they can treat people how they want and you're not going anywhere. If you don't bend over backward for them, they will do a lot more to accommodate you."
HagridsSexyNippples
No Thanks
"People who work hard and efficiently are punished with more work than they are paid for. No thanks. I signed up for specifically what I wanted."
PossiblyWithout

Life and Limb
"Quiet quitting sounds like come corporate BS to make workers feel ashamed of not giving life and limb for a damn company."
"Acting your wage is something a lotta people could use. Don't get me wrong if you work in a cutthroat industry where you need to put out 110% to chase the bag, go for it but when you're working at McD's for minimum wage you're better off saving your energy for some courses or even a trade school. As long as your workshare is done, you're not lazy for not doing more than you're paid for."
rb26enjoyer·
Make it make sense
"Why should an employer get more than they pay for?"
TalosBeWithYou·
"They never willingly pay more than they agreed to, why should you work more than you agreed to?"
Laxly
Ultimately, when people sign a contract for a job, they are agreeing to get paid for the hours they work.
Making one question how anyone who calls it a day when they've finished their hours is really "quitting."
One hopes employers read some of these thoughts and stories, and might begin to value the time and effort of their employees a bit more.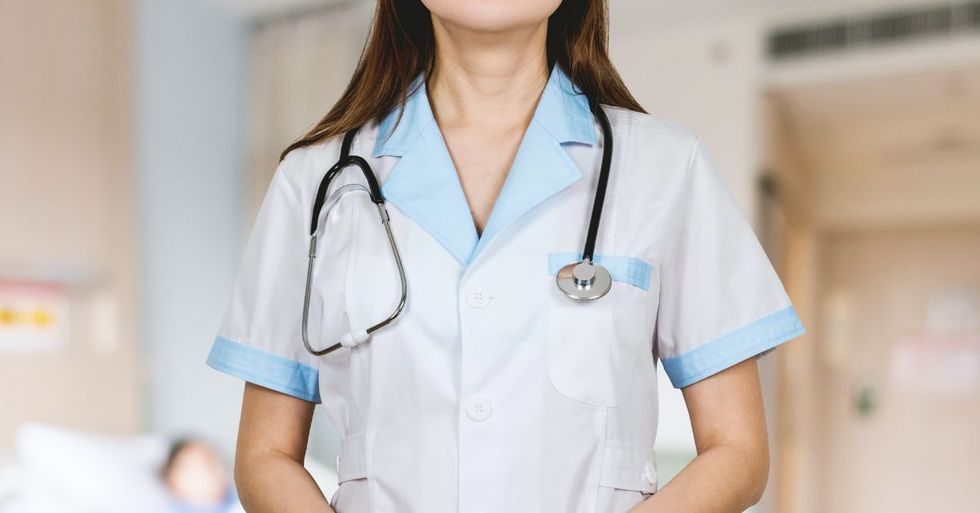 Redditor Tight-Change-3696 and their sister both work in the medical field but in different professions. The sister has a tendency not to be entirely truthful about her job, and this has rubbed our Redditor the wrong way for quite some time. When they both responded to a medical emergency while shopping at a local mall, […]
More
As a small business owner, the best advice I can give you is to not monetize all of your hobbies. Keep some of them as fun, so your entire life doesn't become work. Trust me, it leads down a slippery slope of workaholism, which I would not recommend, no matter what Gary Vee tells you.
Some things should just stay hobbies. Reddit user Putherthere asked:
"What's good as a hobby but terrible as a profession?"
​Hobbies should be fun, and sometimes when you slap a price tag on something, it immediately becomes less so.
​Professional baking is a huge commitment.
"Baking. I love to make bread and cakes, but on my time.
I couldn't imagine having to wake up at 3 am everyday to start making bread."
"I love to cook and bake. Friends have asked me many times why I won't do it as a profession. I firmly believe if I had to do as a job I'd end up hating it, and I never want to be in that position."
​Valid reasons to not open a comic book store.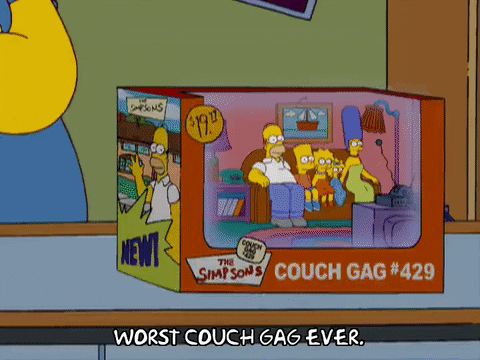 comic book guy GIF
Giphy
"Hobbyist collecting. I've known two people who grew up loving comic books, so they opened their own comic book stores as adults.
It's not just that 90+% of comic shops tend to go under for lack of business (although that's certainly true). The other reality is that the customers are, if possible, even more demanding, opinionated, and rude than customers in other retail stores."
Pay people their time!
"Crochet and knitting. I'm constantly being told "you should have a business doing that". But nobody will be willing to pay for my time. They'd only be willing to pay for materials if I'm lucky. For example. A double bed sized blanket in a relatively simple stitch would take me 170-200 hours, basic yarn approximately £40-£60.
I'd be lucky if the customer would pay £50-£80. It's the same for a lot of "hand crafts" I was literally "jaw on the floor" the other day when I saw a "designer" crochet halter top being sold for £600!!!! I'd be super lucky if I got £15-£20!"
Not very cost-effective.
"Bowling. Unless you're good enough to be in the top ~20 in the world.
The top earner in all of 2020 made $293k from the PBA tour.
The 10th highest earner made $71k.
Only 16 made more than $50k. From there it just keep dropping to where the number 50 earner only made about $10k.
You also have to pay for each tournament you enter. If 300 bowlers show up for a tournament you need to finish roughly in the top 100 to even make your money back. It's just too hard to go all-in on. Most pro bowlers either run pro-shops or give lessons when they can."
In theory, owning your own business doing whatever you want is great! But once you realize the amount of grind required once money is involved, you might reconsider.
It's tougher than it looks....and it already looks tough.​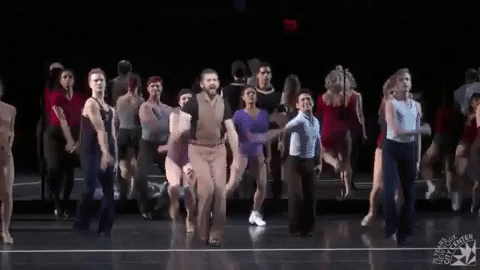 a chorus line GIF by New York City Center
Giphy
"Dancing. Most dancers get paid sh*t, they break their bodies throughout their lives, and have to retire VERY young in most cases."
"When I graduated high school I had two paths: dance audition for Disney or college admissions. I went to the audition and was cut for being too tall. I then realized I'd be chasing audition after audition for maybe ten years before I'd have to "retire" and then what? Open a studio when there's a million already. So I chose college for the long term security and just danced as a hobby and exercise.
Professions in the arts is definitely a small fish in a very large pond scenario. The few that make a living are rare and extremely lucky."
​Music is very commercialized.
"I'm a composer and I don't really see my music doing money, and there are two reasons for that.
1: The music industry is very large and I see that a large number of artists and groups are competing for a small place on the top. Everything seems unpredictable, too many variables, too many possibilities, and I don't feel like risking my chances at it.
2: My style simply isn't mainstream.
For now, I'll just keep learning and doing it as a hobby and maybe I'll please some people one day."
It gets old.
"Building computers.
Use to be a great hobby for me back in the day, but once you work in a place that troubleshoot and maintain them, you get tired of the constant monotony for:
Spec-ing out the layout and hardware.
Software install and updating.
Making sure connections are seated properly.
Etc.
Took all the fun and wonder away."
​Speaking of the fun and wonder going away, do you know how hard it is to be an artist? Sh*t sucks sometimes.
​Clients can be a nightmare.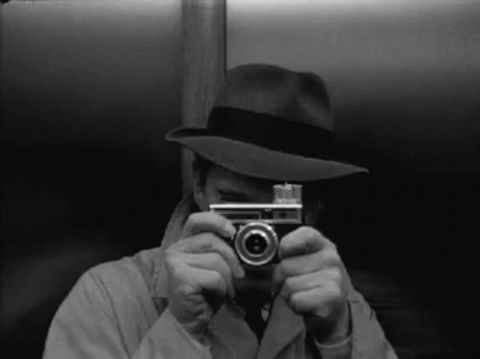 walter skinner picture GIF
Giphy
"Photography, sort of.
Once it becomes your job it really quickly loses a lot of its charm and the customers can be very very annoying at times (although I do admit sometimes it is freaking fantastic as well).
It does depend on the subject though, I suppose."
​Can confirm.
"Writing, for some people it works out, but most things are never popular and not usually anything enough to support yourself."
"Even historically you can see that most writers were either rich and could live of their families wealth or have other jobs somewhat related (which for most of the time meaned the same) such as lawyers, journalists or some kind of educator."
So true.​
"Anything directly relating to entertainment. That includes making music, movies, video games, sports, whatever.
If it's anything that tons of people have a 'passion' for because it's fun, that's going to translate into people wanting to make a living out of it, and thus the market will be very crowded and competitive."
As a freelancer, I can 100% confirm all of this. As much as I love writing, it is so important for me to set boundaries, and create non-monetized hobbies, so I can maintain my work/life balance. This is what I would recommend to anyone who is pursuing their dream jobs--know your limits, and let yourself still have fun without worrying about making money.
Maintain that work/life balance! That's the most important thing
Everything is a shady lie. That is a fact we just all have to get used to apparently. In most businesses corners are cut and the magic is fabricated. So many of the companies and businesses we support are harboring secrets and are always just one disgruntled ex-employee away on Twitter from a public meltdown. Beware the rip-off!
Redditor
u/WoOoOoOoShHhHh
wanted to see who was willing to loosen some lips and give workplace details the public may not be privy to by asking....
What's an industry secret in the field you work in?
Want to "know" more? Never miss another big, odd, funny, or heartbreaking moment again. Sign up for the Knowable newsletter here.