In this digital age, nothing stays a secret for long. Every event, whether it's heartwarming or heartbreaking, is recorded for posterity.
One kind of event that has been recorded over and over is that of police activity. Good or bad, bystanders automatically reach for their phone in order to record the order of events exactly as they happened. These bystanders also get as close as they can.
However, in Arizona, that's not allowed anymore and people are NOT happy.
Redditor Wizard_Elon_3003 asked:
"Arizona just made it illegal to record police officers closer than 8 feet. What are your thoughts on this?"
Many people think this rule is absolutely ridiculous and will have severe ramifications for people trying to do the right thing.​
What Happened To Protect and Serve?
​"The fact that recording them is illegal under conditions, make me feel more threathened than protected."
– Global_Paper4153
And The Point Is What Exactly?
"So what is this law intended to accomplish? To prevent people from interfering with police business by getting in their face to film? That's already against the law!"
"Which leaves the "filming" part that they're trying to stop. Which the supreme court has already ruled is okay."
"In practical terms, this law can only be abused. It serves no legitimate purpose."
"Imagine this scenario: I am parked in a parking lot and pull out my phone to open my shopping list before going inside the store. I hear yelling and see a police office arguing very loudly with someone. Despite that the someone is just yelling and not otherwise making any aggressive moves the officer seems to be getting more and more agitated and aggressive.
"Fearing the officer will unnecessarily violently escalate I step out of my car (but not away from it) to get a better view and start recording."
"The person the cop is arguing with points at me and says "See, even this random person thinks you're being too aggressive!""
"The cop turns, shouts at me to stop filming. I don't say anything, I just continue filming. He has no right to demand that I stop filming. We are both in a public space and the supreme court has ruled that I am perfectly within my rights."
"The cop charges over and the moment he gets within 95 inches of me... I'm a criminal. For the crime of standing still while doing something which is legal. Not just legal, but a constitutionally protected activity."
"That's the point of the law. To turn bystanders attempting document potential police misbehavior into criminals."
– Astramancer_
Some people pointed out the benefits or necessities of recording, and how this law will negatively impact society as a whole.
No More Recording
"It's obvious the cops will exploit this to prevent themselves from being recorded whenever they can."
– nosmelc
Just Too Far
"Keep in mind, this law would have made filming George Floyd's murder a crime. 8 feet is also too far away to make out a badge number."
– OrphanedInStoryville
Filming Is The Way To Go
"IMO it should be legal to record any public employee while they work. What was the official justification for this?"
"I will say I think 99% of police are good people doing a hard job professionally 99% of the time and I don't think they deserve the amount of hate they get. But boy oh boy does that remaining 1% do a lot of harm."
– andrewclarkson
Others think 8 feet is reasonable and is a lot closer than people think.
Filming Is Within The Rules
"8 feet is perfectly fine for any phone-cam to record what's going on. At least this way they firmly indicate that filming IS in fact allowed."
"Seems like a perfectly fine allowance. If you are a cop wrastling a guy down on the ground you don't want any of his friends any closer than that and have to worry about that other person too."
– TheGarp
Remember Your Safety
"If you were trying to get closer than 8 feet before this, than you're a f*cking idiot."
– AcetonePeroxideH2O2
I Would Like To Make The Rules
"8 feet is reasonable as a bystander. But if an officer approached me less than 8 feet I should still have a right to record him."
"So if I'm in a traffic stop- I'm gonna have to let the officer immediately know I intend to film so he needs to conduct the traffic stop from 8 feet away then or allow me to set up my camera 8 feet away."
– glitterbomb222
Close Enough Is Good Enough
"8 feet is close enough to film literally anything. But like, It's not a big deal IMO. Could have cascading effects later tho."
– Unlucky_Web3199
Some people think bringing the law to light may be a good thing, or are at least undecided.
Don't Do Anything You Don't Want Seen
"Sounds like something to deter police wrongdoings being recorded, and I'm saying this as someone who supports police."
– ASubwayFootlong
The Good, The Bad, The Neutral
"Couple of abstract thoughts. I actually live in AZ so fairly surprised to hear this."
"1. Benefit of the doubt: prevents the masses from identifying specific officers if anything goes viral online. Based off the last few years I'd be fearful of my face showing up online especially in a less than favorable light."
"2. Pessimistic side: yeah its probably because they don't want people recording every cop they see for 'potential evidence' even though it would increase transparency."
"3. I'm undecided if this actually helps or hurts more. The past several years have shown sh*t blows up fast but the videos that end up online start seconds before sh*t hits the fan. I wish they started at the beginning so you could see the circumstances leading up to whatever incident. Those videos are often only released months after and by then the damage has been done."
– PurpleLink739
Situational Impacts
"Honestly I'm thinking it's a good thing in some ways and a bad thing in others.. alot of people have started recording the police more recently since the big blm movement, which isn't a bad thing, but some people are ignorant and just act rude and dickish about it unnecessarily there's no reason for it, and of course the bad is some cops with abuse this new law and milk it for all its worth. The other thing I don't get is making their jobs a pain in the @ss.. they've asked for ID give them your damn ID instead of getting into a situation where the problem won't be resolved for 50 mins give them your ID and be done with it in 10. Just rude and a stupid"
– SadlyUnmistaken
Ultimately, however, people oppose this law.
The Worst Kind Of Law
"Another step in the direction of not insisting on police accountability. There's no reason to have a law like this passed."
– Chemical_Ad_4029
Should Be Illegal In And Of Itself
"It is fascist and concerning, to say the least."
– princeofallcosmos92
"It is unconstitutional"
– SolaroscopyApollo
Everything Will Get Worse
"police brutality is already an issue, creating laws against recording it is worse. You can't try something really without proof? and also, it's SUPPOSED to be legal to record cops, in case they do any shady sh*t."
– savspitsbars
"Obviously they have sh*t to hide and want to get away with it"
– Kir-ius
We all know we've had serious problems when it comes to police brutality, and that filming these events have helped serve at least the smallest amount of justice.
Will this law erase all of the progress we've made?
Keep reading...
Show less
This hilarious video shows the moment a cop needed armed colleagues with a battering ram to break him out – of a locked station toilet.
The funny footage shows a cop being busted out of the bathroom with the heavy-duty ram after getting stuck.

The huge red enforcer - dubbed the big red key - is normally used to smash down the doors of hardened criminals.
The 30-second clip opens with an officer from an unidentified force striding into the toilet with the 35lb battering ram over his shoulder.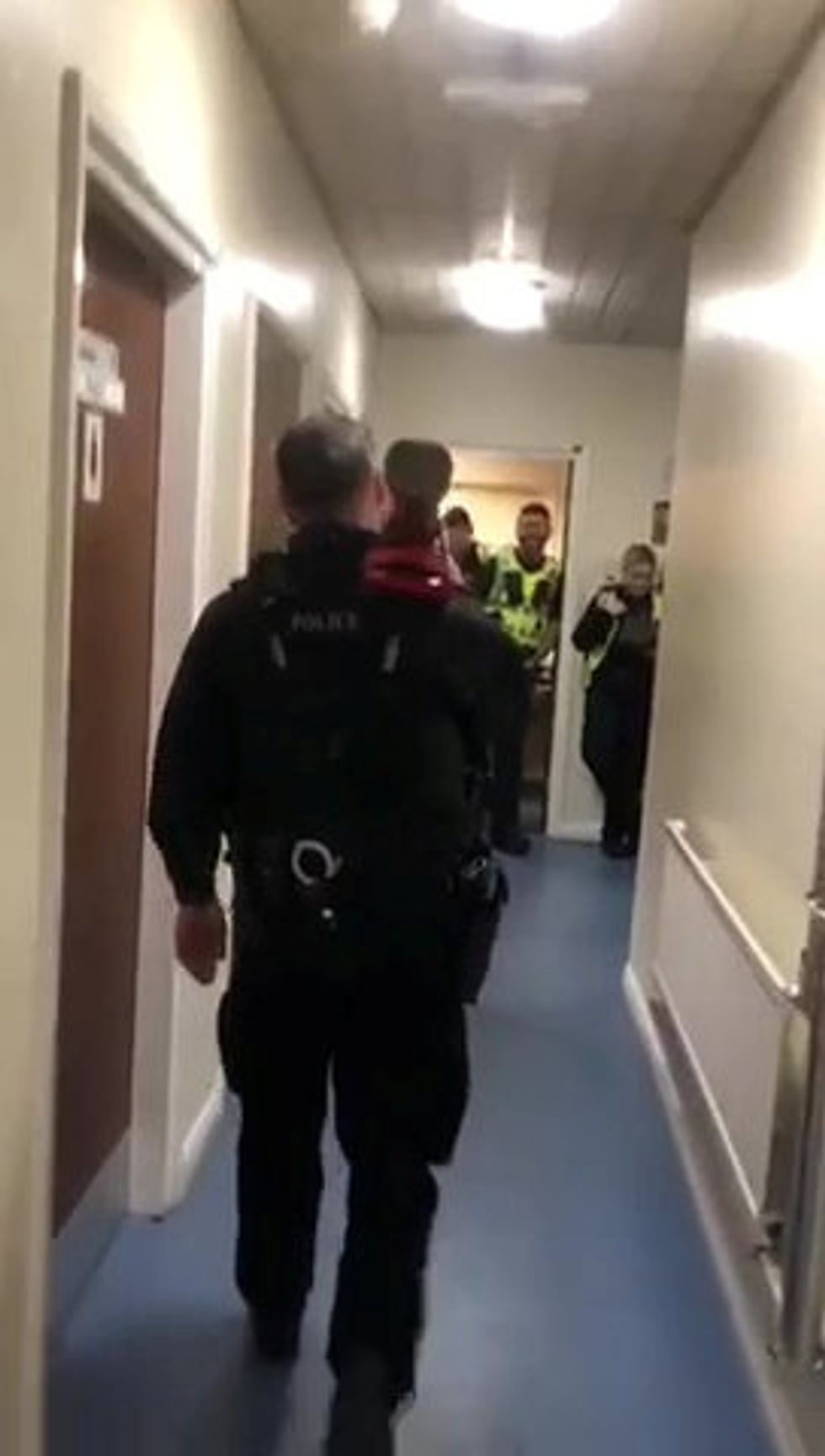 UK Cop Humour / SWNS.com
He then checks that his colleague is not behind the door, asking:

"Are your trousers up or what - are you ready to go?"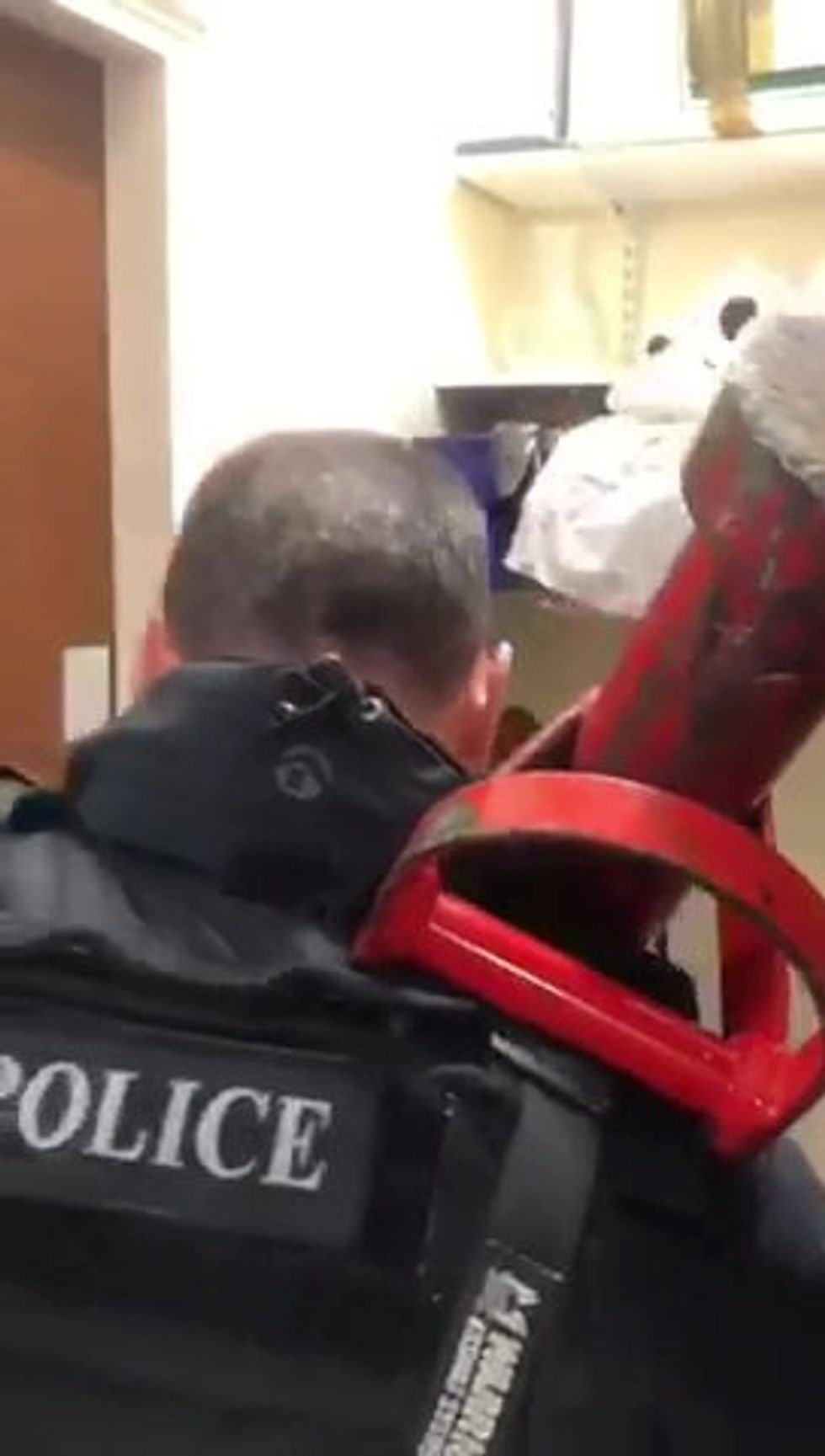 UK Cop Humour / SWNS.com
Given the go-ahead, the officer easily breaks into the bathroom with just one swing and frees the trapped man.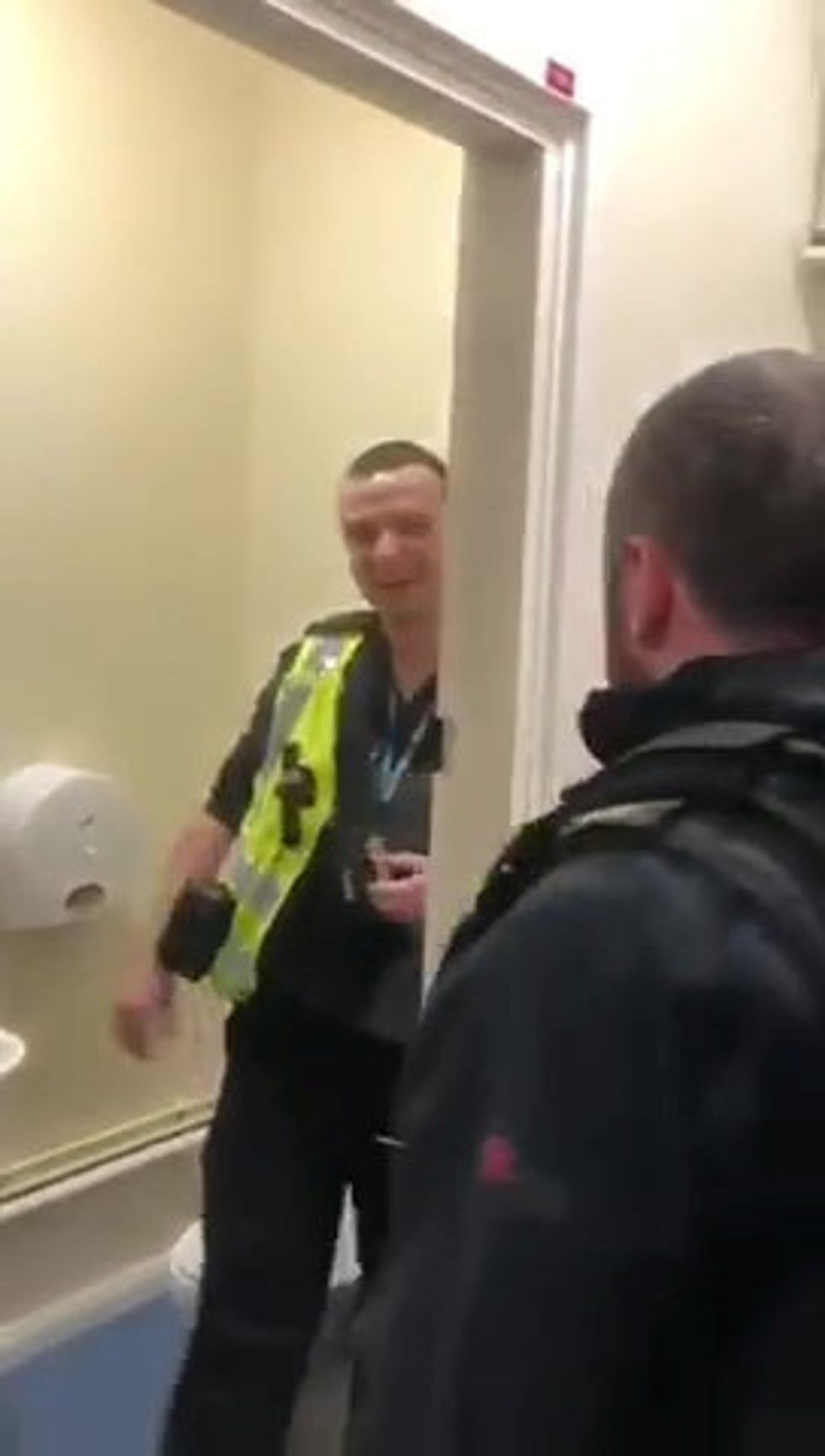 UK Cop Humour / SWNS.com
He then emerges to the laughter and cheers of his assembled colleagues - and appears to look a bit sheepish.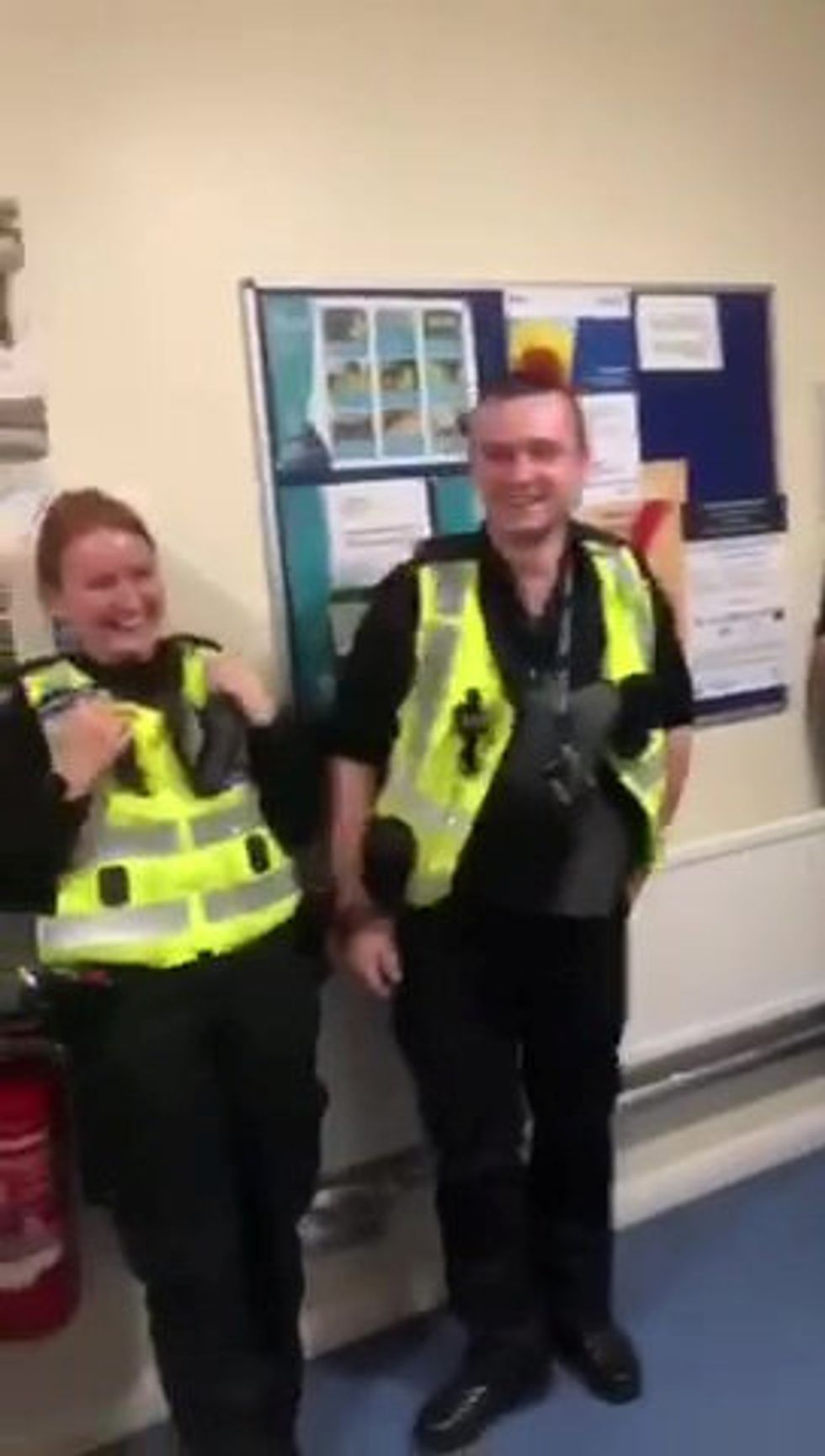 UK Cop Humour / SWNS.com
The video was filmed earlier this month.

The owner did not want to reveal which force was involved.
He joked:
"What is the cake fine for getting yourself locked in the bathroom and having to be saved by Firearms?"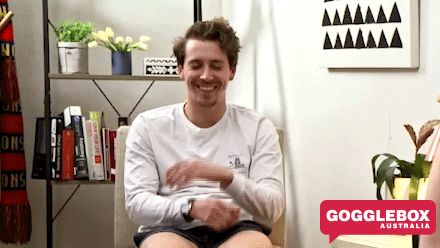 Giphy
Keep reading...
Show less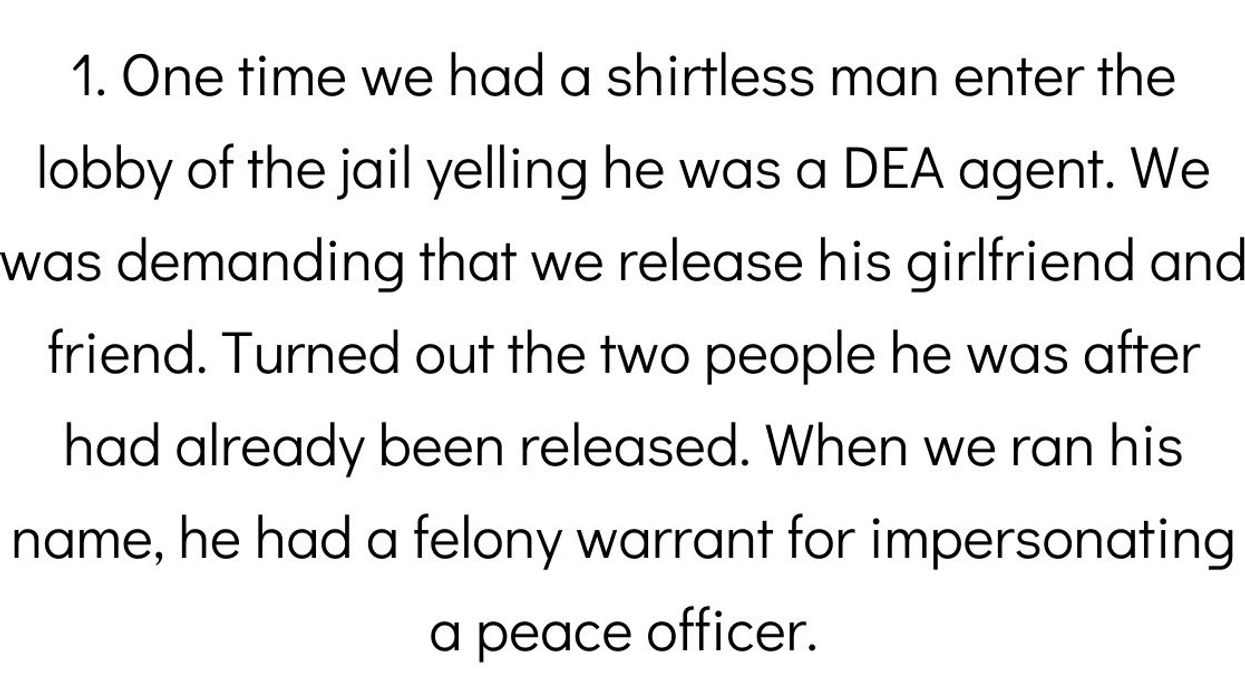 Untied.
Giphy
My nephew when he was like 7 used to always drop to his shoes and quickly tie them whenever he saw me. Apparently my sister in law told him that it's illegal to have your shoes untied. brittkay83
Hey Uncle. 
I was at a traffic light, waiting to cross and I saw this lady with her young son across the street. The kid was running around yelling and generally not listening to his mum.
As I crossed the street I heard the mother say "IF YOU DON'T BEHAVE I'LL ASK THE POLICE UNCLE (Uncle?? Lady, i'm like 23.) TO CATCH YOU. Look! He's here already!"
Kid stops dead in his tracks, looks at me, wordlessly bursts into tears and starts hugging his mother's leg.
Mother gives me an apologetic smile. I'm trying not to giggle as I walk on. fuyuame
Emptied....
My dad and I both work for the same PD, this is his story not mine. The shift before he had a guy detained for misdemeanor warrants or something. Some junkie comes walking down the road, sees the flashing lights and a cop next to a open back door.
He empties his pockets dumping a pipe, needles, and 5 grams of meth on the hood of his patrol car. He then spreads his legs and puts his hands on the car. My dad was shocked, let the other guy in the back go and took in the guy who just handed over his meth. Apparently not sleeping for 3 days makes you paranoid. Birdyy2
Seeing Red. 
One day I was headed to my station at the end of shift (meaning I stare straight ahead and avoid getting any paperwork to make me stay late) I happened to be behind the same car for maybe 2 miles on the same road. We're sitting at a red light and out of nowhere this dude runs it.
Everyone at the intersection looks at me so of course I stop the dude. Make contact and he can barely hand me his license he's shaking so bad from being nervous. Ask why he's so scared and he says he saw me behind him and he's on diversion... For running a red light. Also ends up having weed in the car. brentpepe
Oh fuuudddgggeee......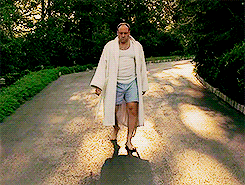 Giphy
Where I work it is illegal to walk around in public with open liquor. At the time I was on patrol and driving a Crown Vic. As I was going down the street a guy must have thought I was a taxi cab and he tried hailing me with an open can of beer. Once he realized I was a police officer he looked just like Ralphy from a Christmas Story. "Oh fuuudddgggeee." I was laughing so hard I didn't have the heart to give him a ticket. One-Eyed-Willies
People Explain Activities They've Added To Their Post-Pandemic Bucket List | George Takei's Oh Myyy
While we've all been cooped up for the better part of two years, many of us have been dreaming up exciting plans for the future. Maybe it's finally time to s...
"fair enough" 
This question reminds me of an experience I had as a kid. My friend (who was black, probably plays a role into how things panned out) was interested in becoming a DJ so he invested a lot of money into amps, turntables, subwoofers, etc. He used the same equipment in his car as he did with his turntables, and just powered them off a 12v power supply when using them outside his car. Well we're sitting in his back yard, and he's messing around with the turntables, when a cop car just pulls up all slow.
The back yard was separated from the alley by just a chain link fence. The cop in a suspicious voice says "Hey, do you have a receipt for all that equipment?" and without missing a beat my friend claps back with "Do you have a receipt for those shoes you're wearing?" And the cop just kind of nods as if to say "fair enough" and gets back in the car and leaves. m31td0wn
Be Peaceful.... 
One time we had a shirtless man enter the lobby of the jail yelling he was a DEA agent. We was demanding that we release two inmates to him (his girlfriend and friend). After he was in cuffs it turned out the two people he was after had already been released the day before. When we ran his name, he had a felony warrant for impersonating a peace officer. :) Joe21821
Hat Lost. 
I'm not an officer, but one lovely summer day in downtown Seattle, my children and me were wandering around at Pike Place Market, riding the monorail, etc. They were roughly four and five at the time.
A street artist had made my daughter a balloon "crown" with a big flower poking out the top. She was wearing it on her head when we passed by an alley and it blew off into the street. It exploded piece by piece, with each piece echoing down the street like a gunshot.
Two street officers and two mounted officers (on horses) were there in the blink of an eye. They saw the balloon parts, and realized what had happened. My daughter was crying, the officers were shaken but laughing, and this, being Seattle,(Latte Land) prompted one officer to say that we owed them all a coffee.
My daughter was sad to lose her "hat", but the mounted officers let my children pet the horses, so everything worked out fine. Ghost_of_a_Black_Cat
Staring Out. 
I frequent a tavern in my city. A cop stops by every now and then for dinner to go and chills in his squad car for a couple minutes waiting for staff to walk the food out since he doesn't want to make patrons nervous. I was out smoking and there he is patiently waiting out back. Another patron walks out and stops dead in his tracks when he sees the idling cop car. He stares for a couple seconds, spins around and walks back inside. Had me dying for a minute. C3P_Yo
Push Away....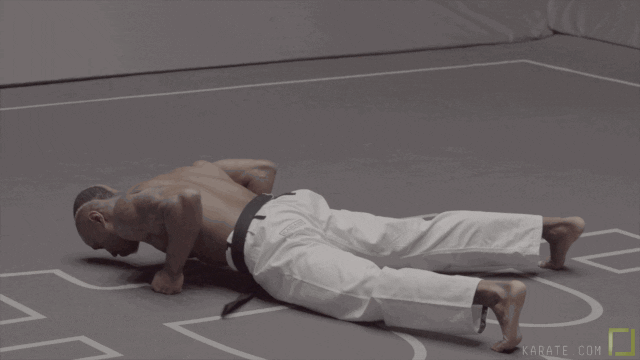 Giphy
I had a friend who proceeded to do pushups in the middle of the street. We probably looked like a bunch of kids just playing soccer. But then big brain decided to workout on the road. It was hilarious though because the cop was his uncle or something. Azarken
Keep reading...
Show less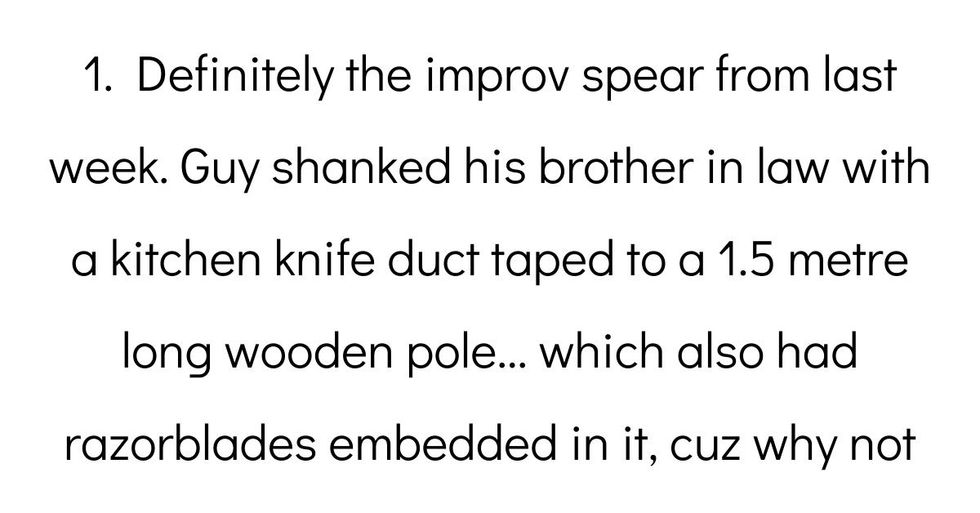 Reading these, I can't help but notice myself holding things, or carrying them in my backpack, and REALLY hoping I don't get arrested and have all my belongings put in separate bags and saved forever.
Plenty of people did get caught, though. And they got caught with really weird stuff.
But nearly as strange as the items themselves are the absurd means police officers have to use to save them in the evidence room. Not everything fits in a zip lock bag. Actually, most things certainly do not.
u/carlos_6m asked, "Police officers of Reddit: when collecting evidence, what has been the biggest moment of 'how the hell is this bagged for evidence?'''
At Least it's Got FM
A dash for an early 90s Honda Civic. It wasn't bagged. It was brought in as is.
"Drive Slow, Those are Antiques"
Im not a cop but me and a friend got caught with 3 bongs in his car once. One was about 6in one was about a foot tall and the 3rd was about 4 feet tall. The biggest one they put in a bag, then put a bag over the top and it still had about a foot in the middle uncovered. Was quite comical to see them lined up on the trunk.
A Feat of Engineering
Definitely the improv spear from last week. Guy shanked his brother in law with a kitchen knife duct taped to a 1.5 metre long wooden pole... which also had razorblades embedded in it, cuz why not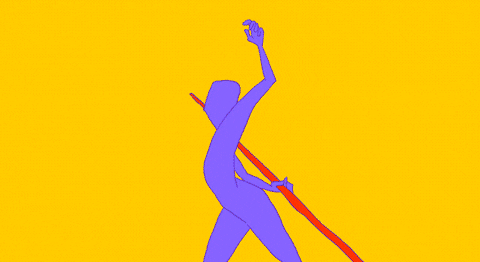 Giphy
Here's Hoping it Didn't Have a Bad Wheel
Shopping cart overfilled with items. Trash bagged the top to keep items in place, On night shift, late at night had trainee hold onto cart out of the passenger window and slow rolled to department, swapped between that and him pushing it while I followed behind him both with back emergency lights on.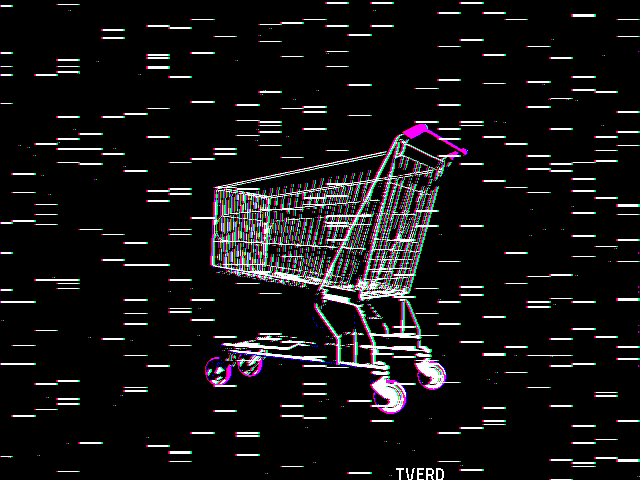 Giphy
Bag EVERYTHING
I was an evidence clerk for a few years. Each morning, myself and the evidence officer would go though the night's submissions to enter them in the computer with their matching case number.
He picked up one item, opened it up, and immediately jumped out of his chair screaming. I jumped up and ran, too. When an officer runs, run!
He was super angry, and went stomping down the hall to the sergeant's office. I tagged along and learned that item was a large sex toy - recovered from inside a male arrestee. That man had apparently been driving along, when he was stopped for an infraction. He was acting nervous, so the arresting officer had him exit the vehicle for a search. This item was discovered protruding from his backside.
A Slight Privacy Breach
There were the weirdly sticky love crayon artworks a 15 year old made for her 25 year old boyfriend
Going Out With a Bang
I think my colleague recently came across someone who had stole all the xmas chocolate from local supermarkets and there were tubs upon tubs of roses and quality street chocs it literally filled the evidence room.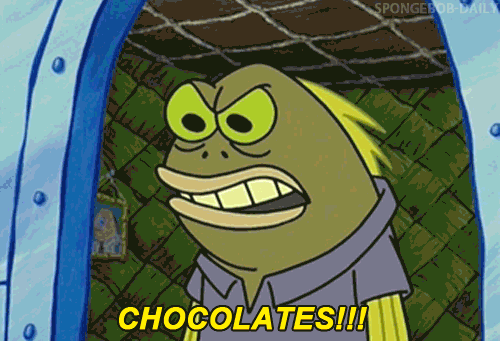 Giphy
No Problem at All
I sent a massive statue for fingerprinting in its custom packing crate, it was easy; we just needed forklift and truck ... and plenty of help.
"Excuse Me, Sergeant, But Where is the Stable?"
I've always found the hardest thing to take as evidence is living animals; I have had horses on two occasions.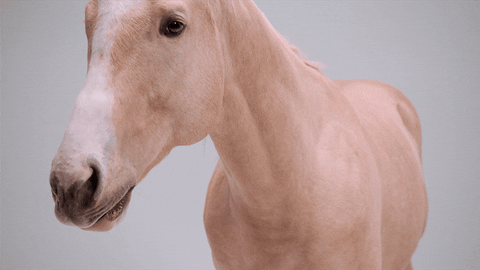 Giphy
college
processed mock crime scene as part of a college course, found and bagged a used condom that was not planted there by the course's teaching assistants
Keep reading...
Show less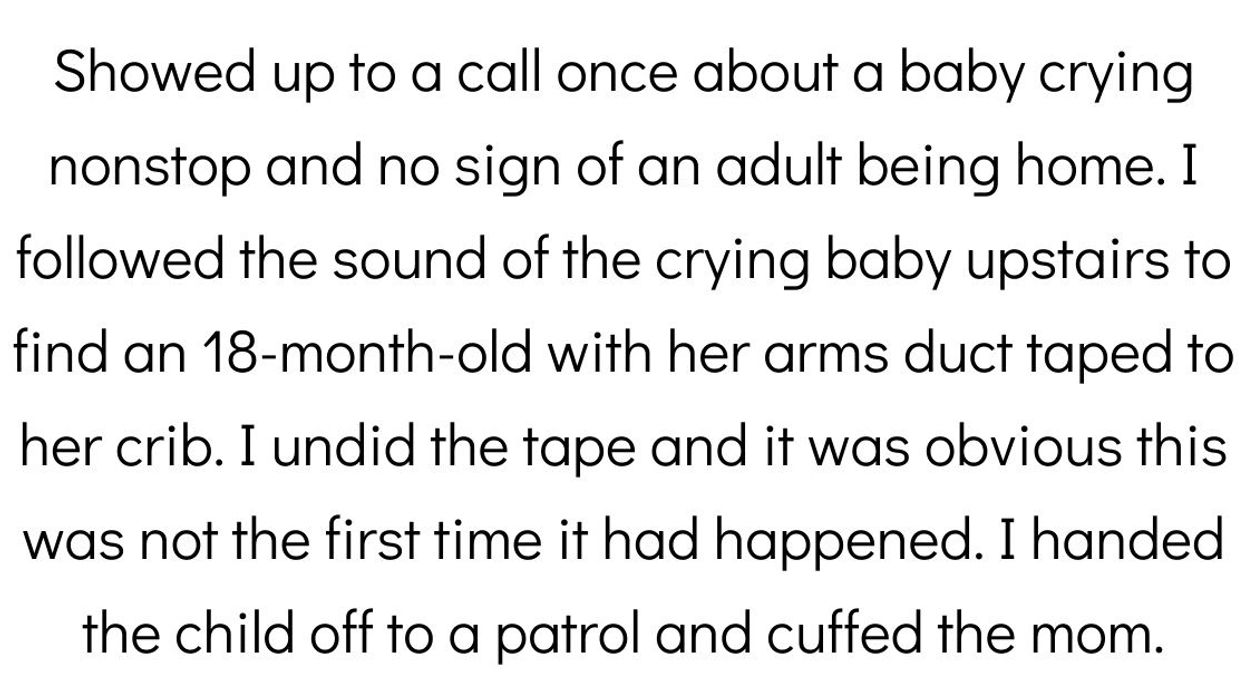 We do not give our friends in blue enough credit. They face situations we can only try NOT to dream of. Danger lurks in every second, every second of their shifts. And Lord do they have some stories of survival to tell. Being a police officer is a whirlwind of crazy. And we need to know more.
Redditor u/Yokeyoyo wanted to hear from all the brothers and sisters in blue by asking.... Police Officers of Reddit, what's the craziest situation you've been in?
Keep reading...
Show less