The convenience of flight comes with a few expected inconveniences. First, your seat is never going to feel like it's big enough for you. Second, the person either in front of or behind you is going to put their feet up or lean their seat too far back. And, third, you have to roll the dice with the TSA checkpoints.
They scan you, check your baggage, send you on your way. Installed as a form of protection, they do their jobs before you even arrive at the airport, keeping very obvious weapons and dangerous minded individuals from boarding your flight.
Most of the time.

Reddit user, False_Philosophy_412, asked:
"What's the weirdest reason you were stopped by TSA?"
Most of the time, the agents are doing their best job to figure out what's on your body with a machine that may not be accurate 100% of the time.
It Already Has A Name
"Crotch anomaly".
"I was wearing normal joggers, nothing in my pockets."
"The lady behind me loudly said 'yeah it's called a penis'"
wot_in_ternation
Packing A Different Kind Of Heat
"This happened to me too. Tsa agent asked to search me with the back of his hand and I said "okay sure." The back of his hand hit my unit and he said "what's that?" to which my only response was "That'd be my penis." The TSA woman next to him started laughing at him and his face went pale before he said 'you're clear, move along.'"
DarkSlayerKi
Keyword: "Random"
"I have maintained a decent beard and have a darker skin complexion for a white dude. I am "randomly" selected for a search or shoe swab every single time I fly."
batkevn
You can assume a lot of these are simple misunderstandings, agents doing their best to make sure everyone gets on the plane safely.
Still, it's got to feel bad to open up a loved one's ashes in a public setting.
Mad Respect For Your Wardrobe
"Not in the USA but in France, I got stopped on the way through customs by an agent who said something fast and aggressive-sounding in French. My French isn't great, so I just looked puzzled and said I didn't understand. The guy quickly beckoned another guy over and explained to him in rapid-fire French what was going on. The second guy turned to me and said "He says your T-shirt is really cool and can you tell him where you got it?". It was a Star Wars T-shirt that I got as a birthday present, so I couldn't even tell him where it came from. Luckily, he didn't arrest me."
99thLuftballon
Sinister Teddy
"My niece has a teddy bear. She has had this teddy bear essentially since she was born. The doggo has bitten a hole into its belly, so we sew onto it like a lion head sticker, to keep its guts inside. One time we were on holiday visiting family, and she left it there, luckily I was staying a bit longer so I could grab it on my way back."

"An adult man with a teddy bear that had its guts torn open and fixed with a lion bandaid apparently looks pretty suspicious, so they shoved the poor guy into x-ray 3-4 times. She is still in ownership of the teddy bear and it is still in decent shape."
Gacsam
It's A Weapon For A Certain Type Of Person...
"I had a nutcracker in my carry-on. Like a legit, festive Christmas soldier nutcracker - it was a gift for my mom's birthday (she collects them). I was only flying in for 2 days for my grandmas funeral so didn't check any luggage. They stopped me and questioned me for 30 minutes. Kept insinuating I was going to use it as a weapon."
Pamplem0usse__
Spider Truck. Spider Truck. Does Whatever A...
"When the Andrew Garfield Spiderman's first came out they did some amazing merch for them."
"My Stepdad is a HUGE Spidey fan, so I picked him up the corniest Spiderman film merch when in the US, one of those being like a whirling cement truck thing? It was a big tonka sized thing and the only bag it would fit in was my carry-on. They stopped me and said "Is that a spiderman toy?" and I took it out and showed them. They said it was the best thing they'd seen all day."
CharacterSuccotash5
No Smuggling Of Animals
"Glass jellyfish"
"Like those blown glass ones that are super cool at art galleries."
"I got pulled aside into a small room because they thought I was smuggling sea life. Was an interesting time."
Aelsar
When Things Look Like Other Things
"One time my dad had a few rocks of petrified wood in a bag, and had his phone charger right next to it."
"They almost went DEFCON 1 and did radio people to show up and act if it went down. But they opened the bag and saw it was rocks and a charger. They told him that it looked absolutely identical to what they had been taught a bomb looked like."
AudiieVerbum
One Last Look For Ol' Mom

"My mom passed away unexpectedly in California. I flew out to pick up her ashes and there was a terror alert at LAX. It was unreal; the military was in the airport with what looked like machine guns. I was out of my mind with grief and drugged to the gills. I was dealing with a bad back, and had to fly from California to a small town in Virginia for the memorial service. Security was heightened and everyone was being searched. I only had a small carry on and my mom's ashes. When I got to the TSA, the agent wanted me to open my mother's box of ashes! "
"I refused and insisted they x ray the box instead. It showed nothing inside ( duh- ashes) which convinced the TSA agent that it had some sort of cloaking device and was hiding a bomb. Again he insisted that I open the box that held my mom's ashes. I was beginning to lose my sh-t. I called my husband who works in nuclear power and explained what was going on. He told me to tell the TSA agent to place a coin under the box and send it through the X-ray again. He did and thank goodness he saw the coin. Otherwise I would have been arrested for assaulting a stupid TSA agent."

Due_Judgment_9518
Ever been stopped by the TSA for something silly? Tell us about it in the comments.

Want to "know" more?
Sign up for the Knowable newsletter here.
Never miss another big, odd, funny, or heartbreaking moment again.
Keep reading...
Show less
Many people are afraid of flying. Thankfully, airline accidents are especially rare.
According to The International Air Transport Association, there was just one major aviation crash for every 5.4 million flights in 2018. The odds of dying in a plane accident are super low: The odds are 1 in 9,821.
That doesn't mean that accidents don't happen, obviously, but you can sleep at night. But of course there have been accidents and other scary experiences so both pilots and passengers have stories to tell.
We heard a few of them after Redditor miercole_ asked the online community:
"Pilots, what's the scariest stuff you've seen while flying?"
"It was later in the evening..."
"My dad told me a story from a few years ago that happened while flying a 737 somewhere in Nevada I think on the way back to Toronto."
"It was later in the evening, so you couldn't see too much, but all of a sudden to the left of the plane my dad saw a really bright ball of light I guess you could say, moving really fast across the sky. My dad and his co-pilot had no clue what it was, and they could hear other pilots nearby calling it in over the radio and asking what it was."
"Eventually it flew pass and disappeared into the distance. A few days later my dad found out that what he saw was a missile launched by a USN submarine."
I wonder how many passengers thought they saw a UFO."
Nabbot737
Considering that the government recently admitted that UFOs are definitely a thing... it's likely.
"Thankfully it was when I landed..."
"Smoke in the cockpit when I landed. Thankfully it was when I landed... Had to push the airplane (small Cessna) off the runway."
chrisbe2e9
You see, I wouldn't be a good pilot because this would have me panicking.
"One due to a new pilot..."
"Almost had two mid air collisions. One due to a new pilot not being where he should be, another due to control telling me an aircraft was at me 11:00 when really it was at me 2:00."
chrisbe2e9
Terrifying.
Thankfully nothing happened.
"The coolest..."
"The coolest was a meteor that burned up directly infront of me. Same altitude, straight ahead. I have no idea how far away it was, but it was bright, and so pretty. Went through a spectrum of colors as it burned."
chrisbe2e9
That's pretty awesome.
Must have been a beautiful sight.
"Power lines..."
"Power lines directly in front of me at night that weren't charted and were exactly at helicopter grabbing altitude."
helodriver
Ummm, no thank you!
Thankfully you were not electrocuted.
"He once told me..."
"Not a pilot, but my dad is a former one. He once told me about how he almost crashed his Cessna because he hit some geese. He was actually preparing for a landing approach when he hit geese flying in a patch of fog. Windshield was completely shattered and he and his passenger were covered in blood and feathers."
"They landed safely, but my dad was pretty scarred from that! He didn't quit flying because of that, but bird strikes remained a constant fear of his. Geese are large birds and they did significant damage to that little plane!"
robodragon
Geese are mean creatures on the ground... and I see they have it out for humans in the air, too.
"Everyone sat down..."
"Not a pilot but I was in the bathroom when the pilot came over the radio with a quick announcement that we were about to have turbulence and to buckle up."
"Everyone sat down, including the stewardesses and buckled up. Everyone but me who was in the process of taking a massive s**t. The kind of s**t you don't want to have during turbulence."
"Now I've been in turbulence. It's rough. This was something else. I somehow, by all the was mighty, finished my s**t and completed the post s**t paperwork,.and flushed (didn't wanna chance it) when the turbulence hit."
"To say I hit everything is an understatement. I bounced off the ceiling, hit the floor, back up, face to the toilet. It was hell and I just kept my face covered and I protected my head as best I could."
"After a bit of luck, I managed to get myself wedged UNDER the toilet and I stayed there till the bumpy ride ended."
"I left the bathroom to some laughter, and a lot of concern. See for them in their seats it was fine, until they heard screaming in the bathroom, and loud crashing noises followed by dread silence."
"They all thought I died... haha."
"Forgot to mention that I didn't get to pull my pants up ether. I did the whole ride with my pants around my ankles..."
BubbleDisaster
At least you can laugh at things now!
"This actually happened..."
"This actually happened on my first time flying with no instructor onboard, just doing a couple laps around the traffic pattern. Took off, laps #1 and #2 went just fine, nailed a couple radio calls, got that awesome feeling of "Yeah, I got this."
"But, lap #3 was fine until I was setting up my final approach to land, and the GTN750 (basically a fancy navigation/radio/pseudo-radar system) warned me about a Cessna 1 mile out at the same altitude. Ignored it, since I already had the plane in sight and verified with the control tower that he was landing on the runway parallel to mine."
"Lo and behold, this dude zips under me by about 200-300 feet, which sounds like a good amount of room, but is actually butt-clenchingly close in a busy airspace like this. I should've applied full throttle and circled back around to try again, but the other plane was clear of me before the startle factor even wore off."
"This was made especially dangerous by the fact that the plane I was flying was low-wing (can't see under me) and the other plane was high-wing (he couldn't see above him). So, neither of us could see each other and the tower yelled at the guy to get out of my way, and I landed safely."
furry_anus
You see, after an incident like that, I don't think I'd want to fly ever again.
"Needless to say..."
"My airfield where I did my pilot training had a waterway at the approach end of the runway, and oftentimes there were sailboats heading out to sea as you were coming in to land. Usually came in a little high, since the runway was plenty long enough."
"One day, not long after I had completed my 1st solo, I was doing my run-up, waiting for one of the regular pilots to land his low-winged sport airplane. He obviously, didn't see the mast of the sailboat crossing, and he hit it. The plane cart-wheeled down the runway and broke into pieces."
"I took my plane back to the tie-downs to clear the area, and then went to help him out of the plane before it caught on fire (which it didn't amazingly enough)."
"The pilot broke both of his hands at the wrists, and fractured a whole bunch of stuff. Unfortunately, he was a surgeon. Not sure if he was able to work again."
"Needless to say, I was always very careful on approach after that."
mrbrad595
Wow.
This is the stuff of nightmares.
That poor man.
It's worth pointing out that the major airlines all have excellent safety records. So take note, chill out and happy flying!
Have some stories of your own? Feel free to tell us more in the comments below!
Want to "know" more?

Sign up for the Knowable newsletter here.
Never miss another big, odd, funny, or heartbreaking moment again.
Keep reading...
Show less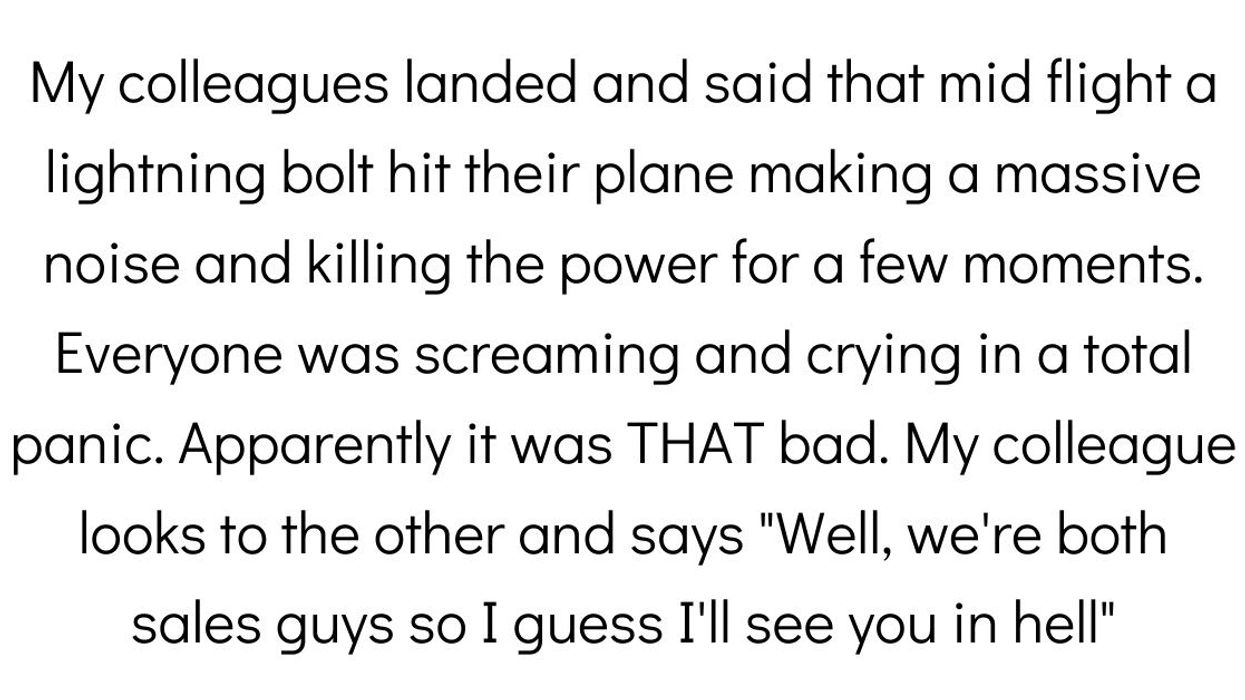 The twentieth century brought us the most technologically advanced way to travel en masse yet--airplanes.
Airplanes are nothing short of a miracle. By rising above the clouds, we get from point A to point B more quickly than we ever have in the past. But like most things, there are moments when this doesn't work as well as we want.
Sometimes it gets outright scary. Planes are very sensitive, and if even one thing goes wrong, it can really change a trip from quick and painless to frightening.
u/jm1ce asked:
Flight attendants, pilots, or other airline crew: Has there ever been a time on a flight where you were genuinely scared or nervous about the flight, and if so, what happened/what did you do?
Here were some of those answers.
Ice Ice Baby
My mom was a flight attendant for U.S. Air before I was born, and I know her scary story.
She was exhausted at the tail end of a shift that had run longer than it should have because they got paused in Philly for nasty winter weather conditions. They were finally finished getting de-iced and about to start taxiing when one of the passengers called her over and told her that he'd been watching carefully and he didn't think they'd de-iced both wings of the plane, just one side. She sort of reassured him that she would go check but he was probably mistaken, and then even though she was really tempted to wave it off as just a jumpy passenger, she went to the pilot just to check.
Welp! Passenger was correct and the plane was only half de-iced when they were getting ready to leave. If they'd taken off like that, it probably would have been disastrous. Mom told me that even though it didn't happen in mid-air, it was her all-time scariest moment during her tenure as a flight attendant because she knows how close they came to a very dangerous situation and she knows that she almost didn't stop it from happening even when warned.
No Air
One time we were stuck between a thunderstorm and the Iranian border ended up having to fly through the thunderstorm. Another time we had a fire on board and a lot of the crew left their oxygen regulators on full blast while we were dealing with it. After about 45 minutes I realized we are almost completely out of liquid oxygen and had another 2 hours left to get home.
Something Old
I was an aircraft electrician for the Army for a number of years. One of the first systems you learn about after getting to your unit is the APR-39. It's a radar/laser detection system that is integrated with other systems to tell crew if they are being tracked, when they have been "locked", and what direction incoming is actually coming from. All of this is related through a (archaic) display and the worst synthetic voice you have ever heard. Spent many days troubleshooting this system and never thought much of it, until I deployed for the first time. I volunteered to fly back-wall security for the MEDIVAC unit that I repaired birds for. MY FIRST FLIGHT we were on pick up from Kandahar to South of Pasab and passing through the mountains and I can hear that damn voice in my headset. Thought about nothing of it, even wondered why the crew chief was hanging out of his window looking aft of the bird. I didn't dawn on me till after we hit a very steep left dive, aaaaand the chaff and flares firing from our the right that we had just been locked and fired at.... Genuinely scared the crap out of me.

Sudden Twists And Turns
My dad is a captain at American Airlines. Won't tell me his worst flight because he doesn't want to freak me out. Fair.
As someone who has flown since before I can even remember, my worst was flying to Indianapolis from Orlando. It was July so basically that entire corridor was poppin with thunderstorms. We got put in a holding pattern over Indy for 2 hours then diverted to Louisville for fuel. Normal enough.
What's not normal is that in the half hour it takes to fly to Lville from Indy, a line of thunderstorms had popped up over Lville. We're coming in for approach and I can see the way the clouds look outside the plane. I'm a meteorology nerd and knew they meant wind shear in the area was starting to form.

As we came in to land, a gust of wind hit our plane almost knocking us sideways. Pilot pulled the throttle back so hard for a missed approach. So cool now we were back up in the thunderstorm filled sky. We are hitting severe turbulence at this point and people are praying, holding hands and crying.
The Captain brings us back around and absolutely plows it into the ground and basically said "eff your wind shear". I've never been so happy to get on the ground.
Going Down, Down
Not me - but I was on a flight at the same time. My collegues landed and said that mid flight a lightning bolt hit their plane making a massive noise and killing the power for a few moments. Everyone was screaming and crying in a total panic. Apparently it was THAT bad.
My colleague looks to the other and says "Well, we're both sales guys so I guess I'll see you in hell"
These Low Effort Jobs Have Surprisingly High Salaries | George Takei's Oh Myyy
Have you ever worked one of those jobs that paid you to kinda sit there? If you have, you know the joy that comes with watching the entirety of Breaking Bad ...
Rough In The Sky, Smooth On The Ground
I was flying a 737 on final approach five miles behind a 787 when we got into their wake turbulence. Aircraft banked left sharply then immediately went into very steep nose down right bank. I immediately corrected this attitude but for a quick second I thought it might go over a 90° bank angle. I have never fought that hard in an airliner to recover, but I recovered, and had the smoothest landing of my career.
Sudden Issues
Flying home from FL to NY. Scheduled to land at LaGuardia. Right after takeoff we could all hear the motor that retracts the landing gear straining. And the landing gear would not retract. When it finally did, everyone seemed relieved but I was thinking 'I hope it comes back down when it's time to land.' Lo and behold, about 1/2 hr before landing, the pilot announces that we were being diverted to JFK because of landing gear trouble.
We needed a longer runway to stop the plane. So now people are praying and biting their nails. We could hear the motor trying to bring the landing gear down for several minutes before it finally came down at almost the last minute. We land and the plane isn't slowing down. We hear all kinds of horrible sounds, smell smoke...people are now really freaking out. Plane stops after using up almost the whole runway. There were emergency trucks all over the sides of the runway, foamers..etc. Was never so happy to get off a plane!!
These Low Effort Jobs Have Surprisingly High Salaries | George Takei's Oh Myyy
Have you ever worked one of those jobs that paid you to kinda sit there? If you have, you know the joy that comes with watching the entirety of Breaking Bad ...
Struck
My scariest moment was after we got within 700 ft of landing. The pilots whipped the plane back up because of heavy winds and announced that we were diverting to a nearby city in another country.
It was a short flight to the other city, and it was bumpy so I was strapped in. A couple of other flight attendants were standing up though. All the sudden the entire cabin went bright white. Specifically I could tell that the light was entering the plane from the other side around the corner I couldn't really see behind. The flight attendants nearly jumped all the way to their seats and strapped in. There was one passenger that I locked eyes with at one point. Her and I both both made this nervous smile at each other like, "Lets not die here!"

We did end up landing alright. It took 4 hours for us to get off the plane because of all the other planes that diverted there. They also told us the next day that we got hit by lightning at least 3 times. They could tell because of little pin pricks that the lightning makes when it hits the plane.
By the way, I still feel so much safer in a plane than almost any other mode of transportation. The statistics don't lie. The regulations and redundancy on safety measures are unparalleled.
Rollin' Rollin'
Hit crazy turbulence in a prop plane flying into Saginaw from Detroit. Plane was all over the air like a roller-coaster.. Up down, side to side, I swear I thought it was gonna barrel roll at one point. Seemed to never end, but was probably only really a few minutes. Time kinda slowed down. My girlfriend and I were the only two people on the plane who weren't Marines going to some Marine thing. Those guys were cracking some pretty dark jokes while I contemplated my time on earth.
The Limit Does Not Exist
I recall being in a very small plane trying to land at John Wayne International during a storm. No door between cockpit and passengers or at least it wasn't closed. There was turbulence but nothing as dramatic as some of the other stories here. Listening to the cockpit crew arguing with ground control over the flight path was not comforting. I think we were approaching the end limit for flights and ground control wanted them to approach by going more over the ocean. Neither I nor the crew cared for that too much.
Keep reading...
Show less
Keep reading...
Show less