Pit bulls get a bad rap for being a dangerous breed of dog. This is due in large part to owners who abuse them and train them to be violent for the sake of illegal dog fighting.
However, many dog owners profess their love for the breed, explaining that when they're raised like any other dog, they are sweet and wonderful pets.
But one pittie is taking things to a whole new level by saving a life.
A family in Stockton, California has their pet Sasha to thank for saving the life of baby Masailah. The two were born within days of each other and share a bond. They do many things together, including sleeping and bathing.

According to ABC News, this past Sunday, Masailah's mother Latana Chai, was in the in the backyard when Sasha began acting strangely and barking.
She opened the door to the house and Sasha quickly ran back to Masailah's room. Unbeknownst to Latana, a fire had spread from her neighbor's house to her own. Sasha dragged Masailah out of the bed by her diaper and away from the fire.
The family was interviewed by ABC...
Hero Pit Bull Rescues Baby from Fire www.youtube.com
People shared their love for Sasha the pittie.
Someone was quick to point this out...
Some shared their own pit bull stories.
And most shared adorable photos of their pit bulls.
Thank you Sasha for being such a good girl!
Keep reading...
Show less
Jose Guzman lost his home to a fire that broke out at his neighbor's house and spread too quickly for firefighters to contain.
But he made sure he didn't lose everything.
When he arrived at his family's home and saw that the fire couldn't be contained, he was determined not to lose their dog, Gabanna, too.
Guzman was away from home at a family barbecue with his fiancée Adriana and their three children Yvette, 2, Hazel, 4, and Yetzel, 6, when someone mentioned a fire in their neighborhood.
He was fairly sure it wasn't their house, since they hadn't been gone long.
"I didn't think it was mine because we had just left the house about an hour ago, but I decided to get in my truck and drive over there."
When he arrived at their home, however, he saw that his house was indeed on fire.
The blaze had started at his neighbor's house and spread to his. Firefighters had run out of water because of the severity of the blaze, and had requested assistance from other nearby fire crews.
He immediately thought of the family's blue nosed pit bull, Gabanna, who was still in the house. Without thinking twice, he rushed into the house to get her out.
"I knew something could've happened to me or both of us, but it didn't go through my mind at the time."
"That dog is part of my family. She's been with us through downs and ups and I couldn't leave her there. I would do it again if I had to; I would do it for anybody in my family."
Guzman found Gabanna in the only room in the house not already filled with smoke or flames: the bathroom. She had curled up in a ball under the toilet.
"I ran through the curtain of fire and made my way through the smoke to the back of the house, where I had her chained up."

"It was hard for me to get her leash unhooked, but I managed to get her loose and we both ran out towards the driveway"
Jose's daring rescue was filmed by his landlord's son-in-law, Adam Guzman (who is not related to Jose).
He posted the video to Facebook.
Guzman received second-degree burns to his face, right side, arm and left ear when he entered the house.
Gabanna also suffered burns to her nose and paw, and was pretty scared by the experience. Jose said they are both healing well and Gabanna is expected to make a full recovery.
Jose's fiancée Adriana said she wasn't surprised by his actions:
"He's that person that would do that for anybody. He's a loving dad, a loving son, a loving brother."
Facebook users were touched by Jose's rescue of Gabanna.

Leticia Rios/Facebook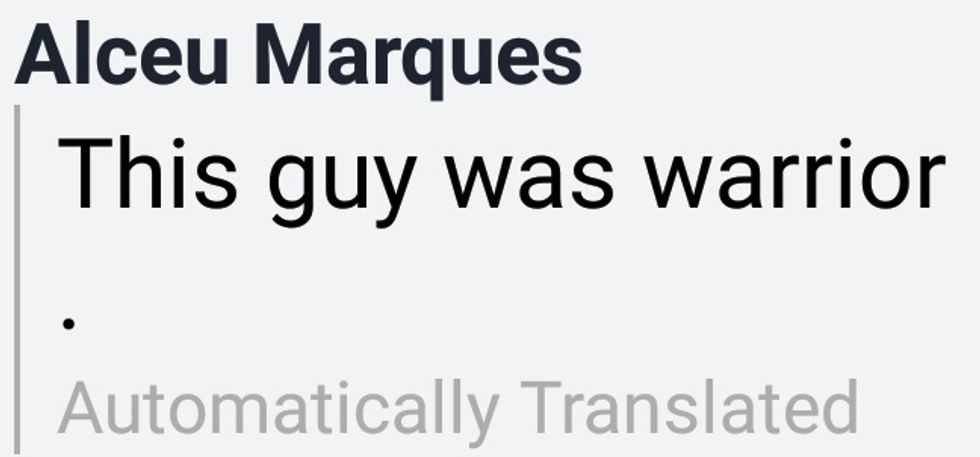 Alceu Marques/Facebook
Many people siad they would have done the same for their furry family members.

Zeta Clark/Facebook

Robin Cotten/Facebook

PerEsc Yady/Facebook

Gale Gaerlan/Facebook

Jackie Esposito/Facebook
The family have been staying with Jose's sister Roxana Martinez since the fire. Roxana started a GoFundMe campaign to try to help them get back on their feet after losing everything in the fire.
Keep reading...
Show less
The Lion King is a pretty emotional movie, especially for those young'uns. The same seemed to hold true for a pit bull pup named Luna, who was born only 4 months ago.
Josh Myers recently posted a video to Facebook of his dog Luna watching The Lion King. She stopped playing and stared at the TV to watch the scene where Mufasa dies.
During the scene, Luna begins whining and crying while Simba attempts to wake his father. She eventually settles down and can be seen watching the movie without further comment.
Myers captioned the video:
"'Anything you feel, I can feel too.'

🐾
"So Hannah and I were watching the Lion King while Luna played wildly with her toys. But right as Mufasa falls to his death, she stops and turns to the TV to watch. To see her crying at the TV was the sweetest thing I think I've ever seen."
"She even lays down right after Simba lays with his dad....We don't deserve dogs. 💚 4 months old and she's already showing empathy."
Facebook users couldn't get enough of Luna.

Emily Kelley/Facebook

Colleen Steps Keough/Facebook

Madison Milita/Facebook

Deana Joy/Facebook

Several people commented on Luna's newfound fame.

Dalton Vradenburg/Facebook

Randi Franklin/Facebook
Some agreed that we don't deserve dogs.

Jehann Kazem/Facebook
Apparently, someone insisted that there must have been a human coaching Luna, so Josh posted another video from a different angle.

Josh Myers/Facebook
Luna was tired out by the whole experience.

Josh Myers/Facebook
Dogs have a surprising capacity for empathy, as anyone who has been ill or upset and had their dog comfort them will attest. We hope Luna got lots of treats and extra attention for being so adorable!
Keep reading...
Show less