The list of what irritates me is endless.
I mean... breathing too loud or dust can set me off.
I'm a bit unstable, yes.
But I'm not alone.
So let's discuss.
Redditor Aburntbagel6 wanted to hear about all the times many of us just couldn't control our disdain. They asked:

"What never fails to piss you off?"
I feel like this article can go on forever. Let's get some highlights.
Wasted Time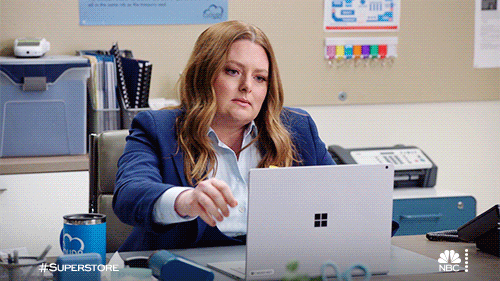 Nbc Im Done GIF by Superstore
Giphy
"Meetings that could and should have been an email."
Sirena609
Lotto People
"Getting stuck behind people playing the lottery at a corner store."
thenuggetlover
"I also used to work in a gas station and you're SO right. I f**king hated the lottery people. Especially since my store had a small staff and there was usually only one of us working at a time, which meant that I couldn't get any of my other work done as long as they were there."
"And you're right, it's also pretty sad to watch. I had one lady who used to come in every day and spent hundreds and HUNDREDS of dollars on scratch tickets. One day, she won $200 after spending probably around $600 and she was so excited and saying she can 'finally pay her bills.'"
i-am-your-god-now
Aware...
"No situational awareness. Job, home, shopping, driving. Think for one minute and go about. OBSERVE!!"
Dizzy-Foundation8122
"My mom is one of those people who leave the shopping cart in the middle of the damn aisle and proceed to walk twenty feet away. After correcting her a million times to no effect I just walk away now so people don't know I'm with her."
OutrageousEvent
Shut Up!
"Endless barking in the middle of the night, I love animals but that sh*t I can't stand."
Acceptable-Lemon2924
"Endless barking in general drives me up a wall. One of my friends dogs was barking almost an entire gaming session the other day. I wanted to reach through the computer and smack him for letting it go on."
bangersnmash13
Kindness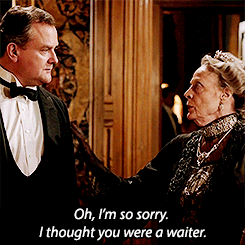 customer service waiter GIF
Giphy
"People being mean to service workers, especially if the workers are very young."'
scaryboilednoodles
All of these things. I hate them all.
Admit It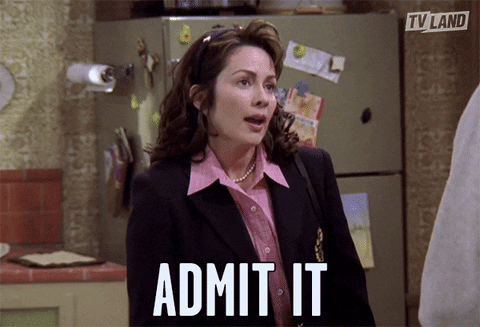 Admit It Tell The Truth GIF by TV Land
Giphy
"People who never accept fault when they mess something up. Like, why blame a million people when it was clearly you who did it???"
Quirky-Area-8978
From Above
"My upstairs neighbors."
lutzow89
"I had terrible neighbors at my previous apartment. It was a one person studio for students, but her boyfriend was clearly living with her illegally and he was loud."
"One night we knocked n the door at 3 AM because of the loud music and an unknown girl opened the door. I just thought they were having a little party. But the next door I saw the girl living there come home with a suitcase after having been away for the weekend... Her BF was cheating on her in her own apartment."
Th3_Accountant
Move Away
"People who sit directly next to me at the airport, movie theater, any other place where you can choose a seat when there is PLENTY of other seating."
BacardiPardy33
"I can't YES this enough and the ones who can't park for crap so they park so close you can't open doors on one side of the car or the ones who park directly behind when you pulled through so the door won't open to load groceries."
BacardiPardy33
It's Over
"People who try to restart old drama. Like I'm done with you, just leave me alone."
Tired_Potatos
"Yep, half the reason I've basically quit playing one of my favorite online video games. People keep bringing old crap up or sh*tting on on someone who used to be our friend. I got tired of it so I just ejected the game out of me."
CaucasianHumus
AHHHHH!!!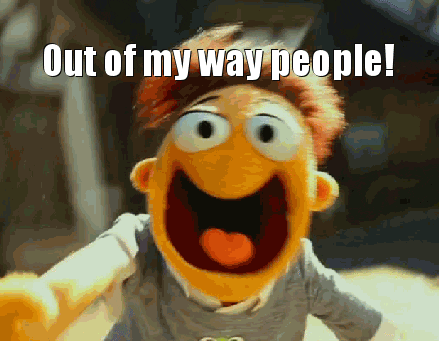 move leading GIF
Giphy
"People walking too slow in front of me with no way to get around them. It's even worse if it's a couple or group taking up the whole sidewalk. HAVE SOME SPATIAL AWARENESS FOR THE LOVE OF GOD!!"
_-v0x-_
'Did I ask?'
"People who bother you for fun."
NuLL-nerd
"This is literally one of my coworkers. My job is to keep up the printers and make PowerPoints basically, and this coworker keeps trying to rush me to make his power point faster. Doesn't matter how many times i tell him that he should send in the request sooner instead of waiting for the last second he doesn't listen and says'Did I ask?' in this 'tough' guy tone."
GreenMilkIsFresh
Classic
"When someone apologized for an action but never actually changes their behavior THEN they get pissy when you 'bring up the past.' Honey, if it's still happening, it's the f**king present."
itisoptional
"Classic narcissistic behavior. If someone decides that the problem with your relationship is that you won't suddenly decide to be okay with their bulls**t... Run away."
woodcoffeecup
Hurry Up!
"People who take their sweet a** time trying to find their wallet/card in their purses/pockets/whatever after standing in line and waiting their turn. Ffs, why can't they find that crap and have it in hand when they get to the counter and place their order."
MissConduct0120
"This and also people who wait in a long line but don't look at the menu until they're at the counter. COME TF ON! You had 15 minutes to figure out your order."
D-Will11
Oh Shut Up!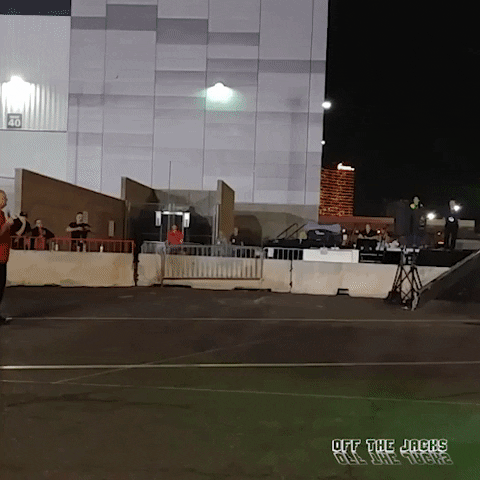 trucks 4x4 GIF by Off The Jacks
Giphy
"Diesel pickups blowing coal and making extra loud noises with whistling turbos and noisy waste gates. Also my neighbors that treat their property like it's the dump."
Mendo-D
Speed Up!
"Crazy slow drivers, we all have places to be."
S0larSc0pe
"I was thinking this yesterday because there was a slow driver on the other side of the road causing the other to overtake. Meant someone nearly crashed into me and as much as that person was a d**khead, I thought if that person had just been doing the damn speed limit nobody would be dangerously overtaking."
OwnAdministration918
I just don't want to...
"Being accused of things that goes completely against my character. Having to repeat myself more than 3 times."
JamesMattDillon
"If I have already said something, and have then repeated it, if someone makes me say it to them a third time, I am just so irrationally angry I will 100% give snotty attitude when I say it. I could probably work on that… I just don't want to. F**king listen, and I wouldn't have a problem."
winterfoxes
They all suck...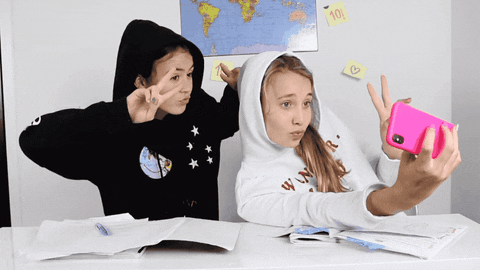 friends selfie GIF by Girlys Blog
Giphy
"Instagram influencers."
g01drush
"Any type of social media influencers at that. They all suck. At least in my eyes they do."
Meengreenpeenmashine
A Hard No!
"Any sort of animal abuse."
Slackerina
"Along those lines, people who use their animals for protection by keeping them aggressive. So many pitbull attacks in my damn town… nothing against pits, just the people in dangerous areas in my city tend to buy them and use them as a weapon. Both depressing and infuriating."
ForeverKeet
Oh Dumb!
"Stupid people, majority of things are just common sense, but for stupid people it's not. We have daily work meetings and the same two to three people ask the same f**king idiotic questions daily and each times it's answered in a clear concise manner and the rest of the team know and understand but these three wastes of oxygen don't grasp it."
Weary_Violinist_3610
Life in general pisses me off. I'm easy.
Want to "know" more?
Sign up for the Knowable newsletter here.
Never miss another big, odd, funny or heartbreaking moment again.
Keep reading...
Show less
Ask me what little thing pisses me off and... I wouldn't know where to begin.
Oh, Lord. What does that say about me? Yikes.
You see, there's no shortage of things out there that annoy the hell out of us.
There's a recent viral meme that I love because it proudly declares, "I hate going out in public because the people be there." It speaks to me.
But there's more out there to get on our nerves than just people.
Redditor DisastrousArticle30 asked the online community:
"What pisses you off instantly?"
"YouTube..."
"YouTube turning your whole recommendation page into a topic you've watched two videos of."
Quantum_Cucumber408
The algotithm is terrible and it's a big reason why I don't spend more time on YouTube.
"Horseflies will chase you..."
"Horseflies. Bees only sting you if you mess with them. Wasps sting you if you get too close. Horseflies will chase you to the next town over just to bite you."
TheFrostyDude_
I don't think I've ever come across a horsefly and I think I'd like to keep it that way.
"When it takes..."
"When it takes 15 seconds for a company to put a fraudulent or unwanted charge on my account but takes 5-10 business days to get it back."
ficey54943
Yes, the bureaucracy hates everything and everyone.
"Getting blamed..."
"Getting blamed for something you didn't do."
amartins02
Very frustrating. Getting some flashbacks to grade school...
"When you drop something..."
"When you drop something and it bumps into even more things on the way down."
Higxster
Ah yes, few things annoy me more than having to clean up a mess I didn't intend to make.
"When I hit my head..."
"When I hit my head on something. There's this pipe right around head level near my washing machine and utility sink (I'm not even tall…it's an old house). I bump my head on it an embarrassing amount of times. I always want to smash something when I do."
scrodytheroadie
Sounds like it's time to make padding that pipe your next home improvement project!
"I was ice fishing..."
"Seeing people leave trash out in nature.
I was ice fishing this winter and I saw these guys just dump their trash in the hole drilled in the ice. My blood was just boiling at the total disrespect given to nature."
jetodic829
If you have trash with you, you should carry it with you until you can dispose of it properly and safely.
End of discussion.
"Trying to open..."
"Trying to open "easy open" packaging to find out that sh*t is not, in fact, easy to open in any way, shape, or form."
beard-lover
Those little tabs at the corner of packets of cold meat that are supposed to peel the whole thing open but instead, just completely detach!
RAGE!!!!
"People that stick..."
"People that stick gum underneath the underside of tables or litter literally anywhere."
Pineapple_Code
People are nasty.
It's awful.
They sometimes make me want to move to a different planet.
"When in a conversation..."
"When in a conversation someone does a whole monologue but when they're done, won't let you get a single word in and will even walk away."
Tiddyparlour
People like this have a tendency to suck all of the air of the room, to say nothing of the conversation.
If you'll excuse me, I'm going to go have a walk and calm down.
Care to join me?
Some of these hit a bit too close to home.
Have some annoyances of your own to share? Feel free to tell us more in the comments below!
Want to "know" more?

Sign up for the Knowable newsletter here.
Never miss another big, odd, funny, or heartbreaking moment again.
Keep reading...
Show less
As many of us tout being easygoing and never sweating the small stuff in life, that may not be entirely true.
We all have that one thing that irks us to the core, and no matter how hard we try and keep a laid-back facade, our patience eventually runs thin to reveal we are not perfect.

Curious to hear about people's vulnerabilities, Redditor Gauravboi22 asked:
"What is an everyday thing that pisses you off the most?"
It's rare that anyone regularly gets a good night's sleep these days.

Rise And Shine
"Waking up when you don't want to."
– nutzup
"Related: waking up about 5 minutes before your alarm. You can't really go back to sleep, but you want that 5 minutes of sleep, you know?"
– thephantomofleroux

Insomnia
"Not being able to sleep when I go to bed. I am tired, just let me fall asleep!"
– MissNatdah
Living in the 21st century poses many challenges.
Sonic Assualt
"People not using headphones on public transport /in public. I DON'T WANT TO LISTEN to your video calls and bullsh*t videos on social media."
– jolfi11
No Escape
"The fact that I pay extra for no ads on streaming services. Then they show their own ad before every show or movie."
– fluffytomatoes660

"Just Send An Email"
"Web forms/people, wanting my phone number."
"I'm deaf my hearing aids don't work with phones as I'm profoundly deaf and using the highest setting there is, is still not enough for speech through a phone."
"But no where gets it, if its a person they argue back that they will leave a text."
"but I know from vast experience they won't, they will pass the form/request on and the person who deals with it will just look for the phone number, ring it and then drop it after no reply, or worse they will leave a voice mail and we're back to square one."
"I had an 18 month fight with my local doctors surgery over this and finally...finally, they relented and agree to email contact, only for the first time I tried to book an appointment via email it fell apart because reception kept trying to ring me."
"They didn't notice the note on my records saying email contact was allowed."
"Its exhausting and weird how ridiculous it gets, send an email, Nooo you can take your phone and knock on a neighbours door and ask them to listen to your voice mail can't you? thats reasonable."
"Then some program features a deaf contestant and suddenly everyones like, I wanna learn sign language its so amazing, deaf people must feel so isolated so i wanna like talk to them."
"Just send an email."
"Update- Thank you all so much for the votes and support, it was totally unexpected and its so encouraging to know I'm not alone in not wanting phone calls and that you understand where I'm coming from. it is deeply appreciated."
"2nd edit- reading through the comments I thought it would be easier if i just adress some of the suggestions here."
"I'm in the uk, we have equality of access laws that say all organisations/services must offer ways to contact them for people with disability."
"That means mostly they offer a text relay service and a separate number to call through on."
"Great, but, in practise for many organisations the sheer volume of incoming calls means you can take days trying to get through, thats booking the text relay, and then re booking ect, its not really do-able."
"Then there is the constant vigilance against email fraud, a note on a file saying Email only! has people asking why? persons deaf, really, but how do I know they are deaf? is this a fraud, is this suspicious, play safe and ring em. no reply, okay well we tried, move on to next person."
"Its the lack of familiarity that is the biggest flaw, a text relay call takes ages, theres a long pause whilst the typings going on then a pause whilst the reply is formulated, It takes too long for people who are often under target times to get through a phone call, people get tense, irritable, omit vital info, when giving replies, and underneath it all is the question, is this legit? am i going to get called in to the managers office and told I was stupid to believe this person could not get someone else to make a verbal call for them."
"I don't always want other people to make calls for me, I have private stuff going on, as willing as everybody is, some things are between me and them, not me,you and them."
"All I can do as a deaf person is try to meet people half way, I can understand why Email only requests seem as 'bit unusual' I get that its not quite in line with the norm, but its way easier on both of us, and it keeps a written record of whats going on."
"Sorry its a big old wall of text here, its so nice though to be able to vent a little, and Thanks for all the interest, comments and suggestions, definitely going to be looking in to some stuff."
"Lovely to meet other Deaf/HOH folk here too."
– Elleguarde

While driving can be a liberating experience subway commuters miss out on, it doesn't mean every commute is a smooth ride.
Road Rage
"There's a guy who cuts me off everyday on my way to work."
"We must leave at the exact same time or something because everyday he pulls up to a stop sign with plenty of time to pull out, sits there, waits for me to get to the intersection, and then pulls out so I have to slam on my brakes."
"Burgundy SUV, I swear to god one of these days I'm going to buy a shit car, deck it out with safety features, and just T-bone you."
– JustSomeDogOnStilts

Lack Of Common Courtesy
"People who drive without using their blinkers."
– Bigstar976
"Even better when they are breaking hard and literally right before they take their turn, put on their blinker."
"As if you didn't already figure out they were turning?"
– Stay-Thirsty

A Time And Place

"People playing with their phones while driving. Driving is dangerous as it is, why the hell add to that? So dumb."
– 1980pzx

Scene From A Parking Lot
"People shoving their shopping carriages into empty parking spaces instead of putting them where they belong."
– Plantayne

Some people just don't understand the etiquette of proper conversation.
I was never really taught good social graces, but I've instinctively learned how to engage actively in a conversation without making it about me or taking over completely.
I guess I learned how NOT to be when I've been in plenty of situations in which a person rambled on about themselves and their day without asking how anyone else's day was going.
If a person in a group doesn't feel like they're included in a discussion, it's time to move on to another topic...or another group.

Want to "know" more?
Sign up for the Knowable newsletter here.

Never miss another big, odd, funny or heartbreaking moment again.
Keep reading...
Show less
Actions speak louder than words, though words can set my temper ablaze just as prudently as an action. Do you all notice that we are all pretty good at keeping our emotions in check with the big issues? Like when someone does us wrong we take a step back (to evaluate and plot revenge) and process our emotional state as to not jump straight to fury. Fury can be counter productive. So why is it the little things that push us to insanity; like killing one another over a meal or a parking spot... makes no sense. Perhaps we're all trapped in a "this is the last straw syndrome?"
Redditor wanted to hear from everyone about the little things in life that can turn us front Jekyll to Hyde in seconds by asking.... What is the smallest thing that makes you lose your temper immediately?
Keep reading...
Show less