There are two groups of people in this world.

Those who believe in monogamy and those who don't.
People cheat. It's just the way some humans work.
If you're an avid soap opera fan, as I am, then you'll understand that infidelity is part of the package.
Redditor zabalansu wanted to know why we cheat, so they asked:
"Why did you cheat on your partner?"
I've cheated. Because I knew it was already over and I was too much a coward to admit it.
Bad Ideas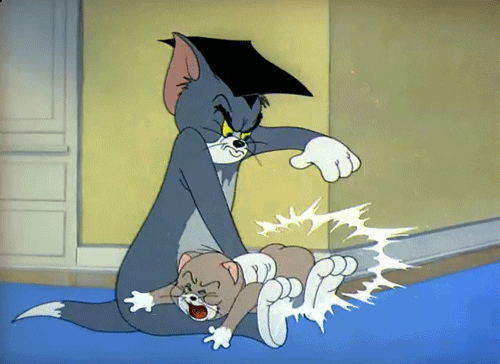 Tom And Jerry Reaction GIF
Giphy
"I was drinking and doing a lot of drugs... it honestly turned me into a careless piece of crap for a long time!"
Keone_710
You First
"I cheated once, and it was because she'd cheated on me. I'd already been cheated on before so it was like: 'Well: this time I'm getting revenge.'"
"I didn't feel any better. Made me feel almost as shi**y as I thought she was. She was angry as f**k, but I can't honestly say it was any different than any of the other gals that get pissed off when you break up with them. Haven't cheated since."
"If you're getting cheated on, don't demean yourself by sinking to their level. Just give 'em the boot."
JAHNOOSKA
Craiglist People
"Because I truly had no idea what a healthy or functional relationship looked like. My parents were married for almost 30 years and had already started the cycle of cheating on each other well before I was born. My grandma used to tell me stories of being friends with my grandpa's girlfriends 'because she just wasn't toxic and jealous like other women.'"
"In the relationship where I cheated, I was being treated like garbage. Financially supporting us both even though I was ten years younger and a waitress, enduring a lot of abuse from a very broken man. I felt trapped in the same cycle I had watched my mom and my grandma live, I didn't really know better."
"A guy at work started paying attention to me, and I loved it. He was sweet and poetic and romantic, committed to helping his sister raise his niece, was out of the house and working instead of drinking my paycheck away and punching holes in my walls. A little harmless work flirting quickly escalated and before I knew it, I was having a whole a** affair."
"I started to prepare myself to leave my boyfriend for my affair partner, when I found out that my boyfriend had been cheating on me with anyone he could find on Craigslist (including stealing money from me to pay sex workers). Any guilt I felt for cheating evaporated right then."
"I threw all my clothes in a trash bag and drove to my affair partners house, ready to start our new life together. He had another girl over, basically admitted that a lot of what he had said to me was because he thought I would never leave. All in all, it was a mess. If you're unhappy in your relationship, do the work that will either fix it or get you out. That new person is flawed too. They won't fix you or fulfill you, only you can do that."
BeebMommy
"forbade"
"Because my wife told me that she was no longer interested in having sex with me, she didn't want me having it with anyone else, and she 'forbade' me from watching porn (I still did the latter, but we could never discuss it or she'd freak out.)"
"So to get my sexual needs met by someone other than myself, for several years, a few times per year I paid a sex worker for a happy ending massage. This was still cheating, but I rationalized it as the 'mildest form' of cheating possible. No chance of an STI, no chance of an unwanted pregnancy, no emotional involvement. I knew it was wrong, but at the time I felt like it was my best choice out of several lousy choices."
"I realize now I should have just said at the time, 'I want a divorce.' That's where we ended up anyway, and I would have saved myself, my wife, and our kids some needless pain over the years. By cheating on her (and hiding it from her), I made it so much worse when she eventually found out."
"To cheaters on here, I would say: get out of your relationship. If you're cheating, you're clearly not happy. Do yourself and your partner a favor and just end it now, before it all goes to hell."
DivorcingGuy1234
The Worst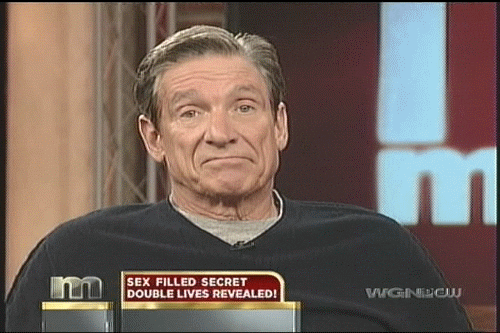 maury GIF
Giphy
"Because I wasn't over my ex and when she came knocking I didn't value my new relationship enough and crossed a line I never will lower myself to cross again. You feel like sh*t for years after it, really not worth it no matter how you try to justify it to yourself at the time."
Secret_Guarantee_277
Getting over and getting under... all stressful options.
A Mess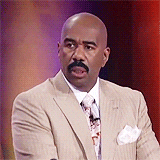 Steve Harvey Reaction GIF
Giphy
"Drunk and being hit on by a bendy yoga teacher. Got caught in the same day. It was a sh**show."
Top-Pin-3520
In the Dark Place
"I came here to try and understand what goes on in someone's head when this happens because I've been cheated on sexually and emotionally. Instead I'm just left feeling sorry for the people in this thread. So many people in such a dark place pulling their partners down to an equally dark place. I hope everyone here that has cheated has grow and gotten help. And that they can pursue a healthy and fulfilling relationship after they've grown past that."
"For the people that have been cheated on, I'm sorry all of you went through that and I hope it never happens again. Sometimes it feels like something I'll never fully recover from and other times I refuse to let past hurts ruin the chance of something good happening. So I want the people who have been hurt by their partners cheating to know just because it's happened once doesn't mean it will again and good things can still happen for you."
UmbraofDeath
Rear View
"Because I was too chicken s**t to get a divorce because I was wildly unhappy and too proud to go to therapy to fix the marriage. So I cheated, got caught, and have since been to a ton of therapy and am getting a divorce. Even though I'm happy to have this relationship in my rear view, cheating is my life's biggest regret."
RecoverSexAddict
That's messed up...
"This was me a decade ago. It was just one time. I had somehow rationalized if I cheated he could then just hate me. That would hurt less than me telling him I didn't love him anymore and I wanted out. He was a good partner, but I fell out of love with him."
"The latter would've been the honorable thing to do. He was going to be hurt either way! I was just doing mental gymnastics to justify my reasoning - really I just liked the attention that I wasn't getting at home. That's messed up. I worked a lot on myself and go to therapy. I'm a much better partner now, and I haven't done it since."
Ok_Adhesiveness_4321
Worthless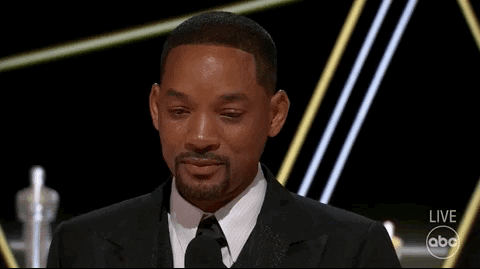 Will Smith Smh GIF by The Academy Awards
Giphy
"Because she cheated on me first. I don't ever recommend such a stupid f**king decision. It isn't worth it, folks. I normally considered myself strong and stoic before that? I don't have a foot to stand on now. It wasn't worth it."
BBQSpareRibMoon
Bad Connections
"I felt an intimacy connection with someone which I'd never had before. In retrospect it's one of the dumbest and stupidest things I ever could have done. It wasn't at all worth what it has now become. I've lost my entire family and have no respect from the people that matter most to me. 10/10 would not recommend and would never do again. I lost it all for something that never even really mattered. I had it all in front of me, I just refused to see it."
WeCanWeWi11
Well, love isn't always forever and intimacy is something we work on every single day.
Do you have similar experiences to share? Let us know in the comments below.
Keep reading...
Show less
A breakup is never a decision to be taken lightly.
And be it amicable or not, ending a relationship will always come with hurt, anger, and tears.
In some cases though, it becomes abundantly clear that staying in this relationship isn't a good idea, particularly if it's for health or safety reasons.
In other cases, however, it might take some reflection, as you might feel as if something about your relationship isn't working, but can't exactly figure out what it is.
Until, without any warning, it becomes clear as day.
Redditor __yellowflash__ was curious to hear the real reasons people chose to end their relationships, leading them to ask:
"Why did you break up with your ex?"
Never Actually In Love

"We woke up one cold Sunday morning in February and she told me she didn't love me any more and wanted me to leave."
"We started dating in high school and were in our 13th year of marriage in a 21-year relationship."
"I did not see it coming."
"I left, she abandoned our two sons to me and started a whole new life with some guy from the US she met while playing Age of Empires."
"I was devastated for a long while."
"Eventually I healed, and remarried."
"I thought I was in love in my first marriage, but I now know real love with my second wife."
"If I had to suffer all that again just to be with my wife, I would do it in a heartbeat."- MooseJawMinion
A Matter Of Priorities
"I found out she was talking to a guy listed as a woman in her contacts."
"Then when I took her back I had to go to the ER and let her know."
"She instead went out to dinner with her friends."
"I sat there for 3 hours freaked out all alone."
"I realized I can't be with a person that won't be by my side when I seriously needed it."- Turbogato
Infidelity And Manipulation

"He told me that cheating runs in his family and that he wouldn't be surprised if he cheated on me."
"Also tried guilt-tripping me into staying with him because 'I'm the only thing keeping him alive'."
"We've been broken up for a year now and he's still very much alive."- bear21-21
Lack Of Quid Pro Quo

"I had supported him through years of drug abuse."
"I then ended up in a bad place and became an alcoholic."
"When he found out he said ''I don't wanna be with an alcoholic'."
"That just showed me who he truly is."
"Gladly, I am sober today."- ZaraAqua
Difference Of Opinion
"We wanted different things in life."
"You can meet the most amazing person, have the best everything but if you want different things."- Hagtzel
Where To Even Begin?
"In college, I was dating Melissa for about 9 months."
"She was very naive and somewhat sheltered."
"All of this happened within about a week."
"Maybe a week and a half, but I don't remember a weekend happening in between any of these events."
"I came home from class to see that she had a new computer."
"But it looked very similar to the computers I saw in the computer lab I went to."
"I asked her about it and turns out she simply walked into the lab and took a computer."
"I was beginning to think that maybe she didn't know that was wrong but then she asked me how she can make the computer 'untraceable' and to wipe the drive."
"I refused and we got into an argument about it."
"The next morning her boss is calling her repeatedly but she's not answering."
"Finally, the boss leaves a message on the answering machine firing her, basically."
"My gf didn't care because she wanted to sleep in."
"She said she'd help pay rent with a student loan she got."
"She showed me the papers and the interest rate was insanely high for a $20k loan."
"I was beginning to think she was insane or something."
"The next day I come home from work to see that my car was parked in a different parking spot."
"When I asked if she borrowed my car, she didn't have one, she said no."
"I knew she was lying cause even my seat was repositioned and everything."
"So, the fact that she lied made me suspicious and so I kept asking, and she kept denying."
"It was really weird."
"So, I was starting to think that she needed to move out and I needed to break up with her."
"Then while I was at work (an office job), her Dad shows up and asks where his daughter was."
"Caused this big scene and everything."
"Turns out that when she moved in with me a couple of months before she never told her parents and basically 'ran away'."
"Packed all her clothes in the middle of the night and took off, cut off all contact. I had no idea. "
"The father hired a PI to help track her, and apparently this dude figured it out and was scoping my place out for a couple of weeks."
"The Dad showed me photos of me and her coming out of my apartment and at different places and stuff. "
"It was like a detective movie, it was so cliché."
"Then her dad asks why she went to the hospital a couple of days before, and I was like what are you talking about?"
"And it turns out that the day she borrowed my car she went to the hospital, like the ER."
"She stayed there a few hours in a bed sick with something and forged some docs and put her parents phone number as a contact."
"She then walked out."
"The hospital ended up calling her parents asking about the false info or something and her parents panicked."
"Anyway, I told her dad that I was going to kick her out of my apartment anyway cause she lost her job."
"And then he tells me that she put his SS# and info in the w2 for her job and he was getting her paychecks in the mail with wrong info filled out."
"I don't know why she did that, and if she wasn't getting money then where was she getting money to help pay the bills and rent?"
"So, I kicked her out that night and her dad picked her up, and that was the last I talked to her."
"The strangest relationship ever."- watabby
Enough Said
"She threatened to kill my dog after slapping me because I confronted her about her cheating."- soggyPretze1
Lies...
"Because suddenly 5 years into what I thought was a normal happy relationship, I stumbled across pictures of her f*cking her coworker in our bed while I was out working."- Skwerilleee
Constant Denial
"She didn't have her sh*t together and refused to get it together, because it was easier to just fall back on me for everything or just outright not do things at all and let , what I consider to be, really important stuff slide into neglect."
"She drinks way too much and doesn't see it as a problem."
"She was ultimately just childish and wanted child-like things out of life."- smalldog_
...Find Out What It Means To Me...

"Because she had absolute zero respect for everybody including me."- Owlcifer
She Just Didn't Want To Be There...
'Found out she was f*cking another dude after we went to marriage counseling, like right after the meeting."
"Yeah, I was trying to mend things, but there's no coming back from that."- Gr8NonSequitur
While I was at work...
"She started f*cking one of my friends while i was at work."
"I worked 2 full time jobs to put her through college and pay the bills."
"Her last year of college she decided she wanted to be faithful after who knows how long."
"She tried to break it off with my friend and he got mad."
"That led to my phone blowing up, while i was at my second job, with photos of things i didn't care to see."
"She actually had the audacity to say i worked too much and never gave her attention that's what led to the whole thing."
"Yes it's my fault I was a diesel mechanic by day and a press operator at night."
"I loved working 90 hours a week to pay for a teaching degree and put a roof over your head since I was never there."
"That isn't the bad part though, it was that i was the only one who didn't know."
"Everyone in our circle of friends knew it was going on, even her family knew it was going on, and no one said sh*t to me."
"I thought i was tight with her dad and brothers."
"We hunted, i fixed all their vehicles when they broke, worked with her brother etc."
"That sucked worse than the actual cheating because its like every day you find out someone you trusted cannot be trusted anymore."
"Then eventually it's just you and the dog and your extremely bitter and drunk all the time."
"Ended up quitting my jobs, living in the back of my truck with the dog for a while just traveling and in general f**kin off, then moving back home and going through AA."
"My old high school flame and I hooked back up, got engaged, bought a house, and I'm over 6 years sober, so things ain't so bad now."- -SSHORSEYY-
Neil Sedaka knew what he was saying when he wrote "breaking up is hard to do".
For be it acrimonious or amicable, unpleasant truths about a relationship that isn't working, and many never work, will come to the forefront.
The small comfort people who go through devastating break-ups can take, however, is that if there is a reason as clear as day why you chose to break up, you can rest assured your decision was the right one.
Keep reading...
Show less
Oh, the things our loved ones will say.

When you love someone, you accept a lot.
But when something bizarre comes out of their mouths, we sometimes must acknowledge it.
How often have you said... "Did you really say that?"
Redditor halcyon_n_on_n_on wanted to hear all the things everyone's partners have said that left them confused. So they asked everyone:
"What's the dumbest thing your significant other has said or done?"
My exes are all dumb. But at least they made me laugh.
'Ajar'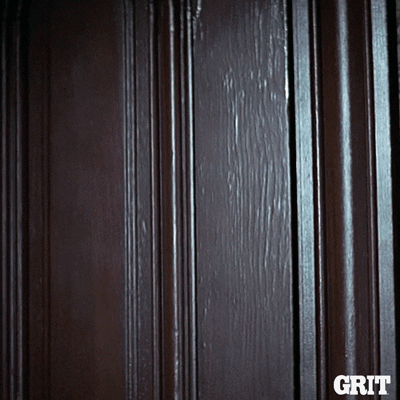 Clint Eastwood Hello GIF by GritTV
Giphy
"We bought a new car. She asked me if I changed the settings to Spanish because it said 'Ajar' on the dash when the door was open."
Chibano
Splits
"She told me she only waxes her legs, because if you shave one hair, then it splits and two grow back in its place."
REDDIT
"Can confirm, this can actually happen. Granted, it isn't super common, but this is how most of my in-grown hairs occur when I shave under my arms. Exfoliating before shaving and then using an aftershave or just conditioner on the spot afterwards does wonders for cutting down on the frequency and discomfort of them."
SecretTeaBrewer
Limp Branches
"I asked him to plant a baby tree in the back garden. The next day I saw it and thought it looked strange. Walked up and it had been planted upside down. He thought the roots were tiny limp branches. Laughed for days."
goaheadblameitonme
"I'm a gardener and this is one of our running jokes whenever someone asks us wether we know how to plant something."
"'Yeah sure, the green end goes right into the ground, right?'"
that_gardener_girl
"she gets that from my side of the family..."
"I had a kid prior to getting together with my fiancée and having a second daughter. The father of my eldest is not in the picture and my wonderful fiancée has taken her on as his own. To the point that he frequently forgets that she isn't his genetic offspring."
"We were at a holiday party at his parents house. I was talking to my future SIL about my eldest and her night terrors when fiancée pops off with 'she gets that from my side of the family...' cue really confused faces all around. His sister sat there and started questioning what other genetic diseases my eldest has magically got from stepdad. It took a few minutes before he figured it out. I love this man..."
coffeetish
The Smart Car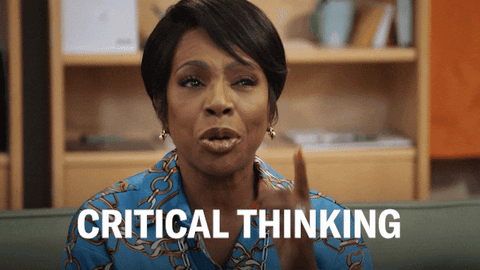 Think Sheryl Lee Ralph GIF by ABC Network
Giphy
"My deeply intelligent wife lost her CAR. Like left it in a parking lot and somehow got home on Friday. Monday morning I get a text: 'Where's my car?'"
"She's gonna finish her medical degree next year."
Docdentanddane
Why can't people just think deeper?
Dead Serious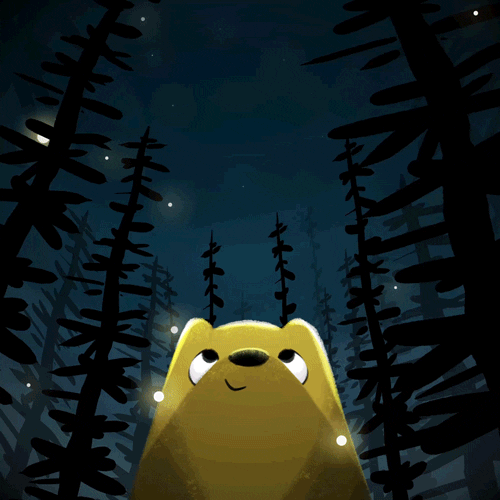 Animation Loop GIF by CL
Giphy
"My boyfriend as we were looking up at the beautiful night sky."
"'Wow, there's so much we don't know about the universe. Like where the stars go during the day. Are they still there? If not, where do they go?'"
"He was dead serious."
tinbasher97
Pull the Cord
"As I'm in labor with our daughter, my husband asks 'Do you want her to have an innie or an outie belly button?' Weird question, but whatever. So I tell him I don't mind either way, both are cute. And then he says 'Yeah, but when the Dr asks, which should we pick for her?'"
"He thought when they clamp the umbilical cord, parents tell the Dr the type of belly button they prefer. He's really smart, I promise."
NoThankYouTrebek
Hey Dave
"When my wife and I started dating in the mid 1980's she knew I was a huge fan of David Letterman. She said she had a huge surprise for me as she had tickets to see Letterman at a local venue."
"I was confused since David Letterman did not tour. I looked at the tickets she purchased and they were for the old 60's band 'The Lettermen.'"
"We didn't go, but I married her. 30 years this September."
DetroitBreakdown
"To go"
"My favorite memory of my parents is going to some fast food joint, through the drive thru. Mom is driving and giving our orders to the cashier. Just as she finishes my dad casually says 'To go' my mom, and she turns back to the cashier and says 'To go.' Two seconds of buffering later and she slaps my dad full on in the chest, who is laughing f**king hysterically. Don't think we've ever let her live that down."
ZeBootygoon
I'm Dead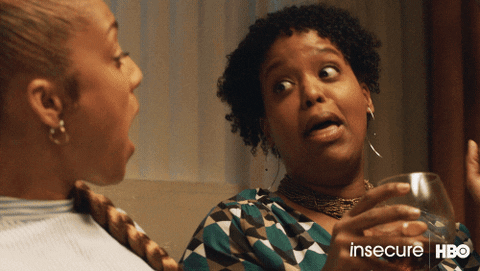 Season 2 Lol GIF by Insecure on HBO
Giphy
"My husband and I were at Canadian Tire and they had tiny examples of tents (basically looked like they were made for barbie dolls) and the pricing for each underneath. He turned to me shocked and asked, 'Why are these so expensive for such tiny tents?!'"
"I almost died laughing."
Zombombaby
God Bless the people we love.
Do you have any stories to share? Let us know in the comments below.
Keep reading...
Show less
I've lived with women most of my life.
I went from my mom's house to jumping around with roommates.
But women tend to be particular.
About many things.
And there is always a ton of bathroom issues because guys can be gross without even realizing it.
A Redditor wanted to hear about what people have learned once they cohabitated with the ladies and asked:
"What did you not know or realize until after living with a woman?"
I've lived with many women. It's been... an experience.
I'll Do It!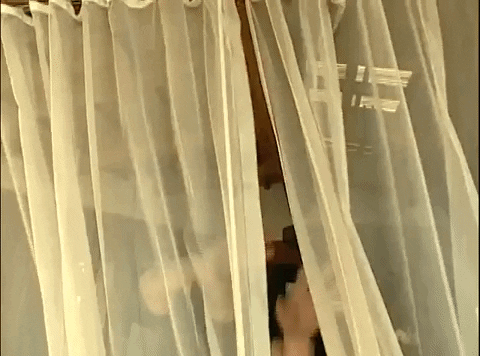 Waking Up Sun GIF by MTV Cribs
Giphy
"According to my wife I cannot open the living room curtains properly and she always need to redo it."
chillipotpeeps
Hygiene
"I either need to do a 1hr upper body workout to blow dry my hair, or let it sit wet for several hours while it dries after I get it wet. Plus, just getting it wet, shampooing, conditioning, and making sure I've gotten all the product out of my hair takes a good 15-20 minutes. I absolutely do not wash my hair every time I wash my body and shave or vice-versa. It just takes wayyyy too long."
RNGHatesYou
The Look
"The color of their shoes will match their earrings and their purse, and if you look carefully, will pick up the highlights of the design of their top. And that's not an accident."
"I never realized this was a manner of dressing until I saw it being assembled first hand, and then the next day at work it was like I paid attention to what my female colleagues were wearing and I'm like HOLY CRAP THEY ALL DO THIS."
LordSn00ty
It's bizarre...
"Women are both simultaneously messier and cleaner than men. It's bizarre how messy rooms can get with them and how quickly they can turn it around and make it clean!"
"Also random hairs everywhere, and make up stains that appear. They also have a really weird obsession with glass containers or jars."
ciregno
Heavy Lifting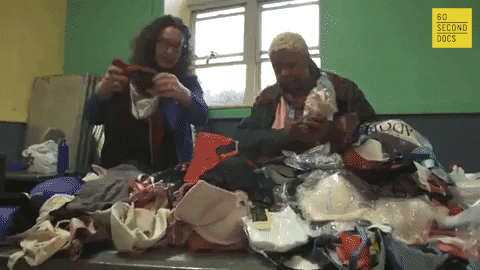 Stretch Size Up GIF by 60 Second Docs
Giphy
"That she owns only one truly GOOD BRA. There is only one and part of your duty as a man is to protect The Good Bra."
If you are doing laundry, you must take the greatest of precautions to make sure it is properly cleaned, dried, and stored. God forbid The Good Bra ever turn up missing or in the wrong drawer."
"Ladies, why is there only one GOOD BRA?"
StillHereUBastards
I can't even discuss undergarments...
Build Up
"Started noticing a residue building up in the sink. It's some kind of skin oil, but the wife insists I'm making it up."
Repressedmemoryfoam
Gotta Go
"I live with three female roommates and one night we got onto the discussion of bathroom habits. Two of the three believed that men always stood up to pee. Like if you were going number two and had to go number one you would stand up first and then sit down to finish the job. It was really funny to help to clarify men also sit to pee sometimes too."
zapp1121
Loose Strands
"When long, loose head hairs wash off in the shower, it's common practice to stick them to the wall rather than let them collect in the drain."
"If she forgets to remove them afterwards, it can be very confusing for the next person in the shower. Why are there a bunch of individual strands of hair deliberately stuck to the wall?"
Professor_Brooks
"Oh God this is me. I try to remember to pull the hair off. It's hard to get loose hairs off your head when it's wet so sticking them to the shower is kinda the only option."
REDDIT
Skin Issues
"I have never stayed on one thread as long as I've stayed on this one. Thank you OP and everyone who's posted. The ones about not knowing that pads stick to underwear rather than skin cracked me up, but also gave me new perspective. I mean, it makes perfect sense. How would someone who's never had to use one know if someone doesn't tell them?"
trumpeting_in_corrid
Stuff is moving...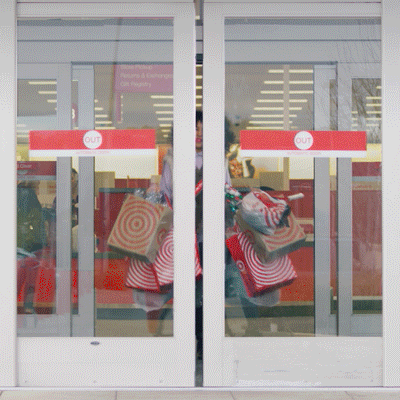 Black Friday Christmas GIF by Target
Giphy
"If they leave stuff at the bottom of the stairs, that means you're supposed to bring it up. If it's at the top of the stairs, you should bring it down. Also, the correct place for objects in the kitchen is where they currently reside. Stuff is gonna move around constantly, just roll with it."
REDDIT
I just chose to live alone. Men or women be damned.
Do you have anything to add? Let us know in the comments below.
Keep reading...
Show less
As the saying goes, true beauty comes from within
While physical attraction is indeed important in finding a romantic partner, it can be the sole factor one bases their decision on.
As some unpleasant surprises might be disguised in attractive packages.
No matter how chiseled their jaw-line, how much their eyes glisten, or how luxurious their hair feels as you rub your fingers through it, it might take only one small action from this seemingly perfect specimen to overshadow any and all remnants of beauty.
Making one think they might as well be on a date with a troll from under the bridge.
Redditor Thick-Lime-9113 was curious to hear the things which will instantly make even the the most beautiful people seem unattractive, leading them to ask:
"What immediately makes a man/woman unattractive?"
When You Don't Have Anything Nice To Say...
"Snidely putting down other people for no reason."
"Especially if the other person was talking about something they're passionate about."
"That sh*t hurts my soul."- serbianspy
Compliments Are Easier Than You Think...
"Speaking down to someone else in order to get the group's attention/laugh."- spaceflower890·
A Little Kindness Goes A Long Way
"How they treat others."- bawbsmith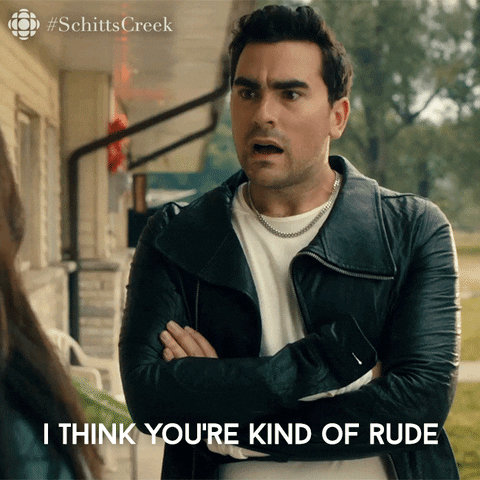 insulting dan levy GIF by CBC
Giphy
Open Your Eyes!
"Ignorance and a wish to stay that way instead of improving."- Tigydavid135
No One Loves A Know It All
"When they think they know everything/ are always right."- SoupAddict34
"Do You Know Who I Am?!?!"

"A sense of entitlement."- podgeek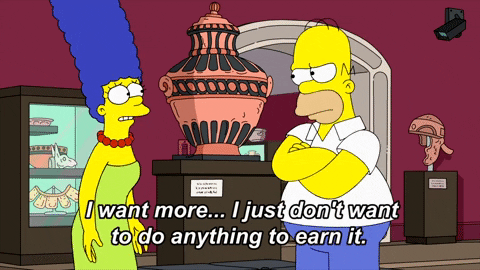 Homer Simpson Fox GIF by AniDom
Giphy
"But Enough About Me, What Do You Think Of Me?"
"Not being interested in anyone outside of themselves."- peywally
"It's OK If I Do It..."

"Years ago, before meeting a blind date for the first time she told me over the phone that she hoped that I didn't wear glasses because she found them unattractive and couldn't see herself dating a guy with glasses."
"So, I met her later, and she wore glasses."
"I find Hypocrites unattractive now."- nsvxheIeuc3h2uddh3h1
We All Have Our Limits
"They say they don't like dinosaurs."- SuvenPan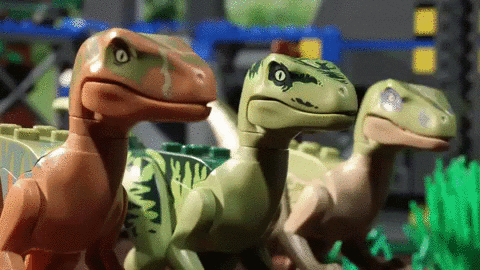 Jurassic Park No GIF
Giphy
SHUT UP ALREADY!!!!!
"Constant whining."- BulldawgHokie
There's nothing wrong with being stopped dead in your tracks after an impossibly gorgeous person walks by you on the street.
But best to reserve judgment on that individual until sharing at least a word or two with them.
As the first thing they say might camouflage their beauty in the blink of an eye.
Keep reading...
Show less