Is the paranormal real?
While there are plenty of skeptics, there are many who insist that it is, and that they have the experiences to prove it.
And suppose you do think the paranormal is a thing. It would likely scare you. It might even scare you a lot. So much so that you'll be writing about it years later on a Reddit forum.
People shared their stories with us after Redditor Kangaruan asked the online community:
"People of Reddit who have had extremely distressing paranormal activity in their homes, what's your story?"
"When my son was 3..."
"When my son was 3 he started having dreams and visions of people coming out of holes and dancing in his room. He said they were trying to tell him something. He also said he would wake up to see faces in the dark and they were screaming at him."
"There were many nights when his screaming would wake me up and I would run into his room. It honestly sounded like he was being attacked. One night in his room he was telling me about one of his experiences I saw a streak of white light move up over his face."
"Another time I ran into his room and he was up on his knees looking around the room. I didn't say anything and just continued to watch him in the dark. This went on for about 15 minutes and finally he looked at me and he said one word, "Manya" - it was apparently his name for whatever spirit he was seeing."
Another time on the baby monitor and we heard a loud male voice say, "Stop that!""
We happened to know a mother and daughter psychic team and enlisted their help. They tuned in and both said they saw an evil old man spirit from the 40s who brought in other souls to make mischief. He also smoked a cigar (we often smelled cigar smoke in our hallway outside my son's bedroom)."
"They tried cleansing the house remotely (they lived in another city). We thought all was good until one evening we were walking into our dining room to sit down when my son went flying forward into the table. He started crying and said that someone pushed him from behind."
"We kept our son in our room that night and my wife and I both heard what sounded like an old man making gagging noises from my other son's room (he was 11 months old)."
"Our friends put together a whole team and they came and cleansed the house. It was quite a process and our neighbors probably thought we were real weirdos but they got the job done. We haven't had any issues in ten years. It was really scary!"
vacationbeard
This is actually pretty creepy... it's the stuff of horror films.
"To this day..."
"My story isn't extremely distressing, but it's halfway there. When I was younger (4th-5th grade) I lived in a small house that was really dark and quiet at night. I always woke up around, what felt like midnight most nights and would look for something to eat in the kitchen."
"So one night as per usual, I woke up and went to grab the first slice of bread from the new bread my mom bought that day. The kitchen is completely dark aside from the two small windows that were fogged so no one could look in."
"There was this small corner around my fridge that was just dark. Like darker than the rest of the kitchen even when there was light hitting it. However, I was partially asleep so I didn't think much of it. So when I went to grab the slice of bread something hit me in the face. I went to wipe it off my face and all I felt were just long, long fingers."
"I was terrified and ran back to my room and as I ran I could hear and feel something chasing me and I could hear all kinds of things falling behind me as I ran back to my room frightened. When I got to my room I shut my door and felt my eye and it was bleeding. To this day I have a scar."
"Never have I encountered something that terrifying again."
w_aste
That's not extremely distressing to you? What does it take be extremely distressing then?
"Things would slide off of the back of our vanity..."
"This probably doesn't fall under "extremely" distressing, but I'll put my story down."
"The earliest memory I have is of an experience with an apparition, based on what I know, I was no more than 3 years old when I saw it. Parents didn't believe me, always had some explanation for me. We moved houses and tiny things would happen here and there, but once again my parents always chalked it up to an overactive imagination."
"There was a full body apparition that both my brother and I saw as it walked past a doorway while we were home alone. Fast forward to getting married and moving into an old apartment, things start to heat up a little bit. Bins would get flipped over and the contents dumped on the floor."
"Things would slide off of the back of our vanity (about 18 inches deep) and fly 3 feet to hit the footboard of our bed, not gently. More activity then I had experienced before but still not a lot. We moved into an almost brand new apartment, and while one or two things happened things calmed down significantly."
"Then we moved in with my in-laws while my husband went to school. Queue the real events. The house would go through periods of high activity, particularly centered around me. My husband would hear me calling him from another room, I wouldn't be calling him."
"He would see me pass by the bottom of the stairs as he was coming down and would follow me all the way around the corner into the far room only to dead end with the room empty. I came in from the chicken coop to him upset because I'd been calling him from all over the house."
"I'd been outside the whole time. It would make one of the dogs go absolutely feral, barking and snarling at nothing. I would have small, soft items thrown at me. I would hear clapping and walking around the house, and the dogs would go looking for what made the noise."
"Here's the main story. My husband was working nights and I was home alone on the farm while the in-laws were out of state on a trip. One of the dogs goes into an episode, staring at nothing in the middle of the living room absolutely losing it, rabid dog."
"I CAN'T get her to calm down. Usually a light touch on the back will snap her out of it but I could not call her off this time. I finally go to my room to take a breather and I hear her stop. Maybe 15 minutes later she's at it again. I can't describe how terrifying it is to see her like this, like I said absolutely feral."
"I go halfway up the stairs and am talking to her through the bannister, finally get her to come over to me and stop barking. She keeps looking next to me at the top of the stairs, then a huge slam on the baby gate there happens, rattling the gate and the banister."
"I ignore it because I've heard that's the best thing to do when something's right next to you. The dog barks but I get her stopped again. Then right in my line of sight I see a pen slid forcefully off the table, flying multiple feet before hitting the ground."
"The dog immediately runs to attack, and goes into another fit looking at something next to the table. I start to lose it, immediately go back downstairs to my bedroom. I sit on my bed next to my cat napping there. He stands up and comes to me since I'm upset and crying."
"I hear the dog move back to barking in the living room, closer to my room. A minute later my cat turns to look at the doorway, his back raises up ears pin back and his hair stands on end looking straight at the doorway. I ran out of the house at that point."
"That was the worst it ever got. I have lots of other little stories though. I just moved into a brand new house and (knock on wood) nothing yet. I refuse to talk about paranormal activity aloud in any home I stay in, and I think subconsciously I pushed myself to only move into a new construction for fear of stirring anything in an existing house up."
"With what I know about the experiences through my life compared with where I was staying, I've kind of begun to think I might be a poltergeist. A new construction home was the only place I felt safe moving into. So while my story isn't to the level of a horror movie, I'm happy to be out of old houses and apartments!"
mermaidkimberly
Uuh, for the record, that falls squarely under "extremely distressing."
"My childhood home..."
"My childhood home was notoriously haunted. We moved into the house when I was around 6 and my brother was 3."
"It started slow with him and I seeing weird things at night and constant nightmares. Things would go missing only to return a few day later. We would constantly hear people talking, foot steps, and doors slamming when no one was around."
"Over the years is started to escalate and there are a lot of stories so I have included a few."
"One parent was in their bedroom during a party when they heard a child running and the door to their walk in closet creeked shut. She assumed it was me or my brother and went to open up the door. When she did some of the t-shirts that were hung close to the floor were swaying."
"Peaking out from behind them was a little girl she did not know. The little girl vanished before her eyes."
"I was home alone waiting for my boyfriend to come over. I heard him call my name so I came out of my bedroom and headed towards the front door. When I came to the stairs that separated my room from the front door I saw this...thing?... it almost resembled a person, pitch black, crawling up the stairs...it cracked its neck to look up at me and i ran."
"I called my boyfriend and he wasn't there yet. I hid in my room until he came."
"The last one I'll put is after my family moved out we rented it for a while. the tenant complained of similar things that we experienced in our first few months there. He went out of town and left his dog in the garage."
"His friend came to check on it and the dog was missing. He later fount the dog (who was fine just scared) locked in the crawl space that was completely separate from the garage and two closed doors away from where the dog was left. This crawl spaces was the worst place in the house for negative activity."
MoistWormPower
Excuse me, you're telling me that creepy vanishing things are a thing?
No thank you.
"This happened when I was 11 and visiting a lighthouse in Michigan that was supposedly haunted by a boy. My parents wanted to take a tour with the tour guide, but I wanted to play outside considering we had been touring various sites in the upper peninsula that day. No one was around, so my parents ended up letting me play outside the lighthouse while they took a quick tour."
"As I played outside, a really beat up ball rolled up to my feet. I bent over to pick it up, and as I stood back up I saw a boy standing next to the edge of the lighthouse looking at me. I assumed the ball was his, so I tossed it over to him and he wandered away."
"I didn't think any about it, but when my parents were done with the tour they asked what I did. I told them something along the lines of "I was just wandering around. Oh, and I helped this kid get his ball back."
"The tour guide was with my parents, and when I mentioned the kid he looked startled because as I mentioned earlier, there was no one other than us at the lighthouse. Only three cars. My parent's car, the tour guide's car, and the car belonging to the person at the front desk."
"The tour guide asked me to take a look at a picture in the lighthouse. I know this sounds super cliche, but when he showed me the picture, it was the picture of the exact same boy with the exact same beat up ball. Apparently, that kid died at the lighthouse. (On a side note, we checked around and there was no boy.)"
"So you might be asking me, why was this creepy, especially considering that the boy never scared me or tried to scare me. What creeps me out is that I touched that ball. When it comes to ghost stories, most people only report a ghost not other objects."
"Assuming that was a ghost with his ball. What the heck did I touch? Also, it felt solid, like a real ball. If it was a "ghost ball" then how the heck do you explain what I touched? This still bothers me to this day."
1Dividend
That's creepy! I really need to stop reading these late at night...
"Something was violently throwing the chairs..."
"While a friend (the biggest skeptic, I'd say) was sleeping over, him, me and my sister were discussing my friend's girflriend at the time. It was the middle of the evening, not too late and we were sitting in my sister's room."
"Something was violently throwing the chairs around in the kitchen. The sound was as clear as day. Thinking it was a burglar, we lock the door and press the alarm button."
"When the security guys arrive all the doors are locked and their s nothing amiss in the kitchen. This was truly frightening."
Kangaruan
Nooope.
Does anyone know where the nearest church is? Anyone? I really need to get my hands on some holy water or something.
Have stories of your own? Tell us more in the comments below!
Want to "know" more?

Sign up for the Knowable newsletter here.
Never miss another big, odd, funny, or heartbreaking moment again.
Keep reading...
Show less
It's spooky time, fam!
Collectively, we love a good ghost story. Horror films gain cult-like followings. We all know that our passion for a mystery podcast is unmatched. Being safely scared seems to be something we dig.
But when it comes to our real lives, most of us would prefer it if things stayed ghost-free.
It doesn't.
Reddit user numbnesstolife asked
"People who have experienced paranormal activity, what is your story?"
Buckle up, readers. It's about to get spooktastic.
A Face Looking Back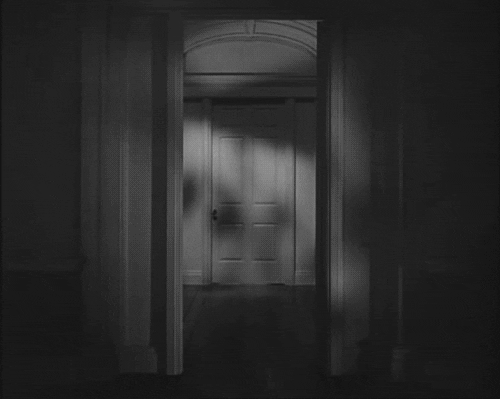 black and white horror GIF
Giphy
"I grew up in a house that originally served as an 'old folks home.' "
"At night the whole house would pop and crack. It sounded like people were walking up and down the stairs all night."
"My mom was always on board that the house was haunted. My dad said it was "Just the house settling" the house in 1984 was 100 years old."
"One night I woke up to the sound of a door slamming. I walked down the hall and peeked around the corner, looking down the stairs. At the bottom of the stairs was a closet."
"The door was open about six to eight inches, and there was a human face looking at me from inside the closet."
"The face was very shadowed as the house was dark. But there was no glisten to the eyes, just black. It's face was protruding slightly from the opening between the door and the door frame."
"The skin was a pale grayish white, as I could make out. I didn't stick around very long to study it."
"I ran into the bathroom and tried to calm down. Finally I mustered the courage to come out of the bathroom and look down the stairs again…. Nothing there."

"There were many experiences in that house that are harder to explain."
- AsphiXiate8888
"Hey, psst"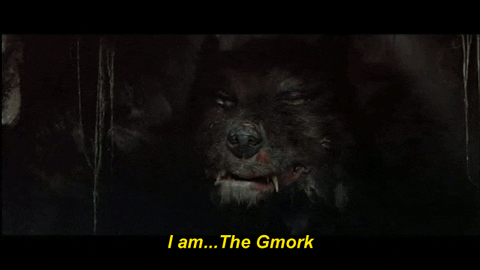 neverending story 80s GIF
Giphy
"When I was younger, maybe like 5, I went to bed and I woke up to the sound of something whispering and I thought nothing of it until I heard 'Hey, psst' and I looked up and saw a black dog with yellow eyes standing on 2 legs."
"I started screaming and crying and yelled for my parents and when they came up the thing hid behind a chair in my room. I was so scared I slept with my parents for a week and never saw that thing again."
"I had multiple dreams about it though."
"In the dreams it always had this power that it could make me freeze and not be able to move and he would always do it in front of my parents and they never did anything."

"Really Creepy sh*t."
- CoolQuip1
Nothing's Wrong With The Doorbell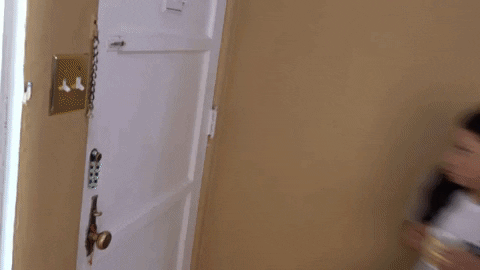 home alone lol GIF by Shalita Grant
Giphy
"I was about 16 and home alone one night at my stepdad's house. Everyone had gone out for the night except me."
"One thing you need to know about this household; it's in a pretty rural area, in a little village where everyone knows each other and a lot of families lives in the same town. Because of this, no one would ever use the front door."
"Everyone who came over for a visit would just come through the garden and use the back door and walk right in."
"So it's about 10pm, I'm watching tv, and the doorbell rings. It startled me a bit; who could that be at this hour? Why would they be at the front?"
"So I look out the window to get a full view of the front doorstep. No one's there."
"As I'm looking out the bell rings again, but there's no one there to ring it."
"My whole body becomes red hot with adrenaline and fear and I'm frozen to my seat as it rings again. And again. And again."
"I run to grab my phone to try and call my mom to come home cause I'm scared sh*tless. No answer. The ringing stops."
"About an hour later my parents come home and I freak out and tell them what happened and I'm pissed at them for not answering the phone."

"My stepdad chuckles and says 'Oh yeah, that's my wife. It happens sometimes.' "
"His previous wife and partner for years had died a few years back. He said he tried to have the doorbell fixed only to find out there's nothing wrong with it."
"Their theory is that when the doorbell rings it's her reminding them she's still with them."
- lxtje
"Outstanding reports"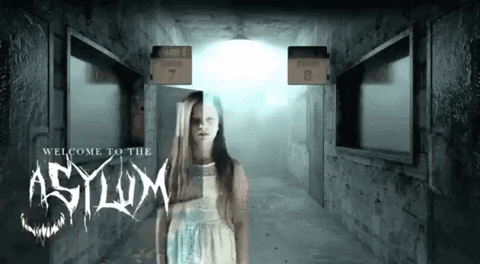 Twitch Smile GIF by HewFoE
Giphy
"I used to be a contractor and had to inspect all kinds of places. One was an old psych hospital/asylum that had long been empty."
"I was working on one of the floors and it was starting to feel...off."
"It was August, but got freezing inside all of a sudden. So I decided I was going to calmly, but briskly, leave the building. As I was going down the stairs (i think I was between the 2nd and 3rd floor) something grabbed my ankle."
"I booked it out of there immediately - I absolutely didn't care if someone saw me terrified or panicked. I ran the f*ck outta there, ripped off my PPE and called my contact to confirm I was out."
"And then I left for the day due to 'outstanding reports' and went home and tried to convince myself it didn't happen."
- Wise_Coffee
Mom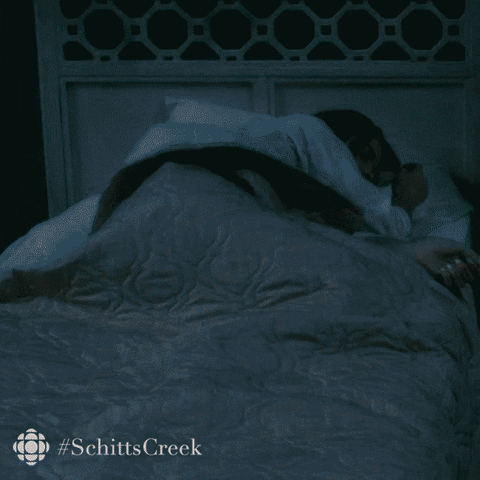 canadian comedy GIF by CBC
Giphy
"I've always slept with my bedroom door open. I have a small room and it feel smaller when the door's closed, also I was very scared of the dark as a kid."
"I had a mirror across my room that faced the hallway. My bed was facing the mirror so I could see the hallway from my bed."
"Anyways, so there was one night I woke up in the middle of the night for no reason."
"And that night I looked in the mirror and I saw my mom in the mirror, and she was looking down and giving me the creepiest smile."
"I blinked and she was gone."
"I'm not sure if that was a sleep deprived hallucination or what, but it definitely wasn't my mom."
- mystic_mayhem03
"One night I woke up and seen my mom standing in my closet smiling at me. I looked at her for a few seconds and she faded away."
"It creeps my mom out when I tell her."
- halfbreed_prince
A Children's Choir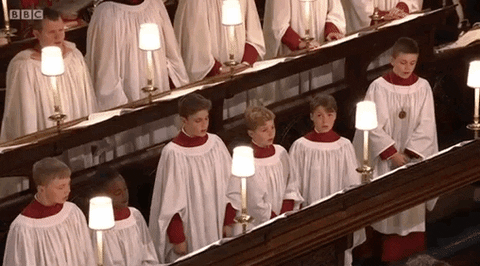 royal wedding choir GIF by BBC
Giphy
"I lived in a haunted house for a year."
"At this time it was just me and my three sisters. Ages 13, 5 and 2 (I was 10.) My older sister and I were home from school with a stomach bug."
"My mom had to go get my 5-year-old sister from school and asked us to watch our youngest sister."
"We were sitting in the living room and she was eating some snacks and had a sippy cup of water. The top to the cup must've not been screwed on tight enough because when she knocked it over, water spilled everywhere."
"My older sister went to the kitchen to get some napkins to clean it up. When she came back she handed me some of the napkins and we both started cleaning."
"We were on our hands and knees wiping up the water when we started to hear banging coming from the second floor. We both paused, looked at each other, and said nothing. But we both had that look of 'you heard that too, right?' "
"We stayed silent and kept cleaning."
"Then again, another bang. At this point we stand up and are still silent, just staring at the ceiling."
"Then came the giggles. We heard little kids upstairs laughing. Then the laughing turned to singing. It sounded like a whole children's choir singing."
"My sister scooped up the baby and we ran outside. It was a clear day out that day, but I remember once we got outside it started to rain on us."
"We had no choice but to go back to the house. We stayed on the front porch until my mom got home."
"We saw things in that house that I still have nightmares about, 20 years later, but for some reason that giggling and singing bothered me the most."
- Cat523
My Shadow Roommate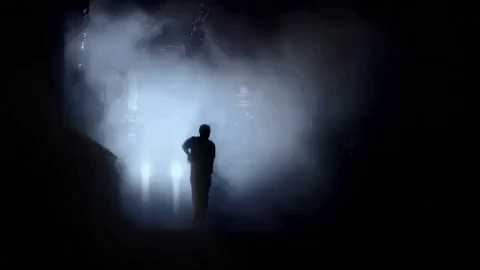 music video mv GIF by Lady Gaga
Giphy
"The apartment where I'm currently living seems to have some sort of resident shadow figure. I tend to see it moving in my office."
"Sometimes when I'm out in the hallway I'll see a shadow that looks like a medium-build man moving in there. Sometimes when I'm in the office at my PC I'll see it out of the corner of my eye like someone's standing at my shoulder and turn expecting to see my boyfriend - but nobody is there."
"Sometimes I'll see the figure down where the stairs meet the front door. The closet near the front entrance (right by where I've seen the shadow lingering at the end of the stairs) has opened itself a few times when I've been home alone & cooking in the adjacent kitchen."
"It's never seemed frightening to me, though, so whatever it is - some trick of lighting or bonafide shadow dude - I don't really worry about it much."
"I did recently have a bad bout of sickness. There was one night that I was running a temp of 103 and was just absolutely miserable, falling in and out of sleep while being anxious about my rising temp & how laboured/difficult my breathing was becoming."
"I was kind of scared since my aunt had died in her sleep due to COVID relatively early on in the pandemic - she had been on the phone with her boyfriend and mentioned she wasn't feeling well suddenly and was going to take a nap. I couldn't help but think of her because of how quickly it seemed like things were accelerating that night."

"At one point I did manage to fall asleep, but was woken up by a shadow figure opening my door & coming to stand over me. It wasn't my boyfriend."
"I was staying completely isolated in a diff part of the apartment to protect him since he has asthma & is a high risk, I asked later to confirm he hadn't randomly decided to break that quarantine that night and he was like 'of course not!' "
"I couldn't see anything but a shadowy outline. The figure was saying something to me; it was unintelligible but seemed like a question. Then it eventually walked back out of the room."
"I would've assumed it was a fever hallucination if my cat didn't jump up from her sleeping position to stare at the figure. Who knows, maybe it still was and I even hallucinated her reaction?"

"But I kind of like the idea that my shadow roommate came to check on me at my sickest point when I was anxious about being alone since my boyfriend couldn't!"
- junipercoffee​
The Audacity Of This Girl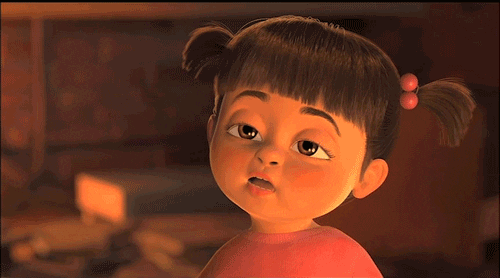 Tired Monsters Inc GIF
Giphy
"I used to babysit my niece and nephew when they were 4 and 5 while my sister went to work. She lived down the street from me so I would walk down in the morning before she left and before the kids woke up."
"I got there one morning and after she left I laid down on the couch. I heard one of the kids run down the hall and I immediately pretended to be asleep so they would go back to bed and not get the day started yet."
"I felt my niece run by me on the couch. Her running stomps shook the floor and I could hear the trinkets on the shelves shake. And I felt the wind of her blow by me."
"Then it was quiet but I knew she was still there. She leaned over my ear and moved my hair out of the way and laughed in my ear."
"I just thought to myself 'The audacity of this girl!' "
"Then she hid under the end table of the couch. Realizing she wasn't gonna go back to bed until I woke up and played with her, I just got up and looked under the end table."
"There was no one there."
"Completely baffled at how she got up and out of the living room in literally 2 seconds without me hearing shook me. So I went down the hall to her room and was starting to freak out."
"My nephew was sound asleep in his bedroom and I got to my niece's room, she was sound asleep tucked under her covers."
"My heart almost fell out of my body."
- FootstepsofDawn
The Blue Cup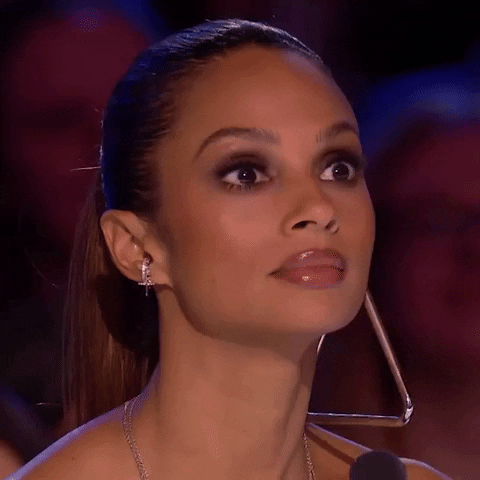 Britains Got Talent No GIF by Got Talent Global
Giphy
"Years ago, when I was just a kid, my mom and I lived in this old apartment in MA. One day, when I was watching TV while she was cooking, all of a sudden she started to scream, yelling for me to come over and 'look at this!' "
"I ran over. She was standing right by the dining room table, which was empty except for a blue plastic cup at the end of it. I was confused, and asked her what the hell was going on."
"She didn't say anything. She just picked up the blue cup, and set it down at the other end of the table. As soon as she put it down, the cup just slid over all the way to the other end of the table, by itself. It stopped right at the edge."

"I jumped back, perplexed. My mom picked up the cup and did it again. And again for a third time."
"I've always liked technology and science (I grew up to become an engineer) so rather than being scared, I tried to figure out a rational explanation for this."
"I picked up the cup, and looked at it closely. I looked under and around the table. The table was spotless, and there was nothing else there."
"It wasn't a trick, there were no wires or magnets or anything of the sort. I tried the same thing with other objects, and nothing happened. It only happened with this particular blue plastic cup."
"I eventually tried it while looking directly at the cup, literally 2 inches away from it, and followed its path. The cup would actually vibrate as it moved, and did so in such a way that you could only notice it up close."
"Cups move when there's condensation under them, but they usually move a few inches, not the length of a fairly long dining room table. Also, the cup was made entirely of plastic, no seal, and dry. The table was dry as well."
"I've just never seen anything else like that, before or since. And the faint vibration was very, very freaky."
"To this day, I am not sure what caused the cup to move."

"That wasn't the only strange thing I experienced in that apartment..."
- JohnnyTwoTimes21
Steve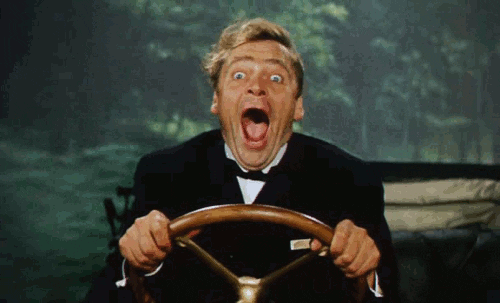 Driving Rush Hour GIF
Giphy
"My Dad has heard my mom calling him when she needed him. No phone or anything."
"One example - one time she dropped him off for a half day conference in a big office tower downtown and was going to do some shopping while she waited to pick him up."
"She drives away and 30 min later starts feeling very sick."
"She drives back to the building but doesn't know where in the building he is or where to call him. She said she just tried to focus and thinks his name really hard over and over ... like 'Steve, I need you. Steve, I need you.' "
"10 min later he came running out to the car and was like, 'What, what do you want?' "
"He drove her to the hospital and she needed her appendix taken out."
"Another time, my Dad's driving a car down a busy road. It's one of the ones where the main road has the right of way and all the side roads have stop signs where people have to stop then merge into traffic when there's a break."
"Anyway he's driving along and hears 'Steve!' "
"He looks around. No one's in the car with him, the windows are closed plus he's doing 50 miles per hour - but maybe someone he knows is in traffic?"
"Then he hears it again, 'Steve!' So he slows down and looks in the rearview mirror. He thinks it might be his friend."
"He slows down a bit more... and a dump truck blows through the stop sign at the crossing before him."

"If he hadn't slowed down he would have been flattened like a pancake."
- wellchelle
Avoiding the unexplained might be preferable for some, but it sure does make for a good story.
Want to "know" more?
Sign up for the Knowable newsletter here.

Never miss another big, odd, funny or heartbreaking moment again.
Keep reading...
Show less
Many people in the United States believe in the paranormal.
According to an October 2019 YouGov poll that was appropriately timed for the spookiest month of the year, many Americans–more than four in 10–believe that ghosts and demons exist.
Interestingly enough, the same poll found that not as many Americans believe in the existence of vampires, so it's kind of funny that Americans are so selective about their otherwordly beings!
While many scoff at the paranormal and have worked to convince people to turn away from a belief not shrouded in evidence, there are cases of former skeptics who've done an about-face, as we were reminded once Redditor barbexaclone asked the online community,
"People who used to not believe in the paranormal but do now — What experience changed your mind?"
"Until one day..."
"I always wanted to believe but never had any experience of my own to allow me to. Until one day I was home alone and as plain as day heard someone stomp up my basement steps to the floor I was on. I was sitting maybe 12 feet away from the steps and I was frozen as soon as I heard them."
"I was watching closely and the sound got all the way to the top of the steps, but no one was there. My cat was sleeping on the couch adjacent to me, he woke up suddenly and stared right at the stairs too. He heard it too. So that's how I know I wasn't crazy. It wild to experience."
HustleWestbrook
I bet!
But was it really the paranormal?
"I was working at a pharmacy..."
"I was working at a pharmacy that was in an old building downtown. We kept our records upstairs. The second floor was used for several different things over the 100+ years it has been around, but it had not been renovated in decades."
"Anyway, I went upstairs to file some paperwork and while I was squatting in the hallway, putting the papers away (we had shelves built in the hallway to store banker boxes) I heard two loud, and I mean LOUD stomps only feet away from me. There was nobody else up there."
toxic99
Old places make all sorts of noises, though, no?
"I know without a doubt..."
"I wouldn't say I didn't believe but I wasn't a full believer, I was middle ground."
"Then a few years ago I moved into my now house, I'm in my mid 40s so I've essentially gone my entire life with zero paranormal experiences."
"It started out as a weird, huh I think ghosts live here? But I never felt they were harmful they were just there. I couldn't even give a specific example but I just knew I wasn't alone."
"Then my dog started acting weird. At night he'd start looking at the ceiling like there was something there, happened a few times a week. Then I'd be in bed and I'd feel something walk across the bed. Thinking it was the dog but nothing was there."
"This happened all the time. Doors would close strangely, lights would flicker but the constant was the foot steps across the bed."
"For the first year or so I never said anything to my husband, I for sure thought he'd think I was crazy. Then one night he bolts up in bed and was like "DID YOU FEEL THAT" it was the footsteps. We both realized we'd been experiencing the same thing and both thought we were crazy."
"The clincher for me though was when my dog woke me one night to go for a pee. I let him out and was watching him through the peephole in the door. I very clearly saw a man and a woman dressed in Victorian era clothing standing together looking at something in my hedges."
"It was like 2 a.m. I took a step back and was like whoa I was obviously half asleep and I did just see that. Then went back to look again and sure enough they were still there. I've never seen them again since but I know for sure they were there."
"I know without a doubt there is some sort of spirit in this house but I also feel like it's friendly so not worried about it. Now when something weird happens my husband and I are like oh the ghosts are active tonight!"
Wexylu
If you were half asleep, did you not think you could have imagined it? I think I would have had the opposite reaction?
"Until the day..."
"Old building, renovated into something new. Had a few previous staff mention they've seen a woman in white at the top of the stairs or walking through the kitchen, I'm like yeee, whatever."
"Until the day everyone was in bed, one staff upstairs, one at the table with me, and I turned around and very briefly saw a face in the dark conservatory. My heart could have leapt out of my chest. I made someone check with me JUST in case it was an intruder."
"Nothing. Doors locked, no one's there. 100% first thought was not omg ghost, it was omg intruder we have meds and vulnerable people. So when I say we checked, we CHECKED."
Bellamontage
Okay, that's pretty unsettling. I'll totally give you that, especially if several people were there and they were all checking.
"Nothing else has really happened since..."
"I was also walking out of the kitchen another time and I felt someone tap my shoulder. When I turned, there's literally no one behind me, or even in the room."
"Nothing else has really happened since, though some pm/night staff did report a few strange sightings but not for a while. I'm not like... Early day Ryan Bergara carrying holy water in a water pistol and screaming at a torch believer (not a dig, I'm a huge fan of the ghoul boys), but it has made me believe it's possible."
"Because I cannot explain these events."
Bellamontage
Intriguing!
I can see why this would change your mind about the existence of the paranormal.
I think we're in different camps, however.
"One day I was lying in bed..."
"One day I was lying in bed and the whole bed starts jumping and shaking like the Exorcist scene. I think I was half awake? Very confusing experience."
ConsistentBag1
A nightmare, no? You'd be surprised what you'll experience the second you fall asleep!
"I would often find..."
"I have had various things happen to cause me to question how straight forward what we know of our world is, but I lived in what felt like a haunted house. It's a bit a long, sorry."
"I lived for a while in a very old house. It was the oldest house in the area, and had started off as a small cottage, with various extensions and developments throughout it's history, but even the newest sections were still at least 100 years old."

"It is a detached house. For some of the time I lived there alone, and had up to three other friends living there at other times."
"One time I was sat in the living room, at this point no one else lived with me, and I heard my bike fall over in room next door. I kept it inside, leaning on a wall near the back door. Initially I thought nothing of it, thinking that the handlebars had turned and it slid over."
"When I came to find my bike it was a couple of meters from the wall and on it's side as if it had been flung away from the wall. Months later I spoke the the owner of the house about it and he had had the same thing happen to him with a motorcycle wheel from the same wall."
"I would often find lights and taps left on that I was sure I had switched off, they never turned themselves on when I could see them though, so I could never be sure it wasn't me."
"I would often hear noises in the house even when I was the only one there."
"I slept in a room at the top of the house (three stories) and I would get home from work before my housemates. Often I would be up in my room and clearly hear one of them come home and run up the stairs. I would shout downstairs to say hello, and get no reply. Then explore only to discover the doors still all locked and no one but me in the house."
"My friend woke up feeling himself pinned into his bed at night, he said it felt as if a person was holding him down by his arms. He has not experienced "night terrors" before or after living in this house."
"We looked after a rottweiler dog for a while there, it was a fearless and to be honest dangerous dog, or at least fearless until it lived there. Sometimes she would cower in a corner or press up against us for comfort whilst staring at something we couldn't see. Sometimes her stare would be following this invisible thing moving through the room."
"There were all sorts of odd happenings in this house, a lot of them easily written off as nothing due to the fact there were four of us living there, but I am convinced that house is haunted, as is the landlord (I only spoke to him about this after having moved out, it's not like he planted the idea.)"
"Oddly though it wasn't actually that scary. The noises of non existent people didn't bother me, but the bike and the dog was pretty freaky."
elbandito
The noises of nonexisting people didn't scare you?
Horror movie characters always say that.
So what do you think?
Does the paranormal actually exist or could all of this be explained away pretty easily?
It's pretty interesting to see how harshly divided people are on this matter.
Have some stories of your own? Feel free to tell us more in the comments below!
Want to "know" more?

Sign up for the Knowable newsletter here.
Never miss another big, odd, funny, or heartbreaking moment again.
Keep reading...
Show less
Security guards and first responders keep watch over people or property.
Sometimes their shifts begin when the most workers head home for the night.
Working alone in dead silence and in dark places or responding to emergencies can play mind tricks, but these professionals are trained to remain focused.
What they aren't trained for is how to respond to strange phenomena that can only be described as a paranormal disturbance.
Curious to hear from people who work in protective professions, Redditor L3n777 asked:

"Police, security guards, paramedics etc - Have you ever been called out only to realise it was a seemingly paranormal incident? What happened?"
Something spectral or something from another galaxy?
You decide.

The Darting Light
"Marine stationed in Japan back in 2010-12."
"I was military police. One night around 2-3 am we hear over the radio 'uhhhh. Any units seeing the light over the water south?' It was a marine air station based on the southern tip of Japan. We had no flights coming in or going out that night. Everyone knew there shouldn't be a light flying over the waters."
"So about 3 patrol cars met up at the air field where there was a way better view. Sure as sh*t there's a light sitting out over the water blinking slowly off and on. Some guys tried to say it was a star, so we had traffic control cameras from dispatch zoom in on it."
"Turns out it was slowly moving out of the cameras. So while by ehe we couldn't tell it was moving, the cameras picked it up. We sat there kind of amazed for an hour before it went away."
"As we were getting back into the squad car I took a last look at the night sky and saw a small light dart behind some clouds in a movement that didn't make sense. I didn't tel the other guys, just thought there's no way they would believe me."
"Months later I was running on the sea wall and stopped to lay down and catch my breath. Again saw a light, watched it drive into some clouds and then disappear. That was around the time of the tsunami and Fukushima. Super weird."
– Majestic-Science-220

Extra-terror-estrial
"Not a responder, but lived next door to one who is very famous in our hometown for his alien abduction, but there are other stories, too. This all went down in the 80s, rural England, and my memory of the exact details are fuzzy (been a while since anyone has bothered discussing it, small hometown and everyone knows and is over it)."
"The alien abduction story is that he was on the way back from a call out, saw some odd lights on the road ahead and had to stop, a one track road. He went to investigate the lights as any good police officer does, and next thing he knows it's a half hour later and he's back in his car seat, car facing the other way, some odd substance on him, no lights to be seen."
"The police dispatch also confirm that his radio frequency just disappeared for that half hour. The substance was tested and didn't match any known profile (I really have no idea what that really means or what tests were)."
"At around the same time, this officer and some others were called out by a farmer whose cows had disappeared. Yes, very stereotypical cows in a tractor beam story. But the farmer reported them missing, multiple police show up, gate is locked and no cows."
"They all decide to drive around looking for the cows. The paranormal magnet officer reports that thing where you keep trying to drive somewhere but always end up back where you were when it shouldn't be possible on his route, but they all convene back at the field at the end of shift."
"The cows are back, though none of the officers found them and nobody called in to find them. And remember, paranormal officer has seemingly been driving past the field on a loop all night. The farmer was also unaware when they called to ask him. Totally sounds like the farmer pulled a prank, except it was raining that night and there was loads of wet mud building at the edge of the field where the gate is, and not footprints or hoof prints, and the cows were dry, too."
"The last story I have the vaguest recollection of, I think it happened some years earlier and the paranormal officer was called to the discovery site. It is mostly about a different guy, a farmhand who was an immigrant who disappeared without a trace and then appeared several days later and miles away, dead, with burns and another unidentifiable substance all over his body, dumped at the top of a pile of coal."
"Again, no sign of anyone climbing up the very precarious pile of coal. And no sightings of this farmhand getting from the farm to a different town - one road, and he didn't seem to be on it at any point. He was in the same clothes but appeared to have undressed then been redressed by someone else."
"Autopsy couldn't find a cause of death, it wasn't the burns, and he was like, barely dead (no rigor mortis) when discovered. Edit: Should probably add that the official answer to the farmhand death was spontaneous ball lightning, itself a weird theory, and it doesn't explain most of the situation."
"I am not saying aliens but everyone at home is mildly convinced of the aliens."
– bingley777

It all starts with a sound.
After Hours Visitor
"Universal Orlando has a ride that you can hear a little girl laughing and someone running up and down the corridors after the ride closes."
"I've had doors that only lock with a key somehow lock when no one was around. The mechanics only work with ALL the lights on and music blasting."
– Revolutionary-Yak-47

These Low Effort Jobs Have Surprisingly High Salaries | George Takei's Oh Myyy
Have you ever worked one of those jobs that paid you to kinda sit there? If you have, you know the joy that comes with watching the entirety of Breaking Bad ...
Undetected Visitor
"Unarmed security for a residential building here, this is extremely tame compared to some of the other stories here but this is a pretty salient subject (and I have evidence)."
"My site has a rooftop pool and it's really one of the only major things the management gets anal about when it's supposed to be closed. On a chilly night not too long ago I was posted up in the rooftop stairwell staying warm when I hear a crescendo-ing fit of laughter that goes to the point where the laugher is gasping and choking."
"Kind of weird, but not a big deal considering that people throw parties and whatnot all the time and I could tell it wasn't close enough to be someone horsing around in the pool. Then I just start hearing a bunch of shrieking, and the source of the noise is moving around."
"At this point I step out, and I realize it's coming from the rooftop itself (locked up and only accessible by non-security by scaling a concrete wall). The noise stops and I try to start zeroing from where exactly on this dark, slippery, cold-ass roof the noises were coming from."
"Then I see some footprints on the roof that were not there before. Barefoot prints with no heel print (tiptoeing). Footprints that are dirtier than the surface of the roof itself. Noped my way right back inside because it was an hour before clock-out"
"I'd much rather have something paranormal than a methhead on the roof running around with no shoes."
– Insominus

Electrical Disturbance
"Before my actual job in LE, worked security in a college back in 2016. I remember at some point a movement detection alarm tripped in the theatre. I check up on the cameras and only the lobby had a camera. The lights were flickering but it seemed 'intelligent' meaning one light was flickering then suddenly another one was. I decided to go check it out. All doors were locked magnetically. Lights stopped flickering the second I walked into the room."
– StunningZucchinis

Cry For Help
"Temporariy security guard at a supermarket in Holland. Suddenly i get a call that there is a kid locked in one of our Walk in coolers that you need a magnetic key for to unlock. Customers and staff have heard this kid yell for help."
"I get my magnetic master key and open the door. there is nothing in the cooler no kid no produce nada. We explain it away as some joke but staff insist they heard it. Jokingly tell them they heard a ghost or some sh*t. And after that i continue my shift slightly unnerved."
– sarper97

These Redditors had no clue who or what was moving things around.
Ghost Driver
"Yyyooooooo lol you might not believe me but at universal studios Hollywood the lower lot we use golf carts or Ford explorers to patrol. There is a golf cart that drives it self at night."
"We have the number of the cart on camara and I sh*t you not it's been 'no operational' for over 6 years. (Some one wrecked it on lot) thing drives around jaw lake and residential area at night. Scary sh*t is I patrol up there alot for my swing shift never seen it but camaras catch it zooming past use when we are driving lol"
– Fearsnodeath

Maybe The Building's Old
"I know the feeling, especially with the doors. the building I work in has these sliding doors. The outer doors locks at 8pm but the inner doors stay unlocked. Sometimes around 1 am or 2 am the inner door will open like someone just walked past it... Once the locked outer door slid open like someone walked up to it... "
"That night I cut power to the doors for the rest of the shift. Same with the phone, except we can see who is calling in, whether it is an outside line or if it is coming from in the building. At least once a week there will be a call from one of the offices in the middle of the night, the first night it happened I assumed it was housekeeping, next morning I spoke to head of housekeeping and was told all housekeeping leaves at 8pm, same with kitchen staff, and maintenance."
"Management is out the door by 5pm, only staff in the building after 8pm is myself and a handful of nurses, and it can't be any of them as they are on another floor, I have the only key to the offices the call comes from, and I would see if anyone entered or exited the offices. Same with the alarms, had the fire alarm go off last week and it prompted all the fire doors to close, as soon as those doors closed it stopped."
"I checked, nothing in the building to trigger it, opened the fire doors back up, sat down at the desk, 5 minutes later alarm is shutting the doors again for no reason."
"So only thing I can figure at this point is this building I work in is an old building and it probably has some bad wiring somewhere that keeps setting things off."
– CylonsInAPolicebox

Ghost Writer
"A guy I worked with told me about a computer programming job he had at a small bank that I think was in Salem, Oregon. He was engrossed working on some code and didn't notice people leaving for the day, but at some point he realized he was alone."
"But he could hear slow, irregular typing, like somebody who didn't know how to type was using one finger. He was in a groove and kept working, but eventually he had to stop and figure out what it was."
"After walking around and finding nobody there he realized the sound was coming from behind a door he had never seen opened. As he opened the door the typing sound stopped, and what he found was a small closet with some boxes of forms and stuff stacked up, and on top of the boxes was an old manual typewriter, like from the 1920s. No paper in it."
"At that point he just closed the door and called it a night. This guy was a rather unimaginative person and also a hardcore biblical Christian. He never even reported this or asked his coworkers about it. I would have stuck a sheet of paper in the typewriter (and then noped out for the night)."
– refried_pancakes

Building With A Gruesome Past

"Once worked in a call center very late at night. Around 8pm you'd hear all the doors in the main corridor slamming shut, but the doors didn't open or close at all."
"Later we tried to frighten one of the workers by telling them the place was haunted, and found out about a month later that the entire building was on top of a medieval plague pit, where they just build over it and left the corpses buried."
– WimbleWimble

Haunted Condo
"I work security at night in a luxury condo, I actually started a little over a month ago and I already had a fair share of incidents."
"Alarms triggered for no apparent reason, finding unusual doors unlocked, random orbs on the cameras, doors slamming while nobody's around, elevator phone started ringing by itself."
– Important_Walrus8917
I always imagine security guards wander dark corridors at night illuminated only by their flashlights to investigate strange sounds.
If that is a reality, to them I tip my hat.
Because regardless of earning a decent wage, I would never want to subject myself to witnessing horror movie tropes like fresh footprints when no one else is in the building, or a strange point of light darting around that is not traced back to my flashlight, or slamming doors not due to mechanical failure.
To all responders in the field, thank you for your service.

Want to "know" more?
Sign up for the Knowable newsletter here.

Never miss another big, odd, funny or heartbreaking moment again.
Keep reading...
Show less
Pragmatic people believe there is an explanation for the unexplained, given the fact they have a practical and realistic approach to everything.

But contrary to what they may believe, plenty of hair-raising situations in life defy logic, and they will never be able to find a rational explanation for them.
This leads to one conclusion: that there are supernatural forces around us. It is ignorant to deny the existence of greater forces at work invisible to the naked eye. At least that's what I believe.
And just because you don't see it, doesn't mean it doesn't exist.

Curious to hear from strangers who have had brushes with otherworldly forces, Redditor HalfOfABraincell asked:

"What is a supernatural event that happened in your life that just can not be explained?"
However, prepare to be baffled.
Keep reading...
Show less