Pragmatic people believe there is an explanation for the unexplained, given the fact they have a practical and realistic approach to everything.

But contrary to what they may believe, plenty of hair-raising situations in life defy logic, and they will never be able to find a rational explanation for them.
This leads to one conclusion: that there are supernatural forces around us. It is ignorant to deny the existence of greater forces at work invisible to the naked eye. At least that's what I believe.
And just because you don't see it, doesn't mean it doesn't exist.

Curious to hear from strangers who have had brushes with otherworldly forces, Redditor HalfOfABraincell asked:

"What is a supernatural event that happened in your life that just can not be explained?"
However, prepare to be baffled.
Keep reading...
Show less
As much as we'd like to assume spirits, ghosts, and paranormal happenings are relegated to movies and books, plenty of real-life stories abound.
Inexplicable sightings, things heard, and cold pockets of air are encountered by plenty of people all the time.
It's up to you if you want to believe them. But it's hard to argue with the conviction of the contributors to a recent Reddit thread.
Redditor ihadanightmarewithu asked:
"What is the scariest / paranormal story you have ever experienced?"
Many people talked about the things that caught their eye once upon a time.
Two Places At Once
"I was staying with a group of friends rock climbing in Spain. Really creepy air bnb, lots of strange things happened while we were staying there. The creepiest was one morning we were getting ready for the day, packing food and generally getting our things together, and I went upstairs to grab something."
"As I was heading back downstairs I walked past my friend's boyfriend on the landing and saw him turn and go into his and my friend's room; I think I asked him something but he didn't reply. I thought 'rude' and headed downstairs."
"Walked into the kitchen and he was there sorting food out with my friend."
"Everyone swore he'd been downstairs the whole time, plus there was only one staircase and it would have been impossible for him to overtake me and get to the kitchen before me without me noticing. I went back upstairs and checked their room and there was no one up there but me."
"I've never experienced anything creepy or inexplicable before we stayed in that air bnb and I'd say I'm v. sceptical about supernatural/paranormal stuff but multiple things happened on that trip that spooked me."
Classic
"A floating head."
"I was putting beef in the slow cooker because I wanted it done for morning, it was late at night. I reached up to grab some seasonings, and heard creaking. I told my kids to get in bed."
"I see something out of my peripheral vision and there was no body but a head of a bald, pale man floating 3 1/2 maybe 4 feet off the ground in the middle of the floor. It's face kept looking as if it was sad, or like it was begging. It locked eyes with me....I froze."
"I had a darker wall, with a coat rack with my husbands work jackets so it stood out like a store thumb. I looked away thinking it was my imagination but when I looked back it was still there so I ran out the back door because I'd have to pass it to get upstairs with my husband and kids."
"I ended up calling him on my phone to come walk me in. I was wide awake, not sleepy, not out of it, on no medication. I have no reason to see that ever."
Presences, Seen and Felt
"When I was a kid my mom took my sister and I on vacation. I only remember this happening one night while we were there but the hotel we stayed at was pretty much all flats with one bedroom. I slept in the bed with my mom and my sister was on the pull out sofa. I can't remember if I was trying to go to sleep or woke up in the night to this but I just know everyone else was asleep."
"It was really dark with just a little light from the street outside coming in on the sides of the curtains. On each side of the bed stood a black silhouette and it felt like they were all staring right at me acknowledging their presence. I didn't feel threatened or afraid of them at all and turned on the bedside light and not surprisingly nobody was there."
"I turned the light back off and there they were still in the same positions. I just looked at them for a while but must have eventually fell asleep. The only other detail of that experience I remember is waking up the next day and mentioning it at breakfast and my sister saying she felt like she was being watched the whole night. I have no explanation for it but it's a memory that has stuck with me over many years now."
-- obev369
Paranormal?
"One time I was going home in my car and saw a guy that appeared to have no arms no hair and a longa** neck in a JUST a hoodie no pants no underwear trying to climb a tree in the woods with their legs and idk know if that's paranormal but it was such a fu**ing weird experience that I think it qualifies"
-- Setoz_
For others, it was all about the things they heard.
Preferred Number
"This is something I've never been able to rationalize."
"For months after my dad died, we were getting landline calls where no one would answer on the other end. This was in 2002, so, while robo callers were a thing, it definitely wasn't as prevalent as it is today, but we did assume they were probably wrong numbers or something. (We didn't have any phones that displayed caller id at the time.)"
"Well, one time, after getting yet another call with only silence on the other end, I jokingly said, 'Dad, if that's you, call my cell phone.' "
"I want to preface this by saying I rarely ever got calls on my cell phone, and never spam calls in those days. I was 18 with an unlisted number that only my family and a few friends had."
"Just a few minutes later, my phone rang with a number I'd never seen before. With what I'd just said fresh in my mind, I kind of freaked out and didn't answer. I was on my way out to go somewhere with my mom, so when we got in the car, I told her what happened. We made the decision to call the number back."
"It never rang, but there was activity at the other end: muffled static and the sound of numbers being dialed slowly. It was the weirdest thing. Both my mom and I said hello, but no one ever answered."
"Has anyone ever had something like that happen to them when dialing a number? I've never had it happen before or since."
-- huglife247
And the Crying Stopped
"About 10 years ago (I'd have been 24) I was still living with my parents. My bedroom was in the basement. One night, around 3am I was woken up to the sounds of a young child crying. It sounded like it was coming from just outside my window. I couldn't just look out the window because it was covered in ivy, so I quickly hopped out of bed to go help the kid."
"As I got closer to my bedroom door I could hear the crying was actually on the other side of the door. I opened the door. No one is there and the crying stopped. Spooked, I immediately jumped back in bed and the crying started again."
"Later that day at dinner, my family was sitting around the table and I brought up my experience I had. One of my sisters told a story about how when she was a kid she'd always leave her room at night to go sleep with my parents because she'd see a little girl walking out of her closet."
​"As she left her room and got to my parents' door waiting to be let in because the door was locked she'd see the little girl walking up the stairs that were right there. After her telling this story my youngest sister looked scared and asked, 'the little girl, is she wearing a pink nightgown with shoulder-length brunette hair?' "
"Now my other sister was scared because that is exactly who she saw. My youngest sister told how she had similar experiences with that little girl coming out of the closet at night or walking up the stairs at night."
"I'm convinced that something happened either in that house before we moved in or on that land that my parents' house was built on."
-- JSparx597
Crying From Afar
"Not my story but my moms, apparently when I was just a baby I was always a calm sleeper and once when my mom was having a friend over downstairs they could hear a baby crying so they naturally went to check on me and I was still calmly asleep..."
"...but every time they went back downstairs they could hear some more crying, but apparently the crying was somehow off in a different way as well, one day when mom and dad were downstairs watching tv while I was sleeping upstairs, they heard crying and finally pinpointed the thing that was off..."
"...apparently it came from the opposite side of the house compared to my room and that room had the latch to the attic. Creepy stuff, but I'm not that surprised. This place is totally haunted in my book, I once heard my mom call me downstairs while I was home alone."
-- lukkisboi
Finally, some people interacted directly with the spirits.
Advice From Beyond
"So once while I was home alone, my neighbor knocked on my door. This was when we still lived in Oklahoma, and I was homeschooled. He was bit younger then me but we still played Halo together. I was thirteen at the time."
"I let him in and we had a conversation about what I thought the afterlife would be like, and this was really odd for him. We talked for a few minutes before he decided to leave. When my parents got home they told me he had a heart attack at school and died."
-- Maxraser33
One Time Only
"I once felt a hand on my face when I was sleeping. I had the covers covering my entire face and felt something push down lightly and then a bit harder."
"I was absolutely terrified and when I finally mustered up the courage to look, nothing was there. It never happened again but there have been a few times where something similar has happened."
A Very Helpful Ghost
"I was staying in the Banff Springs Hotel in 95 for a snowboard trip and I was leaving the room and forgot my jacket."
"When I remembered right at the door, I turned around to grab it from the bed where I left it and it was being held 2' above the bed like it was being being pinched by fingers."
"The moment I turned around it dropped to the bed."
"That blew my mind!"
"My GF's sister at the time was working concierge and she said there was a bell hop ghost and gave the paper story...lol It wasn't threating at all, but was crazy to see!"
-- GTR4L1F3
Here's hoping you manage to sleep well despite all these spooky stories!
Want to "know" more? Never miss another big, odd, funny, or heartbreaking moment again. Sign up for the Knowable newsletter here.
Keep reading...
Show less
It's tough believe that there is life living in an ether that surrounds us. I mean... ghosts? Spirits? Demons, floating about us?
Sounds like fun on paper, for a movie script, but for real life, I don't know. But strange occurrences do abound, and often a simple explanation just doesn't suffice.
If skeptics have been haunted, it just all leads to more questions and no answers.
Hoping to connect with other unsure "non-believers" Redditor u/LordMaboy asked to hear about:
"What is the most creepiest thing you saw even though you are very sceptical about paranormal things?"
I have to admit there have been a few instances in life when I've been... spooked. But then right away I think, "Is it just my mind? Is it the light hitting that corner at that certain angle in just a certain way? Is that last episode of Law & Order: SVU, I told myself not to watch before bed?" So many questions.
25 Years Later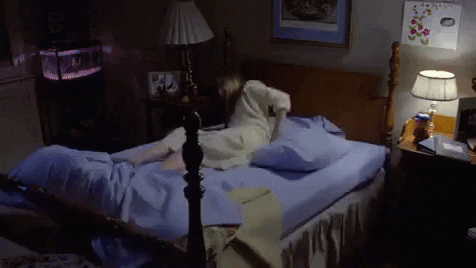 shaking the exorcist GIF
Giphy
"A handful of times, I would feel the corner of the bed lower as if someone sat down on it. Whenever it happened, I would refuse to turn over and just face the wall until I fell asleep."
"That was over 25 years ago."
What my Cousins Saw
"This happened back when we were like in 3rd grade."
"It was around 7pm right when the sun was almost set. My cousins swore that one of my grandma's friends was in their backyard, knocking on the window in their room and trying to talk to them"
"Although not entirely strange for her to be back there (she regularly helped my grandma with her garden), at this point she had been reported missing and nobody even knew where she was."
"It was only later that we learned she was already dead sometime that morning. She had been stabbed several times and her body found in a dumpster nearby."
"I don't know who the heck my cousins saw that night."
'Omg you saw it too?!'
"The girl I was babysitting one night came running out of her room crying. Saying something was walking by her window."
"Now I get a lot of creepy stories and things from the kids I babysit. They have crazy imagination. So I go check not really thinking anything."
"Something runs by the window as I'm checking it out. A distinctly humanoid figure. At this point, I needed a diaper as much as the little girl I was babysitting. So I text the parents asking about it. And no sh!t this is the response I get."
'Omg you saw it too?!'"
"Yeah I cried. Called the cops too. They came by and said they didn't see anything around."
"The thing is. The parents had called the cops several times before too for the same reason. One of the freakiest times I've ever babysat."
The Dog Knows
"My parents have a long hallway that runs down the entire length of their house, a big bungalow. Bedrooms at the end, bathrooms in the middle with the lounge off to the side etc, but if you're sat in the kitchen you can just about make out the end of the corridor, as it has a slight slant or kink in it like a chicane on a track."
"Anyway, my nephew is like 1 years old at this point being fed in his high chair, he's banging and giggling and blah blah blah. Then suddenly he and our dog look down the hallway and are just staring at it. Our dog has her ears up and just stood in the kitchen doorway looking down the corridor, then dips her head and gets lower down like she's stalking or something."

"Nephew is still staring. Not a sound, just looking and not moving."
"Then they both just... stopped and went back to normal again. Dog trots over to me and gets a scratching from me and goes and gets her ball."

"Such a weird experience, freaked out my sister and my mum as well as they were there feeding my nephew. I went down the corridor with a knife in hand as we were the only ones there. Nothing. No open windows or anything that could have caused a noise or anything."
In the Bunks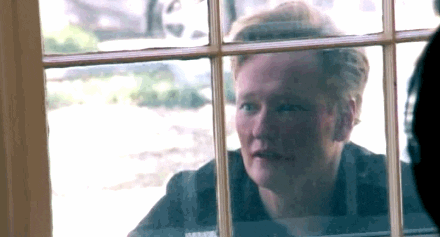 Let Me In Conan Obrien GIF by Team Coco
Giphy
"Was working as an EMT in a rural small town for a few years. Was up late after a run finishing my report when I started hearing someone come down some wooden stairs in the bay about 40 ft from me."
"The stairs go up to a training room and it's just me and my partner there. I go look, nothing there. I go sit back down and try to finish the report. Sound gets loud and fast down the stairs so I just get up and start walking out when the plug in for the ambulance just shoots out and crashes against the wall. Decided to finish my reports in the bunk rooms."
Ok, so far all of this sounds like it's coming from the mind of Stephen King; or worse, Wes Craven. I enjoy their work immensely, but I do not want to live in their brains. And why do dogs always know?
Redrum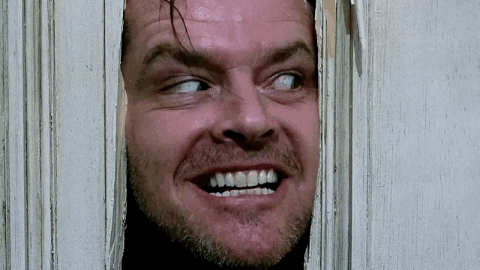 The Shining GIF by Top 100 Movie Quotes of All Time
Giphy
"Had a room in our hotel where a murder occurred, got multiple complaints that the sheets have blood stains and the lights won't turn on from different guests every couple weeks."
"Whenever we'd check the room, no issues."
"One time after moving the guests, got a noise complaint that there was screaming coming from the room. Check the room, empty. Listened to the neighbours rooms and didn't note any noise either."
"We had never publicly release that the murder occurred in that room, and nobody but staff knew. I'm skeptical but creeped me out."
Don't Look Back
"My aunt has a story of her and her siblings sharing the same experience while in three separate rooms."
"My aunt and I were driving in the town she went to school in. We drove past a house and I remarked how bad it looked. She replied "it is worse inside. That place is haunted". I had never heard my aunt talk of anything paranormal and I haven't since."
"The story goes that the three of them rented out some sketchy house while going to school. Apparently, strange things would happen that made them feel uncomfortable but never anything crazy."
"They would all notice on a few occasions they would wake up in the night with the blankets off and at the foot of the bed. Nothing strange, people kick of blankets when they get too hot all the time."
"One night, my aunt recounts that she had a dream she was falling and needed to grab onto something to save herself. She suddenly realized that she wasn't dreaming and she was being pulled by her ankles out of her bed. She grabbed the rails of the headboard and after a few horrifying moments she gets the strength to scream."
"AT THE SAME TIME she hears screams from her siblings rooms."
"Just as soon as it started, the feeling ended and she ran to check on them. They all had the same feeling of being pulled out of their bed."
"Needless to say they moved out and didn't look back."
The Boots Made for Creaking
"I didn't see anything but in my old house I would be laying in bed watching tv at 2/3 am and could distinctly hear someone wearing heavy boots walk from the bathroom to the kitchen... they would do it four or five times then it would stop. At first I thought it was my mom or my grandma (I lived with both) and I would go check to see what they were doing up so late but no one was ever there."
"One day at dinner I brought it up to them and my grandma had told me she had heard the same footsteps since she first moved in. I'm pretty skeptical, the house was old and creaky it could have been anything but it sounded just like human footsteps and I can't explain the repetition... usually in a creaky house you'll hear one or to sounds then it goes away so."
The "L" Area
"I worked in the memory care unit of a nursing home facility. I was 2-10:30pm and from 8-10:30pm I would be the only employee in the unit. All of our residents were in their rooms either sleeping or watching tv around 9:30pm."
"Our unit was an L shape with a living room/dining room in the bend of the L. ANYWAYS, one night around 9:45, I was just walking from one end of the unit to the other."
"We had quite a few empty rooms at the time and we always kept their doors closed but not locked. I walked past some empty rooms, turned around at the end of the unit and as I passed back past the empty rooms one of the doors was wide open."
"I turned on the lights and looked through the entire room (they weren't very big), but there was nothing to find. There was no way any of my residents could've gotten up and opened a door and gotten back to bed without my noticing."
"I shut the door and checked that it was truly firmly closed. I sat in the living room area the rest of the shift just staring down the hallway terrified."
"Of course, I had been warned that weird things happen in nursing homes because there's bound to be lots of death. But I never talked to anyone who had a negative experience, they said it was more things that felt like a resident who passed getting confused and going back to their old room or favorite areas."
Who She Is?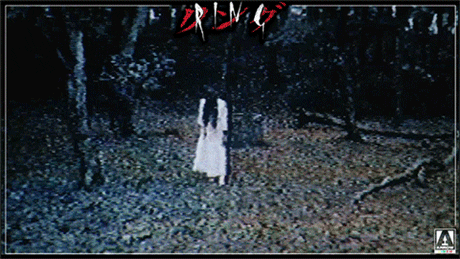 The Ring Movie GIF by Arrow Video
Giphy
"It was a Saturday, I was taking a nap, in my dreams a girl with a white dress came to me, got near my ear, and started screaming."
"I instantly woke up, and i heard the door ringing, it was a friend that came over, the moment he comes in he asks if I'm with a girl at home, I was like why are you asking, he said that he ringed the bell and a girl answered, he asked if i was home, and she said "yes, he's sleeping, ill wake him up, just a second." I was freakin' traumatized."
Yeah, no. I'm not cool with this. I also don't believe it all. Maybe that is the root of this line of thought. Maybe we're all just trapped by the unknown of it. Without proof it's not real... there is no proof that it isn't real. God I'm deep.
Keep reading...
Show less
Belief in the paranormal has long been a polarizing topic.
Some people absolutely swear by the existence of life after death, citing all kinds of experiences and articles that supposedly attest to the presence of ghosts and spirits swirling around all of us.
Others, though, couldn't be bothered by the whole idea. They refuse to entertain stories about interactions with the undead. They find any rational explanation possible to explain what actually happened.
But there is a third group. These are the people that were once naysayers, but began to believe when they had an experience of their own.
When it happened to them directly, no amount of rationalizing could make them conclude anything other than a total acknowledgment that the paranormal is out there, and it's moving.
People who came around shared their experiences on Reddit.
EwokalypseNow asked, "Skeptics of Reddit, what moment in your life convinced you about the existence of ghosts/the afterlife?"
Plenty of people discussed the times they encountered fallen loved ones after their deaths. They couldn't believe when they felt a familiar presence, voice, or even physical feeling.
That Smell 
"I lost my cousin to a tragic car accident. I hadn't seen him in about 5 months prior to the Accident. I was in class when it happened and I sensed his favorite perfume. It felt like he was standing next to me in class for about 30 minutes."
"When I got out of class, I had a bunch of missed calls/txt msgs snd voice mail from various family members who were trying to inform me of his death. This was five years ago and I still sense the perfume whenever I think of him. It makes me smile, even now."
-- afspoty
Last Ditch Effort 
"Me and my gf had an elderly friend who got sick and died rather quickly, my brother called the next day and asked if Ron was ok?"
"My brother had a vivid dream of him in the hospital, he knew what room number he was in, Ron told my brother to take care of his diabetes."
-- Casegreen222
Stay Away 
"My (then) partner's sister passed away and the power went out twice at her viewing. After a few days, we went to her apartment to gather her things and we kept encountering minor inconveniences on the way.. enough so that her mom said 'I don't think she wants us to go today'"
"five minutes later, flat tire."
A Final Goodbye
"A few days after my mother had passed away I was at the park with my boyfriend at the time and my mum's little dog. I had just let the little guy off-leash to go for his run when out of nowhere I had this overwhelming feeling of being enveloped by the most absolute, pure love and comfort. It felt like my mum was all round me, very hard to explain but almost like when you hug someone and you just feel them and their energy surrounding you."

"I felt completely at peace and had this resound feeling that everything would be alright. I rationalized my experience by telling myself it was just my grief over missing my mum so much and went about my day as usual without telling anyone (other than my partner who was with me at the time and didn't share my experience)."
"The next day I was at home with my older brother; the previous days events completely forgotten by now. We were hanging out in his room when, of course, the topic of mum came up."
"Him: This is gonna sound crazy but I had the weirdest thing happen yesterday afternoon, outta nowhere I just felt completely at peace and like she was here with me"
"Me: *just about cut him off mid-sentence* That's not crazy, I had the exact same thing happen to me yesterday too!!"

"Turns out we had both 'felt' our mum and the feeling complete love and comfort at the exact same time. To this day I don't have a rational explanation for it. My brother and I hadn't spoken to each other at all the day it happened, and the following day was the first time we sat down to chat."
"I like to think it was our mum coming to say one last goodbye and let us know we were gonna be okay"
-- DespicableCi
Other people didn't focus so much on the ghosts they knew. Instead, they touched on their encounters with the unknown spirits that, for whatever reason, chose them.
Free Babysitter
"When I was a baby, we lived in a very old, creaky house. My mum was half convinced that it was haunted as small things, toys, medicines, and pieces of jewelry kept going missing. Sometimes she swore that I was interacting with thin air. She thought that perhaps it was a mischievous child ghost."
"One night, my mum put me to bed, she gave me a blanket and a pacifier, and left the room once I was asleep. An hour went by and I was awake and crying. She came in to soothe me and found that my pacifier was missing. She thought I spat it out or flung it out of the cot."
"She searched the room, pulled the cot apart, shook out all my blankets, checked my clothes and could not find the pacifier. Mum, probably sleep deprived, decided she was going to scold the ghost."
"She put me back in my cot, left the room, closed the door and in her best mum voice said sternly 'that is ENOUGH. You give that back RIGHT NOW.' She waited a few moments, and I stopped crying. Mum came to check me again."
"My pacifier was back in my mouth."
Haunted Highway
"I never believed in any ghosts or paranormal sh** until i saw something that couldn't be explained by anything else. Theres an old dirt road i take sometimes it passes by a really small cemetery, like 10 gravestones, that sits unfenced at an intersection on the road."
"One night while driving home in the middle of the winter i saw a naked old man dancing at the stop sign kitty cornered to the cemetery, he was so thin his skin looked like it was tightly wrapped around his bones, and he had this sad look on his face despite his lively movement."
"I thought i was seeing things, until i saw him again in the spring. I was driving down the same road at night going about 120km/h when he slammed on my car window with his fists, i swerved into the middle of the road and then back into my lane. Theres no way a person could've been at the same speed as my vehicle, yet i saw him clear as day."
"I pulled over got out of my car and looked around with a flashlight to make sure there wasn't someone or something there that i didn't see. Nothing. I went home a bit on edge. The next morning in the same spot was a fresh dog carcass with its head missing. I don't drive down that road at night anymore."
-- undeadpimp69
Hearing From Afar 
"2000s, laying down to nap mid day, drifting off at the edge of sleep, and suddenly I hear a SCREAM that jerks me wide eyed awake, startled scared shitless, and has me looking inside & out of my empty apartment, it was freaky, but when I found no 'screamer,' I assumed I just had a weird dream/REM brainfart event even though I was just drifting off to sleep.
"Then my fiancee calls me from her car and starts chatty chatty chatting while I'm still getting my head straight, and when she pauses for a breath I ask 'Hey.. um, You didn't happen to just scream really loud, did you?....' She says, 'Well I did a minute ago, this guy driving was being a jerk and I was super aggravated and I just screamed.... Why?' - She was miles away."
"I'm a skeptic. I had a couple of weird experiences that I don't know what exactly happened. It's weird, unknown, I don't dismiss it, but I don't say it was a ghost, spirit, or telepathy either. It's still more reasonable to assume the events were a strange confluence of naturally occurring events."
-- fanamana
And for some reason, there were several stories that involved dogs.
In some, the dogs themselves were haunted. In others, the dogs were the ones who first noticed the presence of something beyond.
Still Prowling Around 
"We had to put my 15 year old dog to sleep less than a month ago. We have wooden floors at our house and his nails always made a little clicking sound against the floor."
"I've heard him walking around the bed twice since he passed."
A Reason Why 
"Our dog died a year ago. We buried him in the garden with some nice flowers 'covering' the burial so no one really notices, but we know."
"A week after we buried him, a robin came by. We never noticed it in the past, and now from time to time the robin shows up."
"Unlike most birds in the wild, this robin comes and sits very close to our patio where all other birds stay in the garden and swoop away when we get near or go in the garden. This specific robin doesn't show fear and it feels like it comes from time to time to say hello, hang around for a couple of minutes, then leaves."
"My girlfriend is kinda convinced it's our dog reincarnated coming to say hello once in a while. Personally I don't believe in afterlife ghost or whatever. Dead is dead. It is all in the mind."
"She is the same way, but in this case we just like the idea of the robin filling up the gap our beloved dog left behind. Just makes shi**y things in life more bearable."
Chihuahua Bait  
"I was sick and home alone one day, for context I had a room with a closet with no doors. I was chillin with my Chihuahua, Tasha, and suddenly hangers started flying out of the closet."
"Then we would hear something in the other room so she would run out there to bark and then hangers would start flying again. It was luring the dog out of the room!"
"Luckily my grandma lived right next door so even tho I was sick I packed Tasha and I up and ran over there."
-- ke1-8ey
Perhaps this list didn't mean much to you. Maybe you have a reason to explain each and every one.
But have your head on a swivel in case something ever comes your way.
Want to "know" more? Never miss another big, odd, funny, or heartbreaking moment again. Sign up for the Knowable newsletter here.
Keep reading...
Show less
I think everyone has gone through an explained paranormal experience, whether they realize it or not. I know I have--my dad died at a haunted hotel which was then featured on Ghost Adventures. Weird flex, but I couldn't not mention it in this article.
Anyway, whether or not you believe in the paranormal is up to you, but I'm pretty positive that every single person has questioned their beliefs on the matter at least once. Here are a few pretty wild examples of paranormal happenings, courtesy of our friends at Reddit.
U/andrebotelho asked: What is your best ghost/paranormal experience story?
​First up, you can't go wrong with haunted houses. They're number one on the creepy list for sure.
You should've left the moment you saw clown paintings.
Camping at a friend's family property with a group of friends. They had a huge dingy shop full of old tools and old furniture that was super creepy. Dirt floor, clown paintings in the loft (not even kidding). We stayed up late drinking by the fire and I was the last one awake. Went to go pee on the side of the shop and stood about 5 feet away looking inside through the window.
There was a florescent light on and I noticed what looked like a piece of paper or dollar kind of floating around. I thought it was a moth at first but it was moving in a very flowing figure 8 pattern that was very rhythmic. It reminded me of dangling a carrot. I watched it for maybe 20 seconds, which felt like forever. Then it quickly floated back to the corner of the shop where it was dark. There was also a wood chair near the corner that added to the creepiness. Could have been a moth though.
I sat back down by the fire to finish my beer and have a smoke. No one else was awake so I played robot unicorn attack 2 on my phone for a while. I noticed my friend Mark pop out of his tent to pee, then go back in to go to sleep. I decided sleep sounded good, so I went to my tent and feel asleep.
The next morning, we were having breakfast and Mark said," I saw you guys sitting by the fire super late, how late did you stay up?" I told him I was probably 2 or 3 am. Then he said," who was up with you?" I told him I was the last man standing. He said," I got up to pee and saw you on your phone and 2 people over you're shoulder watching you play". He said one person looked bigger so he thought it was one of our friends, who was a bigger dude. He said the other person was taller and skinny, but none of us are noticeably tall, or skinny.
Freaked me OUT!! We still camp at that property once a year, but I don't go in the shop, and I go to sleep whenever my wife decides she's tired.
Sounds like someone is a skeptic....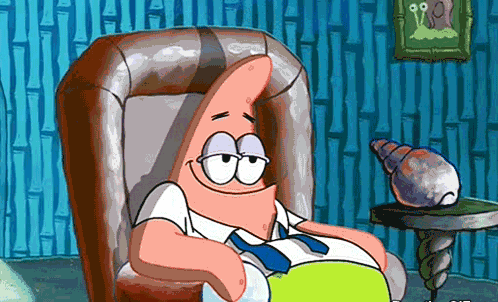 laugh lol GIF by SpongeBob SquarePants
Giphy
My brother's bedroom was next door to mine growing up. One afternoon, he asked me what I was doing the previous night that made me laugh so much. Confused, I pressed him for details.
"About 3 am last night, your laughter woke me up. It sounded like you were pacing your room, too. Pacing and laughing."
At this point, I told him that I wasn't home last night. I'd been at a friend's house. He went pale.
To this day he swears blind that it was my laugh. I have a very distinct laugh, apparently.
As a New Englander, I can confirm that all the ghosts check you out.
Small but weird: I rented a room in a New England farmhouse, grad school. First night, about two in the morning, I had a very, very clear feeling I was being checked out by some sort of house spirits but they approved. I went back to sleep.
First time my girlfriend came over, she sat up in bed. I asked what's up, and it was almost word for word, something was checking her out but there was no threat. A few weeks later my brother came over, next morning, unprompted as he came downstairs he said he felt like something was checking him out at night but it was OK. A new housemate, later, said the same thing his first morning. None of them knew each other, it was weird.
TL;DR: four guests in an New England farmhouse said spirits checked them out the first night.
​A lot of times, people can sense ghosts just by the energy of the space.
See, this is the real reason why we work from home.
I had just started a new job. The building I worked in was really old, definitely pre-war. I had to stay a bit later than I normally would to get something done, and by the time I was packing up to leave, my floor was pretty empty. I needed to use the restroom before I left, so I walked over there, and as I approached the door I saw someone else open the door and go in. I remember vividly that they were wearing a pink shirt and khakis, because that's what I was wearing, too. I was also mildly annoyed, because I don't like being in the bathroom when someone else is in there.
After deciding I still definitely needed to pee before the commute home, I entered the bathroom. But when I got in, it was completely empty. I don't know how to describe the energy in the room, but it was very tense. Completely silent. I remember being able to hear my heartbeat. After standing completely frozen for what felt like 10 minutes (it was probably like 15 seconds), I turned right around and left.
I had nightmares about that bathroom for weeks. It seems so simple and uninteresting compared to a lot of other peoples stories here, but it really shook me. There was something definitely off about the whole thing. Glad I work from home now!
Definitely LARPers.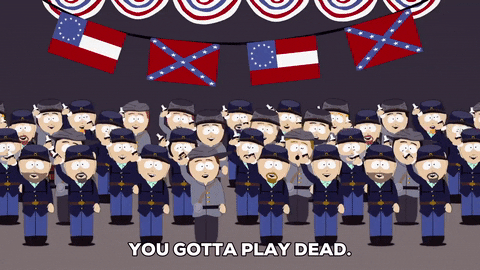 civil war reenactors GIF by South Park
Giphy
I've got a few from my grandparents ranch, the original house was built in the early 1800s and the graveyard from the original family is still there.
When my family first bought the property the previous owners were still living there for a few weeks until they moved. My grandpa was out riding around and saw a guy from a distance dressed in slacks and a white shirt/suspenders, my grandpa assumed it was the previous owner so he drove up to say hi. As he got closer the guy walked behind a bush and seemingly disappeared into thin air. He told the previous owner about it and he asked "was he wearing a white shirt and suspenders?" Apparently they've seen him a lot wandering around in the evening, almost always where my grandpa saw him too.
A few months later when I first visited, me and my cousin were playing PS2 in the living room around midnight. There is a huge sliding glass door facing the backyard & barn. I notice two people walking around outside with what looks like rifles and civil war caps. It looked like they were marching almost, eventually they kept going into the darkness while me and my cousin were shitting ourselves in silence.
Nothing really happened for the next few years besides footsteps and weird feelings. I would hear super loud footsteps at night and assume it's someone walking into the kitchen, I got creeped out so if someone else was awake I would take that opportunity to go get food. When I realized no one else was awake I ran back into my room lmao.
Fast forward to when I lived there during college, I had my own little cabin down the road and it was really creepy, but cool. One night I had a friend over and we were up pretty late. We heard some footsteps on the gravel outside and then louder footsteps on the front porch. Then I saw a silhouette of someone through the window walking around. I jumped up to go make sure it wasn't some methhead but when I walked out front there was nobody there. And it's an open area so there would be no place for anyone to run or hide. Safe to say we didn't get any sleep that night.
That's about all the super creepy stories I have but plenty of your typical paranormal things have happened over the years. This was on the Devils Backbone in Texas btw, if you know the stories of that area you know it's a creepy ass place.
TLDR my families ranch is either haunted or civil war LARPers keep fucking with us
This is actually kind of sweet.
In 2012, my grandmother suffered a major stroke resulting in hospice in her home with her children, grandchildren, great-grandchildren by her side. Friends and family were able to come by freely and spend time with her.
I was very close to my Grandma and was lucky to be able to share much of this time with her. For anyone that has ever been through hospice with a loved one, you will understand how hard this type of thing can be.
One night I was sitting at home in my office catching up on some work, when all of a sudden the room filled with the scent of perfume. I'm not talking about a faint smell, I'm saying it was very distinctive and strong throughout the entire room. I stopped everything I was doing and said out loud (to myself) "Something is wrong, that is Gram!" I had not spoken to my family that day, but felt an urgent need to send a text message to my uncle (whom was staying with her) to ask "you guys ok?" This was at 11:20PM. I got a response right away saying "might want to come say goodbye. Not ok." I quickly rushed over.
Upon arrival, the living room where my family was congregated was very silent filled with blank faces. Without saying anything I walked straight to my grandmother and kissed her on the forehead, saying I love her. She was still warm ... but no longer breathing.
I told my uncle that I was there because Grandma had brought me there. I asked when she passed and he replied saying 5 minutes before I sent my text. This puts the perfume in my office at nearly the exact same moment.
Now, I'm going to say that I was born into an Irish Catholic family, but I am in no way a religious person. I would have been the first person to discount this type of story if you told it to me. But, I must say, this experience had me thinking that there really is something more out there.
I felt it.
Confirmed: babies can see ghosts.
Back in 2001 there was a show called The Amazing Race, and my then wife and I were watching the first ever episode. While my son played on the floor. As the episode ended I thought to myself that my mom would have loved this. (My mom had passed away about a year earlier.) As soon as I had that thought, a cold chill ran up through my body starting at my feet and up through my head.
At the same time my wife said "this is something you and your mom would have done, and probably won." We both laughed partly because we both had similar thoughts and partly because it was a sad reminder that she was gone.
Right then my son, who was about a year and a half old started waving at the ceiling saying bye and bye-bye. He often talked to the "ceiling" and would stop playing and sit and look up at it, so we started asking who was there and what were they saying, just kind of playing along with his game. He wasn't saying real words yet but we wanted to encourage talking so we'd listen and ask questions that he'd "answer".
This time when he started saying bye-bye we asked who was there and where were they going, just kind of normal play-along stuff and he was saying something that the closest I can spell of what it sounded like was annel or anyul. "Ok tell anyul to be safe."
A few months later I had out an old photo album and was laying on the floor looking through it. My son came "walking" over saying hi hi and laughing . I said hi back but he wasn't talking to me. He started chatting with a picture in the album and was waving and "talking" to it. The picture was my moms official graduation picture from nursing school. He had first met my mom when he was six months old and only a couple of times between then and when she passed, but he was carrying on a conversation with the picture.
I asked him "Do you know who that is? Who is that?" He put his finger right in the middle of the picture and said "Anyul... ANYUL!" and started laughing and talking to her again. He knew what angels were... is that what he was saying? I don't know.
True story.
​You ever meet a mean ghost? How about a ghost that's just plain petty?
It was HIS room.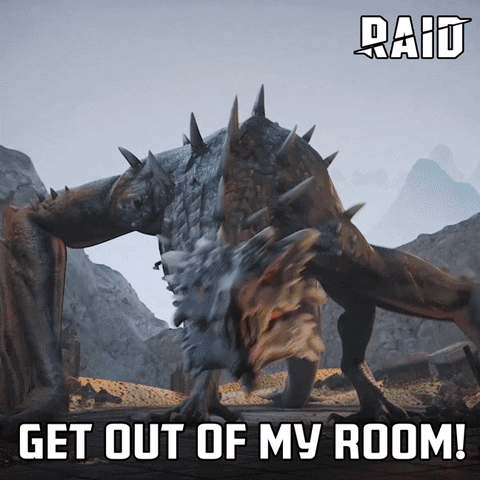 angry get out GIF
Giphy
When I was young, I lived in a broken town called Uniondale, in the outbacks of the Karoo in South Africa.
The house I lived in had several long corridors.
One day, I went to my room to play with my toys, and when I walked in, this random guy was just sitting on a chair in my room, he told me to get out, and he told me that this was his room.
So I ran to my mother and told her about it, but when she stormed into my room, the man was gone.
Fast forward a few months, I was in the kitchen baking a cake with my mom, when several potatoes literally rolled into the kitchen from the corridor. No joke, they rolled into the room as if they had their very own momentum, but my mother and I were the only ones in the house at the time.
Fast forward a few more months, my gran came to visit.
After a few days of staying, she ran into the living room telling us she saw a guy walking down our corridor, she described him, and I noted that her description fit the guy that was in my room.
We moved out not long after.
Can confirm, this is the best way to get rid of ghosts.
My mom has tons. But I'll just tell one that makes me laugh.
We lived in a pretty haunted house. Many people heard/felt stuff. Actually the first 3 houses on our street were haunted but that's another story.
Anyway, my brother and I were gone to our fathers for the weekend and my mom was watching Jerry springer in the living room. She hears the tap in the upstairs bathroom turn on and after dealing with this sh!t for years at this point, she just yells "you can turn the water off cause you're not f*cking scaring me!".
Water shuts off. Haha
I don't know how she stayed alone in that house but I laugh at the thought of my mom telling the ghost to knock it off. Lol
Ok, this ghost definitely had a bone to pick.
We lived in a haunted house and my friend and I both 12 year olds at the time. We were playing in our living and in the coffee table stood an artificial plant. I set my soda down and all I see is drips of what I assumed to be blood coming from this plant. I immediately ran to tell my mom and to not scare us she told me that it was paint.
A priest came and a couple of her friends to see the plant. My mom was hysterically crying and the guy grabbed the vase and looked inside the vase only to find ripped up pics of me and my sister covered in blood. No one lived with us so this was unexplainable. Also, my mother would wake up early for work and see a woman in a white gown go to our room and disappear when she followed.
Honestly, my best advice if you experience a ghost sighting is to just treat them like human beings. Don't be scared of them, just let them do their thing. And if they start to bug you, then smoke cleansing is your friend (just don't use white sage- it's endangered).
Or you can just tell them to f**k off. That works too. Either way, paranormal experiences are bound to happen. Brace yourself for these experiences- they'll surprise you.