We all want to have the best of intentions, I mean at least I hope we do.
In order to do that though... we need to start watching what falls out of our mouths.
First, read the room.
Second, process your thoughts.
Third, just be present.
I know we've been indoctrinated to believe that putting a positive spin on every little thing will make life all better.
But that is not always the case.
Redditor numb_yet_emotional wanted to discuss the ways being "positive" maybe didn't work out best. They asked:
"What is the worst toxic positivity you've heard?"
Don't tell me to just smile. I like a solid frown thank you.
What Day?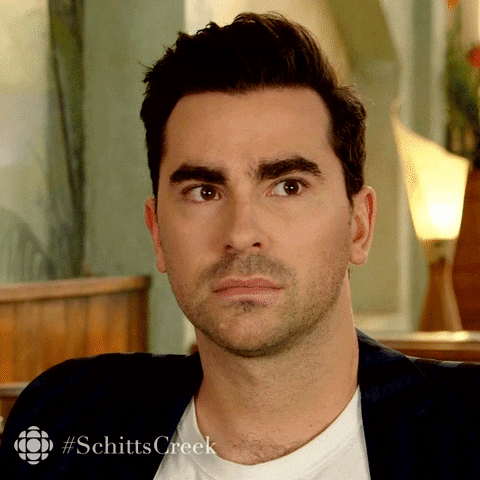 canadian what GIF by CBC
Giphy
"I read a comment on Reddit that someone had wished someone a 'Happy rainbow baby day' on the anniversary of their miscarriage. So uh... that."
MikeNoble91
Just Like Bey!
"People saying that we all have the same 24 hours."
GBKGames
"There's a motivational image somewhere that says 'you have the same amount if hours in the day as Beyonce' and it's like.. I mean yes but how many of her hours are spent cooking, cleaning, struggling with finances, and handling life? I would argue she has more hours because she pays people to do things instead of wasting her time."
joyfall
Nah bro...
"I've been called brave before because of my disability. Nah bro. I'm just living life the best I can just like anyone else tries to do."
disablednerd
"You should be proud of not letting it affect your personality and make you bitter!"
"First of all, you never knew me without this condition, so for all you know, this IS my bitter self. Second: honey, if every bitter person needed a good reason, and if every person with a good reason turned bitter, there would be such chaos in human society."
thefuzzybunny1
Dungeon Masters...
"I would often cry as a kid because I had a really bad father. My mom's response would be 'at least you have a father, some kids don't have one!'"
poopybuttfacehead
"There's a saying in Dungeons and Dragons, particularly regarding toxic groups or Dungeon Masters. It's become a slogan for subreddits where people share their horror stories about really bad games, because it's pretty common that people are writing them in retrospect and, at the time, feared that they wouldn't find a group to play with again. That saying is 'Bad D&D is worse than no D&D.' Bringing this up for no reason at all."
ShornVisage
"it'll be ok"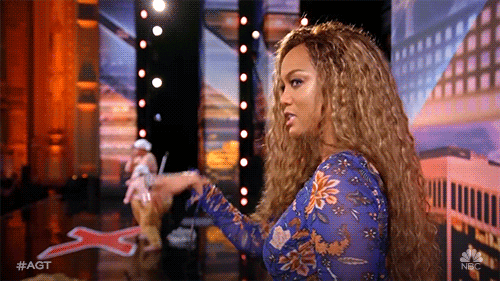 americas got talent shut up GIF by NBC
Giphy
"When my baby was diagnosed with a potentially terminal illness in utero and everyone outside of the medical field kept saying 'it'll be ok.' Meanwhile I'm trying to figure out how I'll survive planning my baby's funeral if the worst happens."
comebraidmyhair
I can't with some of these. It's like people have never been in public before.
Shut Up!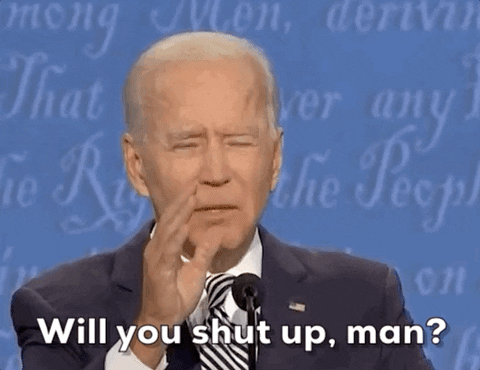 Joe Biden Reaction GIF by Election 2020
Giphy
"Recently went to a crisis Uni. One of the case workers said you can't be sad if you're grateful. Very untrue!!!"
weist-risq
"doesn't mean it"
"The idea that you 'have' to forgive everything, often said immediately after the thing happened. It's often used as a way to dismiss the hurt or the action. You don't have to forgive everyone or everything. Many times, forgiveness is good, especially when you can communicate with the person who hurt you. But sometimes anger is adaptive, and it signals an important boundary that you can recognize in the future."
"Relatedly, the idea that you should be explaining away someone's behavior by trying to imagine what they were thinking or feeling. In many cases, understanding other perspectives is extremely helpful. But in cases of repeated abusive behavior, telling someone that the abuser 'doesn't mean it' or 'you know they love you, but they have problems controlling their anger' is not helpful."
definitelynotadingo
Choose This...
"Just choose happiness!"
Lunallance
"I hate this for two reasons."
"1: there is a seed of healthy advice here that has been drowned and corrupted into something absolutely meaningless and offers no help for any situation."
"2: happiness is just one of several emotions humans feel. All of them are valid and serve a role in the human experience. Anger, fear, jealousy, love, disgust, regret and sadness are just as valid as happiness and suppressing them is not healthy. Acknowledging our 'negative' emotions as they are helps us get out of bad situations much more effectively than 'choosing to be happy.'"
ArthurBonesly
Pain is Pain
"Two things. It's selfish to want to help yourself when you're in a state of depression, and you shouldn't be depressed because you have what many people don't have. A roof over your head, food, water, electricity, etc. No matter who you are, you can always take care of yourself, and you can also feel depressed. Placing yourself before anyone else shouldn't be selfish, it should be basic self needs."
DogsAreCool69420
CRAP!!
"Family always sticks together!"
"Bull. F**king. S**t!!"
Doodle_Brush
Sometimes the best way to help... is to just shut up. There's a positive.
Want to "know" more?
Sign up for the Knowable newsletter here.

Never miss another big, odd, funny or heartbreaking moment again.

Keep reading...
Show less
Why would you even say that?
I think that is a question people really need to think about.
People seem to have lost control of their internal filter.
Even with good intentions, you can still inflict pain.
And just so everyone is aware, there is a difference between being truthful and flat out rude.
Words leave an impact.
It sounds dramatic, but it's true.
Redditor Themadadealtin wanted to hear about the times someone's words have left a wound.
They asked:
"What's the most hurtful thing someone has said to you?"
I can't even begin discussing what I've been told. Let's just say... people don't like me fat.
Ouch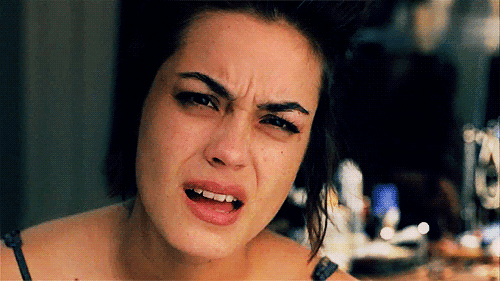 Shannyn Sossamon Cringe GIF
Giphy
"Everyone loves you until they realize how f**ked up you actually are!"
"I still wonder how much truth there is to that."
owlhandsondeck
Uninvited
"This actually happened last week. My brother is visiting from overseas. My parents, him, my GF and I spent a week on holiday together. Just before we left, I thanked my mom for inviting us. She turned to me and said 'I didn't invite you, (brother) did. You were only supposed to stay for two days.' For some reason that hit me hard. Like I wasn't welcome."
Tame_Trex
Cuts Deep
"'Why aren't you normal?' - My mom."
NeriosVag
"My dad said basically the same thing to me when I was around 14 and my depression and anxiety was worsening and it had gotten so bad I couldn't even set foot in my high school without having full blown panic attacks so I had to be homeschooled and my dad said 'why can't you just be normal like other kids?'"
"That cut so deep, I already was struggling with coming to terms with my declining mental health then to be made to feel even more like a freak was and still is devastating. I'm so sorry that you had to go through the same and I send you a huge virtual hug ❤️ no one deserves to be told that and treated like that especially not by a parent."
MarmaladeDreamer
Sniff Away
"40 years ago I was 18 and my father died suddenly, I was devastated and grieving, his then business associate told me not to sniff around the office because I would never be the man my father was. This still makes me sick to this day when I think about it."
geevesm1
Thanksgiving, 2009...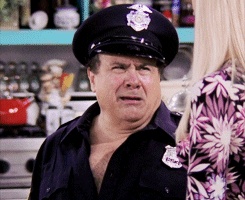 offended danny devito GIF
Giphy
"You're useless to me."
"My dad, right after I got my foot broken by a piece of heavy machinery while we were moving downed trees. I'll never forget it, the day after Thanksgiving, 2009."
AscendedExtra
Good Lord. Some people really shouldn't be parents. That's awful.
bad for me...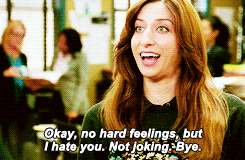 Youre The Worst I Hate You GIF by Brooklyn Nine-Nine
Giphy
"'You going to therapy would be terrible for me' that was the beginning of a 30 minute lecture from my mom on Thanksgiving. I almost ended it."
Lwathorn
"I don't get this."
"I asked my teacher for help. I didn't understand something in my workbook. I waited quietly and patiently for her at her desk while she helped her favorite students and when she got to me I pointed to it and said, 'I don't get this.' She sighed, rolled her eyes, and said, 'You'll never get it.' Then she walked away and ignored me."
"I was left standing at her desk, holding my open workbook, not knowing what to do or how to finish the assignment. I never forgot that. She did positively influence my life though because I am now a teacher myself, and that day was a huge reason why I became one! (I have a lot of student loans and I barely survive paycheck to paycheck but my students go home from school knowing they are loved.)"
agbellamae
"best friend"
"My mom passed from ovarian cancer when I was in my mid 20's. I had just graduated college and dropped out of my graduate program to go home and care for her bc she wanted to die at home. It was just my dad (who was in deep denial and my brother who is disabled). Needless to say I was caring for everyone."
"About a month or so after my mom passed I went back to see my 'best friend' at the time back in NC where we both attended college. I was looking for a distraction from my grief and trying to manage it as well. We were sitting on her porch having a few drinks and joking around and my GF for some reason blurted out in laughter 'oh, just get over it already!'"
"I had no words. I was just so shocked and hurt - I just sat there and felt ridiculous and sad all at once."
Onlykitten
Don't Speak
"Everyone I used to work with, including management, quit very suddenly. I wanted to have a conversation with the person they sent from corporate who was going to be our temporary management. They told me, 'I don't speak to the hourly workers.' I quit on the spot and hope he chokes on his money but it hurt me anyway."
MotivaSean
Gross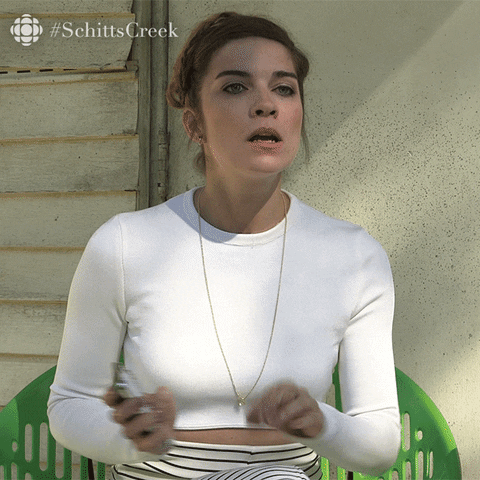 Schitts Creek What GIF by CBC
Giphy
"I don't see what he sees in you, I bet you just lie there."
"-My mother."
teflonfairy
Burdens
"'Honestly, no one really wanted you around anyway.' An ex best friend, telling me I was simply an annoying tag-along whenever we went out with their friends. I struggle to connect with people now, and constantly feel like a burden to everyone."
honeycomb286
"You're not the burden. Those kinds of people are."
shehulk55
Punch to the Gut
"I was adopted as an infant. A coworker found out I'm adopted and asked me, 'Why didn't your mother want you?' Felt like a punch to the gut. My step mom (who my adoptive dad married after my adoptive mom died) asked me, 'Why weren't you aborted?' She assumed my birth mom didn't want me and phrased it in the worst question ever."
"And a doctor (who was overweight, too) told me, 'You'd be pretty, if it wasn't for the weight.' There was no reason for her to say that. I've struggled with my weight my entire life. I know I need to lose weight. But I don't go to the doctor to have my attractiveness evaluated."
OMGhyperbole
'apologize'
"My now ex-boyfriend went to see his ex in the Netherlands to 'apologize' for what he did during their relationship. He was supposed to come back Monday morning, I asked him when he was coming back, he was online and ignored me. I knew it in me that he was with her not to talk about the past for sure, I tried to call him, he ignored me even tho he was online. I sent him a text saying that if he didn't called me that he could pretend that I never existed in his life, and he answered right away with an alright."
Adventurous_Bedroom2
Laughs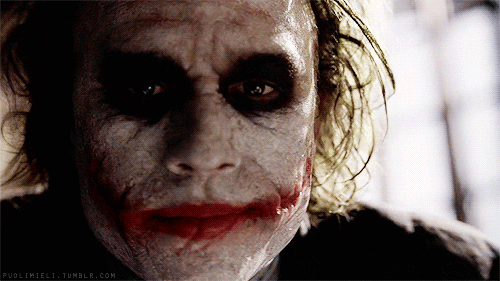 the joker smile GIF
Giphy
"'I understand exactly how you feel (after my father's passing).... I felt exactly the same way when X broke up with me...'"
"I wish I was joking."
lou3745
3 years later...
"Its a while back and like most of these comments it's something my ex said. She said that she doesn't fine me attractive anymore and that her feelings are not enough to love me as a boyfriend anymore but more like a good friend. We ended the relationship of 5 years and were just friends till i couldn't do it anymore. 3 years later and I still think about it on a daily."
nothinglowhere
Not Perfect
"I'm going to make your son hate you when he gets older."
Moletheus
"As someone who was the kid in this situation. Just be there for him and do the best you can. You don't have to be perfect. Just be honest. He will likely figure it out. It's going to suck but you guys will get there."
birdof_death
I Still Remember
"I was in grade 3 and I was friends with 2 girls in my class. Their older sisters were a few grades above. One day they just collectively ganged up on me and told me that I can no longer play with them and they don't want to be friends with me. I was also still an only child back then and I just moved to a new school far from my best friend. I don't know why I still remember that moment but I do."
inc_mplete
Shattered
"I was 16 when my childhood best friend/boyfriend lost his battle with cancer. A few months later my big sister was ticked off and told me he was lucky he died so he didn't have to spend the rest of his life with a *itch like me. I'm 29 and I'll never forget the way that shattered my soul."
Melliemelou
Passion
"I am autistic, so when I get passionate about something, I get really passionate. Like, consumes-my-life-learn-everything-there-is-to-know passionate. As a teenager, that topic was horror movies. I would talk to anyone who would listen. One day, someone interrupted me and yelled 'would you shut up??? No one cares about the stupid things you have to say!' It really hurt me and to this day I'm really hesitant to talk about my interests."
Catnip_cryptidd
Time to say "Bye Felicia!" No one needs this mess. Be kind. Be strong.
Want to "know" more?
Sign up for the Knowable newsletter here.

Never miss another big, odd, funny or heartbreaking moment again.
Keep reading...
Show less
The truth can be the most painful thing to hear.
People are going say awful things to you that view as truth.
And the worst will probably be from people you know and love.
You have to learn that most of it has nothing to do with us.
It's all about them.
And that still hurts.
Redditor Gaia-of-hell wanted to see who was willing to discuss the things we've heard that have sunk the heart a bit. They asked:
"What is the most painful thing someone has ever told you? "
I can't recall any truly heinous thoughts being told to me. So I grateful to be spared. But I feel a big dose of ugly coming on...
Truth Hurts
"A year after he died. 'Your father never loved you anyways. That's why he pays me child support to look after you.' BS. His room was decorated with my childhood art. All his passwords were my name or birthday. He would have long talks with me about his regrets when we hung out. I knew it wasn't true but nothing has ever hurt so much."
Ackbarwasthetrap
Mean what you say...
"Once, my ma told me and my brother that she would have been relieved if we were dead. We were annoying siblings but that's pretty dark, given we were quite young back then. Now I'm 25, my brother is 20. I am pretty sure she didn't mean it word by word, but still sad thing to say to your kids."
perpetualgrunt
Adopted
"I was adopted at age 3. Last year at age 26, my adoptive father told me he never wanted me. That hurt like a *itch."
Super_Thunder_Walrus
"My father was adopted at 7yo, when he was 43 his adoptive mother looked him dead in the eye and said: 'you owe me your life, you would be a low life if it wasn't for me.' I was by his side when that happened. I have never seen him cry like that."
rostrovski
Mistakes
"I was told by my mother that she would still be happy and married if I hadn't been born."
Tjoliva
"My mom told me I was her second biggest mistake, her first was marrying my father, so many times I don't even remember the first one. My dad is seriously one of the best people I've ever met. I'm still angrier for him than I am for me."
So_Many_Words
Home
"Wasn't anything he said, but it was the action of him walking the door. My mom was in the hospital with terminal cancer. Dad lived there, and hadn't been 'home' in ages. We were staying at my aunts house and my brothers and I were sleeping on the living room floor. The front door opened, I woke up and looked at him, he said nothing, I said nothing. I just knew. She was gone."
"Edit: thank you all for the kind words. I also wish I knew what to say to those of you going through this awful experience as well, I've never quite figured out what to say other than time is finite and we take a lot for granted. If you can, give someone a call, a visit, a word. There's a lot I never got to learn about or say to her, so if you can, my advice would be to do so."
Ithxero
Well that is a lot of darkness and crazy. It makes you never want to leave home.
Death
"That my father didn't die the way i was led to believe for 20 something years of my life and he actually died from an OD."
hypr_activehyprdrive
"My husband died of prescription meds when my daughter was 13 days old. When she was young, I said it was an asthma complication. When she was older I told her the cold hard truth. Also, being a young widow & someone asks how my husband died, I don't owe them my story."
Chutneyonegaishimasu
It's all Messy
"I have a father who I'm not really in contact with anymore (messy) and my mom is really the only person left in my life. One day she was pissed off with me and admitted that she never actually liked who I was, even as a child. She loved me and did her duty as a mother, but other than that- she didn't like me."
Mediocre_Highlight_4
Moving Day
"My mom telling me that me moving to the other side of the country was going to be another one of my mistakes that I would regret. I didn't regret almost anything I had done in my life and was really hurt by her thinking my life was full of mistakes."
"I asked someone I was in love with and thought I was in a pretty good relationship with if we could celebrate our one year anniversary of starting dating and he answered no because it was just supposed to be a fling and not something to celebrate. I've never felt lower or less important in my life."
polkaspot36
Gotta Go!
"A few months after I had turned 18 my Dad came downstairs as I was getting out of the shower to tell me that I was a terrible son and that I had a day to move whatever I needed out of the house. I had to go into work that day and let my boss know what had happened and that I couldn't work that day. I came back and hugged my little brother and sister, packed my crap and left. My Dad and I have (sort of) made amends since then but I'll never be able to get what he said out of my head."
tunesis2cool4youk
Crazy
"My mom once told me she must have committed some terrible sin to have given birth to me and that I was pure evil All because I told her I was quitting dance classes. Overreaction, much?"
the-book-anaconda
"As a mom, your mom was downright crazy. That is an insane thing to say to anyone, much less your own child. I am sorry that you grew up with that, you did nothing to deserve it and it's not your fault."
Good_parabola
Realities...
"I'm a city bus driver. With very good intentions I once informed a homeless woman of where she could get free showers in the city as she smelled horribly of feces. I thought i was helping her. She informed me very calmly that she chose to live in filth and smell that way because it was the only thing that kept her from being attacked every night. Nothing has ever crushed me like learning that has. That is the reality of many homeless women."
BootiMcboatface
Nasty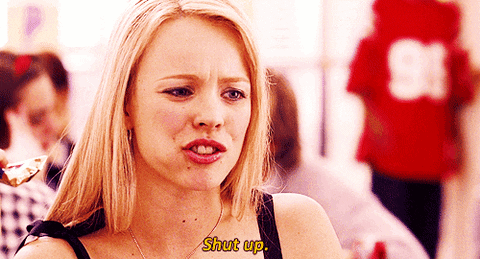 Mean Girls Shut Up GIF
Giphy
"You don't have any friends do you?"
"My teacher in 10th grade in front of the whole class."
rurubarb
Back Pain
"Husband had images done for his horrendous back pain. I went to the orthopedic appt with him. Doctor walked in, stuck the films on the light panel, and pointing to numerous shapes along the entire length of his spine said, 'Your spine is covered in cancer.' We were so stunned we just looked at each other for about a minute. My partner of 40 years, health nut, clean liver, had multiple myeloma. Eight weeks later he was dead from a brain bleed caused by a chemo drug. I miss him every minute of every day."
imrealbizzy2
Awake
"When the paramedic told me, 'we did all we could, but we couldn't save her.' after I woke up to find my wife dying next to me."
Mcsmack
Wounds
"'You should've just let her stab you.' My mom after I told her my aunt slapped, pushed, and tried to stab me with a kitchen knife earlier that day. She just doesn't care at all. she's just a very terrible mother and telling my stories about all the emotional, mental, and physical abuse i got from her would take hours."
"That also happened when I was just 16 years old, i'm 20 now and everyone (including my aunt mentioned) acts as if nothing happened in the past, but i still remember every detail as if it just happened yesterday."
01bia_
being 15
"When I was 15 and badly depressed my parents found out a diary I kept (where i vented a lot). My dad was very worried and upset about it which prompted my mom to tell me to 'kill myself if I wanted to do it so bad instead of making my dad worry so much.'"
obooooooo
Seeing Red
"Just yesterday my mother (during an argument) told me I was the reason my dog died of cancer. My dog that I drove to a special clinic almost every week for her chemotherapy since 2019. My dog that I would've given everything for. It was her puppy that she abandoned and I took in. What she said wasn't just painful. It was the first time in my life that I saw red."
modsherearebattyboys
The Witch
"'I don't love you and never have' we were together for almost 5 years and I was literally stepping on the bus to go to war. I came home to literally an empty house. The witch took the appliances. This was 14 years ago. The last I knew she was on her 3rd divorce and living in Wyoming. I'm happily married with a child now. But that first night back I drank a 5th of vodka and slept on the floor hoping to not wake up."
boxedcrackers
Horrible Woman
"When I was in Middle School we took a class trip (Theatre Arts) to NYC. Went to Broadway and Statue of Liberty etc. I was a fat kid at the time. We went to Chinatown to eat at a Buffet and one of the Mother chaperones told me she felt sorry for my parents. It always stuck with me the cruelty of her comment to a 12 year old kid. What a horrible person in hindsight."
Nairbfs79
lazy bones...
"It's not as heavy as almost any of these, but growing up all the way to age 18 I was perpetually called lazy and that I'd just need to settle for some kind of factory work because that's all I'd ever be able to get. My sister was the golden child and overachiever. For some reason it always just cut me deep even when I was older. My mom didn't even work, the irony of it all."
samiam871
Sometimes the truth hurts. And sometimes the people telling the truth are just evil.

Want to "know" more?
Sign up for the Knowable newsletter here.
Never miss another big, odd, funny or heartbreaking moment again.
Keep reading...
Show less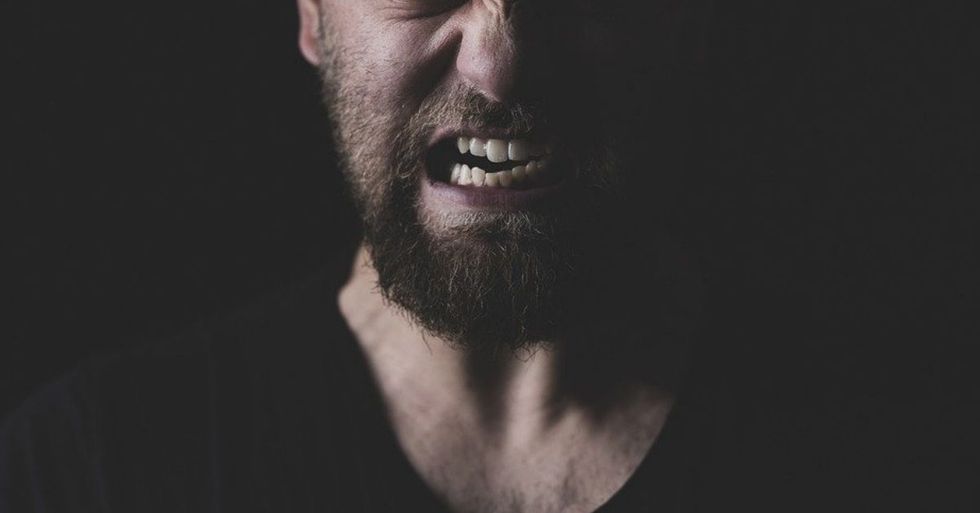 There is no correct way to grieve the death of a child, or a partner. No matter young or old you are, pain is pain. And learning how to live and deal with that pain is in constant flux. Case in point… Redditor Silver_Technician926 wanted to discuss his story for some feedback. So naturally he […]
More
Picture this: you pour yourself a hot cup of coffee or tea. Eager to take that first sip, you don't wait until the liquid is cool enough. Ouch! Your tongue pulls back, your arm jerks, and now you've spilled your beverage.
When we experience pain, that's our body's way of keeping us safe. The nerves send a signal to your spinal cord and up to your brain to let you know, "Hey, this hurts!" That's acute pain.
There's also chronic pain, which is long-term pain that usually has something to do with a miscommunication between the nerves and the brain. There's a signal that something is wrong when really nothing is wrong.
Some people have experienced excruciating pain from accidents, surgeries, and illness. We wanted to know what was the most intense pain that people have ever felt.
Redditor Bright_Vision asked:
"What is the most physically painful experience you've had?"

These will make your toes curl!
Spinal cord collapse.
"When my spinal cord collapsed down on to the nerves going to my legs I legitimately wanted to die."
- Decent_Barnacle_6746
"I feel this. Broke my neck and back and ruptured 6 disks and blew out every ligament in my neck. The worst pain was putting a trail spinal chord stimulator in and running the leads from my butt to mid back. I was awake and was given no sedation."
- growingwithnate
Appendix bursting.
"Toss up between kidney stones and appendix bursting. Wanted to die."
- HungDaddy120
"Came here to say this. Appendix burst. Insane pain."
"1 week in hospital for infection. It was just horrible. Literally an organ bursting inside you."
- Thenot99
"Were there any symptoms to begin with? Or is this one of those things that can just randomly happen to anyone without warning?"
- chocomilc
"You'll feel it, but it's hard to know that its the appendix. Feels like a stomach ache increasing in intensity over time from what I recall. Moving hurts quite a bit, especially if you wait before getting it checked out."
- yar2000
"Or you could be like me and not present with anything but some abdominal discomfort, no fever, no loss of appetite. I'm grateful they did a CT on me to check and make sure otherwise it could have been dismissed as gastro. I went from CT to ER to surgery in like 3 hours."
- kikat
Abscessed tooth.
"Had an abscessed tooth. For two weeks, my life was nothing but absolute misery, and nothing would kill the pain. At one point, the dentist had to drip numbing agents on the exposed root because it would not freeze, and that felt like a hot needle being jammed behind my eye."
"Cue a new dentist phobia that has me terrified to even call them when I know there's an issue."
- Lexi_Banner
"My mom had an abscessed tooth, and at the worst stage she cried worse than I personally have ever heard her cry. Awful stuff."
- Rhett12344
Ovarian endometriotic cyst rupturing.
"An ovarian endometriotic cyst rupturing."
"I remember taking about ten minutes to crawl down the stairs to get to the phone so I could call my mom, 100% convinced I was dying."
- ipakookapi
"I woke up one morning before school and told my mom I felt like I was gonna be sick. She sent me to school anyways."
"I threw up twice on my way to my first class. Then I threw up during that class and went to the nurse. I threw up in the nurses office probably 10x by the time my mom came back for me (~45 mins). She took me home (at roughly 9am) thinking it was just a stomach bug and went back to work."
"She came home by 5pm and I had thrown up possibly another 15-30x since she left me at home. Instead of going to the doctors she rushed me straight to the ER worried my appendix burst. Threw up another 3x in the waiting room."
"I threw up/dry heaved somewhere between 30-60x in less than 12 hours at 11 years old. I legitimately thought that this was the end and I was dying with how awful the pain was. All to get told, 'Yeah it looks like you had an ovarian cyst rupture, so you might be getting your period soon.'"
"11 years old, hadn't even had my first period yet, and my female organs already wanted me to feel like I was dying."
- borderline_cat
Spinal surgery.
"That time a neurosurgeon drilled out the base of my skull, installed a plate there, and then drilled holes in my top two vertebrae to connect it all."
"Excruciating pain for months, but the worst was the first two weeks. Any time the pain meds wore off, I was in hell. It felt like nothing I've ever experienced before or since. I became an animal. I wasn't capable of human thought or anything but screaming. It continued for a long time in a more muted way. When I tried to turn my head reflexively, when I accidentally shifted it forward. But the worst BY FAR was when I tried to sleep because I had no control over my movements then. I just woke up screaming many times each night."
"There was no escape. I was tired all the time, terrified of falling asleep again but also terrified of every potential movement. I had a very secure neck brace on 24/7 for months, but nothing was enough to stop this pain."
- vagabonne
These Low Effort Jobs Have Surprisingly High Salaries | George Takei's Oh Myyy
Have you ever worked one of those jobs that paid you to kinda sit there? If you have, you know the joy that comes with watching the entirety of Breaking Bad ...
Adriamycin chemo.
"Receiving Adriamycin chemo. The side effects made me wish for death at times."
- cloudydays2021
"I actually get nauseous just seeing that shade of red now. No kool aid or fruit punch for me!"
"At least I'm alive though. 9 years NED."
- heysandyitspete
"11 years later I still have the fear of that disgusting red. I'd get panic attacks just walking along the corridor to the chemo ward. It was always cleaned so thoroughly that even the smell of whatever cleaning chemical they used made me nauseous. It took me at least 5 years to be able to go outside without crippling anxiety."
- Blinkkkk
A virus that caused 3 other illnesses.
"When I was a kid I was severely ill with a virus which led to extreme dehydration. At one stage I couldn't hold down food or water for days. I frequently woke up with severe abdominal cramps but one night I woke up and thought my head was splitting open with the worst migraine of my life. I was in so much pain that I couldn't stand or see. I just curled up and begged for the pain to stop."
"My father carried me to the doctors and my mother sat with me while the doctor told them it was 'just a virus and it will pass.' The doctor had been saying this for nearly two months. My mother snapped and demanded the doctor to at least examine me and not dismiss me. The doctor quickly concluded my appendix had burst and to bring me to ER."
"The second my father carried me into ER the nurse just took me to the back and I was rushed to ICU. Turned out the cramps were also from dehydration and the virus caused my lungs to collapse and gave me pneumonia."
"The headache and cramps was something I never want to experience again and make sure to find a way to always be hydrated. I was in so much pain I didn't even notice my lungs were failing."
- RedIceBreaker
"Honestly wasn't shocked reading this. I'll be dismissed 3-4 times before anything I have is looked at. Now I collect dismissals in writing so when there is a big problem I have the trail."
- segfkt
For many of the stories in the comments, the pain being so excruciating is what rushed them into surgery. For others, it was the result of such surgery.
What's important to remember that if it's acute pain, and it's intense, see a doctor and advocate to be evaluated. It might save your life.
Want to "know" more? Never miss another big, odd, funny, or heartbreaking moment again. Sign up for the Knowable newsletter here.
Keep reading...
Show less