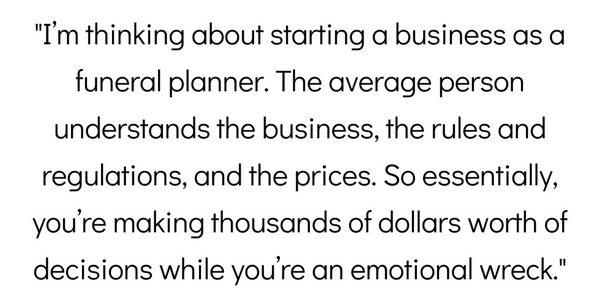 One of the hardest things to do in life is to stick to a budget. No matter how well you plan and how determined you are, you always seem to overspend a little.
Usually, this is a result of certain items being overpriced. Between run-of-the-mill inflation and shortage of goods, and the addition of pandemic-related inflation and shortage of goods, several items have been marked up.
In addition to goods, events and services are costing more as well.
The worst part is a lot of the stuff that is overpriced are actually items that people can't stop buying. People can't stop overspending if they aren't able to stop buying.
Curious about what overpriced items people keep buying, Redditor Sxzym asked:
"What's something that's way too overpriced, but people still keep buying?"
An Awful Business That's Always Needed
"Funerals"
– sparklingshanaya
"Just throw me in the trash."
– snyder005
"I'm thinking about starting a business as a funeral planner. I know it sounds like a stand up bit, but I'm serious."
"It's not like the average person understands the business, the rules and regulations, and the prices."
"So essentially, you're making thousands of dollars worth of decisions while you're an emotional wreck. Plus everyone is trying to squeeze extra money out of you by gaslighting you into thinking you're a cheapskate that doesn't care about your dead loved one."
"I go in not knowing the family nor the deceased and I certainly don't give two sh*ts if a funeral director thinks I'm being cheap."
"The only thing that sucks is I would have to get paid too, so that would kind of ruin the whole point. So part of me just wants to volunteer my efforts."
"I just really hate when people get bent over and put in debt after losing someone. It's so disgusting."
– Deleted User
Addicting Goods
"Cigarettes"
– Poopikenz
"This one hits home. Everytime my mother buys a pack of ciggies and bitches about the rising costs but absolutely refuses to try the MUCH cheaper alternative which is vaping, the same device she seen me quit cigs on lol."
– ItsAnAvocadooThanks
"I feel this lol"
"I've had issues with other addictions in the past and managed to kick the bad ones but haven't been able to quit smoking."
"At 2 packs a day with the price being between 6-8$, that we will call 7 is about 5k a year and I'm about a decade into this so I've depend around 50k on cigarettes in my life."
– GenericUsername19892
Fast Food
"Fast food. Gone are the days of the dollar menu"
– Bending_toast
"F*ckin fast food man, McD's is expensive as sh*t now a days."
– iaintlyon
"Fast food. I see lines of cars in just about every joint I drive past. Spending who knows how much money on one meal that has no nutrients. I spend the same amount on food that will provide me three meals, with nutrients that will help me through my week."
– HeartPalpitations46
Medical Supplies
"Insulin. It's like they need it to live or something. Lol."
– uwumcuwu
"Inhalers too. So ridiculous it's not like I'm choosing to not breathe"
– adnoh1799
Apple Products
"Not to start a phone war, but i myself think that Apple products in general are way too expensive."
– Lo0tzz
"I might be wrong on this but it seems like every time they come out with a new iPhone all they add is a bit more battery life and a few better camera features when they've already had an excellent camera since iPhone X and 11 because that was the whole gimmick of those devices but they keep adding more camera stuff and then slap on a hundred more to the price."
– zRudy_Jimmy
The Essentials Of Eating
"Grubhub/Uber eats/door dash, etc"
– MonkeyDDeclan
"And when you have small children at home, thus making you unable or unwilling (depending on the circumstance) to just run out and pick up the food yourself, you wind up using then FAR more often than you should."
– dkonigs
The Completely Necessary
"Health care."
– dangoins
"Insurance I mean, it's necessary, but still..."
– asianchopsticks__
"Women's hygiene products."
"It should be dirt cheap, if not free."
– Marmite_Badger
Hydration
"Water. Should never have to pay for it."
– mattekus
"Bottled water - obviously only where safe, clean drinking water is available from the tap."
– McStabbityStabStab
"Our tap water at our apartment tastes like dirt so we usually get a 24 pack and go through it in about 2 weeks. We always get the store brand, though. Never name brand."
– captainbuckybarnes
Fulfilling The Food Groups
"pre-sliced fruits and veggies at the store. The markup is insane on those things lol"
– -MACHO-MAN-
"In Tennessee a whole watermelon is $4.99. Also, 1/4 of a watermelon is $4.99."
– usedTP
"I hate myself a little every time I buy pre chopped veggies but damn it if they aren't worth it when my arthritis flares."
– thatspookybitch
Learn A Lot
"College education after associates."
– Cozycouchandtv
"University or college education"
– ThirdSpectator
Vrooom, Vrooom
"Gas"
– Equivalent-Ad-2950
"Gasoline, obviusly."
– notelpmiS
"Gas my friend…….. how else imma get to my destination without ending in west bubble f*ck☹️"
– londonmano235
Buy It, Don't Make It
"Boba milk tea has become overpriced where I live (used to be under $3-4 in my high school and college days but now most boba shops in my area are selling drinks for $5-7) but I still keep buying them from time to time because the last time I tried to make it myself at home, it was really bland and didn't taste like how milk tea should taste."
– booksandmatcha
I Gotta Play!
"In-game money or games. Some games cost like 500 in cash 💀 online. If it's expensive at a shop its understandable but online like steam? Comon bro 🌚"
– EllinorMetalhead-
Oh My God, Shoes!
"SHOES I MEAN SERIOUSLY SHOES"
– Temporary-Ad-4285
"Any Yeezy shoe, I like some of the designs they make. But I'm not going to pay 120$ for some slides"
– ItzzTokyoo
Home Improvement
"Major appliances. Has the technology changed that much to warrant the price increase? The bells and whistles might be nice but even basic appliance prices are out of whack. Seems fridges and freezers still use pretty much the same insulation and compressors. Washers and dryers haven't really advanced enough to justify the prices. Even ovens don't offer anything all that impressive. I suppose that's why they keep adding stuff like wi-fi connectivity; to account for the pricing. That and the home improvement shows convincing people they need new appliances every few years."
– litsalmon
What's A Movie Without Popcorn?
"Movie theater popcorn, snacks & drinks!"
– ChristmasOwl1886
Solid Advice...I Think
"Homes. Just rent. You are not going to live forever."
– celluloid_heroes
High Price For Comfort
"THAT bar soap. ya know the ones that have a whole plant in them."
– Maximum_Setting3206
Sadness
"The American Dream."
– Thundersiege_Tank
"happy endings"
– revpar35
Ouch. That's a harsh reality!
Keep reading...
Show less
Life is lived by spending money. That is the way we have created our lives, and now that is the way we must live them.
You have to spend money on everything.
For housing, for food, for transportation.
It is literally impossible to live without it.
Sometimes it can feel like we're drowning in bills only to have an unforeseen expense crop up and do far more damage.
Redditor PhantomBaka asked:
"Whats criminally overpriced to you?"
Here were some of those answers.
Twenty Eight Dollar Salad
"F**king salads. Man it's so frustrating, sometimes I just want something light and it costs me more than 6 hamburgers."-toddmflong
"I just ate at a restaurant this evening that offered a Caesar salad for $15. The chicken was $6 extra."-A_Very_Living_Me
Seems Important
"Epi-Pens. This, a thousand times this. I have 4 kids, each needed pens for school, and they couldn't share of course, and pens only came in sets of two."
"So a single $35 pen turned into $3200 because pens were $400 each, and each had to be bought in pairs, and I had to have a specific prescription for each kid. F**king stupid."
"Got the doctor to prescribe a vial of epi and a filter needle (glass vials need filter needles) and the single script cost about $16. Gave to the school nurse. Done. Oh, and the vial didn't 'expire' in 1 year."-ericzhill
Noms Will Break You
"Concessions at sporting events in the US. Our taxes pay for the stadiums. Then the public has to buy tickets to get in. Then when we finally get inside, they are gonna charge $14 for a $3 beer."-ArminTanz
"I remember a coworker told me a story of a baseball game he went to. After buying tickets and beer/food, they sat down and it started to rain."
"It was raining too bad to keep going so they called the game. He said that was $50 down the drain."-superzenki
Are you seeing things here that you immediately roll your eyes at?
Can't Get Out Easy
"Death. Even with no funeral/service/etc - there will be a cost for cremation, burial, etc that your next of kin will need to deal with/pay for. Your will needs to state what you want done, and plans made to fund it."
"My dad passed away earlier this year, and even with no funeral, service, etc (per his request) I still had to pay over $3000 just days after he passed to have his body dealt with, and another $600 for someone to dig a hole at the pre-purchased cemetery plot."
"(His requests were similar to my mom's when she passed away about 7 years ago, so I wasn't surprised by the cost - but it's definitely difficult to put so much money into basic post-death/funeral care.)"-whiteink-13
D'uhhmerican Insurance
"For a family of four it can cost you $1,400 a month to HAVE THE PRIVILEGE of paying the first $12,000 of all your medical bills YOURSELF before insurance kicks in and covers 70-80%. Like, WTF…"
"Doing the math: you pay $28,800 per year BEFORE insurance kicks in…"-CURCANCHA
The Biggest Scam
"Texas Instruments Calculators. Honestly. You have all the necessary software available for you as free or at worst cheap apps on any smartphone."
"I understand you cannot obviously use your phone on exams, but at intro levels, you want to know the graphs of the simpler functions, at least in the appropriate bounds."
"In more advanced levels, the kind of assessment that requires you to use a graphing calculator could easily be done differently, resorting to a computer or a phone."

"The technology might be amazing, but I haven't used my graphing calculator since high school, and I do lots of maths on the daily."-FroggyWatcher
I Just Wanna Play WoW
"Graphics cards is the reason why I bought my first prebuilt. I have always built my own computers, because traditionally it was cheaper for better parts, and it was usually easier to swap out parts if something failed."
"This past year I tried to upgrade my computer as it was finally starting to struggle with new games. After a few weeks experiencing the graphic card sh*tshow, I finally just went ahead and bought a whole pre-built via Costco that had a 3080."
"It was more money than I wanted to pay and the computer is way beefier than what I needed, but after seeing scalper prices and realizing I'll probably be spending who knows how many months playing the graphic card lottery, I actually feel like I came out ahead."-kamikaze_puppy
The worst part of spending all this money is there's no way to STOP spending it.
Kontakte
"College textbooks - They can cost hundreds of dollars, and professors will publish new ones all the time to force students to get the newest version instead of reusing an older one."-terminat323
"I'm just finished an online program and bought all of the books since I was responsible for teaching myself the material. I went onto my college's bookstore site and tried to have them buy the books back that I didn't want."
"They offered 15$ for a textbook over 150$. 15 f**king dollars."-emmma9321
Trauma Often Equals No Money For Therapy
"I tried to get a trauma therapist recently and the one I was recommended charges $200 an hour and doesn't accept insurance. That in itself is traumatic."
"While we're here, two things I can recommend from someone who has been in the system for 16+ years and just recently received a correct diagnosis of narcolepsy."
"-Advocate for and get a medical work up if you can before attending therapy. Even if your PCP or psychiatrist just tries to send you to therapy without any testing, keep fighting for it, especially if you have chronic symptoms like depression."
"Many symptoms related to underlying medical conditions can mimic psychiatric conditions. It's really dangerous to sit in therapy for years without adequate medical testing to make sure you don't need medical treatment first."
"Also, don't take meds from a psychiatrist who doesn't order labs first or gives you a hard time about ordering labs or a sleep study."
"The best psychiatrists should ask for these right away and help you advocate getting them. Out of the long list of doctors I have worked with, only one ordered a sleep study and labs. And she saved my life.
"-For those who have had terrible experiences within therapy, check out the Very Bad Therapy podcast. It's a podcast that gives a platform to those who have been harmed by therapists and different therapeutic models. It helped me to not feel so alone."-ThisNerdyGirl
The "No Calorie" Diet
"It costs money to be poor. God I hated being poor so much. My old boss asked me if I was working out since I had lost like 15 pounds but the reality of it was I couldn't afford food."
"We had snacks in the office that accounted for probably 75% of my daily caloric intake. I was going further and further into debt just to keep the bills paid, and for many months could only make the minimum payment on my credit card so the interest was also killing me."
"So glad I'm in a better, debt free position now and have the ability to help out those less fortunate than myself."-FILTER_OUT_T_D
These things are things we have to live with in order to survive, but the truth is, there might be a better way.
As we all navigate these things, and how to stay on top of an ever-more-expensive world, the best thing we can do is rely on each other for tips and tricks on how to make this mess of a life just that much more easy.
Want to "know" more?

Sign up for the Knowable newsletter here.
Never miss another big, odd, funny, or heartbreaking moment again.

Keep reading...
Show less
Money is a tricky topic to discuss.
You (hopefully) work hard for it, so you should be allowed to spend it however you want. This article isn't about dunking on people who want to buy themselves a special treat at the end of an incredibly hard week or people who spend their money on a slightly overpriced hobby to connect with their friends or family.
No, this is about items and lifestyles that absolutely no one should be spending money on. Ever.
Reddit user, Animeking1108, wanted to know what to save our money on when they asked:
"What is the most expensive waste of money?"
Maybe the person spending the money has, in their own mind, a "good reason." Perhaps they think of it as an investment in their future, or they're seeing something that can help guide them to a better life.
Whatever the case, you can talk to them later when they sadly discuss their lost income.
I Foresee A Lack Of Money In Your Wallet...
"My ex-girlfriend had an obsession with phone psychics. Not all at once, but over the course of a single year she spent over $15k getting 'life advice' from multiple psychic lines."
"No one in her circle of family or friends could convince her to stop. I haven't spoken with her in a few years but I wouldn't be surprised if she's still wasting her money on them."
Hollywood899
"Haha my friend used to be a phone psychic and she got paiiiiid. She said the people who typically called would obviously want to hear her say certain things so she would say them and they'd just keep calling."
wasabitamale
Kind Of Tricky To Pack Up The Kids In A Lamborghini
"Buying expensive cars. I mean I get it, they're nice, they're flashy, and really cool to own. But honestly all cars do pretty much the same thing. As long as I have a way to get myself safely from point A to point B I really don't care if my car looks like sh-t"
Useless_Pineapples
Stop Going, Until We Figure It Out
"College textbooks"
Kartoffel_bob
"I'm a professor and I hate the prices of textbooks. It's so gross. I use Open Education Resources for most of my classes and if I have to assign a textbook that costs money I'm finding the cheapest one (like $20). Cause f-ck the textbook publishing companies."
"We need more professors fighting against this scam. Don't get me started with online textbooks and quizzes. Those professors are just lazy. I teach 8 classes and I'm able to hand grade everything!"
MelyssaRave
Copy + Paste
"NFTs"
KingJenx
"Best answer. They seem like the lowest possible return on investment, since they're just a digital receipt for a digital image"
CosmicShadowMario
"But NFTs are way more convenient than actual art for laundering money."
TangoDeltaFoxtrot
Gotta Buy Them All

"Toys to life games. Anyone remember skylanders? You'd buy the $40 game then spend hundreds on buying characters, only to realize all of them have basically the same attacks."
Imreadytofight8
Car Go Vroom-Vroom?
"Top end engines. Unless you can use them to their full potential or you are in love with the vehicle and can really appreciate the engineering that goes into it."
"Most of us are driving normally or breaking the speed limit by 20, which the standard engines can do. However with that top end engine, your paying for maintenance on a car that you are not using to it's full potential."
kingofthelostboys
Not all money-sucking ventures are new. In fact, many expensive cash burners have been around longer than some of us have been alive. After all, greed isn't exactly a new thing, but sometimes it takes some modern day thinking to overcome it.
No Content. Only Ads.

"Cable service, especially since half the channels are f-cking ads"
Firebolt164
"Oh man. Took my wife and daughter to Disneyworld last week (don't get me started on the P-I-T-A has become), stayed at Holiday Inn Orlando, just down the street from Disney Springs; their TV first didn't give you any ability to stream from a personal device -which pissed me off (my local Howard J's does that here in NJ)- and so it was all commercial watching"
1-LegInDaGrave
Caught Up In The Cycle
"Payday loans. Is that still a thing?"
kincage
"Oh man I know this one. My dad lost his cushy job and had to take a massive pay cut so with all his expenses he's on payday loan from A to pay back B to get more cash to pay off C and it goes on and on. My grandma always said my dad borrows from Peter to pay Paul. I'm not quite sure who those people are but it sounds right to me. Poor guy is still on that track almost 20 years later."
PretendThisIsMyName
This Feels Like A Real Missed Opportunity
"The Olympics. More specifically the building in host cities."
TraitorHunter
"Yep. We're getting ready to host in '28 here in LA, and we already have all the existing stadiums etc. Its still looking to be quite expensive, though, especially as we're trying to upgrade so much of our infrastructure and public transit and whatnot."
"I can't imagine what it's like for places who have to build everything."
michiness
Think Before You Drink
"Im going to get sh-t on for this."
"Expensive wine/alcohol. Especially if it's your second or third bottle of the evening ( with friends, Im no monster)"
"My logic on this:"
"There are some amazing "expensive" wines (75-200.00 per bottle, I mean skies the limit but I can't touch the sky at this point in my life). I think its nice to enjoy them every now and then with someone who appreciates them. Then once the buzz hits, it's back to the 15-30.00 bottles for me."
"However going to a restaurant and ordering a 300.00 bottle that is 100.00-125.00 at a liquor store seems dumb to me."
"The same goes for high end liquor. I can get just as greased off a 50.00 bottle of scotch as I can off of a 200.00 bottle of scotch. And after one or two they taste pretty similar to me."
"I realize eventually you are paying for the "story" of the vineyard or distillery. But sh-t. It's not thaaaat good of a story."
kingofthelostboys
If you're spending more than a few bucks on a bottle of water, maybe consider finding a good charity to give all of your extra income to because, wow.
For Those In The Back: It's. Water.
"Designer water"
invalidpassword
"Dafuq is 'designer water'?"
bussy-enjoyer
"Excuse me, that's DaFuq™ Designer Water."
bundleofschtick
"I love seeing a friend drinking a Voss Water. "Hey take that cap off the water I'll show you a neat trick." " Hold the cap up to your ear, do you hear that?" " That's the sound of their director of marketing laughing at you."
unitednihilists
Smart Fridge. Dumb Purchase.
"Those fancy smart fridges. Smartphones and tablets already exist, I don't need all that shizz in my fridge. Along with the ice and water dispensers. My grandparents have one of those fridges and they have to pay money every 6 months to change the filters for those, and it's hella expensive each time. If you break the touchscreen, you have to pay all 4 of your limbs to repair it. Yes, this is based on experience."
Due-Championship-841
Be A Better Influence
"Clothing hauls from fast fashion brands like shein"
"If you're an influencer, and you have money, you shouldn't spend so much on such a harmful industry"
Bobbo_Blobbo
But You're Paying For "The Experience"

"Bottle service. $40 Grey Goose becomes $600+"
whodey2016
Wait, This Was A Thing??
"The I'm rich app. When launched, the screen only contains a glowing red gem and an icon"
"It cost $999.99. You can't buy it anymore but it was an expensive waste of money."
GonnaGoFat
Paying To Burn The World
"A gender reveal party that burns down half of the state?"
wickedblight
"It really sucks that half of California is on fire but hey it's a boy!"
DogsAreCool69420
Boom. Topical.
"War. Having a sworn enemy is expensive."
theProfileGuy
"Did you know the war in afghanistan cost the USA $300 million per day for two decades?"
"Insanity."
PM_ME_AYY_LMAOS
"Another great way to visualize it is $75 million per enemy combatant killed"
hoCyb3ron
Be wise with your money. Get the things that make you happy, as this is the only life we have to live after all.
But, really, water? You want to buy overpriced water?

Want to "know" more?
Sign up for the Knowable newsletter here.
Never miss another big, odd, funny, or heartbreaking moment again.
Keep reading...
Show less
Goods and services are always going to have a cost. Such is life.
It's fine if you're paying a noticeably higher cost for a quality good or service, typically as a way to treat yourself.
When you start paying "treat yourself" prices for "everyday items," that's when your wallet starts to feel the sting of your account being drained.
Something overpriced where you live? Let's talk about it.
Reddit user, u/Spaceisthecoolest, wanted to know what cheaper options they should look for when they asked:
What is incredibly overpriced in your country?
We're certainly paying a lot for the tiny super computers in our pockets, aren't we?
Paying To Pay To Use A Phone
"Cellphone service fees." ~ marie-llama
"It's insane. I just got here and wanted to setup a phone plan. Visited 3 store until I understood this where the regular prices. I'm not even paying a 10th in Europe of what I'm paying here." ~ FarmingFriend
Need To Account For That Markup
"Pretty much anything tech-related will be sold for about the same amount in USD as GBP."
"The exchange rate is 73p to the USD."
"We are paying a 37% markup on everything." ~ UnloadTheBacon
Canada, Eh?
"Mobile data. Canada pays some of the highest prices in the world for mobile data." ~ habsrule29
"In Finland I pay about 20€ for unlimited phone calls, text messages and data (they are truly unlimited)." ~ genus
"20 dollars in canada gets you about 100 minutes calling, free texts and 200mb of internet lol, its unreal" ~ DoubleAd7712
It isn't just America, before you go assuming we're the most over costed country in the world.
Turns out others might have to be paying a lot more than we are for goods and services.
If You Can Even Get One...
"I'm from south Africa and an Xbox Series X is about R11000" ~ MetropoliceKZN
Conversion, Anyone?

"An RTX 3090."
"Jokes aside, gas at the moment. It used to be €1.60 per litre. Now it's up to €2.05 per litre. When we go to Germany for some gasoline it's around €1.60 where it used to be between €1.30 - €1.45" ~ derypguy47472
"F*ck! That's $9.01 a gallon!! At to think I was bummed gas here is ~$3.75/gal (~€0.86/L?)" ~ sirdabs
Gotta Get That Vitamin C
"oranges in sweden. I used to live in the mediterrenean and kick them off the sidewalk."
"But Im ok since salmon is way cheaper here." ~ Unlucky_Mistake1412
Paying A Lot For The Bare Minimum

"Housing. It's a travesty." ~ GothTheLife88
"Tell me you live in NZ without telling me you live in NZ..." ~ lancewithwings
"As an Aussie, NZ is my affordable alternative."
"Good luck finding a beach front peice of land for 200k here with a less than 1 hour commute to the city."
"Plus, in NZ, you can buy old houses and have then transported on a truck."
"I was doing math the other day"
"Beach front land - $195k"
"Restored 1920s house - $90-110k"
"Transport, foundation setting and connection - $75k-$100k"
"Approx $400k for a really great set up. In Australia you pay more than that for a sh-t apartment that catches fire, in a leaning building, with no resale value." ~ JustHell0
Obscure Opinions People Are Fully Committing To | George Takei's Oh Myyy
We all have a set of beliefs about even the smallest of topics. Like sandwiches should have structural integrity. That's something we can all agree on, right...
Contrasts Between The Two
"Most things in Australia except food…a trip to the US is an eye opener re cars,clothes,electronics etc…" ~ MegGrunt
"I would expect food here to be substantially more costly than the US. Take out is real expensive unless you're buying something very unhealthy like Maccas, which frankly doesn't seem cheap either" ~ angrathias
"American supermarkets are weirdly expensive. Their restaurants are crazy, crazy cheap" ~ lamiscaea
People Need Their Chocolate
"Freddo bars are so bloody expensive these days it's a national disgrace lol" ~ Angrypenguinwaddle96
USA! USA!
USA? Are we really "the best" when we can't take care of the people who need it the most?
Ohhh, Bootstraps. That's All We Need.

"Housing, childcare, and medical services/insurance." ~ PNW_Soccer-Mom
"Geeze bud. Don't buy a house have kids or get sick if you can't afford it. Do you have bootstraps you could try? /s" ~ FilledwithTegridy
Step one: acquire bootstraps

Step two: pull

Step 3: ???

Step 4: Profit" ~ cheyras
Bread. It's Always The Bread.
"Bread. I'm in the States, and have been for just over a year (yep, that new to Reddit), as you can guess by my username. $4 a loaf for anything that isn't completely sh*t. It's bad."
"Grocery shopping in general is definitely expensive here. I've lived in the UK (more than half my life having been born there), Croatia for 12 years, Germany and Austria for a few years each, and have travelled a lot. The U.S. is really expensive for groceries in comparison to a living wage."
"Oh yeah, and the healthcare, but that's just a f-cking joke right?" ~ An-Englishman-in-NY
Just Pay Your Workers? Maybe?
"Tipping. Not just restaurant waitstaff but everyone…at hair salons, hotels, taxis, coffee, tour guide or anything travel related, bar. It's no problem to tip the individuals trying to make a living, but it's ridiculous that we as patrons are expected to pay for these companies labor costs based on how the US functions" ~ ericjo383
"It's getting really out of control in the beauty service industry especially. Lots of people rent a small room or just a chair in a salon to say, do lash extensions or hair coloring. Or they own their own salon outright. These aren't people making under minimum wage and working for someone else. They own their own business and set their own prices. And yet they still demand a 20% tip minimum."
"Just charge me the price you expect to make and don't do this BS tip song and dance that just makes it awkward for everyone."
"Have the time they also act like they're doing you a huge favor by even allowing you to be graced by their presence. Thankfully with YouTube I've learned to just do everything myself." ~ hellohello9898
Beef! Beef! Maybe Medicine. Beef!
"In the US, health care and beef. A good ribeye is $15 to $18 per pound. I know beef is more in other countries. But we have a ton of cows and grazing land here. There's no reason for it. And for health care, back in the 90s, I paid $10,000 for an MRI. I'm sure it's more now."
"When I lived in Uruguay, some of the best grass-fed beef in the world was $5/lb for a porterhouse. On the other hand, anything car related in Uruguay is ridiculous. Cars cost double to triple what they do in the US. Repair parts are double or triple. And gas is $8 per gallon. This in a country where the average salary is $500 per month. How would you like to pay $90,000 for a base model Camaro?" ~ user deleted
Because, Capitalism.
"Insulin." ~ Buddhafisticuff
"Sorry.... How..... How is that the most expensive... It's literally free?.... Oh.... American I presume?" ~ JustARandomBoyo
"Our country charges $1000 for a life saving medicine that other countries charge $30 for because Capitalism." ~ Buddhafisticuff
Leaving Hawaii To Hang With Their Pricey Milk
"In the 50th state."

"Milk and gas."
"7 bucks a gallon "
"try and guess which one I'm talking about." ~ Affectionate-Kick-25
"Hawaii or Alaska?"
"I can get mine for $2.72/gallon"
"We do have to have lactaid, so I actually pay $5.72/gallon" ~ imjustbrowsing96
Be smart, try to see when someone is trying to pull one over on you, and always be willing to walk away to find a better deal when you can. That's not always going to be possible, but it's important to try.
Want to "know" more?

Sign up for the Knowable newsletter here.

Never miss another big, odd, funny, or heartbreaking moment again.

Keep reading...
Show less
From the seller's perspective, the best price is the highest one possible that people would still buy. Usually, that's a careful game: supply and demand are balanced and the ideal figure is honed.
But sometimes, the price seems to come way out of left field.
A recent Reddit thread asked folks to discuss the most cartoonishly ridiculous prices they've ever laid eyes upon.
Often the culprits were the peddled products of niche internet companies or high end brand stores. But some truly weird examples from the furthest corners of commerce also made appearances.
For anyone who has ever been taken for a ride, this is a thread you'll empathize with.
Thic_water asked, "What's the most overpriced thing you've seen?"
Amazing Picture
"There's a 50,000 dollar HDMI cable on Amazon" -- BiscuitMiscuit
"I once read a review of an 'audiophile' grade ethernet cable. This guy actually claimed changing the ethernet cable from his router to his PC made his music sound better." -- ConspiratorM
"I heard that it is easier to change the list price of an item instead of make the item unlisted So sometimes you'll see an item listed for an absolutely absurd price because it is out of stock"
"I went to buy a $30 item once and the price changed to $10,000" -- Yomommassis
As High As They Go
"In a downtown consignment shop, an oil painting of sheep grazing in a meadow had a price tag of $18,700."
"It was by an unrecognized artist. When asked why it was priced so high, the shopkeeper said 'because someone will like it and buy it.' " -- Back2Bach
"My high school art teacher told me your piece is worthless until you have a buyer. Same idea." -- Solobotomy
INFUSION
"That $6 asparagus water Whole Foods sold a couple years ago; it was a 16oz bottle of water with 3 stalks of asparagus."
"Also, everything from goop."
The Ethical Underbelly
"Insulin. Discovered over 100 years ago and is now synthetically produced and still is being sold for hundreds or thousands of dollars in many cases."
"The drug companies decided they were going to make their gigantic profit margins off life-saving medicine."
-- t1runner
The Highest Stakes Party of All
"Weddings."
"I don't disagree with wanting the day to be special and memorable, but the industry jacks up the prices if they know it's a wedding, and there are way more affordable options while still getting to celebrate love and the future."
"No reason to break the bank. Use the money saved for even more memories."
Paying for the Name
"A few years back Nordstrom was selling a rock in a leather pouch for $85." -- Happy_Fun_Balll
"Neiman-Marcus used to put out the most hilarious Christmas gift catalog."
One year they offered his and hers Lear jets. No kidding. Just about anything in that catalog was wildly overpriced. More recently, they offered in their Christmas book, as a potential gift, a Boeing Business Jet for the wonderfully affordable price of 'north of $35 million.' " -- dramboxf
A Fitness Boom
"Literally any pair of dumbbells during the Covid lockdown." -- Nicod27
"I managed to walk into a Dick's Sporting Goods as they were offloading 300 lbs. Barbell sets. When they were helping me load the set into my car the employees said some guy had driven from Chicago (~5 hours) and bought a pallet of them."
"I know that motherf***er must have made a killing flipping them on CL." -- frankhaith4missouri
But It's So Cool Looking...
"Bottle service at bars is f***in stupid... I'll just go to a corner liquor store and buy the '4000$ bottle' for like 40..." -- Lone-Oak
"Bottle service seems great when I'm blacked out and my friend orders it... when he venmo requests me the next day it does not seem great" -- Sleepy_Tortoise
People We Trust
"Celebrity line of products."
"Companies hike the prices of products by hundreds of dollars just because the name of a celebrity was on it."
Out of Whack
"College" -- Universal_MJ
"That's the USA for you 'Don't wanna pay minimum wage? Get $100,000 in debt for school and some papers' " -- Thic_water
"Its sad when people say $30k of college debt is not too bad" -- ijustneedanametouse
Value Added Products
"A couple of years ago, Mark's and Spencer Food, a high end supermarket in the UK, tried selling 'Cauliflower Steak' which was a thick slice of cauliflower for £2.50. It was covered in plastic"
"You could literally buy a whole cauliflower in the same row a bit further down for 40p."
"They were crucified for it, it was hilarious"
-- patchyj
GOLD STUFF
"When I was in Dubai 2 years ago there was a cell phone store in the mall that sold phones that ranged from $30k -$120k. They were basically phones covered in diamonds and gold."
"That's $100k for something that is probably already obsolete."
-- holla09
The Internet of (Overpriced) Things
"The $700 Juicero. As if a Wi-FI connecting juicer was even necessary, let alone worth the price point." -- brownsheepinasweater
"'Juicer' since it didn't even actually juice anything, just squeezed bags of premade juice." -- Ninjachibi117
"There's an alcoholic version of this called the bartesian. It literally just mixes alcohol with pods of pre-mixed cocktail juice. It's $350 and for some reason people have been going crazy over it. It was sold out for a while. Such a marketing gimmic" -- Plumrose333
Bad, and Worse
"You know, for the longest time I was amazed that the company behind Epipen would charge a whole $100 on their product up here in Canada."
"Then I found out they sell the same product for over five times that in the US."
"Y'all seriously need better governments."
-- A_Person_13
Price-Gouged Basic Needs
"As someone who is half blind, glasses. I get the dirt cheap ones, and it still costs over $100 for the privilege of being able to see." -- TheRealHirohikoAraki
"Also wheelchairs. The basic ones are usually pretty reasonable, but if you need any sort of custom support they can routinely cost more than most luxury cars." -- rachaek
Want to "know" more? Never miss another big, odd, funny, or heartbreaking moment again. Sign up for the Knowable newsletter here.
Keep reading...
Show less