Because we rely on a medical professional's expertise regarding our ailments or concerns, we have no choice but to trust them.

Our vulnerability leads us to accept what they have to tell us.
But what happens when our expectations about doctors are suddenly turned upside down because of something they said.

Strangers shared their off-putting experiences when Redditor MCKlassik asked:
"What's the most unprofessional thing a doctor has ever said to you?"
As if these patients hadn't suffered enough anxiety, their heart rates increased following these rude interactions...or lack thereof.

Bullied
'Heart surgery is an out-patient procedure.'
"My insurance companies board certified doctor on justifying why no intensive care or recovery would be authorized."
"In the end, at least on paper my unconscious self, with multiple chest drain plugs and on oxygen had to be wheeled out onto the curb, then wheeled into ER and readmitted on account of being in critical condition after heart surgery."
"Blue Cross really upped the ante on bullying me into dying instead of going though the bother of trying to live without bankrupting myself."
– Foxbatt

Evil Descriptor
"Had a bad head injury when I was a kid (12 or 13) and saw a bunch doctors trying to figure out what was wrong. Got a little snippy with one of them over something I don't even remember. Pulled up the medical record years later and she referred to me as a 'child of the devil' in her report. Had to make some phone calls to get that 'diagnosis' removed from my record."
– DuckSkrol

Nurse Wretched
"Not a doctor but a nurse."
"And it just happened recently."
"I was hospitalized with due to a pretty bad car accident. Unfortunately due to the surgery and general trauma while I could feel the urge to urinate I could get the muscles to relax so I could urinare on my own. For the first day they were just doing in an out catheters whenever I said'"hey I got to piss and I can't please help' it was uncomfortable but I managed till I got to the night nurse."
"Told her at 8:30, hey need help with this, she does a bladder scan says 'not enough urine right now,' 10:30 rolls around and I tell her again and she's like I did the bladder scan you're fine, 12:30 'I did the bladder scan at 10 its not enough urine' so now she lies to me."
"I finally get her to do the catheter at 4 in the morning where she proceeds to take out 1.3 liters of urine out of my bladder"
– jayjude
Abandoned
"It wasn't what was said, but I did have an appointment where the doctor just never showed up. I was in the examination room for about 45 minutes when an MA walked in and asked me what I was doing there. When I said I was waiting for the doctor, 'the doctor already left! We're closing.' Instead of calling the doctor back they made me schedule another appointment. I found a new office instead."
– quafflefalafel

Confidentiality Breach
"Not to me, but about me. I went to see the family doctor over a minor thing. I was an adult at the time, and didn't tell my parents because they freak out about anything medical-related. My mother went to see him a few weeks later and he told her I'd been to see him. I was so angry."
– peon47

These women shared their uncomfortable moments in the examination room.
Unsettling Assessment
'"i went to the doctors' to get my breasts checked (he basically just held and caressed them in a manner he wouldn't have had a chance to feel anything potentially dangerous) and due to them causing me a lot of physical pain i asked him about my options regarding breast reduction surgery. he got visibly angry and told me to never even think about it, and called them 'beautiful and tender.' he was well in his 50s and i was 18-19. i paid like 50 dollars for master roshi to ignore my health issues and make me find another doctor who actually wanted to help people."
– bratsbane

A Little Humor
"Unprofessional, but funny. I had taken my 92 year old mother to a recheck appointment to her PCP."
"An apparently new medical assistant was dutifully getting her history by reading off a checklist. When she asked when Mom's last period was, I looked at Mom a little nervously: she was VERY old school, very dignified and would typically never acknowledge to her sons that she had female parts."
"I saw a rare twinkle in Mom's eyes as she calmly replied, 'well, I can't give you an exact number of months, but I'm pretty sure it was sometime in the late 1960s.' The assistant had the good grace to laugh with us, apologize, then read the next question."
"do you think you might be pregnant?"
– jakobedlam

Some doctors are terrible at trying to make patients feel better.
Doctor Had Questions

"Had a doctor ask me why it took so long to come in for a UTI, I said I just got insurance, haven't had money, taking care of my kids first. She said rather flippantly 'You some kind of martyr? Did you leave your cross outside?'"
– mmsdiscard

Just Fatigue
"You're not depressed, you don't look sad. You must just be tired!"
"Here, take these sleeping pills, but don't take them all at once!"
– Nicxll

Not Onboard The Fitness Journey
"I had a doctor comment on how I've lost weight (fine, I get that), but when I told him I started going to a gym he told me not to try to build muscle because it will just turn to fat someday anyway 😳"
– FkMyWorkLife
Too Much Faith
"I was looking for a surgeon for my gallstone operation and he asked what meds I was on. I mentioned my antidepressants and he started saying I didn't need to take them I just needed to pray. I was pissed and replied 'I guess I'll just pray my gallstones away too then.' Needless to say, I went with a different surgeon."
– maggyta10
While everyone has varying levels of rapport with a primary care provider, the last thing a patient needs to hear is that they're overreacting when they're genuinely concerned about their health.
A little care in the care profession could go a long way.
Want to "know" more?
Sign up for the Knowable newsletter here.

Never miss another big, odd, funny or heartbreaking moment again.
Keep reading...
Show less
Don't you just hate it someone makes a tone-deaf declaration without realizing their words have the potential to hurt or frustrate others occupying the same space?

Seriously, read the room.
Curious to hear from those who were put off by ignorance, Redditor LaunchesKayaks asked:

"What's the most out of touch thing you've heard a person say?"
Never assume, is a concept that was lost on these people mentioned, below.
Clueless Employer
"Recently got a new job that paid double what I used to make. When I resigned my former boss told me money isn't everything lol. I was only making minimum wage before"
– HotPotato7915

Seasoned Traveler
"Had a friend in dental school who grew up in the rich suburbs north of Detroit. We were talking about traveling (she was going to Thailand for spring break) and she said 'I'd be surprised if most people hadn't travelled to at least 20 countries.' I told her I'd be surprised if most people had ever left the US at all."
A Parent's Burden
"When a guy was upset his wife was making him 'babysit' their infant too much, so he and his mom told her there'd be no more going out. He said him going out all the time was different than her going out, and when asked for clarification he said because she's better at changing diapers and getting the baby to sleep. It truly blows my mind that there are morons out there who think taking care of their own children is babysitting."
– therewillbehints

Bad Priorities
"My old neighbours didn't see the point of taking their kids (3 and 6/7) to the playground nearby, or anywhere for that matter, because he 'found it boring.' The 2 kids spent every day in the house infront of the TV."
"Why would we go to the playground? I find it boring."
– Tabby_Tibs

A CEO's Problem
"During a break room discussion on how one of my co-workers was having to go on food stamps because the job didn't pay enough, the new CEO who for the first (and last) time decided to have lunch in the break room, dropped this gem:"
"Yeah, I know what you mean. We had to let our second nanny go."
"Really Cheap" Bargain
"My boss told me that the leasing of our company car is ending and I could buy it for really cheap if I want it. 'Really cheap' meant 20.000€ for him. He pays me 750€ a month (im still in training thats why its so little) and I live on my own and have a car, so basically I'd have to work about 2 years for this 'really cheap' car without spending a cent on anything."
– Wursti96
Thanks, But No Thanks, Gwyneth
"We're human beings and the sun is the sun--how can it be bad for you? I don't think anything that's natural can be bad for you." —Gwyneth Paltrow, 2013
"Let's say I get bitten by a rattlesnake. I shouldn't be worried; the venom's natural, isn't it?"
"Just a note: she was saying this because she thought that the sun couldn't possibly be bad for you! 15 minutes of sun a day should be healthy for anyone! Pure, radioactive sunlight! No SPF!"
– emriverawriter

Logic Without Traction
"If you can't afford gas, buy an electric vehicle."
– Gogo726
Some statements are so outrageous, there ought to be consequences.
What In The World?
"'Africa is a country.' In front of an Ethiopian who insisted that Africa is a continent..."
– LumiWang

Racist Grandma
"Grandma/mom called her 2 mixed great grandkids '2 n-words in the wood pile' and she wonders why they and my sis don't visit her."
– fqtsplatter

Speaking From His Experience
"The most unusual thing I heard from my friend is that he seriously thinks that menstruation doesn't exist."
– gaySaipan

Ohio's Mayor Feared This
"That allowing ice fishing shacks would then give rise to prostitution."
– Scottybobby33

Two Toxic Options

"Love it when toxic people tell you that you have to get used to or deal with their toxicity."
– alleekatz
These are the last things people want to hear when in mourning.
A Study Of Contrasts
"My dad just died about a month ago. My company gave me 4 days unpaid off. I was really close to my father so this was hard for me to deal with. My pay cheque was enough to pay bills, but I had to buy my groceries on credit card to get by. My bosses brother in law died the following week. All he talks about is how hard this is on his wife. Between the stress of her brother dying, and the reno on there million dollar cabin he's taking his whole family to Hawaii for 10 days this month to try to deal with there grief. Mean while I'm pricing urns out on Amazon to try to save money, trying to sell my dads tools to help my mom, working full time and taking care of a toddler."
– candy_15

Not Something To Hear In Grief
"'Aren't you a bit too old to have a grandma?' A neighbor when I told her my grandma just passed away."
– SadNAloneOnChristmas

platitudes
"I'm so sorry for your loss. Hang in there. Also, your boss is a dick."
– SpareToothbrush
Those who are completely self-unaware tend to be so out of touch, it's a wonder how they have assimilated into their respective communities.
Usually, it's not worth the headache to confront these people who can't see beyond anything that is relevant to their world.
Would you put these tone-deaf individuals in their place?

Want to "know" more?
Sign up for the Knowable newsletter here.

Never miss another big, odd, funny or heartbreaking moment again.
Keep reading...
Show less
marriedSo much of history is being looked at and studied and we're realizing... we really let A LOT of "artistic" crap slide over the decades.
There are some especially egregious issues in music. Some songs and lyrics can just give us all a little cringe.
Some cringe may be because of the artist, which begs the question... "can we separate the art from the artist?"
And some songs are foreshadowing that can be too cruel to take.
Redditor promisedjoy wanted to discuss music of the past that has really left us with some problems, so they asked:
"What song lyric didn't age well?"
Let's begin with our National Anthem.
Oof, there are lyrics people don't know enough about that really need some editing or complete deletion.
That's gonna be a battle.
Party Now!
"'Party like it's 2020' made in 2019 lmao." ~ ItzYaGirlKoda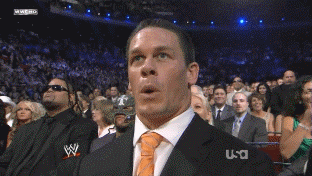 Giphy
Numbers Matter
"Age ain't nothing but a number." ~ Lovingnature412
"Background for those who aren't aware, but 'Age Ain't Nothing but a Number' was written for Aaliyah (the singer) by someone called... R. Kelly. And yes, that's the same R. Kelly that was all over the news a few months back due to his trial for various sexual offences (including those involving minors) a few months back and has now been convicted."
"But did you know that Kelly was not only in a relationship with Aaliyah herself, but illegally married her when she was still just fifteen? (The marriage was later annulled). So yeah. 'Did not age well,' indeed." ~ IllegalTree
Yeah, anything R. Kelly needs a scrap.
Who even thought that was a good idea?
Did nobody really... nevermind.
What a mess.
She & Him...
"In October 2016 the group She & Him released a Christmas album that features a cover of a song called 'Must Be Santa.' In the song they list the names of several US Presidents. Since the album came out before the election they made an assumption that Hillary Clinton would win (like most everyone else) so she was included in the list. Obviously that didn't pan out." ~ stickingitout_al
Ruuuuunnnn!!!
"Young girl, get out of my mind. My love for you is way out of line. Better ruuuuun girl, you're much too young girl!" ~ chicagowago
"Back in the 60's, pop songwriters were aiming flatly and squarely at the teen market and were writing songs that would appeal to them. In hindsight they got some of them badly wrong, but at the time nobody thought anything about it at all." ~ Scallywagstv2
Pete
"'Pete Davidson' by Ariana Grande. That entire song didn't age well." ~ Loss_Left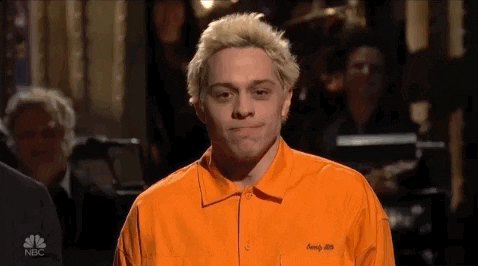 Giphy
Sad
"'To everyone to sell me drugs, don't mix it with that bullcrap I hopin' not to join the twenty seven club' Mac Miller. Painful to listen to." ~ SmackMymelons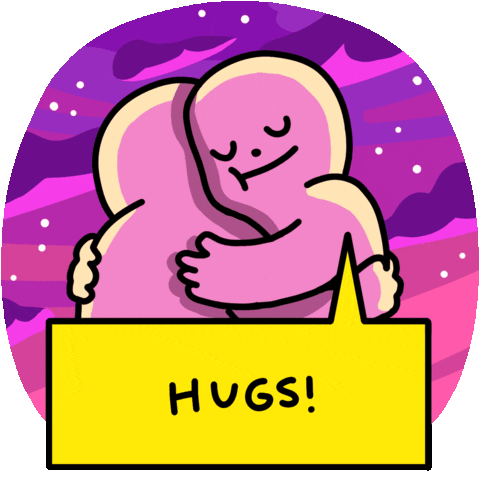 Giphy
Disgusting!
"I' don't care if you're just 13, you look too good to be true. I just know that you're probably clean. There's one lil thing I've got to do to you."
"Followed later by: Wait a minute officer, don't put the cuffs on me. Put them on her, and I'll share her with you.'" ~ BraveLittleToaster77
"'Jailbait' byTed Nugent." ~ BraveLittleToaster77
Not so Fresh
"I believe 'dark skin aunt Viv love' is referring to the original actress for Aunt Viv, in Fresh Prince of Bel-air. To continue the reference, Cole says 'that Jada and that Will love' referring to Jada Pinkett and Will Smith being (at the time) happily married with 3 kids."
"The aging like milk part of it is that Jada cheated on Will, and I don't believe they're together anymore. I also heard that Will also cheated, but I barely heard that compared to the admittance of guilt from Jada. This is also where the image of Will crying in the chair is from, the interview where they both talked about it all." ~ TeddyR3X
'Storming through'
"I was at a college party a few years ago and live in California. A girl asked me how I was doing: 'I'm storming through this party like my name is El Niño.' She said 'thats not funny, we're in a drought' and walked away." ~ MikeyTMNTGOAT
"Took me a long time to remember that El Nino and La Nina have the opposite effects in the US than they do here. El Nino basically means no rain in Australia, so 'Storming through' would be appropriate for La Nina, not El Nino." ~ BadBoyJH
Nirvana
"'And I swear that I don't have a gun.' Kurt Cobain, Nirvana." ~ ggapsfface
"That was the thing about grunge - all these artists writing songs about suicide and drug abuse because… they were suicidal and abusing drugs. So sad that almost all the grunge icons are all dead." ~ Vegetable-Double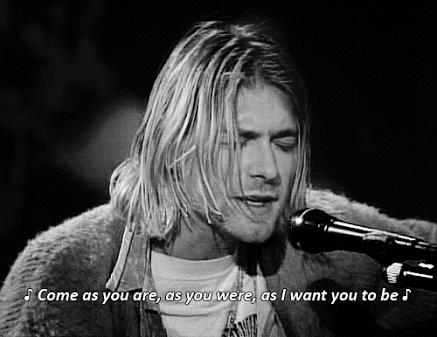 Giphy
Kurt.
Thank you for the art.
Sometimes it's all too much.
Want to "know" more?
Sign up for the Knowable newsletter here.

Never miss another big, odd, funny or heartbreaking moment again.
Keep reading...
Show less
We are in trying and interesting times. Everyone is on edge when it comes to how they're feel and what they believe. And there are some very real issues that we have the right to be on edge about. A real change is gonna come. But there are a few things that people are getting a little crazy about; like the tv shows or opposing ideas on icing for cake. People.... lighten up. Not everything is so serious. There are pills to help with levity.
Redditor
u/Chanel-Number-5
wanted everyone to have an open discussion about all the things and sayings that others take issue with these days by asking....
What's the weirdest thing people get offended by?
Want to "know" more? Never miss another big, odd, funny, or heartbreaking moment again. Sign up for the Knowable newsletter here.
Keep reading...
Show less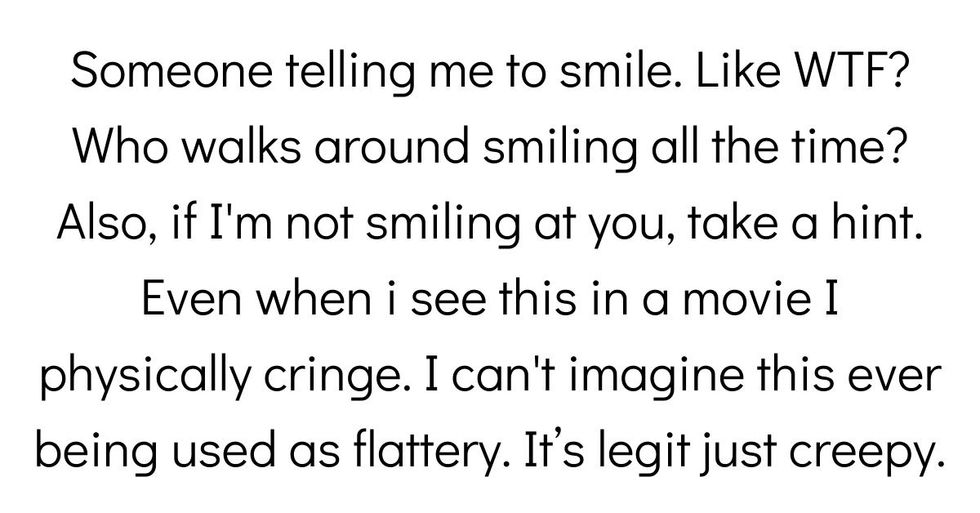 What people find offensive can vary greatly from person to person and one culture to another. Morality can be pretty different between different religions and cultures, and the same holds true for what is considered truly insulting or offensive.
Reddit user u/3choplex asked:
Keep reading...
Show less