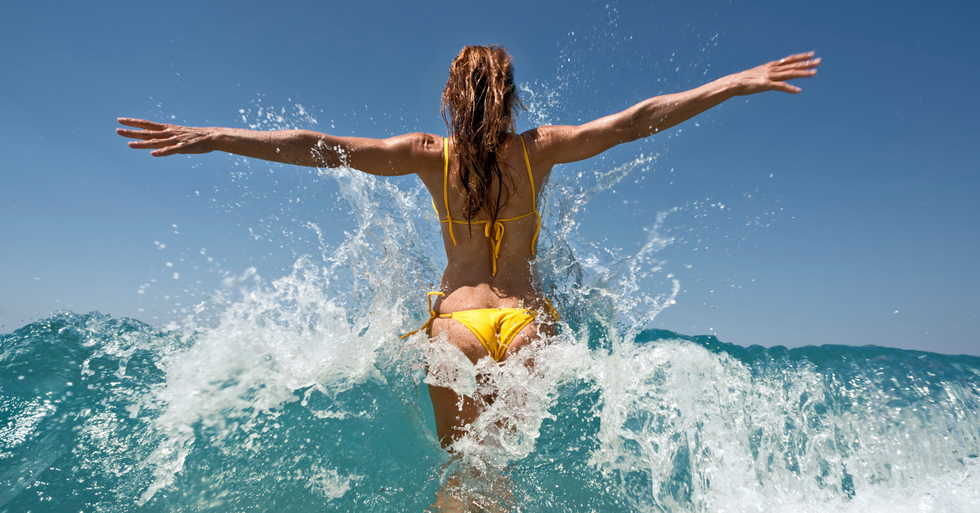 When we see a loved one doing something that could get them hurt, we may find ourselves stepping in to help or to encourage them away from the activity. But there are people who will absolutely hold our cautions against us, agreed the "Am I the A**hole?" (AITA) subReddit, sometimes to the point that it changes […]
More
Don't mess with the ocean.
Why is that a hard rule for some?
It's like people can't help themselves.
Though it is vast and beautiful, the ocean takes life every day.
Redditor DankestKush420 wanted to hear from the people who have survived the darkness of the sea.
They asked:
"Deep sea divers, what are your horror stories?"
I almost drowned from a small but wave on the Florida coast. So a deep dive is a lifelong HELL NO for me. But go ahead... tell us some stories.
Poof. Gone.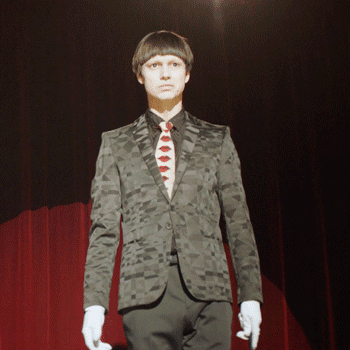 GIF by VPRO
Giphy
"I was watching a documentary about saturation divers the other day. Absolutely scary stuff. They live in a dome under the sea for several days/weeks so they don't have to decompress every day."
"There was this interview where one diver told a story about a colleague just vanishing. He was right behind him at one moment and then was gone in the next. No signs of an accident on the safety line, no sounds, no light signals, he was just gone."
PenguinSwordfighter
Implosions
"I used to work at a dive shop, a regular customer of mine told me on one of his deep cave dives at around 300 feet his main light imploded, and both of his backup flashlights failed. While this happened he also lost his guide line (read: life line back to the surface)."
"He was in a large room, so he dropped a reel with line on it and swam back and forth basically fishing for the guide line. He eventually hooked it and located it, but then had to make a decision which way to follow the line. The correct choice would lead him to safety, while the wrong choice would lead him deeper into the cave system. He made his choice and slowly followed the line out."
"He reached his first spare air tank that he staged and knew he chose the right direction. He had a long wait at each of his staged decompression tanks. It took him, from what I recall, around 7 hours to properly decompress and make it back out of the cave, all while not being able to see a damn thing."
pwnstar
side-by-side...
"I went on a group dive trip with someone who was pretty experienced, and he was telling us a bunch of stories about his wreck dive down to an old WWII-era Japanese warship sunken in the Pacific. One somewhat morbid but funny story was when his group went into the ship and saw several pairs of shoes strewn about, lying perfectly side-by-side."
"After they all surfaced later, one girl in the group was like, 'Why did they leave their shoes behind like that?' and everyone else just looked at each other like, 'Oh man... who's gonna tell her?' Anyway, the real horror story is about a father and son duo who had decided to go on this trip as a bonding experience. So the thing to note about WWII shipwrecks is that after over half a century, they're pretty much rusted to oblivion."
"One bad kick will effectively disintegrate a perfectly-preserved captain's log, just from the motion of the water. Well, the duo was exploring the inside of the ship, and suddenly someone hears a loud CLANG! The father and son had wandered into an enclosed room, and the door had slammed shut with both of them inside."
"At that point, the guy telling the story paused, and someone else in the group was like, 'Wait, so what happened to them?' And the guy was like, 'What the hell do you mean, man? They got trapped and f**king died!' And in that moment, I decided f**k that s**t - I am never, ever diving down to go check out the inside an old WWII warship lmao."
yungbabo
Unreal
"For as long as I been around the internet 1 diver story stuck with me. Not because of paranormal or unexplainable events. This person's story said they were deep diving with their father and literally saw a Lovecraftian size creature envelope his father ahead. After all was said and done at the surface he come to find out later his schizophrenia had come to while he was deep sea diving. I couldn't imagine seeing something your brain was telling you was real. Especially in that setting."
SunnyvaleRicky
Vortex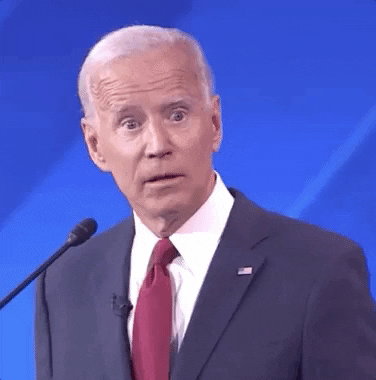 Joe Biden Reaction GIF by GIPHY News
Giphy
"One time when I was on a diving boat with some friends, one of the guys on there told about a story about how he used to be an underwater welder, and one time he and some other guys witnessed someone getting sucked through a hole the size of a tic tac."
Dragon_King3199
Why do people even go that far down?
Everywhere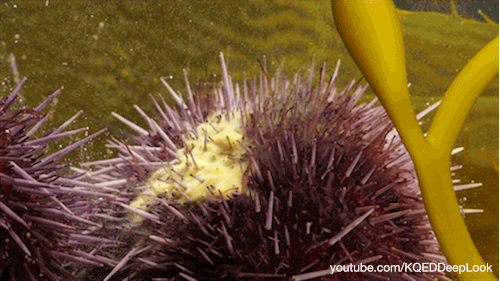 marine life wildlife GIF by KQEDScience
Giphy
"I'm by no means a deep sea diver, but I am a licensed diver, sea urchins are massive and everywhere, like you really don't expect their size and how common they are."
drewdreds
Wrecked
"Did a 60M/200ft dive on a wreck in a shipping channel. The dive boat skipper should call up the harbour master and check if there are any ships scheduled, and if there are not good to dive. Anyway did the dive. 25 mins bottom time so a fair amount of deco."
"During the 12M deco stop we could hear the rumble of a very very very large engine. Hmmm. Kept getting louder. And louder. And louder. During the 9M stop it got REALLY loud we looked at each other, gave two thumbs down and bolted back down to 18M and just hung there figuratively shi**ing our drysuits until it got quieter after a few minutes."
"We then resumed our deco. A small pod of dolphins came in to have a gander at us which was cool. A big f**k off panamax sort-a-size ship had come within 100M of our deco buoy. Never dived off that boat again."
thedugong
"And there was a catastrophic failure of the decompression room that meant the air depressurized several atmospheres almost instantaneously and killed a couple divers by literally exploding them from the pressure release. Not sure what could be more of a gruesome tale than that."
anon_e_mous9669
The Worst
"Not my story but still wanted to share: it's the story of a diver who was hired to remove and bring back bodies from a bridge that collapsed into semi deep water with numerous cars on it. Some people made it out of their cars and some didn't. But the worst thing that he saw was the bodies of children still stuck in the cars while the parents saved their own lives. The thought of going into murky water to essentially fish up corpses that are like a day old chills me every time I think about it."
sarper97
Nope!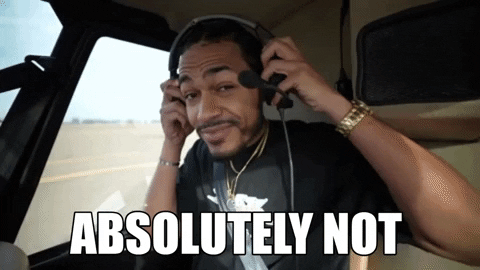 Not Gonna Happen No Way GIF by FaZe Clan
Giphy
"I went diving to a wreck around 200ft down, and I heard this terrifying roar and saw some creature almost twice the size of a blue whale. Noped right outta there as soon as I saw that, I'm not going there again, I'll stay in my lifepod."
Overgrown_fetus1305
Roar
"I saw a lion fish at 27 feet in Cozumel a couple weeks ago. I made it out okay though."
Fieos
"Lion fish generally aren't very dangerous. Yes, they have toxic spines but it's not exactly easy to end up with their spines in you. You'd have to be pretty damn careless to do it. I'd honestly say there's a lot of common eels that are substantially more likely to hurt you. I've got a pair of fins with some large chomp marks from a mean ass wolf eel."
Tlentic
LA Craziness
"Totally late, but this is an amazing account of a police diver that had to dive in the La Brea tar pits in L.A. iI's intense. La Brea tar pits dive"
vroomvroom450
The body
"Mr. Ballen on YouTube has some really nice videos on cave divers and horror stories, you should check him out."
Pelios
"I watched one of them today 😭 the one where the guy goes back to retrieve a diver that died who was never found and during the rescue, he disappeared too and drowned."
"The other divers there launched another rescue group and he was found holding the guy he was retrieving and both of their bodies were brought to the surface and were laid to rest. the parents of the young original diver felt guilty about the one who died getting their son's body. Such a sad story."
lunababygirl09
On Holiday
"So I was at this diving resort where there was one instructor/guide who spoke my language. He told me about how 10 years ago he and his friends had been diving in open sea, it was supposed to be a 30m dive but there was a heavy downdraft and they all got sucked down, he's guessing 70m."
"With a lot of effort most managed to get out of that current and into another one which luckily brought them back up. One of them didn't. He saw his friend drown. He told me this when I asked about safety at the resort and he didn't bring it as a cautionary tale. I've spend the rest of my holiday with another guide who spoke broken English."
Aggressive_Tear_769
Intense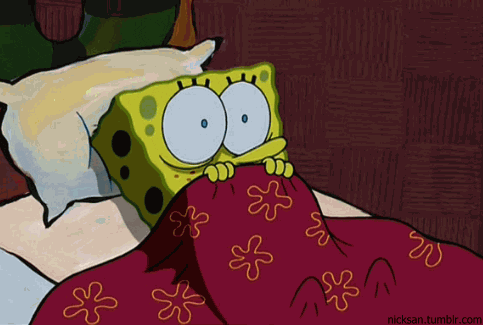 Horror Reaction GIF by SpongeBob SquarePants
Giphy
"Nothing to add myself but this is my favorite compilation of diver horror stories. https://www.youtube.com/watch?v=CdIni-VEHJ4 Warning some of them are pretty intense and involve witnessing murders."
Kryptosis
Thanks Dad
"Not my story but my dad's, he said they've been diving around 40m down in some ocean/sea I don't really remember, in the middle of the descent he noticed his bubbles didn't go up, they went down to the abyss, he looked at his wrist depth meter and he saw he started to descent way faster then he was supposed to, he got caught by an underwater current."
"He said that inflating his jacket didn't really work nor did releasing the led weights from his pockets. thanks to his massive freaking testicles he found a way out of it. I sometimes scuba dive with him, in shallow waters, but the idea if this happening f**king terrifies me."
Mhaul
No Air
"Not me but I read a post from someone who went diving a lot a while ago. She said there's something that happens to the brain if you go too far down too quickly or something? Or maybe it just happens randomly. But you can start hallucinating. She said that at some point she was swimming down and all of a sudden started hearing children crying and calling for her to swim more downward toward them. Then her oxygen was going to run out and she would have definitely drowned if her diving partner hadn't grabbed her and forced her to the surface."
ToastedMaple
Don't Watch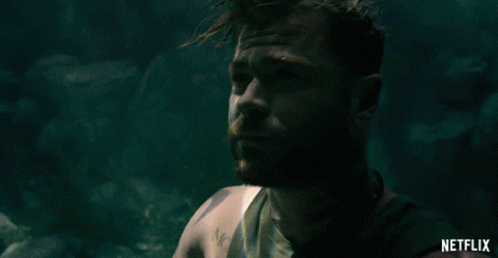 Breathe Chris Hemsworth GIF by NETFLIX
Giphy
"Always hated the idea of deep sea diving. Saw 'Last Breath' a couple weeks ago and even though I knew what the outcome was I was still so nervous and scared watching it."
Shovel1708
Well that is all I need to hear. I'll stay on dry land, thank you.
Keep reading...
Show less
When you watch "The Little Mermaid", you think that life under the sea is the greatest place on Earth.
The crystal blue waters and the cool, calm ripples.
The musical numbers.
What a lie. The ocean is death waiting to happen.
There are things we've long suspected waiting for us.
And things we couldn't have possibly thought could be real.
Get out of the water kids.
Let that crazy old lady give the diamond to the sea as a sacrifice.
Redditor this_is_not_me_6 wanted to discuss all the things we may not want to know, but should about the sea... they asked:
"What are some disturbing facts about the ocean?"
The ocean is a sea of mess.
Feed Me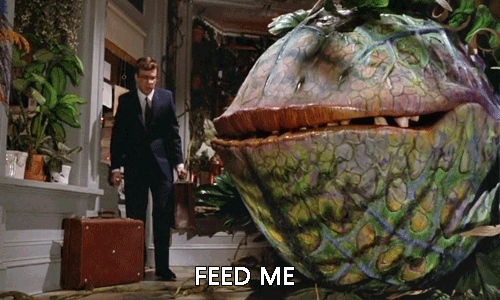 hungry feed me GIF
Giphy
"The largest biomass migration takes place every night when deep sea animals come up to feed."
Supraman83
Pitch Black
"I remember watching a YouTube interview with a military diver. He described how when you're doing a covert op you spend a lot of time just underwater doing nothing with no lights on until it's time to move. He specifically mentioned how he had to get used to having large things bump into him in the pitch black."
Freaked_The_Eff_Out
Sonar
"The sonar we use for deep sea mapping really screws up a number of species especially whales, dolphins and porpoises. Imagine walking around and a tornado alarm decibel-level noise triggers right next to you. We do that every time we use that high-powered sonar and it basically f's up their own sonar abilities causing them to be unable to communicate and navigate."
Reyltjj
Scattered
"Once did a night dive where we covered our lights while resting on the floor at about 50'. You cover your light and wave your hand and you can see bioluminescent bacteria in the water. Well I was looking up when we uncovered our lights, there were hundreds of barracuda between us and the boat. They scattered from the light though."
bwtaha
Gone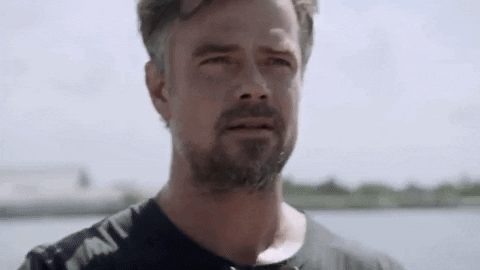 Looking I See You GIF by Shark Week
Giphy
"Lost sailors in the sea who cling to wreckage basically have their skin dissolved by salt water after soaking for more than 3 days."
SnooOranges4231
At this point I feel like a shower may even be dangerous. Water issues...
Hot Bubbles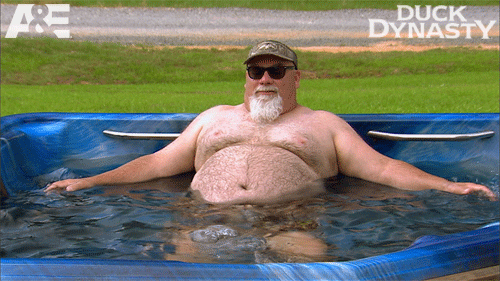 hot tub jacuzzi GIF
Giphy
"'Hot tub of despair' is a lake under the ocean, in the gulf of Mexico. It is highly concentrated with salt and has dissolved methane. Any creature that enters dies."
Abathur11235
When you bleed...
"The ocean is blue because all the other pigments are absorbed. So after a certain distance down everything thing becomes a monotone blue color, unless you have some other light source. The freaky part is if a diver gets cut underwater the blood looks black, like ink. All the red has long since been absorbed so there's no wavelengths left to show you a red color when you bleed."
Lord_of_the_Canals
Not a Care
"I tell new scuba divers this: The ocean doesn't care about you. It's not actively trying to kill you. But it will do a lot of things on its own that will absolutely kill you if you're not prepared and paying attention. I realize this could apply to any natural environment but it feels much more apt when talking about the ocean. One wave that you weren't prepared for can make your day pretty bad. For the ocean it's just business as usual."
bg-j38
Poison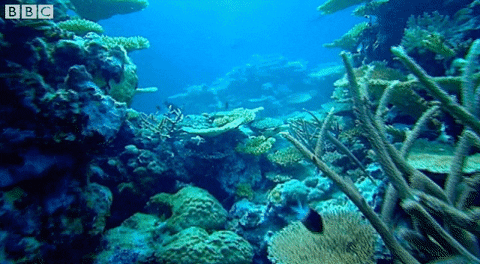 Marine Life Sea GIF by BBC
Giphy
"Just one millilitre of coastal water taken from the ocean's surface can contain up to 10 million viruses. The number of viruses decreases further offshore and deeper into the water."
SuvenPan
No Air
"There are parts of the ocean which are dead no oxygen in the water which means nothing can survive, no fish no plankton nothing at all. They are spreading exponentially. Whilst they are tiny now and have been. At the rate of growth. They'll cause serious problems before the end of the century."
Emergency-Tiger4339
The Fisher Items
"Most of the plastic pollution in the ocean is not from straws, shopping bags, or consumer items as most of us were led to believe. It's from fishing nets and fishing gear."
TheSheekGeek
Heartless Lover
"It doesn't hate you. It doesn't love you. It doesn't even know you exist. When it destroys/capsizes your boat your boat didn't even cause a change in its movements. I am a sailor and I am in love with a cold heartless *itch who couldn't care less whether I live or die."
Intelligent-Lie-7407
Swimming Dead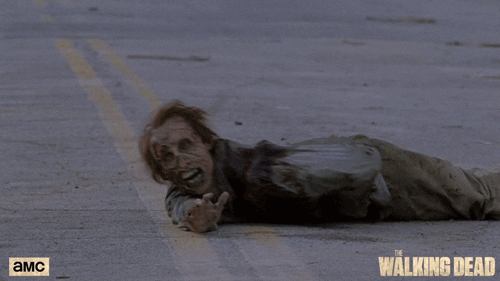 twd GIF by The Walking Dead
Giphy
"When sea creatures die in the ocean and their bones sink to the deep ocean floor, zombie worms eat the bones. The skin secretes an acid dissolving the bones, digesting the remaining fat and protein left behind."
creeeeaaach
Remains
"Well Crippin should have dumped his wife's remains in the ocean because not an ounce of food goes to waste including the bones. If you need to get rid of a mass grave don't bury dump at sea and the entire body will be eaten which will actually be beneficial to the ecosystem as a whole. We shouldn't be burying people but dumping them at sea."
TwistedDecayingFlesh
Dipped
"When you dip your toe in the water you are no longer at the top of the food chain."
Kermitsfinger
"Isn't that true on land as well? If you go hiking, grizzly bears and mountain lions could still mess you up. Same thing if you go to the savannah. There are plenty of animals there that are higher than you on the food chain."
outofdate70shouse
Giant Squids
"We don't really know whats it in I can say that for thousands of years we drew sea monsters believing they lived in it. Surprising a lot of stuff we found in those pictures were in the ocean. (Giant Squid recently ). Just makes you think what else is actually down there that we don't know about."
ghigoli
the 1%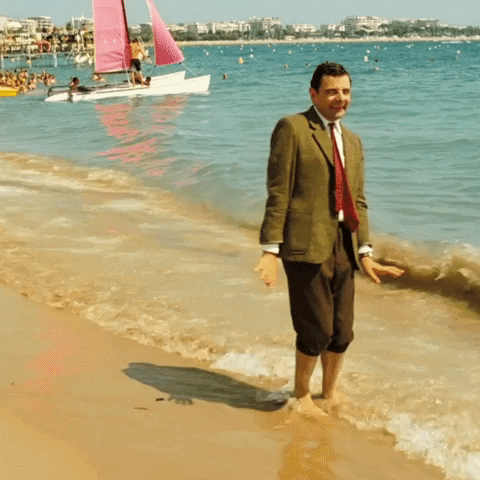 Mr Bean Beach GIF by Working Title
Giphy
"Only 1% of its floor has been explored. It's pretty common knowledge by now, but most people don't understand how absolutely insane it really is. We know more about the surface of mars than we do our oceans floor."
LandscapeLost992
Underwater
"I'm a scuba diver and one thing that really scared me when I first started off diving, you hear SO MUCH more underwater then you ever will above on the surface, I'm not even talking about like the shifting or just the water itself moving, your hear things like fish clicking and other things like that, cuz underwater sounds move and travel a lot more so you hear a lot more and much quicker, was pretty out of nowhere when I first went under."
Cogburn____CG
This is why I hate the beach. I'm staying on dry land forever.
Keep reading...
Show less
We really don't know much about what's in our oceans. That's a very scary thought. It's also enormous, so the stories of people who have been lost out in it for weeks at a time can really creep you out. What the hell are we doing out there? Isn't being on land freaky enough?
Oh, and did none of you watch Jaws? If that's not reason enough to stay on land, I don't know what is. Some of you are way too brave for your own good.
As beautiful as the ocean can be, many people have had some unnerving experiences. We heard some of them after Redditor anchorwitch asked the online community,
"Sailors, scuba divers, surfers, and others…have you seen or experienced anything on or in the water that gave you the creeps? What is your creepiest ocean-related experience?"
"I encountered a moray..."
"I encountered a moray eel chomped in half on a night dive. Eel was still swimming."

alexnewberry
Half along what axis? Inquiring minds want to know.
"Had a pool of dolphins..."
"Had a pod of dolphins swim under me and my friend, grazed our legs. The waves sucked, we were just hanging out on the boards."
"Immediately thought bull shark or nurse, checking if we were food. Then we saw dolphins popping up. They were just passing through I guess."
iBelieveinSpace
I'm convinced dolphins do that on purpose for funsies.
"I've had some of the best and worst..."
"I've had some of the best and worst experiences of my life cave diving. Moments where I was totally at peace in a completely alien environment and just one with nature in a way that I don't think is possible outside of a few very special situations."
"I've also had a few moments where I thought I was going to die alone, in the dark, underwater. Only one of those moments was a true close call. The others were mostly psychological and valuable learning experiences. It's not for most people and it takes a certain mindset, but my life would be noticeably emptier without it. Risks and all."
helodriver87
Cave diving is like taking all of the claustrophobic horror of standard caving with the deadliness of diving.
"When a 10 foot mako..."
"When a 10 foot mako swam past as we were diving with lemon and nurse sharks. A little bit of poop came out."
[deleted]
Ha. I initially read this in a way that made it seem like you were terrified that the ten footer pooped.
"The creepiest..."
"The creepiest for me was seeing a 12 foot tiger shark swimming in the distance when I was diving in Hawaii. The water was clear but there was a little haze. It was just far enough away that i kept losing track of where it was. Then I would turn my head around and see it behind me again."
verac23
Nooope.
I have seen way too many killer shark movies.
"Thankfully no..."
"Thankfully no, but I had a buddy who swears part of his route was "haunted with shrimp". I could never quite get a full explanation of what that meant, but he'd get a funny look in his eye and goosebumps when he talked about it. Weird stuff."
[deleted]
Damn, I need to know this now. Don't leave me hanging!
"There were days..."
"There were days/nights out on the Persian Gulf when the sea was perfectly calm and looked like glass. The stillness always gave me the creeps for some reason."
Tonys_Grundle
It becomes disorienting. Your mind does weird things when you have no point of reference.
"Noticed in my peripheral vision..."
"Snorkeling - noticed in my peripheral vision a massive moray eel that was longer than me, about 6', and about one foot away from me just swimming beside me , it was no threat but scared the crap out of me at first ,more than seeing a shark in the distance."
Dengareedo
When an eel passes by, and you think you might die, that's a morayyyyy
"I was young..."
"I was young (maybe 2nd grade?) and was out on a lake with my friend. At the time, I was really into fishing, so that's what we were doing. I was leaning down over the water to take a look at what was going on in there, and a MASSIVE gar pike came right up to the surface and charged past us. I still think about it."
fcker5000
That would absolutely leave an impression!
"Looked up..."
"Was snorkeling around Clearwater with my nieces. Looked up and thought I saw a shark for a split second so I made us all go in. They were pretty mad at the time. The next day we wake up and it's on the news that a girl was bit by one at the same beach later that day."
[deleted]
Sounds like you definitely dodged a bullet!
The ocean is terrifying, friends. Moral of these stories: Probably best to stay on land and mind your business.
Have some stories of your own? Feel free to tell us more in the comments below!
Want to "know" more?
Sign up for the Knowable newsletter here.
Never miss another big, odd, funny, or heartbreaking moment again.
Keep reading...
Show less
The ocean is enormous and we don't know everything that's down there. How could we possibly know? That's what makes the ocean so alluring, even terrifying, for some. The fear of the unknown is powerful and there are few things that can make you feel so inconsequential as being out there... seeing nothing but ocean and sky for thousands of miles all around.
Safe to say that I don't like the idea of spending all that time out there, and neither would those who were kind enough to respond after Redditor DagothSlur asked the online community,
"What would be the creepiest thing for humans to discover in the ocean?"
"Imagine diving so far down..."
"Dry land. Imagine diving so far down that you surface but it's not your surface."
AdamoclesYT
Everything about the situation breaks all of the laws of marine science that you've come to believe as fact. Creepy, indeed.
"A very advanced..."
"A very advanced spaceship with human-like remains inside."
killer_putin
This reminds me of the book Sphere! It was a good time... until the ending annoyed me.
"Welded shut."
"A door in the ocean floor. A metal hatch, ancient and corroded, with a wheel in the center. Welded shut."
[deleted]
I think this may have been a SpongeBob episode.
"The remains..."
"The remains of a much more advanced civilization that has been lost to history under the ocean."
DelightfullyUnusual
Atlantis, anyone? Fun to think about.
"A smaller..."
"A smaller, but exact replica, of our society and every person in it."
rachelbriana
Would that include a tiny version of a submarine that descends deep down in their miniature ocean to find an even smaller but exact replica of our society and every person in it?
"Imagine bumping into..."
"A huge eye. Imagine bumping into what you thought was coral, but then they separate to reveal a massive eyeball."
dazedan_confused
Okay, but what if I don't want to imagine that at all??
"Survivors..."
"Survivors in the shipwrecks."
KittKatB
This has actually happened! Air pockets are absolutely a thing.
"I mean..."
"Cthulhu. I mean that would be scary."
[deleted]
The ghost of H.P. Lovecraft would feel so, so vindicated.
"Can you imagine..."
"Can you imagine if we were the sky to some comparable civilization that lives beneath? Like to them, it would be like aliens or angels descending from above."
Rozeline
They'd have to know that humans are real, no? I think all the plastic would be a dead giveaway.
"A more intelligent species..."
"A more intelligent species planning domination beyond the water."
_amorcultist
Then you might want to read The Swarm. Sounds like that would be the perfect book for you.
Yeah, it's safe to say that the ocean is a freaky place. I'm at the point where I enjoy looking at it but don't exactly want to spend any time in it.
Can you blame me?
Have some suggestions of your own? Feel free to tell us more in the comments below!

Want to "know" more?

Sign up for the Knowable newsletter here.
Never miss another big, odd, funny, or heartbreaking moment again.
Keep reading...
Show less