Those who live in thriving, metropolitan cities such as New York, Chicago, and Los Angeles tend to be surprised by very little they see walking down the street.
So, seeing someone take out the garbage, walking their dog, or making a run for groceries would not be something that might catch their attention.
Unless, of course, they witnessed these otherwise routine tasks occurring in the early hours of the morning.
When doing so wouldn't only be unusual, but possibly even cause for concern.
Redditor wheeliemans3000 was curious to learn what everyday activities people might result in raised eyebrows at an unusual time, leading them to ask.
"What seemingly normal activity would look suspicious done at 3AM?"
Those rugs look unusually heavy?
'Moving rugs into a van."- DirtySingh
At least there's no risk of getting burnt.
"Sun bathing."- dudebro_fistbump
Peeping Tom's Window Cleaning LTD.
"Cleaning the windows of the girls' dorm."- MaximumChillaximum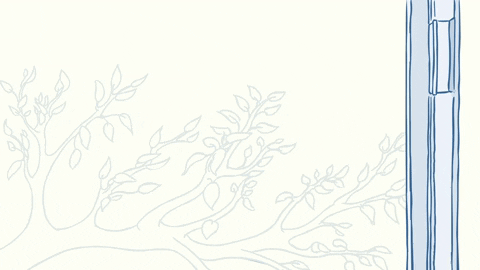 Window Spraying GIF by Leah Dubuc
Giphy
No matter the time of day, always creepy
"Digging a deep hole in the ground."- dwc1970
There are worse things to see through your window.
"That one time Bart flew a kite at night, there was something unwholesome about it."- Degnolo
I promise, I'm not up to no good!
"Parking in the middle of an empty parking lot in the dark."
"I've done this so many times on long road trips and 50% of the time a cop or local will knock on my window."
"So I now have tape and a laminated piece of paper in my car that says 'I am not a drug dealer or buyer, a burglar watching a store, homeless-High or drunk'."
"'I am simply taking a nap so I can drive safely til I get to a motel'."
"'Thank you for your concern'."
"'If I'm trespassing/in the way, please knock'."
"For safety purposes I do lock my doors, park near lit street lamps if possible, and usually have some kind of weapon."- TaiylorWallace
They need attention at all hours

"I tend to be nocturnal, and I also love to garden."
"This often means I forget to water until 2 am."
"I let my neighbors know that I might be out there watering in the middle of the night, because they are elderly, and I don't want to give anyone a heart attack."- AtheneSchmidt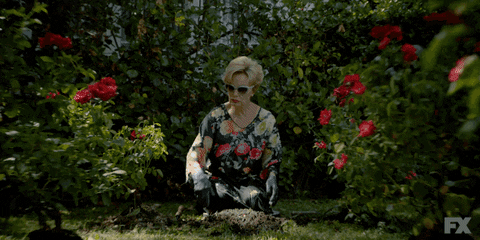 American Horror Story House GIF by AHS
Giphy
There's a time and place to do this...
"Playing Pokemon go outdoors."
"Just standing at a spot, then slowly walking, then stopping again."
"Probably at a park since there's more activity there."- dylan2451
What don't they want us to see?
"Taking a suitcase to the trash but I've done it."
"I've done everything at 3am."- blue-pixie-
The way every horror movie begins...
"Getting a Knock on the door, if it's that late it's never for good."- gekonto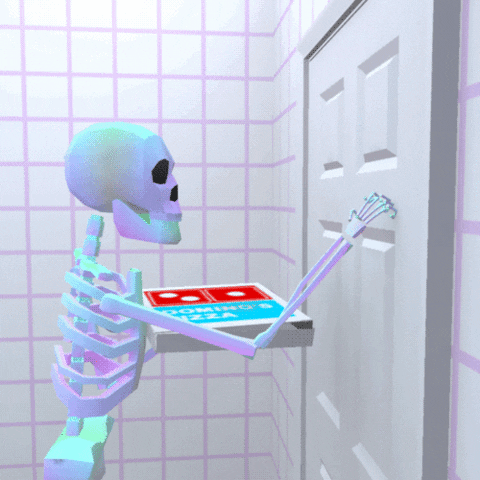 Knock Knock Flirting GIF by jjjjjohn
Giphy
One always wants to give people the benefit of the doubt.
Particularly those who work night shifts, making three AM the only time to get things done.
But if there's a knock at your door at 3AM, best not to answer...
Keep reading...
Show less
Everyone has unusual phobias.
Things which they simply can't bear the sight of, and are forced to turn away when they find themselves in the presence of it.
More often than not, these things are usually habits or behaviors which one normally wouldn't do in polite society.
But, have you ever been repulsed by something that the majority of people might consider "normal"?
Something that's just an everyday occurrence in life?
Redditor Allthelights011 was curious to learn what "normal" things fellow Reddit users were disgusted by, leading them to ask:
"What's a completely normal thing you find disgusting?"
Fun to do, not to watch.
"Watching people eat."- elladeighthecat·
Just not my style
"Gauged ears, or is it gaged ears?"
"I don't know."
"Big gross holes in people's ears gross me the f*ck out."- alienanimal
Blood? No problem. Saliva on the other hand...
"Spit."
"I was a nurse for 6 months before I found a better paying job and I could deal with blood, feces and urine no problem but if someone is drooling or spitting it grossed me out."- sayziell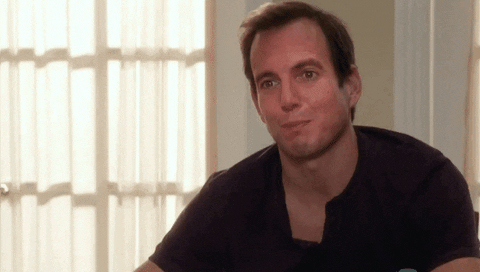 watching arrested development GIF
Giphy
Just because it's nature doesn't mean it isn't gross.

"When animals are 'doin' it'."- Colonelfudgenustard
Every month!

"Periods."
"I know it's completely normal but just the initial cramps and mood swings honestly suck."
Mmm, that's good.

"Licking fingers while eating."- scapstick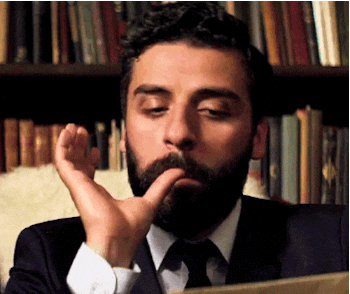 oscar isaac eating GIF
Giphy
Not pleasant to watch or do.

"Vomiting."
"The feeling after you puke is terrific."
"It's all the sh*t you feel beforehand and the act of throwing up itself that weirds me out."- geico_fire
No one needs them or needs to see them.

"Skin tags."
"I know people can't help them and they're painful to remove but they make me physically ill."- Stealthnt13
Wash your freakin' hands!
"Dirt in your nails"- dejavuthrills
If I didn't actually have to, I wouldn't...
"Pooping!"- stormwaltz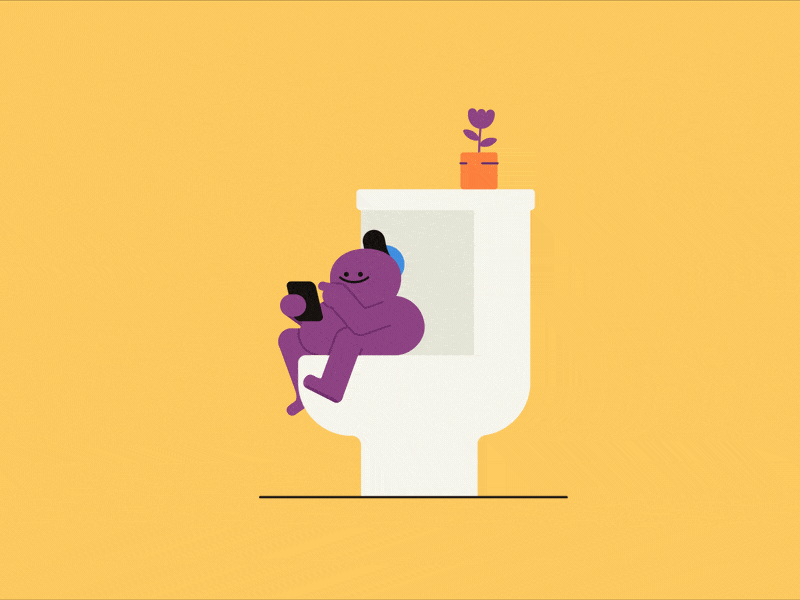 Toilet Pooping GIF by Alberto Pozo
Giphy
Perhaps what's most difficult about these particular aversions, is that ignoring or avoiding them, or simply looking the other way might not be possible.
Leaving one no other choice than to grin and bear it.
And maybe occasionally withhold the vomit you feel coming...
Keep reading...
Show less
Hindsight really is 20/20.
I never fully understood that thought until my thirties.
So many of the things we thought were just an average part of life when were really just a whole hell of a mess.
Some "quirks" and behaviors are not meant to be the normal.
We just decide they are, but they're actually part of bigger issues.
Redditor ComfortableMess3145 wanted to compare notes on the certain things that maybe we had the wrong idea about at first. They asked:
"What is something you thought was normal but found out it isn't?"
We need to prepare. Some of our regular daily life activities maybe not the best idea.
Streaks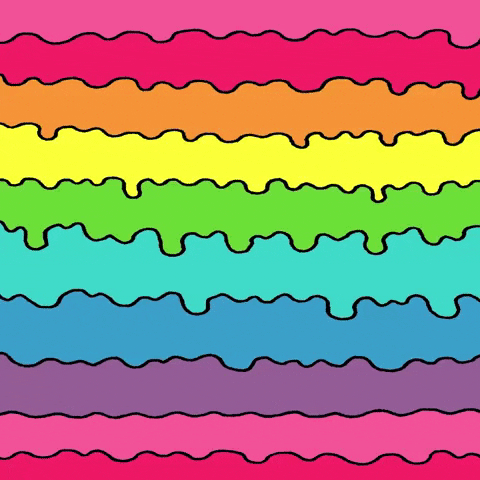 GIF by Ramin Nazer
Giphy
"I have astigmatism so I see light in streaks. For the longest time I thought that was how everyone saw it."
Onirity
hence the name...
"Visual snow. My whole life, my field of vision has always been covered by shifting multi-colored dots of light. Similar to light snow on an old TV transmission, hence the name. I see it all of the time, I never don't see it, though it is worse in the dark, or if staring at the sky. In the dark or when I close my eyes, it is all I see. I thought everyone had this until my early 20s."
smuffleupagus
"roll over laughing"
"I was joking around with my friends in 8th grade History and we were trying to see how many pencils we could stick into my friend's afro (with his consent) and right as I was trying to lift my arm and put the pencil in his hair one of them cracked a joke that sent us into a fit of laughter. My arms went limp and when my friends started coaxing me to put it in I told them I couldn't."
"They were noticeably confused, so when I regained my composure I explained that everytime I laugh, my muscles go limp and I am not be able to move them. It ranges from droopy head and weak knees, to full body collapse. Because of the term 'roll over laughing' and portrayals of people in media falling over in laughter I thought this happened to everyone, and they were just better at controlling it."
"My friends all agreed that it in fact did not happen to them, and that I should get it checked with a doctor. 1 year later I was diagnosed Type 1 Narcolepsy: a sleep disorder characterized by excessive daytime sleepiness, and Cataplexy. Cataplexy happens when a trigger, such as strong emotions like laughter or fear, trigger a sudden loss of muscle tone, making it difficult to move, stand, or even breathe."
I was lucky to be diagnosed as early and quick as I was, since the condition is widely unknown outside of the context of Narcolepsy patients and specialists. The symptoms of Narcolepsy are so common, in both puberty where it starts to present more heavily, and other diagnoses such and depression and anxiety."
"It's estimated that around 1 in 2,000 people have this disorder, and the lucky few that actually get diagnosed usually only do so later in life after 5-10+ years of multiple tests and misdiagnoses. The takeaway from this is that if you think that other people 'deal with it better' or 'suck it up' or 'control it better' chances are that's not normal, and you should speak up about it."
Savannahisded
The Friend Group
"I thought it was normal for every friend group to have one person that everyone picked on for no reason. I don't mean light roasting, I mean legitimately bullying them and putting them down. My brother's friend group had one, with my brother being a primary instigator."
"I was the punching bag in my middle school friend group. It took until the end of high school/the beginning of college for me to actually be treated like a person and realize that friends aren't supposed to make you feel like crap about yourself."
yeetgodmcnechass
You're gonna hear me...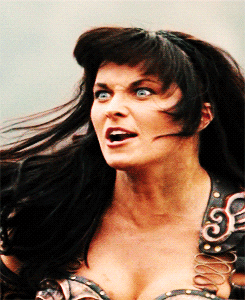 brain roar GIF
Giphy
"The ability to make a roaring noise in my ears by tensing a muscle. link"
Jmen4Ever
The human body is a crazy thing. I sure the animal body is a sh**show too.
Once in awhile...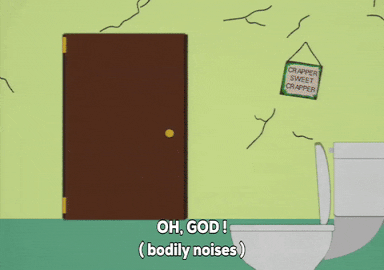 toilet bathroom GIF by South Park
Giphy
"Pooping once in 3-7 days. Since childhood I always do it in that frequency. However, when I was 21 my doctor told me that it's not normal at all and it should be everyday thing. I always thought that everyone does it once in 3-7 days, not everyday."
2 dippy eggs, please...
"I'm from Pennsylvania. Growing up, when we went to a restaurant and I ordered my favorite eggs, I would say, '2 dippy eggs, please.' It wasn't until I got married and moved out to the western part of the country that I realized most people don't call them that. I can still see the look on the waitress's face when I asked for dippy eggs. Apparently, most people call them 'sunny side up.'"
fourjoys99
For the Pizza
"Asking for permission. I was raised to always ask permission to have water, a snack, turn on the TV, or go to the bathroom any time I am in someone else's home. My best friend's mom thought it was weird that I would ask permission for small things. Like 'May I grab a knife and fork for my pizza?' instead of 'Where can I find a knife and fork?' was super weird to her."
Awkward_Society1
Lip Service
"Not being able to watch Movies/Shows without Close Captions or subtitles. Also never understanding what they are saying on the radio. Turns out, I have an Auditory Processing Disorder. If I don't see peoples lips moving my brain doesn't recognize they are words more than half the time."
SugarLily0420
Normal? Not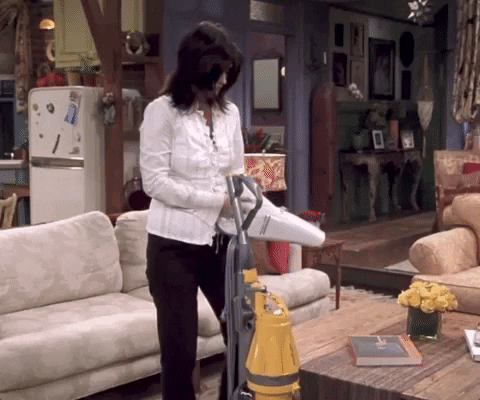 Season 10 GIF by Friends
Giphy
"Having OCD. The thoughts that come with it I thought were normal for YEARSSS."
foxgirl1318
Well I have a lot to think about how I live my life.
Want to "know" more?
Sign up for the Knowable newsletter here.
Never miss another big, odd, funny or heartbreaking moment again.
Keep reading...
Show less
There are many things in modern society that are generally accepted but would have been considered taboo as little as ten to twenty years ago.
But even in our supposedly progressive modern age, we still have a long way to go.
Far too many people are still hesitant or afraid to be open about elements of their life, fearing too many people wouldn't consider it "normal."
This idea piqued the curiosity of Redditor Sham-da-man, leading him to reach out to the Reddit community on what needs changing in modern society by asking:
"What needs to be normalized?"
Finding that work/life balance.

Choosing to leave a job during your probation period. The probation period is not just for the company to see if you're a good fit, but for you to assess the company and see if you actually like it. A lot of employers tend to forget this, and then it is sometimes looked down upon on your CV unfortunately. - User Deleted
"Taking time off work when you're sick."- HuffleSlut_.
"Being able to go home from work if your tasks are completed."
"Not at 10am because you don't have anything on your plate, but say at 3:45pm after you've busted it all day, completed your items, helped a few co-workers with some things outside of your scope, and are now browsing reddit because you're waiting on people to get back to you before you're able to proceed."- xLenny3x.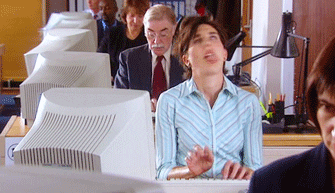 Work Working GIF
Giphy
It takes a real man to know...

"Men actually having feelings and not have to 'take it like a man'."- Gifigi600.
Sorry, can't help you!
"Not being available at all times."- INTPhoenix.

Saying 'I don't know enough to have an opinion on this issue' or 'I don't know'.- LiquidPenChamber1019.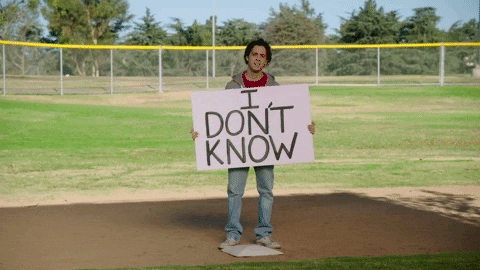 The Goldbergs Idk GIF by ABC Network
Giphy
Table for one.
"Eating alone."- -lmayonnaise.

What are you up to?

"Taking time to do nothing!"- Liquidmetal7.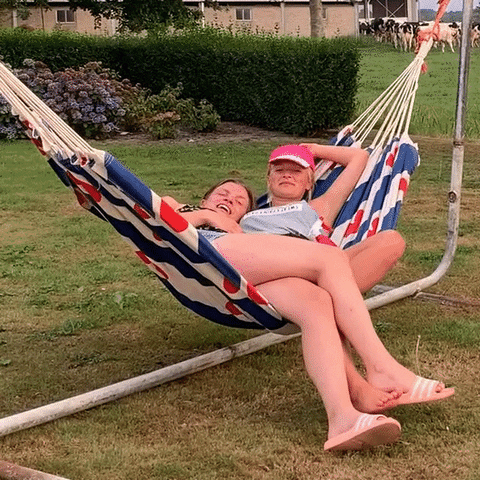 Weekend Sleep GIF by VPRO
Giphy
That might be what YOU think, but...
"Being allowed to disagree with people in your community, and being allowed to agree with people outside your community."
"We are so polarized and political these days."- 604jmv.
Not ashamed to admit it.

'Mental health struggles.'
"Society has come a long way but we still have progress to be made."- JBAnswers26.
Arguably, there's another very pressing issue which needs to be normalized more than anything.
The overuse and expectations of the word "normal."
Want to "know" more?
Sign up for the Knowable newsletter here.
Never miss another big, odd, funny, or heartbreaking moment again.
Keep reading...
Show less
What is normal anyway?

We all have behaviors and quirks that some may look at with a furrowed brow, but they just don't get the genius.
And besides, all the other cool kids are doing it.
Aren't they?
Redditor Shlegnog wanted to see who would fess up about some qualities we possess. So they asked:
"What's something that you do that you're pretty sure is normal, but you don't know for sure?"
I talk to myself to go to sleep. It's soothing. Anyone else?
Pockets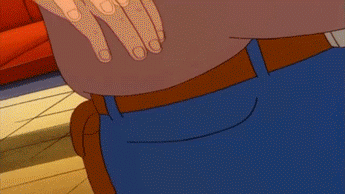 Animated GIF
Giphy
"Putting my hands on my pockets where I keep my phone/wallet when I closely pass by someone, just in case they may be a pickpocket."
TheYeti4815162342
Wiped
"That one dude yesterday and elsewhere on reddit posted that he only wiped once after pooping and was certain that he didn't need more than one wipe to get the job done. I definitely use multiple wipes until the tissue is clean... but now I'm questioning if there are secretly a bunch of (literal) nasty-a** people out there."
SmokeGSU
Keep Dreaming
"I daydream constantly. I'll sit there and be imagining I'm the hero of some story, or I just won a billion dollars and how I'm spending it. I just have an imagination I get lost in when nothing is happening. It's so easy to get lost when you have an extremely vivid imagination. Sometimes I think it's childish, but then I realize it's honestly just a relaxing habit that maybe some adults are too stressed to be able to practice."
__________lIllIl
Mind Reader
"If I'm out in public (grocery store, school pick up line, doc office, etc), I'll have a quick thought of 'I wonder if anyone is reading my mind right now. Quick! Don't think of anything weird!' and then I proceed to automatically start thinking of weird s**t or trying to tell this imaginary mind reader that I'm totally not a weird person or side-eyeing people that I see."
ArtsySAHM
Conversations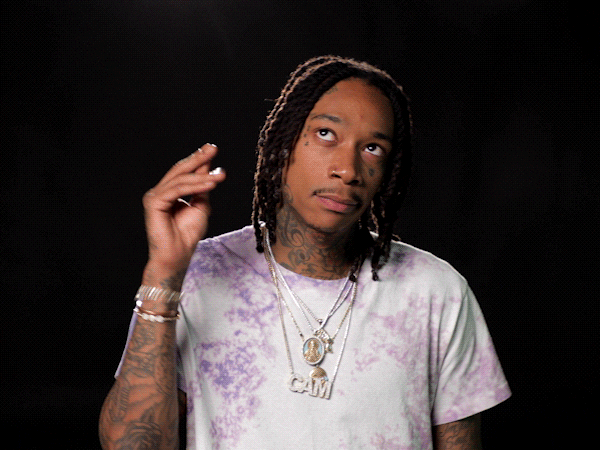 Talking Blah Blah Blah GIF by Wiz Khalifa
Giphy
"Having imaginary conversations with people, that I know will never actually happen in real life."
Bulgasauri
Conversations with others who aren't there. That is a popular one.
LOUDER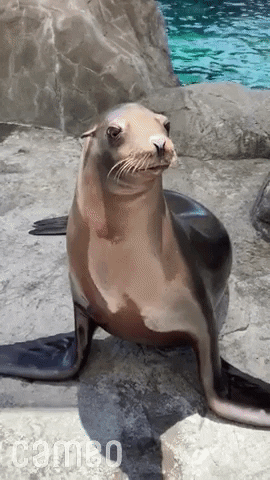 Sea Lion Reaction GIF by Cameo
Giphy
"Whenever I haven't talked to a person for a couple of hours, I just say something out loud to test if my voice still exists."
Flux-bite
Popping In...
"Horrible intrusive thoughts. They pop in without warning, and without trigger. It's usually the standard 'what if I drove off the side of this bridge' or 'I bet it would hurt to stab myself with this thing' but they can even be worse: I was washing dishes yesterday."
"My wife was heading to our bedroom to pick something up. For some reason, I imagined her grabbing my gun and blowing her brains out. It really upset me. I had to pull her aside and give her a big hug, and I explained to her what happened, to where she reminded me 'I can't even load the f**king thing.' Do ya'll do s**t like this?"
GeauxAllDay
Guzzle
"The amount of water I can consume. I know they say you should drink when you are thirsty, but I can be thirsty a lot, especially during warm weather / summer days. I can easily drink 100oz (or about 3L) of water a day."
Jim105
"I drink so much water. I swear it's easily a gallon per day if I have water by me the whole day. It's funny too because everyone in my social circle hates water and almost never drink it and I just don't understand how that's even possible. Water is amazing!"
SimplyComplexd
Creeping in
"Against my will, my mind will imagine horrific scenarios wherein some tragic death scene of a loved one plays out. It used to be my doggies, but now that I'm a mom, I imagine *my* death, because that would be tragic to my kid (and maybe I just can't imagine my own kid's death, thankfully!). It's f**ked up and its gotten better generally, but when I'm stressed out, it'll creep back in."
epigenie_986
Name that Tune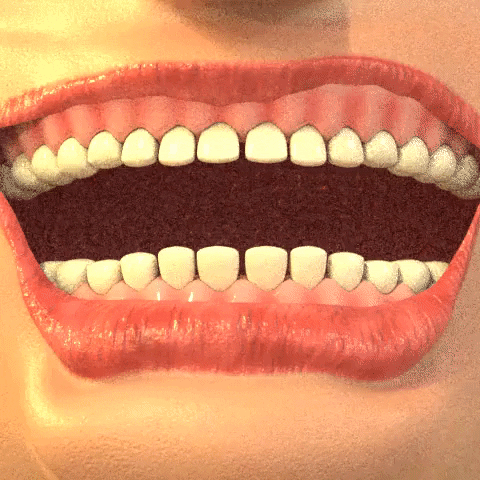 Happy Dance GIF by benjamin lemoine
Giphy
"If I have a song stuck in my head I often click my teeth to the drum beat. When my wife notices me doing it she asks me what the song is."
CornerMoon
Louder!
"When I have a cringe thought or something negative on my mind I'll make some noise out loud to interrupt said thought."
Favnonpornomag
"My therapist actually told me to do this. She said if I have a negative thought (about myself was the issue) she said actually saying no out loud interrupts the thought and keeps you from continuing it. I feel like it really works!!"
crashbanecoot
"I do this. I hate it. I've been caught occasionally and try to weave into a song, as if I just happened to be singing when they strolled by, like that is somehow better."
crescendo83
Add it up...
"When I add 7 + 4, I break up the 4 into 3+1. 7+3 is obviously 10, 10+1=11. There is probably several other examples of math problems I break up in my head to make solving easier."
nivekps2
"This, believe it or not, is actually how common core math is supposed to be taught. Not the whole 'Put these numbers into boxes and break those boxed number up etc...'"
belac4862
"Actually I worked as a math tutor and that is exactly how we taught them that method lmao. like ofc they should break the numbers up into boxes, that's how you learn to see 7+4 as (7+3)+1"
redbottleofpoison
Taps
"Slap my thighs as if they are percussion instruments when I'm bored."
XX_OVERLORD
"I do this with everything. I even change the shape of my hands to make different sounds, so I'll tap my fingers like drumsticks, flat hand for a similar style to you. I'm basically a one man band at this point."
KaleidoscopeInside
"If my keys are not in my pocket, I will sadly slap my empty pocket all day because I'm used to my hi-hat being there lol."
labamaFan
Tongue It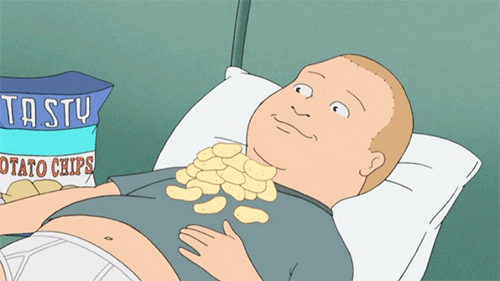 chips GIF
Giphy
"Look at each side of a potato chip/Dorito to determine what side I want to put against my tongue."
Konebred
Where is It?
"Whenever I leave a spot I've been sitting in outside, I make sure to look back and check if I've dropped anything."
consciously_comad
"I look back at the spot where I was sitting, but only to see if I left a butt print. (Not outside though! Inside, like in a waiting room)."
Appropriate_Day_8721
"Always. Picked up the habit after I lost my PE kit 19 times in one term of secondary school. One time the lost and found lady returned my PE kit to me before I'd noticed it was gone."
carmina_morte_carent
Scene to Scene
"Create scenarios in my head of how conversations would go, even though they're likely to NEVER happen."
ManufacturerLess7116
"I seem to pratice potential conversations all the time. Or re-act a scene from a movie in my head. Or Redo a conversation I had earlier with somebody. By the third or fourth time replaying the conversation I sound so much smarter and quick wit. You know what, I going to pretend that's how that conversation really went with my coworker."
CH11DW
"wetting"
"I wet my toothbrush, put on the toothpaste and then wet it again. Always wondered if this was normal but never asked."
tehkitryan
"I used to do this until very recently. I was wondering one day if the second wetting makes any noticeable difference. After a bit of testing, no wetting is very noticeable and not recommended, but I didn't notice any difference between one or two wettings. I now absolutely despise the word 'wetting' as of typing this comment, but I only wet my toothbrush once."
LucidLumi
Clear!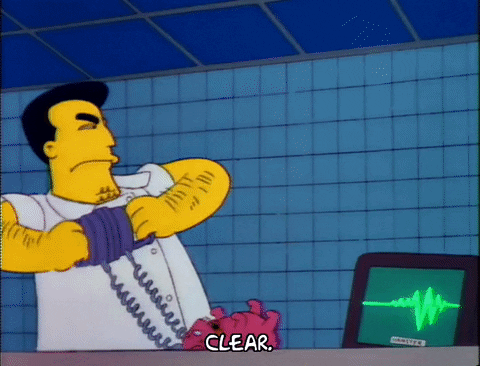 Rubbing Season 3 GIF by The Simpsons
Giphy
"Clearing a notification off my phone as soon as I get it, deleting most of my texts after a few days, and then swiping up on any open pages/apps at the end of the day."
byah1601
Me and Myself
"I talk to myself all the time, will also speak gibberish and make random other sounds. I feel weird about it, but I'm convinced it's way more normal than not. I think maybe I just somewhat subconsciously hate when things are too quiet."
leotonius
"My wife and I do this so definitely not you. Do you also ever feel compelled to mimic a sound after you hear it? It doesn't matter what it is, speech or some random sound, I find myself almost forced to do it especially if it's a unique or standout sound. Most of the time I don't even register the compulsion, I just hear the sound and mimic."
BookooBreadCo
We're all gifted. Feel no shame people. That is all.
Want to "know" more?
Sign up for the Knowable newsletter here.
Never miss another big, odd, funny or heartbreaking moment again.

Keep reading...
Show less