It's PRIDE month. It's time to be loud and proud.
Well, every minute of everyday we should be loud and proud.
But this month gives you an extra special buzz.
So in the spirit of learning, we will be taking questions from the class.
I know cisgender straight people still have a lot they don't understand.
What do you need to know?
Redditor hre_nft wanted everyone to feel comfortable enough to be as aloud what they've been waiting to ask a queer person. Safe space for all. They asked:
"What question have you always wanted to ask LGBTQ+ people but didn't because you don't want to offend them?"
There is always a good way to ask questions. I don't mind many of them.
I'm Out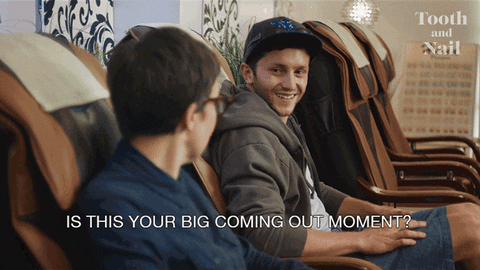 coming out gay GIF by AT&T Hello Lab
Giphy
"What should I say to someone who comes out to me? Saying 'um, OK' or 'that's nice' sounds like I'm dismissing them but trying to ask questions or engage in conversation about it seems intrusive."
KaleidoscopeOk1749
"It depends, your response should match their excitement. People that casually weave it into conversation usually don't want confetti and vice versa."
Ok_Objective6181
So Many Letters
"I know you guys want to be inclusive and all but I always feel behind on all The letters you add to LGBT, so is it fine I just say 'LGBT+?' This is not meant to not be inclusive, I'm all for LGBT+. But sometimes it gets a bit too many letters for me personally. So will I offend you guys if I only say LGBT+?"
Riufu
"Lol all the labels I identify with are included in the + and I just say LGBT. I don't know anybody who has been upset over hearing the shortened version. You're good to keep using the acronym that you already say."
cas47
I Don't Get It...
"What does non-binary mean? I'm from Italy and I've never met someone who came out as non-binary or even transgender. My brother met a guy once and he (my brother) said he looked gender-fluid. Gender-fluid Is the only term used here, nobody talks about non-binary."
"I know that non-binary means that you don't identify with one gender specifically (I guess), but I really really don't get it. I'm bisexual (although I've never gotten in a relationship with a woman) so I always felt like I could relate to most people of the community in one way or another."
"But this is just something I can't seem to understand, also because I've never met someone like that. I know I might never be able to get it because I'm cisgender, but I was wondering if some of you would like to take some time to share their experiences with me so that I can understand you a little bit more."
Basyl_01
Nuances
"I know I can look up the definition of it, but why is 'queer' part of the acronym? Doesn't it encompass 'lesbian' and 'gay?' Is there a nuance I'm missing?"
Ok-Ninja1040
"One of the unintended benefits of the term 'queer' is that it's a good way of saying 'Not straight, and it's not really important for you to know why or how.'"
-CoreyJ-
Hello There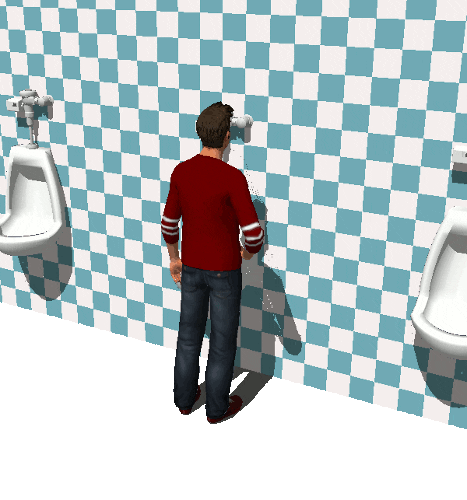 Art Peeing GIF by badblueprints
Giphy
"Is it ok to use adjacent urinals/talk at the urinals if you two are dating/ married?"
CashmeoutsidePearl
So far, nothing here seems offensive.
You Like It?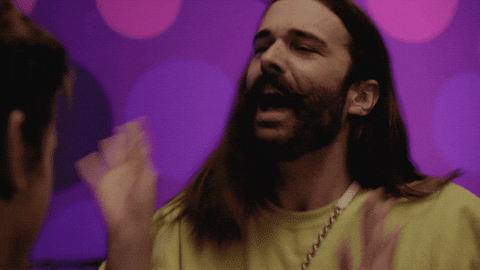 Fab 5 Netflix GIF by Queer Eye
Giphy
"I wanna ask them every time an LGBTQ+ character appears in fiction, if they felt it was a good representation or not."
NoStressAccount
Pleasure Principles
"Do asexual people not want sex/don't feel horny, but still get butterflies in their stomach for a person they like? Or does that mean they don't have crushes/attraction in any form?"
skootch_ginalola
"Each person is different but a lot of asexual people still have crushes and can still be in love with people. Asexual people can be in happy and healthy relationships."
"Some asexual people might still find pleasure in sexual activities but they might not focus on sex in life. Not all asexuals are sex repulsed. But some are. There is asexuality and people who are aromantic. Aromantic people don't feel romantic attraction to people, but might feel sexual attraction. Some people are both asexual and aromantic."
ArcherE14
Chosen at Birth
"Why is intersex included when it's a physiological/chromosomal variation and not a sexual/gender orientation? Sorry if I worded it wrong."
Fluffy-Ad342
"Intersex people often have their gender chosen by their parents at birth and so tend to have experiences very similar to trans people. Often it even has to be corrected later in life with surgeries and hormones. It's the variation from the normal binary gender/presentation of that, which aligns them with the queer community in most cases."
Yaboijustlikesgoats
Identities...
"For non binary folk: I'm having trouble wording what I want to ask, like, why I guess? I identify as a woman but don't fit in with the typical stereotypes or gender roles, but I still consider myself a woman. I don't feel like activities, or behaviors, or clothing or whatever has to have a gender to it, so why specify that you don't identify as man or woman? Idk maybe because it's not something I've struggled with, it's hard to wrap my head around! Either way, I 100% support anyone who identifies any way!"
meowing_cat93
Extra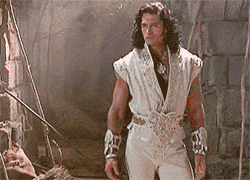 Gay Hearts GIF
Giphy
"Do you have to pay an upgrade fee to go from the LGBTQ membership to the LGBTQ+?"
ticklemejesus420
"Omg dude, you can get it for free with Amazon Prime! You didn't know?"
Araskog
I Like You
"How do you know you are attracted to the same sex? I personally wanted to know this because I am struggling with my sexuality. I have an attraction to men at least as far as I know. But I am constantly going back and forth with women. And it's been very confusing. So I guess it may be how do you know if you're attracted to anyone?"
Plush_Orchid
Ask all you want. Just be respectful. It's easy...
Want to "know" more?
Sign up for the Knowable newsletter here.
Never miss another big, odd, funny or heartbreaking moment again.
Keep reading...
Show less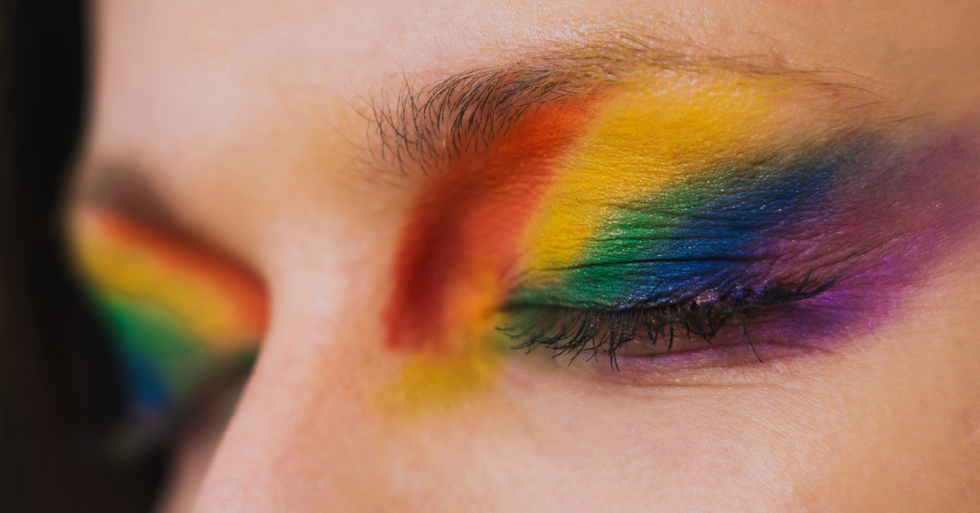 Where is the line between respecting your own difficult past and not projecting onto other people? One Redditor found that out recently. She posted about it on the "Am I the A**hole (AITA)" subReddit. The Original Poster (OP), known as aitapronouns123 on the site, was straightforward with her title for the post: "AITA for refusing […]
More
An 8-year-old in Alleghany County, Pennsylvania illustrated that, indeed, the times they are a-changin'.
The empowered second-grader asserted her non-binary identity with unapologetic grace and simplicity.
In a recent interview with PublicSource, the child, who uses "she/her" pronouns and was identified simply as R for purposes of anonymity, doesn't beat around the bush at all.
"I'm not a girl, not a boy, I'm just me."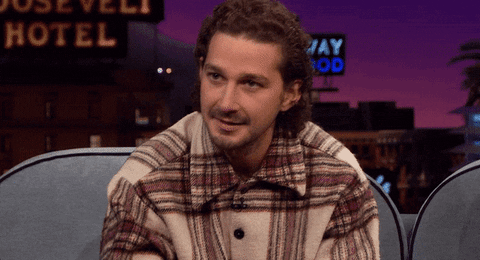 Giphy
And although the interview presented a far more public version of R's assertion of who she is, she's known and shared her non-binary personhood already with others in her personal life.
R was on a school field trip to another town when she first identified this way.
Another kid came up to her on the playground and asked if she was a boy or a girl, to which R responded, "I'm non-binary."
R went on to tell PublicSource how liberating the moment felt.
"It felt like you were telling someone about a really cool comic that you like."
R then proceeded to giver her take on the dynamics of how gender works for her.
"I feel like...in the gender section of my heart, there is nothing."
But a child this empowered, and with this kind of nuanced grasp on gender norms, doesn't come from nowhere. R's mother, Kate has made a deliberate effort to establish an open dialogue around gender at home.
Nonetheless, Kate was still impressed with R's courage and ability.
"The fact that she even had the language to use, we were pretty proud of her."
"We need to have these conversations early and often."
Though Kate did share that the experience hasn't been all wine and roses.
As is still quite common with a large, traditional institution like R's school, there are some logistical moments that suggest intolerance.
R mentioned one school form that upset her. On the form, there were two boxes in the gender section: 1 Male, 1 Female.
"It made me feel angry that people don't include people who are both or neither."
R, with her apparently typical resolute approach to things, asked Kate to draw a third box, which says "Neither."
R's school has since updated that form and put out a statement maintaining a commitment to improvement in this area.
"It is our belief that every student and staff member has the right to feel comfortable in our schools, and we will continue to update and improve our policies and procedures."
Although the common first reaction to such a child is to be amazed by such composure at such a young age, kids are a whole lot smarter than we think. And that goes for understanding gender politics as well.
Take these other non-binary kids making a splash on the internet.
Just watched my 8 year old daughter properly explain the differences between binary and non-binary gender to a 60… https://t.co/XCNjXLbLRI

— JEFF YUMA (@JEFF YUMA) 1562376622
8 year old, reading: "I feel like Ant and Bee don't have a gender. I think they should be non-binary".

— Dr Emily Wilson (@Dr Emily Wilson) 1568678972
Y'all. I got OWNED by an 8-year-old today and it was awesome. Took my daughter and a friend to the movies. I sai… https://t.co/Cp0eo7AzBD

— Emily Russo Murtagh (@Emily Russo Murtagh) 1540756824
Alas, with such understanding brewing and growing in the youngest generation alive, tolerance may be drawing nearer.
Keep reading...
Show less
In the UK, one mother is considering labeling her son non-binary after struggling to find schools that will accept boys with long hair.
Bonnie Miller, aka @badmotherblogger on Instagram found herself hitting a major obstacle while deciding where to send her 8-year-old son, Farouk James, for secondary school (what is called Middle and High School in the U.S.).
The struggle stems from a long standing rule in many secondary schools in the UK that disallows male students from having long hair.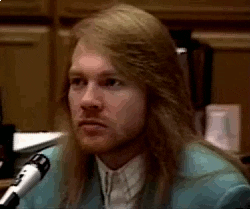 Giphy
For Miller's son Farouk James, whose own Instagram has 270,000 followers, a rule like that poses a bit of a problem.

Miller told the The Daily Mail:
"Applying for a mixed school, I may just put him down as non-binary."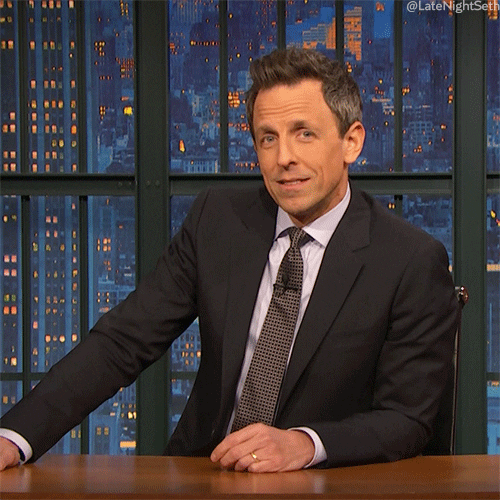 Giphy
Miller then went on:
"We are told we are supposed to be tolerant, and embrace diversity, however this policy teaches children that they cannot be different.

The whole experience has motivated Miller to make some change about the options available to long-locked boys in the future.
She set up a petition on change.org—which now has over 2,000 signatures—calling for the end of rules like the one that will push her son to cut his hair before school begins, a necessity that Miller describes as:
"asking someone to take away a huge part of themselves, to fit in to what is socially expected"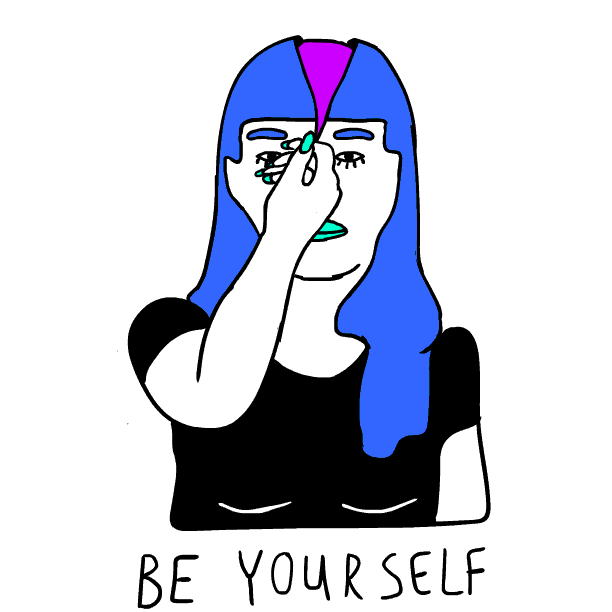 Giphy
Miller's Instagram post gives even more details of her stance on the issue.
The post also gathered plenty of responses.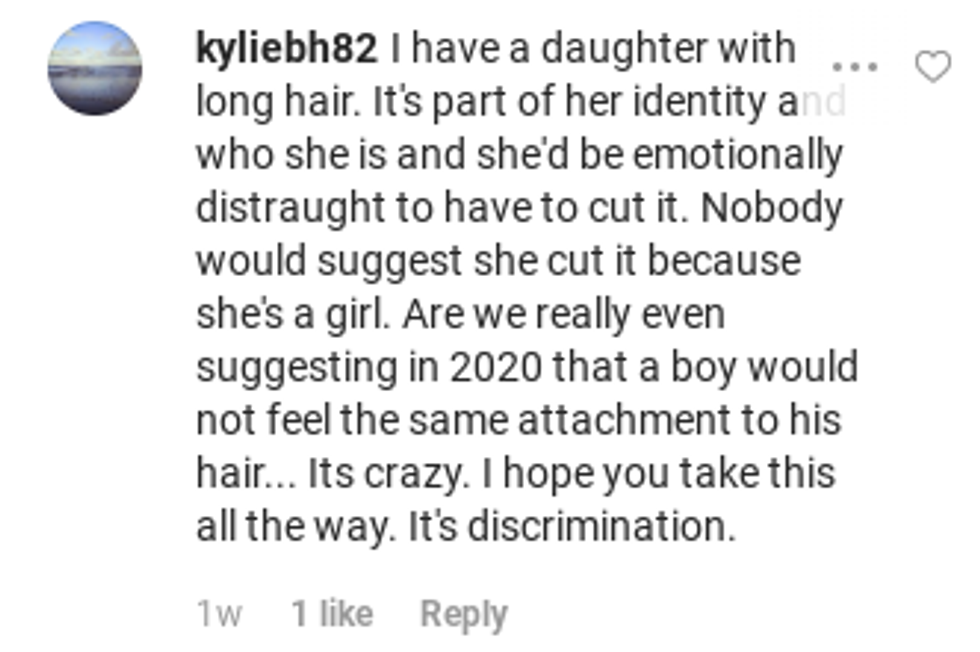 @kyliebh82/Instagram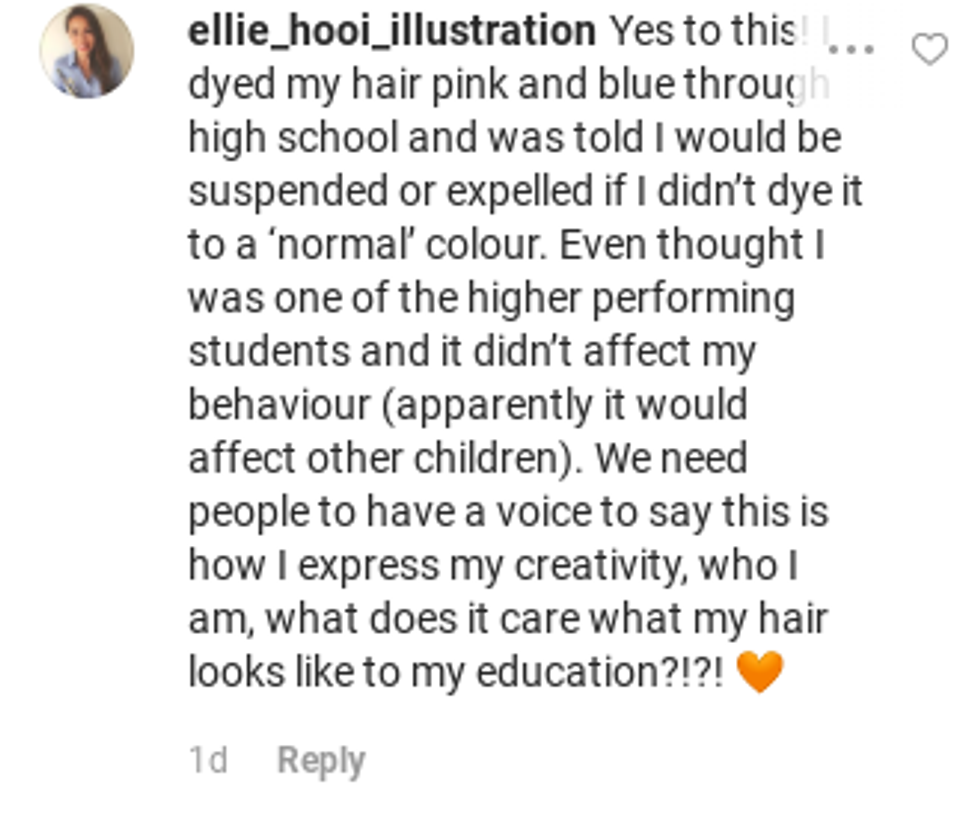 @ellie_hooi_illustration/Instagram
And as Miller cited in her petition write up, it feels important to include the following relevant video, which features a very young David Bowie.
Society for the Prevention of Cruelty to Long-Haired Men youtu.be
There has still been no government response to Miller's comments or the petition.

Keep reading...
Show less
Karuna Vellino, known as @blondbutch on Twitter, recently shared an adorable text message from their mother.
It seems mom has been trying to come up with a new gender-neutral pet name for Karuna, who recently came out as non-binary.
The most recent name she came up with is absolutely adorable and seems to have been a favorite.
"My mom has always called me "baby girl" and we've been experimenting with gender neutral ways to adapt that since I came out as nonbinary and"
Baby goats are also known as kids, so the nickname is doubly cute.
Given that Karuna has now changed their display name on Twitter to "Baby Goat," it seems like the new name has probably stuck.
Twitter users absolutely loved the story.
Many also loved the fact that Karuna's mom was showing her love by changing the language she uses to refer to them.

Apparently Karuna's mom isn't the only person to pick an animal as a child's pet name.

This is the kind of simple thing that can show acceptance and love—making a change to the way you refer to someone.
It might take time to get used to new names or new pronouns, but a little effort can go a long way in showing your loved ones that you really do care for them.
That love can make all the difference in the world.
The book The Becoming an Ally to the Gender-Expansive Child: A Guide for Parents and Carers, available here, offers advice.
"For anyone eager to understand their child's gender experience, or to learn how best to accept, support and protect them, this book will provide knowledge, reassurance and the confidence to do so."
Keep reading...
Show less