Working in the dark hours of the night has never been appealing to me.
Those are the club's best hours.
But also, things do go bump in the night.
And in this timeframe is when workers are most alone.
If you're having to work those hours though, try to be in a cheery place.
You know, a location with living bodies, not dead ones.
Redditor give-orange-houses wanted to hear from the people who work while we're asleep. What scares you? They asked:
"Night shift workers of reddit, what is your scariest experience while working?"
So why should we avoid working in the wee hours? I think I already know.
Frozen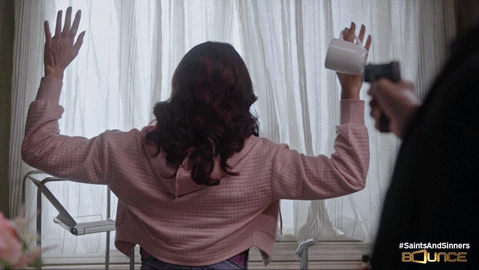 Turning Around GIF by Bounce
Giphy
"When I was 18 I worked closing shift at BK and we got robbed. Had a gun shoved in my face and they put us in the walk in freezer. They got away with over 10k but the morons stole the managers car and left a gun in it that was registered to one of them. Then he turned on the others."
mrsmith2929
The Morgue
"Taking my first deceased patient to the hospital morgue in the middle of the night. It's in the basement and getting to the morgue wasn't straightforward. There's a lot of turns and dimly lit hallways. At the time the morgue was being renovated. I was freaking out bc there was no room left in the morgue and there was an unattended, OCCUPIED stretcher in the doorway."
tae_unnie
Allsups
"I was working night shift in a gas station/truck stop in Tucumcari, NM back in the mid 90's. I had another guy working with me who ran the diesel side while I worked the gas side. We had a guy come in around 1 or 2 am and just looked at stuff in the aisles for a while before he left. Didn't really think twice about him."
"Later, about 6 AM, when I got off, I drove home past a convenience store named Allsups, they're big in the southwest. There had to have been 30 cop cars in the parking lot. There aren't even 30 cop cars in Tucumcari so where they came from I have no idea."
"Come to find out that some time during the night the Allsups had been robbed and the clerk had been taken into the cooler, tied up, and beheaded. I found that out when I (day sleeper) was awoken by the state police a few hours later and asked if I had seen anything suspicious during the night. That guy who came in and left was the only thing I could think of."
"The police took a copy of our security footage which led them to a suspect who was later convicted for the murder. I can't even begin to tell you how hard it was to go to work the next day. We kind of assumed that the guy was going to rob us first, but didn't want to deal with two clerks, so he left and hit Allsups instead."
eruditeimbecile
He still died...
"Trauma nights on general surgery. We had a teen who was shot 9 times. Ran the code, did all the things including thoracotomy (so we had opened his chest to access his heart). He still died. I was sitting outside the trauma bay writing the note, janitorial staff cleaning the trauma bay (lots of blood and debris), and about 9 minutes after the end of the code and calling it... he sits up on the table, full situp under the tarp, and belts out a gutteral groan."
"Janitor staff pretty much all died and/or pooped their pants. we all ran in and restarted the code, even got some pulseless electrical activity, but ya, story still ends with him dying. Lots of theories about what it actually was, lazerus effect or just spontaneous diaphragmatic spasm. But ya, was absolutely crazy."
SkippyBojangle
Falling Out
"Charter bus driver: Picked a group of drunk people up from night-life central around 3am. We were going around 50 km/hr on a main road at the time and one passenger opened the sliding door to throw up. Had to get the other passengers to hold him back from falling out the bus before I could safely stop and let him out."
Morrigan_Ondarian078
People are crazy! When you're drunk, sit still!
JOHN!!!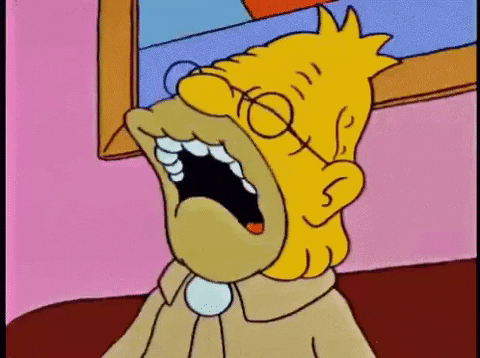 Grandpa Boomer GIF by MOODMAN
Giphy
"I used to be a caregiver for my grandfather."
"I had just started the night shift with him when he jumped up in his bed, nearly pulled his catheter out, and yelled 'THEY'RE BANGING ON THE WALLS! JOHN (not my name) GO GET THE GUN! THE NEIGHBORS ARE TRYING TO KNOCK THE HOUSE DOWN!!' He had a UTI and it made him hallucinate. Still scary."
WriterReborn2
Behind Me
"I was an overnight valet at a hotel and our overflow lot was a couple blocks away. I was walking back from that lot after parking a car around 1am and I started to get this really uncomfortable gut feeling. I looked around and noticed a guy in a hoodie about 50 ft behind me."
"This was in a business district so it's unusual to see people walking around there late at night and it was also summer so a hoodie is a little out of place, but I didn't want to jump to assuming this guy was some kind of murderer. I picked up my pace anyway just in case, and he picked up his. When I turned at the next block, he turned."
"He was also gaining on me pretty quick. I was REAL freaked out at this point so I pulled out my pocket knife and ran as fast as I could back to the hotel. I don't know at what point he stopped following me but I refused to park anymore cars in the overflow lot that night and ended up finding a new job not long after."
Hanz_VonManstrom
WTF?!
"I was delivering some food once on a college campus and my wife was asleep in the car. When I started back towards the car I saw a college student looking in the window and taking pictures of my sleeping wife. I yelled at him as soon as I saw (something like, "what the f**k are you doing? get away from there!")"
"And instead of running away or apologizing straight up this motherf**ker said, "oh, I didn't realize she was with somebody. do you need help carrying her somewhere?" I chased him away but was dumbfounded... like... what the actual f**k?!"
golden_death
Jumper
"I'm a security guy at a paper plant. Night shifts are slow, it's mostly watching Netflix if there isn't any emergency or fire on the site. One night will dozing off I was woken up by a loud and near sound. Got up off the chair in panic. Right in front of me in the parking: a big freaking moose. He just jumped the fence and wandered around the lot for a bit and took off by swimming down the river."
TheObnixiousGoat
Check Out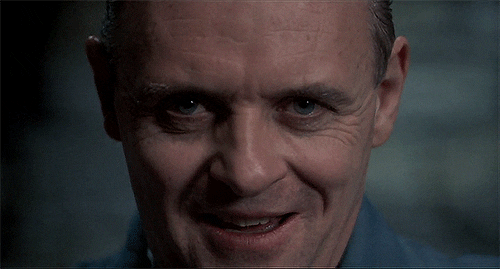 Hannibal Lecter Killer GIF
Giphy
"Once had a lady check out, and pull me and my coworker (both women) aside and tell us the guy wandering around the gas station had a gun and was paying way too much attention to women walking out."
LeatherHog
This why I'll only work in daytime hours or from home.
Want to "know" more?
Sign up for the Knowable newsletter here.
Never miss another big, odd, funny or heartbreaking moment again.
Keep reading...
Show less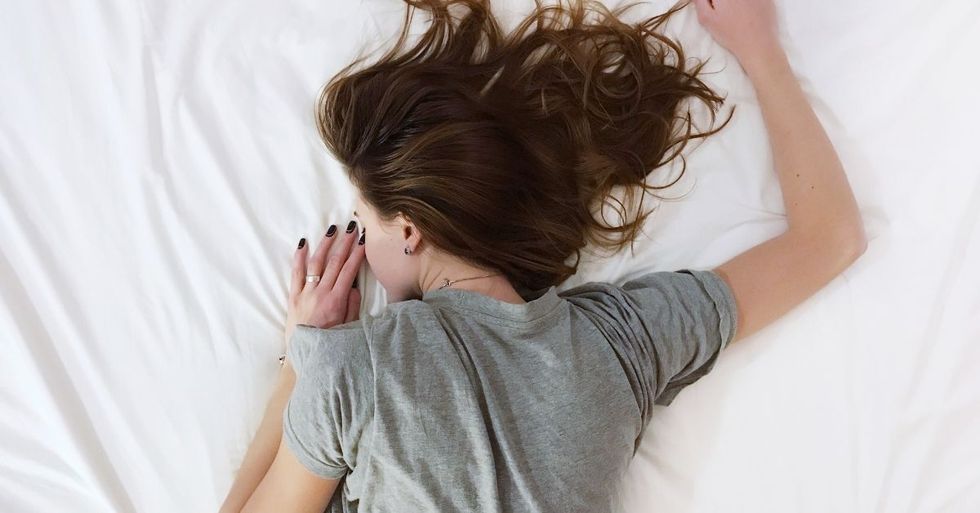 Living at home with your parents when you're an adult can come with all sorts of challenges, especially when your parents have different ideas about appropriate boundaries. But for one woman on Reddit, her parents lack of respect for her boundaries became downright dramatic, when her need to sleep until mid-afternoon due to working nights […]
More
Working overnights can take a toll on one's psyche. When you're predominantly spending you're only waking hours in the dark, life can get a little draining. Aside from that, the wee hours of the night also come with surprises. There is a reason that most horror movies take place after the sun has set, the night comes with some chills and spooks. And yes the kooks love to run amok under the moon. So working the night shift can leave you a bit shook now and again. Shook, like Stephen King shook.
Redditor u/Tiny-Dragonfruit7864 wanted midnight workers to share a tale or two with us by asking.... What are your nightshift horror stories?
The Birds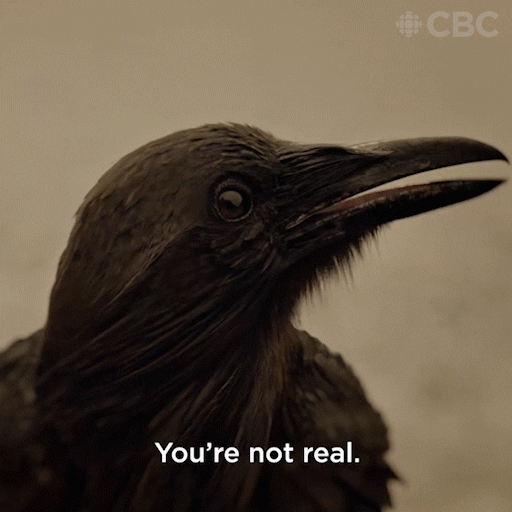 Tripping Seeing Things GIF by CBC
Giphy
Worked a parking garage at the airport. Cleaning the top deck and noticed about a hundred ravens all over a truck with a tarp over the bed.
Took my flashlight expecting something awful. Noticed as I got closer the smell and the ravens taking turns going in a hole they had torn open and popping out covered in gunk. some guy left a broke down beater with a couple animal carcasses in the back to rot. No heads.
Checked the logs and the damn truck had been there since November and it was April, so everything was just thawing and breaking down.
At the Depot
Used to work nights at a Home Depot.
There was one time where for a week or so our store stayed open 24 hours. For the most part this wasn't really a problem--typically nobody comes shopping for home improvement items at two in the morning (except that one couple that came looking for marble countertops at 1:30 in the morning and the woman was wearing a nice dress).
I guess there was also that one young lady who came looking for a toilet paper roll holder a little after midnight (I had just gotten off my first break) and she was wearing jorts and a one of those white-with-black-belt stereotypical karate outfits. She was oddly specific about which roll holder to get, too.
But the real story lies within the insulation. It was nearing three in the morning and me and another guy were stocking insulation, as well as fixing the bays and some such maintenance. A bunch of big R-30s had fallen in their bay and while I was sorting through them a freakin' hand came out of the mess and grabbed my arm. I lost my mind enough for not only the guy I was working with to freak out but also for my boss, who was across the store, to come check out the commotion.
Turns out a drunkard had come into the store at some point, and I can only assume before the night crew showed up, and had made a nest in the insulation where he fell asleep. The dude was in bad shape, too. Like, far-gone into whatever inebriation that we had to call the police to remove him. I was always a little more cautious around the insulation after at, for at least the time the store stayed open 24 hours.
The Dead Stare
Oh man, I hate recalling this story. I work nightshift at a rehab facility. We have a protected gate with a camera looking down from above and one of those doorbell cameras. In the office, the camera monitor is on one wall and the doorbell monitor is on another. I was doing some paperwork and see this guy walk past, stop for a few seconds, then slowly turned around, walk back and stared up at the camera. And he kept staring.
The facility is in a rough neighborhood so I'm fairly used to folks hanging out around the gate and usually ignore it. But the way he was staring was off putting. Like, his eyes and expression were hollow and dead, almost as if he were in deep thought about something horrible. I was pretty sure he was zonked on synthetics. I used the intercom to see if he was okay but he just kept staring directly at the camera.
We have a rule - if it's not hurt or trying to come through the fence, just let it be. No sense in engaging needlessly with somebody potentially hostile or f**king with the locals. Y'all, he stood there and stared at that camera for two hours. That same dead-eyed expression staring right at me. I did a round and came back to find him gone, which only creeped me out more.
The Reaper
I used to work the night shift as a care aide in an old folk's home. It was already creepy, the home was an old hospital that was converted. Some a**hole kept walking around the courtyard after dark dressed as the grim reaper knocking on doors. It was actually really scary, he ran off and the facility got a security guard for a few weeks.
The Roo....
Many many years ago, I worked at a regional radio station in the middle of freaking nowhere, Australia.
I was the overnight operator - keep the overnight playlist running, set up for the morning, do all the manual checks for the next day, and jump on the desk if anything funky happens.
I spent a lot of time sitting in what was essentially a tin shed in the middle of a paddock, with my dog, shoes off, listening to 50s & 60s music and doing crossword puzzles.
Except one night when the roo shooters came through. They spooked the kangaroos in the paddock, and one of them jumped head-first through our office window.
So there's me - barefoot and half asleep, when this 6' tall kangaroo smashes through the glass window. Blood and glass everywhere. My dog starts chasing the kangaroo, I'm chasing my dog.
And the kangaroo bounds around the office, knocking crap off desks in the dark, bleeding everywhere. I ran and opened the studio bay doors, and my dog chased it outside. Where, I'm assuming, the poor thing (the kangaroo) was shot.
Then I had to call my boss.
Edit: Bandit (the dog) was fine! She lived a long and healthy life, occasionally being bullied by our pet cockatiel.
Warning, medical gross stuff incoming.....
I worked in an emergency room. The worst night that comes to mind involves a patient that was bitten by a baby timber rattlesnake. He was bleeding out of every single orifice by the time he got to us. More blood than I'd ever seen before outside of a motorcycle vs 75-mph-headfirst-to-asphalt. I don't remember how many doses of Crofab we gave him, but it was the hospital's entire supply.
But trying to get him stabilized, arranging the helicopter transport to a bigger and better equipped facility, all the blood, those weren't the worst parts. The worst part was when the patient lost control of his bowels. I will never, ever, forget that smell. I spent the entire time standing by the door with a battery-powered fan and a handful of gauze pads saturated with cinnamon oil trying to reduce some of the smell.
The doctor occasionally stuck her head out just so I could waft the cinnamon oil in her face.

Yes, by some miracle, the patient did end up surviving, and as far as I know he made a full recovery. But the blood, the smell, and just the shock of it all. Yeah, never underestimate a baby timber rattlesnake.
Freeze Fright
Did hospital security for about two months. It was small hospital out in the sticks so we were responsible for removing patients who had passed from their rooms and transferring into the morgue freezer.
We had just brought a decedent to the morgue and right before we were about to transfer them to the freezer their cellphone rang. Granted, pretty tame compared to some stories, but at the time it gave us a decent fright.
I Think We're Alone Now....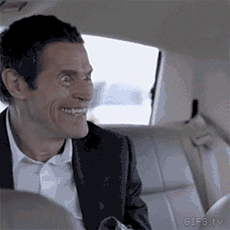 Willem Dafoe Smile GIF
Giphy
Was an orderly in a hospital. Two of us were sitting in the basement office adjacent to the morgue.
A guy passed our office, looking at us a little shifty, came back again and asked if we had access to the morgue. We said "yes," thinking he was doing a pickup for a funeral home, but that seemed strange given it was around 12:00-12:30 a.m. Nope. He wanted to pay us to let him in, and leave him alone with the bodies for an hour. We escorted him up To security. Apparently he had tried it in the past, as security knew him.
ABSOLUTE SILENCE! 
Many years ago I briefly had a job that started at 3:30am. The job itself was very boring, but the commute was wild. The world is at its weirdest in the very early morning. Road hazards haven't been called in yet, so one day I pulled off the freeway and discovered that the off ramp was completely flooded, deep enough that I have no idea how my car didn't stall.
But the most interesting discovery was that if law enforcement has to raid a home, they do it around 3 or 4 in the morning because that's the best chance of everyone being peacefully asleep.
One day I was nearly to work when I noticed something off ahead of me. I slowed down and came up to a massive police blockade, squad cars everywhere and absolutely crawling with heavily armed officers... but all in ABSOLUTE silence. They silently waved me down a side street. Just a creepy, unsettling experience.
Leave Mickey Alone.....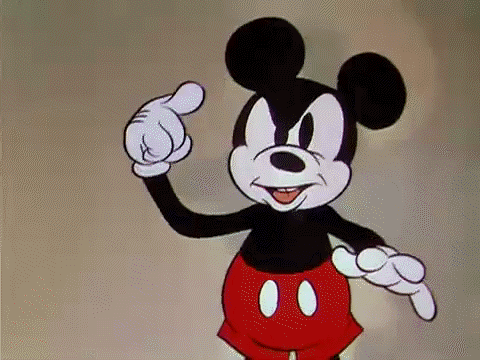 crazy mickey mouse GIF
Giphy
Was running the register at 24 hr supermarket.
Stock person comes running into produce carrying mop handle screaming "you mother f**ker". Out of sight, he keeps yelling "f**ker!" and smacking handle at something, for like 5 min. I am ringing up customers, and freaking out because he was losing his mind, but I am not interested in getting involved in a murder.... so I ignore it. Later I find out he was chasing a rat.
Want to "know" more? Never miss another big, odd, funny, or heartbreaking moment again. Sign up for the Knowable newsletter here.

Keep reading...
Show less
Some people prefer working the night shift.
There's usually less people around, and the situation is ideal for night owls.
It's also ideal for things that go bump in the night.
Ever work as a security guard in, say, a natural history museum? Surely your mind can play tricks on your imagination in a location filled with rich history.
Or what about at a convenience store when there's less foot traffic? That automatic door just slid open, but alas, no customer is in sight. Got the creeps yet?

The Inconvenience Store.
"I worked at a 7/11. One night I kept hearing what sounded like a little girl crying, but the store was completely empty. Whenever I'd go the the area where I thought it was coming from, I'd hear it from somewhere else."
"Welcome to Subway"
"I used to work at a 24hr Subway. (I know, great start to a paranormal experience story, huh?). Well one day I was doing the dishes, and my coworker was cleaning the toaster oven and bread oven. Out of nowhere, around 3:30am, I heard our door chime go off. Out of habit I say 'welcome to Subway' as I turn the corner. Nobody there. Coworker gone."
"I thought 'Okay, maybe he hopped the counter and went for a cigarette outside' as he did from time to time. Heading back to the sink to finish the dishes, I hear the door chime again. Nobody. Checked the bathrooms. Nobody. 'What...the...hell.' I ignore the dishes, and stand at the front counter, eyeing the doors. Couple minutes later, my coworker comes through the back door where we get our deliveries."
"'Where'd you go?', I asked him, turning towards the back door area."
"'To take out the trash,' he replies."
"Door chime. He does the same thing as me-- 'Welcome to Subway,' turns corner to see nobody there but this time the door was wide open. Our doors are weighted to where they'll close on their own if you let go of them. Door stayed open for a couple minutes as we stared... Then suddenly slammed."
"Not a windy night, and our doors wouldn't even stay open like that on the windiest of days. Have no idea what caused this, or why it happened on that particular night, but after I got a different job I was told it never happened again."
"Told my boss about the incident and we all looked at the cameras. Nobody could explain it."
The Haunted Lab Building
"A lab building where I once worked was the site of a murder-suicide (which happened while I was there! Awful and sad). We didn't have 'shifts' per se, but I had to work late one night autoclaving equipment for the next day's experiment. The autoclave room is right next to the lab where the event took place. I hadn't seen anyone else in the building."
"After I started the load, I was about to leave the room when I heard a crash outside. I immediately opened the door and saw that all the contents of a table in the hallway had been pushed to the floor. Water bottles, a packet of papers, pens, etc. Since I was right by the door at the time, I would have seen and/or heard someone running away. It was against protocol to leave things in the autoclave overnight, so I had to stay an hour and a half to get them out, but nothing else happened. I left the stuff on the floor, though. Didn't want a repeat of that!"
Casper
"I worked at a movie store in college. I was closing one night and just kind of doing a final walk through. I kept hearing what sounded like movie cases shuffling. I looked around thinking maybe someone had came in last minute although I didn't hear the bell ring for when someone enters the store. Didn't see anyone. Then I hear what sounds like a movie fall off a shelf in the kids section. I go over and there's a movie laying on the ground and I sh*t you not it was Casper."
The Scarymobile
"I work the front gate at a military installation. The night shift is super dull and quiet where I am at. For awhile I noticed this dark green old ford bronco that would roll up. When I would stand out the gate shack, the car would do a 180 and leave. This happened about 2-3 times until I finally caught the license plate before it turned. I ran the numbers to my supervisor. He asked me if I was sure. I said I'm 100% certain."
"He tells me it couldn't be because the numbers led to a vehicle crash report that involved THE EXACT SAME VEHICLE and plate number to which the driver had died and the vehicle and the vehicle was totaled. That sh*t made me want to switch to days."
A Face in the Movie Theater
"Worked at a movie theater running the booths upstairs. The projectors are upstairs (obviously) in a long corridor."
"At night, after the last showing in each theater, you shut off the lights to that theater and the small one over the projector itself. Then you cover the platters to protect from dust."
"It's not so bad the first few, because at least the lights of nearby projectors are still on for the theaters that are still running."
"But...as you shut each one off one by one, the corridor gets darker and darker and that little viewing window into each individual theater is pitch black. That dull, steady whirring noise you've toned out all night is gone and is now replaced by absolute silence and there's hardly any light left anymore. Just the lights at the end of each corridor where you sit inbetween each start time."
"It's spooky enough is what I'm saying."
"But one particular night, I'm throwing the covers over one of the platters and I casually glance up into the viewing theater window across the way."
"And there's a face. It's a little boys face and it's sheet white."
"I know what I saw. I'm sure there's an explanation for it and there's nothing supernatural about it, but there WAS a face there and it scared the absolute sh*t out of me. It made an already unsettling environment that much more terrifying the rest of the time I worked there."
"Also for the record, inside the actual theater, these windows are a solid 8-10 feet above the seatbacks in the highest row. So, if someone was playing a prank, they'd need a ladder and even then they'd have nowhere to set it."
The Grateful Patient
"I don't inherently believe in ghosts but if I had a paranormal story it will be this one. I work in one of the major ERs in my city as a HCA, one of my many tasks is postmortem care on patients who die in our care. One night at around 0200 I was called to the room of a older patient who was palliative had passed and the family had finished their goodbyes."
"So I went in to start providing care, this usually means removing any tubes, wires, and monitors from the patient, giving them a bed bath, removing any valuables from the body to give to the family, putting them in a gown and shroud. I like to talk to my patients even if they have passed as it puts me at ease, and shows respect to them. I explain my actions and talk them through what I'm doing because even though they have passed they are still my patient."
"While I was proceeding with the bed bath of the patient out of nowhere I felt like I was being watched and then I felt a hand on my shoulder and a mans voice tell me 'Thank you,' the hand remained for a moment while I stood there frozen then all the feelings stopped and the room felt empty. There were no other nurses or staff in the area at the time, just me. I like to believe that the patient I was providing care for was thankful for my explanations and me continuing to talk to them through their care."
– barlsms

The Hungry Spectre
"Used to work at IHOP. A cook before my time got shot and died during robbery. I would always hear someone in the kitchen such as the spatulas clanking but nobody would be in the kitchen. Once I saw black figure in the back figured it was the cook, when I went outside to the front of the restaurant, the cook was sitting outside smoking. There was no current orders either. Other coworkers experienced some stories. One of them said she felt pushed but I can't speak on what I didn't see."
Same Car, Same Pump
"I was working at a gas station at like 3 AM one night. A car pulled in to the pump, guy got out and started pumping, and then the car and dude just...vanished. I was looking right at it, and it just popped out of existence. I told my boss the next day and she turned white as a sheet. She'd seen the same thing, same exact description, same car, same pump, same guy."
Going Down
"I work at a building where after midnight, it's oftentimes just me and my coworker. One night I was scheduled to go home at 3am; as I walk out of the office and up to the elevators, the elevator dings and the door opens. These are elevators that stay either on the top floor or the ground floor (I'm on neither). I have no explanation for why it would just be there waiting for me to walk up to open and I almost didn't even get on but instead I just said "uhh thank you, please don't show yourself to me" just in case. lol"
The Devil on 42
"I worked in a mine in northern ontario. There was a death on the 4200 level a couple years previous to the incident. It was a normal day underground like any other. We were rehabbing a old working that had collapsed. 4200 level was big, the drifts were 6×6 feet, but go on for kilometers in every direction. It was about midnight when we saw the mine rescue team with security rushing down the drift. Naturally we dropped what we were doing and followed to see if we could help."
"We arrived to a guy who was as pale as a ghost, he didn't look hurt, but he was shaking uncontrollably. Mine rescue approached him and he wouldn't have it. He would scream, and not just any scream, It was terrifying hearing the screams, like a person so consumed with fear, it had a tone to it that you wouldn't imagin could come from a person. Eventually he just stopped screaming and just sat there, awake but non responsive."
"By now it was 3:30 am and our shift was over. We couldn't leave him down there. We managed to get him on a stretcher that we could carrie out. On our way out he kept saying 'the devil is on 42.' Over and over again."
"About two years later, another incident report was read to us, the exact same thing, exactly the same spot, but a different person."
"I don't believe they saw the devil, but it is always in the back of my mind when I'm on 42."
The Psych Ward
"While working at a psych ward, every morning at about 2am there would be the sound of someone running down the main service hallway, followed by the same door at the end slamming. One time I kept a close eye on the area but when I was distracted for a few seconds the footsteps began but when I got to the area there was nothing. According to one of the managers that had happened for several years, always at the same time every morning, and most believed it was a ghost of one of the deceased clients."
"Another time, all the battery powered wall clocks in the unit spun around a few times simultaneously. That waa freaky and everyone in the area screamed."
Ghost Chickens
"I used to work the early early shift making bagels (3am) and would sometimes see things in the reflection of my oven that were running around behind me. They looked like chickens. I told a coworker about it and he took me in the back where we stored the flour and pointed at the ceiling. It was completely crusted with some dark-brown fuzzy-looking substance. He told me the building we were in was once a chicken processing plant. Thousands of chickens had died right there. The stuff on the ceiling was blood and feathers."
Winchester Mystery House
"He worked at Winchester mystery house. He told me one night while they were closing down his coworker was locking up and closing all the doors down this long hallway. Well after they both finished they turned around and all the doors were opened up again and he told me his worker straight up started screaming at the top of her lungs and freaking out. His co-worker quit the next door."
– meth0dz

Keep reading...
Show less