Life is not guaranteed. Every second is fleeting and could be your last! Feel better about the state of the world? I do.
I'm not here to coddle you, I'm here for truth kids. Danger abounds like mosquitoes in summer. But... there is hope.
We can survive. Everyday we all face insurmountable, life threatening situations, just by crossing the street, or going to Starbucks. And in some instances we survive actual near tragedy.
Who hasn't heard the tales of people walking away from the jaws of life with barely a scratch scratch? It can happen, but often it's rare. So let's discuss them.
Redditor u/CrownedBird wanted to hear about some major miracles by asking:
What moment made you say "Yep, I'm definitely dead", but survived with no major injuries?
When I was in college my friends and I were constantly out galavanting, and of course, liquor was involved. One night on the way home from the most fabulous club I thought it was a great idea I drive because... wait for it... "I was the least drunk!" Perfect reasoning right?
Without a Scratch...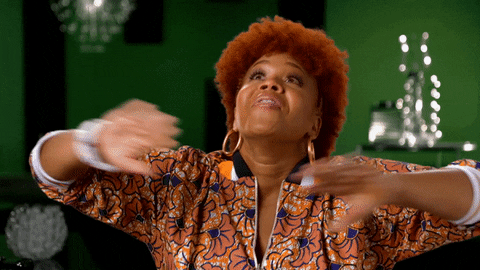 thank god singing GIF by WE tv
Giphy
"I survived a car crash that wrecked my car."
"Rolled twice, landed upside down, learned the hard way that I didn't have airbags (or at least they didn't deploy). Did have my seatbelt on though, that probably saved me. Paramedic said he hadn't seen a wreckage like that and have it end well. Not even a hairline fracture."
200 Stitches
"Not me, but my mom before I was born. She was riding in a convertible with a friend of hers. They came to an intersection and the friend wasn't paying attention and lost control of the vehicle. There was a big rig going through the intersection and they went right under the trailer. My mom ducked, the driver didn't not."
"Driver was decapitated, my mom was lucky and only ended up with a scalp full of glass and some serious psychological trauma. She had to get over 200 stitches in her scalp But nothing else significant. I think about it all the time and think how close I came to never being born at all."
- Laszerus
"dude let's climb it!"
"I had an idiot friend and we were hiking. We got to this waterfall and he goes "dude let's climb it!" I said no freaking way. He says "well I'm gonna do it and if I fall and die it's on you for not coming." So I climbed it with him. Got stuck halfway up on a slick a** rock. Pinched a nerve in my shoulder, so my right arm was useless. I thought I was certain to slip off the rock to my doom, but we managed to get me unstuck. That was the beginning of the end for that friendship."
Point Break
"I went out for a surf on a stormy day and thought to myself, "no one else is out, those idiots." Before being held down by 2 waves after eating it on the first wave of the set. First wave of the session. Was thrown down and held under and while being tossed around my leg rope wrapped around both my legs and one of my arms so I was probably being held at around 5ft under with only one arm free while my board tombstoned (board tip is barely visible at the surface but floats vertical like...a tombstone)."
"Finally managed to catch a breath between sets before taking another 3 or 4 on the head and for sure just thought... well this is it. No ones out, fishermen will find my body or my board. Managed to get my other arm free and got to shore very quickly and then avoided the ocean for a few days even though the waves were absolutely perfect. There's a reason no one was out, everyone else was 10 minutes down the road at another beach where the waves were smaller and cleaner."
Both Sides Now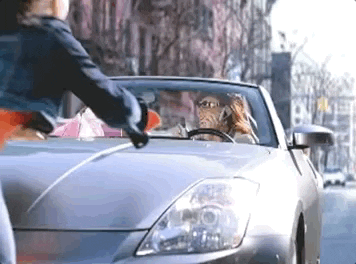 Giphy
"Tire popped going over a two lane road with steep drops on both sides."
"My car jerked to the side hard, and my car went sideways. Half my car hung over the side and luckily it's low so it bottomed out. I climbed into the back seat and jumped out the back door. Some dude in a truck pulled me out and I drove on a flat to the other side and swapped my tire out."
That all sounds about right...
And so when my besties and I were driving along the road we got lost in conversation, about boys. Like you do when you're blitzed and should be paying attention to the road, like many others...
Jump!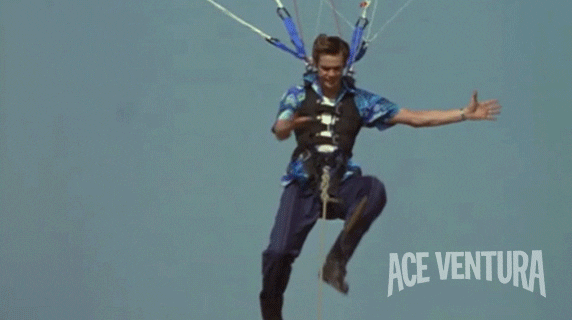 jim carrey falling GIF
Giphy
"Parachute deployed but failed to open. That was one of those moments, then training kicked in. Cut away failed chute, deploy secondary. But for a brief moment life was about to be over in my mind."
Games
"When I was a kid I was playing hide and seek with my siblings and I got the brilliant idea to hide in the trunk of the car. I meant to leave the trunk barely open so that it didn't latch but accidentally closed it too far and it latched. Mind you this was before they put handles in cars to open trunks from the inside so I was legitimately stuck."
"It was almost completely dark so I started seriously freaking out and I thought I was going to die, so I started yelling for help as loud as I could and was kicking at the back seat thinking maybe I could break the latch that keeps the seat from folding."
"I was probably only in there for about 5 minutes before someone heard me and let me out but it felt like an eternity. To this day I firmly believe it was because of this incident that I developed some minor claustrophobia. I still have serious fears about being in small, cramped and dark areas."
A Terrible Choice
"I was driving down a highway, doing 65 MPH, and suddenly my car started to shake. I tapped the brakes in reflex and my entire car flipped 180 degrees. I'm now facing oncoming traffic, including a semi truck. I was so close I couldn't see the driver compartment."
"I screamed and jerked the wheel, bringing me in front of a sedan with two people screaming as they watched me appear out of nowhere. I kept screaming and floored the gas pedal. Made it to the side of the road and cried for a long time. I had blown a rear tire. Hitting the brakes was a terrible terrible choice."
At least 90...
"I was driving home from college on one of those highways with only one lane in either direction and no shoulder. A guy in the oncoming lane didn't see me as I was in a small car. He thought he could pass 4 18 wheelers in one go and pulled into my lane going at least 90. There was no where for me to go. He flew off into the ditch to avoid hitting me head on, likely did severe damage to his car, but I lived!"
On the Gauley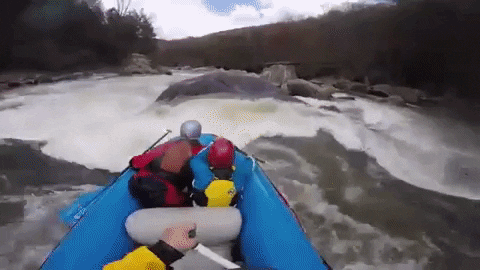 Rafting Raft GIF by Kern River Outfitters
Giphy
"Went white water rafting on the Gauley river and my raft flipped on pillow rock (one of the most famous class v rapids). Scariest moment of my life but, other than unexpectedly swallowing some water and almost vomiting, I came out completely unharmed."
See... everybody needs to pay attention more. That's the lesson.
Just like my friends and I. When we were not paying attention, and in all of our drunken glory, we hit the medium and flew across lanes. We plowed into a fence and did two... TWO 360 turns. We thought we were dead! We literally flew! But we all lived. And what I remember most is my friend Kate screaming... "TELL MY MOTHER I LOVED HER!!"
Be better people!
Want to "know" more? Never miss another big, odd, funny, or heartbreaking moment again. Sign up for the Knowable newsletter here.

Keep reading...
Show less
I've injured myself so many times in the most innocuous ways, it's a freaking miracle I'm still breathing. I've caused myself the most harm when trying to perform theatrics to music in the shower, on the train, in my bedroom. I have to frequently remind myself that I'm not Beyoncè. Other times just walking down the street can be a death sentence, even when being completely alert. You never know what may fall from the sky to trip you. We really all should live in a bubble.
Redditor u/Trxxi wanted to see who was willing to admit to the times they've been too stupid to walk and talk simultaneously by asking.... What's the stupidest way you've injured yourself?
Danger Hours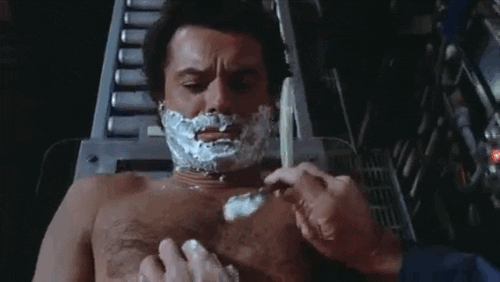 the ice pirates shaving GIF by Warner Archive
Giphy
Trying to clean the facial hair out of my razor, I sliced one of my finger tips slightly open.
Less than a second later and irritated with blood dripping onto the sink, I quickly attempted to the clean the rest of the razor exactly same the same way with my next finger, resulting in another slight slicing.
In my defense, it was very early in the morning and I wasn't yet a coffee drinker at that point in my life.
Bullseye
Put a knife into a slingshot to shoot my buddy in the butt. Believe it or not, there was no ill will involved. The idea popped into my head and my fourteen year old brain thought, 'Holy crap, that sounds hilarious!'
Fortunately, the knife slipped and completely opened up the space between my thumb and forefinger. Internal stitches, external stitches and a thing that held my hand in place for a while.
I felt dumb, it hurt badly, but at the end of the day I'm so happy I hurt myself instead of doing some serious damage to someone else because I wasn't thinking things through.
A Bumpy Slumber
I've told this story before, but here's once more.
I was sleeping one afternoon, and all my weight had fallen on my arm. As a result, my arm fell asleep too and got dead numb.
The phone started ringing and the sound somehow blended in my dream, causing me to dream about a fire alarm going off. I got panicked in my sleep and that panic continued when I realized that the ringing wasn't just in my dream, it was happening for real. So I popped up, sleepy and confused, and started running towards the source of the noise.
Comically enough, my arm was so numb that it was beyond my control and was flailing randomly by my side, crashing onto nearby walls and furniture as I was running towards the sound. It was like running with a jelly-like arm - think what happened to Harry Potter in HP and the Chamber of Secrets when Lockhart deboned his arm accidentally.
Anyway, I don't know which of the billion crashes and bumps was the one that did the job, but that's how I dislocated my pinky. It was a good hit and my finger stood at a really weird angle afterwards, so I had to go to the doctor to put it back in its place. Hurt like a *itch too.
Lean In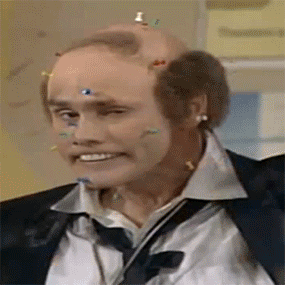 oh no fire GIF
Giphy
I was baked and baking and couldn't see the meat thermometer, so I leaned in and grilled my face a bit, I still look a bit like John Marston.
Chin Fluff
The first few weeks of boot camp I was still learning to shave properly (I turned 18 while I was there and only had a bit of chin fluff). My face wasn't used to daily shaving and I started getting this really itchy dry crusty skin around my chin. We'd also been issued ultra fine grain sandpaper for polishing the brass parts of our ceremonial uniforms. I had the bright idea to smooth my face out with it one morning, which actually worked really well. Took the dry itchy skin right off.
And a few layers underneath, which didn't hurt at the time but stung like hell about 30 minutes later during a dress inspection. And was apparently really visible because the parts I'd polished were swollen, red, and slightly bleeding. The drill staff were (in a way) impressed since no one else had sandpapered their own face before, so I guess I hold some sort of record in that regard.
The Stabbing
I was cutting a wire tie off a couch a month ago and stabbed myself in the wrist with a steak knife. Got a tetanus shot after that one.
Okay edit since this apparently is getting attention: I got the TDAP shot from my local pharmacy and it didn't hurt that much. It was a $400 couch from Wayfair for my grandmother. And I was not cutting toward myself I was cutting straight forward but the force I used sent my right hand towards my left one in a weird hard to describe with just text way. It was a sucky day.
Overnight Idiocy
Working overnights years ago. Had gotten home and threw a TV dinner in the oven. Sat down and was watching a movie. Couple hours later I'm still sitting there watching tv and I think "Man I'm hungry... I should make myself a OMG my food!" Luckily there was no fire and the smoke wasn't bad until I opened the oven. The tray was shriveled and everything was little black chunks of coal. I didn't injure myself that time but just another dummy thing I've done in a long line of dumba**ery.
The Body Says NO!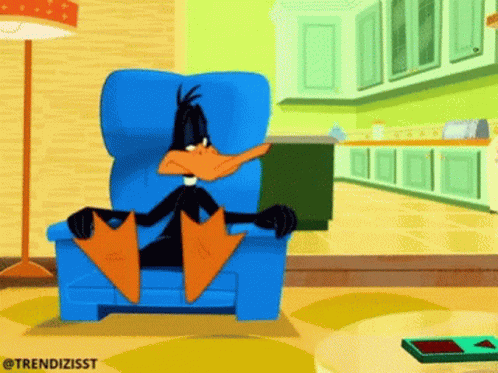 Back Pain GIF by memecandy
Giphy
I destroyed my back putting on socks one morning. I couldn't move without spasms for over a week.
To be fair, I had done a lot of snow blowing and shoveling in the prior days but the socks were the last straw for my back, apparently.
For the love of Ice Cream
So my son wanted me to open his ice cream bar. You know the good humor ones on the stick. I was standing next to the kitchen table. I dropped the ice cream and when I moved my hands down to catch it I hit the top corner of the chair with my wrist. Broke two bones in my wrist and spent weeks in a cast. I caught the ice cream though.
15 Feet Below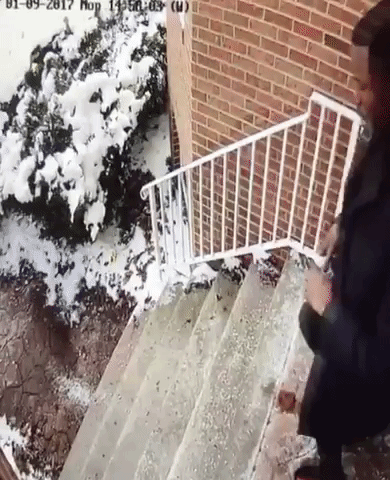 meek mill falling GIF
Giphy
I fell about 15 feet off a balcony while in university and trying to hit on a girl.
Was very drunk and didn't realize how thin the railing was. Got "Hey..." out and over I go. Got my arm caught in the bars on the way down, messed up my shoulder, and landed on my hands and face. Broke or sprained all of my fingers.
Not a good night for this guy.
Want to "know" more? Never miss another big, odd, funny, or heartbreaking moment again. Sign up for the Knowable newsletter here.

Keep reading...
Show less
Dying is a scary concept that haunts us as humans no matter who we are or where we are in our lives.
Some of us have gotten way closer to death than we would have liked. Fortunately for those people, they lived to tell the tale--and lived to tell what exactly went through their brains in that last pivotal moment.
Keep reading...
Show less
Pain is not gain.... pain is just pain; especially for the sensitive souls out there. However when put into perspective, a toothache is not as excruciating as a knife wound to the abdomen... but it's a close second. We've all survived our fair share of "minor" injuries and we live to tell the tale. We have to be careful accidents and mishaps can happen at the drop of a hat. Like pulling your back, a minor injury caused by bending over. Be careful people. It may not be ER worthy but the body isn't invincible.
P.S.... Paper cuts kill.... spread the word.
Redditor
u/DorfGANG
wanted everyone to tell us about their tales of survival by asking....
What is the worst "minor" injury?
Want to "know" more? Never miss another big, odd, funny, or heartbreaking moment again. Sign up for the Knowable newsletter here.
Keep reading...
Show less
When you are but a breath away from the wrong step and certain death, life shifts perspective for you.
Humans sometimes forget that they are mortal and that at any moment, they may face the end of their lives. When confronted with that mortality, people have a hard time fully grasping that. It can cause a full shift in their lives.
And chances are, you'll never forget the incident that almost ended your life.
u/ferfeb asked:
Here were some of those answers.
Trigger warnings: violence, blood, moments of terror, death.

Hostage Situation
I was an English teacher in Honduras. About 8 months in myself and 4 other volunteers decided to go to a "bar" a few towns over(the closest one) to celebrate one of their birthdays. A few hours in, a group of 4 men came in with masks and HUGE guns and told everyone to drop to the floor. Being half in the bag (or possibly more), I decided to hide in the men's washroom as I was right beside it.
I got yanked out by one of the men and pushed up against the wall. He then held the gun to my head and told me to give him everything I had. He then told us 4 (we were put together on the wall as we were obviously the ones that were not from around there), and said if we reported them, they knew where we worked (and they did), and would kill us. We reported the incident (although nothing came from it), and I was back home in Canada 3 days later.
Thank Goodness Indeed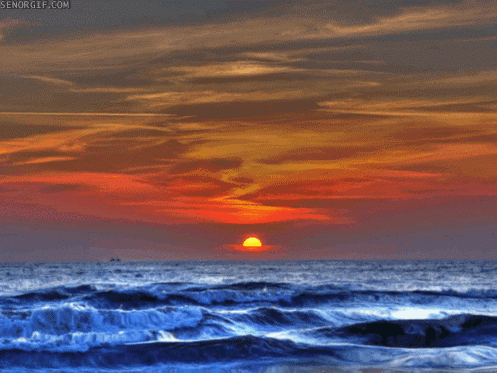 Giphy
Slipped on some rocks and was about to fall 20-30 feet into the ocean and more rocks. When you see someone in the movies falling and they grab on to basically nothing. That can't happen you think. Wrong, thank goodness.
Away From The Cliffside
I went hiking with a friend and her family in 6th grade during a camping trip they invited me on. We were coming back down and I lost my footing and feel. I started sliding towards a cliff and a bush caught me. If not for that bush I would have gone off a 200ft (at least/best guess) drop into a lake.
Even now at 21 hiking makes nervous.
Saved From The Tupperware
Shoeing horses. Was tucked under the hind end of one when something spooked him. I got dragged down between his hind legs. He was in cross ties so he could only really move side to side so neither of us could get away. Luckily my boss was nearby and was able to untie him and get him off me.
I was really lucky and got off mostly okay. Had a few broken ribs, a punctured and collapsed lung, broke my nose, and got a bunch of soft tissue injuries in my right arm.
But it got me out of a Tupperware party I didn't want to go to so all in all 10/10 would get trampled again
Just Driftin'
My doctor prescribed me medications that had an interaction which suppressed my central nervous system. Basically it felt like I was taking heavy tranquilizers constantly.
At the time I was commuting on a mountain road to go to night school and the meds made me so tired I almost fell asleep driving multiple times. After I almost got in what would have been a huge accident I withdrew from school for the semester.
Another doctor figured it out, took me off my meds, and I felt like a new person within days.
Just The Wrong Angle
Slipped in a club and fell onto a half pint glass. The glass shattered and sliced open my wrist, nicking the artery and the tendon and opening my palm to the bone.
Plus side; just before I went I to shock I got to see my tendon move like the terminator! Minus side; I accidentally covered a bunch of people in my blood. Oh, and the surgeries... and the scar on my wrist
An Old Injury
Hit by a car doing 70mph back in 1989 - shattered my femur, half of it turned to dust, the other half ripped its way out my outer thigh as if to say "welp, gotta go kiddo, my work here is done...".
Fractured skull with brain swelling, smashed knee, smashed hip, internal bleeding - according to most witnesses, I looked like I'd stepped on a landmine.
I spent 6 months in hospital, was fitted with a custom titanium reinforced composite femur, had to relearn how to walk. The scar went keloid and its about 8 inches long, going from my hip to my knee.
In 1993 I had to have the bone swapped out for an adult one so as not to screw up my growth. I walk fine but I run with a limp.
A Warning To All
I made the mistake of driving drunk. Not, "a little tipsy" and not, "I'm pretty sure I'm fine".... Drunk with a capital D.
I am a complete jerk for driving in that state. I didn't even remember getting home. Fortunately nobody got hurt, but waking up in bed the next morning with no recollection of how I got there...
I could have killed someone and myself. Please, anyone reading this: There is always someone willing to come pick you up and drive you home. Don't let pride get in the way of that. It is always the safer option.
Just Typical Of Newark
I was almost run over by a speeding bus in my teens. I lived in Newark, NJ at the time, and I was listening to Slipknot on my Zune (lol). I was going to cross the street, when a song came on that I didn't wanna listen to, so I stopped for a second to hit next, and the exact second I did, a bus flew past me, just inches away from my face. I literally felt the wind almost knock me back. The driver had ignored a red light and just kept on going, and I would've been mush, if I hadn't stopped to select a different song. Slipknot's Iowa album literally saved my life, in a way.
We Have Ignition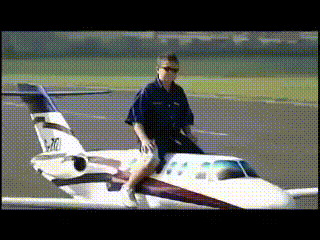 Giphy
I was an aircraft hydraulics specialist and while looking for a leak in a 3,000 psi pressure line, a pinhole leak started right next to my head and shaved off a bit of hair just above my ear. Had I been just an inch or two to the left I would of had a stream of high pressure fluid cut right into my skull.
Keep reading...
Show less