DOUG MILLS-POOL/GETTY IMAGES (left); Lester Cohen/Daniele Venturelli/Getty Images (right); Twitter: @perryroom
Nancy Pelosi... social media star?
That's pretty much the status Pelosi attained after her sarcastic clapping during President Donald Trump's State of the Union address became an instant meme.
Here it is again, just in case you've been living under a rock for the last week.
Pelosi gives Trump a standing ovation and nod of approval for his call to end "revenge politics." #SOTU… https://t.co/1VplHYDcnS

— Daniel Lewis (@Daniel Lewis)1549422488.0
For context, here's where Pelosi delivered that clap #SOTU https://t.co/vxnCdtcEeI

— Brian Koerber (@Brian Koerber)1549426465.0
The internet obsessed over the clap, giving rise to a slew of memes like this one...
https://t.co/P9BdZ6U8sF

— Desus Nice (@Desus Nice)1549423546.0
...and it looks like "the clap heard around the world" has found fans in the likes of singer Katy Perry (Teenage Dream) and actor Orlando Bloom (The Lord of the Rings trilogy), who met Pelosi at the MusiCares Person of the Year ceremony honoring country music legend Dolly Parton at the Los Angeles Convention Center.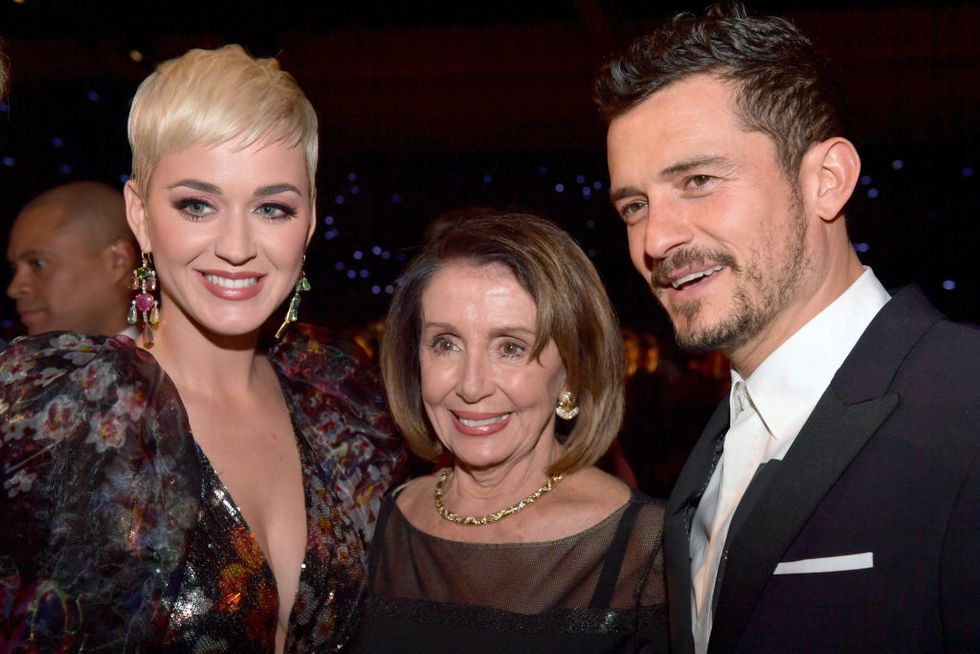 Lester Cohen/Getty Images for The Recording Academy
Did we mention the three of them took the opportunity to recreate Pelosi's State of the Union clap?
The internet ate this up.
@perryroom @evrenperry the sassiness that she has! is a gem for kp5

— 👁 365 (@👁 365)1549778064.0
@perryroom @AngelinaSnow007 Needs more flair..and shade.

— 💖🐥🐼Tami🐼🌊 (@💖🐥🐼Tami🐼🌊)1549733845.0
Even Pelosi's daughter, writer Christine Pelosi, weighed in.
#MadamSpeaker living her best life ... Katy Perry and Nancy Pelosi recreate the #SOTU 👏🏽👏🏽 or is it now the left… https://t.co/CAjENO4mBC

— Christine Pelosi (@Christine Pelosi)1549758565.0
It's pretty clear where Christine gets her own sense of humor.
@sfpelosi I'm so grateful your Mom is Speaker. We have hope.

— PXB (@PXB)1549762538.0
@sfpelosi @sfpelosi, You had a very cool, very intelligent, beautiful mom ! I know you have to be SO proud 🌹 👏🏼 🇺🇸

— Linda S C (@Linda S C)1549759452.0
@sfpelosi @bjcreigh Awesome. Just awesome

— Patti Capello (@Patti Capello)1549812647.0
Last week, Christine Pelosi said that memeable clap brought her "back to the teen years."
"Oh yes that clap took me back to the teen years. She knows. And she knows that you know. And frankly she's disappointed that you thought this would work. But here's a clap," wrote Christine on Twitter.
#waybackwednesday - oh yes that clap took me back to the teen years. She knows. And she knows that you know. And fr… https://t.co/IXplF6s4uS

— Christine Pelosi (@Christine Pelosi)1549469103.0
Pelosi will never be able to live this down!
Keep reading...
Show less
The early morning arrest of President Donald Trump's longtime former political adviser Roger Stone as part of the special counsel investigation over his communications with WikiLeaks prompted many to wonder what next awaits the president as the probe into Russian subversion of the 2016 presidential election strikes ever closer to home.
As the news sent shockwaves through Washington, House Speaker Nancy Pelosi asked the question so many of us have been wondering all along, and it's a direct hit at a president who has sought to undermine the probe from the moment it began.
Pelosi released the following statement shortly after Stone's arrest on charges that he obstructed an official proceeding, made false statements and engaged in witness tampering:
"The indictment of Roger Stone makes clear that there was a deliberate, coordinated attempt by top Trump campaign officials to influence the 2016 election and subvert the will of the American people. It is staggering that the President has chosen to surround himself with people who violated the integrity of our democracy and lied to the FBI and Congress about it.

In the face of 37 indictments, the President's continued actions to undermine the Special Counsel investigation raise the questions: what does Putin have on the President, politically, personally or financially? Why has the Trump Administration continued to discuss pulling the U.S. out of NATO, which would be a massive victory for Putin?

Lying to Congress and witness tampering constitute grave crimes. All who commit these illegal acts should be held accountable to the fullest extent of the law. We cannot allow any effort to intimidate witnesses or prevent them from appearing before Congress.

The Special Counsel investigation is working, and the House will continue to exercise our constitutional oversight responsibility and ensure that the Special Counsel investigation can continue free from interference from the White House."
The American people should "follow the facts," she wrote in a post to her official Twitter account.
Roger Stone's indictment makes clear there was a deliberate, coordinated effort by top Trump campaign officials to… https://t.co/HbABMiS6IA

— Nancy Pelosi (@Nancy Pelosi)1548470550.0
A few hours after Stone's arrest, President Trump announced that the longest government shutdown in American history would end without the funding he'd requested to build a wall along our nation's southern border. The combination of her statement on Stone's arrest and the shutdown's end earned Pelosi considerable praise.
@SpeakerPelosi Your strength and determination is amazing. Exactly what our party needed. Fight On Legend!!!

— Roderick McClure (@Roderick McClure)1548615374.0
@SpeakerPelosi I want to personally thank you for all you do for us, for America, I am beyond impressed! I have al… https://t.co/52pyhhh0jf

— Riven (@Riven)1548612233.0
@SpeakerPelosi Thank you, Speaker Pelosi. We need you to stand your ground with this unremarkable and dimwitted POTUS. #PelosiOwnsTrump

— Identical (@Identical)1548618195.0
Nancy Pelosi brutally destroyed Donald Trump Ann Coulter blasts Trump over shutdown deal:'Biggest wimp ever to se… https://t.co/C3jMvFpMkq

— Mr. Weeks 🤴🏾 (@Mr. Weeks 🤴🏾)1548465025.0
Stone has denied any wrongdoing.
"I look forward to being fully and completely vindicated," he told a group of supporters who'd gathered outside a Florida courthouse.
Roger Stone gets drowned out by "lock him up!" chants as he holds news conference after his release from custody, a… https://t.co/W4e371gGWN

— Aaron Rupar (@Aaron Rupar)1548438662.0
Stone has been a member of Trump's inner circle for decades and even pushed him to run for office for many years. He worked on Trump's failed bid with the Reform Party in 2000, and also worked on Trump's campaign in 2015 before transitioning to a more informal role.

Stone has been described as the "key" to unlocking the maze of Special Counsel Robert Mueller's investigation into Russian interference. It was Stone who helped Guccifer 2.0 spread propaganda and misleading news stories to undermine the candidacy of Hillary Clinton. Guccifer 2.0 took credit for the infamous hacking of the Democratic National Committee systems, as well as accounts of other political party members and organizations.
U.S. intelligence officials believe Guccifer 2.0 is likely a Russian military agent or a persona that was used by many to broadcast information hacked by the GRU, Russia's military intelligence organization. FBI agents were able to ascertain that the entity was an officer of Russian military intelligence, as The Daily Beast had previously reported.
Stone has continued to deny allegations of collusion with Russia.
Keep reading...
Show less