Reddit user Soy_nanami asked: 'What's the ugliest name you've ever come across?'
Naming a child with a unique name can be quite a challenge, but it is one that many people are willing to take on.
However, there are risks involved.
You don't want to come across as unoriginal, but you also don't want to burden the child with a lifetime of mockery and ridicule for a moniker that didn't seem silly at the time of the naming.
While some people succeed at this, others fail miserably and...well, poor child.

Curious to hear of epic name fail, Redditor Soy_nanami asked:

"What's the ugliest name you've ever come across?"
There's a theme going on here.
"My sister has classmates named Pigeon and Beans."
– Abug_sa_Yawa
"Wait, one was Pigeon and another was Beans, or one poor unfortunate soul was Pigeon And Beans?"
– rancidtuna

If The Names Fit
"my sister had classmates in the 5th grade that were Levi, Jean, Denim, and Blu. not so much ugly I guess. but their names together make a sentence. Blu Denim Levi Jeans."
– puppycatisselfish
"The twins. Fly and button."
– 111110001011

These don't roll off the tongue so easily.
Name Fit For A Villain
"My Great, Great Aunt DARTHULA. She hated the name so much she signed her marriage certificate as 'Thuley'. I had a helluva time tracking her down because of this 🤣"
– StevenGaryStout
"Darth ula was the dark Lord of the family, so powerful and so wise, she could even keep the ones she cared about, from Karens."
– ResistRacism

See Ya Later
"Adeusmano."
"I live in south America. This would be something like "Goodbyebro.'"
– Raigheb
Unfortunate Correlation
"Candida (as in Candida Doyle of Pulp). I'm sorry. What a name. Like the genital fungus?"
– samit2heck
"It's rather sad that these Latin-influenced names have these collocations now. It's a pretty cool name, and means 'white' or 'bright.'"
– curmudgeonpl

Getting into NSFW territory.
Oh Myyy
"A guy I know is called Nuttaporn. Nutty for short."
– pantheonofpolyphony
"Porn is very common in Thai names."
– grosselisse

"I've seen quite a few over years in a call centre but Kok Hung Lo was my all time favourite name."
– bigredmidget

Bordering On A Slur
"I served with a guy in the military whose surname is Fagg, you refer to everyone in the military by their surname. You can imagine how that went down."
– Weak-Tap-5831
"Oooh, the military. Last names were sometimes unfortunately hilarious. The two that come to mind immediately are Browneye ('Browneye aye!') and a girl whose last name was Guzzler or Guzzlar (in the Navy, the third enlisted rank's title was "Seaman", which everyone in my rate started out as)"
– Game_Changing_Pawn

They Got Around
"Slutt. Prounced slooth."
– Huge-Advantage7838
"How to make sure your kid gets bullied."
– heisl_
"You can't fix stupid."
– hyperion420
"People will pronounce that however they please."
– SappySoulTaker

Her Dad Was The Worst

"Went to school back in the 90s and 2000s with a girl named Ashely Head. It came to light one day back in jr. High that her dad's name was Richard 'Dick' Head and their number was listed in the phone book. The prank calls came so fast."
– gil_beard

A Little Jarring
"A friend's mum was called Kunti. Maybe it's not ugly but you definitely get a shock when you hear it the first few times."
– Teefdreams
"Kunti is a common name in India. It's not pronounced Cuhnty. The u is pronounced like the u in Uber."
– Ill-Inspector7980
It wasn't the ugliest name but a friend told me about a guy he knew whose name was Otis.
His surname was Payne.
While I personally think it's a cool name when read together, I'm sure he was subjected to lots of mockery.

So, if you read this Otis Payne, I feel for you for all the ribbing, or "Payne" you must've suffered through.
"Ohhh-dis Payne!"

Reddit user Corollo_Bro_91 asked: 'What is the dumbest name you've ever heard someone give their child?'
Choosing baby names is one of those tasks that's a weirdly hot-button subject for some people who believe their opinion should always be taken into consideration, even when it comes to someone else's family.
But sometimes, listening to a third party's opinion would not be the worst thing.
Redditor Corollo_Bro_91 asked:
"What is the dumbest name you've ever heard someone give their child?"
A Lesson in Roman Numerals
"KVIIITLYN. As in, 'Kaitlyn.'"
- today0012
"That's the most asi-IX (asinine) name I've ever heard."
- UnderwhelmingAF
"This joke will never be IVgotX (forgotten)."
- SillyFlyGuy
"I hVIII (hate) you both for making me laugh this hard."
- Ok_Professional8024
When They Couldn't Pick One Condiment
"Dijonaise."
- BamboozleMeToHeck
"That'll go great on my ham sandwich."
- SimpleVegetable5715
Didn't See That Coming
"I knew a Christian family once who named their first two kids Blessed and Saved, then the rest had normal names."
"The third kid (George) was born after Blessed started school, so I bet they had a change of heart on the naming thing as soon as Blessed started getting relentlessly bullied."
- Hot_Frosting_559
"Now they're like, 'These are my kids, Blessed, Saved, and George,' lol (laughing out loud)."
- darthmoo
Star Wars Fans
"I knew a kid named Chewbacca back in grade school. It was not a nickname. It was actually Chewbacca."
- esqualatch12
"Of course that wasn't his nickname. His nickname would be Chewie."
- Olorin_in_the_West
Committed to Italian Food
"I work as a pizza driver, and I have a regular named LaSonya."
"It's pronounced 'Lasagna.'"
- tiffanyistaken
The Best Player at Game Night
"'Trivia' for a girl. Nice girl. Terrible name."
- Euphoric-Blueberry97
Sounds Fishy
"Jessa Duggar named her first kid Spurgeon (sic)."
"I put the 'sic' to clarify I wasn't spelling it wrong."
"It's supposed to be Spurgeon, but to be honest, my brain keeps going to the fish (Sturgeon) but spelled wrong."
- the_lusankya
These Kids Were Only Available in Sets
"I rode the bus in high school with boy/girl twins named Clark and Candy Barr."
"On the same bus were four sisters: Mary Ann, Mary Catherine, Mary Patricia, and Mary Louise."
- wheelie423
Unique Spellings
"I met a girl named Jules but it was spelled 'Jhewelez.'"
"And before anyone gets on my a** about the name potentially being another language, it wasn't. She was white American and it was pronounced like Jules or Jewels."
- hopefullyimnotsick
"'Jhewelez' reads like Jack Black saying 'jewels' in a way only he can."
- Big_Rig_Jig
"More like Jim Carry in 'Pet Detective.'"
- futurespacecadet
Chronically Mispronounced
"A student's mom showed up mad that her child's name was repeatedly mispronounced. Who knew 'Talore' was pronounced 'Taylor'?"
- GeeWhiskers
"This reminds me of the girl I went to school with whose name was Airwrecka (like... Erika)."
- TexanAmericanMexican
It's a Bop; It's a Vibe
"Beezow-Doo-Doo Zopittybop-Bop-Bop."
"Had his name changed to it because he thought it was funny to hear the cops say it."
"I know it's not a birth name, but I think it belongs here."
- Dragonfire400
"Imagine changing it for that reason because you know you're going to have multiple opportunities for cops to say your name."
- OpeScuseMe74
Interesting Origins
"Wayne Train."
"If you're out there Wayne, I think of you often."
- royonquadra
"I knew a Wayne Deer … 'Santa's in his sleigh with eight tiny Wayne Deer.'"
- sanibelle98
"Another classic! Is it cruel parenting or just being oblivious to schoolyard teasing?"
- royonquadra
"Wayne train is an oldish meme in Germany. It comes from the term 'Wen interessiert's?' ('Who cares?')."
"'Wen' sounds like Wayne, so Wayne became a meme guy who always cares, but you could also just reply, 'Wayne' when somebody says something irrelevant."
"That then evolved into, 'All aboard the Wayne Train on its way to Mt. Whateverest!'"
- riceandvegetables
Oh, the Irony
"I knew two kids named Wizdom and Knowledge."

- AlanBill
A Complete Sentence
"My mom used to work in a daycare. One of the kids' was named Surprise Joyous Knight."
"Yes, this is true, Mrs. Knight named her kid Surprise Joyous."
- Adventurous_Image793
"'O Holy' was already taken."
- CaptnsDaughter
"My sister works as an obstetrician in Switzerland. Before moving abroad, she did an internship here in Italy, where we were both born."
"A couple was undecided whether to name their son 'Domenico' or 'Antonio.'"
"In the end, they decided to call him 'Domenicantonio.'"
- harlenemachiavelli
"Could you imagine in elementary school, having to write that on all of your papers? Poor kid, lol (laughing out loud)."
- Glum-Temperature-111
"You'd learn your ABCs pretty fast!"
- admiralrico411
Coming up with baby names is one of those things that parents are incredibly excited to do as they prepare to become parents, and sometimes their decision is met with a lot of resistance.
In these cases, there was a pretty clear reason why.
What's in a name?
When it comes to your first child, or any of your children for that matter, a lot.
It's easy for some, who come to a common agreement fairly instantly.
Of course, after they come to an agreement on what to name their child, they have no way of knowing how their family will feel.
These days, everyone has an opinion on a name.
Even the most traditional names, like Tom and John, Sarah and Lucy might get a yawn, for being too old-fashioned.
Though, when parents get too inventive, people's judgment grows even stronger.
Redditor Birchtree16 was eager to hear the names that made people's jaws hit the floor, leading them to ask:
"What baby name immediately makes you lose all respect for the parents and why?"
Not Nearly Enough Space...

"Any of Nick Cannon's kids' names."
"They are all so over the top bad."
"Moroccan, Monroe, Golden Sagon, Rise Messiah, Powerful Queen, Zion Mixolydian, Zillion Heir, Beautiful Zeppelin, Legendary Love, Onyx Ice Cole and Zen."
"Why?"- cinnamongreen
Why Even Bother?
"Joaux (Joe) is a personal favorite."- Themissrebecca103
This Just seems reckless
"Any name as alcohol. Chardonnay, Tequila, etc."
"Saw those a lot as a teacher."
"Had a male student named Crash Danger."
'Not kidding."- Tanyaschmidt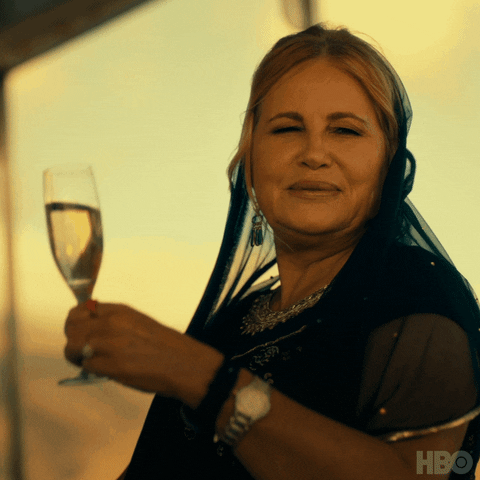 Happy New Year GIF by HBO
Giphy
How Pretentious Can You Get?

"I know someone who named their kid Chozyn."
"The kid wasn't adopted either."- Stabyouup666
They Will Find Out Eventually
"I used to be on tumblr back in the day of Supernaturals glory, and someone named their poor child 'Destiel'."
"I get it, you like the ship."
"But you have an actual child that is TOTALLY gonna be pissed you named your kid after a fictional relationship on a show about demons and other supernatural things."
"The lack of respect or forethought like?"- Niburu-Illyria
Naming Your Child After You Has Its Risks...
"Youandi."
"It stands for you and i."
"Horrible."- NathalieDV90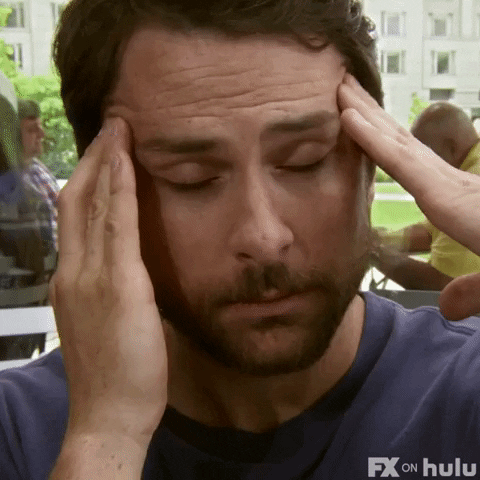 Confused Always Sunny GIF by It's Always Sunny in Philadelphia
Giphy
Thank Goodness For Nicknames
"Mike but short for Micycle."- BurningHuman
X Marks The Spot...

"All the names with X thrown in the middle or even two."
"Jaxxtley."
"Braxxton."
"Braxley."
"I hate them."- WorkRedditUsername69
Definietely No Chance Of A Complex...

"A guy running for some office near me is named Rocky Rhodes."
"How does one look at their tiny newborn and think 'Rocky! '"
"Looks like a Rocky to me.'"
"And you know how much I love ice cream!'"- nahteviro
"My brother once had clients named Jerry and Mary Derryberry."
"We didn't believe him so he took a picture of whatever account papers."
"Don't even remember what his job was at the time, who gives a sh*t."
"But the series of events to have a married couple be named Jerry and Mary Derryberry is just so delicious."- Jibber_Fight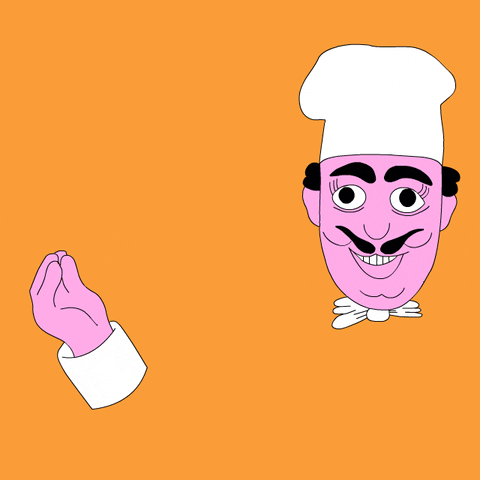 Bon Appetit Gourmet GIF by Studios 2016
Giphy
Some Points For Originality?
"Horribly misspelled to seem different."
"The irony is that my boyfriend's name is Krysteffor."- quinnk1n
That's Just Laziness...
"Misspelling of common names to act trendy."- amdpg1976·
'Parents who essentially give their kids the same first name as their last name."
"Robert Roberts, William Williams, etc."
"I know one of each in real life."
"It seems purposefully cruel."- bwilson525
NO.
"Reighfyl, pronounced 'rifle'."- KickNo2069
Or They Were Just Jane The Virgin Fans...
"A girl I know, her name is Baby Sasha."
"She said we can call her baby."
"Her parents were clearly lazy to come up with a proper name."- saltyy_spitoon
It's certainly easy to judge when we hear a name which is, to put it mildly, peculiar.
Though before we rush to judgment, we must consider that unusual as may seem, it could have personal meaning to the family.
Though, anyone who names their child "Reighfyl", regardless of the spelling, definitely deserves to be judged.
We tend to scoff at terrible baby names–especially the ones that make us sympathize with the child who will ultimately face humiliation as they grow up.
But equally as cringy are certain names people name their pets.
Sure, they may come from a loving place, but still, poor doggo.
Curious to hear of unforgivable pet names from those who work with animals, Redditor Lia_Julee asked:

"Vets of Reddit, What was the worst pet name you have ever encountered in your job?"
They're choices, but not necessarily the right ones. What were they thinking? We'll never know.
Return To Sender

"Envelope"
– Mskorn85
"Actually, Darren, it's pronounced En-vel-oh-pee"
– Lilzhazskillz

Bad Mashup
"I'm deeply involved in the horse world. There's a 'discipline' called halter, and many of the horses are genetic atrocities to begin with. They've been bred to the point of uselessness."
"When naming quarter horses, many breeders like to create a registered name that incorporates the parents' names and bloodlines. So, somebody bred together the stallion Kid's Classic Style and the mare Lookin' Touchable. The best name that the breeders could come up with for the foal?"
"KidsLookinTouchable."
"Yeah. That's the best they could come up with."
– ModernPlagueDoctor
Winning Asset

"Old neighbor lady had a cat named 'face.'"
"because it had a beautiful face, she said."

– praisethehaze

What About The Dressing?
"My brother in law named his cat Salad."
– LeagueIllustrious
Poor Doggo
"My old neighbors apparently thought it would be a good idea to let their 3 year old name their dog."
"The dog was named dump truck."
– [deleted]

Here's a name that just left Redditors scratching their heads.
Sensual Misfire
"Sexy - for a chihuahua. Just made the whole consultation very awkward."
– prouvairee
Expected One-Liners
"If you could just lift Sexy up here please, thank you."
"Now I might need your help to hold Sexy down."
"I'm going to put this in your butt Sexy but I'll be quick."
– Opening-Thought-5736

The Followup Appointment
"Yes, but will you bring sexy back?"
– ermahgerdshoez

These examples say a lot about the pet owners.
There Are Worse Things Than Just Names
"Mom owns a vet practice so had a lot of these."
"Best/worse pet parents named their cat D.O.G. and their dog C.A.T."
"James Bond was my favorite doggy (Pekinese). He was hilarious."
"There were so many Mittens, Fluffys, Spots and Buddy's they got lost in the sea of animals."
"Worst story was a rescued golden retriever who was so malnourished they nick named him Pancake. Sadly, Pancake's kidneys were done so he dies 2 days after he was rescued by the local animal control. The two days I got to feed and spend time with him made it all the harder to realize he could have been saved if his family had let him go instead of leaving him chained up in the yard before they left."
"I hate people a lot of the time."
– AzureaWinds

Jokester
"I used to work at a pallet repair yard and a bloke had the last name Pallet. Initial A."
"A. Pallet."
"Funny as f'k when delivery drivers asked him for his name to sign the delivery note."
– Jaster_Rogue

Sure, many of these are hilariously absurd.
But the poor, poor animals are the ones not laughing, right, "Sexy?"
Jermaine Jackson has a son called "Jermajesty." Not sure how to pronounce it? I'll help!
Say "Her majesty" like you're talking about the queen.
Great, now say it again but smash it all together in one word like if the queen was on fire and maybe a stop, drop, and roll is in order, post haste.
Now drop the "H" and replace it with a "J" cause secretly this is about Jermaine, I guess?
That's how you say Jermajesty Jacksons first name ... and it doesn't even begin to scratch the surface of where this thread is going.
Reddit user Iron8te asked:
"What is the worst name you've ever heard?"
Jermajesty ... go on back and enjoy being a handsome, talented, well traveled young man living his best life. We're sorry to have dragged you into this.

Clearly your name is totally normal. At least compared to all this...
'Common' Name
"I once met a girl named Cliche 😭"
- Background_Tree_8468
"Did she get old quick?"
- Homelander44
"This reads like the start of a limerick"
- DrChonk
"I bet she wasn't like other girls."
- Plenty_Past2333
"I read this as Chicle and as a Hispanic I was like nooooo"
- multigrain-pancakes
Fatalism and Fate
"In elementary school there was a boy named Famous. His younger sister was Fashion."
- sourdoughbreadlover
"A**hole parents lmao"
- Chemical-Volume-6825
"I KNEW A FAMOUS TOO"
- AdditionalChart371
"So I literally just read a feature story about a man named Famous and his wife in my alumni magazine. If it's the same guy, he turned out alright despite his sh*t name."
- kaytay3000
"I know a guy named Famous! He's definitely not living up to his name."
- Jasonrj
Trattoria Family
"I'm in healthcare and the worst name I've seen on a kid is Meatball"
- peppermintblues
"Son of Meatloaf?"
- TheGoober87
"Are you a vet?"
- AccidentalBastard
"This one made me genuinely lol"
- sarbot88
"Imagine yelling across a store 'AY MEATBALL' or 'Has anyone seen my kid? His name is meatball' Poor kid"
- LazyLittleBat
"You called?"
- MeatballsRegional
"When you wanted a dog, but you had a kid instead."
- AthenasApostle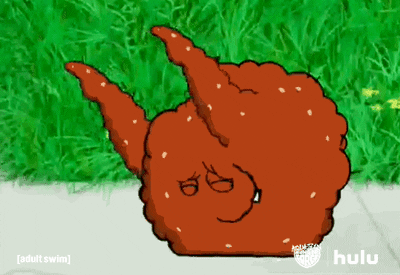 adult swim GIF by HULU
Giphy
The Original 'G'
"An 80+ year old lady called Gremlin"
- Jazzlike-Channel3465
"Never feed her after midnight."
- IAmNaaatBorat
"I want to be named gremlin so bad"
- EnoughIdeas
"Right? I wonder if my family would support me in my name change petition."
- ItsMummyTime
"The POWER that name has…"
- knightogourd
"What a G, I hope she lives +100 years old."
- HappyhourGremlin
"A name you grow out of, then eventually back into"
- theEFG15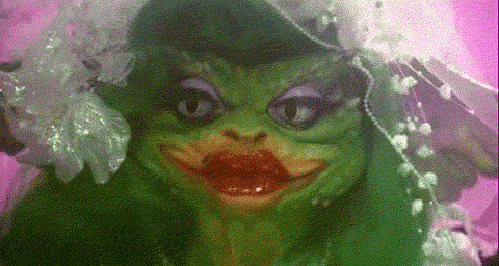 Movie Flirting GIF
Giphy
Who Is Coming?
"'Messiahiscoming' is by far the worse I've heard. It's beyond ridiculous."
"She was 12-14 years old and said nothing. Mother did all the talking."
- PointyWombat
"That's less of a name and more of a threat..."
- Iron8te
"Once upon a time this was a standard in come circles. Thou-Shalt-Not-Commit-Adultery Pulsifer wasn't just a made up name in Good Omens to sound strange, there were people who really had names like that."
- PM_me_ur_navel_girl
"Did this kid live in 17th century massachussetts or?"
- emu_spy
"We had a Praisegod in my school."
- Younggatz99
"I read that name in Jar-Jar Binks voice"
- AsparagusFlex
That's An 'Eye' Sore
"Eye'n, pronounced Ian."
" 'To be different', per his mom."
"What the f*ck."
- JustMeerkats
"I genuinely hate that trend."
"Just because a name is different doesn't mean it's good. Or ever gonna be pronounced correctly. There's a reason no other kids are called that."
"Had this conversation with my mum when I came home and told her I changed my name, and she was surprised that I didn't want to keep the old sh*tty one that I had."
- Unknown_Captain
" 'Let's be "different' by taking an incredibly common ass name and butchering the spelling."
" 'We're so unique' they say as they chuckle to themselves proudly"
- multigrain-pancakes
"Are you Eye'n me up"
- GullibleDetective
Greg²
"Once at work, I met a guy whose first name was Greg which is not all that bad. The thing is, his last name was also Greg."
"TLDR- Greg Greg"
- Glide1505
"Met a guy named Marty Martin and asked if his first name was legally Martin. 'No, my birth certificate says Marty. Why does everybody ask me that?"'"
"You goddamn know why, Martin Martin."
- Nooooope
"This is weird in the US but I have met people not from the US who have the same first and last name."
- VulfSki
"How much imagination do you have to lack if you can't think of another name that isn't the surname."
"man, I just can't come up with any other names, I guess we'll just name our baby Greg Greg"
"Or they think it's funny?"
"Like, I truly want to know why people name their kids Greg Greg or Tommy Thompson, et"
- urbanhag
"I used to know a dude named Greg Gregory. His middle name was Allen, making his initials GAG."
- Hotdogmaniac6969
Like The Antibiotic
"Clindamycin. Yes, spelled exactly the same way as the antibiotic."
"When questioned, the mom said 'I just thought it was pretty' "
- throwawaypanda15
"There was a chemistry teacher at my school who named her kids after elements. The one's name was calcium…"
- Kyubey4Ever
"It takes a special kind of thoughtless stupidity to pull this one"
- rosepotion
"Siblings Cephalexin and Amoxicillin weren't available for comment…"
- eljefecamacho
"Clinda for short"
- Thickfries69
"I hope it's shortend to Linda or Clyde"
- Sterwood
That's... Ummm...
"Michael Kidiporn. Was a customers name. Was on the precall went to say 'Mr Ki-…sorry I'll just butcher your name'."
"He said 'No it's Kidiporn' "
"Sorry bro but a name change would be first on my list of things to do, Now."
- lovelynutz
"This would be a case for taking the wife's last name. Sorry, the Kidiporn line ends here"
- lovelynutz
"That's terrible. Like, Mel Brooks couldn't come up with that."
"And he came up with 'Latrine.... Yeah, used to be Sh*thouse'."
- oniwolf382
"Going on the good-faith assumption this not trolling. Must be a Thai name. 'Porn' means blessed in Thai."
- dee615
"Used to be a doctor in my area with that name (worked in sample processing for a bit) . I want to say it was Dr. Kittiporn but I can't remember the spelling. But, yep, real name people have."
- rckrusekontrol
"Wow..."
- Iron8te
A Nascar Driver, Wrestler, Or Just Cool?
"I taught a kid who's real name is Ricky Rock n' Roll Smith"
- Hopeful__Historian
"That kid is either gonna be awesome or a total piece of shit. Either way he will definitely do a lot of drugs."
- igotbigballs
"Sounds like a 90's WWF wrestler name"
- TotallyNotClickbait2
"I already know what his parents are like..."
- Iron8te
"Well at the very least he has a normal first name to use."
- emu_spy
"You must be commenting on the wrong post. Try a reddit search for 'What's the most awesome f*cking name in the universe ever?'."
- belbsy
"Rockin Ricky?! Man I love that guy!"
- derKonigsten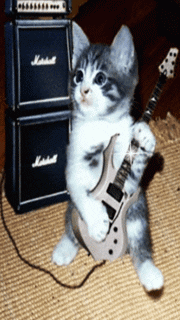 rock n roll cat GIF
Giphy
Can I Just Call Him Rich?
"I had a customer named Dick Butts. I thought it was a joke, but one of the employees asked to see his driver's license and it was truly his name."
- Heftydog1
"Just introduce yourself as Richard at that point."
- Final_masker
"Haha how was Dick ever acceptable as a name?!"
- ungoogled
"There was a famous football player named Dick Butkis! He was an amazing player so no one mentioned his name as a joke!"
- Tracirainbow69
"Hey it's me, your customer"
- PENIS_ANUS
"Met an elderly man with the name Booger"
- MrPuzzleMan
"A dear friend of mine who recently passed had the nickname Booger and honestly, nobody called him anything else. His dad called him that when he was little, and he was just Boog forever. I miss you, man. The world shines a little less without you in it."
- Lilredh4iredgrl
"There is a TV sports commentator named Booger Mcfarland. It's a nickname but that's what everyone on TV calls him and that's what the graphics say."
- mtwtfssmtwtfss
"It's made 10x funnier by the fact he has a reputation for saying things that are pretty obvious so everyone's like 'thanks booger'."

- Do__Math__Not__Meth
"Booger seems to have been a common nickname for an older generation. Fun fact: The Undertaker (from WWE) was almost given the name "Booger Red" as his wrestler name before he was given the Undertaker character."
- Hotdogmaniac6969
Hotdogs Would've Been Better
"My elementary school boyfriend in 3rd grade was named Matthew wiener the kids started calling me mrs wiener so I told him I couldn't be his girlfriend anymore lol"
- UsedQuiet2862
"I know a family who's last name is Weiner. To be frank, they are all kind-of d*cks"
- zesty_itnl_spy99
"One of my friends married a 'Boner' right out of HS 😰"
- weareborgunicons
"I'd keep my own name!"
"There's also a youtuber named Tucker Boner lol"
- UncouthCorvid
"I knew a Matthew Wiener. He was a director who travelled and directed plays at a bunch of different places"
- TurboMoofasa
"was he related to Gretchen? is so that is so Fetch!"
- glucoseintolerant
Staff Sergeant2
"In the military there was this guy called Richard (Dick) Sergeant. Who was a Staff Sergeant. So his name was Staff Sergeant Dick Sergeant. He owned it though so good for him."
- Rickdaquickk
"Like Catch 22, never to be promoted again."
- ucat97
"When I was in the Air Force I had to do a work order for a Captain Ho. I hope she was eventually promoted to Major Ho.I have also seen other funny names from the Navy such as Stains, so their title was Seamen Stains."
- IThinkMyLegsAreBroke
"I went to boot camp with a 'Seaman Samples' 🤣 Always wondered what happened to him."
- BperrHawaii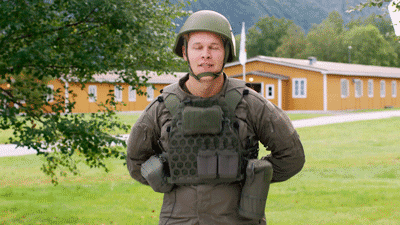 Fight Dance GIF by tv2norge
Giphy
Great Start For A Rappers Name
"Xerox, poor kid will be bullied for the rest of their life"
- [Reddiut]
"Copy that."
- billybobjimmyjoe
"Honestly I doubt young kids even know what Xerox means. My 16 yo nephew thought Kodak was named after a rapper lmao. I think little Xerox will be fine. Unless this was like 10-15+ years ago."
- Whosyouranimedaddy
"Jammed up for the rest of his life."
- brds
"Spittin' straight fax"
- BlueBoltDog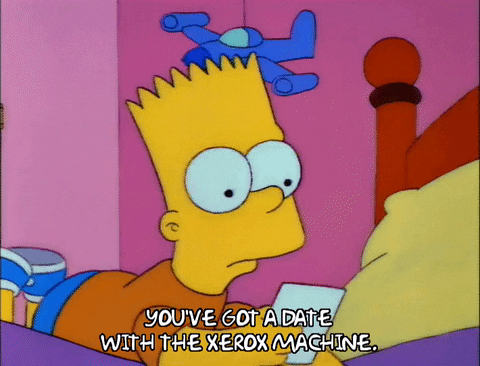 Happy Season 3 GIF by The Simpsons
Giphy
These Dang Vices
"My sisters sister in law named her son Brewer literally because they are alcoholics."
- bijouby
"Oh dear. This is legitimately sad."
- mrsjettypants
"I know a boy named Blayze because his parents are dumb dumb potheads"
- irongoatmts66
"People need to save that type of shit for the family pet"
- trippymermaid
"My parents are alcoholics and they've named every dog we've ever had after alcohol. Growing up we had Boozer and Tipsy. When I found out what they meant, I was so embarrassed to tell my friends my dogs' names. Now they have Brandi. Little more classy but I still know."
"I'm glad I have a somewhat normal name and they didn't so the same to me"
- TAconfessions22
Sounds Made Up
"Joey Jo-Jo Junior Shabadoo"
- VincentKlortho
"That's the worst name I've ever heard"
- inabighat
"Hellllllo I'm Guy Incognito"
- groovy604
"If this wasn't one of the top answers I was going to officially declare myself way too old for reddit!"
- JPMoney81
"I am thoroughly disappointed this is not top comment."
- blindedbyhindsight
"Come back!!"
- JoeyJoeJoeJrShaba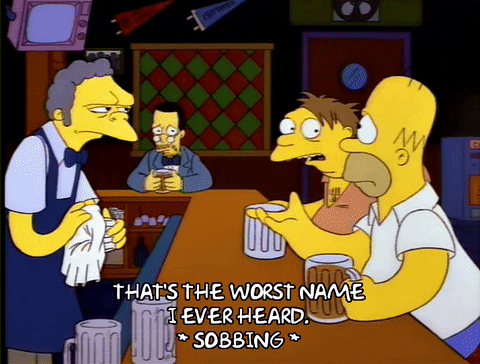 homer simpson joey jo-jo shabadoo GIF
Giphy
Explosive Name.
"Cash dynamite, to the mom named exclamation"
- ogsandtoads
"Dude. That is objectively an awesome name. I wish my name was Cash Dynamite"
- afauce11
"that shts dope tf"
- SingleShake6745
"This is the funkiest, most 70s thing I've read today."
- Lehelito
"How are you not the coolest mf with the name cash dynamite, you should have a documentary about ur life if ur name is cash dynamite"
- couldbedumber96
"Guy named Ashley Hole who went by 'Ash'."
"I sht you not."
- PiffWiffler
"His guy has the biggest loophole when it comes to kahoot names"
- ismokejimmyneutron
"I'd probably pick that nickname as well out of spite."
- HeyWaitHUHWhat
"You know Ashley started as a male name right? Popular male name during ww2, exactly like Kelly."
- NoticeWhenUAreHappy
"It's not just that his name is Ashley. He goes by Ash Hole. Try saying it out loud."
- Banana42
You're up.

If you've got a name so bad that it looped it's way back around into awesomeness, let us know!