As an experienced cook and someone who is passionate in the kitchen, I'm gonna need every single one of you to stop lying about this whole "no such thing as too much garlic" thing.
There absolutely *is* a such thing as too much garlic, especially if it's improperly timed and bitter, chewy, etc...
Especially, especially if the recipe is ice cream.
Garlic ice cream should not be a thing, but it is.
ANY garlic is too much garlic for an ice cream recipe, in my opinion.
Reddit user ThatSpyGuy asked

"What commonly repeated cooking tip is just completely wrong?"
I love garlic. It's my go-to seasoning. But y'all can't tell me I'm wrong about this garlic ice cream thing.
Too much garlic is real and I'm gonna need everyone who makes garlic ice cream to please stop.
Here are some of the food myths that Reddit stresses itself out about.
Golden Brown
"Cookies: 'bake until golden brown' "
"Your cookies will be overdone if you do that. The cookie sheet will stay hot after it leaves the oven and keep baking the cookies for a minute or so."
"If you want soft cookies, it's better to take them out when only the edges look golden brown and let them keep cooking outside of the oven."
- Celestaria
"I used to bake my cookies until they were golden brown, and the bottoms would always end up burnt."
"I started removing the cookies from the oven when the edges begin to turn golden brown, and they usually come out perfect most times."
- Gunner_4224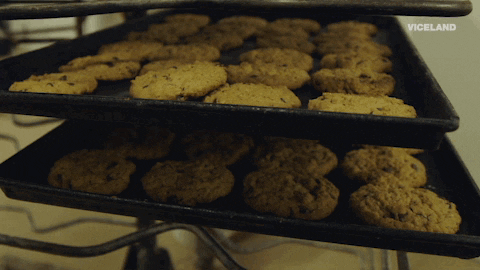 Giphy
High Heat
"Myth: high heat is like fast-forward for cooking. It is not. Still working to get my dad to understand this one."
- EatLard
"Mine is opposite. Every time I use high heat to sear he thinks I'm about to burn the house down. Same goes for entrapped water/moisture that makes a lot of sizzling noises when it comes into contact with a hot pan."
"The noise makes him freak out a bit, even though I know exactly what I'm doing."
"Bonus points when he complains about lack of crispiness of his food after demanding do turn down the heat."
- LoopyPro
"If I'm supposed to bake something at 150°C for 20 min, I can also bake it at 600°C for 5 min. That's just basic math."
"I'm being sarcastic, please don't try this."

- Berserker-Hamster
Onion & Garlic
"Starting to saute onion and garlic at the same time. So many recipes treat onion and garlic like they're conjoined twins and you should just do everything together with them."
"Onion takes a lot longer to cook and adding the garlic too early can burn it which can ruin the entire flavour of the dish. So many recipes tell you to do this and I just don't get it!"
- hbwd
"Yes! Just figured this out."
"It's odd because I'd learned early on, add the veggies that take the longest to cook to the pan first - but because I'd been ingrained to cook garlic and onion at the same time for so long, I didn't even think how garlic takes like 30 seconds to cook whereas onion takes on the order of minutes to cook."
- kgriff112
Clumping
"Adding oil to your pasta water to prevent it from clumping."
"Oil floats in water - as in it's above the pasta and doing exactly nothing."
"Just stir it."
- dancingbanana123
"BIG pot of water is what will prevent clumping the best, with mild stirring to separate everything initially. The roiling motion of the water will then keep the pasta from clumping as long as the pasta has the space to move."
- GreenLurka
"On top of that, you get oil on the noodles as you drain them, which will reduce any sauces ability to stick to your pasta."
- EndoShota
" 'May your marinara sauce never stick to your pasta!' - Sophia, Golden Girls"
- LadyBug_0570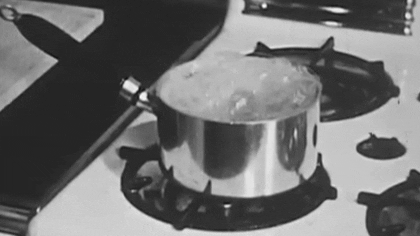 Giphy
Spreading Salmonella
"Rinsing off chicken."
"I know you don't want to get salmonella, but rinsing off chicken just spreads it. Cooking it solves the problem automatically."
- CreepyAssociation173
"I think this is more commonplace where/when the meat wasn't cleaned prior to sale. If your meat has feathers, dirt or rocks on it, you would need to wash it."
"But commercially produced meat is clean (in this way, at least) so the fewer surfaces your raw meat touches the better!"
- mcoon2837
"The first time I heard someone doing this, I thought they were insane. I've seen people use bleach to do this…"
"Ensuring your chicken reaches 165F is going to clean it of all dangerous bacteria. Washing it is going to do absolutely nothing but spread bacteria around and poison people if you're using bleach to do it."
- P0ster_Nutbag
Grated Butter
"When making pie crust: rubbing the butter into the flour or using a fork/knife/pasty blender to achieve 'pea-sized' crumbles."
"Pretty much every recipe will describe it this way, but the expanding water from the butter drives that beautiful flakiness. This method isn't the best way to get it."
"Instead, get a cheese grater with moderately large holes. Use very cold butter, and handle the butter lightly so that it doesn't melt into your hands."
"Grate it and toss it into the flour about 1/3 of the butter at a time, tossing it to coat it with flour. Then make your dough."
"It will be light and flaky and heading in the direction of puff pastry. Also works great for biscuits."
"Seriously, I use the same dough recipe I always used and the results are just staggeringly better because of this technique."

- Terpsichorean_Wombat
Oven Pizza
"I have spent years, years I tell you trying to perfect home-made pizza."
"Most recipes I've seen so far say 'bake at 350 degrees F' which is utter nonsense."
"Pizza ovens bake the pizza at around 800 to 900 F. So I finally found out I could get a decent result at home by putting the oven on the highest temp - 500F, and put the pizza on the oven's lowest rack (my broiler is located in the bottom.)"
"Then when the bottom crust is done I put the pizza in the broiler rack below and cook it about 3 mins to get the top done."
- mistmanners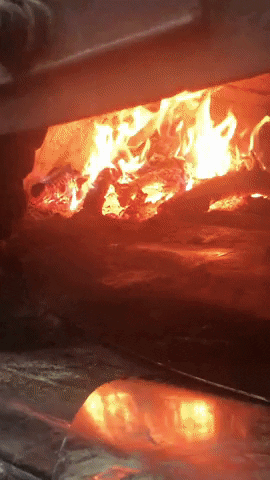 Giphy
Microwaved Nutrients
" 'Microwaving food will destroy nutrient molecules' "
"Microwaves are far too long-waved to cause any molecular changes. All they do is make molecules vibrate faster. They don't directly break up molecules."
"To actually split chemical bonds you need much shorter wavelengths. UV light at least. It is true that Microwaves can INDIRECTLY cause chemical reactions because they will increase the temperature of the food. But that is no different to any other heat source."

"Likely, microwaves preserve nutrients BETTER than boiling/steaming because the heat is delivered faster and the food spends less time in a high temperature state."
- antistitute
Salty
" 'Salt your pasta water always.' "
"Sometimes, the sauce is plenty salty and no need to add even more salt to the food."
"It's ok to salt pasta water if your sauce (or lack of sauce) doesn't add sodium. But tomato sauce has so much sodium as is, lightly salt the water at best."
"Your Pepe e cacio or Pasta a olio, sure salt away... But not tomato sauce dishes."
"And definitely never your water 'as salty as the ocean.' How the f*ck people eat that much salt is beyond me. At this point, don't make pasta, just eat salt."
- GuardianOfTriangles
Grill Marks
"Grill marks."
"Watch just about any cooking show, they go on and on about turning the meat exactly 90 degrees, once only per side to get that lattice pattern."
"Yes, it looks pretty. But the grill marks are flavor because of the maillard reaction. More marks = more flavor. Why are you trying to minimize the flavor just to get perfect stripes?"
"I get we eat with our eyes to an extent, but I'd much rather have haphazard and excessive grill marks vs the 'perfect' look."
"Think about it - we cook steaks in cast iron pans to get the entire outside sizzling and crispy and flavorful. Would you want them to put chopsticks or something under most of the steak so only tiny strips get turned dark brown?"
"I know this is more unpopular opinion than 'completely wrong,' but I stand by it. Grill marks are flavor, and more flavor is almost always good. 'Perfect' grill marks just make me sad for missed flavor."

- jtclimb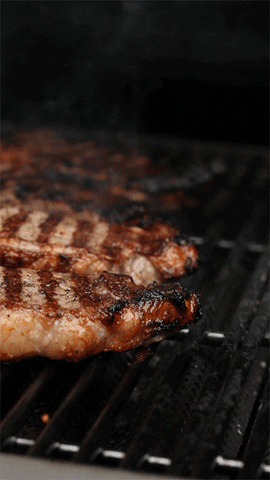 Giphy
Alright Redditors, it's your turn to get in on this food fight.
What's a food myth you really need people to let go of?
See you in the comments!
Want to know more?
Sign up for the Knowable newsletter here.

Never miss another big, odd, funny or heartbreaking moment again.
Keep reading...
Show less
How can an entire race stay so gullible for so long?
There are lies that we are still being fed and swallowing to this day.
Myths have a long shelf life, even when proven false.
We need to start digging deeper and then settle with reality.
I guess childhood naivete really is hard to let go of.
Redditor GlamourzZ wanted to expose some long overdue truths. They asked:
"What's a myth/pseudoscientific belief that has been debunked many times, but people still believe?"
Step on a crack. Break your mother's back. Lies. I know. I've tried. Kidding.
Cracked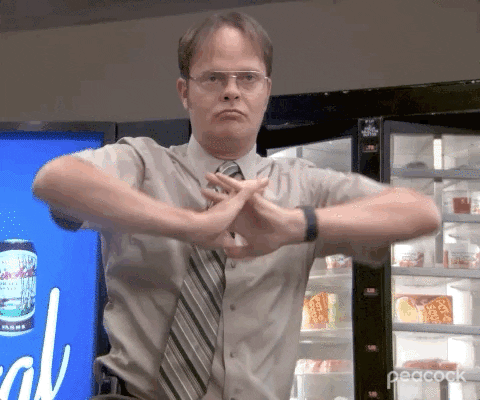 Getting Ready Episode 2 GIF by The Office
Giphy
"Cracking your knuckles will give you arthritis, no it won't!"
Cancer-Cinema
"I crack my fingers all the time and because I'm hyper mobile my knees crack every time I bend down more or less. But I love the feeling of it."
l52286
Fluid Scam
"Detox teas. Liver and kidneys do that for you."
BlacGirlMagik
"'Detox' is a scam warning word to me with 'cleanse' right behind it. I might be willing to believe what I'm being told about a product but the moment they use those words they've lost all credibility. The funniest experience I ever had with a product like that was a coworker telling me about this amazing drink that cleaned your intestines of waste that somehow got stuck and built up."
"The 'proof' that it worked was these long nasty looking things they crapped out after drinking this supposed miracle cure which they of course took pictures of to show everybody. I looked into it a bit and found that the primary ingredient they all used was the same as is used in gelatin. People were essentially making jello molds out of their colon and then showing off the results."
Tangent_
Greens
"Spinach has a ton of iron compared to other vegetables. The scientist missed a decimal place and he said it has 10 times as much as it really does. That's why Popeye loves his spinach. It actually has the same amount of iron as every other green leafy vegetable."
Nettius2
On the tongue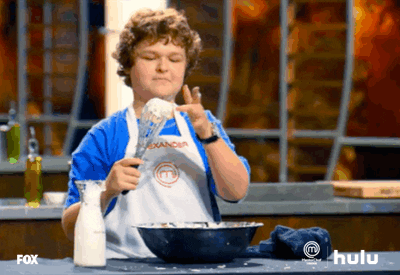 masterchef junior taste GIF by HULU
Giphy
"'Taste zones.' All taste buds are all over your tongue; there is no such thing as a 'sweet zone,' a 'sour zone,' etc."
berael
Thank goodness that knuckle one is a lie. I can't stop myself.
LIES!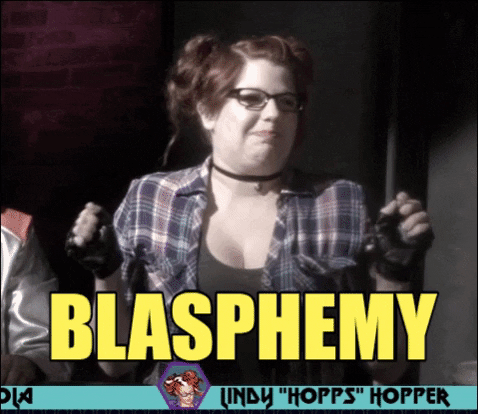 bonnie gordon GIF by Alpha
Giphy
"-- Caffeine stunts your growth."
"-- Pretty much any 'food pyramid' promoted by the western world prior to ~1998."
sskoog
"evidence"
"Graphology. That you can determine traits about a person by their handwriting. I did an entire research paper on it. Plenty of 'evidence' in the common sensational news, but not a single damn article or shred of evidence from the academic research area, excepting 'yeah no we tried it and didn't find any correlations.'"
Commander_Meh
Columbus Who?
"Europeans knew the world to be round in Columbus' time. Columbus just calculated the circumference very incorrectly and is lucky there was a whole other continent to run into before he and his men ran out of supplies. To be abundantly clear, the Ancient Greeks figured it out."
"So did the Chinese, the Egyptians, the Persians, and probably the Maya and many many others. My point is that 'proving the Earth wasn't flat' is a myth. Anyone thinking the Earth was flat had nothing to do with Columbus' bid to find a westward passage to East Asia. It is a myth that people thought the world was flat in his time."
Lord0fHats
Doggie Colors
"So my ex is a vet. Dogs can actually view pretty much all of the visible light spectrum from red to blue. They just don't see colour as vividly as humans do, so they don't distinguish very well between different shades. Blue and Violet they can just make out. Indigo and violet are impossible for them to distinguish."
"See also: the difference between reds and pinks and the innumerable shades of blue, green and blue-green."
Apocryph761
Fly High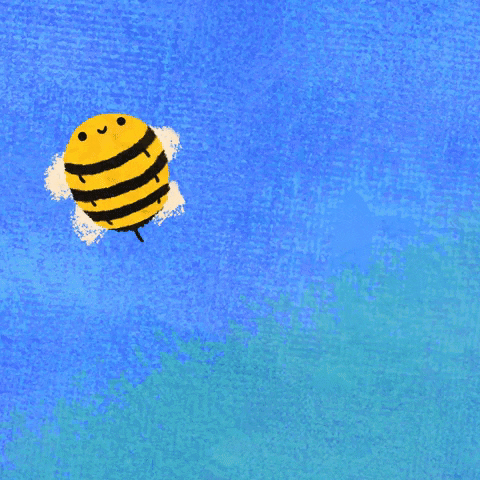 Honey Bee Loop GIF by Kev Lavery
Giphy
"The thing with the bumblebee technically not being able to fly because of aerodynamics. Used as a kind of motivational tale about overcoming obstacles."
"Turns out, modeling a bumblebee as a kind of plane is a bad idea, you know with the moving wings and stuff. If you think of a bumblebee as similar to a helicopter then all of a sudden the aerodynamic calculations work out and the bumblebee can fly."
Fridge_ov_doom
Now the truth shall set us free. Spread the good words.
Want to "know" more?
Sign up for the Knowable newsletter here.
Never miss another big, odd, funny or heartbreaking moment again.
Keep reading...
Show less
People can learn a lot from movies, but it would be wise for audiences to take any imparted wisdom with a grain of salt.

A majority of blockbusters are fiction of course, and even films loosely based on real-life stories can have false information unless a notable director is helming the picture.
To show that some popular beliefs people believe to be true can be dangerously spurious, Redditor kuroi_sny asked:

"What survival myth is completely wrong and can get you killed?"
The desert is beautiful. But it can also kill you. Beware of the following myths.
Nourishment From Desert
"Drinking water from a cactus. If absolutely needed for survival, you could get some water out of a Fishhook Barrel Cactus but only in limited amounts, most cactuses have various acids and other fun things in the water that will make you sh*t yourself to death, dehydration in the desert isn't a laughing matter and you don't want to lose the precious bit of water left in your body to the desert ground."
– Kraymur

The Intense, Dry Heat
"'The desert is hot and little clothing is best.' Cover up during both the day and the night. The sun will burn you and dehydrate you very quickly. During the night it's really common for people to die of hypothermia because the temperature drops so fast. And honestly living here, during the winter it gets to the low 20s f pretty often. And the wind is awful."
"Edit to add: it's dry heat here. There's no moisture in the air majority of the year. You can drop dead from heat stroke 'barely' sweating."
– Curious_Wrangler_980

In the face of immediate danger, you may want to unlearn these popular "tips."
See Ya Later Alligator
"Running in a zigzag to outrun an alligator. Alligators don't run for long distances, so this will probably just waste your energy. They can also climb some fences and trees as well."
– TchaikenNugget

Seal Yourself In
"'If you're in a tornado, open all your windows to equalize the pressure inside to match the outside.'"
"If you're in a tornado opening any window or door will create a wind tunnel that rips your entire roof off."
– NightOnF'kMountain

Lightning Pattern

"Lightning never strikes twice in the same place."
"If lightning has found a path that it likes to the ground it's extremely likely to strike there multiple times. That why lightning rods work."
– CatboyInAMaidOutfit

When Encountering Jaws
"If a shark is coming after you, swim away."
"If a shark is coming towards you in the first place, it's most likely just curious and wants to check you out. Swimming away and thrashing about will further intrigue it to keep following you. Instead, redirect it by running your hand along its side and carefully positioning it to swim away from you."
"(Side note: If one happens to bite you, poke/stab it in the eyes or pull on its gills instead of bopping it in the nose. Gills and eyes are far more sensitive than a shark's nose.)"
– swaggy_kyu

Are you lost? You won't be found as easily if you fall for these unfounded suggestions.

Change Your Voicemail When Distressed
"That bullsh*t 'change your voicemail if you are lost' PSA that was making the rounds over the last year. You need a cell signal to change your voicemail, if you have a signal then why wouldn't you just call for help?"
"Moreover it misses the most important thing about US cell phones and being lost: 911 will work on any cell tower regardless if it's 'in network' or even if you have an active phone plan or not. So in an emergency always TRY dialing 911 regardless of your phone appears to have signal or not."
"EDIT: To the dozens of people who replied that you are supposed to change your voicemail before going out, this is still a bad idea. If you're lost or injured in the woods, your survival depends on being found quickly. Waiting for someone to get worried enough about you not coming back to try calling you is just going to waste precious time. It's much better to just tell your friends/family where you will be and set up a check-in time so they know you made it back safely."
– Histidine
Getting Your Bearings
"That moss grows on the north side of a tree. It can grow all over the tree, so it's not a steadfast rule that you should make important decisions solely on."
– dildorthegreat87

Just in case you're planning a solo hike in the desert or go scuba diving in uncharted waters of the deep, your newly acquired knowledge here could save your life, thanks to these anonymous Redditors.
It's a good reminder to double check on the things you've heard to be true to get a solid confirmation.
A brief research can literally be a matter of life or death.

Want to "know" more?
Sign up for the Knowable newsletter here.

Never miss another big, odd, funny or heartbreaking moment again.
Keep reading...
Show less
There is so much overlap once you start reading the myths from different cultures and times. Myths were originally a way to explain life and nature around us.
How these stories traveled around the world is pretty fascinating. Each culture has their own take! I recently chose to delve into Greek mythology again and it's been a blast. The Greek gods are as capricious as the average human, which is probably the point.
People shared their thoughts after Redditor Basalt420 asked the online community,
"What country has the best mythology?"
"If you do enough research..."
"Celtic mythology around The Fae is a pretty interesting rabbit hole to go down. If you do enough research, you start to realize that a lot of ancient civilizations with no connection to one another have similar versions."
drbrdrbrdrbr
It's so interesting to me how many separate countries have stories of similar creatures. Obviously some stories just traveled from place to place, but some are totally separate and developed independently.
"As a small child..."
"Japan. They terrify the s*it out of you."
"As a small child (maybe 3-4), I lived in Japan. One day, the preschool teacher told us that these two demons were going to come down from the mountains to try and kidnap us and eat our belly buttons."
AccurateFroyo3769
Maybe that's why crime rates in Japan or so low. They instill the fear of mountain demons in you as a child.
"The Norse Gods..."
"The Norse gods have parallels in the other Germanic countries but the myths weren't preserved (sadly). 19th century folklorists did a lot of research on this. Also, Celtic and Slavic cultures have a similarly rich god/goddess/mythical creature cosmology."
"They share a common Indo-European heritage. The various different hunter gatherer tribes (eg, beaker culture) swept across Europe 8,000 years ago creating the tapestry we know today. I'm still reading up on this and studying it so my understanding is still a bit vague."
kai_wulf_dug
Norse myths are fascinating – it's very easy to fall down a rabbit hole reading about them.
"It's so good..."
"Greek mythology is absolutely the winner. It's so good that I think people aren't voting it just because it's so ingrained in us and we've seen it to death."
TheRavenSayeth
Greek mythology is undoubtedly unparalleled.
"If asked..."
"Egypt needs to be higher on the list. If asked, most people will recognize the names of a lot of Egyptian gods."
vskizzle
Egyptian mythology fascinated me as a child and has held a special place in my heart since.
"I had a book..."
"I had a book called The Rainbow Serpent about Aboriginal creation myths when I was a kid, and the stories have always stayed with me."
LeChiotChattetique
Dreamtime is the foundation of Aboriginal religion and culture. It dates back some 65,000 years.
"There's a great series..."
"There's a great series on Netflix called Cracow Monsters which is based around Slavic mythologies."
beccapenny
Glad you like it, but calling it great is... a stretch.
"Haven't they got..."
"Hindu mythology. Haven't they got mythology about gods flying over the world in flying machines, waging war and dropping nukes on each other? Amazing stuff."
sfxpaladin
Hindu mythology has some masterpiece anime level plot twists.
"I've been reading..."
"I've been reading into the mythologies of a few Native American tribes recently. While not my favorite, the Aztec mythos is so absurdly brutal that it's really worth checking out."
Hrparsely
You should check out South American mythology. Peru, Bolivia, Brazil and Colombia have some great stuff!
"I've extensively read..."
"I've extensively read Greek, Roman, and Egyptian mythology while I growing up. I've got to say Greek mythology has been my favorite. The origin stories to how callous (and not above changing fates on a whim) the gods/goddesses are is just such entertaining reading."
Platinumfish53
The Greek gods are the definition of petty and we love it.
Down the rabbit hole you go! Every culture has its own myths and you don't have to look too closely to come across a multitude of similarities.
Have some suggestions of your own? Feel free to tell us more in the comments below!
Want to "know" more?

Sign up for the Knowable newsletter here.
Never miss another big, odd, funny, or heartbreaking moment again.
Keep reading...
Show less
People believe some really ridiculous stuff, don't they?
When I was younger, it seemed every adult believed that you couldn't swim for several hours after eating. Why did they all believe this? I fought them on this all the time, by the way.
I shouldn't have had to, just because I'd eaten some barbecue during a pool party.
Guess what, though? That belief is unfounded.
People told us more about the myths that annoy them after Redditor SugoiSuu asked the online community,
"What are the myths that got debunked multiple times but still believed by people?"
"That you get warts from frogs. Warts come from the human papillomavirus and come from contact with the virus through broken skin. It is a human-specific virus and cannot be spread through different species."
mtn_cat
Why do people believe this crap?
Do they still think you can kiss a frog and turn him into a prince, too?
"Popping your knuckles is actually harmless and the "study" that claimed it caused arthritis was heavily flawed. Studies now show that it has nothing to do with causing arthritis."
l-e-mon
I believed this... when I was a kid. I eventually learned. But the adults who still believe this? What's up with that?
"Many people still believe..."
"Many people still believe hymens are like plastic food seals that cover up the hole and get popped when you have sex for the first time, and if a girl doesn't bleed she's not a virgin."
[deleted]
The myths surrounding women's bodies are just ridiculous thing, aren't they?
Here's an idea: SEX ED!
"That if you get too close..."
"That if you get too close to a baby bird, the mother will smell human on the baby and abandon the nest. You probably should still avoid touching baby birds for other reasons like disease or risking injury to the animal though."
NawlSideNative
THE REJECTION!
But yeah, this doesn't happen. So farfetched.
"That fish only have a 5-second memory. My fish are fed automatically on a timer and they know dinner time better than my goddamn cat."
Osr0
I bet they do. Animals are much smarter than we give them credit for.
"That one thing..."
"That one thing about swallowing like 7 spiders a year in your sleep. Why the hell did anyone ever think that was a thing?"
ReaperSCP
Because people are gullible.
Sooooo gullible.
It hurts.
"That your hair..."
"That your hair and fingernails still grow after you die. It's mainly an optical illusion. Your skin decays and shrinks, causing hair and fingernails to look like they've grown."
CasinoKitten
I grew up hearing this. There are entire generations of people who believe this.
"That certain animal parts..."
"That certain animal 'parts' have healing/magical properties. Like tiger whiskers protect the wearer or rhino horn cures impotence and hangovers."
storm-in-a-teapot
Sorry to disappoint, guys, but animals are not "magic" and here for your personal amusement and woo-woo.
"That you have to wait..."
"That you have to wait 24 hours before filing a missing person report."
popthetab
We can definitely pin some of the blame on movies for this one. "Oh, you know for certain your daughter was kidnapped and might possibly be murdered? Looks like you'll have to take matters into your own hands and pursue some good old fashioned vigilante justice, sorry."
"No amount of reasoning..."
"That cats kill babies."
"I've run into this so many times since having kids. And it's not the older grandmas making these statements."
"I've had 20-year-olds tell me that you can't have cats if you plan to have babies because "they'll steal their breath" or some other variation. No amount of reasoning or rationale will dissuade them of this belief."
Cats are wonderful creatures. It's a shame that people believe such nonsense about them.
Here's some advice...
Google is your friend. It's very easy to debunk this stuff. I remember being taught that the tongue had taste zones––we even had to fill out a worksheet labeling the tongue's different zones. That's totally wrong, in case you haven't figured it out.
Know some myths that annoy you? Feel free to tell us more in the comments below!
Want to "know" more?

Sign up for the Knowable newsletter here.
Never miss another big, odd, funny, or heartbreaking moment again.
Keep reading...
Show less